The weather did eventually clear up and we finally saw Table Mountain in all its glory.
Cape Town is different – as is Tel Aviv from Jerusalem. Situated under Table Mountain and bordered by the sea, geography plays a very important part in the city's life – visually, acess roads and weatherwise - it must also affect its residents. Back home in Netanya pigeons are the most common bird we see; in Townsville Australia flights of squawking cockatoos are common;, in Johannesburg we heard the Hadeda Ibis and here in Cape Town we often saw flocks of Guines Fowl as we ate breakfast.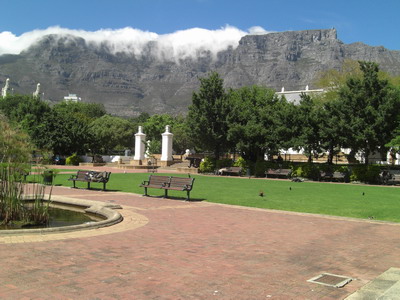 Our time in Cape Town was spent with Anthony giving another bridge directors' course, and visiting relatives. With Sheenagh, I went to The Avenue to visit the Slave Lodge which is in itself a surprise, as we always thought that South Africa had indentured workers but not slaves. But the colonial farms were based on slavery until the mid 1800's. At the Slave Lodge we saw an excellent exhibition on O.R. Tambo.It detailed how in exile OR Tambo put mechanisms in place for the fall of Apartheid: cadres of youth league activists who were prepared to fight for their freedom; international support for their activities and condemnation of Apartheid and finally the Boycott of products, as well as artistic and sports events. Everyone thinks Mandela, but while he was in prison it was OR Tambo who set it all up. He most probably doesn't get the credit he deserves because he was in exile. It is chilling to think whether Israel will have to undergo a similar Via Dolorosa before we free ourselves from the territories.

Food in South Africa is generally very good and for non-South Africans, extremely reasonable. An outstanding restaurant was Panama Jacks in the working dock of Cape Town. We were bemused that even though there was a barrier with strict security just the mention of the restaurant lifted the barrier and we were let in, driving through the container port and warehouses to reach the rambling wooden upscale shack. Everything was delicious.

On Sunday while Anthony gave his final bridge course Aunt Winnie and I spent most of the day by the beachfront. Everywhere people were enjoying the Sunday gift of clear blue skies and sparkling sea. After walking along Sea Point front we drove to Camps Bay where we had a delicious lunch as we sat on the pavement (Winnie was in a wheelchair) and watched Africans from Malawi give a show of acrobatics, a guitar singer with a wonderful personality charming the diners, and just people watching. The atmosphere was relaxed and genial and we thoroughly enjoyed our day. In the afternoon Anthony and I met my cousins, Lucille and Graham Nickel and Carmen Kay at the Waterfront.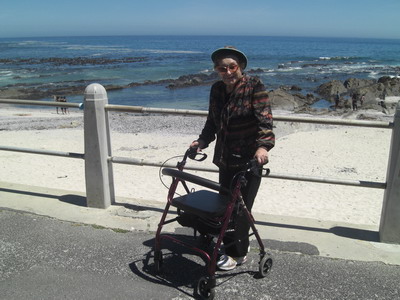 The following day, without too many expectations of seeing whales, Anthony and I set off for Hermanus. Trying to do things a little different this time, we left the N2 at the Strand and drove along the beach road towards and beyond Gordon's Bay. It was enchanting! The road wound its way between the mountains covered with proteas and fynbos to our left and to our right and below were breathtaking views of the rocky shoreline.
At Pringle Bay we stopped at a sign that said it was the best place from which to view whales. No whales, but to our delight a pod of 7 dolphins swam around the head where we were, so that we could follow them for long minutes.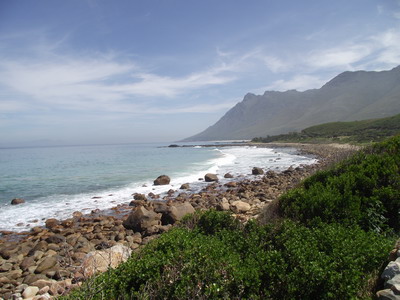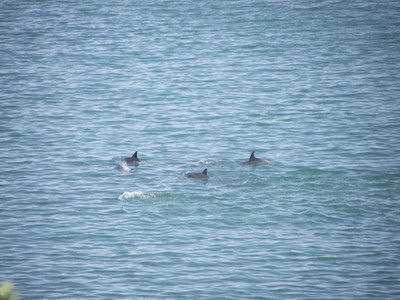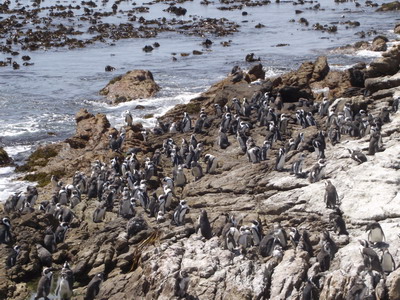 Not long after that Anthony noticed that at Betty's Bay there was a sign for penguins. Hoping to see a few, we were overwhelmed by thousands of Jackass Penguins, from chicks with blue feathers to fat juveniles in various stages of moulting who were far bigger than their sleek parents. Some were in their nests with others swimming among the kelp (which I was certain was a huge school of seals), but most were just sunning themselves. They always looked so dejected as they walk along with heads bent and wing flappers hanging at their sides. It appears that this is just one of the 28 colonies along Southern Africa coast.
During an oil spill a few years ago, more than 23,000 oil-coated penguins were taken to Port Elizabeth where they were cleaned while the oil was removed from the sea and the coastline. When released, the penguins swam hundreds of kilometers back to their nests in the Western Cape. Since their journey to PE was overland we found it hard to figure how they knew the way back.
http://www.adelie.pwp.blueyonder.co.uk/Endangered/treasure_top.htm
All along the coastline we saw cormorants and were pleased to see cormorants nesting on an uncomfortable looking rock, unfazed by the visitors below.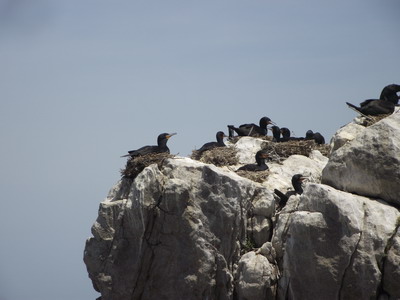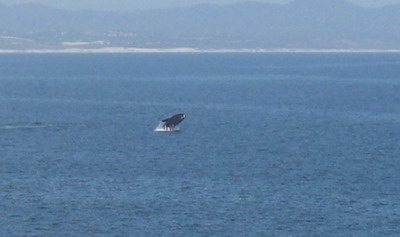 When we parked in Hermanus we walked to the lookout point above the Old Harbour and immediately saw whales breaching. As we ate lunch overlooking the bay, the whales were lounging about but gave us another show as we were about to leave. Although we were told that we would most probably see only southern right whales, as they breached we saw they had fins, so were most probably humpback whales. This whole day was a gift from nature.

In the late afternoon we drove over mountain passes to Franschhoek, nestled amongst the mountains. We stayed at Cape Vue, a three star B&B with a five star view of the mountains. We ate breakfast on the verandah, and this was our view!


There is a large Huguenot Monument and museum that unfortunately was closed. As we made our way back to Cape Town we visited a few wineries. La Motte is a beautiful estate with Old Dutch style houses, an art museum and a museum recounting the history of the farms, going back 500 years. When we hear the dry facts, we are inclined to forget what hardships the farmers had to undergo as they established themselves in the valley.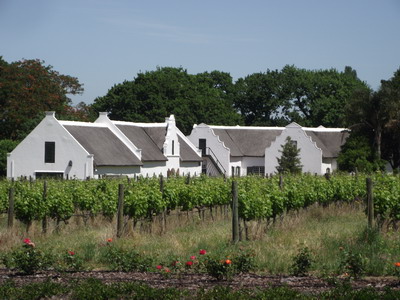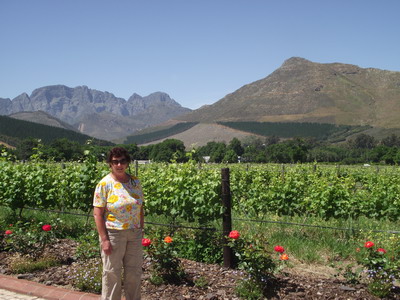 Happily Grace, the owner of Cape Vue, told us about Solms-Delta, otherwise we would never have visited it. Mark Solms entered into a renewal project that gave equal partnership to the historically disadvantaged residents and employees of Delta farms. In addition to making wines there is a small museum that recounts the history of the area from the Stone Age, through herding by the local Khoisan(Khoehoe and San peoples) to displacement by colonial viticulture based first on slavery and then creeping apartheid to modern times. All of this is told through voices of local people.
Make sure you visit if you are in the area.
http://www.solms-delta.co.za/community/wijn-de-caab-trust/
http://www.solms-delta.co.za/community/wijn-de-caab-trust/anna-foundation/
http://www.solms-delta.co.za/heritage/museum-van-de-caab/
Our last stop for the morning was at Babel at Babylonstoren. We walked through the beautiful gardens. It was not a formal English garden but an organic garden with all kinds of herbs, lettuces, artichokes, prickly pears and many different kinds of fruit trees: nectarines, peaches, plums and citrus. In a few months it will be a riot of colour and fruit.

On my cousin Ros Hakim's insistence we had lunch at Del-Aire Graff estate. Just driving up to the restaurant was enjoyable as we passed different kinds of protea, including the huge queen protea, Erica, bougainvillea and many other kinds of flowers. The restaurant was on a verandah overlooking the valley and mountains. Add to this excellent gourmet food and wine and it was a great way to end our two-day sojourn. We returned to Cape Town full of stories and shopping.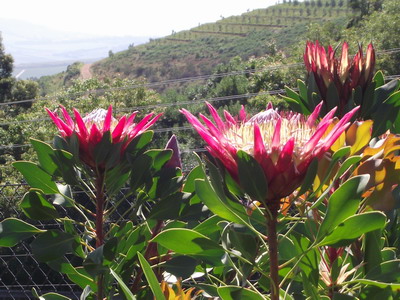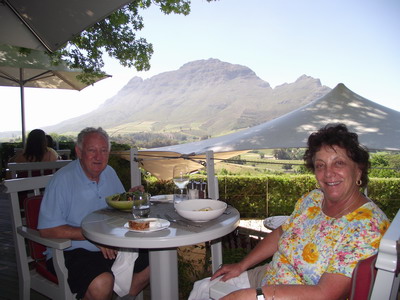 The days in Capetown were spent visiting cousins Wendy and Dave Ginsberg and taking Winnie and her care-giver Lilian out to lunch by the sea to enjoy our last fish and chips. The morning before our flight we spent walking around Kirstenbosch and enjoying the spectacular Botanic Gardens. One last photo of us and Table Mountain before we said a reluctant goodbye to South Africa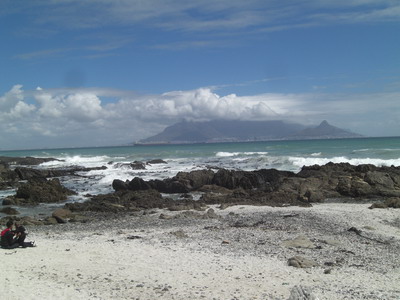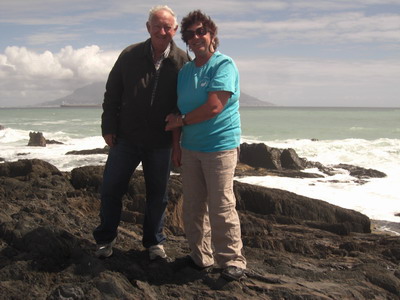 On my first day in Johannesburg I had fallen in love with some beaded dolls from Chad. For a month we battled with alternatives how to ship them back to Israel. We finally decided that three of them could fit into our suitcases while I would carry the fourth in my hand - after all people are always taking giraffes back home.They were posted, arrived in CapeTown and re-packed. I can't wait to see how they will look in our lounge.