THE GARDEN ROUTE
CAPE SOUTH AFRICA
OCTOBER 2013
GO TO DOREEN AND EITAN'S HOME PAGE
From Durban we flew to Port Elizabeth, the town where Eitan was born. All the towns we passed were considerably larger than what we remembered and we were pleased to see far less shanties and many more townships with brick houses and tin roofs – perhaps not ideal but certainly an improvement on their previous living quarters.
The day was cold and rainy and so we drove to our B&B Tranquility Lodge in Nature's Valley on the Garden Route. There is always a risk when ordering a place to stay through the internet. A few years ago when my friends Yael, Nina and Levia joined me in Florence we found that the delightful apartment advertised had nothing in common with what we got: it had one bed in a corridor and another on a platform, just below the ceiling, accessible only by ladder. So Eitan and I were quite delighted by Tranquillity Lodge. It was all, made out of wood and the dining room and our room were at the height of the trees – we really felt as if we were staying in a tree top house! Add to that a hot pool running over stones, gourmet dinners and the thundering of the waves on the beach in the background. It was a delight.(see pictures).

The next morning I went on a canopy tour. You have to wear a harness and a helmet and then one by one you are secured on to a zip line that is connected to the tall trees at branch level, over 20 meters above ground. The first lines are slow until you get used to it, but the others are really fast. I loved sailing high above the undergrowth but never quite lost my fear of crashing into the tree trunks when stopping. It was exhilarating and great fun.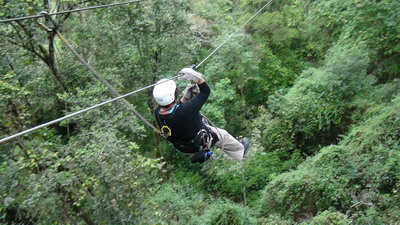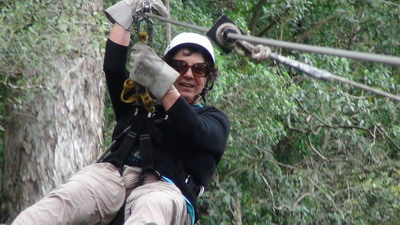 We then drove to Storms River Bridge which spans a deep chasm between high mountains. As we were walking across we were caught in a deluge. We drove to Storms River Mouth, where the river and the sea meet and went for a long walk up and down many steps and over three suspension bridges. Tiring but a great walk.

We also visited the Big Tree, over 1000 years old, in a yellowood forest in the Tsitsikama Forest. It was not as tall as some eucalypts that we saw in Tasmania, but it is certainly old and impressive.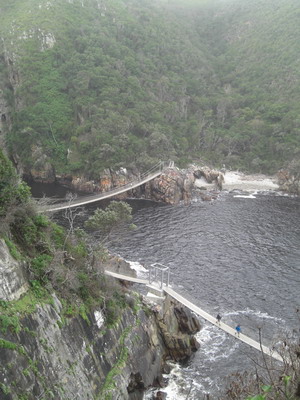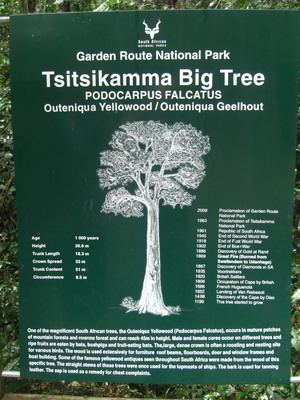 Of course we had to stop at Plettenberg Bay to admire the beautiful hotel on the peninsular.
Near Plettenberg Bay we stopped at Eden Bird Sanctuary. It is the largest free flying bird sanctuary in the world with different habitats under its mesh canopy.
Most of the birds are completely wild, although the parrots love to interact with people. A beautiful grey parrot was waiting at the entrance, hoping to have his neck tickled.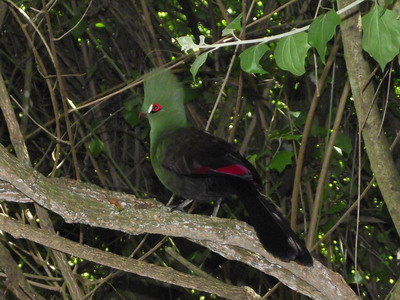 We also saw the Knysna Lourie, an endemic bird, that has been redefined as a Touraco, although everyone refers to it by its old place name.


We saw tiny monkeys called tamarins and some birds we have never seen before, like the Red Ibis. It was fascinating.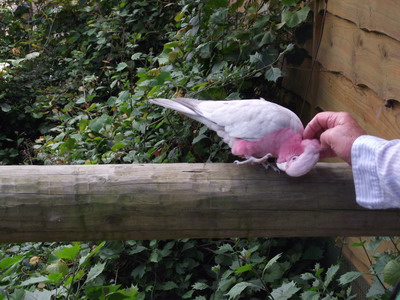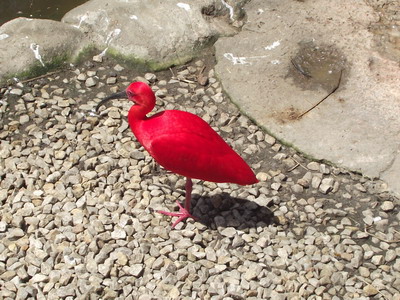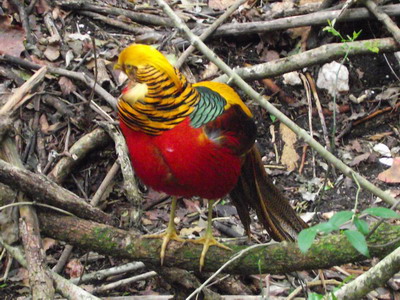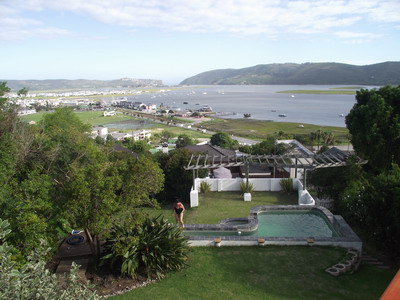 We continued to Knysna, where Heidi Atkinson, who was participating in Eitan's tournament directors' course, very graciously offered us her B&B. After visiting The Heads we drove into town very apprehensive about her place – a hostel? A backpackers' place? We were delighted to find ourselves ensconced in a huge house with a swimming pool and a magnificent view of the Knysna river estuary as it joins the sea at the Heads.
We went on a eco tour of the Featherbed Reserve. We first crossed the estuary by boat and as we got off on the other side we were amazed to see a show case with a model of a coelacanth and the story of its modern discovery.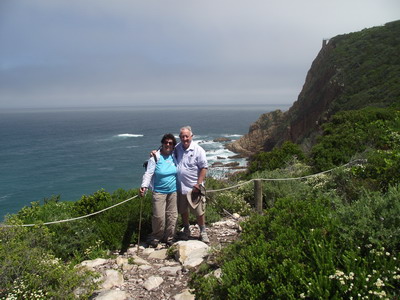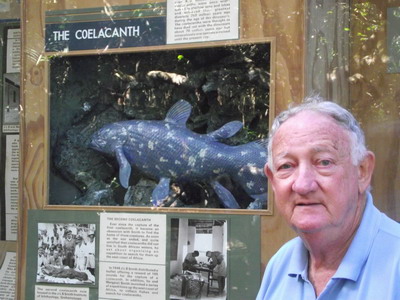 The coelacanth was a fish know to scientists through fossils and thought to have become extinct over 65 million years ago. In 1938 a live fish was caught near East London and the fish was nicknamed "Four Legs" because of its pectoral fins. The news of its capture caused world wide excitement and amazement. Another fish was later caught off the Comorro Islands and Prof. JLB Smith, the man who identified the fish, persuaded the President of South Africa, Dr. Malan, who was a keen botanist, to send an airforce plane to the Comorros so that Smith could bring back the fish for study before it decomposed.
Professor Smith bought the Featherbed Reserve and his son William still lives there.
Eitan's connection is that Smith's son was his tutor at University when he was studying chemistry.
Unfortunately we didn't manage to see him.
After docking on the island we went up the hill by a 4X4 truck and from there we had a delightful 2 km walk down the mountain in time to enjoy a delicious lunch before the boat ride back.


It was a long drive to Dana beach and again we were delighted by the B&B overlooking the fynbos and the sea. Classical View had a swimming pool that had its rim flush with the water and although a little cold it was amazing to be in the pool and see only water all around.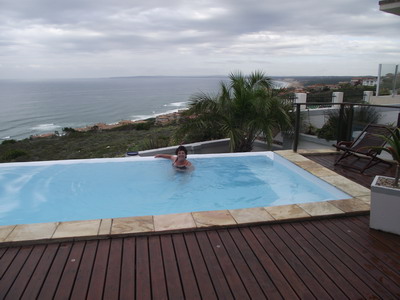 That evening we drove to Mossel Bay for dinner. As we were a little early we walked along the promenade and were delighted to see a whale breach completely – we could see its whole body, from tail to head, out of the water. It is hard to imagine the energy needed for such a huge animal to jump out of the water. During dinner we saw about three whales splashing and breaching as the light dimmed. It was magical.
On our last day we drove to Cape Town. We stopped at Scarab Village to see how they make paper with elephant dung. Last summer with our Eilat grandchildren we had an opportunity to make paper sheets from recycled paper, both at the Hadera Paper Mills and at the Gan Hasolari in Benjamina. It seems that it is not different to the process we saw at Scarab Village except for the addition of dried elephant dung which is added to the recycled paper. It has a nice fleck and it doesn't smell!

We walked along fossilized sand dunes and saw how the sea builds up the sand dunes while the river cuts through the dunes as it makes a channel to the sea.


We drove down to Victoria Bay on the recommendation of Heidi and her husband Richard. A quaint resort town, it was lovely to see both cricket and rugby being played on the patch of sand, while surfers waited to catch waves after the rocks. At the end of the small beach walk there was a cave with wooden caskets with ashes and dedications to people, perhaps who had drowned at sea. Most interesting.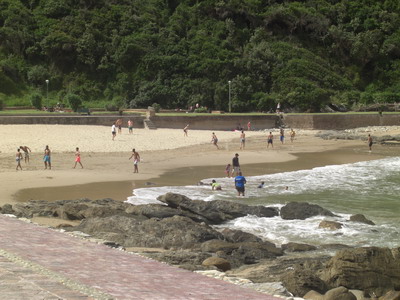 After lunch at the Wilderness we walked along the now defunct railway line that runs from the Wilderness to Victoria Bay. It stopped functioning about 5 years ago when a landslide covered the line. Even though we knew that the train no longer worked it was a strange feeling walking along the sleepers.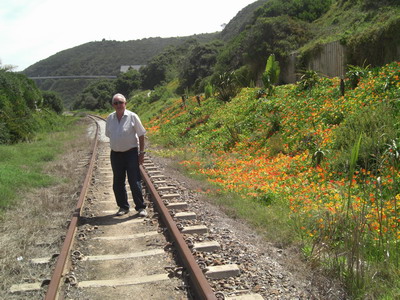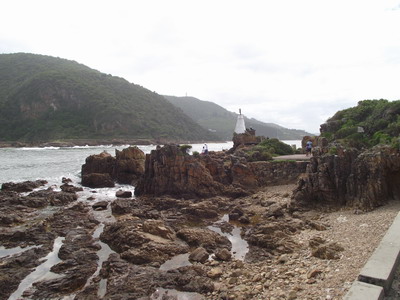 In Swellendam we admired the old Cape houses with the thatched roofs and had tea and melktert at the Old Goal. The tea house was started as a project to empower African Woman who today own and run the tea room. This is one of a series of projects of empowerment; we had earlier stopped at another place where the women make dolls and beautiful beadwork to earn an income.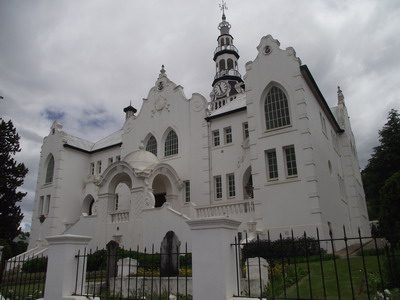 We passed through Somerset West and reminisced about attending camp there when we were in Habonim many many years ago.
As we drove through the countryside we could not help admiring the beautiful scenery – a range of mountains in the distance with fertile valleys and forests all around. South Africa is a beautiful country.
We arrived in Cape Town greeted by mist and rain. We are staying with Sheenagh and her daughter Katherine, who swore we were just below Table Mountain, but after a few days here we still don't believe them!

They've taken the mountain away!