Lopsy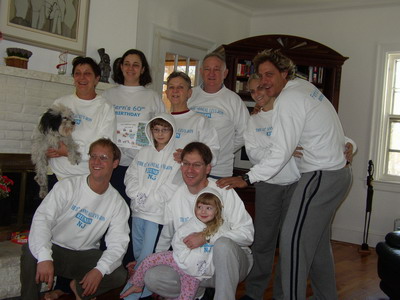 Doreen tells us about Lopsy
Lopsy is the pampered dog of Vered and her family. He has allergies and a heart problem and a propensity to annoy other dogs. But it wasn't always so. Lopsy used to be our dog.
When I returned home to Israel a month after Dani was born in Manhattan I told Anthony that we needed a new dog. (Our previous dog had died in a canoeing accident in Colorado.) Anthony said he had to confess that he had chosen a delightful dog as a surprise for my return but the dog was so problematic that he had to return it to the Humane Society. The dog cried as soon as he was left alone. He cried so much that the neighbors who lived in the adjoining apartments in the Jabotinsky flat couldn't work or sleep. They threatened to call the police if Anthony did not do something about the dog. Faced with no alternative Anthony returned the dog to the Ramat Gan humane society.
Well, one Friday morning we visited all the homes for destitute dogs in a 40-kilometer radius of Tel Aviv. As soon as we entered a pound there were hundreds of excited yapping dogs barking, "Take me! Take me!" We must have seen thousands of dogs that morning. And after each encounter I came away with the feeling of "well if I have to….", but no dog captured my heart.
At the end of the day we arrived at the Ramat Gan humane society. Anthony, whom I suspect was embarrassed about going in and looking for a new dog after the previous fiasco, chose to stay outside - "Perhaps the dog would still be there" he reasoned, "and it would be unfair to him." I went in without much hope and 2 seconds later came out smiling and called Anthony to come and see the dog I'd chosen.
He reluctantly came inside, looked at the dog and gasped: "That's the very same dog that I chose."
On the ride back to the apartment with Lopsy snuggled on my lap we gave him his name which derived from the cute way one ear stuck straight up and the other flopped down - lopsided he definitely was.
Oh, and what about the crying? I found that if I locked him in the toilet when we went out no one could hear his cries.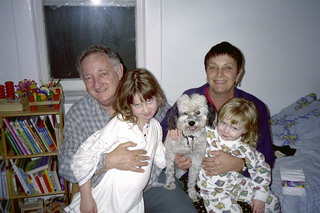 When we went on our around the world trip we asked the Rons to look after Lopsy even though we knew that there was a chance the girls would become so attached to him that he would remain with them. And so it happened.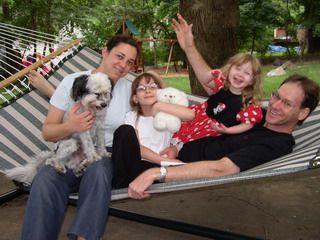 Lopsy returned to Israel - though not to us - when he later made aliyah with the Rons.