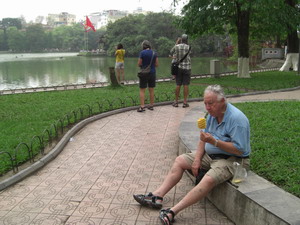 On our Australian trip we had a stopover in Hong Kong and decided to fly to Vietnam to spend a few days there. By the time we reached Hanoi it was dark. As we peered through the taxi window at the muddy streets without pavements, strange narrow houses, people sitting by the road on plastic chairs and throngs of mopeds, I became more and more apprehensive about our hotel. I promised myself not to pull a face and not to complain about having to schlep my suitcase up the staircase.
Well, we found ourselves at Hotel De l' Opera, a most pleasant hotel where they upgraded us to a huge suite for the night. Dinner was good and we were served by a delightful waitress who every day, even when not serving our table, rushed over to give us our morning cups of tea and coffee.
The next morning we walked to Lake Hoan Kiem where Eitan ate an artisically cut pineapple and where we watched a game that seemed a cross between golf and bowls played with a golf club and a badminton shuttlecock instead of a ball. We visited the Ngoc Son Temple in the middle of the lake. We then braved the traffic, hesitantly threading our way through an unending swarm of mopeds, speeding along like drones of angry hornets, not even thinking of slowing as we crossed in the pedestrian crossing.
The rest of the day was spent walking the streets. We were surprised at the number of shops selling Northface clothing and backpacks.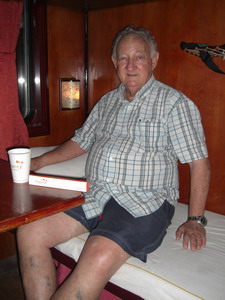 That night we took the night train to Lao Cai. Although the mirrors on the train, the paper cups and the toothbrushes all had "Orient Express" emblazoned on them, it was anything but. We had booked a luxury cabin which we had to share with two other passengers. To my horror there was no ladder to climb to the upper bunk, only a narrow ledge that I could not negotiate. I remembered my mother and her friend who were on a night train many years ago in Russia, in what must have been a similar compartment. When two men entered to share the compartment, my mother forcibly pushed them out into the corridor and locked the door. No amount of shouts and threats from the men and the woman in charge of the carriage could persuade her to open the door.
Thankfully the other couple who shared our compartment agreed to take both upper bunks and I didn't have to resort to violence.
The train left exactly on time…. but arrived 4 hours late.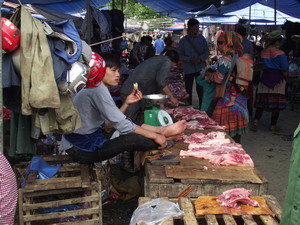 We were met by a guide and driver and after a miserable breakfast were driven to the Sunday market at Bac Ha.

Despite the absence of refrigeration were struck by the absence of flies – a sharp change from the previous week when in the Red Center. (There was no absence of bare feet on the tables next to the meat!).


The market takes over the whole village and is most colorful, especially due to the traditional clothes that the various H'Mong ethnic tribes wear. The most interesting part was the animal market – horses, huge buffalo lounging in the sand; puppies playing between the sellers legs (food or pets?), pigs and various birds. Tight groups of men examined every feather and feature of fighting cocks while others sat on their haunches in front of rows of singing birds in beautiful bamboo cages listening and evaluating their songs.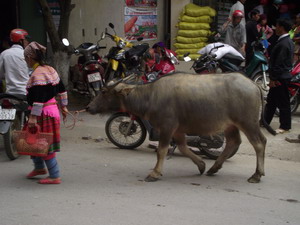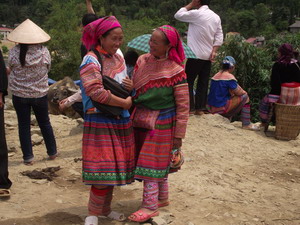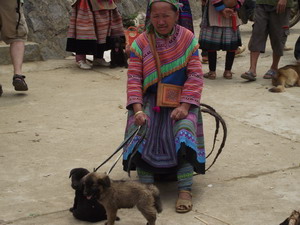 On the way to Sapa, where we were to spend the next two nights, we drove along the Red River, passing a bridge that lead into China. We also stopped to walk through a green tea plantation in a beautiful valley.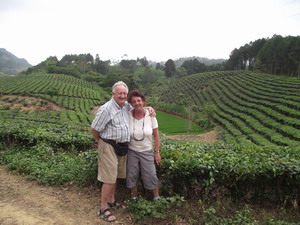 Vietnam was a bit of a puzzle to us. Ostensibly it is a communist state, but there is free enterprise. Urban citizens have to pay for all medical and educational needs, while ethnic tribes in the outlying areas get free education and medical services and are also allowed to have three children without a penalty - all in an effort, it seemed to us, to encourage them to remain in the villages and in rice production. Although our various guides were reluctant to speak about it, we understood that in a one-party state there is little redress for grievances or change. And corruption is rife. Not long after we left Bac Ha we were caught in a traffic jam. Workers building a new bridge had ploughed up the tarred road and made a narrow unsealed detour. We were at standstill for over 40 minutes while cars and scooters continually came from the opposite direction, not allowing our lane to pass. When we asked where were the police to direct the flow of traffic we were told that there was no money in this and they wouldn't come. Eventually we persuaded our guide to go and do something; otherwise we would have been there until the next morning when they widened the road!
When we arrived at Sapa, again in the dark, it was shrouded in mist; in fact although our hotel room would suggest we were above a valley we never saw it.
The next morning we were happy not to have to walk the 13 km hike down the mountain and did a shorter route instead. We were finally below cloud cover and an enchanting valley sculpted by unending terraces of rice paddies opened up below us. Here in the mountains because of the cold, the villagers can only grow one rice crop a year. Most terraces were mud or water waiting for the rice shoots to be big enough to be transplanted. Springs filled an upper level of terrace and the water then flowed into the ones below. They use buffalo dung for fertilizer and each shoot has to be planted by hand. Where the ground cannot be flooded we saw maize and beans.


We reached Lao Chai village where they grow hemp (not for smoking, we were told) to make cloth and also indigo to dye the cloth..

Paddles that fill up as the river runs past bear down on bowls of rice which they de-husk. We stopped at a house where the women weave and dye the cloth and make them into clothes and tablecloths. I very much wanted one, but the size was too small. After much deliberation the woman agreed to cut up another cloth and add a border to the tablecloth I had chosen, lengthening it to the correct size.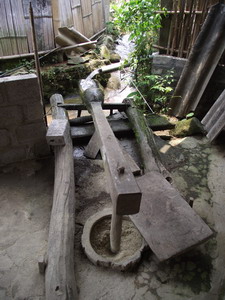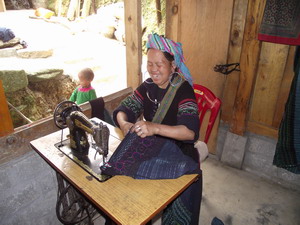 Lunch was a delicious noodle soup, well-earned after continuing to descends to another village in the area. After lunch we were happy to be transported back to Sapa. After a good supper we too investigated the Northface, Columbia and Kipling labels offered at nearly every store.
The following morning we hiked down to Cat Cat village. It was described as an easy 4 hour hike – nothing is easy when you are walking downhill all the time! Eitan and I are like Jack Sprat and his wife. He does the downhills okay, which are painful for me and I sail the uphills which are somewhat of a struggle for him.
By the waterfall at the bottom of the valley we saw a delightful folkdance show and so as not to embarrass our guide I agreed to do a dance hopping between bamboo poles. I was embarrassed. We ended the day with a steep walk up to Sin Chai village and then back to Sapa and the night train to Hanoi. A delightful three day stay.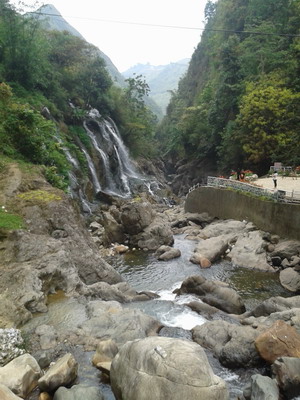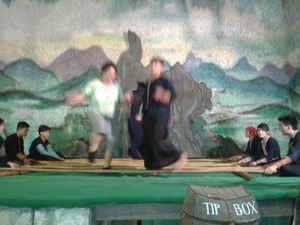 Doreen dancing the bamboo dance (apologies for the blurred picture)


After another long night on the train, w
e arrived back in Hanoi in the early morning as the city was waking up, before the 2 million mopeds took to the street. A light rain added

to the quiet as women swept the area in front of their shops with small brooms made up of a bundle of sticks, men lit coal braziers around which

the family

would later sit on tiny plastic chairs and eat their morning noodle soup, groups of men

did tai chi while a group of women energetically

participated in an exercise class, both groups taking shelter from the rain under the broad eaves of exclusive shops.
Back at the hotel our favourite waitress ran across the huge dining hall to say hello and pour us our hot drinks.
We had signed up for a cooking class at the Hanoi Cooking Class on the other side of town. As our taxi threaded its way through the morning traffic, looking at the mopeds sometimes transporting two parents and two children, I was reminded of our own early days in Hofit when we had a Vespa. With Vered on the backseat and Aviv standing between my legs we would drive from Hofit down to the beach and think nothing of it. At the cooking school another family was already there sipping their liquorice tea. They were from Australia; the wife's mother, an immigrant from Indonesia had opened the first Asian restaurant in Sydney; so they were much more familiar with Asian cooking than we.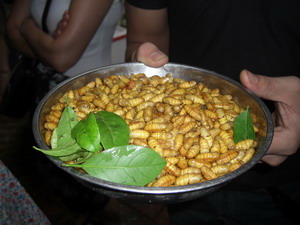 We started the morning with a walk through the market where our guide and teacher Chien identified the various herbs and vegetables. He bought some prawns that we would later prepare in class. We stopped by a stall that offered chicken, quail and duck eggs .Eitan and I declined the chance to later eat the embryo of a duck egg, but the other family readily agreed. Chien took two eggs and held them up to the overhanging lamp. One was clear and the other opaque – that was the fertilized one
I thought of my father (Grandpa Maurice) who always wore thick green gl;asses. He said he had ruined his eyes

at his first job in South Africa. His uncle (uncle Joe Glasser) had paid for his passage from Vilna, via Southampton, to Capetown and then across land to Johannesburg. His family had operated an inn back in Malat

near Vilna, so he went to work in a grocery store. His first job was to sit in the basement of the store and take each egg, hold it up to the candlelight and make sure it was

clear and therefore kosher.
Our last stop was by a plate of squirming grubs. Not wanting to appear a wimp I said I would eat them and we added this to our menu for later.

Back at the kitchen we had to wash our hands and don an apron. The kitchen had a number of stainless steel tables, some of them full of local students who were preparing for a function. Chien demonstrated how to prepare the food and then we returned to our table and tried to follow his instructions: "Do we have to add the fried shallots to the salad or the dressing?" . "Make sure to dissolve the sugar in the rice wine before adding the fish sauce, otherwise it will separate." I was reminded that on Massada by the Dead Sea archaeologists found a ceramic jar from the time of King Herod that had the remains of a pungent fish sauce imported from Europe. It was the ketchup of its time. We always think of Asian food as having soy sauce. In Vietnam we hardly saw soy sauce, the condiment of choice was always fish sauce, used in cooking and in dipping sauces.
We helped prepare noodle soup which we immediately ate. The broth was made from roasted meat bones that had been simmered for 8 hours with various spices.The secret to it remaining clear was not to let it boil but keep just at simmering point. It was good, as good as the noodle soup we had eaten the night before, sitting on the pavement in Lao Cai before we boarded our train.
We also prepared green papaya salad, learnt how to quickly julienne green papaya and sweet potato with a special peeler (that we later bought) as well as using a traditional wooden one, which Eitan said was just as efficient. We prepared rice wraps with beef and vegetables. Finally we prepared the binding sauce for prawn and sweet potato pancakes, and made banana and coconut cream pudding for desert.
We watched as Chien broke open the duck egg that had been boiled for 30 minutes and then with chopsticks carefully peeled away the yolk sac and chopped up the tiny duck embryo. Again we politely declined the offer to taste.
Then came the turn of the grubs. They were tossed into a hot frying pan, some still squirming and after being pan roasted Chien added some chilli and soy oil. He apologized for pouring too much oil into the pan. We were then invited to take chop sticks and tuck in. Actually, if you could overcome the thought of what you were eating they were tasty, but after a few I could happily say: "Delicious, but too oily for me."
We ended the morning by sitting on the rooftop of the school and enjoying the food we had prepared. A delightful morning.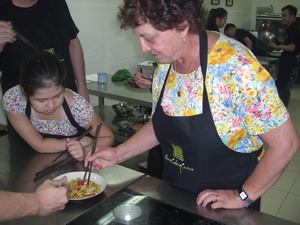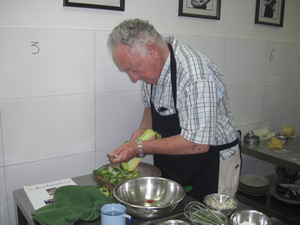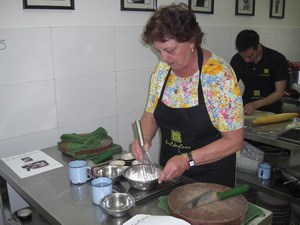 In the evening we went to the Water Puppet Show, without great expectations except that we remembered our granddaughter Dani telling us how much she had enjoyed it. The hall has a pool bordered by a raised dias with an orchestra and singers and a house in the water with flaps.
The beautifully fashioned wooden puppets - people, fish, a fox, dragons and butterflies - were brightly coloured and lacquered. We were fascinated by the movements of the puppets in the pool as they enacted folk tales with charm and humour. The orchestra and singers accompanied each scene often warning the puppets of impending danger. We could not fathom how the puppets could move and twirl and flip backwards and forwards. It was delightful. After the performance the puppeteers, wet to their waists appeared. Later we found out that the water puppets originated 1,000 years ago in the rice paddies in North Vietnam – in the very area that we had visited, at this time of year when the rice paddies were being flooded and before the planting began. The puppeteers hid behind the terrace and moved the puppets with bamboo rods and levers. They still use the same technique today. Well recommended!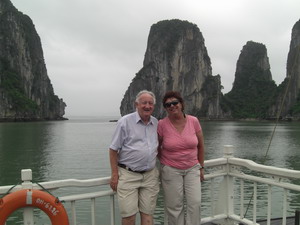 The next morning we set out to Halong Bay (a World Heritage Site) in the Red River Delta. Only 160 kms from Hanoi it took as long to get there as the 350 Km drive from Netanya to Eilat because of traffic and bad roads. On the way we stopped at Hai Duong Toon, a complex that offers a home and a sheltered workshop to children suffering the effects of Agent Orange sprayed on their parents and grandparents during the American-Vietnamese war. Many of the young people suffer severe birth defects and many are mute. But talented they are and have been taught skills such as weaving, embroidery, painting and sewing. It was a pleasure to buy the few souvenirs we needed from a sheltered workshop.
At Halong Bay we were faced with tens of large boats in the dock, and looked for a small boat for the two of us. In the end we had a large boat to ourselves and enjoyed a delicious seafood lunch as the boat slowly sailed out to the enormous bay encircled by rows and rows of the huge limestone cliffs jutting out the sea. The quiet and magnificent scenery was so relaxing.