AUSTRALIA
2 January 2002 to April 2002
HERON ISLAND
9 March 2002 to 11 March 2002
Our next island hop was to Heron Island for a few days scuba diving. It is a small island with a fringing reef, one of the best places on the Southern Barrier Reef for diving. We got a last minute package deal, in a case of role reversal when Eitan overrode my hesitancy concerning expense, high winds and suitabliltiy for diving. In the end I was swayed by the thought of sleeping in a proper double bed where I could swing my legs down and touch the floor without having to crawl over Eitan and down the ladder. Doubts again surfaced when at the check-in for the hotel which was at the ferry boarding terminal, the receptionists were handing out seasick pills together with the boarding passes! I choose ginger anti-nausea capsules, put on my seabands and did some deep breathing and positive thinking to settle my stomach which was already heaving.
The two-hour journey was rough and the catamaran hull was banging against the waves with less pitching and more yawing. There was a group of schoolchildren on board and at really big yaws I could hear them scream. It was very funny because after about 1 ½ hours the captain announced that we had reached calmer waters. But everybody downstairs (supposedly the most stable place) must have misunderstood him and thought he said we had retched water because there were literally people on all sides vomiting their guts out. The receptionists who had previously handed out the pills were now going around collecting vomit packets!
As the ferry maneuvered its way to the jetty the colour of the water was green and the sand white; everything looked lovely. Our room was airy and spacious with a shady verandah looking out to trees and sand. The more expensive rooms had a reef view but to us ours was perfect.
After a delicious lunch we went to the dive shop to organise the dives. We were impressed by their professionalism. I had my dive card and logbook with me and got organized for the next day's dive. The guy in the shop wouldn't even look at Eitan until he showed his certification, so he had to wait until his luggage arrived.
By this time it was 4.30pm so I left Eitan, whose luggage had just come and rushed off to the birdwalk by Justine. Although the island is called Heron Island there are no herons there only egrets, the Eastern Reef Egret in a white or grey morph. The wedgetailed Shearwaters – Muttonbirds – had nested and their chicks were getting fat. The muttonbirds dig burrows up to 2 meters long. There was a burrow with a big fluffy chick inside just by the entrance to our room.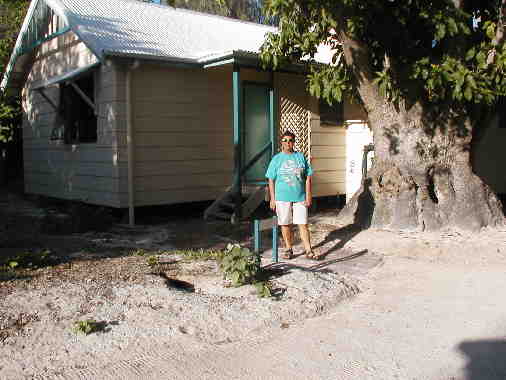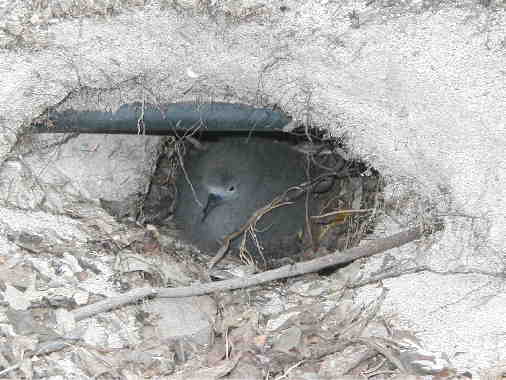 When it is dark the parent returns to feed the big baby. The night sounds of the parents as they arrived through the night, ranged from cat-like caterwauling to babies crying, which kept us up most of the night. Interestingly, parents migrate before their young. So when there is no more food being brought the young have to maneuver their way out of the burrow, often a very tight squeeze as they are so fat and then they wait about for a few days in the hope that an adult will come and teach them to fly, a very difficult thing because they have to take off from the ground. When they realize they have to do it on their own, they do, migrating northwards to the Arctic Circle. About 20,000-30,000 breed here.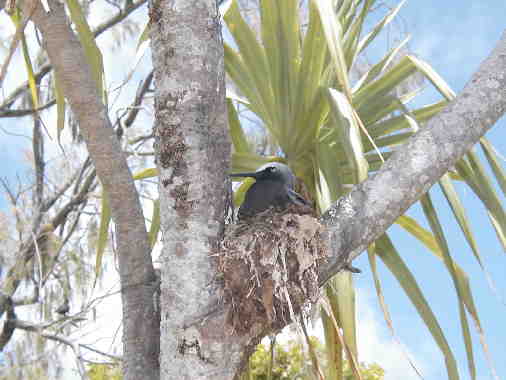 The Pisonia trees are alive with Black Noddy Terns, 70,00-120,00 nest here. (They also nest in Pandanus palms.) Noddy Terns get their name from the way they nod their heads to release salt from a gland by their noses. It's cute to see a pair on a branch nodding to each other, as if in deep conversation.. You hear their calls day and night – they too never seem to go to sleep. After deciding on a mate the female builds a precarious leaf nest on a branch of a Pisonia tree. She will check out each leaf that the male brings and discard those she doesn't like. One bird was counted as rejecting the first 90 leaves! Mortality is high, chicks just fall out the shallow nest, or other birds eat them. In addition when the Pisonia's fruit dries it becomes sticky burrs. These can get wedged in the feathers of a tern and then it can't fly and will die. For the tree this ensures that on a sandy island its seed will have the nutrients of the decaying bird to give it a good start. We saw a few dead birds and actually saw one dying.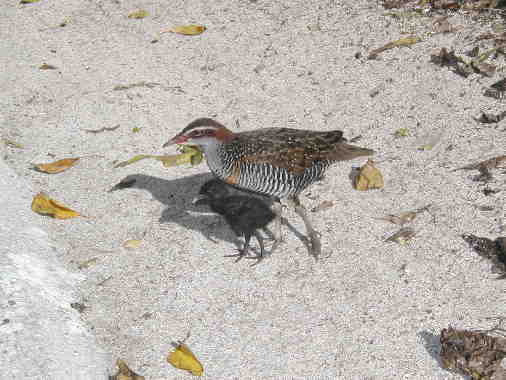 Then there are the Buff Banded Land Rails. They walk around everywhere. Transported to another island they flew back, showing they have the ability to be strong flyers but have no need for that here. They have up to 10 eggs, abandoning all but two. But some rails have taken over the restaurant beat. They used to eat sugar from the sugar bowls, so the resort, very ecologiacally aware, changed to covered sugar bowls. The birds learnt that if they jumped on the spoon they could knock the cover off. The resort now uses sugar packets, but now the birds are learning how to open the packets. The resort is studying the best solution to this problem! Studies have shown that males who have a greater amount of testosterone are more aggressive than others, and can assure better food for their chicks. Some have started to raise a greater number of chicks and the results of that are being monitored.
The Bar Shouldered Dove has 4 different diets, varying greatly, so much so that at first they were thought to be 4 different subspecies. We also saw Lesser Golden Plover, Ruddy Turnstones, turning over vegetation and stones, Silver Gulls, Silver Eye, Crested Terns, Black-naped terns, Brown Boobies, cormorants, white-bellied sea eagles looking for turtle hatchlings just before sunset, and others.
After a really super seafood buffet supper we had to rush to a star gazing meeting. A group of people made their way to the heliport in the total dark to look at the Milky Way and learn how to find celestial south. We wanted to go turtle watching and perhaps see a female coming to lay her eggs, but it was too dark.
We slept relatively well and even though woken up by the birds that never seem to go to sleep it was most pleasant. After a light breakfast and we made our way to the dive boat. Jamie was dive master. It was pretty windy, 25 knots, and we were to do a drift dive with the current. Although Jamie said pairs could go off on their own no one felt comfortable enough to do so because of the visibility; if something wasn't in your face you couldn't see it. Jamie kept up a constant pace, never stopping to see anything. Later we understood that he had to make sure the newer divers had enough air to get to the pickup point. There are stringent Queensland diving laws – especially after a company left two divers behind on the reef. We did see a lot of really big fish, groupers and a really huge potato cod, but as an introduction to the Great barrier Reef it was a disappointment.
On our second dive visibility was better, about 12 meters and it was a fantastic dive. We saw sharks, a manta ray, lots of spotted eagle rays, schools of really big barracuda, a large eel, lots of bat fish pairs and large groupers, rabbit fish and masses of tiny and bigger reef fish – wherever you looked there were just schools of fish. And we saw three Green Turtles – one huge one with lots of barnacles on his back. This was the Great Barrier Reef of one's dreams. No wonder Costeau named Pam's Pools as one of the top 10 dives in the world.
After an excellent lunch we did a little shopping then Eitan went for a massage and I choose the ultimate luxury – an afternoon sleep. At six we circumambulated the island, looking for turtles, either egg laying females or little hatchlings making their way to the sea. Thre used to be a turtle soup factory on the island but today the island is a marine park and houses a marine research station. We did see many nests with broken shells and hundreds of hatchling tracks, some of them very fresh. We then sat on the beach at sunset and it was lovely.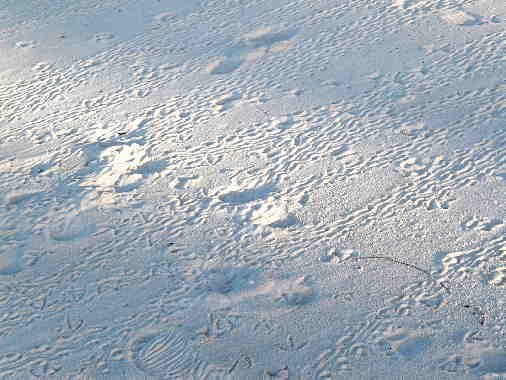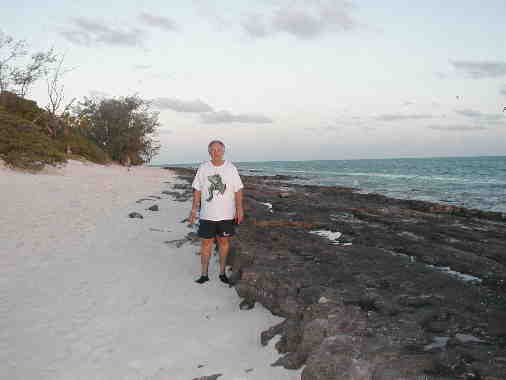 Our last day on Heron Island! Had we any inking how gorgeous it is on the island and how much there is to do we would have stayed longer. In retrospect two days on Fraser were plenty and four days at Heron, just enough. Again passing up the sumptious breakfast we ate lightly and went for our last dive on Wistari Reef, actually not part of the island's reef but across a narrow channel. Again it was a drift dive and the boat would pick us up further down the channel. He said we could do it alone, and after 25 minutes to make sure that we were at about 10 meters so we wouldn't miss the chain, which we should reach after ½ hour. Thank goodness we went with him. I thought the current was very strong, most places we were drifting faster than I would like and we reached the chain after 40 minutes – "very slow current today" – we surely would have surfaced well before the boat on those instructions. If the previous day's dive was all about masses of fish wherever you looked, today's dive was about coral – at least 15 meters deep, on a gradual incline, starting with bommies (coral heads) but soon becoming one thick mass of coral, staghorn predominately, but with many other different kinds as well as a few sea anenomes, encrusting sponges and a few other sponges. Visibility varied, from 5m to perhaps 12m so we didn't see brilliant colours, but the mass of coral was truly impressive. We did see sharks, inlcuding a huge spotted carpet shark in a cave and lots of other fish, especially groupers of various kinds. It was a fabulous dive.
Reluctantly we left the island but pleased that the sea was now calmer and the journey back quite pleasant.

We were glad to see our motorhome in one piece and the fridge still cool. We immediately got organized and drove off in the direction of Mackay.

Click below to return to BRISBANE & CENTRAL QUEENSLAND