Doreen's and Eitan's Impressions
of their
Around the World Trip - August 2001 to August 2002

Note: These pages have been relocated from a previous site. Please let me know (levy.eitan@gmail.com) if you come across a link that doesn't work properly.
---
To go to our family site, and read about us and our family, CLICK HERE
---
-------------- ******* ---------------
OUR ROUND THE WORLD TRIP

Packing up the house for a year was a formidable task. Under pressure from our tenants, who wanted the use of all the rooms, we even had to go through unopened boxes packed when we left Eilat in 1990!
One of the last tasks was to bury our compost, lovingly prepared for next winter's vegetables. Fortunately Moran was there to help us.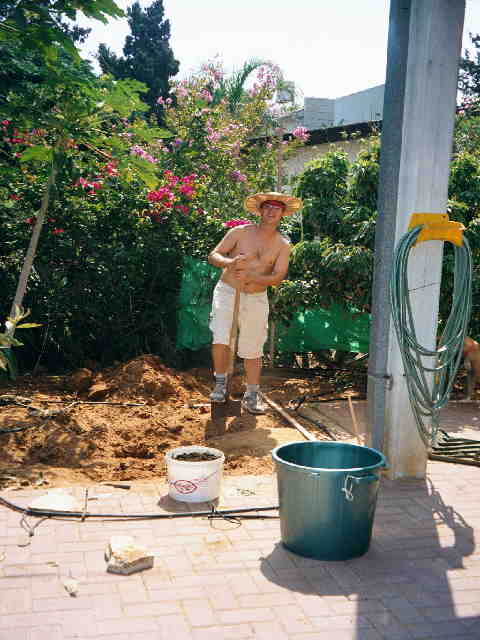 BRITAIN
England
Wales
HOLLAND
Cycling in Holland
U. S. A. (2001)
New Jersey
RV trip in New Jersey/Maryland
St Thomas UPDATED 31/1/02


NEW ZEALAND
Auckland and Jordan's Barmitzvah UPDATED 29/11/01
Northland
Whakatane and White Island Volcano UPDATED 18/11/01
Hawkes Bay, Rotorua and area UPDATED 29/11/01
South Island UPDATED 6/1/02
FIJI
Fiji, at the Fijian Resort, Yanuca, Viti Levu UPDATED 6/12/01
South Australia and West Victoria UPDATED 22/1/02
Two stories, Margaret and the wreck of the Loch Ard UPDATED 22/1/02
Melbourne - family and friends UPDATED 4/2/02
South-eastern Victoria UPDATED 5/2/02
Canberra UPDATED 7/2/02
Sydney UPDATED 19/2/02
Blue Mountains & Hunter Valley UPDATED 21/2/2002
The Legend of the Three Sisters UPDATED 1/3/2002
N. New South Wales and S. Queensland UPDATED 3/3/2002
Brisbane and central Queensland UPDATED 20/3/2002
The legend of the Glasshouse Mountains UPDATED 20/3/2002
Fraser Island UPDATED 20/3/2002
Heron Island UPDATED 20/3/2002
Whitsunday Islands UPDATED 20/3/2002
North Queensland UPDATED 25/3/2002
Magnetic Island UPDATED 25/3/2002
Cairns and the Great Barrier Reef UPDATED 16/4/2002
The Red Centre UPDATED 14/4/2002
Perth & Western Australia UPDATED 24/4/2002
ANTARCTICA
Flight over the ANTARCTIC UPDATED 12/2/02

SOUTHERN AFRICA
Johannesburg, Drakensberg, P.E. & Cape Town pictures only
Kruger Park & Sabie Park pictures only
Namibia UPDATED 20/6/2002
Mocambique pictures only
ITALY
Milan and Salsomaggiore Terme UPDATED 26/6/2002
U. S. A. (2002)
Colorado and New Jersey pictures only




---
To go to our general site, and read all about us and our family, CLICK HERE
---