AUSTRALIA
2 January 2002 to 18 April 2002

THE RED CENTRE
2 April 2002 to 9 April 2002

We flew from Cairns to Alice Springs, the red center of Australia. When cloud cover dispersed we looked down and for an hour saw a single straight dirt track going westward. We were over a vast flat area of red sand with what looked like a greenish-black rock but later turned out to be sparse trees and clumps of hardy grass. There were many winding dry riverbeds with trees on the edges and inside the courses of the rivers. Here and there we could make out clumps of houses, but there were no signs of agriculture, no flocks of animals and no visible signs of water.

Alice Springs in the heart of Australia was hot and dry. It was the first town in Australia that we've seen that looked half finished and was quite dirty. Most of the people sitting on the grass under the shade trees or walking barefoot around were Aborigines. The town is full of restaurants, tour booking agencies and art galleries, some of which are Aborigine owned.

Alice Springs was our starting point for a 5-day camping safari to the red center of Australia. Ayers Rock (Uluru to the Aborigines and now its official name) is truly impressive but every day we visited and hiked other amazing sites.

We went with Sahara Outback Tours ( http://www.saharatours.com.au/) , and we definitely recommend them. We were eighteen people in the 4X4 bus with Philip as our guide. Half the people were in the over 40 category including Ariella and Nomi whom we had met in Cairns. This meant we always had company when we did the more strenuous walks! We slept in permanent campsites but we all had to pitch in to help at mealtimes as well as collect firewood.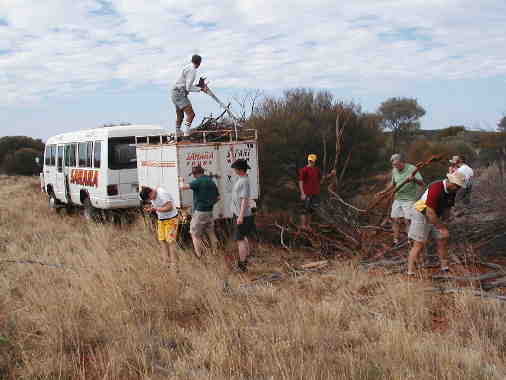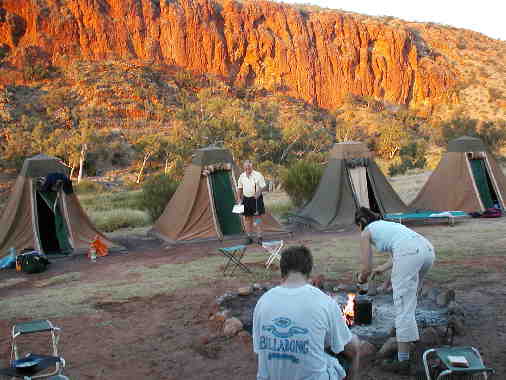 We were lucky to see a Thorny Devil crossing the road. Despite its fierce appearance it is harmless. It eats black ants. Its spines give protection and also collect moisture which is absorbed through the skin.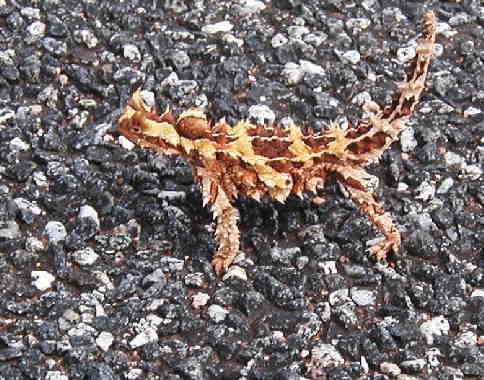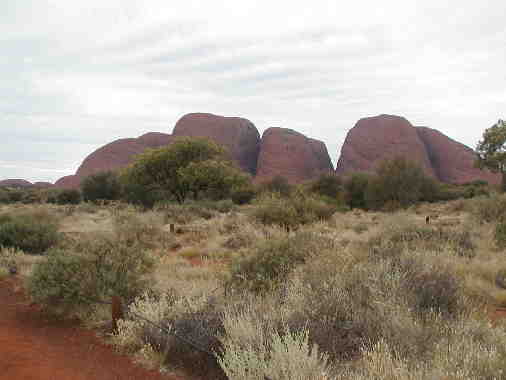 After driving all morning we reached Uluru-Kata Tjuta National Park. Uluru (Ayers Rock) and Kata Tjuta (The Olgas) are made up of sedimentation, formed by rivers eons ago. The larger conglomerate formed the Olgas and the finer sand continued in the rush of the ancient rivers eventually being deposited at Uluru, before uplifting and other changes took place. We first visted the Olgas, where we walked through the Valley of the Winds. The cleaved mountains and the texture of the mountainside were fascinating and perhaps even more interesting than Uluru.
Photographs of Uluru show this red mountain surrounded by red sand. The area is semi-desert with an annual rainfall of 250mm, but the last few years has seen 10 times as much. The plateaus are carpeted with grasses and sustain different kinds of eucalyptus and acacia trees as well as desert oaks from the Casuarina family that are endemic. The fire engine red sand deepens the greens of the vegetation.
Late in the afternoon we drove to view sunset over Uluru. A lot of the upscale companies serve champagne to the tourists as they watch the sunset. Philip our guide, when he saw us eyeing the champagne, reminded us that Aborigines have a serious drinking problem and are not allowed to drink alcohol in the area and that we would have wine with our dinner back at camp. Cloud cover prevented a good sunset but we watched the area sink into darkness.
In 1970 the ownership of the Aboriginal people over Ayers Rock was recognized; at the same time they had to lease the Rock to the national parks. Some 400,000 tourists visit the area every year. The Aborigines get one quarter of the $16.00 park entrance fee. Yulara is the only village servicing Uluru and the Olgas. The resort has three levels of accommodation as well as an area for group camping.
When it was quite dark we made our way to the Sahara camp where we helped prepare dinner and after a hot shower just fell into bed. Well almost. Eitan remembered that on Fraser Island he had sat on the bottom of the camp bed and fallen off. This time when he carefully sat on the top of the bed, it toppled over and he became wedged between it and the corner of the tent. Doubled up with laughter I left him to extricate himself as best as he could.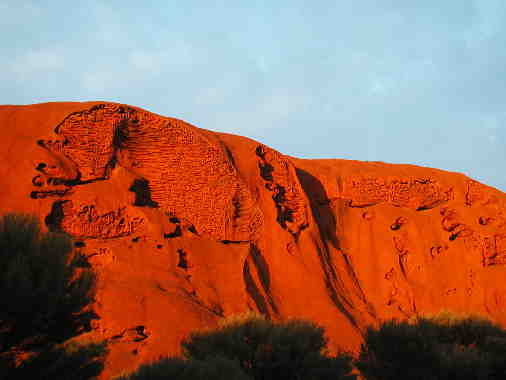 We were woken up at 5.15 am so that we could arrive at Uluru in time to see the sunrise. The local Aborigines will not allow Aborigines from other tribes to climb the Rock and try to pressure tourists to refrain from climbing as well. The climb looked dauntingly steep, enough to discourage most of us from even thinking of climbing.
In the end it didn't matter as the climb was closed due to high winds, so we walked the 9-km around the Rock. A few seconds of sunshine allowed us to see the magical reflection of sun's rays on stone. The face of the rock has been eroded into many interesting features and there are a number of Aboriginal traditions connected to the site. There are some fenced-off sacred areas around the base of the Rock, which are used for special gatherings. In one of the caves there are rock paintings, not art but maps of water holes, nests of honey ants and records of important information.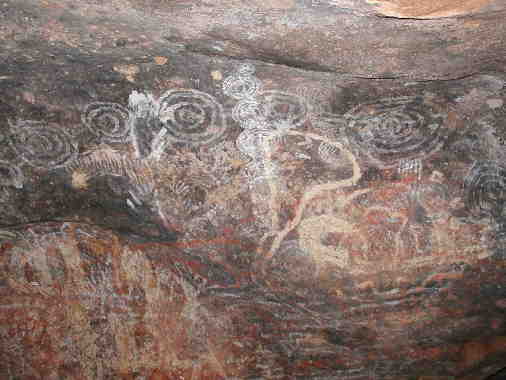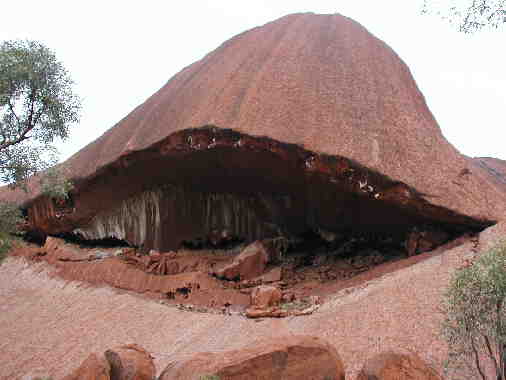 After an early 10.30am lunch we drove northward through Angus Downs, a huge cattle station more the size of a country than a farm, nearly 6,000 sqare kilometres! On the way we saw feral camels. Afghan camels were imported in 1840 during exploration of the desert interior when horses couldn't cope with the heat and lack of water. The camels transported telegraph poles for the line that linked Adelaide to Darwin (and from there by underwater cable to Java, Singapore and England). There were no roads so camels later carried sleepers for the building of the railway line, inaugurated in 1870. They also carried two pianos to outlying farms! Today Australia has about 300,000 feral camels. It is the only country with a sizable wild population and has the largest number of camels after Saudi Arabia. King's Creek Station where we stayed on our second night catches feral camels and exports them to Arab countries as ordered. Camel meat is a growing export to Asian Muslim countries and can be found on select Australian menus . At the station some people went on a helicopter ride and saw more wild camels and brumbies, wild horses. I chose to go on a quad bike through the cattle station. The sandy, bumpy winding track was quite a challenge. We saw nothing wilder than Brahman cattle.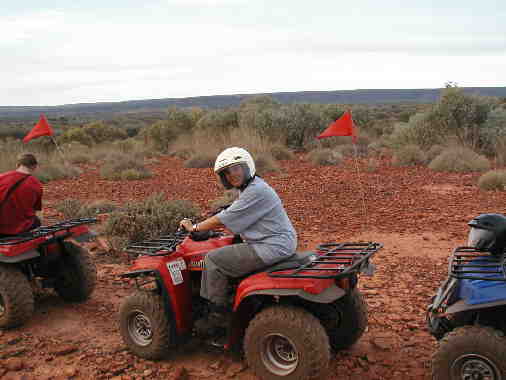 That night Philip prepared supper on the campfire. We had two different kinds of chicken, rice and damper, all cooked in camp ovens, cast iron pots with a lid that holds embers to speed the cooking. Damper traditionally was made by Aborigines from seeds which they collected and ground into a flour and added water. Ours was made from self-rising flour with grated cheese and herbs and was delicious.
The next morning we were up early again, this time to walk up to the ridge above King's Canyon in order to see the sunrise. It was perhaps the most interesting walk with photo opportunities every few steps. The 4-hour walk took us through the Lost City, formed as a result of erosion on parallel sets of cracks that form a grid and erode into beehive domes. We descended to the Garden of Eden where we took a photo of Nomi and Ariella.Walking back to the bus we passed a row of processionary caterpillars. We saw fifteen caterpillars joined to form a long chain as they crawl to a mulga tree where they weave a pouch and later turn into moths. We later saw even longer processions.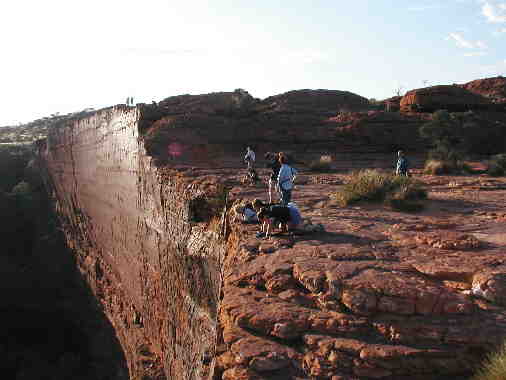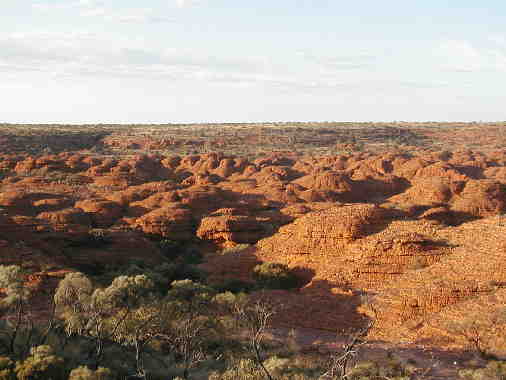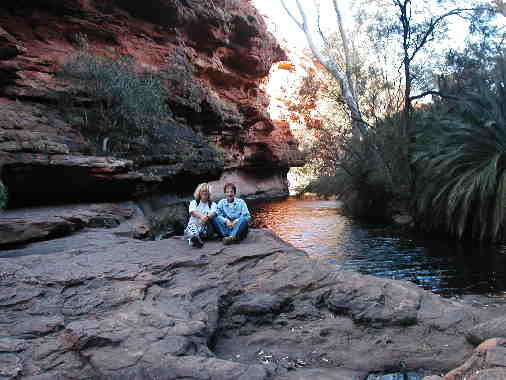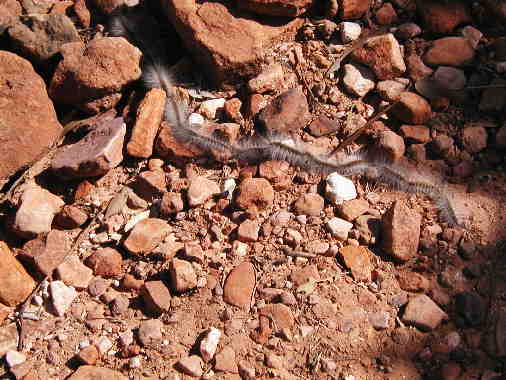 After lunch we traveled along a dusty red dirt track that went on for miles, stopping at Gosse Bluff a crater 600 metres across formed by a comet that crashed into earth 140 million years ago. The Luritja Aboriginal tradition calls the crater mountain Tnorala and tells of a group of women dancing across the sky (the Milky Way). During this dance one woman put her baby down in its wooden baby carrier. It toppled over and crashed to earth where it became the circular walls of Tnorala.
We wanted a group photograph so I stopped a passing jeep and persuaded the couple to take our photograph, actually 11 times on different cameras.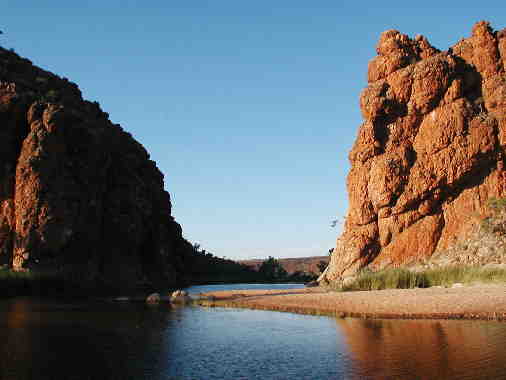 That night we slept at Glen Helen Gorge. We swam in the water hole and after dinner we went to the bar. Glen Helen is miles from anywhere yet there was entertainment – two guitarists and a singer of surprising standard. That night Eitan and I were eaten up alive by mosquitoes. Eitan said he was surprised that they didn't carry him off.
We had a late start on the fourth morning and were on the road by 8.00am. We drove to Ormiston Gorge stopping to see rock wallabies. They can jump up the rock faces even more agilely than mountain goats. At Ormiston Gorge we did the Ghost Gum Walk then scrambled over rocks to swim in a rock hole in the Finke River. The Finke River is the most ancient river-course in the world and has remained unchanged for 140 million years! The rivers in central Australia don't run to the sea but are absorbed into the ground in Northeastern Australia.
After visiting the Ochre Pits and a swim at Ellery Creek Big Hole we reached Standley Chasm. It was named after Miss Standley the first European school teacher in the area. She taught English children in the morning and Aboriginal children in the afternoon. The sun reaches into the chasm for a short while at noon, so the shaded walk along the chasm was most suited to the heat of the afternoon.
Late in the afternoon along more dirt road we reached Wallace Rock Aboriginal Community Home, a town of the Arendte tribe. It has been awarded the Most Tidy Aboriginal Town a number of times, a great achievement. Ken Porter, our local guide, came to the community 18 years ago as the representative of the Government. An enlightened administrator, he worked with the elders and did not imperiously order them about. He married an Aboriginal woman and was even initiated into the tribe. He took us on a walk showing us shelters, tools and bush tucker – food – of the Aborigines.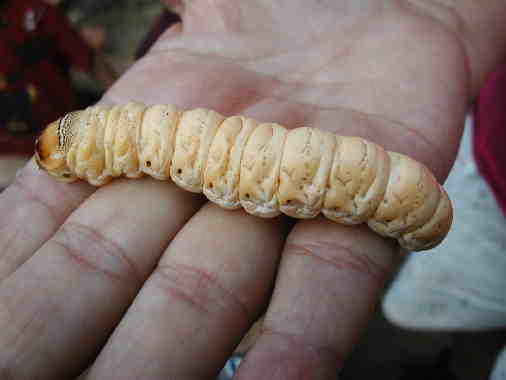 We were most fascinated by witchetty grubs that live in the roots of witchetty and mulga shrubs. The day before Ken had accidentally killed a fat grub and had to eat it – even today the initiated must eat what they kill. He said that a European had eaten one headfirst and it had choked him. Another man ate it feet first and it crawled back up. What one must do is remove the head and suck out the cheesy inside. When asked whether it was tasty he assured us that it still is a favored Aboriginal picnic food but he couldn't wait to wash it down with a cup of tea. In the dusk we sat around the small waterhole while Ken frankly answered our questions. There are 160 people in the town, 35% are unemployed. Some have government jobs and a few are cattle herders on cattle stations. Although a new bridge is being built over the river, no locals are employed on the job. There is one European teacher in the primary school with a few local aides. Ken hopes that two children now at high school in Melbourne will continue on to university and come back and teach at the local schools. Although Aborigines continue to hunt kangaroos, they no longer use boomerangs and spears, but do it from Toyota 4X4 with rifles. Ken said that it was due to the demand of tourists that boomerangs, spears and didgeridoos continue to be made. Aborigine paintings used to serve as a tool to find waterholes, bush tomatoes, honey ants, witchetty grubs, emus and kangaroos. Today their paintings are in high demand and are the main source of income for many people. He sadly agreed that the Aborigine community is doomed in that in a few decades they will be absorbed into mainstream Australian culture. Perhaps like secular Jews theirs will become a tradition of festive foods connected to a memory of the past. Our last night's camp was in the town's campground.
On our last day the road was so bumpy that we had to leave the trailer behind. We drove along the Finke River to Palm Valley. The area is hot and dry; only down in the sheltered and wetter valley is there a luxuriant growth of red cabbage palms, Livistonia Mariae Palms. Over 1,000 adult palms, some hundreds of years old, grow only here. They are a relict of a time when rainforests covered the area. Further up the valley cycads, also relicts, belonging to the earliest forms of vegetation grow on the shaded cliff sides.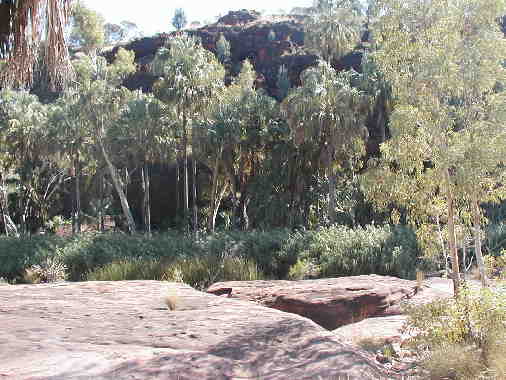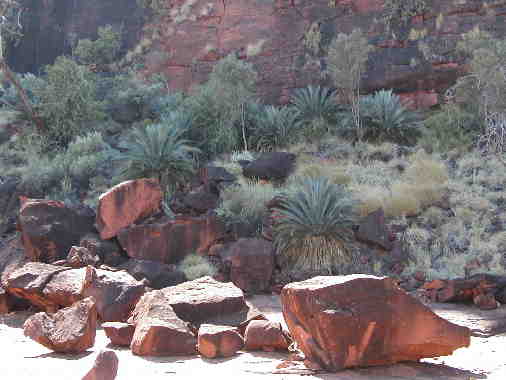 The last walk was up to Balancing Rock in the heat of the day. I nearly dislodged it!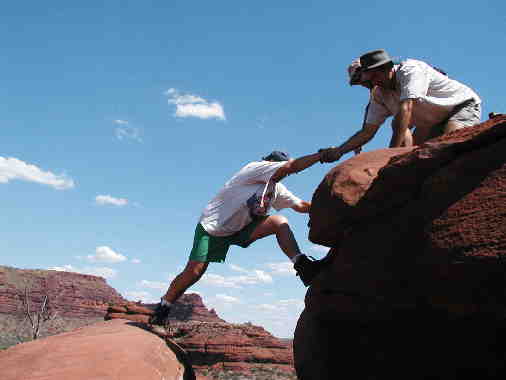 We then returned to Hermannsburg where we had left the trailer. Hermannsburg was founded by the German Lutheran Mission in 1873. The missionaries with their sheep had walked for two years from Adelaide to arrive there. Aborigines were removed from the land and brought up in the missions. Only in 1973 did they reverse their policy and the Aborigines were encouraged to return to their homelands, like Wallace Rock and in Hermannsburg itself. We bought refreshments at the well-stocked supermarket and used the spotless toilets. The supermarket does not sell liquor to Aborigines in accordance with the Aboriginal Council's decision. Beside notices about the successful youth soccer league there was also a notice offering help to disaffected youth who sniff petrol. Some Aboriginal outstations sell only diesel in an attempt to prevent this debilitating habit.
We returned to Alice Springs thoroughly delighted with our exciting trip.
The following day we schmoozed around town and visited the Royal Flying Doctor. Founded by Reverend John Flynn in 1928 to provide a mantle of safety to people living in the outback it continues to provide vital services not only to remote areas but also to victims of road accidents. Today there are 42 planes and 20 bases, each covering a radius of 600 km so that anybody can be reached within 2 hours flying time. Radio contact is slowly being supplanted by phones, but the Flying Doctor still supplies a vital service to the Aborigine community, not only emergency care but also by bringing clinics to the outback.
On our last night in Alice Springs we went to Red Ochre, an excellent restaurant with an exciting menu that offered kangaroo with bush tomato salsa, warm crocodile salad, camel steaks with Illawarra plum glaze and wallaby mignons.
The next morning we flew to Perth.