AUSTRALIA
2 January 2002 to 18 April 2002
PERTH & WESTERN AUSTRALIA
9 April 2002 to 18 April 2002
Doreen writes:
We arrived in Perth after flying in from Ayers Rock. We were fully aware that the Australian leg of our trip was drawing to an end. We booked into City Waters Motel close to the Swan River, something of a dump but situated close to town. The first thing we noted about Perth is that it is quiet and that there are hardly any cars. We later learnt that all busses and trains within the inner city of Perth are free. At last, a city doing something positive to reduce traffic in towns with noticeable results.
The next morning Simona Gringart with her baby daughter Gaia showed us around town. Simona is a friend of Vered's from their first days at high school in Eilat. We went to King's Park with its beautiful views of the city. In the park there is a memorial to soldiers who lost their lives fighting overseas. We were surprised to see a memorial nearby dedicated to Jewish soldiers who lost their life in WWI, erected by the Hebrew Congregation. When Gaia woke up we sat on the grass just talking.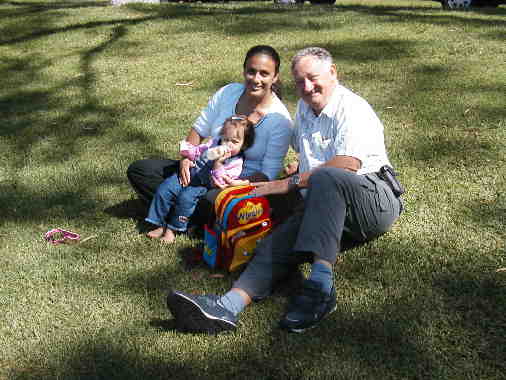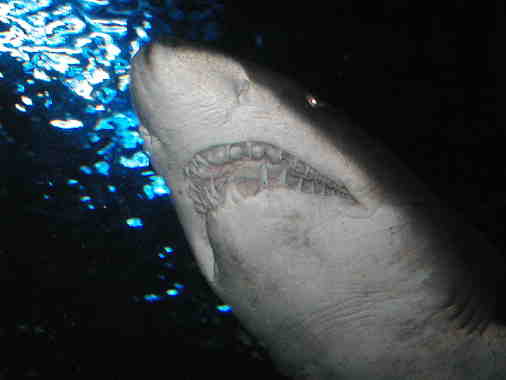 After a delicious dimsum lunch Simona dropped us at AQWA - Aquarium of Western Australia (Coral World). We were shown around and thoroughly enjoyed the visit.
Unlike Eilat where all the fish are tropical, at AQWA the displays are divided into tropical and temperate seas and an estuarine display, from around Western Australia's shores. The best was a tube-like aquarium full of pulsating jellyfish, that looked like something out of a dream sequence. Most dramatic was an acrylic tunnel that goes through a huge aquarium with schools of fish, turtles, stingrays and sharks.
In the evening we went to Simona and Eyal for dinner. We were delighted that Simona had become a lovely young woman and we immediately liked Eyal. Vered must have told them we like to eat because over the next few hours they proceeded to ply us with whisky and wine and stuff us with course after course of delicious food until we were reeling under strain of a serious food coma. On our last night in Perth we saw Simona and Eyal again.

We had a few days free before we left for South Africa, so we hired a car and drove southwards. It took us an hour to get out of Perth; we had forgotten that their highways are full of traffic lights and shopping centers and are not freeways.
Southwestern Australia is a huge wine-growing area. We drove to Mount Barker and stopped at the Plantagenet winery. Since we know nothing about Australian wines we've usually chosen either according to an interesting label or the name. The Plantagenets was one of the first television dramas to be screened over Israeli television some 30 years ago. You knew that no matter what time you invited people over, they would only start to come after that week's episode.We later visited another winery in the Margaret River area, Howard Park. It was the name and label of their table wine Mad Fish that attracted us.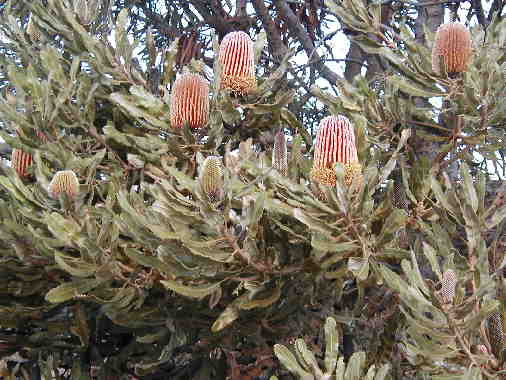 Before driving on to Albany we visited a Banksia farm, the 'people' trees we like so much. The owner Kevin manages to grow all 76 species of banksia and gives a fascinating tour of these bushes, from the same family as proteas, macadamias, grevillae and dryandras. Kevin spoke of the strategies of the banksia to ensure good germination. Most need fire to open the seedpods so the winged seeds can be released, but will do so only after the nutrient-rich ash cools. To ensure germination some release their seeds only after repeated rains to prevent the seeds drying out after an unseasonal thunderstorm. We bought some seeds in the vain hope that we will be able to get them to grow.

We slept at Albany and the following morning we retraced our steps and went to Mt Romance sandalwood factory. Sandalwood is a semi-parasitic tree that has its own roots but supplements its needs from a host tree. India supplies sandalwood oil for perfumes like Samsara, Calvin Klein and Opium but have issued a moratorium on cutting trees. The biggest resource is now Western Australia where it is grown specifically to harvest. It is a small tree, about 4 meters high and the whole tree is uprooted and shredded. Sandalwood mixed with resin is extracted and then the sandalwood oil is separated. Sandalwood is supposed to have many therapeutic effects that include reducing high blood pressure and effectively acting on candida and psoriasis. It works on the limbic part of the brain so that inhaling deeply and slowly is supposed to relax, calm and slow the blink rate. We did put a little oil on a silk scarf, rubbed the scarf to warm the oil and then inhaled slowly and deeply and felt different, so of course we bought a bottle and a scarf!
Afterwards we returned to Albany and drove up to Clarence Hill for a nice view of the harbour. The crest is called Anzac Hill with a fine statue of a man and two horses. It originally stood at Port Said commemorating Australian and New Zealand participation in WWI from 1916-1918. During the Suez campaign it was damaged and the masonry was moved to its present site and a replica of the statue was made.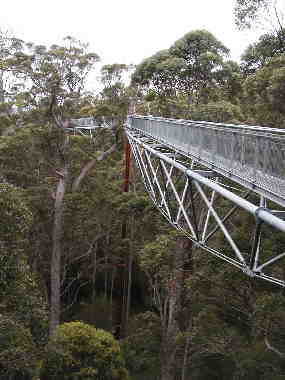 We then drove westward and just before Walpole we stopped at the TreeTops Walk. A steel boardwalk suspended 40 meters above the ground winds between 3 species of rare eucalypts that are endemic to this area and occur nowhere else – red and yellow and Rates tingle trees as well as giant karris, some reaching 60 meters high. It was nice to view the tree tops from their height. A smell of tomcat pervades the area; it is the scent of a karri wattle tree. Afterwards, walking on the ground we examined tingle trees that continue to grow even though their centers were eaten away by fire, fungus and termites.
We stopped at Warren National Park and drove through virgin karri forest to the centennial tree. There are a number of trees in the area that can be climbed and this one is the highest. It has pegs circling the living tree to the top. I climbed about 5 meters for a photograph then looked down and decided that I really didn't want to do this and climbed back down. While we sat and agreed that it was ridiculous to do it, I looked again and decided that actually I could do it. I would not have done it if it were objectively dangerous, like raining or wet or windy. But when the fear is only in the mind I like to challenge that fear and try to overcome it. Although the rungs that are vertical look quite forbidding it is the spaced rungs that are harder to negotiate. Seventy five meters up a tree is very high and in all directions the treetops were below the platform. There is no photograph from up there, as I didn't want my camera to get entangled in the spokes. My thighs ached for days afterwards.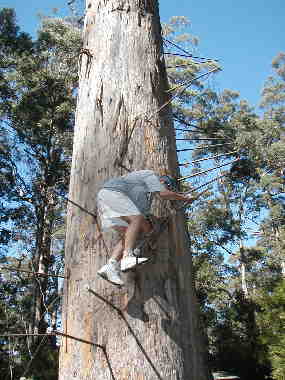 Australia has numerous limestone caves but we never visited any, as Eitan wasn't interested. At last he agreed and just north of Augusta we stopped at Jewel Cave. It is a mammoth complex of caves with a wide variety of stalagmites and stalactites. Very little of it is living today. They suspect it may be because of a hole they blasted through the rock to make a proper entrance to the cave. They also allowed flash photography, which encourages algae formation. At some stage there is a lot of carbon dioxide in the air and when we had to climb a lot of stairs I felt my legs from earlier that morning.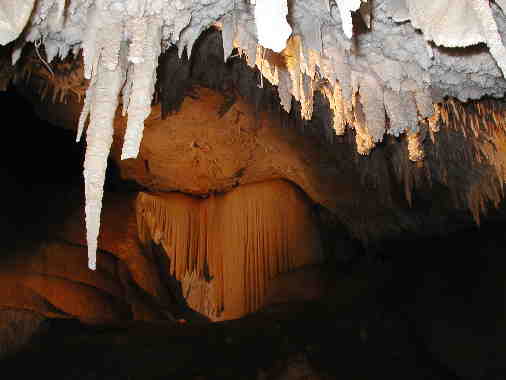 Margaret River is famous for wines and surfing. When we heard that Monday was the start of the weeklong Salomon Masters Surf Competition, we hurried to the beach. It was a lovely still day with hardly a wave in sight, more suited to lying on a lilo than trying to run the waves.
At the Margaret River Tourist Information there was a very nice presentation about the wineries. To help people identify the flavours of wine there was a row of smell boxes – hazelnut, melon, cherry, raspberry, chocolate etc – I didn't get one right. No wonder I can't pontificate about the aromas of wine! The closest I got was to call melon, cucumber.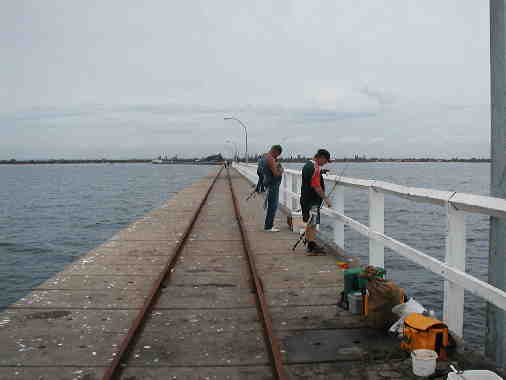 When we reached the southwesterly point of Australia we turned northward and made our way back to Perth. At Busselton we walked the 2 km-long jetty. The water was very clear and we could see swarms of pilchards and herrings on either side of the jetty. Sometimes whole schools broke the surface making a really loud sucking sound. No one could explain why they did it. We walked slowly along chatting to the eager fishermen and had a most pleasant time.
Our last stop was at Lake Clifton in Yalgorup National Park. There were many kangaroos about and I narrowly missed one that suddenly jumped into the road. Thank goodness we got through our trip without killing a kangaroo!
After reading the billboard at the interpretative center, we walked along the boardwalk and saw thrombolites, like little beehives in the water. Looking more closely we could see purple rock-like things floating in the water. But rocks don't float. A couple arrived and they too were looking at the water.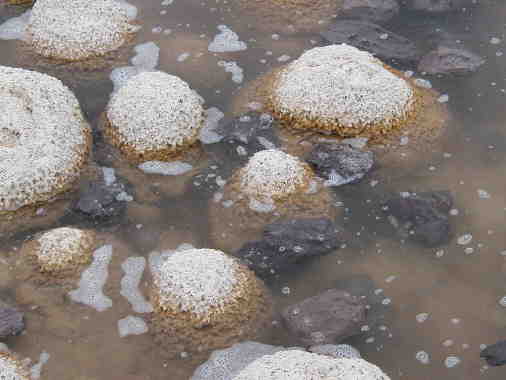 They lived just down the road and had never seen these floating things. He was a geologist. He jumped onto a thrombolite (ignoring the signs) and picked up one of these stones. It was smooth like jelly and broke very easily. It had a slight sulfur smell but was not unpleasant. We learnt that the lake was unusually low and that besides rain, it has no other source of water; it was cut off from the sea in the Ice Age. The geologist told us that a group of German scientists had visited recently and taken many samples of the waters. Back at the billboard we reread the information and decided that what we saw was one of the stages in the formation of stromatolites, a modern example of an ancient life form.
On our last night in Perth we invited Simona and Eyal and Oren and Nitzan Lifshitz out for dinner. Oren is presently the curator at AQWA and used to work at Coral World Eilat. It was our Yom Ha-azmaut celebration. We expressed hopes of peace and safety for all those back home, toasted Israel in Hebrew as we ate at a Lebanese restaurant. We wished things could be so simple back home.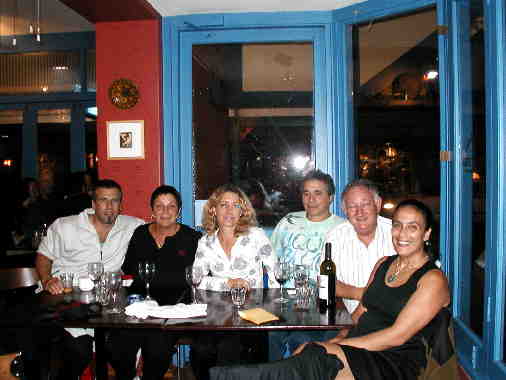 The following morning we left for South Africa. Perth has the friendliest of taxi-drivers and our driver obligingly stopped so that I could take one final picture, no. 667 of a beautiful banksia growing near the airport.