FIJI - Viti Levu Island
30 November 2001 to 5 December 2001
Shangri La Fijian Resort, Yanuca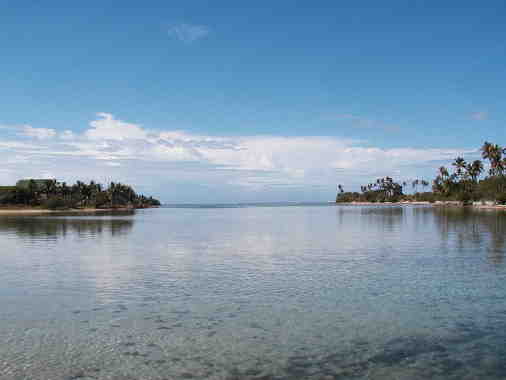 After four months of relentless holidaying Eitan and I needed a rest. A chance remark by Lindy rekindled our thoughts of visiting a South Pacific Island. She thought that we should visit Rorotonga, one of the Cook Islands. When we heard that there were pre-school holidays specials offered to all the islands we were not cooked but hooked and decided on Fiji.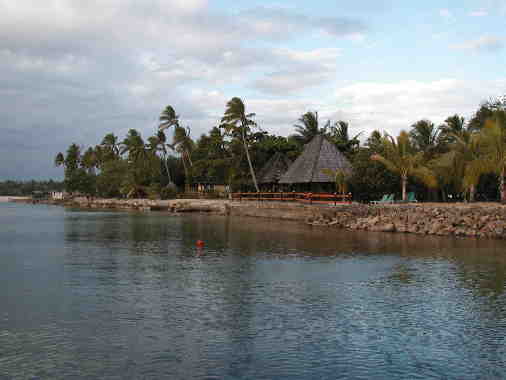 We booked in to the Shangri_La Fijian Resort . It is a huge resort, occupying a whole offshore island, with nearly 450 rooms. What I had envisaged was an isolated little shack, called bure here, on a secluded beach, something with the remoteness of Sinai.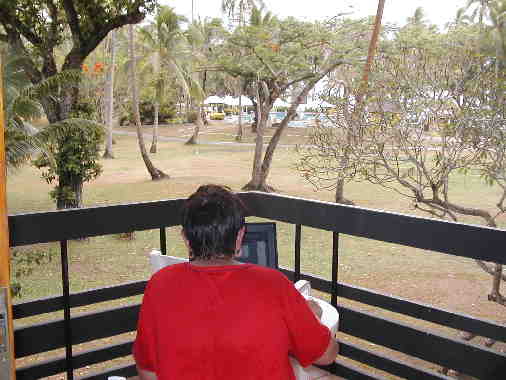 So I sit here on the verandah of our second-floor room and write, while Mynah birds hop around looking for food, and look out at coconut and traveler palms, red, pink and ruby-colored frangipani, and flamboyant trees aflame in reds and oranges.
The greeting here is 'Bula!', like shalom only more so. We found everybody most helpful and friendly and calls of 'bula' followed us everywhere. Our (Indian) driver, Estem, who transferred us to our hotel, was very friendly and chatty. In fact when he saw Eitan nodding off to sleep woke him up by saying, "Oh, I see you want to sleep." When he asked me to take his microphone and tell him about Israel we understood that he hadn't met too many Israelis before.
Our immediate reaction was that the island reminded us of the Caribbean. There must have been some kind of imprinting during all those years we lived in St Thomas and Nassau. Otherwise I can't explain the contentment that infused me as Estem drove slowly along, passing tiny ramshackle villages strung along the road, coconut palms and endless fields of sugarcane.
Here at our hotel the staff is overwhelmingly native – the land belongs to local Fijians – and there is a warm relationship with them. There is an automatic donation from each guest of $5 for the local Sigatoka hospital. The locals perform daily ceremonies of firelighting; even though they are performed for the guests, we couldn't help noticing that this was not a mere show, but a continuing commitment to tradition.
Nearly half the population are native Fijians of Tongan origin. The other half is Indian (mainly Hindus and Muslims). The first resident British colonial Governor, Sir Arthur Gordon, was against turning the Fijian people into a menial labouring class and decided to import indentured Indians to work the sugarcane fields. This was most interesting to us as South Africa's sugarcane industry was also dependent on indentured Indians. There are tremendous differences between the clan oriented native Fijians and the family and business-minded Indians. Since the money, government and shops are firmly in the hands of the Indian segment this was the cause of a big coup attempt recently and must be a continual source of friction.
At the resort on Friday night there was a Magiti, a Fijian feast at our hotel. It began with songs by a mixed choir. The woman wore skirts and blouses with very large white cowry shells around their necks. The men wore grass skirts and had their faces painted black. The men gave a life-like martial display with traditional spears and clubs but fortunately only told us how they used to eat their victims. This was followed by a fire-walking display. Only one clan has the gift of firewalking. In a small depression there were smooth rocks that had been heated by burning wood. With sticks the men removed the large coals and then turned the rocks over, revealing the sides that had turned white-hot from heat. After a few minutes of spiritual preparation the men and some youths walked barefoot on the rocks. The chief of the ceremonial dancers told us how the men acquired this gift of firewalking. It is traditional to give a gift to the storyteller. One man had no gift but was allowed to hear the storyteller when he promised to bring an eel the following day. While digging in the mud, looking for an eel, he suddenly grasped the leg of a man. He dug further and saw he had caught a spirit-god in the form of an eel who begged to be released, offering the man various rewards. Only when the spirit-god promised to give the man the gift of firewalking did he release his victim. The following day when the man had to present his gift he told the villagers to come with him to the river and when the spirit-god appeared the man shared this gift with the whole tribe.
The ceremony was followed by a "Lovo". Fish, chicken, pork and Palusami (spinach leaves wrapped around beef and cooked in coconut cream, our equivalent of stuffed cabbage), taro, yams and cassava, were wrapped in banana leaves and cooked for hours in a lovo, an underground oven.
The Fijians sat and invited guests to have some 'Yaqona', scooped from a wooden bowl. It is a drink made from kava, a certain root, that looks like dirty water and tastes like soap, so we were told. Everybody who had it grimaced but were encouraged by shouts of 'Bula', which also means well done or congratulations. Since we were diving the following day we thought we had a good excuse not to have this drink. By the way, when you enter a Fijian village you are expected to remove your hat and give the chief a present of kava.
Saturday 1 Dec
We did a pre-breakfast dive. In a small but fast boat we sped past the barrier reef to the dive spot. Visibility wasn't great at 18 meters, but the reef was broad and seemed endless, if somewhat colorless. Perhaps because of the wave action everything was encrusting and low-lying, even stag-horn coral. There were lots of fishes – many we recognized from home - like tangs, unicornfish, angelfish, annd squirrelfish, and a school of eagle rays, as well as others that we only know from pictures or other places, like the clown trigger fish, long-nosed butterflyfish and very-long-nosed butterflyfish.
A leisurely brunch enabled us to stuff ourselves for breakfast and lunch. We walked over to the shell market. It's very hot and humid. At 2.00pm another dive, this one to Sandy Cove. Also 18 meters and about 45 minutes. We went down with Nat who held a big packet filled with fish skeletons, skin and heads. Immediately we were surrounded by huge red snappers and smaller fish. The snapper fought over the fish and then we saw one snapper determinedly swallow the pointed tail of a jack – it reminded of how a pelican swallows its food. Nat wanted us to keep close to him – but with his packet of fish and a black-tipped reef shark swimming about it didn't seem like such a good policy. Nat, our divemaster, was delighted to find a beautiful golden cowry, that not only has monetary value but also is supposed to bring good luck.
The highlight was seeing a sea snake. It was about 2 meters, with black and white bands; a relatively fat body and a very small unmistakably snake head. We could see all this because Nat carefully caught the snake behind the head and let us feel its scaly skin. Wow! A first after 25 years of diving.
Sunday : Every time we open the verandah door of our room moths fly in. Eitan has turned into the Mad Basher and tries to swat them all. I thought he was afraid of them. It seems he is only afraid that they will lay eggs and we will introduce them into NZ. Then why does he use my shirt to swat them with? Later the insects got their revenge: he stepped on a bee in our room and got stung on his toe.
Monday: Although we were quite content at our resort, we felt that we should see a little of the island. Mr Vereni Naisue from Avis was honored to help Israelis. When we told him that we wanted to visit a Fijian village, he told us to go to Tavuni, where his uncle is chief. "How much kava should we buy?" we asked him. "Oh no! He doesn't drink grog. He's Christian. But he'll tell you what to buy at the market."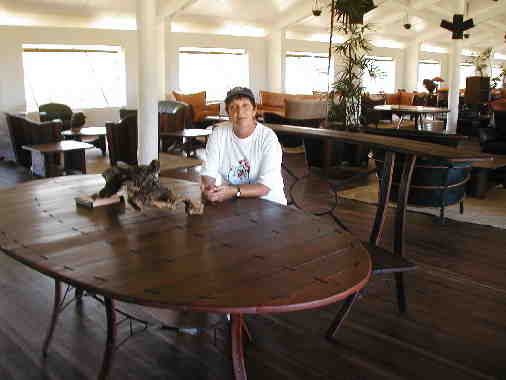 Our day started with a stop at Green Pacific, a factory that makes furniture from senile coconut trees. This was most intriguing as we'd never heard of this use for palmwood. The furniture was both stylish and very beautiful; the frames of the furniture were done in palmwood and covered with leather furnishing. Because coconut trees are slender, the furniture is made up of bonded planks that have a wonderful lustre and grain. The wood is impregnated by wax (brainchild of Bruce Dowse, an Australian designer) to preserve it and is extremely heavy. In addition to the tables, chairs, cupboards and beds, the wooden floors, the blinds, open-check window shades and even the kitchen were made of palmwood. We were sorry that it was so heavy that we couldn't even think of buying something to take along. Their website is http://www.pacificgreenfiji.com/
Our next stop was a walk through the Sigatoka Sand Dunes National Park, where we saw pandanus trees.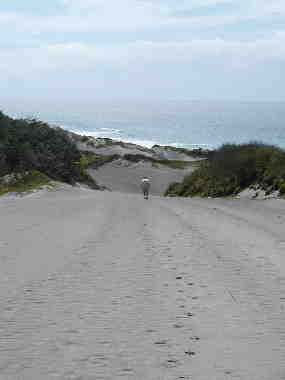 We arrived at Sigatoka, the nearest town to our resort. Most of the shops are Indian owned. Of course we walked through the market.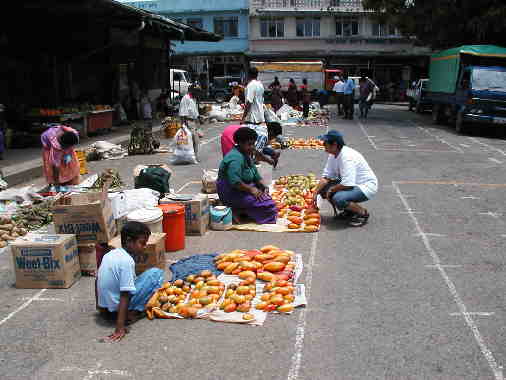 It was very similar to small native markets in other places – outside there were woman sitting next to little mats on which little heaps of mangoes were piled; piles of tomatoes, cucumbers, beans, Chinese cucumbers and other fruits. Inside was much the same as well as stalls with packets of Indian spices, cheap jewelry ("You'll make me very happy if you come and visit my stall." Reply "But it will make my husband very unhappy if I come") and kava. Kava, it seems, comes powdered in packets, or big bunches with all the root systems clinging to it, or smaller bunches, only with the tops and main roots wrapped in newspaper and bound with a little blue plastic string. The stall man told us to buy the latter if we were visiting a village. Not wanting to cause offence we went to the local supermarket and bought Cadbury's chocolate for Vereni's uncle, Chief Cawa at Tavuni Hill. We also found an Internet shop and checked our mail.
We arrived at Tavuni Hill Fijan fortress overlooking the Sigatoka River, to find that the chief had gone to town. Afraid that we would finish off the chocolate we gave it to Mary, his wife.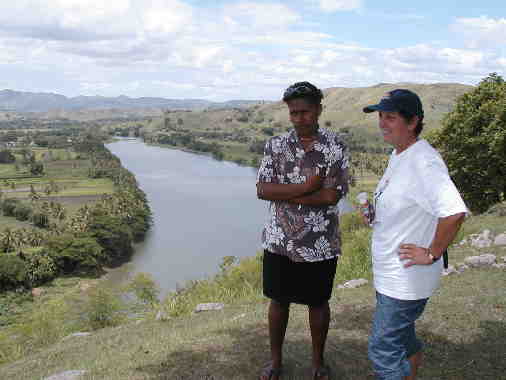 Their niece Naomi showed us around. About 200 years ago a Tongan warrior chief and his people migrated to Fiji and eventually settled at Tavuni. Here they built a fortress, very similar in plan to other ancient fortresses – walled with people inside. The Chief lived on higher ground. Also high up was where his family was buried (capture of their bones would be a great victory for the enemy) while the highest ground was reserved for the burial of the chiefs. Naomi was the granddaughter of the last chief buried there - a Christian with a large cross on his grave. We saw stones where there had been a lovo oven – only this was a lovo where human sacrifices were cooked. She showed us large stones where the enemy had to lie and have their necks broken then cut off. The blood was drunk by the warriors. The head went to the chief, after being wrapped up in banana leaves and cooked for 7 hours in the lovo, and then the rest of the clan got various parts of the body. For Jews, for whom even one drop of blood is forbidden, this is fascinating stuff. In 1847 when an outbreak of measles killed 40,000 people, tribesmen saw this as a punishment for accepting Christianity. They killed many Christians and ate them. Today they seem to blend their Christianity with a deep reverence for their native customs - without cannibalism.
In the end we decided not to pop in to a Fijan village and were wondering what to do with our bundle of cava. We drove past an old man trundling along the road with a sack slung over his shoulder and a panga in his hand. We stopped and offered him the cava, still wrapped in newspaper and tied with a blue string. He was delighted.
Without any expectations we stopped at Kula Eco Park, supported by the EEC. Happily they are redoing the cages. We saw parrots, geckoes, crested lizards, constrictors, turtles and fruit bats. Now I know why bats are called flying foxes – they really do look like foxes and have fur as well as webbed arms and feet.
Tuesday. Everyday we had seen the sport fishing boats arrive, flying flags that announced that mahimahi, barracuda, tuna etc had been caught. So, dreaming of eating our catch at the restaurant, Eitan and I went fishing at 5.30am. Here is a picture of us with our catch. No Picture? No catch!
After breakfast Eitan choose to do the laundry, much to some woman's delight who had never seen a man fold laundry. I, on the other hand, went for my last dive. We both had a massage and I went to the gym for a workout.
Oh, what a holiday. Now I need another holiday.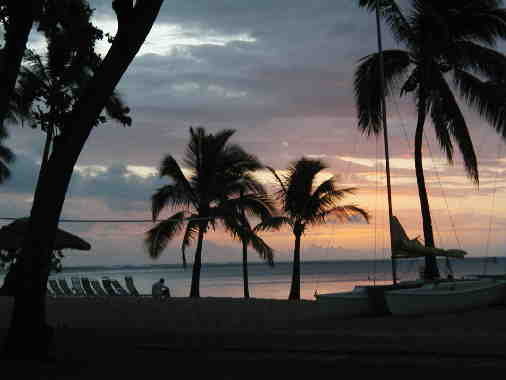 Back to New Zealand