AUSTRALIA
2 January 2002 to April 2002
THE BLUE MOUNTAINS and HUNTER VALLEY
NEW SOUTH WALES
11 February 2002 to 15February 2002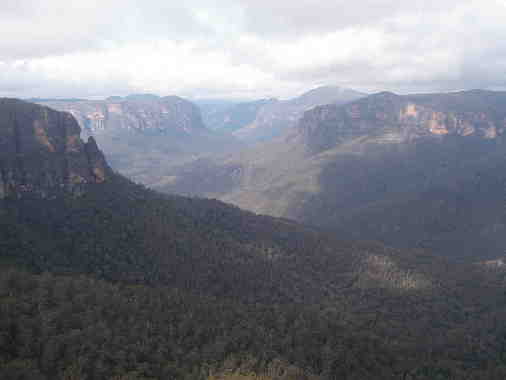 Jump to the forest fires
The Blue Mountains, only a few hours west of Sydney, although very "touristy", are truly beautiful with a feeling of space and wilderness. At Katoomba the cliff edge is spotlighted at night and the play of light and shadow on the sheer cliff face and the vegetation was beautiful. The next morning we followed the cliff edge at the start of the Three Sisters / Federal Pass. The cliff edge overlooks the huge forested Jamison Valley that cuts through miles and miles of open canyons and and weaves around mountains. We had thought the area got its name from the bluish mists that swirl around but on the third day the sun came out and we saw that the haze rising in the heat is blue. We spent three days hiking in the area and loved every minute of it, even the hard and very hard bits, like walking down 900 steps behind the Three Sisters Rocks and a few hours later having to climb 1000 steps to get out of the canyon.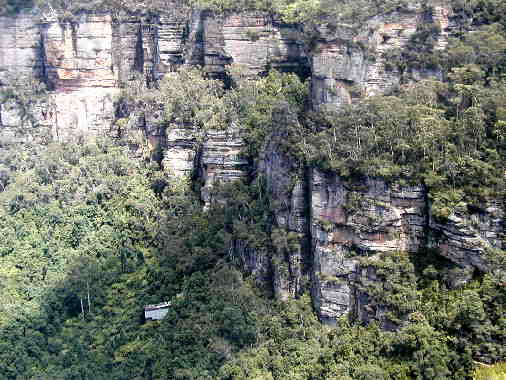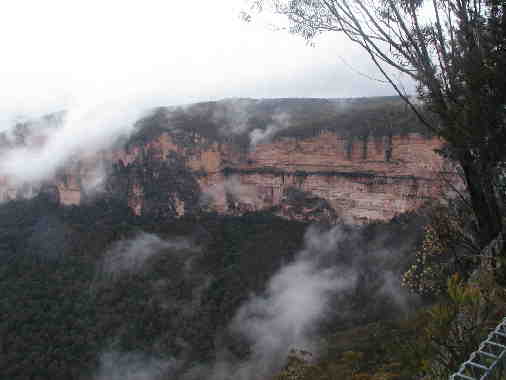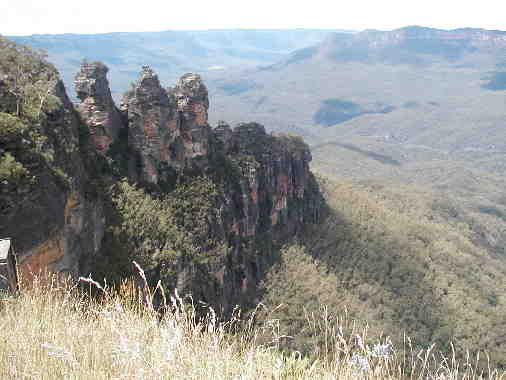 We took photos of the much-photographed Three Sisters Rocks from every angle. ( CLICK HERE to read the legend of the Three Sisters). That evening Eitan asked me if I wanted to see a family album. Delighted that he had put some pictures of the children together I eagerly agreed. He then displayed ten different views of the Three Sisters. I suppose that can go with our 276 photos of pelicans.

We also hiked the Grand Canyon walk, a good choice for a rainy day because after we had walked down the cliff face (more steps!) into the rainforest, the canopy of trees sheltered us. We crossed waterfalls and walked along streams, past caves and through rivers of fern trees and melaleuca bushes and we felt privileged to share in such beauty.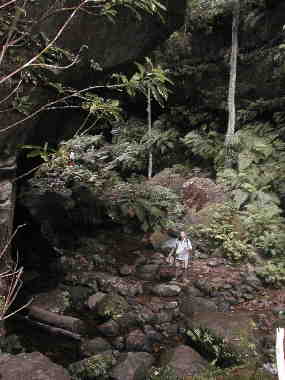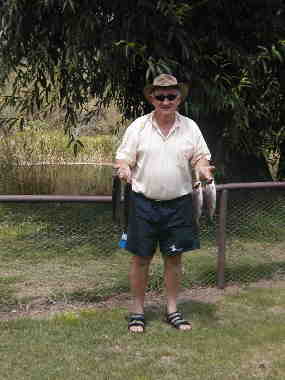 On our final day in the Blue Mountains we decided to cycle in the area and chose a route that had potholes and muddy bits but was supposed to be quite flat with only a few uphills. After half an hour of bone-shaking corrugated dirt track of endless uphills so steep we had to push the bikes, with very few level bits we decided to turn back. We arrived back quite exhausted.
Needing something less strenuous we drove to Archvale Trout Farm. There we were given reels and bait and went to catch trout in the fish ponds. After catching two each, we stopped. A group of young Japanese people had come from Sydney for the day. I always think we make a big deal out of food, but they had their rice steamer, a packet of frozen seafood for a seafood stew, nori, wasabi, various leaves for decorations, and big knives and a knife-sharpener to prepare their trout for shashimi. We ate simply, merely barbecuing a few trout for lunch. I marinaded the other two trout, gravlax-style.
The road to Hunter Valley, the wine region of Australia, passed between Wollemi and Yengo National Parks.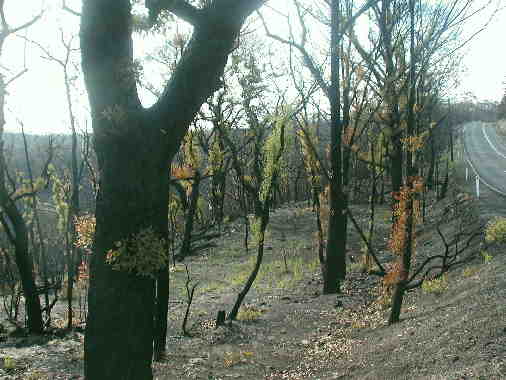 This is where the fires had raged six weeks ago and destroyed thousands of acres of forest. The forest floor, usually covered with leaves, low bracken and bushes, was burnt bare. The eucaluptus trees have thick bark to protect them from the fires and we saw that there were trees with blackened barks and burnt leaves that still hade green leaf crests that survived the searing fires. There were also eucalypts that had been badly charred that were already regenerating by sprouting leaves straight from their trunks. Both acacia trees and banksia (our 'people trees') need fire to open their seeds pods, while the layer of ash covering the forest floor will provide fertile soil for young eucalyptus trees. How amazing is the force of destruction, delicately balanced by the power of nature. It was powerful and terrible yet beautiful.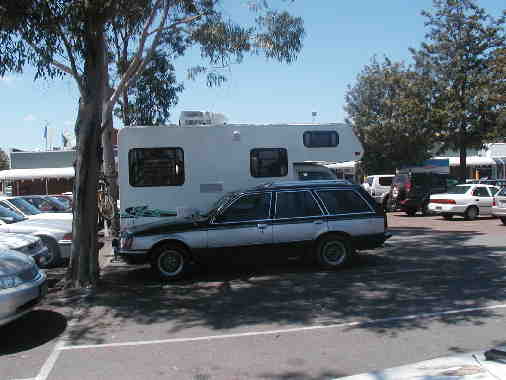 In Hunter Valley, when we parked our motorhome by a Woolworths supermarket, we were amazed to see that a stationwagon, parked next to us, was the same length as our vehicle. Just think of it - Eitan and I are spending every hour of the day and night in a space of a car! Highly impresssed, we drove on to a winery. Unlike us we just drove and got hopelessly lost in the sense that we had no idea where we were and took 'the scenic route', about three times longer. And this was before we did any winetasting! We eventually arrived at Nightingale Vineyard (whose emblem is an owl!), a boutique vineyard. The setting is very pretty – rows of vines with black grapes on them with the sandstone mountains in the background. We bought a bottle of their Shiraz, but stayed off wine with lunch as we still had a lot of driving. We drove eastward towards the sea, to Port Stevens and the northern NSW coast.