ITALY
12 June 2002 to 30 June 2002

Doreen and I added Italy to our trip after I had received an invitation to be a tournament director at the 46th European Bridge Teams Championships at Salsomaggiore Terme (click here to go down to Salsomaggiore), about 100 kms south of Milan. Doreen had to cancel her trip, and I went alone. Our camera is not yet repaired, so this page has only one picture (taken by a Polish director).

MILAN
12-14 June 2002

The reason I had arranged for a stopover in Milan was to see a La Scala performance of Madame Butterfly. Unfortunately by the time I got around to trying to buy a ticket on the internet the tickets were all sold out. When I tried to change my flight, all the flights were full! I had heard that some tickets were available on the day of the performance, so put my hopes in this.
The hotel clerk told me where to go to queue to get tickets, and advised me to be there at 10 when he thought the office opened. I was there at 10am and 5th in the queue for tickets. By the time the office opened at noon, there were hundreds in the queue. I had no trouble getting a ticket in one of the best seats. I emerged from the ticket office (under the Duomo Square) to find that Milan had simply shut down. It was the day of the deciding football match, Italy vs Mexico, which would determine whether Italy went through to the final rounds. Half the population was inside watching TV, the other half was in the Duomo Square watching the game on a giant screen. It was an amazing experience. The Italians are of course crazy about football, and the cheering, noise and reactions were as if we were at the actual game. When Italy drew (and ensured their place) there were wild celebrations.
That night I went to see the performance of Madame Butterfly. The La Scala Theatre is undergoing renovations, and the operas are staged at a modern opera venue about 30 minutes north of the centre of Milan.
I thoroughly enjoyed it. The performance was beautiful but, for want of a better word, rather subdued - for example the set was pastel coloured and relied a lot on silhouettes and lighting effects. "One Fine Day" wasn't sung with the power of hope or conviction, but rather with the pathos of despair. What stood out was the quality and depth of the singers. Even the small parts had wonderful voices. The orchestra, under Carlo Rizzi, was excellent.
An unusual feature was that in the 40 minutes or so before the performance the curtain was up and the set (the Japanese house) was being built, by workers in costume, including sawing and planing wood etc. Obviously they used wood that had already been prepared but the effect was as if they were building from scratch. Then the overture started, and while the builders were putting in the finishing touches (eg the doors, and sweeping up the sawdust) the singers (Pinkerton and the broker) came on stage and started singing. The opera begins with the leasing of the house (and of Madame Butterfly!) so it tied in very well.

The next morning I went to the airport, and joined the bus to Salsomaggiore Terme that had been organised for the Dutch bridge team

As usual, directing a high quality tournament was most enjoyable, and not as much hard work as in previous years.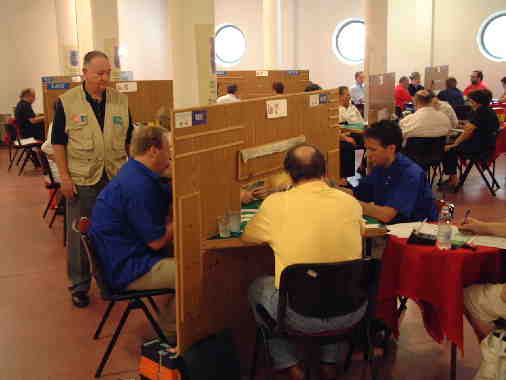 I stayed (with some of the other directors) at the Principe Hotel, 5 minutes walk from the bridge venue. It's a little family hotel with small, simple and clean rooms. The food was excellent, especially the pasta, prosciutto and Regiano Parmigianno. We finished directing at about 20:30, and after supper, washing my shirt, and reading my email, I sat with most of the other directors talking and drinking beer till after 1 am.
On my day off I hired a car and drove slowly to Parma, enjoying the ride there. I visited the main church, but decided to walk through the little streets instead of visiting more churches or museums. The visit to Toscanini's birthplace was interesting, and I heard some terrific old recordings (especially of Toscanini's tenor, Pertile.). Lunch was parma ham with parmesan cheese (delicious), followed by spaghetti with clams (very good). For desert what could be better than a visit to a gellateria for a delicious Italian ice-cream.
At 15:30 I went to the Teatro Regio and saw a fabulous production of the Verdi opera La Forza del Destino. The theatre is a beautiful old building, in the classic opera style with nine storeys of boxes all around the central auditorium.The singing was exceptional, and there was excellent support from the orchestra.
I arrived back at Salsomaggiore at 20:30 to find the other directors waiting for me (and my car!). Maurizio (an Italian director) had booked dinner for all the directors at the Trattoria la Buca in Zibello, 50 kms away. Evidently this restaurant is one of the most famous in Italy, and the best in the Emilio-Romagna area, and people travel more than the mere 100 kms we travelled just to eat there. They make all the food themselves, including butter from their own cows, and they make the pasta using freshly-laid eggs from their own hens, and the prosciutto is made from only the centre cut and is known as the best in the world etc etc. We had a thoroughly enjoyable and delicious meal (although the meat dishes - tongue in a thick sauce and veal something-or-other were good but nothing special.). The wine, by the way, was a sparkling red wine, which is typical of this area. Our hotel's table wine is also a sparkling red.
Of course, no description of my stay in Italy is complete without at least one bridge hand. I was the director on the Bridge-o-Rama about 5 or 6 times. (This is a key match, televised live to an audience in an auditorium, with commentary by experts.) In the Bulgaria-Norway match on Rama, I had to give a ruling on a big swing hand. I was probably not the most popular director with the Norwegians: in addition to ruling against them on this hand I also fined them 1VP for slow play.
Board 20, both vul, dealer West
10 4
J 10 5 4 2
5
K Q J 3 2
9 7 K 6 2
Q 3 9
A K J 7 3 Q 9 8 6 4 2
8 7 6 5 A 10 9
A Q J 8 5 3
A K 8 7 6
10
4
W N E S
pass 2H (1) pass 2NT
pass 3Cl (2) pass 3D
dble 3H 4D 4NT
pass 5D (3) pass 6H
pass pass pass
(1) 5 card H + another 5 card suit
(2) 5 card Cl
(3) W asked south the meaning of the5D Blackwood response (see below)
East led a low diamond, won by west with KD, and AD continued, ruffed by S
RESULT: 6H making +1430
West called the Tournament Director. He had asked for the meaning of 5D, and south told west that 5D was "1 or 4". West heard "1 of 4". He therefore "knew " that N held AC, and played another D for north to discard a Sp and consequently have a guess for the K Sp (finesse or ruffing finesse). Both N and S stated they play RKC Blackwood (although nothing on cc). North had shown one "ace" because there had been a misunderstanding and he thought that clubs was trumps. When TD asked south what he had said, he again replied "1 or 4". The TD heard this, but W again heard "1 of 4".
Regulations C1.2 and especially C1.3.3 determine that requests and explanations should be in writing. West's misunderstanding could have been avoided if he had asked and received in writing. (He still had a chance to protect himself at trick 1, by asking more specifically).
See also Law 20F1, F2 (footnote). (Law 21, although not strictly applicable, does establish a guideline.)
RULING: Result stands
The Norwegians were obviously not happy with my ruling but decided ( as had been predicted by the commentators in the viewgraph theatre) not to appeal.
Click to go to TOP of this page.