AUSTRALIA
2 January 2002 to April 2002
THE WHITSUNDAY ISLANDS
14 March 2002
After Eungella National park a day sailing trip around the Whitsundays seemed like fun. We woke up to grey skies and a memory of rain in the night. Angie fetched us spot on time and was very bright and friendly and full of funny chatter. Before leaving we were advised to hire stingsuits ($5.00) against jellyfish. Everybody did. The boat was little more than a long metal tub with two catamaran-like rubber floats on either side. Angie had advised me to sit at the back on the left – the driest and least bumpy part of the boat. This we soon found out was all relative. We were heading straight into the wind and it was screamingly bumpy – thuds that made my back and insides hurt and the spray was cold and wet but everybody was in a good mood. I realised that we have a penchant for 18-35 year old adventure outings but need 50's and over comfort!
Our first stop was on Hook Island to see sacred Aboriginal rock paintings at Nara Inlet.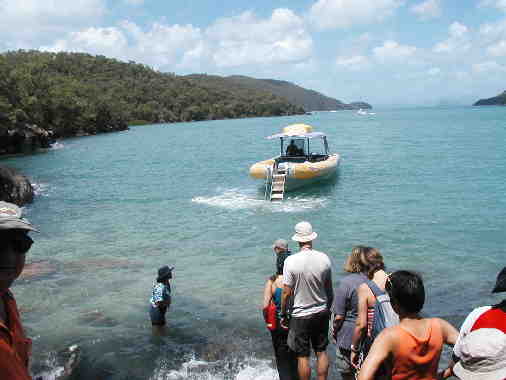 Since the few hundred original aborigines were all killed, either by disease or in skirmishes with the whites there is no one to explain what the paintings mean, some say maps for fish traps.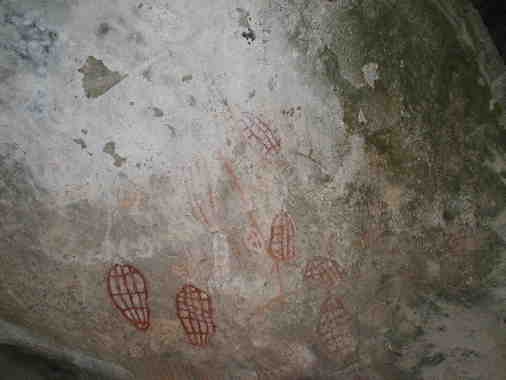 The Aborigines had to adapt their lives to being an island people about 10,000 years ago, when the waters rose. They learnt how to make canoes and live off fishing. Angie talked about cycads, acacias, showed us butterflies and insects and showed us how to lick the bums of green ants from whence, believe it or not, emanates a delightful lemon essence flavour.

After this we raced off to Border island. The boat anchored just off the coast and we suited up in our sting suits and went snorkeling. That took a decision not to be afraid of the jellyfish even though one woman was stung the previous day and had to be airlifted to hospital. There was a magnificent array of corals, hard and soft with some sponges, but really few fish. A lot of bleaching had taken place and large tracts of staghorn coral were white – either due to global warming or fresh water flowing down the rocks and into the water.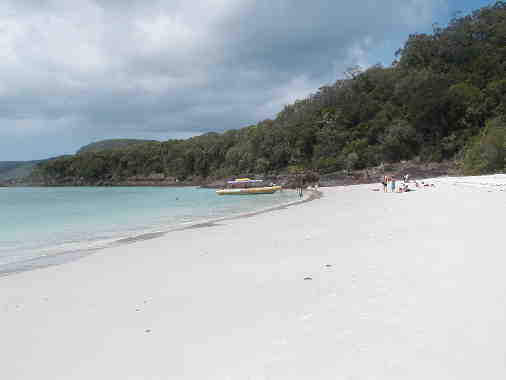 We stopped at Whitehaven Island for lunch, a swim and a read. In addition to the usual eucalyptus and banksia trees these islands all have hoop pine growing on them. This gives them a decidedly untropical skyline, more like islands you'd expect in upstate NY than in the tropics with coral in the waters below. It was a thoroughly enjoyable day and a great way to get a feel for the expanse of the islands.



Back at our motorhome we washed and dressed and rode our bicycles to town. Airlie Beach is a backpacker's haven with lots of fast food joints, agents offering various watersports and many internet cafes. We felt like something a bit more sedate after our hectic day so chose to eat at the Courtyard, mainly because it offered a dish made up of kangaroo, crocodile, crayfish and baramundi. I chickened out and had a spotted gum smoked steak. Eitan's dinner was interesting; mine was delicious.

<>Click below to return to BRISBANE & CENTRAL QUEENSLAND


>
>