NEW ZEALAND
26 October 2001 to 2 January 2002

SOUTH ISLAND

14 December 2001 - 28 December 2001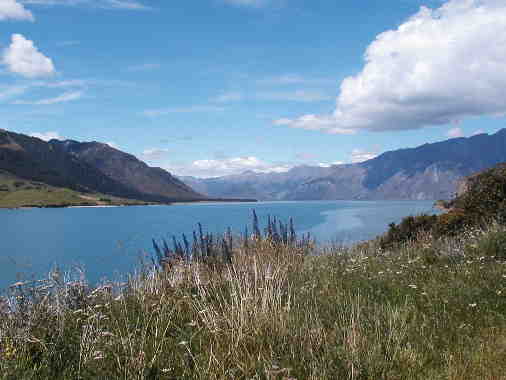 14/12/01 Valda and Denis Knight, Eitan and I set out for South Island in high spirits. The plane to Blenheim was delayed so while we sat and had coffee, Eitan went to have his hair cut. With half his head already shorn, Eitan suddenly heard our names being called before the flight was closed. He rushed out, calling us to come quickly. It was days before he managed to have the other side cut as well.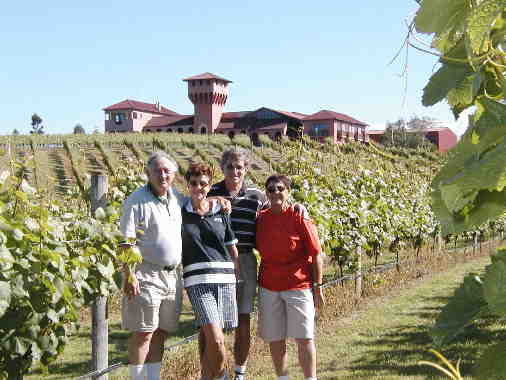 Blinding sunshine greeted us at Blenheim, a welcome change from months of miserable weather around Auckland. Blenheim is a large wine growing area and we visited a few wineries. We learnt that because of cool summers, New Zealand white wines are generally much better than their reds. Ever mindful that we were to hike the three-day Routeburn Track in a week's time, we walked to the various wineries, picking apricots and cherries on the way.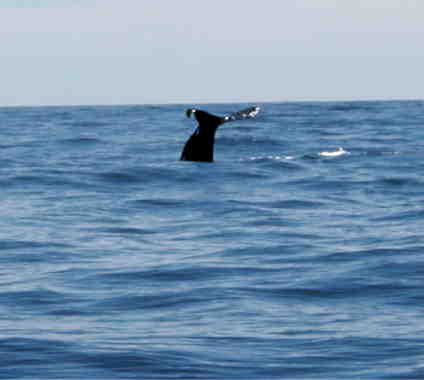 16/12/01 It's our 37th wedding anniversary. We had already bought a GPS as a joint present and exchanged cards. We were delighted when a last minute cancellation enabled Valda, Eitan and I to go whale watching in Kaikoura. Again we were impressed by the professionalism of New Zealand companies. Luck was still with us and we saw 7 sperm whales. We also saw albatrosses, a first.
http://www.whalewatch.co.nz/ Advance booking essential
We continued to the west coast via Lewis Pass and overnighted at Hanmer Hot Springs. We celebrated our anniversary and were surprised when Valda and Dennis showered us with presents. 16 December in Israel is 17 December in N.Z and our children phoned us the following morning, a special treat - our anniversary lasted two days.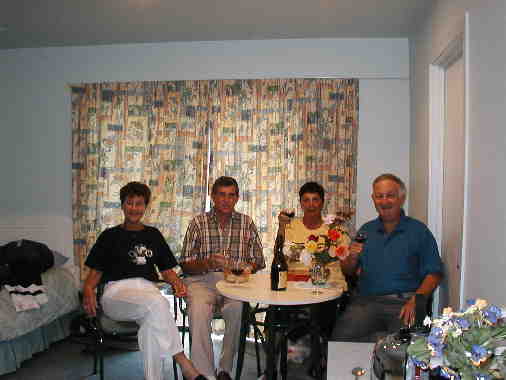 Pancake Rocks was unlike anything we had seen. Dolomite rocks eroded by the crashing waves of the Tasman Sea into bridges, blowholes and other fantastic shapes. Formed under the sea and thrust upwards, how they got their tiered shapes is unknown.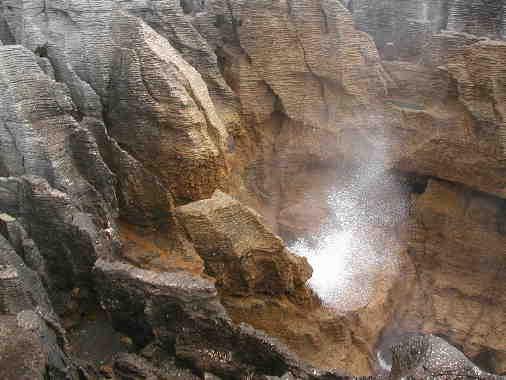 Further south at Fox in the Southern Alps we did a glacier walk. We first walked for 1 ½ hours along the steely gray river, followed by a steep ascent through the rain forest until we came out to the lower middle of the glacier. This is the only place in the world where glaciers extend to rain forests. In contrast to the warmth of the rain forest, the wind coming off the glacier was very cold. We were given crampons to tie to our boots and a broomstick with a sharp metal head and gingerly proceeded onto the ice. The guides carved steps into the steep parts of the ice, but it was still an exciting experience. We walked up to a tunnel, into a crevasse and felt very adventurous. Just the thought that Moran did this in Nepal with no steps made my heart beat faster ( www.geocities.com/moranlevy/pages/nepal2001.html ).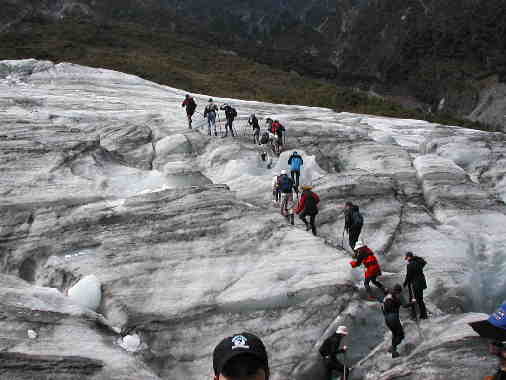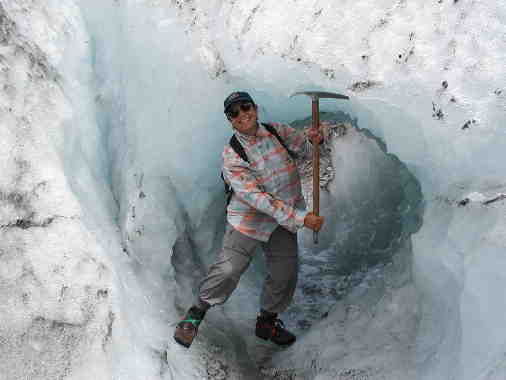 We drove on to the Riverun Lodge where a jacuzzi was a great way to end the day.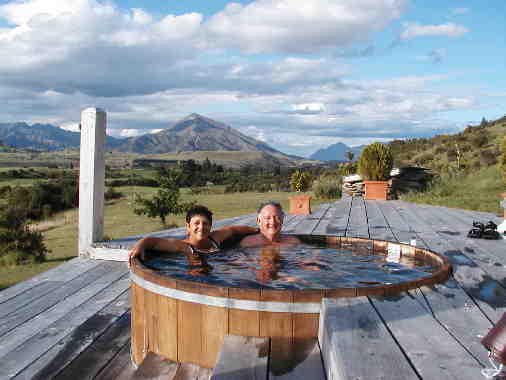 After a fabulous breakfast we drove to Makarora to embark on the Siberia Experience. A 5 seater plane flew below cloud cover along valleys with towering mountains all around and when it seemed that the clouds were crowding in we touched down in Siberia Valley – a long grassy valley bordered by steep mountains with a river slicing through it. Our pilot, Billy, took us to the river, pointed out the track on the other side and left us with instructions to be at the boat jetty in 3 hours.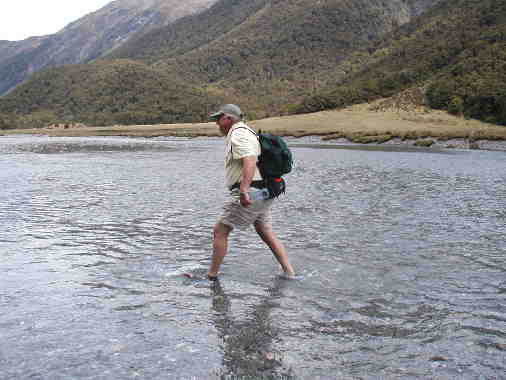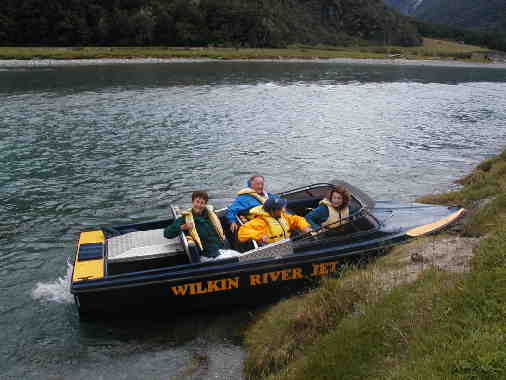 Quite alone in this vast space – in the middle of nowhere as far as we were concerned – we crossed the icy Siberia River (neither Eitan nor Valda would wait for me to go ahead and photograph them; too cold they said as they continued to walk). We put on our boots and had a grand walk along and up the valley and into the beech forests as we negotiated our way through masses of ferns, past waterfalls, while stepping over beech tree roots as well as using them as stepping stones. Not knowing the route was a little intimidating, but to walk quietly by yourself with nothing but the crunch of your boots, bird calls, the sound of waterfalls and your thoughts is a privilege that few people experience nowadays. The jet boat met us on time and sped back at a thrilling 80 kilometers an hour – the boat raced down the river with as little as 4 inch water cover in places, making wild swings and seemingly close misses with banks, trees and rocks as well as spinning on our axis. To me it was absolutely hair raising because there were so many chances of error and it seemed we were going to crash any number of times. It was a great day.
Siberia Experience (rpcooper@xtra.co.nz.)
21/12 In Queenstown we booked into The Waterfront apartments on Lake Wakatipu. Queenstown is described as the adrenaline capital of the world. Infected by the adverts for all these extreme sports I made a date to bungy jump. At that stage I didn't know whether I would jump but I was determined to stand on the ledge above the river and test myself.
In preparation for the 3 day Routeburn Track we went to the Track offices for a briefing and got excellent advice – take as little as possible and if you think you may need it, leave it behind.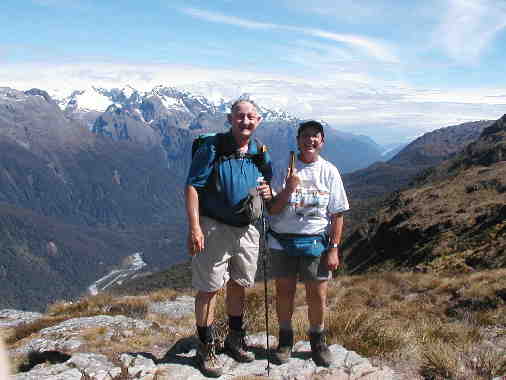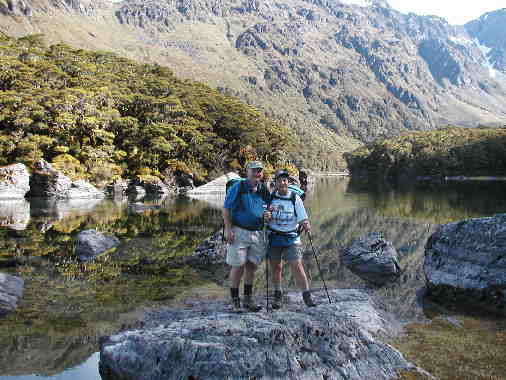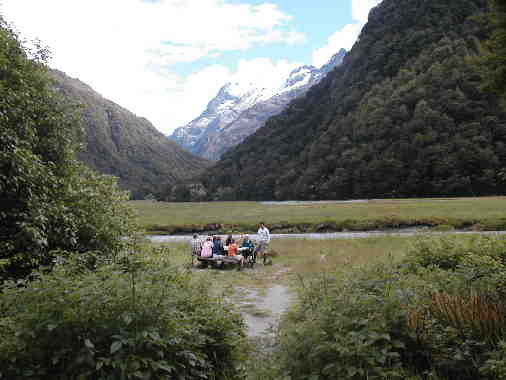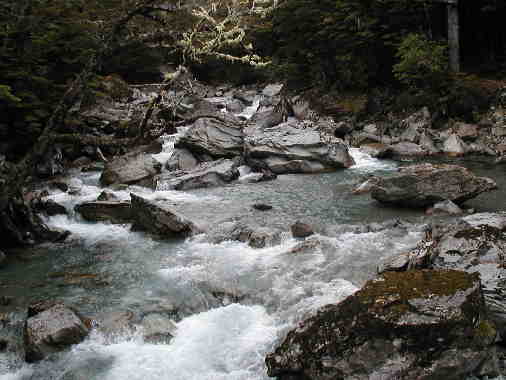 22/12 We started the three-day Routeburn hike, one of New Zealand's Great Walks.We were dropped off at The Divide, where we met our guides, Shelly and James, and started to walk. The first 45 minutes were hard, I think because they were the first 45 minutes. My theory is that if you can get through the first 40 minutes of a hike you will get through the next ten hours. Eitan later said that they were the hardest for him during the 3 days. We walked through varied scenery, along valleys, up mountains, viewed stunning snow-capped mountains, drank from beautiful waterfalls and rivers and bathed in ice water lakes - well at least I did. For the more adventurous there were additional peaks to climb: the hard scramble and walk up Conical Hill was rewarded by great views.
Most Israelis do independent hikes. At Valda's suggestion the four of us did the guided walk, meaning that we carried our things, but food and sleeping bags were provided. We slept in bunk beds in huts, had hot water and even hot water bottles, which we needed. The meals, prepared by our guides were excellent. Provisions were dropped at the huts by helicopter while our guides schlepped bread, mushrooms, steak, chicken and asparagus on their backs! We were provided with all meals and snacks as well as mid morning tea and coffee at huts on the way. There were 12 people on our walk, half the permitted number, which enabled us to have separate rooms in the hut. A real luxury. Everything was above our expectations and we heartily recommend it. When you walk in a country you gain a different perspective of the land. We thoroughly enjoyed it.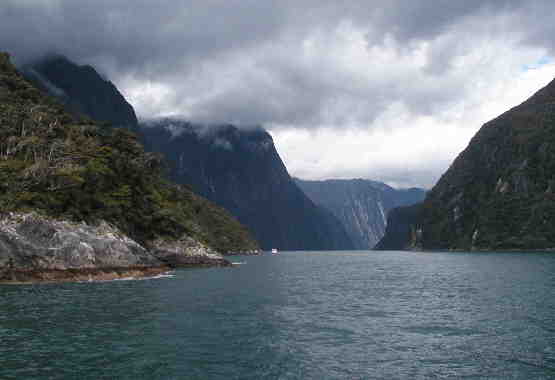 25/12 Queenstown. Up early and back on the bus to Milford Sound. It really should be called Milford Fjord as it was formed by glaciers. The 5-hour bus ride there made us stiff and things didn't improve when, unlike the professionalism we had come to expect, there was a mess-up with our plane booking and we had to go back to Queenstown by bus. At Milford we took a cruise along Milford Sound. It was a cold, gray and windy day but the skies did clear enough to see the famed Mitre Peak. This passive sightseeing was good, especially after 3 days hiking and a good way to spend Christmas Day. But still it was not the thrilling appreciation of sights come upon while walking. What we did find interesting was the Milford Sound Underwater Observatory. The Sound, one of the rainiest places on earth, has a varying layer of fresh water that floats on the salt water. This fresh water is brown because it leaches tannins from the tree barks. This brown layer, which can reach up to 9 meters in depth, filters light out from the underlying sea water. This means that sea animals like black coral, which grow elsewhere at about 60 meters, can grow here at 9 meters. To ensure that the marine animals are always in salt water, the sponges and coral are on platforms that are raised or lowered according to the depth of the fresh water layer.
26/12 Today was my date with destiny. After stretching exercises and a bland breakfast, I put on my shirt with "Do one thing every day that scares you" and walked with Eitan and Valda to The Station. I sat with other nervous and chatty people until we were bussed to Kawarau Bridge, the original bungy site in New Zealand. I felt quite calm but still not sure that I would actually jump. After being weighed in I went out and stood on the bridge. It was beautifully sunny, if a little cold. I wanted to be one of the first in our group as I didn't want to get nervous waiting and watching others jump.I was really upset to see how one man remained hanging upside down after his jump until the boat, buffeted by currents, managed to reach him. I was quite calm while my feet were bound and tied together. When I got up to hobble to the ledge I had a failure of nerve and sat down again, saying I couldn't do it. The guy in charge gently made me get up and hobble to the ledge and look up at the bridge ahead. The weather had changed and it had become very windy and that upset me. I wanted to wait until the wind calmed down. I wanted to be anywhere else but on that bridge. I looked long and hard at the bridge in front while battling with last minute fears of injury, of death and of leaping into the unknown. It was a hard decision, but I decided to do it. Then as I mentally prepared to jump I waved and had my photo taken, asking petulantly whether I had to smile all the time. The instructor started to count down from 5 to zero, but I told him I wasn't ready. Someone had given me some advice, "Jump at 3," he said, "Otherwise you run out of numbers!" Then I calmed myself and counted down and jumped. The actual moment of jumping wasn't scary – it was straight afterwards when I began to hurtle down that was terrifying. The continuation wasn't scary and then I felt uncomfortable wondering how long I would have to bounce around, head down, until rescued. I was bitterly disappointed that I hadn't touched the water as planned and immediately went to ask if I could do another jump, but they were booked for the day. Now I have T-shirt, photos and video to prove I did it.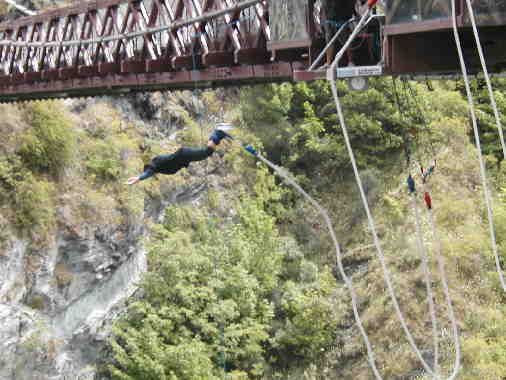 Dinner was Tandoori chicken barbecued on the patio of the Knights penthouse. We finally got to drink the delicious Gewurtztramminer that we'd bought in Blenheim, celebrating my jump and our wonderful holiday.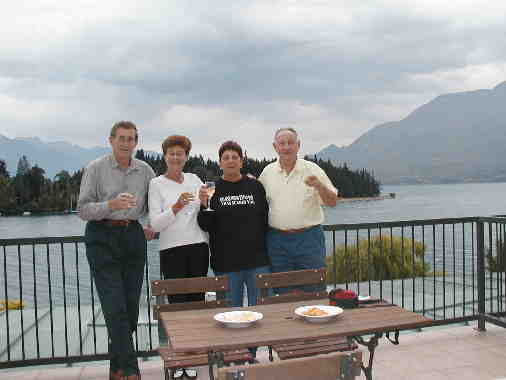 The following day Eitan and I packed lunches and sailed on the TSS Earnshaw, a coal powered twin-screw steam ship, across to Walter Peak. Our friends, Morris and Jackie, own Walter Peak Sheep Station and it seemed like a good idea to spend the day there. The farm manager showed us around the station and then dropped us on a hill. We walked along a track to a musterer's hut, ate our sandwiches, swam in freezing water and walked back. Beautiful views, rather cold but lovely to be totally alone.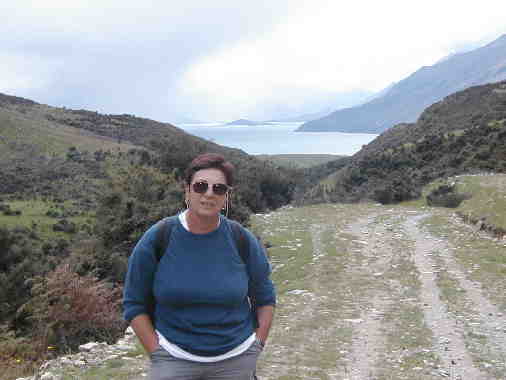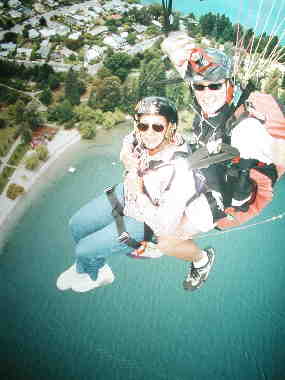 28/12 Our last day in Queenstown. I bought a greenstone necklace – a talisman to myself that even the impossible (bungy jumping) could be achieved with proper (mental) preparation. With nothing much to do - can't shop as there is no room - I went paragliding from Bob's Peak. It was a glorious, clear day with a nice breeze; it seemed just right for paragliding. After taking a cable car up the mountain and a short 5 minute walk ( NZ-style; me it took 15 minutes) my pilot and I reached the take-off spot. I'm glad I saw other people jump first noticing that one drops sharply before rising again. We had to run off the edge of the mountain. It wasn't a bit scary, that is after bungy jumping. It was lovely up there, with the wind whooshing around, as we glided over the town and the lake. In reply to my question what would happen if the wind dropped, he said we would land quickly, but later heard from Vered and others how people were hurt when that happened. Glad I didn't know about it. He asked if I'd like to do loopies. Not knowing what it was, I said yes and we whirled about in circles before landing. He said to lift my feet and put them down when he told me, but never told me so I landed softly on my bum. Paragliding was really fun.Slow enough to really be able to enjoy the experience.


.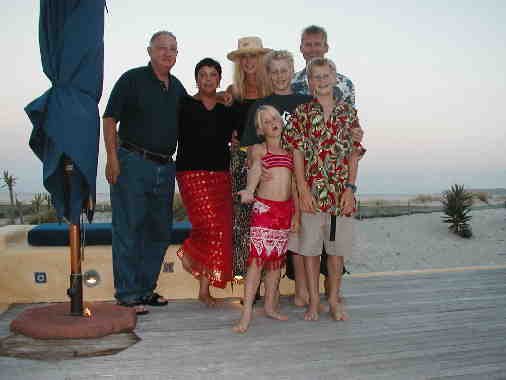 From there we flew back to Auckland and then drove to Omaha Beach to spend the last few days with Lindy and Richard. We thoroughly enjoyed cooling out at Omaha with the Davis family. We celebrated New Year's Eve with them, and returned to Auckland to say goodbye to Valda and Denis before we flew to Australia .
CLICK FOR
AUCKLAND (New Zealand home page)