DOREEN & EITAN LEVY'S HOMEPAGE

UPDATED January 24, 2015

Goldberg
Gordon/Glasse
r
Hershovitz/Levy
Matz
Nochimovitz/Nickel
Schank
The site is not a blog, but rather a vehicle for sharing family information such as family news, births, deaths, activities, pictures, achievements. The site relies on input from family members.From January 2004 until August 2010 this site was updated weekly. From September to December 2010 the site was updated sporadically. Since March 2012 the site has again been updated weekly.
---
THIS WEEK'S PICTURE
January 24, 2015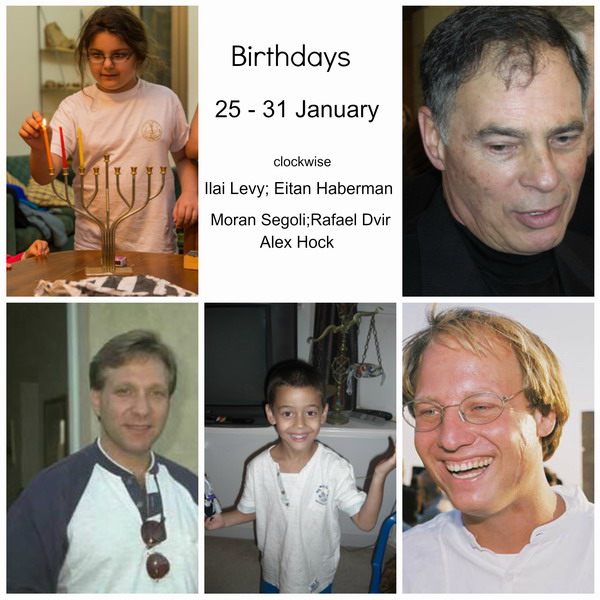 ---
THIS WEEK'S NEWS

In a few days time I will be travelling to Alicante in Spain for 5 days to be in charge of a workshop for European bridge tournament directors.

This is a call for pictures and announcements! If you have a picture suitable for inclusion in this site, please send it to me. Also, send me current items suitable for this column ("news"). And while you're at it, check your information in your family tree and send me updates to my email, levy.eitan@gmail.com
---
BIRTHDAYS AND ANNIVERSARIE
S
Click on the

BLUE LINKS

for pictures
January Birthdays: 1 - Giorgio Tarazza, Katherine Galp, Solly Gordon 2- Elaine Bacher, Ayala Poupko 3 - Daniella Collins 4- Tanya Nathan, 5- Candis Herr, Natalie Smith, Yaniv Arad, Raphael Cotton , 7 - Julie Stern, 8- Kimberly Silverman, 9- Dyna Mynarski , Michael Haberman , 11- Mushe Kirsh , 12- Avraham Segoli , Daniel Kirsh, Sarah Cleaver, 14- Asaf Karlsbad, Maayan Shavit, 15- Shaun Glogauer, Dylan Thiele, 17 - Itay Gur, Ryan Smith 18- Marion Cohen, Rachel Moskowitz , Joel Bortz, Jeremy Bacher, 19- Julien Bloede, Glenda Gordon, David Meyerov, 20- Yuval Partok, Lucille Melamed, Jaidan Klotnick, 21- Susan Nathan, Joanne Schwartz, 22 - Shelly Friedman, 23- Yoav Gilad , Ethelene Galgut, Wendy Glasser, Daniella Melamed 25 Nina Leizerowitz, Michal Glasser, 28 - Ilai Levy, 29- Rafael Braverman Dvir, Mandy Gordon, Alex Hock , 30- Moran Segoli , Aharon Klotnick 31- Eitan Haberman , Shai Geffen
January Anniversaries: 9- Melissa and Shaun Glogauer, 12- Jacqueline and Kevin Lampert, 15- Loren and Robin Hodes 22- Donna and Daniel Leibowitz , 24 - Glenda and Ivan Gordon, 30- Karen and Craig Cleaver
February Birthdays: (not sure how and if you're related? Then go to the family trees section):: 1 - Anna Korbel, Jonathan Stern, Stella Kahn, Kyle Kahn 2 - Shira Bortz, Ann Weisz, Erin Gordon 6 - Dafna Poupko 7 - Ilana Gordon 8- Rina Ezra 9 - Rachel Sekuletz , Karen Cleaver 10 - Roslyn Hakim, Ian Klotnick, Winnie Levy 12 - Charles Levy, Shaked Sadeh 13 - Tamar Moskovich , Debra Hochstadter, Navah Hellerstein 14 - Devra Hock, Russel Kahn, Sydney Yudelman, Alexis Bloede 15 - Ari Lazarus, Tamar Shabtay 17 - Naama Yaniv 18 - Joshua Leibowitz , Philip Levin 19 - Bessie Freundlich , Jonathan Sklar, Michele Berman 20 - Joel Klotnick , Yoav Or 21 - Harel Gordon, Dikla Crutchi 22 - David Hock, Yali Or, Yehoram Leshem, Daniel Silverman 23- Seymour Levy 24 - Alexandra Klaff , Alexandra Cleaver, Simon Shapiro, 25 - David Engleberg , Brian Hock 27 - Itai Nickel 28 - Ziva Bortenstein, Stanley Glasser, Naomi Gordon

---
---
---
DOREEN'S COLUMN
ARCHIVES OF PICS and NEWS
EVENTS AND PICS 2004-2014
MEMORIAL PAGES
FAMILY TREES
OLD PHOTOS (pre-digital)
FAMILY RECIPES
EVENTS and PICTURES 2015
---
Looking for something? Maybe your name? Enter a word or phrase in the box below and click "Find". You will see a list of pages where the searched-for word/s appear/s. Click on any of the links shown to go to that page. If you don't see what you are looking for on that page (some of the "pages" are long), you can now use <CTRL F> to find the exact place on the page where your searched-for word appears.