We went to Barcelona to rest from a week's babysitting. We thoroughly enjoyed it although visiting Barcelona is hardly restful – it is a city that needs to be walked and we literally walked from morning to and including night. Even the slight but persistent smell of sewage or urine didn't deter us.
Barcelona is an exuberant city. I'm surprised there aren't a lot of car accidents where pedestrians are run over – one has to walk looking upwards all the time at the different and fascinating buildings in the Modernisme style. Quite a change from the austere International style so popular in Israel.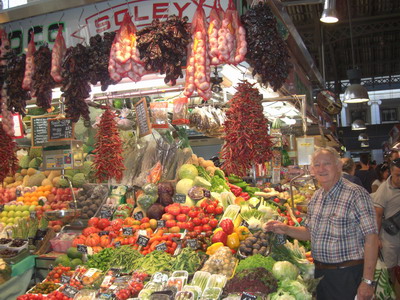 We started with a ramble along the main pedestrian walkway
La Rambla
and visited the Mercat de
la Boqueria
market. Here Eitan is getting a few ideas how to dry the peppers that have overtaken our garden in Netanya.
We did the must-do sights – a guided tour of Gaudi and his buildings meant we bypassed the hours-long queue to enter the La Sagrada Familia church. The church is amazing in its detail, light and optimism. From afar it looks like an imaginative sand castle.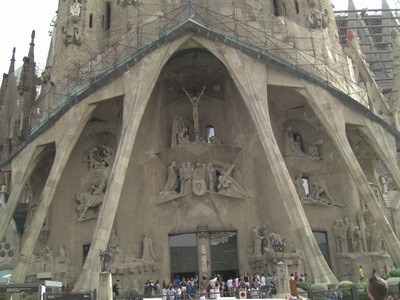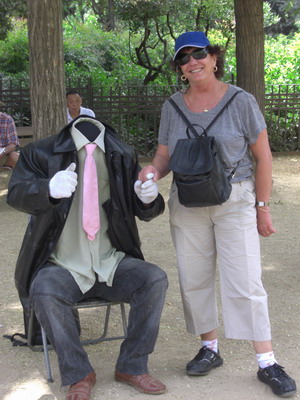 While waiting for the tour I was intrigued by this headless puppet, and nearly jumped out of my skin when he moved.
The tour included the very interesting Park Guell, meant to be a garden city. The city was never built and only the gardens remain. The walkway is lined with stones that look like the trunks of palm trees! (see also picture of Gaudi bench)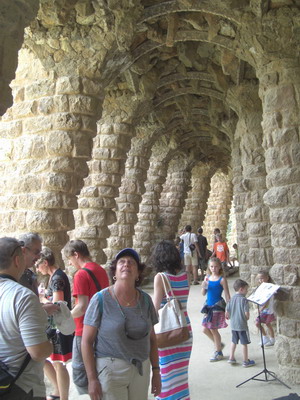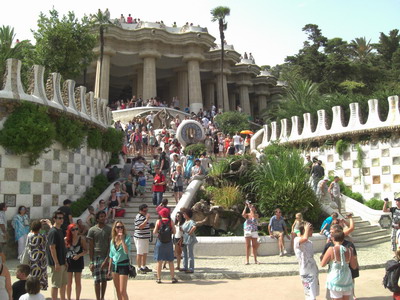 On a tour of Barri Gotic, the Gothic quarter, we visited
La Catedral. Among
its gargoyles was one of a unicorn. (This picture is for my grandchildren from Eilat as we had been on a quest to find unicorns when we visited
Ramat
HaNadiv
Park
in
Israel
.
) Behind the Cathedral w
e were moved to see blocks of stone with carved Hebrew writing on the outside wall of a nearby palace. We were told that the Jews were banished from Barcelona in 1391, about 100 years prior to the expulsion from Spain; their houses were dismantled and the stones used for other buildings.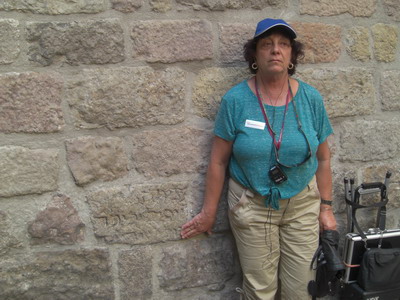 Picasso lived in Barcelona for 7 years until 1904. A walking tour about Picasso included his haunts and an excellent guided tour of the museum housing his early works.

Nearby was an open courtyard where a small band and a male flamenco dancer performed. This was not a classic show with dinner, but a group of fine non-professionals. The dancer, whose name we don't know, not only thrilled the crowd but also the band. At times we didn't know whether to look at the fiery dancer or enjoy the delight of the band.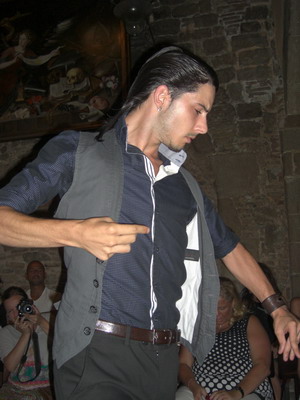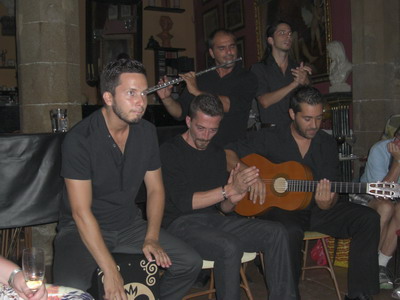 We went to a Spanish guitar recital by Ekaterina Zayseva at the beautiful "modernista masterpiece", the Palau de la Musica, a World heritage Site. The pictures below do not do justice to this amazing hall, considered to be "the world's most beautiful concert hall." Just sitting in the hall was an experience but listening to the lovely guitar playing made this special.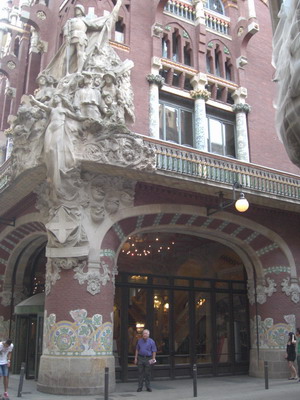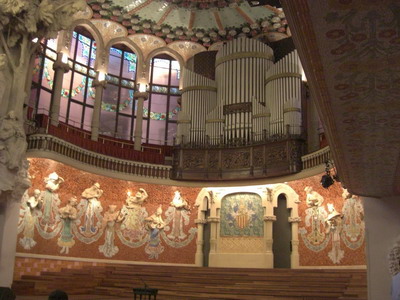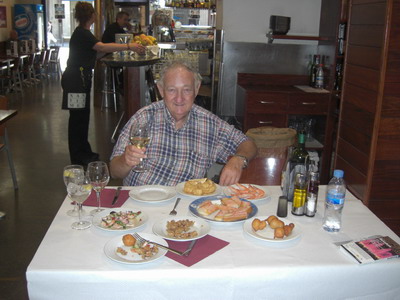 But man cannot live on music alone and no stay in Spain is complete without delicious tapas and the local wine. We made our stay very complete!
On our last day we took a tour to the Pyrenees, to Val de Nuria which is the highest valley in the world. It was a delightful day, beautiful scenery and cold! A nice way to end a wonderful few days in Barcelona.