DOREEN'S TREK TO THE ZAGORIA REGION, GREECE


21 to 29 May 2007




It's extremely difficult to describe a trek. There is a constant flood of emotions and sensations: sometimes putting one foot in front of another is easy, other times you have to drag it into place, the sweat pouring down your face, the tiredness and unexpected elation. It started ordinarily enough - 10 people and guide meeting at the airport, some I knew from previous treks, others complete strangers. A sense of relief that they all seemed friendly and more or less the same age. The ride there was tedious, broken by stops at a beautiful bridge and the Corinthian Canal, started originally in 67CE by Nero and finally finished in 1893. We arrived at a beautiful pension in the quaint village of Tesepolovo. At dinner we found that Greek slouvakia is most probably better in Israel!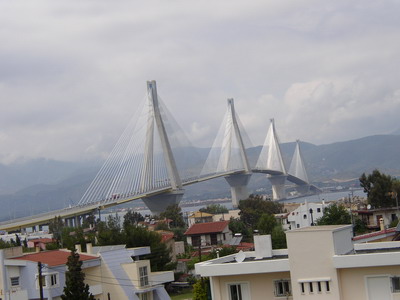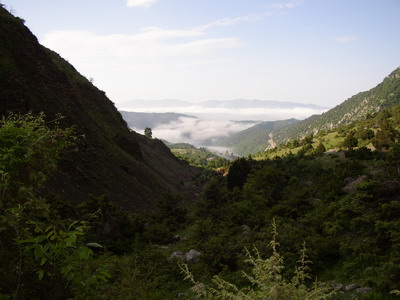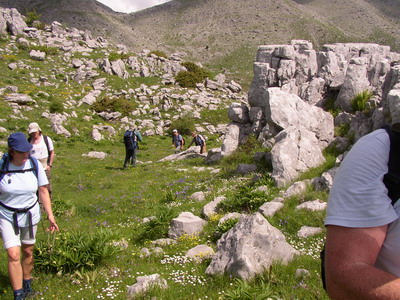 The following morning all fired up we started our climb up. The weather was warm but the valleys below were covered in cloud for a long time. Walking past rocks, trees, and alpine meadows made for a strenuous but most enjoyable climb even though it was mostly up.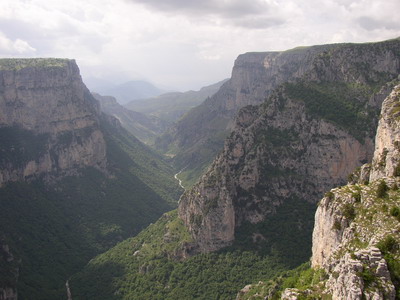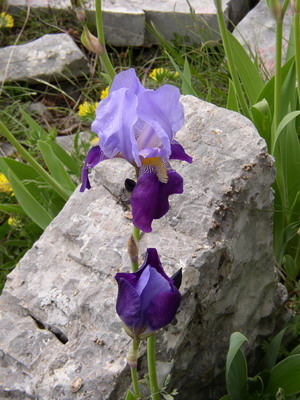 From Beloy we looked at the stunning Vikosmktza Canyon. I must admit that already my thought was "Beautiful! But how are we going to climb down it the following day?"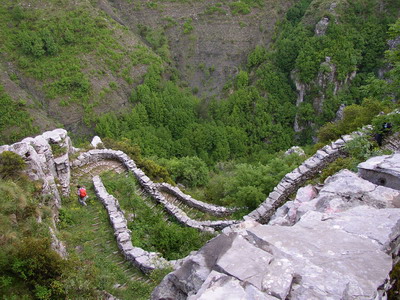 Climbing down that day was great - we went down an ancient donkey trail with 1100 shallows steps and 29 curves. It rained in the afternoon, making the stone bridge look mistical (sic!). We so liked our rooms at Tesepolovo that we returned to sleep there another night. Greek slouvakia still was dry, but the olives and salads were delicious. Great day - and I didn't get any blisters..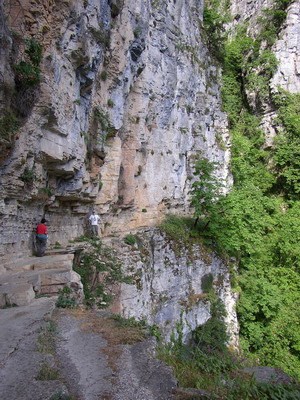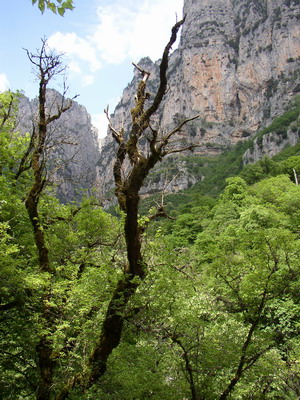 I woke up the next morning tired. We started the day with a short visit to the monastery Monodendri that is perched above Vikos Canyon. From there we had a steep climb down to the Vikos Canyon
Ofer our guide told us that the descent was described as :"without mercy/relentless." That finished me. It was a difficult climb down, but I kept on waiting for the terrible section to come, stepping carefully so I wouldn't work off my toenails, as I usually do. Eventually we reached the river only to find that because of big boulders in the river bed we would be walking on a path totally covered by trees that was next to the river, that went up and down and up and... I did not enjoy it. In fact I decided that I was too old, not fit enough, wasn't enjoying it and this would certainly be my last trek. Moreover, the following day we had a steep climb up and it was not clear whether the horse ordered would indeed arrive. No horse, no Doreen, I judiciously decided. I'll stay with the driver. But after lunch my energy flowed in and I flew along the next part, loving the scenery - the trees had opened up and there were glorious views of the canyon walls soaring above. Even the hour+ walk up to end the day was a breeze.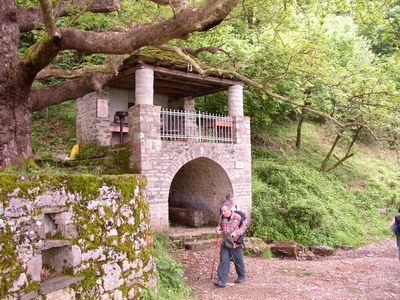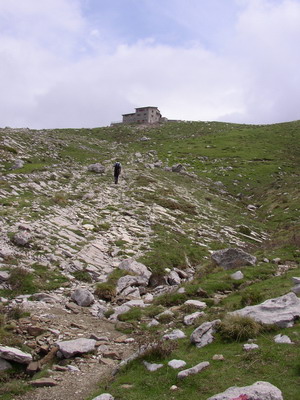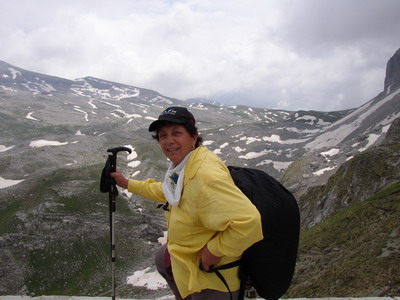 That night we all had an exercise in "What do you really need for an overnight in a Refuge at 1900m." A sleeping bag, full change of clothes, fleece, cosmetics and food for the second day would go on the (poor) horse. We would as usual carry 3 liters (3k) water, full rain gear, torch and food for that day. We arrived at Micro Papingo but the Albanian horse didn't. Now we really had an exercise as to what was essential. Suddenly blankets, most probably smelly, provided by the Refuge were a godsend. Who needed to change their hiking pants? I certainly didn't, but did need to take clean underwater and a T-shirt. I even left the fleece behind figuring that with a scarf and raingear, I could make do After a visit at the local shrine - I'm sure everybody prayed for strength and endurance - we started the climb up the mountain. How can one understand the workings of the body. The climb down on the second day was awful because of the 'merciless' label and now suddenly horseless, having to climb steadily uphill for 3 1/2 hours was a piece of cake. Actually, a rest was indeed welcome after that upclimb! (See picture)





It was with a real feeling of achievement that I arrived in good spirits at the Refuge. I, who insist on sleeping in a room alone, was told that wasn't possible; the three women would be sharing a room with 5 men. Notice I didn't say sleep with - as all the men snored, sleep was a sparse commodity that night.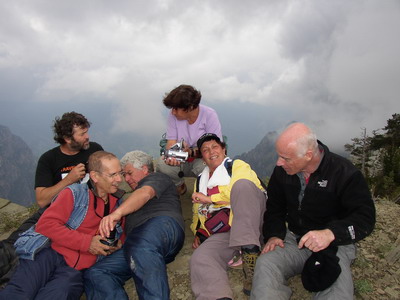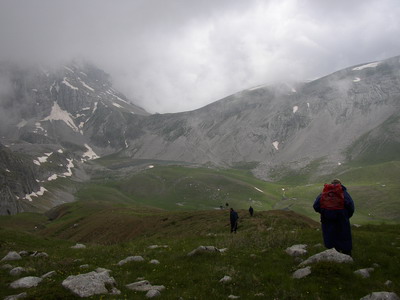 Most of us went on an afternoon 'stroll' by and through snow fields to see the Ioas River far below. In the partial group picture what you don't see is that just behind our guide Ofer on the left and Tami to the right is a drop-off hundreds of meters down to the Ioas River below. Then to end the day, another 'stroll' back to the Refuge - if you look at the saddle of the mountain you can just make out the Refuge in front of the clouds.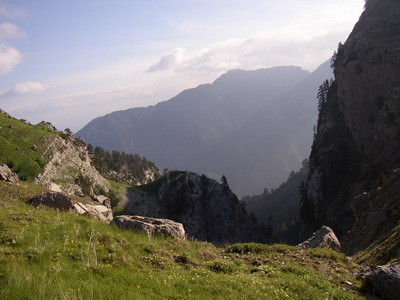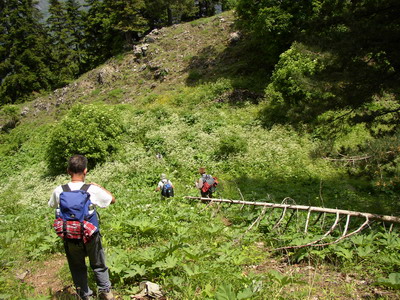 The fourth day was a relentless climb down. It started in an alpine meadow with flowers and grass where we had to scramble over boulders and cross waterfalls and streams. A large part of the descent was on wet leaves covered by overhanging trees on an extremely steep slopes. I was so thankful that I knew how to ski and used the 'climbing down a ski slope technique' to get me safely down. Afraid? Panicky? No, the descent was varied and interesting and we all thanked the heavens for not pouring down on us as it had done the other days.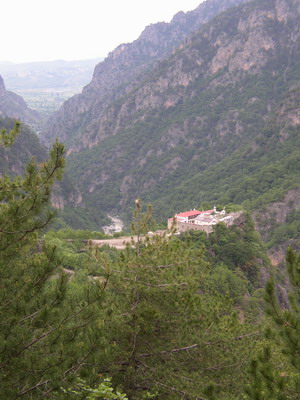 I kept on wondering how were we going to make it down to the river so far below, but we did eventually reach the monastery and even the river. Most of the group was ahead of me and I saw them talking to some people sitting by the river. "Must be Israeli," I thought to myself. Yes, not only were they Israeli, but among them were Nomi and Yair Peled. We first met Nomi on our Round The World Trip when we toured the Red Centre in Australia, and we have seen her (and fellow traveller Ariella) on a few occasions since.

We spent our last night in Conitsa where we finally had a really good meal.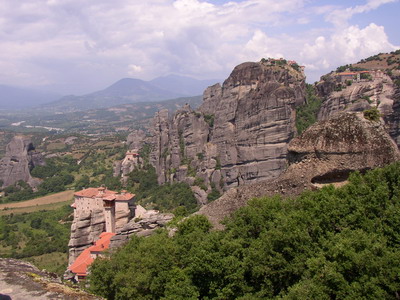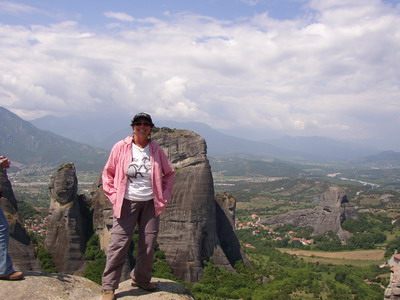 On the last day as we made our way back to Athens. We visited Metaora, a region with many high pillars on which are dramatically perched a series of monasteries.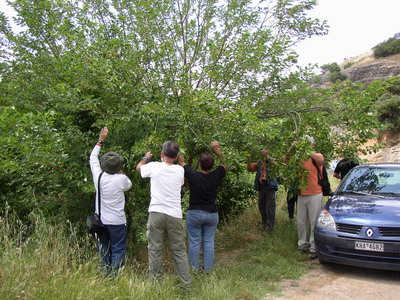 But what really interested the group on that last day was picking wild mulberries.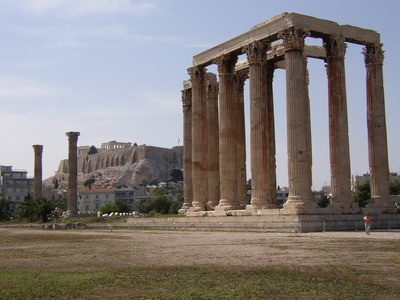 Athens was a real delight. I must be honest - perhaps the fact that I wasn't walking around with a haversack on my back added to Athens being flat coloured my delight. It was clean and the people were friendly. I walked in to a boutique hotel in my smelly hiking clothes and boots feeling I had to apologize for my state. But when I looked at the bed with its 200 pumped pillows I sighed with delight!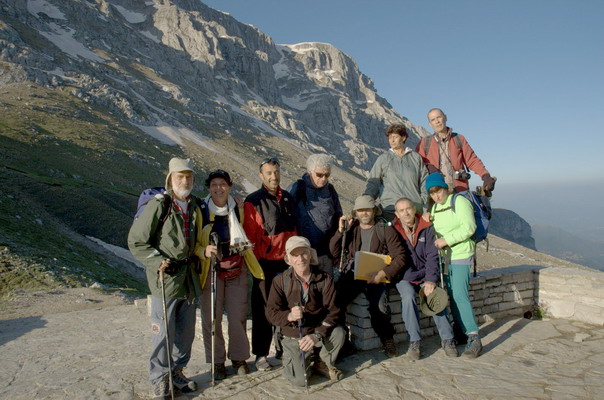 Most of the group by the Refuge, courtesy of Doron Baumer
It was a great and challenging trek and of course I'll do another one if I have the chance!


---



POSTSCRIPT:

20 years ago Doreen went mountain hiking in Wales with Fern and Moran, and wrote

To the Peak

which described her efforts, feelings, frustrations and sense of achievement. The piece appeared in her cookbook, and is reprinted here: To the Peak.