A TRIP TO THE NORTHERN NORWAY ISLANDS AROUND TROMSO
With a few days break between the European Open and Youth Bridge tournaments in Tromso Norway, Eitan and I hired a car and made our way to the outlying islands.
12 July
Tunnels in Norway constantly fascinated us. To leave Tromso we drove through a remarkable tunnel warren with traffic circles and about six left and right exits and crossed over to Kvaloya Island.
We took the winding coastal road and drove to our unpronounceable B&B Yddrasiltunet which even Norwegians say is hard to pronounce. It is a Viking name meaning Tree of Life. The two-roomed wooden cabin was situated on a hill overlooking Bakkejord. I was told that we had a shared toilet and we were thankful to find ourselves alone in the cabin. Yes we did have the toilet to ourselves, but the shower was in the beautiful community house a few cabins away.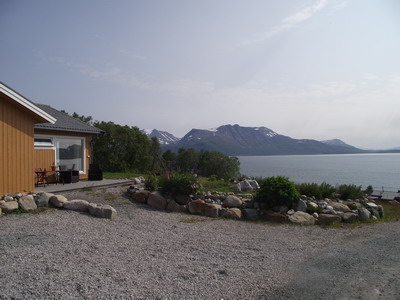 After dropping off our bags, we continued driving around the island, making our way to the beautiful Ersfjordenboten.By this time we were hungry and we were advised to drive in the direction of Tromvick to eat. The place really was delightful with people sitting around tables on the lush green grass with a magnificent view of the sea. We learnt that they only served tea and cakes. On enquiring where the nearest restaurant was, we were directed back to Tromso! So we had to do with a cinnamon bun and rhubarb cake.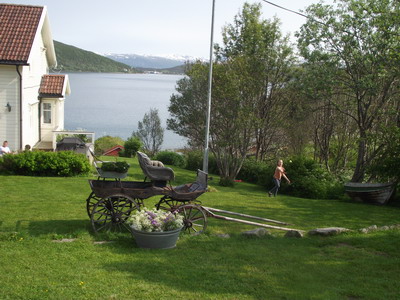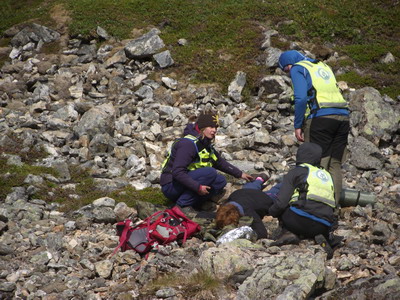 After tea and cake we continued in the direction of Belvik to take a ferry to some outer islands.

Just before a tunnel through the mountain there was a parking lot with many cars. We stopped there too to see another magnificent view.

At the bottom of the steep grassy mountain (under which the tunnel went) was a grey stony area. It took us some moments to realize that there was a woman lying quite still face down on the rocks. Three medics were on their way to her and we watched as after quite a long time she began to respond, but could not move her arms or legs. They tied her legs together, wrapped her in aluminum - it was very cold - and covered her with a blanket and then turned her over to wait, we imagine, for further rescue. What struck us that although there were people in the parking lot close by she was quite alone. This would never happen at home.


We continued through the tunnel to Belvik where we parked our car and boarded the 17.10 ferry; no cars only people at this stage. We stopped at Vengsoy to let off someone and sailed among beautiful scenery of mountains with snowcapped peaks and tiny islands, enjoying a fine summer's day Our next stop was at Sandoya the furthest point of the ferry. Many people used to live at this fishing station until the latest restrictions on fishing. All have left the island, except one man, Dave, a Dane. He looks after the houses - they looked in fine condition - and nowadays people go there for weekends in summer. A loner, his house is quite separate, a long walk from the jetty. The ferry also brings his mail and supplies.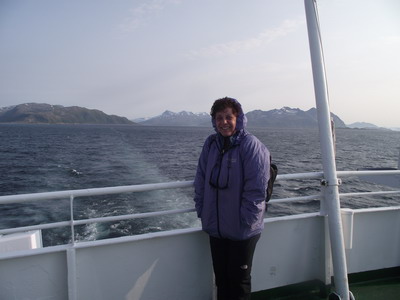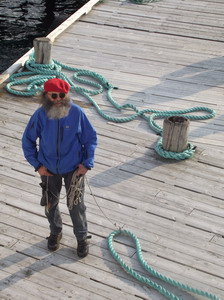 On the way back we made 2 stops to pick up 2 cars, cyclists, hikers with dogs and people returning home after the weekend.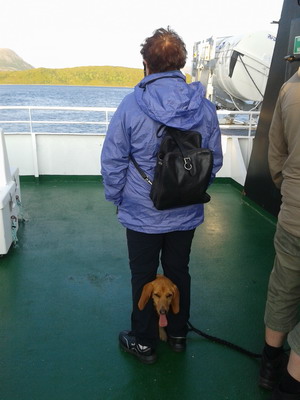 One dog was terrified by the shaking of the ferry and found a little comfort from me
On one island there is a family with 3 children. They have a farm and dairy. The ferry stops daily to fetch the milk and take it to the local dairy. On the way back to Belvik it was much more pleasant as we were sailing with the wind. The sun, glimmering on the sea, looked like the moon.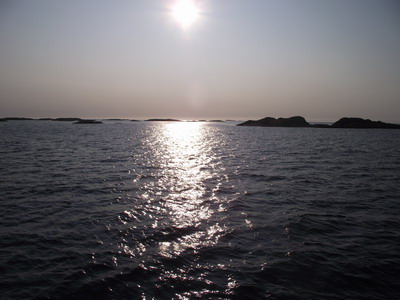 We drove back to our B&B and in the community house in front of large picture windows enjoyed fish soup at 23.00 in bright sunlight. We showered there and then returned to our cabin and tried to go to sleep in the bright sunlight of 1.00am. We often wondered how the sun makes its way from NW to NE when we are not looking. The sun is never overhead, but low on the horizon. The brightest sunlight is not at noon but at 3.00am.
13 July
After a nice breakfast and a lovely view we drove to Sommaroy, a beautiful spot at the end of the road. We backtracked and drove to Brensholmen for the ferry to Bonthamn on the island of Senja. Even though we were very early there were people waiting who hadn't managed to board the previous ferry.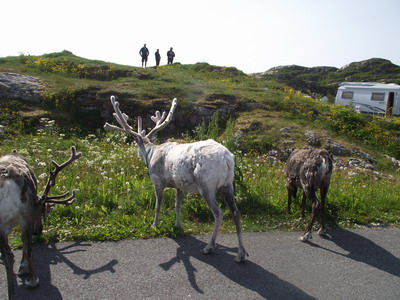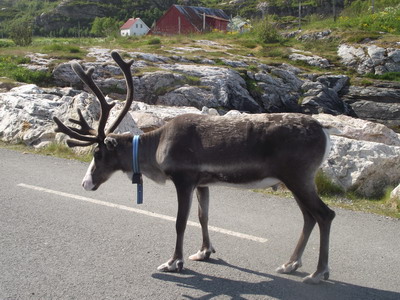 We really didn't believe it when we were told to look out for reindeer. Once a herd of reindeer passed right in front of our car. On Kvaloya we saw wild and farmed reindeer often. They are as common as mountain goats in Mitzpe Ramon and trot between the houses and along the roads. Our wait for the ferry was made pleasant by a herd of farmed reindeer repeatedly coming to the parking area. They had bells tied around their necks by a ribbon. They made a clip clip sound as they trotted by. One was an albino with magnificent antlers. Antlers are shed and regrown every year, surprising, as they are made from bone. In summer the reindeer shed their winter coats and look rather messy.



When our ferry arrived we watched fascinated as the crew packed the vehicles into the hull. We are quite sure they went for training to a sardine canning factory. The sun was brilliant and the sea was sparkling and it was a very pleasant ride. We had the first of a number of views of the mountain that was supposed to be the inspiration for the Arctic Cathedral in Tromso (where Bill Pencharz and I had attended an organ recital.)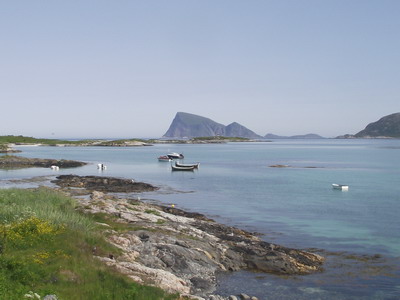 On Senja we drove along the National Tourist Route turning off to view various fjords, including Lougvil with a beautiful white beach and crystal clear waters and Husoy a magnificent island town bracketed by high mountains all around. The tunnels continued to amaze us: if they are on the main road they have 2 lanes, otherwise a single lane with bays to enable cars to pass. The mountains are so steep that until they blasted the tunnels the only access was by sea. When we reached Husoy, Eitan remarked that fishing must be the mainstay of the town because of the overpowering smell of fish, even though all the fishing boats were docked. We saw rows and rows and rows of wooden structures. At first we thought they were drying and salting cod fish, which is regularly served in Tromso, but on closer inspection it turned out they were dried salmon heads waiting to be shipped off to somewhere and ground into fishmeal.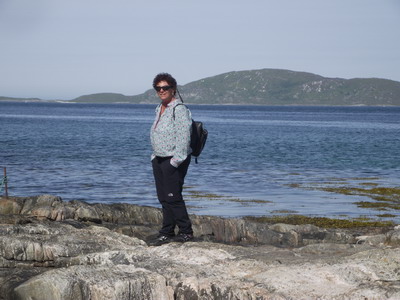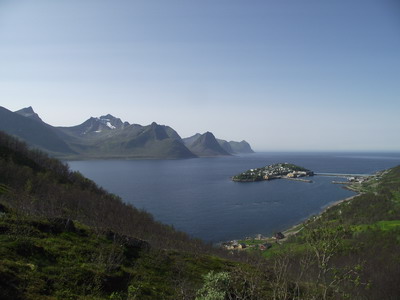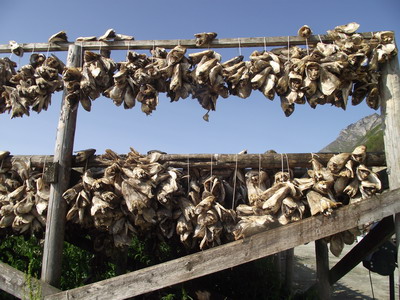 Most of the salmon that we eat today is from farmed salmon. In many fjords we saw rings in the water where the salmon are reared. Throughout history Norwegians have made a living by harvesting the sea through fishing, whaling and sealing. When faced with fishing restrictions at the end of the 1960's, salmon rearing began in earnest. Norway has become the world's largest producer of farmed salmon, and farmed salmon is now the fourth biggest export commodity behind oil, gas and metals.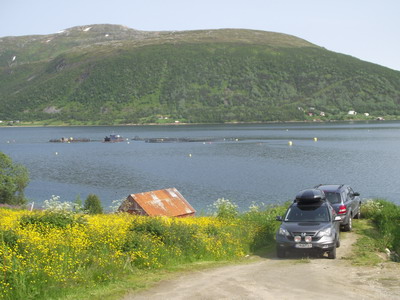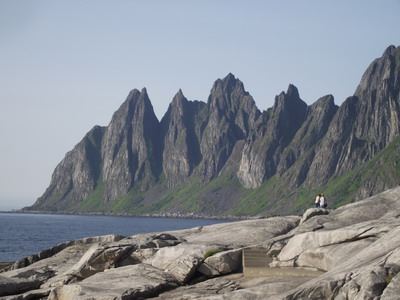 We also visited Mefjordvaer and Baever which had a marvelous view of jagged mountain tops called devil's teeth.

We ended the day at Hamn I Senja, a delightful resort strung along a series of docks. Although three rooms had a shared entrance, we were delighted that we had both a toilet and shower to ourselves! The food was good and the views magnificent. Hamn was founded in the late 1800's to serve a now defunct nickel mine. It was powered by one of the first modern hydroelectric power stations.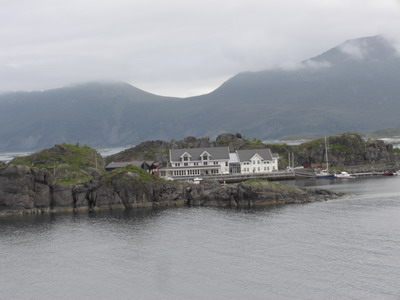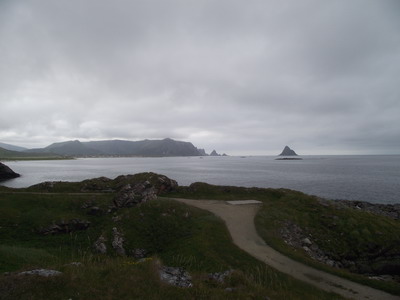 Most mountains are still snow topped. Where there is no snow it is either green or bare stone with jagged edges dipping straight into the sea like opposite Bovaer. At lower levels there are swathes of yellow, purple and white flowers. The rest of Europe is wilting in an unprecedented heatwave but here in July spring is in full bloom.
14July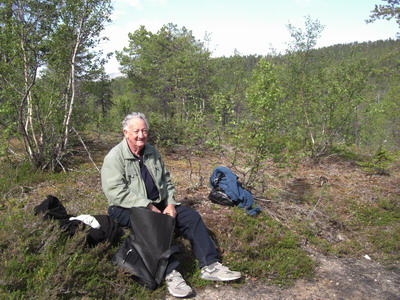 Eitan neither looked nor felt well as he was carrying a cough and a sore throat for a few days. So while he slept I was content to spend the morning reading.

In the afternoon he felt a little better and we drove to Anderdalen National Park. We packed some fruit and biscuits and began to walk

.

While we were eating our lunch a family walked by. They said the walk was boring and there were lots of mosquitoes. Our enthusiasm diminished and Eitan, who was still weak, returned to the car while I continued.

The path was bordered by green trees and lush green undergrowth colored by flowers, big rocks and mountains in the distance - how could it be boring! I didn't get as far as the mosquitoes I must admit. We went back to the car and drove to the other side of the park where there were plenty of streams and water sliding down the mountains with patches of snow.
It was fun to take pictures with me in a T-shirt and with my shoes in the snow. My Dad always used to tell us that they were so poor in Lithuania that he had to walk bare foot in the snow to school. Today we find that hard to believe, but perhaps his shoes were very thin and his feet very cold.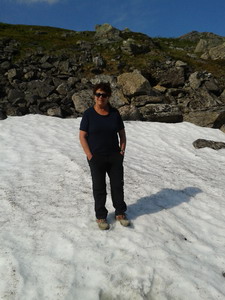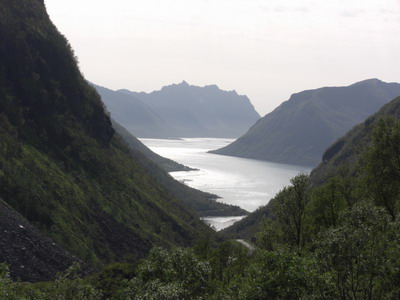 We continued through winding roads and tunnels until we came to the breathtaking views of Sifjord then returned to Hamn for the night.
15 July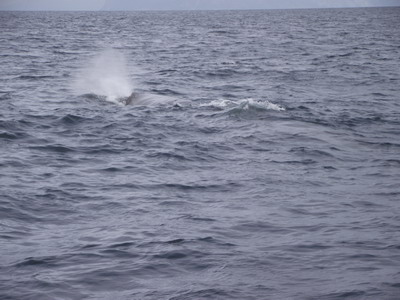 We left Hamn early to wait in line for the ferry and even though we had arrived 45 minutes earlier than suggested there was a long line of cars, motorhomes, motorcycles and cyclists already in line.

Again we marveled at how the men packed the vehicles. They don't board the cars in strict order, but choose which cars can be fitted into the smallest of places before they pack the larger vehicles. The ferry from Gryllefjord to Andenes was over open sea and not interesting, so we practiced bridge bidding.
On arrival at Andenes we made our way to Whalesafari to register, had a light lunch and checked into our hotel. We were very impressed by Whalesafari. The large group was divided according to language and then guided through various stations of a small museum explaining the development of whales, their bone structure and why some whales have echolocation.

Baleen whales are filter feeders that feed on phytoplankton and zooplankton near the surface. Toothed whales need to search for their food, often at great depths, so while their lower jaws have big teeth to clamp on their prey, the area above their upper jaw is filled with cetacean oil that amplifies the frequency of their echolocation. When I worked as a cosmetician I was aware that creams contained spermaceti, but was never aware that it was whale oil. The blubber has other uses.
Before the whale safari Eitan and I finally succumbed to the Norwegian summer and bought gloves and hats and took every bit of warm clothing to the boat Reine.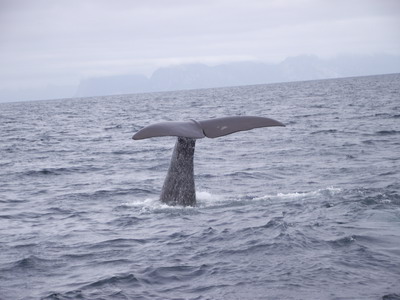 After about an hour's sail we reached the hunting grounds of the whales, where the seabed sloped sharply downwards. A sperm whale was spotted on the sonar and the boat followed it until it surfaced. The boat slowly approached the whale and came really close. With delight we watched its frequent water spouts as it flushed its lungs. After the museum tour we could actually see that the whale uses only one nostril (the left one) as a blowhole while the other one has developed to increase the resonance of its echolocation system.(see above).

Sperm whales feed on gigantic squid, nearly the same length as the whales and they need to find their prey at great depths. Eventually the whale, identified by its fluke as Johnny Handsome, hunched its back and raised its fluke out of the water as it began its graceful dive to disappear into the sea. The crew assured us that Johnny Handsome would surface again in about 30 minutes and so he did. The down time was most welcome as we tried to get warm with tea and marie biscuits. A coastal patrol boat watched our boat to make sure we weren't causing the whale any distress. After the whale surfaced and dived down a second time, we were glad to be called for tea and a bun as we made our way back to the harbour, absolutely chilled to the bone.

Click for a short clip of Johnny Handsome starting its dive

On one beach when I felt the water I was surprised as to how 'warm' it was, i.e. not freezing. It seems that part of the Gulf Stream that originates near Florida crosses the Atlantic and reaches these waters. That is why there are no ice floes this far north, even though we were within the Arctic Circle. Only male sperm whales come this far north. The females with their young prefer more tropical waters. The female whale's milk is so concentrated and copious that baby whales can put on up to 100 kilos a day. Now that's impressive; even with the worst of my binging I can't match that! In northern Norway a proscribed number of Minke whales are hunted in summer as part of their traditional culture. It was a common item on Tromso menus. We did not eat it.
Back at the Marena hotel in Andenes I got into the shower and with scalding water managed to thaw my frozen bones.
16 July
We were impressed that at breakfast the following morning a sign welcomed us to make sandwiches for lunch and even fill our thermos, all for 75 NOK (about $10) each . We thought that a good deal and did it. We then drove to Bleik and continued to Stavre before turning back. Just outside Andenes there is Andoya, a space research station and museum where an Israeli flag was flying. Intrigued we stopped by. It appears that they have a summer program for young adults and an Israeli was taking part. We didn't have time to visit the museum but bought freeze dried food specially developed for astronauts - including freeze dried ice cream, an ideal present for our grandchildren and perhaps something to ignite their imagination.
After a long wait we boarded the ferry at Andenes back to Gryllefjord. As always we were fascinated how the men packed the ferries, this time including a huge hydralic shovel and a truck. When we had to return to our car we had to find a way to get back to our car as the vehicles were so closely parked we couldn't pass.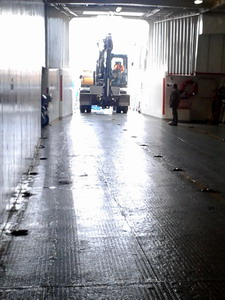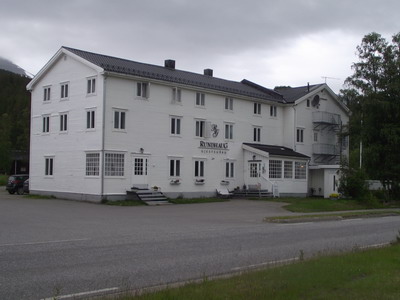 We then drove along the island of Senja, passing many places we had visited a few days before.

We reached the mainland and made our way to Rundhaug, a delightful cozy hotel with a great smell of food. We were told that supper was either salmon caught by one of the guests or halibut. caught by the cook. Hmmm... a hard choice for dinner. The hotel is by a bend in the river but a leafy tree hid our view of it.
We had to reorganize our things as the following day we had to return to Tromso from where I was due to fly home.

At dinner we were informed that we would be served a three-course dinner of asparagus soup (okay, so no smoked reindeer) and meat and….. "What!" Both Eitan and I exclaimed, "No fish?" Well they weren't handing out the halibut but we had fresh salmon cooked to perfection.

On a cloudy day with a light rain we returned to Tromso with a last heart-stopping view.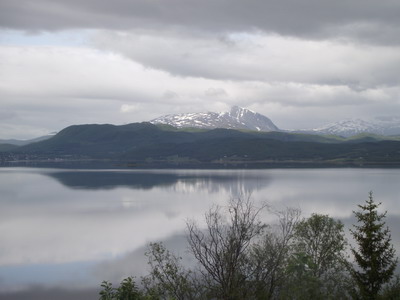 From there I flew back home while Eitan girded himself for another major bridge tournament.