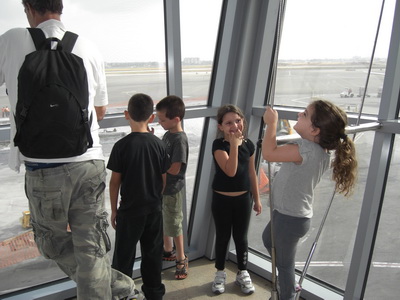 While the whole family was busy with last minute preparations for our planned trip to South Africa, Eitan flew to Johannesburg as Advance Guard. We were satisfied with our excellent preparation for the 16th Levy Family Reunion, Remembering Fern. Two days before we were to leave, Moran phoned to say that Lotem had fallen and broken her hand in two places. They would remain behind and hopefully join us a week later. We were all disappointed, but Amit was especially sad.
After a long day flight to Johannesburg we arrived at Birchwood hotel where we would spend the night. We all bundled out of the coach, glad to have finally arrived; all, that is, except for Amit. She refused to get out of the coach and cried bitterly that she had had enough. She wanted to go to Eilat to her cousins. Poor girl. They had spent a day traveling from Eilat to Hofit, a second day flying – and we still had another day traveling to get to Kruger National Park.
The next morning as we walked to breakfast we were delighted to see weaver birds busy weaving their nests – yes, this was Africa! Thirteen of us bundled into the coach and we drove to Nelspruit. Our journey was broken at White River where the children – and those young at heart – enjoyed making up their own pizzas.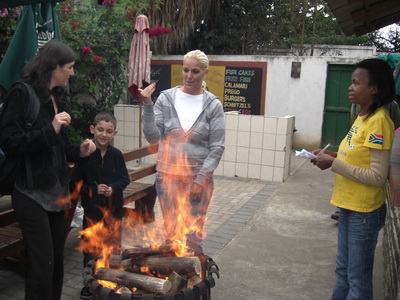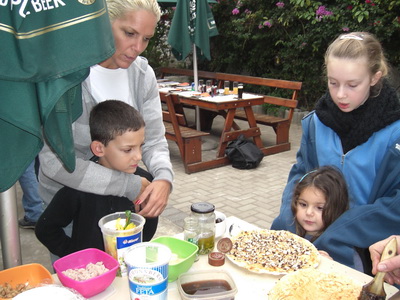 KRUGER NATIONAL PARK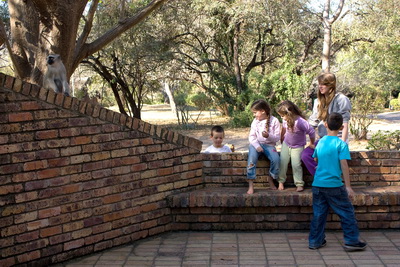 We were very pleased with our bungalows at Berg-en-dal and settled in. The next morning as we stood on our porch we marveled at the variety of birds about us. Guide books were produced and as we identified the birds we noticed that Itamar and Maayan were pouring over a guide book, busy discussing which birds they had actually seen and arguing over which bird each one was going to see. They were quite oblivious of the birds flying over their heads.
Then Amit and Ilai came running, shouting that the monkeys had eaten their cornflakes. Well, actually Limor had thrown the cornflakes at the monkey when it entered their bungalow. During our 4-day stay at Kruger the monkeys were a constant source of excitement – leaving the door open even for a few seconds was enough for them to steal bananas, Vered's pills, oranges and even zucchini from the grill. While we were busy with the monkeys the chipmunks came through holes in the thatched roofs and gnawed at the ginger biscuits and bread.
Sometimes it was difficult to differentiate between the grandchildren and moneys scampering around. When one monkey was foolish enough to try and grab Ilai's half-eaten pear from her hand she roundly scolded the monkey with "Nu! Nu! Nu!" The Vervet monkeys are definitely becoming a nuisance in the camps and they both fascinated and frightened the grandchildren.
We spent three days at Kruger sighting many different animals.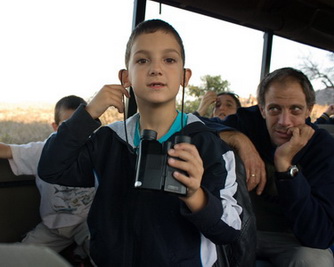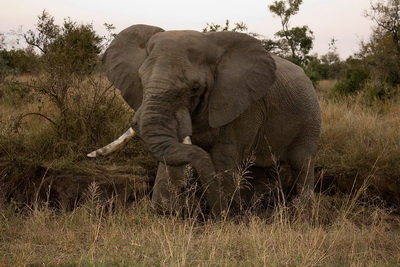 The highlight of a night-drive in an open truck was to be a meter and a half away from a lioness crouching at the side of the road.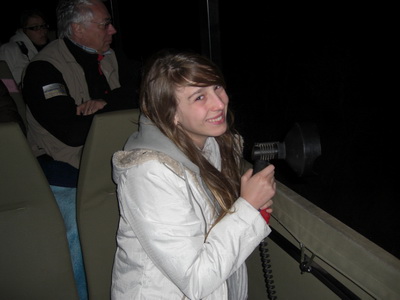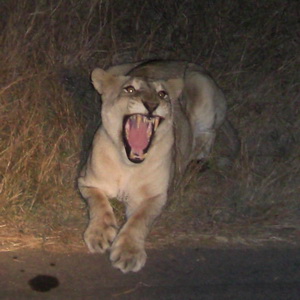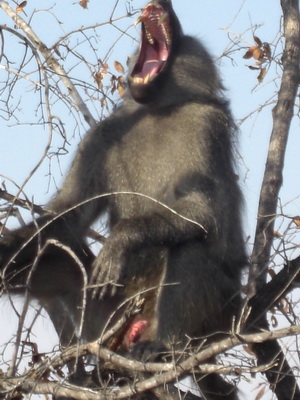 A supervised walk in the bush was both scary and exhilarating. Michal shared her knowledge of dung beetles and spiders with us.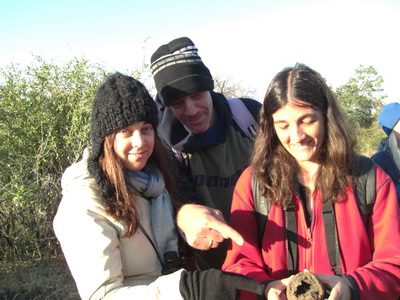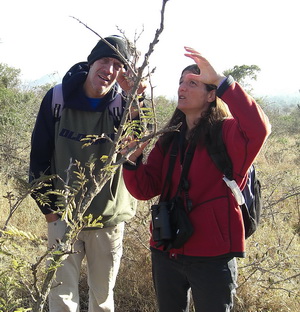 No matter how many sandwiches we prepared 'for the road' by lunchtime everybody was always hungry. One day we lunched at Afsaal, a wayside stop. The next day the Rons saw a hyena wandering around the tables.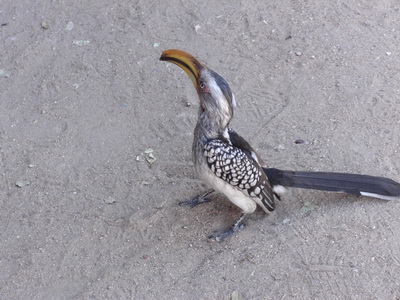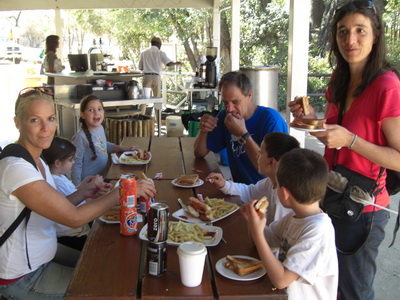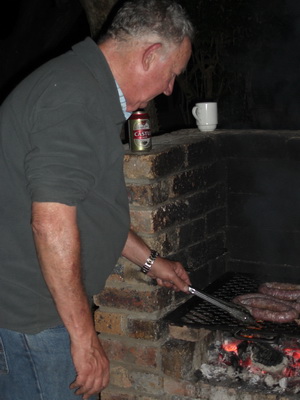 Every night we gathered for a barbecue and Eitan was quickly crowned Barbecue King.

Dinner was a time to make lists of what we had seen, play, eat copious amounts of food, enjoy excellent South African wines, drink Castle Beer and tuck into peppermint crisps.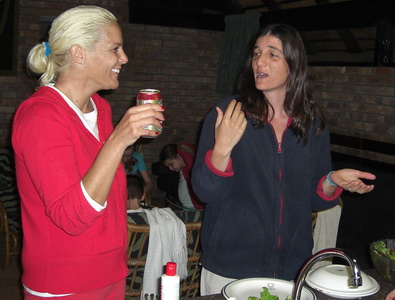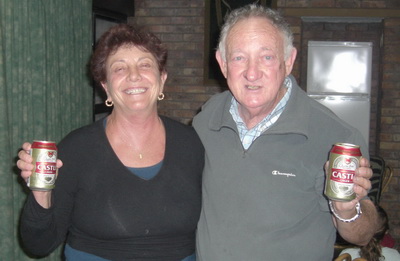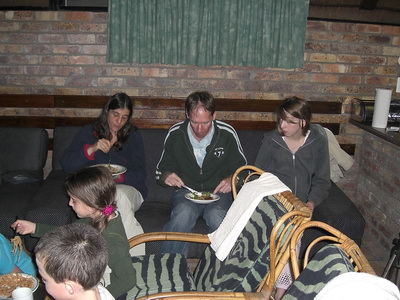 MPUMALANGA - "THE PANORAMA"
Our next stay over was at Merry Pebbles, self catering units in Sabie. We came a day earlier than planned as the grandchildren needed to relax and play and do children things. Adults also need to play and after Avivs Ron and Levy played tennis for hours, I happily joined them. .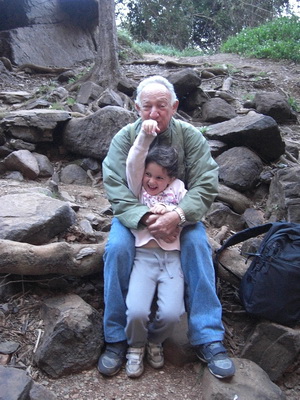 With Merry Pebbles as our base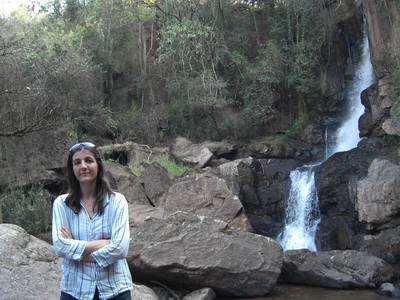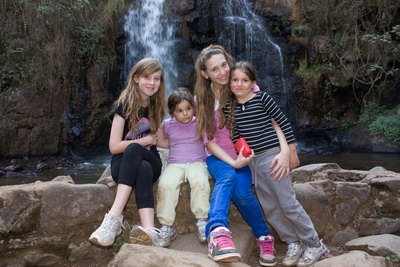 we visited waterfalls,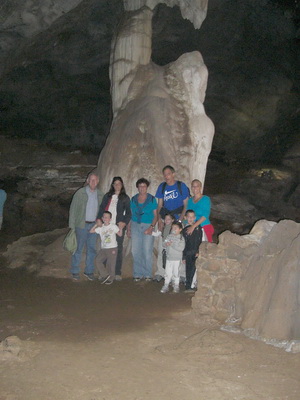 the carstic caves at Sudwala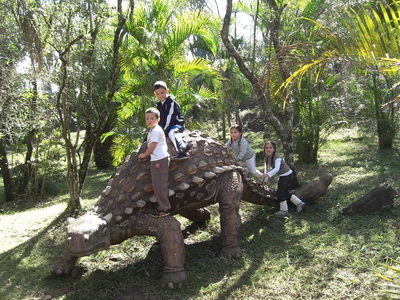 and the Dinosaur Park.

The grandchildren particularly enjoyed walking among the life-size dinosaur replicas and being photographed next to their favorite dinosaur.
One of the many highlights was trout fishing. You bought what you caught and we fished until all the grandchildren managed to catch at least one fish; we ate a lot of trout that night..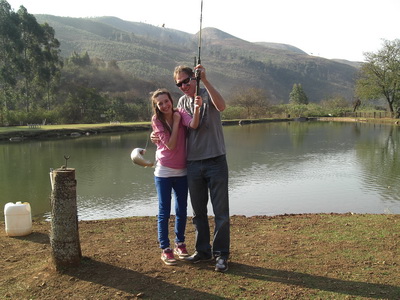 Sabie is much higher than Kruger and subsequently much colder at night and we all enjoyed sitting around the campfires which Aviv organized at night.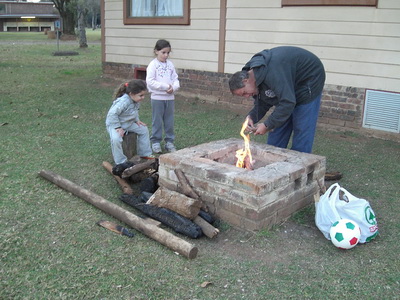 From Sabie we also visited God's Window and the beautiful Bourke's Luck Potholes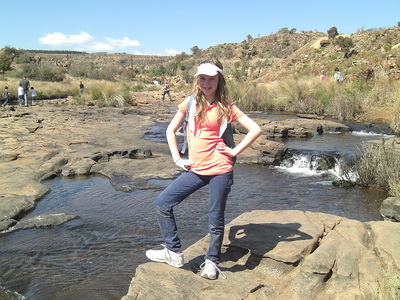 The visit to Moholoholo Wildlife Rehabilitation Center, where injured and abandoned animals are cared for, was a special experience. After listening to an interesting introduction how man must change as animals cannot, we were able to pat a cheetah,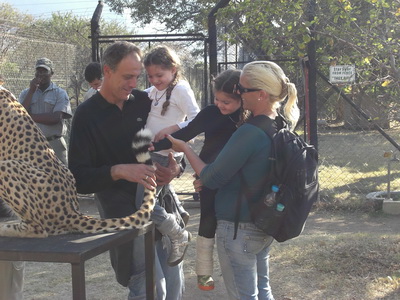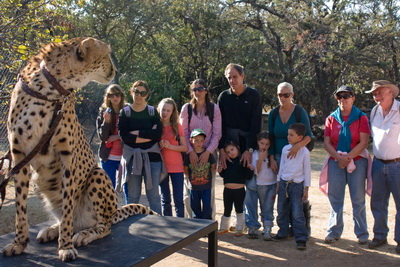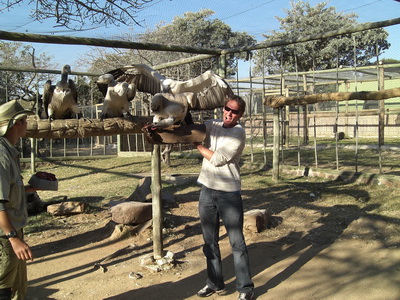 feed vultures,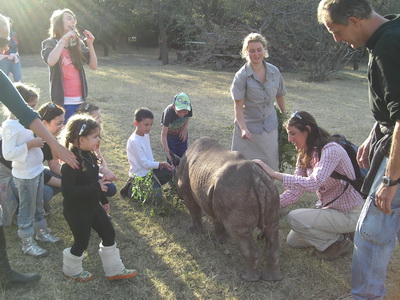 and best of all touch a rhino.

This enormous three month old baby was abandoned by its mother and is imprinted on his young care-giver.

We did not know whether the rhino thought he was a human or whether the care-giver was another rhino.
Either way he devotedly followed her around everywhere.
We flew to Durban and drove to Umhlanga Rocks to the self catering units of Umhlanga Cabanas. Lotem had received the "go ahead" from her doctor and she and Moran had flown out the day before. After a short visit to the Hluhluwe Game Reserve (see Moran's site) they drove to Durban. We were all delighted to be reunited. Eitan had a long converation with Lotem's toes, talking about the little girl "at the end of the foot."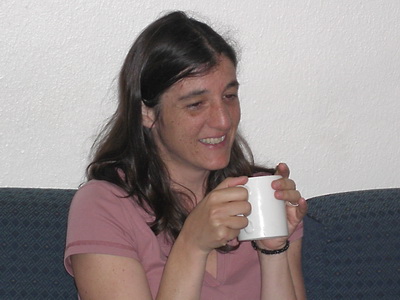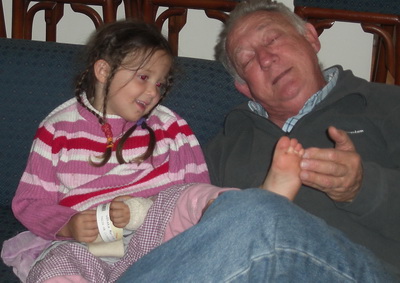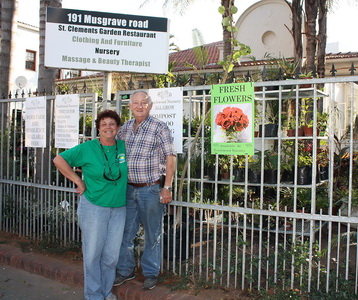 While many families go on a Roots' trip to Eastern Europe, we were glad to share our roots with our family in nearby Durban. Many memories surfaced as we visited Musgrave Road where Eitan lived, his school, my school and where we lived in Chelmsford Road.
The children listened enthralled at stories of how Eitan would sleep until he heard the bells of the neighboring St Thomas Church ring, when he would jump out of bed, get dressed and run to school.
Dani and Lior were most curious to know what had Saba done that made me so angry that I threw him out of the car at Lagoon Beach on the coldest night of the year and he then had to walk home.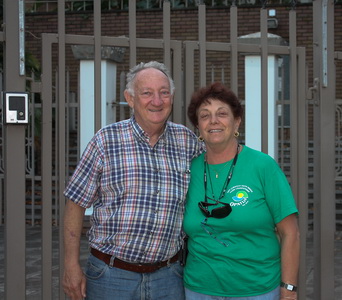 We pointed out Natal University where we decided to get married (in the cafeteria) and the synagogue steps where we stood and had our wedding photos taken.
It was also a chance to visit the cemetery and pay our respects to Eitan's parents,Queenie and Hayman; to Eitan's grandfather Yussel (Joel) and Aunt Ethel; and to Rose Klaff after whom Vered is named.
Charles and Sheenagh and Aunt Winnie joined us for the weekend to celebrate the dedication of the science laboratory in Fern's name. Kwa Zulu around Durban is famous for its vast sugar cane fields. Indentured workers from Indian were brought here in the 1800's to work the fields and even today the whole area to the north and inland is covered with sugar cane and Indian villages. Sue Edmunds fetched us and we all drove to Inanda, past Verulam. Where the tarred road stopped we reached Magqibagqiba, a very rural African village of high unemployment and much devastated by AIDS.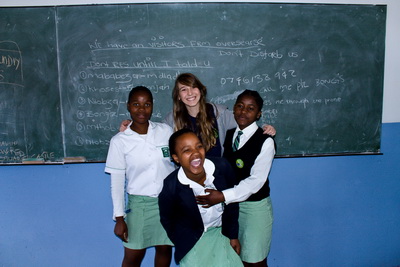 At Magqibagqiba High School despite a nation-wide strike the learners and teachers waited to welcome us
There is a description of the dedication ceremony, including Eitan's speech, on the page devoted to the Dedication Ceremony. . What I would like to describe is the atmosphere. The learners were neatly dressed in their best school uniforms, rather strange to our children who go to school in T-shirts and shorts. The whole school gathered in the science lab and listened intently to the speeches. The only sound was from our small grandchildren talking in the background. The learners actually listened because when Eitan said that Fern belonged to the Congress of Democrats they perked up and when he described how Fern had to get around in Oshakati Namibia on a bicycle they laughed. Other speeches followed including by Sue Edmunds who through Project Build had arranged the building of four science labs to honour Fern. The learners presented various speeches and songs of praise.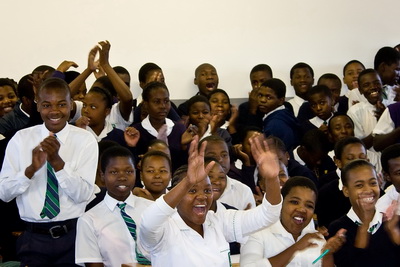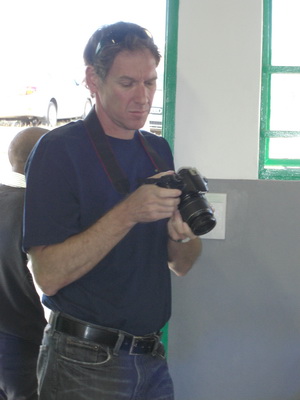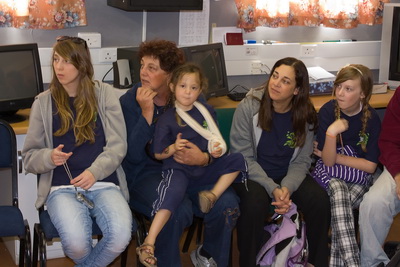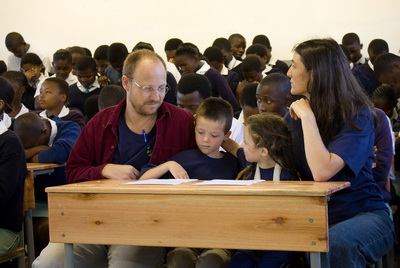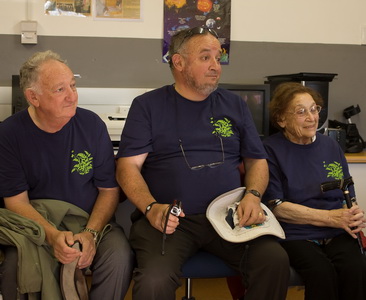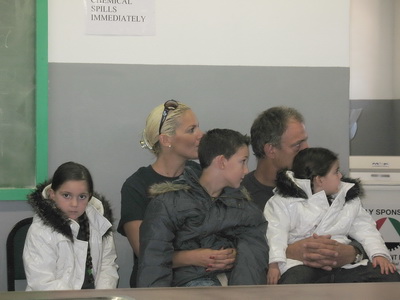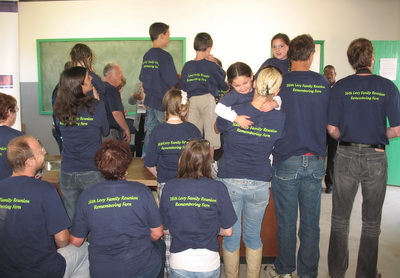 It was amazing that the learners were actually excited at getting a science lab and through it the possibility to extend their knowledge and experience of the world; a
poem by one of the learners
Banothile Primrose Zuma expresses this perfectly.
Excitement ran really high and together with the beautiful harmonizing, they spontaneously started to dance – pupils and then teachers came and did the high kick of Ngoma dancing. By this time we were all dancing and singing and participating in the school's excitement.
It was a very moving few hours and we felt that we had honored Fern in a most fitting way by dedicating these science labs to her memory.
Fern would have been delighted by the learners' sincere appreciation of the chance this would give them to extend their knowledge.
With all the family finally together we decided that the grandchildren should give Eitan a surprise birthday party. It was a complete surprise as his actual birthday was three and a half months earlier. Amit presented him with a card she had made and all seven grandchildren formed a long line and each one in turn shook Eitan's hand vigorously while chanting "How do you do and how do you do and how do you do again.". They then formed a ring around him and he quickly understood that they were playing his version of "I'll hold you so tight that you'll never get away" and they shrieked with laughter when he managed to slip through their hold of him. Then they sang a song they had made up"We love, we love Saba Eitan" while punching the air with both hands. This caused a crisis and Lotem cried that it wasn't fair – since her hand was in a cast she could only punch with one hand, so they repeated the song, all punching with one hand.
Eitan complained that there was no present but we reminded him how years ago he had declared that instead of getting presents on a birthday, the person celebrating the birthday should give everyone else a present. And we were quite satisfied with the present that Eitan had given us – this wonderful Family Reunion.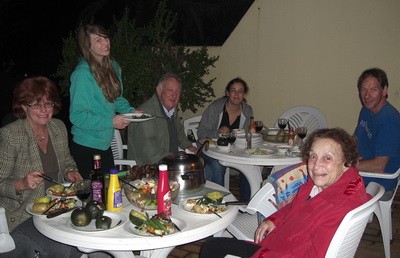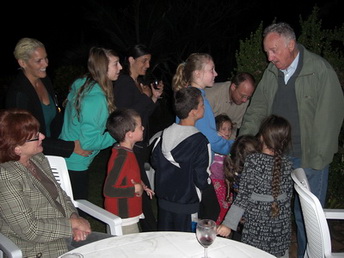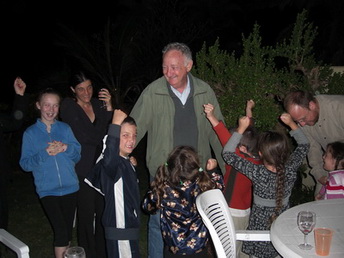 While in the area Aviv and Moran and families went to the uShaka Aquarium.and the Rons visited the impressive soccer stadium and the North Beach. Eitan and I met with old school friends Melvin Geshen and John Moshal.(who are also supporters of Project Build.)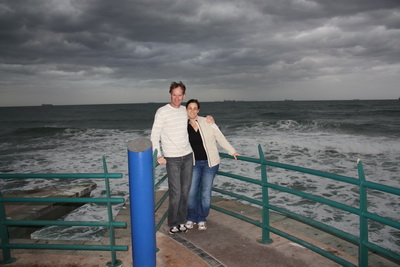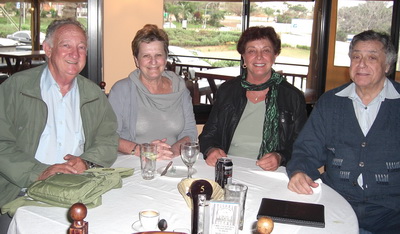 CAPE TOWN and the CAPE PENINSULA
Our next flight was to Capetown where we stayed at Villa Martini in Seapoint. Choosing accommodation from pictures and descriptions on the internet can turn out to be quite disappointing in "real life", and although we liked that we had been given the ground floor of a two-storey house there was consternation when we found that one double bed was in a front room without a door and another double bed was in the kitchen. It all sorted out when Eitan and I were given a large room upstairs, allowing Amit and Lotem to happily share the (doorless) front room and Maayan and Itamar to be together sleeping in the kitchen.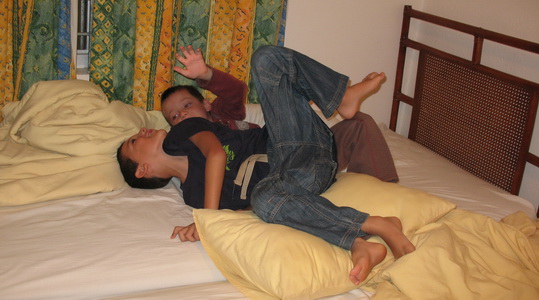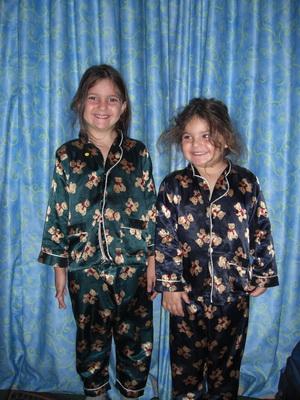 We took advantage of the perfect weather and on the first morning went up Table Mountain. Vered, Aviv and Lior and Moran and Maayan walked up the mountain, finding it much longer and more strenuous than the 1 1/2 hours they had expected. The rest of us enjoyed the cable car and a leisurely walk around the top of the mountain.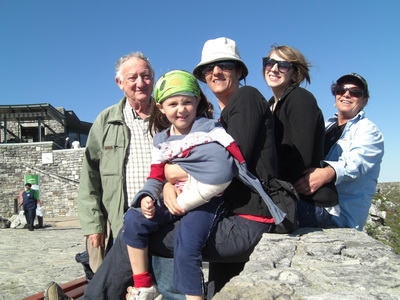 The following day was also fine so we drove along the gorgeous Cape coastline to Boulders where we spent hours observing the African Penguin. They were formerly known as Jackass penguins because of their braying, which led the children to believe that there were donkeys in the thickets. As we walked along the boardwalk we saw penguins waddling along, sitting in their nests, pairs mating, and huge fluffy chicks as large as their parents.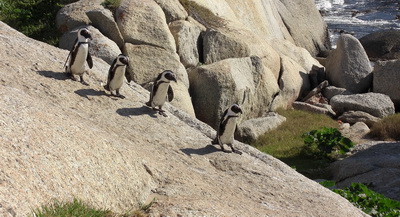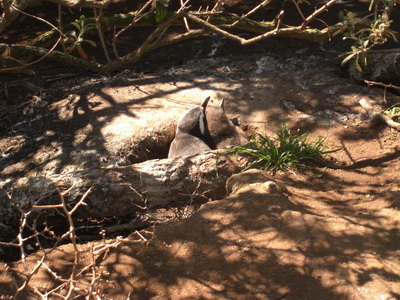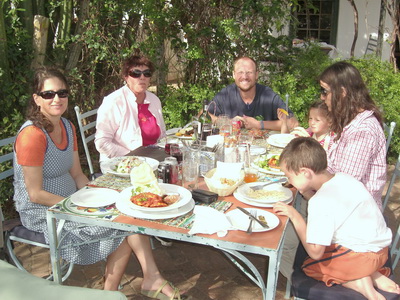 The Rons and AvivLevys stayed at the beach to picnic with the penguins and Moran and Michal and family joined Eitan and me to have lunch with the "Baboon Lady", cousin Ruthie Kansky. (see Matz and Levy/Hershovitz family trees.)

Ruthie is involved in a project to curtail baboons' encroachment into urban areas. It is legend in our family that on a previous visit to her house, she opened the freezer and together with the frozen food there was a young baboon, waiting for an autopsy.
Afterwards we rushed to Hout Bay to catch the last boat to Duiker Island to view the seals. The boat ride had been cancelled but we were delighted to see seals in the bay and even more so to meet Pretty Boy, a huge seal who was willing to jump out of the water to catch a bloody fish head. This, we decided, was even more fun.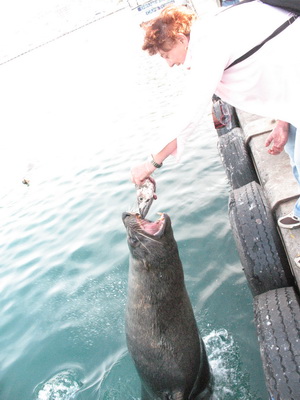 One evening the Rons decided to join Eitan and me for dinner at the V&A Wharf at the Cape Town Waterfront. It started disastrously when we couldn't find a restaurant satisfying to all and with Dani and Lior holding their noses as the area smelt of fish. The delicious food changed all that. One luncheon at the wharf with Limor, when I went to get something a gull swooped down over Eitan and Limor and swiped the fish from my plate.
Our general impression of South Africa was that security was much tighter than ten years ago and only on the North Beach of Durban and in Main Street in Seapoint did we feel uncomfortable - but our experience with monkeys, chipmunks and gulls taught us that food is never safe in South Africa!
The Rons went to Robben Island and the others met Ruthie Kansky who took them on a hike to see the fynbos vegetation of the Cape Peninsula Nature Reserve. (More on the fynbos at
http://www.encounter.co.za/article/38.html
.)
In Capetown we were glad to meet other family and had tea with my cousins Lucille, Wendy and Carmen and their husbands. (See Nickel/Nochimovicz family tree). We also spent time with Joyce Bernstein, Eitan's relative, who always makes sure to update their side of the Hershovitz/Levy family tree.
HERMANUS
After a few days in Seapoint we prepared to move to Hermanus. On the way we stopped at Spiers Cheetah farm, visited a few wineries and met the weaver birds again.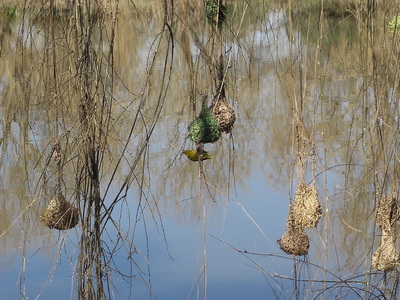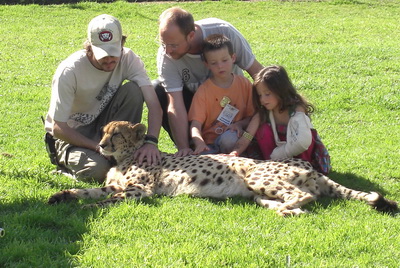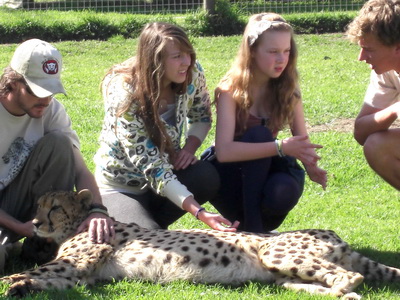 Although Vered was unhappy about packing and unpacking again, we were all delighted when we reached Francolinhof in Hermanus. It was a lovely B&B, far more luxurious than the self catering units we had stayed at until then. We loved the francolins in the driveway, the variety of proteas in the back yard, the heated floor in the bathrooms and the sumptuous breakfasts.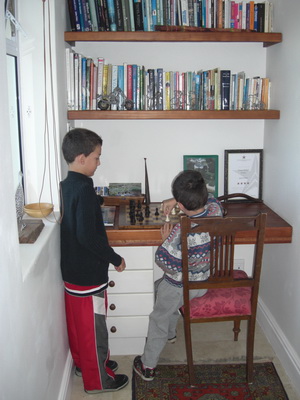 Itamar continues teaching Maayan how to play chess.
Eitan and I arrived early at Francolinhof to prepare dinner for the rest who arrived much later. Our experience was that after a day of traveling the grandchildren were not in a state to go out for dinner. To our surprise, Moran called and said they wanted to eat out. We drove to Harbour Rock Café and Eitan and I immediately regretted going out for dinner as the service was slow and the grandchildren were all tired and grumpy. Things improved when the excellent food arrived and improved even more when Vered made a speech, followed by Moran and another speech and present by Aviv, thanking us for all the work we had put into making this an exceptional holiday. The atmosphere became so festive that the kitchen staff presented me with a piece of cake with a candle on top - they thought we were celebrating my birthday!
From Hermanus we drove to nearby Gansbaai to go on a boat ride to see whales. After being supplied with life jackets and oil jackets we boarded the boat which was towed into the water. Eitan promised a peppermint crisp to the first person to see a whale. A few minutes out of the harbour Moran and Lior spotted the first whale after which we saw about seven adults and young at close quarters. We also saw hundreds of seals on Dyer Island. Aviv delighted us by giving a very credible seal bark. We even saw a great white shark trying to get at a fish left in a diving cage. Even though Vered had handed out Dramamine earlier on, the swells proved too much for Itamar used to the calm Red Sea.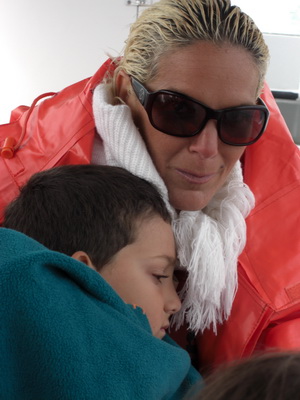 The weather was freezing but we all found the trip exhilarating. We split up for lunch between those who were delighted to play and eat at a Spur restaurant for the 7th time (the younger grandchildren and their reluctant parents) and those who rebelled and went to a 'proper' restaurant. That afternoon while Eitan and I took a well deserved rest the others spent the afternoon on the Hermanus promenade watching whales breaching. Vered assured us that it was because of her constant encouragement.
We packed up that night and the next morning we flew to Johannesburg. At the airport we took a final family picture before the Rons left to fly back to Israel. The rest of us went to Johannesburg and while our children went to the Melrose Lodge we stayed with Charles and Sheenagh.
That night we hosted a family dinner, glatt kosher, to enable our children to meet their Johannesburg relatives. It was a lovely evening and our children graciously introduced themselves to the various cousins and everyone mingled. And the food was excellent.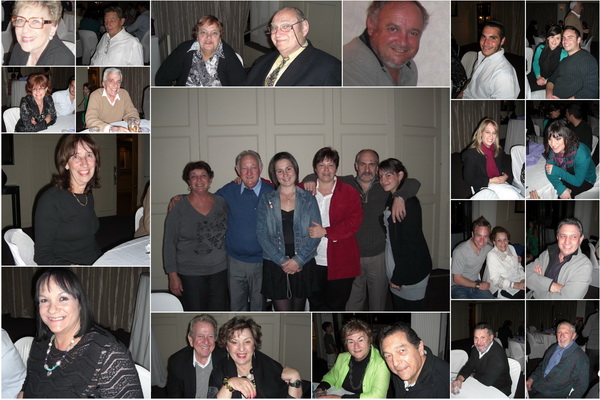 Eitan and I drove to Cyrildene where our family had lived on Beryl Street. We were surprised to see that the old Cyrildene shopping center had become a Chinatown – many signs did not even have English on them.
The children and grandchildren flew back to Israel while Eitan and I stayed on a few days to recuperate and see those relatives who could not make it to the dinner. I was delighted to see Eileen Glougauer, my cousin from Toronto, even though she had come to be with her mother who had had an operation. Aunt Rose was recuperating and we also visited Marsha, her daughter who was also recovering from a back operation.
After being treated to a final curry meal with Charles and Sheenagh and family, it was time to leave; the holiday had finally come to an end.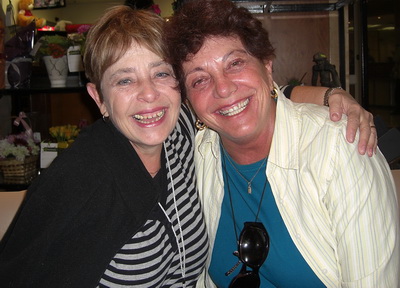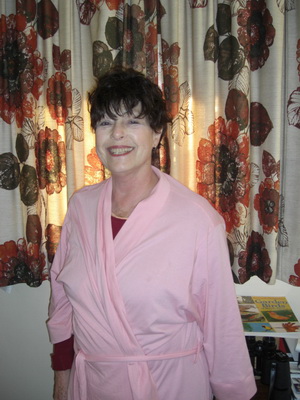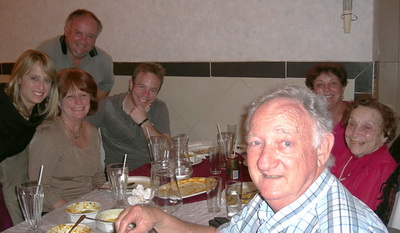 Eitan and I agreed that the holiday had exceeded our aims. It was a special time for family bonding – Eitan and I hardly fought, while the grandchildren, in the way of children, played, argued, fought and loved each other. We had done well by Fern, using her money well and enabling her finally to get the recognition and appreciation that she did not always get in her lifetime. We depleted all the stocks of peppermint crisps and biltong in the Gauteng area. And best of all, we all had a great time!


A final note: Moran told us that on returning to the States they immediately put their children into a framework of going to bed at a reasonable time, discipline, and no junk food. It all went fine, but what was hardest for the children was – no meat for breakfast!