by Doreen Levy
For us as Israelis a visit to Turkey was not just a visit to another Middle Eastern country but an exploration of the Land of Israel's distant past. When we gazed at the Aya Sofya church (now a museum) built by Justinian in the 500's we recalled echoes of his building projects in the Holy Land such as the Cardo in the Old City of Jerusalem. Suleiman the Magnificent, who built the Suleymaniye Camii (mosque), the largest mosque in Istanbul, had the Dome of the Rock retiled with Iznik tiles. His finest architect Sinan, who built the Sulemanye bath house, was responsible for the walls we see today surrounding the Old City of Jerusalem. The Crusaders rampaged the city on their way to freeing Jerusalem from the infidels. Ben Gurion studied here.
Istanbul came as a surprise. As we. Eitan, Moran, Maayan and I, left the airport the roadsides were full of planted tulips. "What a nice welcome to Turkey" we remarked. Only later did we discover that Istanbul had been planted with some 3 million tulips, petunias, and hyacinths in a range of colours. The city was very clean and besides the people pestering us to eat in their restaurant, the rest were extremely friendly. The skyline of Istanbul is a constant delight – huge domed churches and mosques with their multiple minarets are all over the city. Istanbul which is purported to have 12 million people (but others estimate it as at least 15 million) is huge. We think we saw most of the city's inhabitants when we visited the pedestrian mall by Taksim square and observed a river of people filling the streets. Rahmi, Eitan's friend from the bridge world took us there to eat meze and talked passionately about Ataturk, the founder of the modern secular Turkish republic. We joined Rahmi and bridge friends Fahir and Julia another memorable evening when they took us to a superb fish restaurant. It is surprising that we can remember anything about the meal after the numerous bottles of Efe Raki (the local arak) that we downed with water first and then ice.
We had forgotten what it was like to travel with a young child. We juggled our time between things that Mayan liked to do and things that interested us.
He liked to:
* smell the flowers * watch the fountain * try and pat the stray cats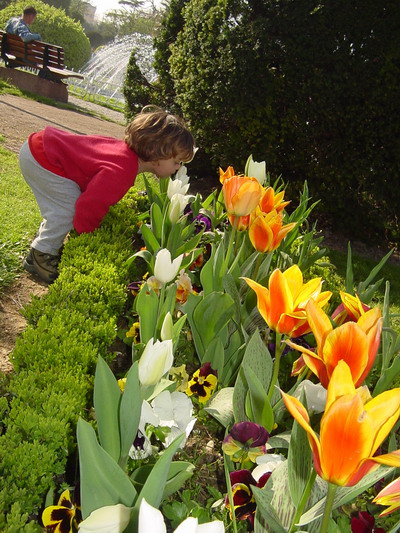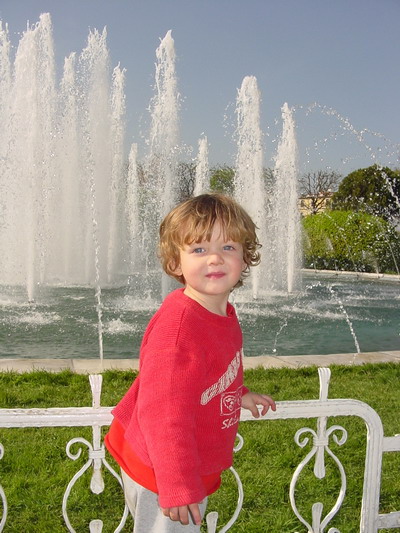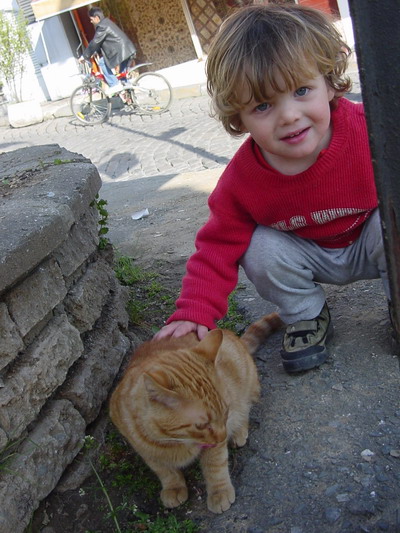 * ride the Istanbul light train "the blue train too too" which was a constant source of fascination * ride on a carriage and horse on Princess Island * sail on a ferry

<>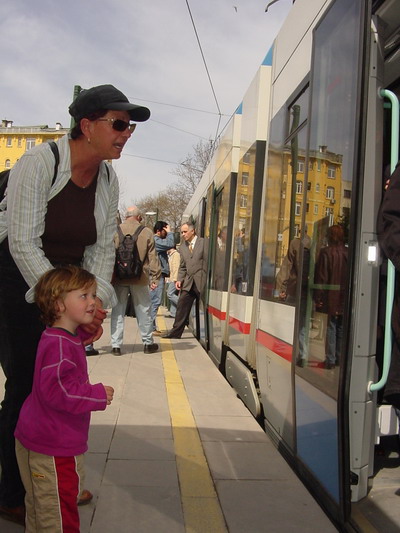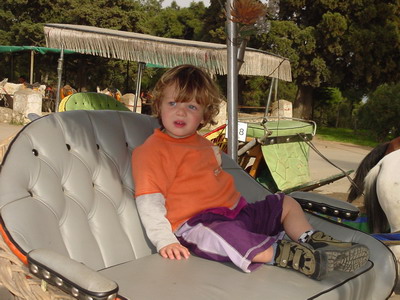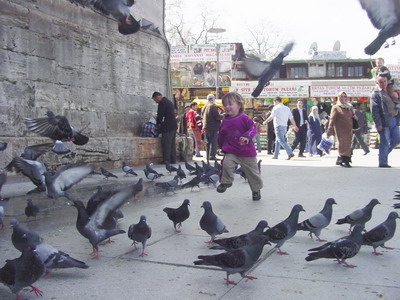 * best of all though was chasing pigeons in front of the Yeni mosque





All this was very tiring for Sabi Eitan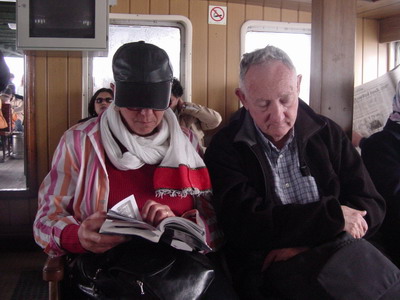 Our interests converged while eating either in the market or at a restaurant or over a fish dinner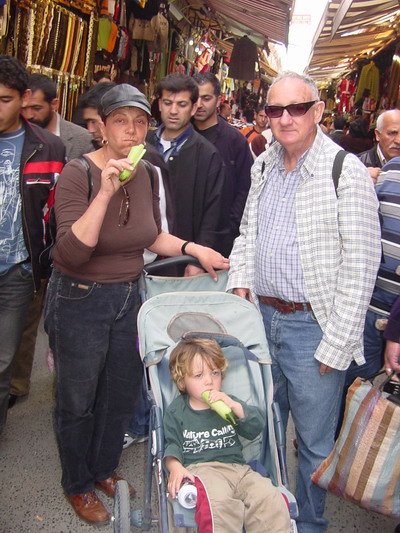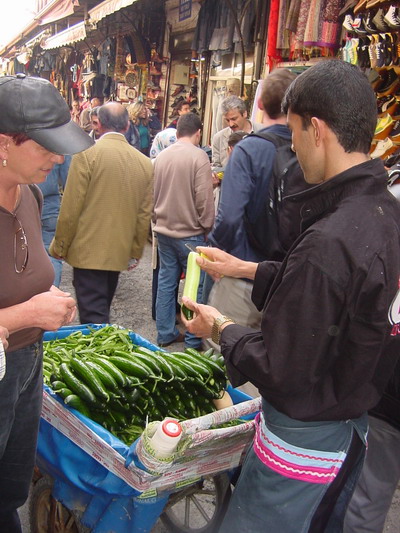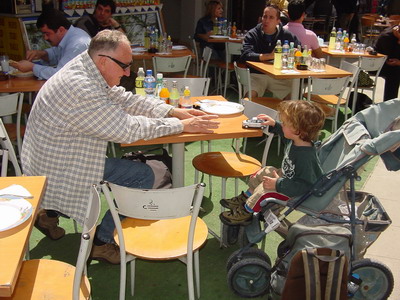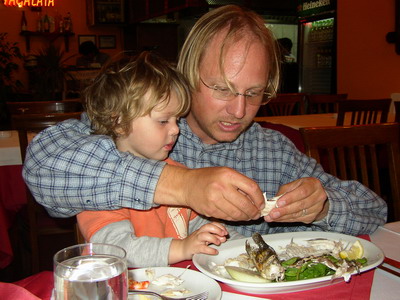 We, on the other hand delighted in the domed Blue Mosque and the impressive Byzantine cistern built by Justinian.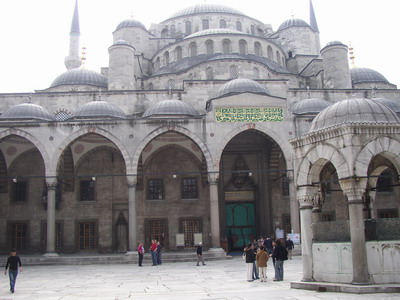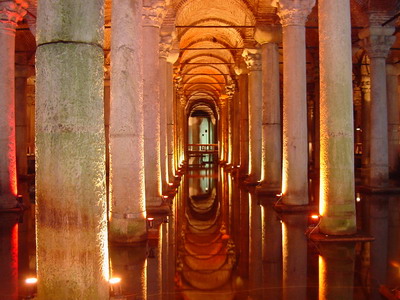 Topkapi and the Suleymaniye mosque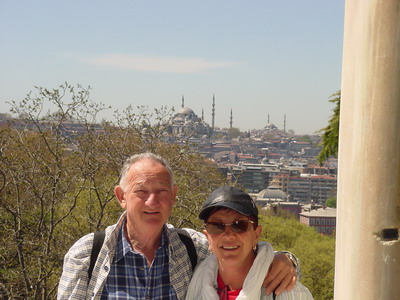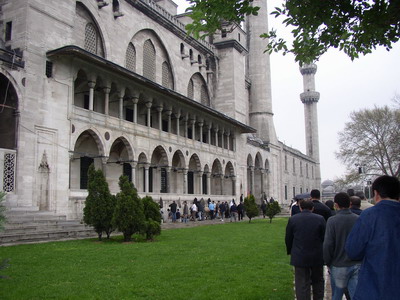 Arguing with the shoe shiner after he tried to rip me off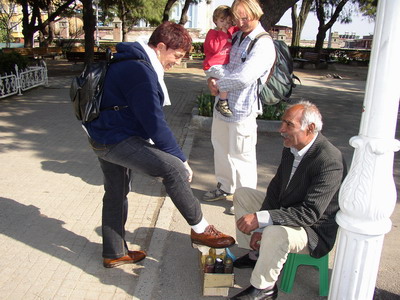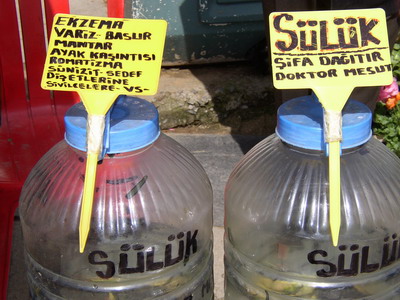 Of course we toured the Covered bazaar and Egyptian spice market and were intrigued to see leeches for sale. We recalled our Australian hike where every time we stopped to rest little leeches galloped up our shoes.
(Read about it!)
Nearby we found the shop, Ali Muhiddin Haci Bekir, where the original Turkish delight was first made. Delicious.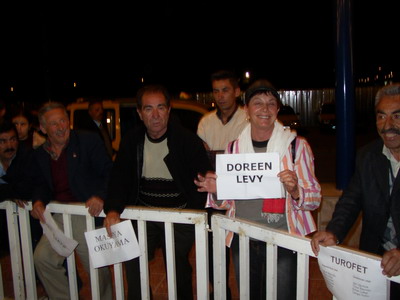 After Moran and Maayan flew back home we flew to Cappadocia. I took the welcome sheet from the shuttle service and waited for Eitan to come back from changing money.
The hour's drive to Urgup was well rewarded when we saw our hotel. Cappadocia is formed from soft 'tufa', yellowish volcanic ash spewed out by three ancient volcanoes. Water and wind have eroded this tufa into weird shapes that are a fitting background for a fanciful and imaginative illustrator of children's books. For centuries people have carved their living quarters within these strange shapes. Happily our hotel Yunak Evleri was part of these formations. Although some rooms were in caves in the hillside, in our room only the bathroom was a cave while our high vaulted room was made from carved stone. Lying in bed and listening to classical music (no TV in the rooms) with tall tapers flickering in the dark was incredibly romantic.
The sprawling hotel is situated in a once active Greek village; a cobbled road ran through the hotel complex, dividing the reception, computer room and music room from the dining room. To get to our room you had to walk down the street and enter a locked courtyard. Our room was in a complex arrangement of rooms one next to the other, one on top of each other, stairs leading down and other stairs leading up. In a word "delightful."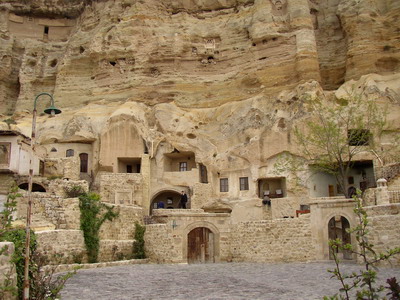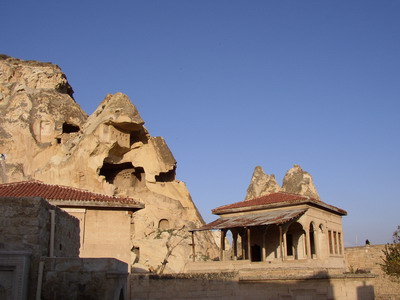 After an ample breakfast our guide for two days, Ulku Yilmaz, fetched us and we were whipped off to see this magical land of fairy chimneys, some of them extremely phallic.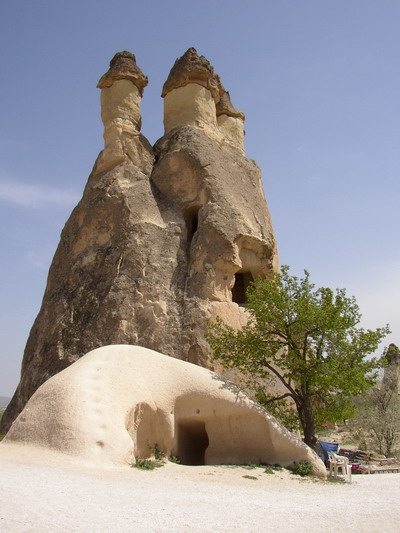 We wandered around the open air museum of Zelve with its many caves and churches dating back about 800 years. Signs of eroded and collapsed cliffs were everywhere.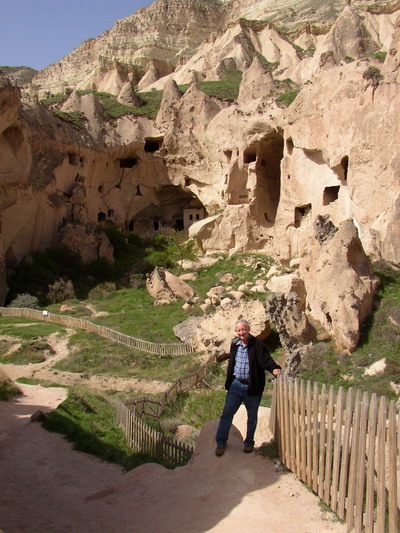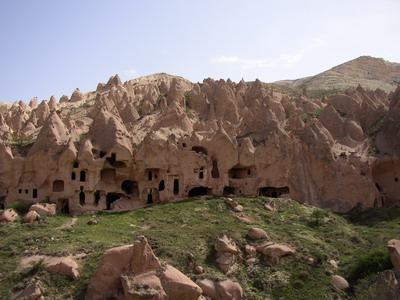 In Avanos at the underground showroom of Kaya Seramik we first watched how the artisans made the beautiful ceramics and then they watched as we bought!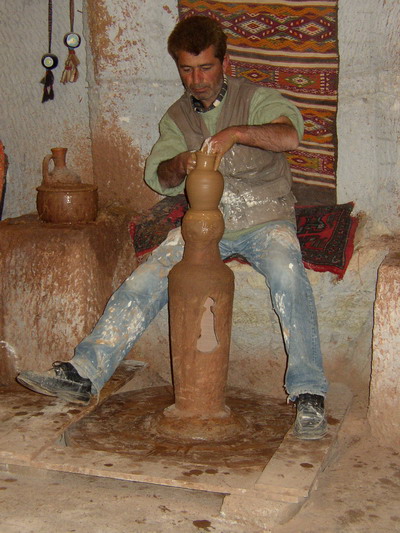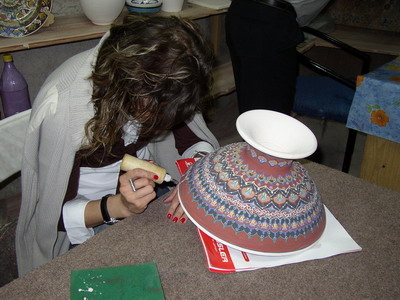 At the Goreme open-air museum we explored the myriad cave churches with the interesting frescoes from the Byzantine period. A theme unknown to us was Jesus, after being victorious over Satan and death holding Abraham by the hand with Sarah behind and leading them together with David and Solomon to heaven. Although we are used to pillars and arches being built, this photo shows how the church was carved out of the rock in one piece. After all this touring this table was not satisfying and we broke for lunch.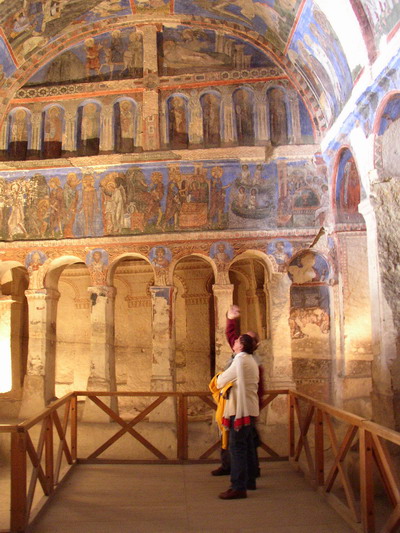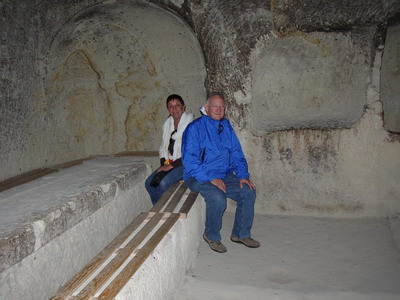 The next day we visited Kaymakli. The surface village is very drab and uninteresting so we were unprepared for the underground city; a huge complex of inter-leading caves at different levels carved deeper and deeper into the tuff. The caves served as living quarters, storage rooms, winepresses and security rooms – note rolling stone. About 1700 years ago, the people lived above ground and descended into the caves when threatened by an enemy. There were holes everywhere to try and trap unwanted visitors.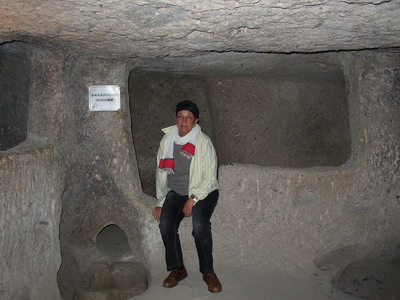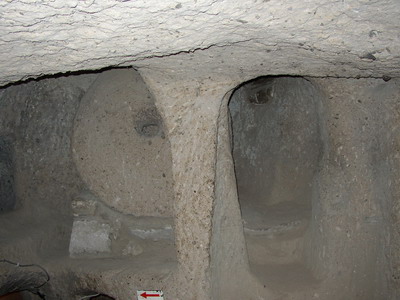 An amble along the river of Ihlara canyon afforded a pleasant interlude and a chance to watch loggers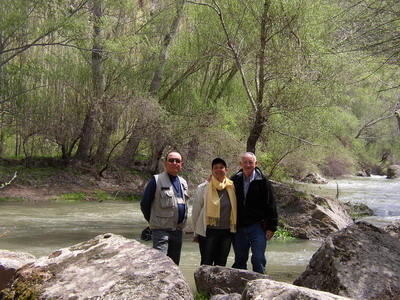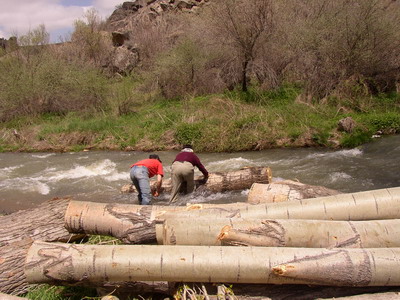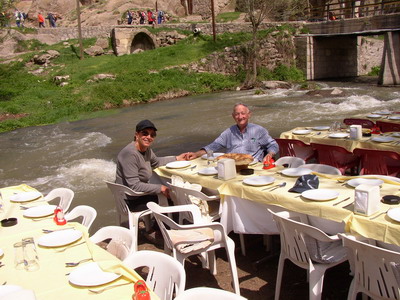 The Uchisar rock castle had beckoned to us already the day before and we were pleased to have an opportunity to climb to the top.
Later that evening we walked into Urgup and tasted pitcher kebab. The night before we had watched as a tourist had smashed open his pitcher and then looked on as the waiters went through his food making sure there were no pieces of clay in his plate!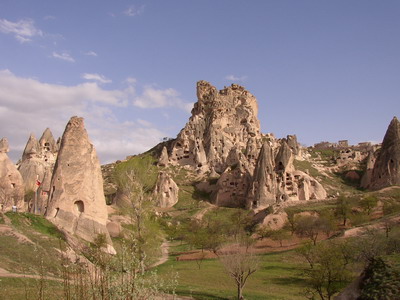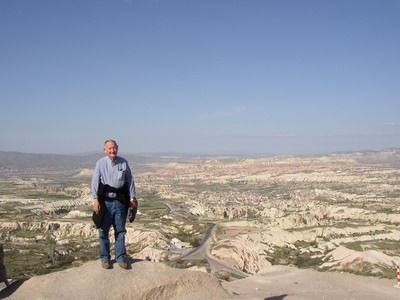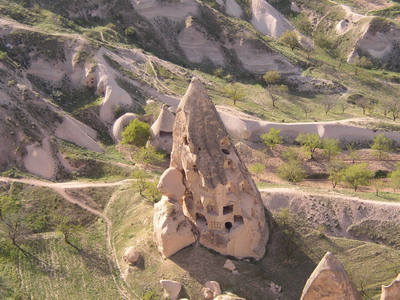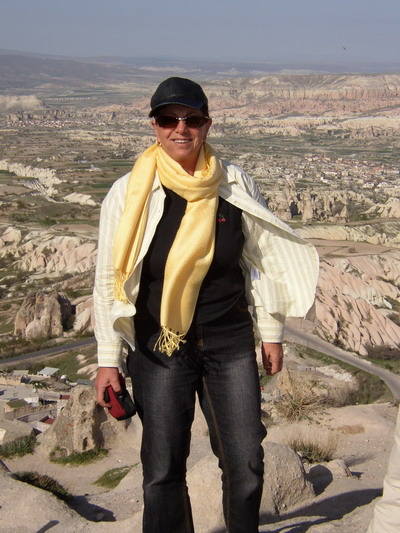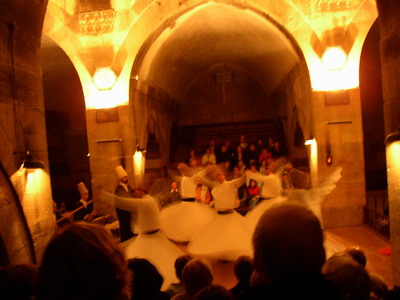 We ended the day with a visit to a caravanserai where we saw a dervish ritual unfold. Slowly and in strict order the dancers and the orchestra entered the dimly lit hall and bowed to all sides. The voice of the hafiz who began by singing verses from the Koran was mesmerizing; it resonated like an instrument. Each piece of clothing they wear is symbolic, - the turbans their tombstones while the black cloaks are their tombs. After a long while they removed their cloaks and walked around the stage and started to whirl. Their white dresses, symbolizing their shrouds, billowed around them. It was magical. We felt it was a real privilege to experience what we saw there.
Back in Istanbul we spent our final night at Taksim square at a sidewalk fish restaurant, glad to have the chance to eat and watch the throngs of people go by. I enjoyed my last order of stuffed vineleaves and rice pudding and waddled back to our hotel.