The World Bridge Federation Championships took place in Marrakech, Morocco from August 20 to September 2 2023. This is the most prestigious bridge event and consists of 4 categories: Open, Women, Seniors and Mixed. Eitan was invited to the event as Reviewer and Championship Committee member.


August is not the month one would chose to visit Morocco, but when Eitan was to be an official at the World Bridge Championships, we went. And it is hot, 46°C on our first day.

The other thing to know it is a little like being in Sinai, throw away your watch because time is slower here; registering at a hotel takes ages. But everyone is so pleasant after the initial annoyance everything is just fine. On arriving late at the Movenpick hotel in Marrakesh we wanted something to eat. Our cokes were served with delicious, not salty olives. No nuts but the waitress brought us three breadsticks which was just enough to tide us over.

We flew to Morocco a few days before the Championships and visited Fez and Chefchaouen. While in Marrakech Doreen took the opportunity to visit more of Morocco's attractions, including Rabat and Casablanca.


On our second day in Fes we took a 12 hour tour northwards to the blue city of Chefchauoen, nestled in the Rif Mountains. Why? Because many years ago (how many) with a group of friends and Aviv and Galor we did a 5 day desert tour in Sinai where our vehicles were constantly breaking down. One morning we woke up to find our guide, driver and jeep gone but we were next to a mountain painted in blue. So when we heard of a town painted in blue, a 12 hour day was worth it.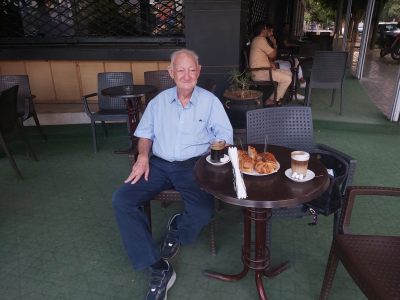 After a breakfast of coffee and croissants – yes I did sit next to Eitan – we joined
our host Oumaima and driver Muhammed for the 4 hour ride to the town.

We drove past kilometers and kilometers of olive trees, some watered by pipes but most
watered by hand, as well as corn, citrus trees and huge mounds of hay, although we didn't
see enough animals to warrant so much hay.We saw white shorn sheep and some cattle.

The land was mostly very dry interspersed with patches of green farmed land.


Our first stop was to see the Shahad Dam, such a welcome site in that thirsty land. It looked enormous, but Oumaima told us there had not been rain for 3 years. I was heart stricken to see young boys either on foot or riding a donkey, clutching water containers to take home. So much effort for so little water. We were told that the parents would come in the evening if necessary. To me it looked as if one jerry can held enough water to flush one of our toilets. How uncaring and wasteful we are of water. Our friends Terry and Carol Kessel are involved with Innovation Africa digging wells for villages in Africa, making such a difference in the villagers' lives.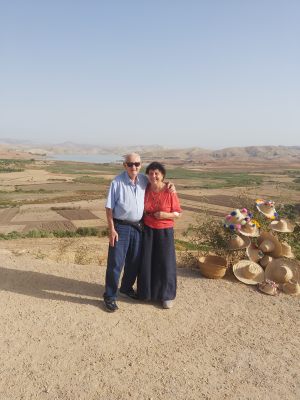 Our second stop was at the Rif Motel for a light breakfast. Even this motel, like our modest hotel in Fes had a swimming pool.

After a long drive we stopped for an overlook on Chefchauoen, loving the blue houses, one next to the other.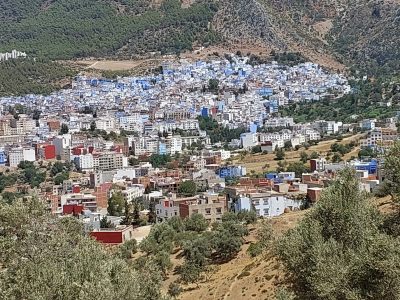 Our host transferred us to a local guide who led us through one of the gates and up and up the sloping paths of the old city.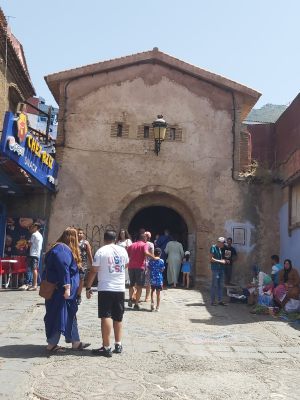 It is a local tourist destination and not once were we encouraged to look or buy something; we were not targeted tourists. There were drinking fountains with clear running water from the mountains and the
locals all stopped to drink from them.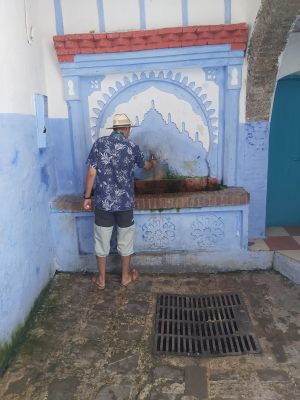 Most of the buildings, especially in the medina are blue and white. There are many theories why. In C15 both Muslims and Jews fled Andalusia and many found refuge in Chefchauoen,
where they lived in harmony. For Jews the blue is meant to ward off the evil eye, it is the colour of the tzizit, represents the sky and belief in God's mercy, and also blue repels mosquitoes(!). For Muslims white signifies peace and purity.

But today people are encouraged to blue the buildings to attract tourism.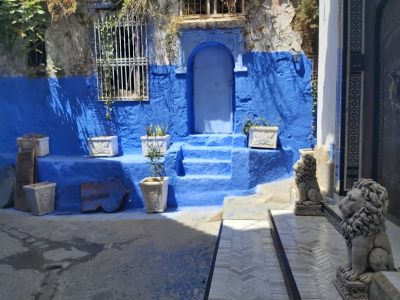 Walking inside the medina was relatively cool as light but not direct sunshine penetrated where we walked and the blue is a very relaxing colour. Shops lined the alleys displaying jewelry, clothes, and souvenirs. Hats with colorful blobs were from mountain people, designating an available young woman; today a must for tourists. Wraps were tied in different ways to show a married or single woman. And then there were the lavish beaded wedding dresses. We eventually reached the main square, Place Outa el Hammam and casbah, lined with restaurants. Again a three course menu, again couscous without gravy. Luckily our host came to the square to fetch us as we had no idea where to meet the van.
Not an amazing destination but very interesting to see a destination for local tourists. And then another four hour drive back to our hotel in Fez
The receptionist wanted to know if we wanted to go and eat at Palais de Fes again. Definitely no and no to another three course set menu. We chose a steak house Duplex Plaza.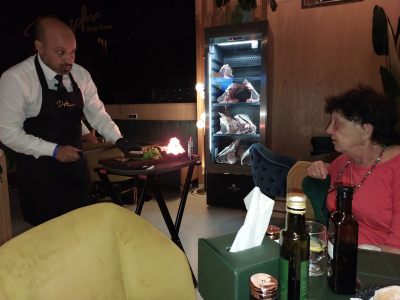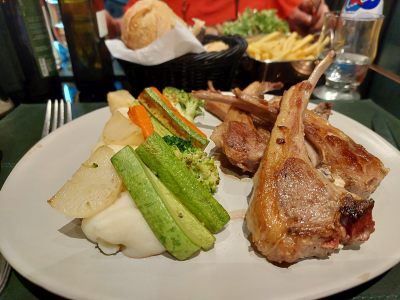 After an good and and tasty meal (lamb chops, entrecote steak) accompanied by a man singing Arabic songs we hailed a taxi. On the way to the restaurant (which the receptionist at the hotel said was walking distance) we had paid 30 Dirham (about 3 Euro) which we considered reasonable. On the way back we paid the meter price - under 10 Dirham.
Taxi drivers the world over are the same.
The following morning we had breakfast and bought bananas to eat with the Pringles we would buy on the train back to Marrakesh.
Go to other pages of our visit to Morocco