Is Casablanca worthwhile visiting? The jury is still out. Some say the Hassan II mosque is the only thing worth a visit; in addition my friend Ziona said I should give Humphrey Bogart regards. Also Limor's father came from Casablanca. So I went.

When a friend couldn't join me and when I heard that a visit to the Hassan II mosque was only
through a guided tour, I went on my own; first class, 2 ½ hour train ride.

It was rather frightening to see the carriage door wide open when the train was hurtling along at full speed.
I was afraid that I'd be sucked out, like in a plane. When I told the conductor he ran to close the door.


The mosque, a most impressive building stands on a huge square. Google said it was the largest in Africa, the 7th largest in the world. Our guide insisted it was the third largest after Mecca and Medina. Because I had to walk barefoot (without the support of my orthopedic sneakers) walking was painful, and may have clouded my impression of the huge beautiful mosque. Interestingly enough Michel Pinseau a non-Muslim was the architect, and it took 7 years to complete. The 8 ton chandeliers from Murano glass, the titanium doors leading to the sea, other doors that lifted up to open, the women's section on wooden balconies over the area were most interesting. After completing a tour of the mosque we went down stairs to see the enormous and beautiful ablution fountains, one for men and one for women. The mosque not only stands by the sea but a third of it is over the Atlantic Ocean reflecting a verse from the Quran: "the throne of God was upon the water" (see picture here).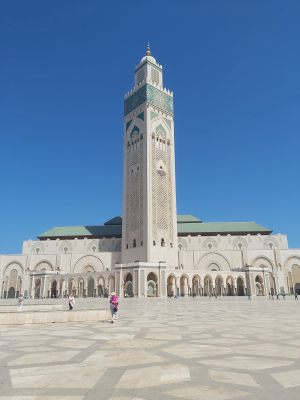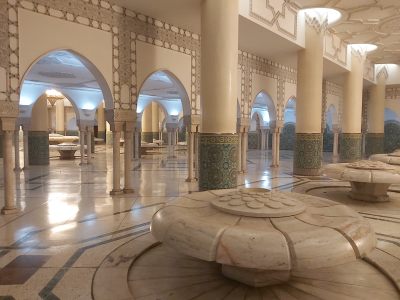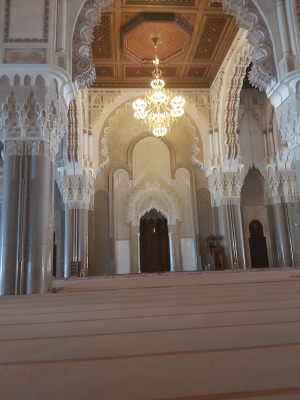 Afterwards walking along the corniche I saw that the promenade was reclaimed land and I enjoyed the waves crashing against the promenade wall.
The other thing I wanted to do was to go to Rick's Café of the movie Casablanca fame. Actually the café in the movie never existed; the whole movie was filmed at Warner Brother's studio in California. This café is a loving recreation by Ms. Kriger, a former American diplomat; it is now a very posh restaurant. I arrived suitably impressed and noted the piano of "Play it again Sam" fame, but the pianist Issam Chabaa plays 'As time goes by' only in the evenings. The food was excellent and the ambience perfect.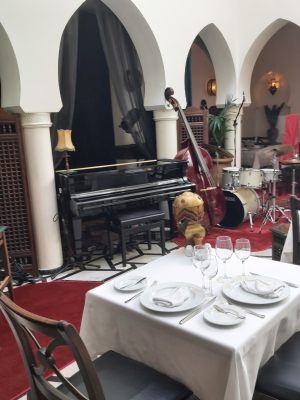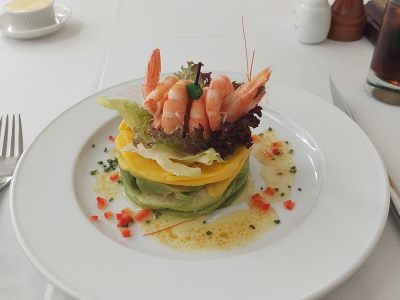 I'll just have to go and see the movie again.
Well pleased I returned to Eitan in Marrakesh.