THIS WEEK'S PICTURE
and THIS WEEK'S NEWS
ARCHIVES 2023
Go to Home Page
Go to Miscellaneous Events and Pictures 2004-2022
Go to Archives of This Week's Picture 2004-2022
Go to the current "This Week's Picture"
---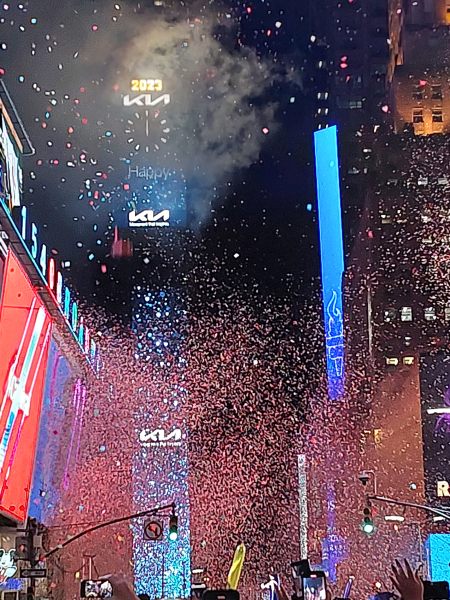 New York - - Welcome 2023 - The Ball Drop at midnight.


THIS WEEK'S NEWS
We wish all our friends a Happy New Year and a successful and healthy 2023.
We were saddended to hear of rhe death of Doreen's cousin Gail Nickel in Johannesburg this week. We extend condolences to her sisters Lucille Melamed, Wendy Nickel Ginsberg and Carmen (Nickel) Kay; and their children. See Nochimovitz family tree.

We wish Avram Segoli, our daughter-in-law's father, a speedy recovery after his medical procedure.

In New York in addition to the "ball drop" we saw 2 plays (Piano Lesson, Leopoldstadt) and an opera (Aida). We met again with our relatives on the Nochimovitz side the Hocks and on the Glazer side the Levins. Doreen went to Philadephia to meet old friend Nina Schafer.

From NewYork we stopped over for 2 days In Toronto Canada, where the temperature was -2C. There was no wind so it wasn't so bad. From our hotel window we saw ice skating below. We had dinner with Doreen's cousin (on the Nochimovitz side) Eileen Glogauer and family and with friends from our Durban days John and Ethne Nussbaum.
Son Moran and Mikhal Segoli had a short couple of hours break one day this week - only it wasn't so short
Daughter Vered Ron, Aviv, Danielle and Oz,and Lior are enjoying their holiday in Cuba.

This week Moran spent a long weekend with 3 friends in Amsterdam. Following his father's (my!) tradition he enjoyed the local herring.
---