December 2020 - More Covid Vaccinations
This week our children (clockwise from top left: Aviv Levy, Vered Ron, Aviv Ron, Moran Segoli) received their first Covid vaccinations. The latest fad is photographing the event. Last week there were
pictures of Doreen and me
, this week of our children.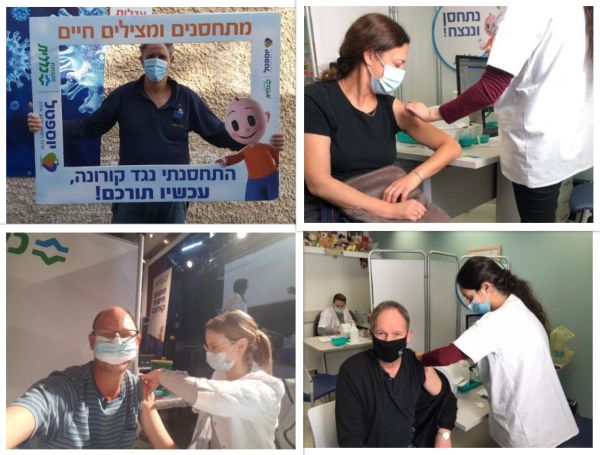 Our son Aviv, who is certified to give emergency first-aid treatment, underwent a training course and is on standby to administer the Covid vaccine.
(A few days after
Maayan also received a vaccine
.)
---
December 2020 - Maayan and Hila come for supper
We have an excellent relationship with our neighbours on the same floor of our building and with their two daughters, Maayan aged 8 and Hila aged 6, who often just pop over to say hello. So Doreen invited them over for supper a few nights ago. They came 'dressed in the best' with flowers and enjoyed the meal - or at least some of it! The highlight was profiteroles. Doreen baked the puff pastry and the girls took turns in filling them with the creamy insides and pouring chocolate sauce over them before eating them
(
Click for profiterole recipe
)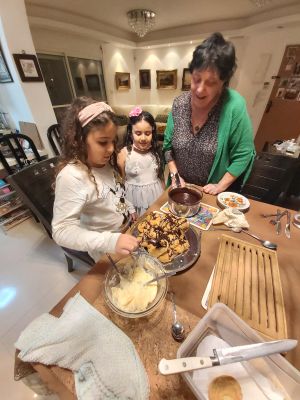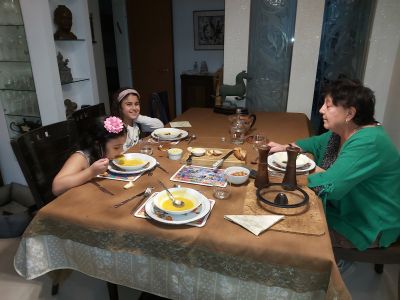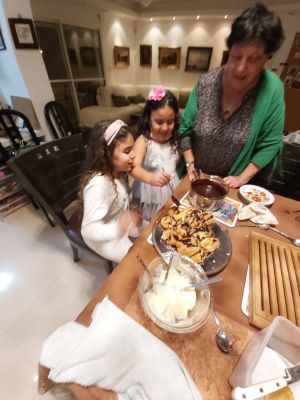 ---
December 2020 - A desert hike
After celebrating
Maayan's birthday
the Rons. Vered and Aviv, went with Moran and Mikhal Segoli on a hike in the desert area near Sde Boqer.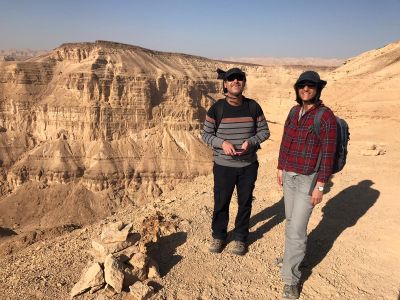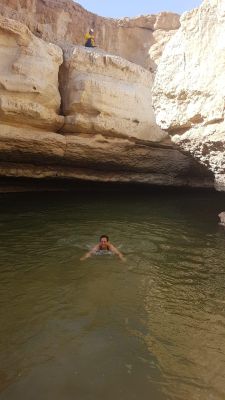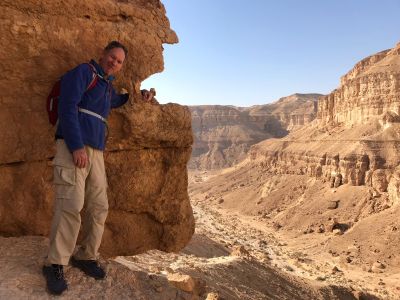 ---
December 16, 2020 - 26th Family Reunion and 56th Wedding Anniversary
Despite Corona restrictions we managed at the last moment to organise a joint celebration of out 56th Wedding Anniversary and a 26th Levy Family Reunion. More details are on
This Week's Picture archives.
There are also pictures on the pages of our grandchildren
Danielle
,
Lior
,
Itamar
,
Maayan
,
Lotem
,
Amit
,
Ilai
and
Zoe
.
Some of our actvities follow:
There had been heavy rains during the previous days and Moran took us to Wadi Havarim (a tributary of Nahal Zin which it joins here), where the usually dry and sandy wadi was now a stream with fast flowing water. Maayan and Lotem stood in the stream and took our picture. As you can see, we were not the only ones coming to see this not very common dessert view.
Click on the picture on the right below for a short video of Maayan and Lotem.
Lighting the 7th Candle of
Hannuka
, followed by traditional songs - mainly from the "girls".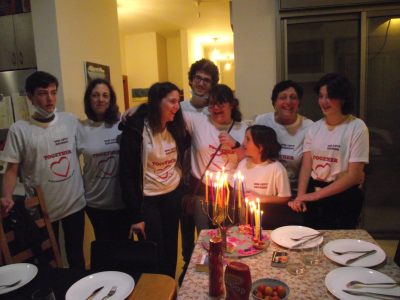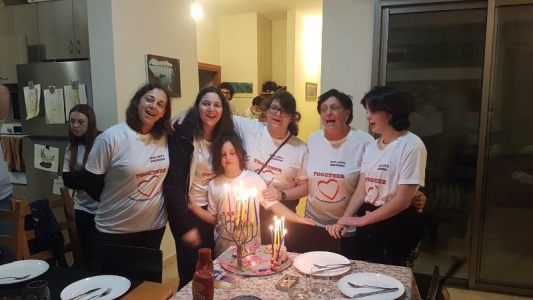 See also
Amit
and
Lior
lighting candles.
Our 56 Anniversary
We managed to blow out the candles in one (joint) breath and then read out our cards to one another. The T-shirts read

Together is our favourite place to be
and it was certainly our best place to be for our anniversary with all our family.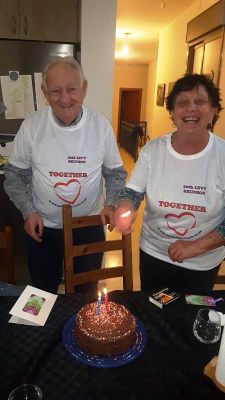 Thursday we visited a great hillock site Hamoki Nitzana and enjoyed the mild climbs and walks.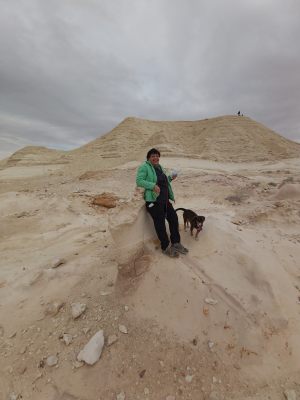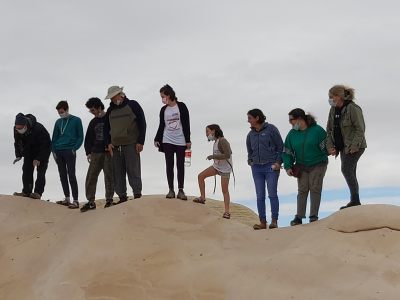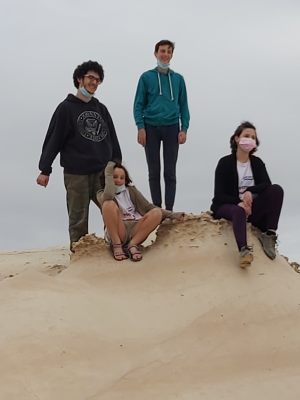 We went to an area near Beer Milchan where is a large and high sand dune ideal for "sand surfing" which was most enjoyable (and great exercise for Joannie running up and down the "mountain.")
Limor and Aviv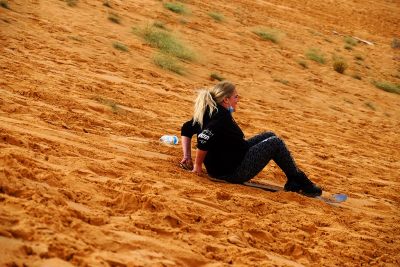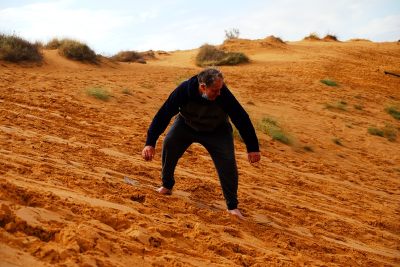 Mikhal and Doreen (click on the pictures for short videos)
---
December 2020
Once again son Aviv appeared on Israel TV. This time an underwater lighting of a
Hannukia
.
This is not the first time Aviv has appeared on TV celebrating something underwater. For example see a
passover

seder
and a
Giro Italia cycle ride
.
---
December 2020
Frankie Klaff celebrates Hannuka via zoom with daughter-in-law Amalia and grandson Asher.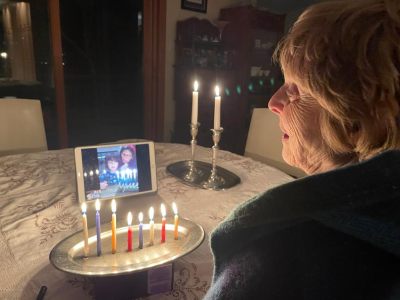 ---
December 2020 -
Hannukah
Some more pictures of
Hannuka
celebrations (see
This Week's Picture Archives
):
The Segolis celebrated in the open with friends as well as at home with the traditional fritters (
latkes
) prepared by Zoe; and we sang some of the many
Hannukah
songs with the Rons.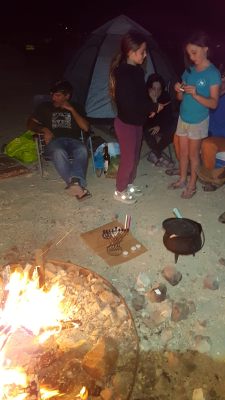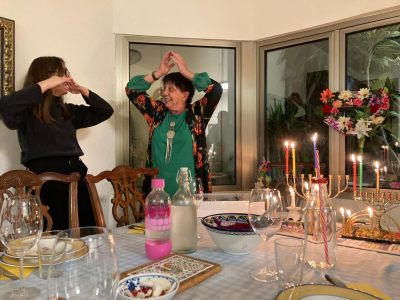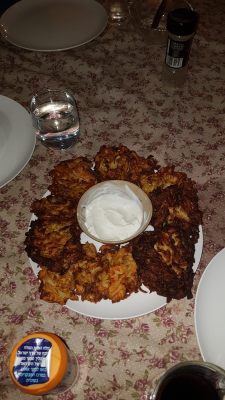 Doughnuts have become big business in Israel and the bakeries try to outdo each other in exaggerated versions of the traditional doughnuts. Look at these vegan doughnuts that the Rons bought from one of the bakeries
---
December 2020
Eilat has been declared a Covid-safe "island" and entry to the city is only permitteed to people who have tested negative for the virus. So we queued up and did our tests in less than the required 72 hours and after receiving "negative" results drove to Eilat, and were of course delighted to be able to spend a weekend with the Eilat Levys. Daughter-in-law Limor made sure we had tasty meals.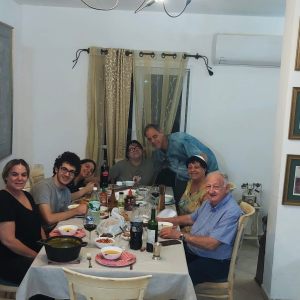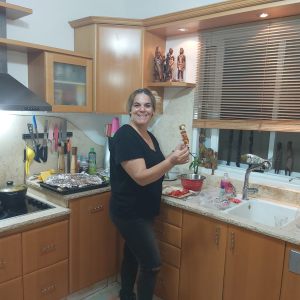 ---
December 2020 - We have a curry bush sapling
We invited a tour guide colleague of Doreen, Nola and her husband Max for coffee and spent a very pleasant few hours, during which Nola told us about cooking with "curry leaves", which her daughter Keren, who lives in Midreshet Ben-Gurion, grows. So on the way back from Eilat we dropped into say hello to our son Moran and Mikhal and grandchildren who also live in in Midreshet Ben Gurion, and picked up a small sapling which we will attempt to grow into a curry bush.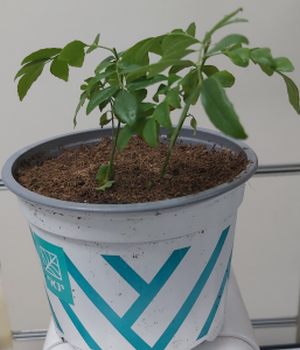 ---
November 2020 - Yael Paperna's birthday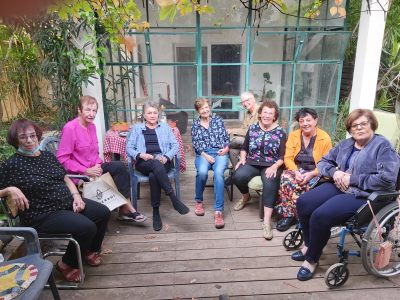 Doreen and some friends celebrated Yael Paperna's birthday.
l-r: Friend Ora, sister Nava, Ruti Erez, Yael, Sister Ofra, Caroline Livneh, Doreen, Roni Dagan
---
Novemner 2020 - Oren Klaff family in the snow in Denver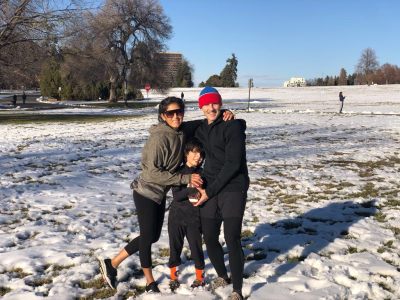 The "San Diego" Klaffs, Oren, Amalia and Asher enjoy the snow in Denver. (see
Goldberg family tree.
)
Thank to Mom Frankie for the picture.
---
November 2020 - The Hula Agamon Nature Reserve
The
Hula Valley
is an important resting place and wintering ground for tens of thousands of birds, and the best place to see them is in the
Hula Agamon Reserve.
We took a sunset tour in a specially adapted viewing vehicle. The birds are accustomed to theses vehicles that pose no danger to them and we can drive up very close to them. We can heartily recommend this terrific experience. We saw flocks of birds, mainly cranes, but also many others including flamingoes. We were very lucky to see a Swamp Cat stalking in the undergrowth, and also a wild boar in the lake.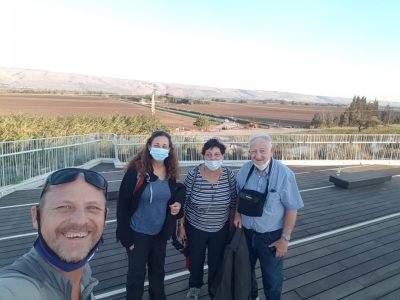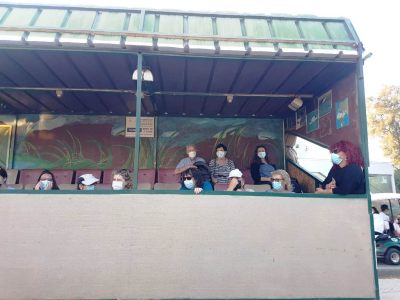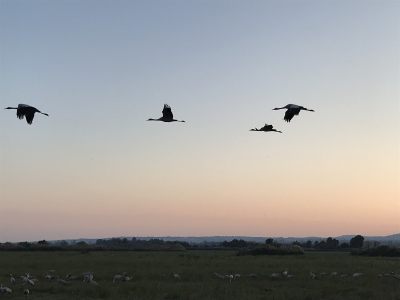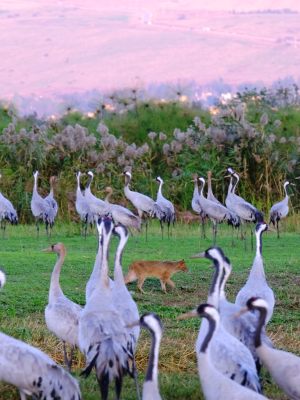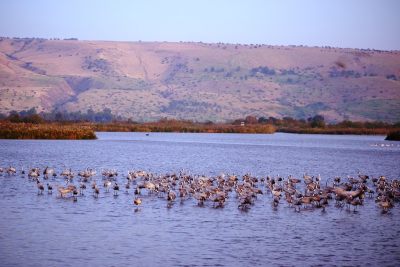 This is not the first time we have been to this Reserve and I hope not the last time. Two previous visits were
with Terry and Carol Kessel in 2004
and
with the Rons and Segolis in 2005
---
November 2020 - Papayas in our garden
We have had a bumper crop of delicious papayas in our garden this year, and still have a few more waiting to ripen. We are planting seeds from this year to have even more trees in the next years. Some have sprouted already and been transplanted to a large container and we have prepared another container for more.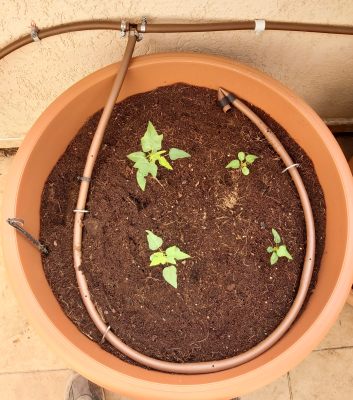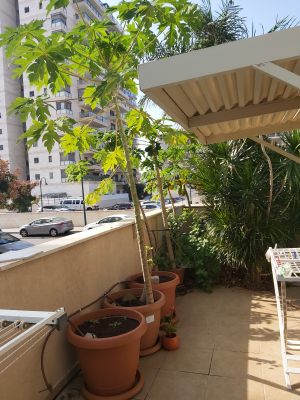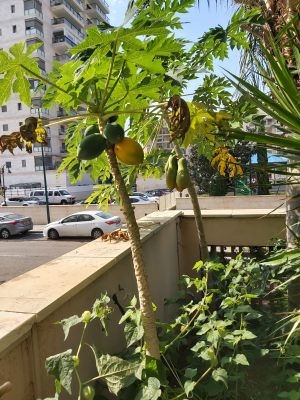 ---
November 2020 - Friday night dinner - Vegan pie
Friday night's dinner was highlighted by a vegan mushroom and leek pie with phyllo dough, based on the fish pie we had so enjoed at brunch the previous day.
Click here
for the recipe.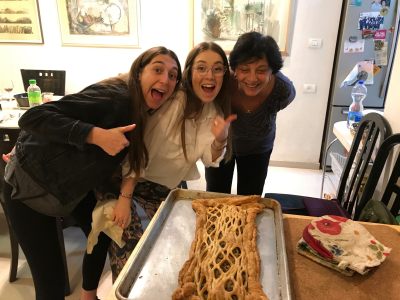 ---
November 2020 - Brunch
With the relaxation of some of the Covid restrictions we invited some friends for brunch. Doreen as expected prepared salads and spreads, but the highlight was a delicious fish pie made with phyllo dough. It was so good that she modified the recipe and prepared a vegan pie for our grandchildren for Friday night dinner the next day. See above.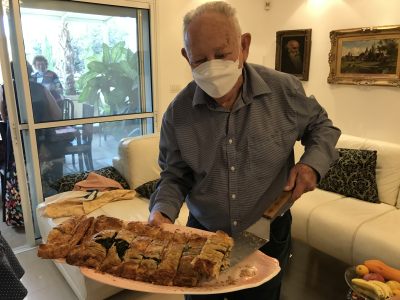 Caroline Livneh, Yaffa Loew, me, Doreen, Louise Braverman, Rutie Erez (Vered Ron taking the picture!)
---
October 2020 - A weekend in the Galil with Aviv and family
We went with son Aviv and family (joined by Limor's mother Margalit) to get away from it all at a tzimmer (B&B) in the Galil, delighting in the cool and refreshing weather. Aviv and family went a day earlier and visited Tzfat (Safed).We came on Friday afternoon and enjoyed quality time with them. We taught the grandchildren how to play Blackjack, enjoyed an afternoon snack and a Friday night dinner, swam in the pool (one of us!) and visited Saba Haviv, a local shop
(see picture)
selling various local products where we bought olive oil and a few other things. A delightful weekend.
---
Lotem's 15th birthday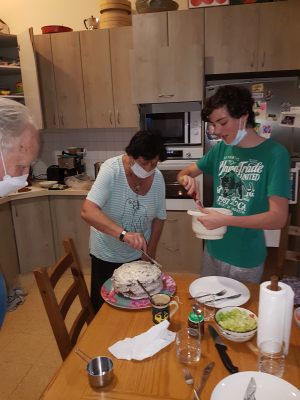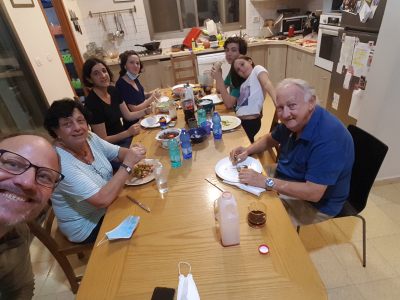 See more pictures on the pages of
Maayan
,
Lotem
and
Zoe
---


October 2020 - Pool and Cool


During the Corona period we are very careful, but a brunch poolside in the open air at friend Ruti Erez's house seemed like a good idea to Doreen and some of her friends.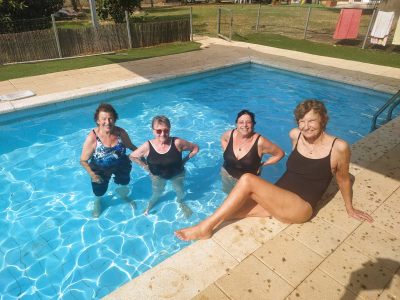 Caroline Livneh, Ruti Erez, Doreen and Yael Paperna
---
October 2020 - Patron of the Arts

Doreen heard from Mina Orenstein, a dear friend from our days in St Thomas who
visited us a few years ago
. . She is now living in Guatemala and with her small Canadian pension says she is better off than many of the locals. When she heard that the local artist Antonio didn't have money for paints she commissioned him to paint her verandah wall (on plywood so that if she moved she could take it with her. She now laughingly describes herself as a patron of the arts!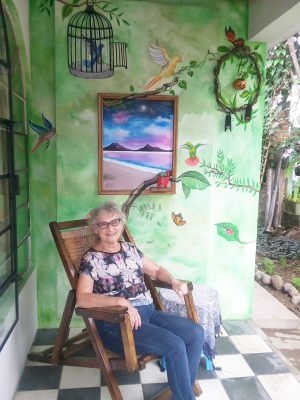 ---
October 2020 - "Bibi - resign!"


Doreen and I continue to stand in protest against Netanyahu ("Bibi."). We are only allowed to protest within 1 km of our home so we usually go to a bridge over the highway near us. This week we stood, together with many others, at a nearby intersection in Kiryat Hasharon where we live. It was interesting as we could hear the comments of support or condemnation from the cars passing close by. We were surprised when a car stopped and the driver spoke to us through the car window. "I vote Bibi. But I really am imressed that an elderly person such as you feels so strongly that he can stand in the heat demonstrating his political views. You have my respect." A civilised comment among the many insults, one of which was "pity they didn't get you in Auswitch".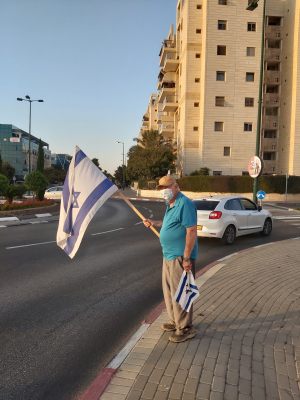 ---
October 2020 - The Segoli's outings and picnics during lockdown.
In this era of lockdowns and restricted movement, living in Midreshet Sde Boqer in the Negev Desert has its perks. While us city dwellers are confined to our built up areas, the Segolis and some friends can go to the nearby wide-open spaces without any fear of contracting or spreading the Corona virus. Moran sent us some pictures of their extended desert picnics and outings.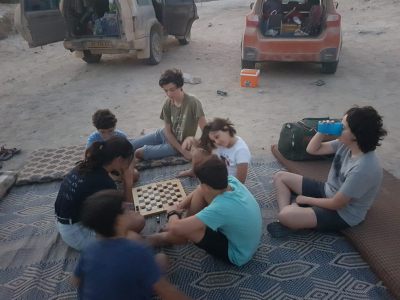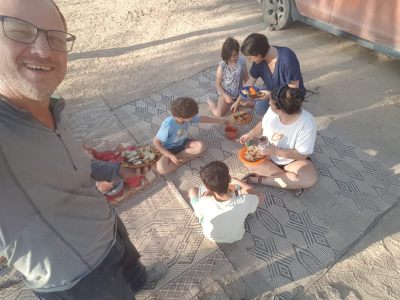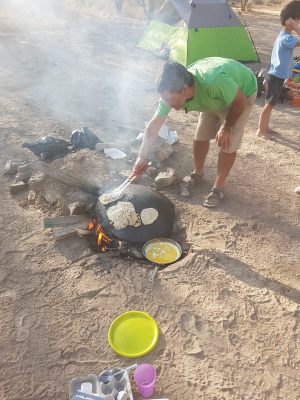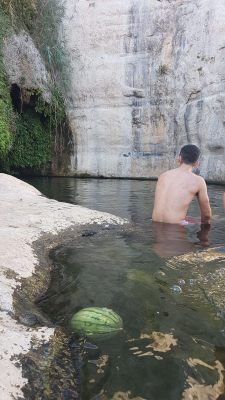 There are more pictures of the Segoli picnics on the pages of
Maayan
,
Lotem
and
Zoe
.
---
Happy news from London.


Ex brother in law Melly Braverman has informed us of the happy news that his daughter Tamara and Kevin Morrow have just adopted two sisters, 4 year old Lily (centre) and 1 year old Neveah (right)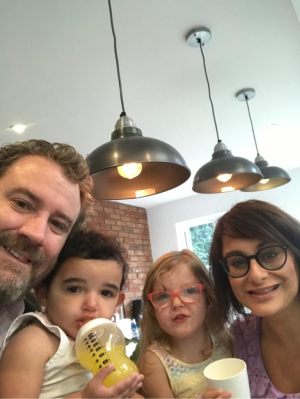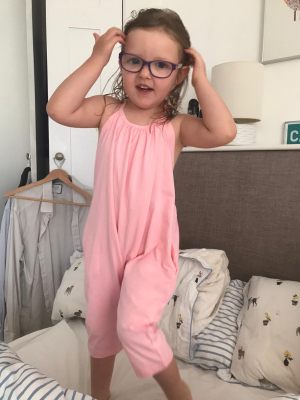 ---
September 2020 - The Charles Levys visit Sabie and the Kruger National Park.
In these times of Covid lockdowns , quarantines and isolation it's great to hear of some travelling safely. We have heard of some South African friends visiting the Game Parks - certainly the wide open spaces are less susceptible to virus infection. Among these lucky ones are cousins Charles and Sheenagh and their daughter Katherine who spent some days in Sabie and the Kruger Park. As Sheenagh wrote "soooo ucky, overcast day and cool, all the animals out to play". Here are some of the animals they saw .
It's rare to see lions with their kill, and even rarer to see a leopard in a tree with its kill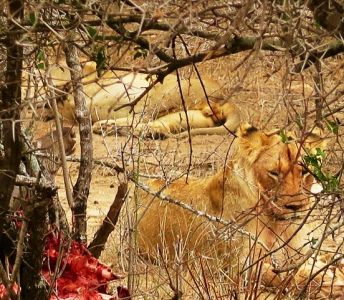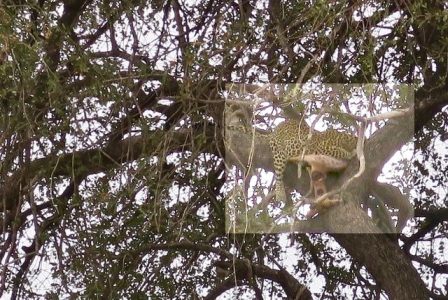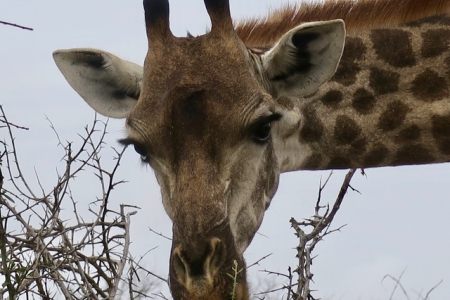 ---
September 2020 - Debra Hock and Zach


We were happy to receive a note from Debra Hock (see family tree). She is studying for her PhD in Paleoontology and recently became engaged to Zach. We remember her lovely
visit with us
at the beginning of last year.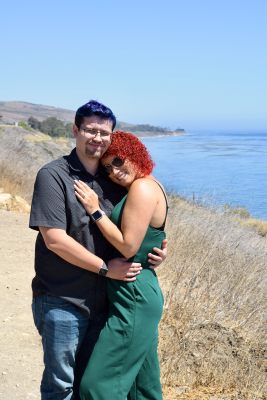 ---
August 2020 - Lunch with Jaffa


Cousin Jaffa Loew (
see Schank family tree
) is moving house and Doreen and sister Louise Braverman went to visit Jaffa and see her new house near Ashkelon. They also enjoyed a meal at an Ashdod restaurant.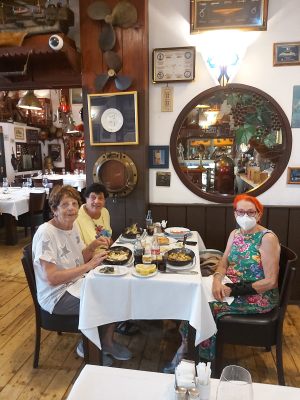 ---
August 2020 - Meeting Michal at Bridge Demonstration


We "bridge" demonstrated against Bibi last Saturday and were delighted to meet Michal Riza there. Michal had been our grandchildren's au pair when daughter Vered and Aviv were in Paris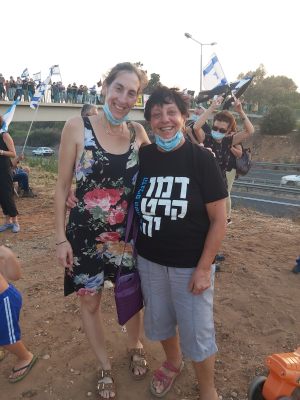 ---
Rafael Braverman - aged 11 ! - goes driving


Grand nephew Rafael Braverman
(see Glazer family tree
) aged 11 visited our Kirshner relatives Moshe and Rochelle (nee Bortenstein) (see
Schank family tree
) on their farm at Qidron and experienced heaven - he was allowed to drive a farm vehilcle !
Click on picture for short video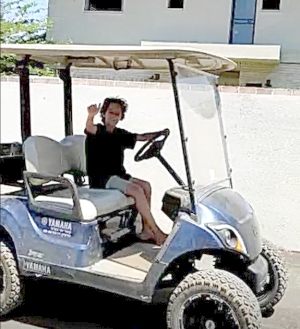 When our children were small, they loved nothing better than to visit the Bortenstein relatives on their farm at Kfar Meishar. The highlight of their stay was collecting eggs from the chicken coop. Rael, Louise's late son, even went to bed one night fully dressed under the covers, so he would be first out in the morning.

---
Joanie has a holiday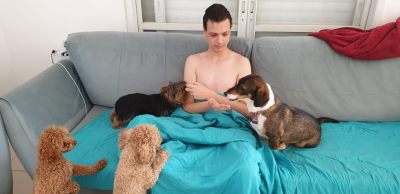 ---
August 2020 - The Segolis camp out near Ashkelon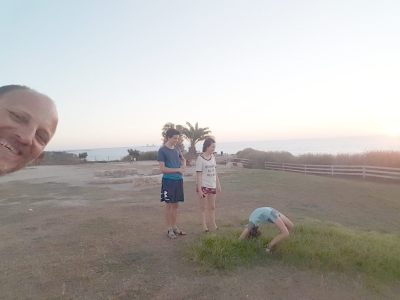 ---
August 2020 - Aunt Malia Levy passes away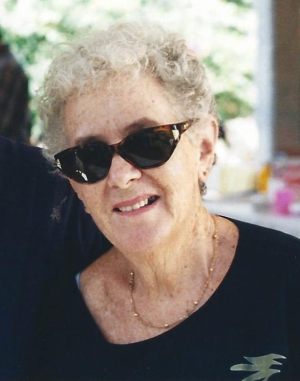 We are saddened to report the passing of my aunt Malia Levy earlier this week. Malia was the last of my father's generation. She and her husband Abe my father's youngest brother, made aliyah to Israel before us and they were of great help to us in adapting and integrating to Israel. We send our heartfelt condolences to her son Jonty and his wife Dina, and to her grandchildren Efrat, Nadav and Yarden and granddaughter Tamar. Condolences to her sister Sheila Edelstein with whom we spent some wonderful time togetherwith her and husband Tony ז"ל in South Africa.
---
August 2020 - Anti-Netanyahu protest at Neurim Bridge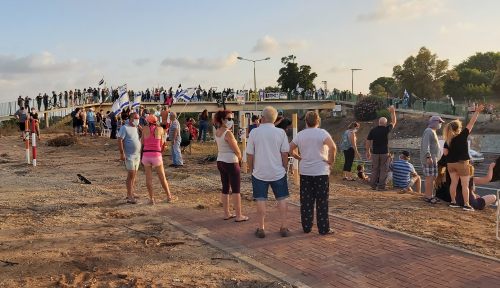 Doreen and I joined the growing protest against Prime Minister Netanyahu.
See more here.
---
August 2020


We paid a visit to Mevaseret to say hello to Yael and Avraham (taking the picture) Segoli, parents of daughter-in-law Mikhal and the 'other' grandparents of Lotem, Maayan and Zoe.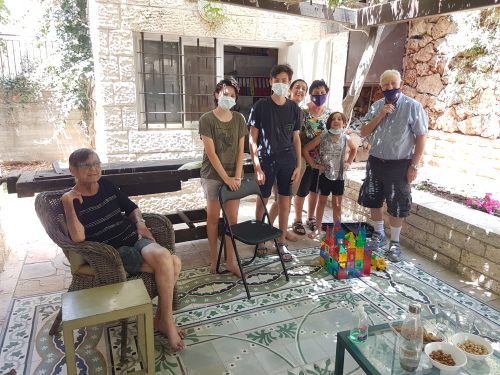 ---
August 2020


Fed up with Corona, we went out and we enjoyed a breakfast with Levia Passwell and Gadi; and a dinner with ex-Hofit good friends Haim and Malka Lev and Hazel Wolfson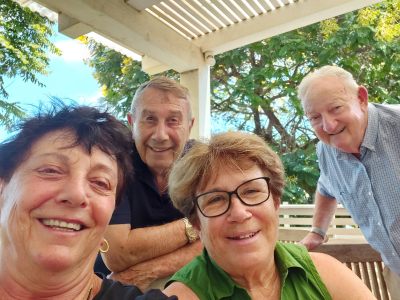 ---
July 2020 - The Rons fly to USA


Covid-19 time - the normally crowded Ben Gurion Airport is deserted. No lines, no queues, no waiting, no duty-free shopping!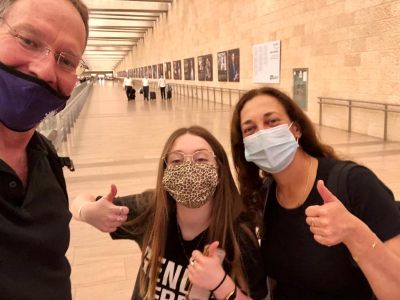 ---
July 2020 - Sol and Ethel William
(see explanation in Picture of the Week Archives)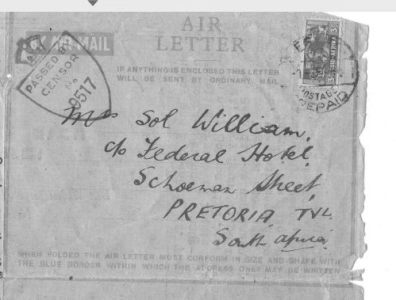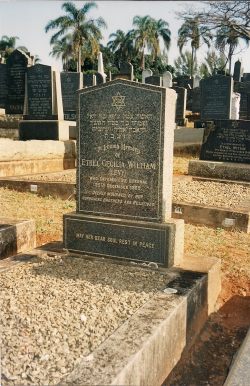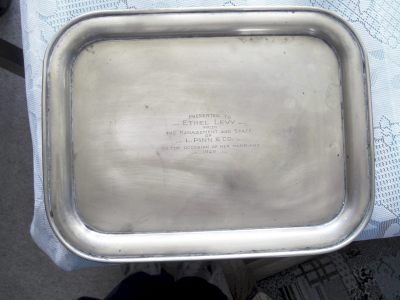 The letter sent by Eric Levy to sister Ethel; Ethel (Levy) William's tombstone; Tray presented on her marriage to Ethel from L.Pinn & Co Jewellers (still doing business in Cape Town as Pinns)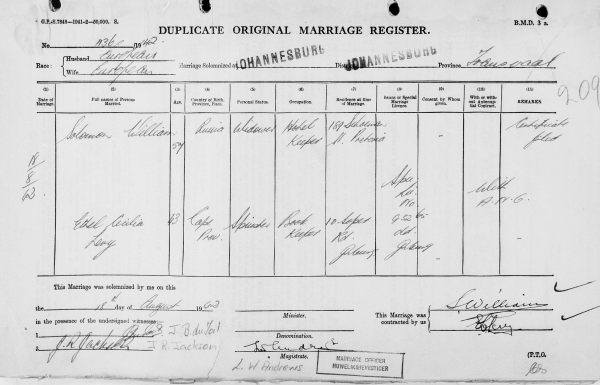 We "sort of" completed our
truncated family reunion
when the Segoli and the Ron families came for dinner.
---
July 2020 - 25th Family Reunion

(See picture and account of the Reunion in the
Archives
and in
Doreen's Column.
)
As part of out celebration we had dinner at the Nammos Restaurant in the Herzliya Marina.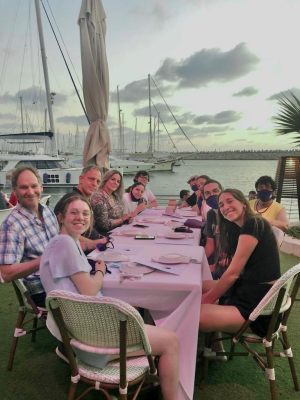 ---
July 2020 - Itamar and Maayan dive


Grandsons Itamar and Maayan went diving and send their love to all the family.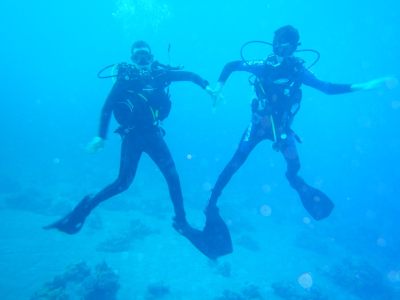 ---
June 2020 - Doreen protests

Doreen joined a protest at a road intersection for free speech and demanding the release of those arrested at a demonsration at the Prime Minister's house. See also
This Week's News 27/6/20.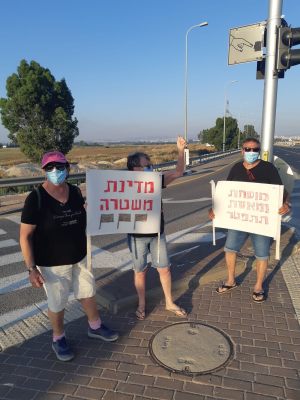 ---
June 2020 - The Segolis visit the Yori Leshems

The Segoli family visited Yori and Michal Leshem. Yori is related to us on the Glasser side and was a colleague and friend of our son Moran and Mikhal before they knew about the relationship
(see here
).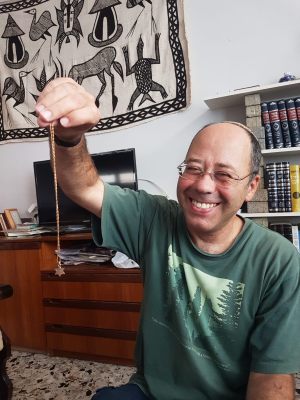 Yori is showing his daughter Galya's Magen David necklace that originally belonged to his great grandmother Hinde Glasser (
see more here
). re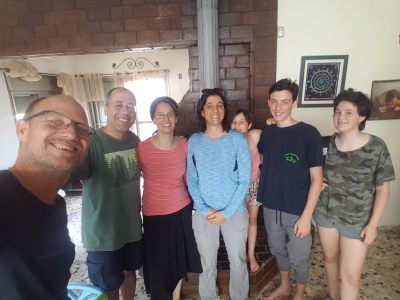 Moran Segoli, Yori and Michal Leshem, Mikhal, Zoe, Maayan and Lotem Segoli


Also:

See Glezer family tree.
Yori and Michal's wedding
This Week's Picture 20/6/2020
---
June 2020 - A desert swim


The Segolis Moran and Mikhal took Vered and Aviv Ron for a hike and a refreshing swim in a waterhole in the Negev desert near Sde Boqer.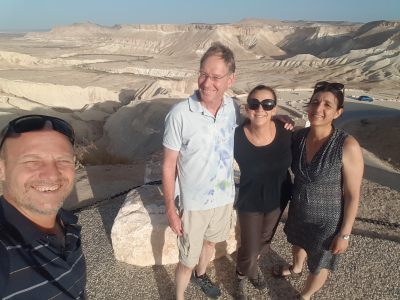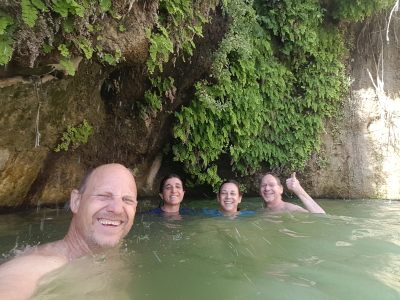 ---
June 2020 - Lior and Dani prepare a feast for us

We invited our two oldest grandchildren Danielle and Lior for dinner on Friday evening when their parents were going hiking on the weekend. Instead they insisted on inviting us and preparing a meal for us. They went out of their way to prepare a delicious feast (enough for 10 people!) of multiple dishes (some of which are in the picture below). We had a great time!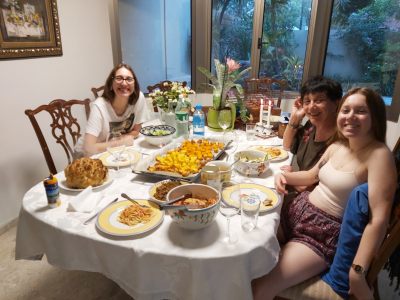 ---
June 2020 - Doreen celebrates her birthday
We celebrated Doreen's birthday. Being able to celebrate properly, and not virtually or through Zoom, was something we have waited for and the family took full advantage of this.
Dinner at the Marina with the Rons Just the two of us at a local Greek taverna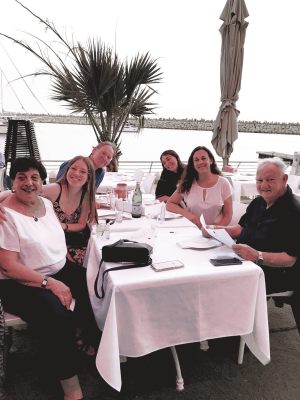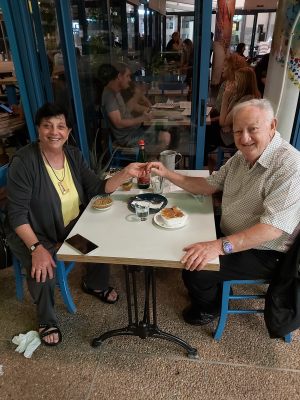 With some friends eating ice-cream Birthday greetings from the Levys in Eilat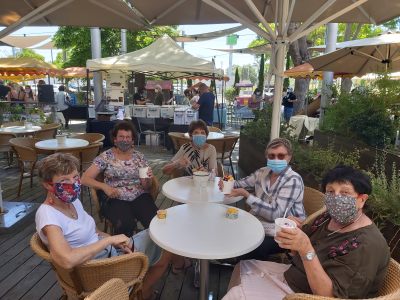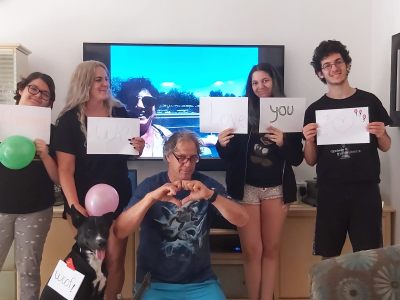 June 2020 - (bungy jump in December 2001)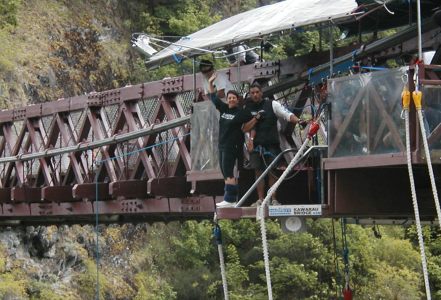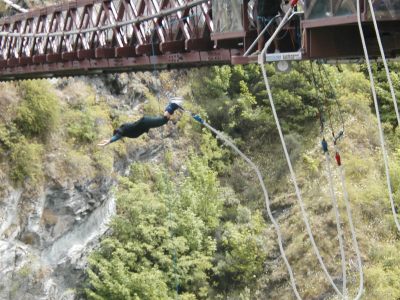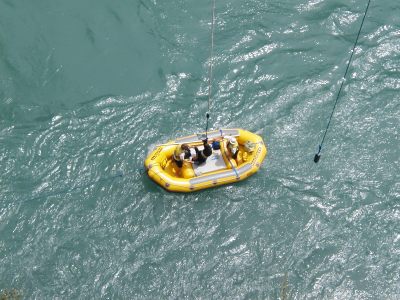 On our visit to New Zealand in 2001 Doreen bungy jumped from the bridge over the Kawarau River just outside Queenstown
Read Doreen's account
, written soon after the jump, of how she felt before, during and after the jump..
Another picture in the Archives
---
June 2020 - A collage of "Doreen in Action"
on the occasion of her birthday 11 June 2020.
It wasn't easy to prepare this collage. Not technically but content-wise. What pictures to leave out from the collage? I could have filled many more 4x4 collages but eventually decided rather arbitrarily on these 16. Each picture tells a story and shows Doreen's "live life to the full" personality.
Look at the picture, bottom row 3rd from left.
When we were in St Thomas in the US Virgin Islands we heard that the annual big celebration/carnival was due to be held the next day in the neighboring British Virgin Islands. Of course, Doreen decided we had to go. But all the boats, yachts etc were fully booked and no seats were available. Going there by hiring a private boat was not doable, we would need passports etc etc. I found out that the chef at the restaurant at Coral World (where I was Manager) had hired a large boat and was organising a trip (making some extra money on the side.) Even for us there was no room, but he could squeeze me in. But he needed an extra waitress (selling booze on the boat was the big income) and if Doreen was prepared to sell and serve drinks he would hire her. So Doreen spent the there and back trips running up and down making already sozzled locals even drunker - but at least we got to see the Carnival.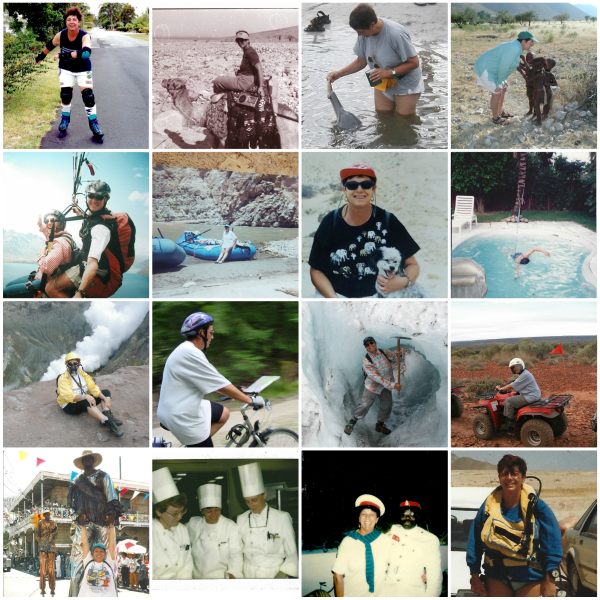 ---
June 2020 - Paella Dinner for Rons and Segolis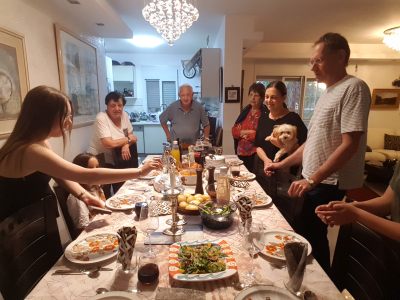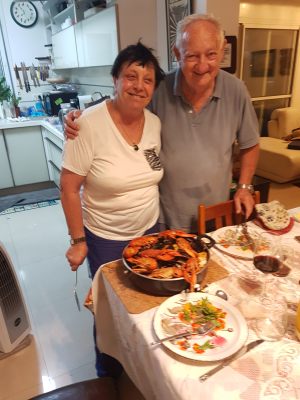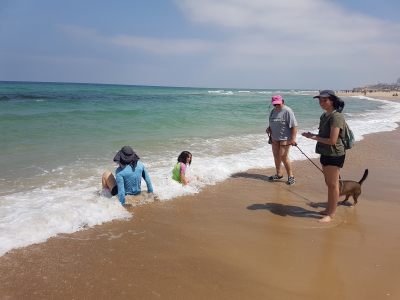 The Rons and Segolis (minus Maayan) came for dinner and Doreen outdid herself preparing Paella (two versions: regular and vegan) as well as various salads amd side dishes suitable for all ('normal', vegetarian, vegan, "soft food only"). The Segolis slept over with Saba and Granny and
Joanie
and the next morning enjoyed the beach.
---
June 2020 - A visit to the Lossins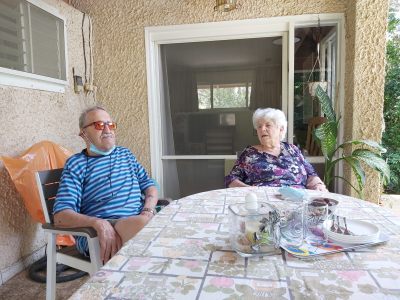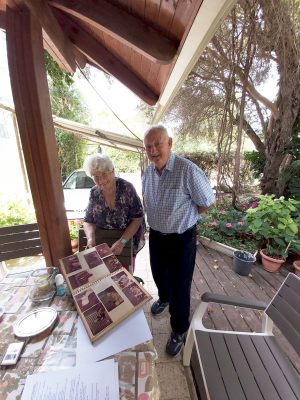 We paid a long-overdue visit to Sydney and Ari Lossin who live about an hour's drive from us. Sydney's mother and my father were cousins on the Matz side of the family. We had a most enjoyable visit, and Sydney showed us some of her old photos of the Matz family.
Click for
Matz family tree
and for some
old pictures of Matz family.
---
June 2020 - Rafael goes boating
Thanks to Melly Braverman for sending us this delightful picture of his grandson Rafael enjoying boating in Kfar Blum last month. Rafael is the son of Yahel and Donny and grandson of Doreen's sister Louise (and our grand-nephew!)
(see Glazer family tree)
---
May 2020 - Heat wave
The third week in May 2020 was the hottest May week ever recorded. Inside we had air-conditioning but ging outside was quite unbearable.
Melly Braverman sent us this picture from Eilat with the temperature showing an incredible
49°C (120
°F)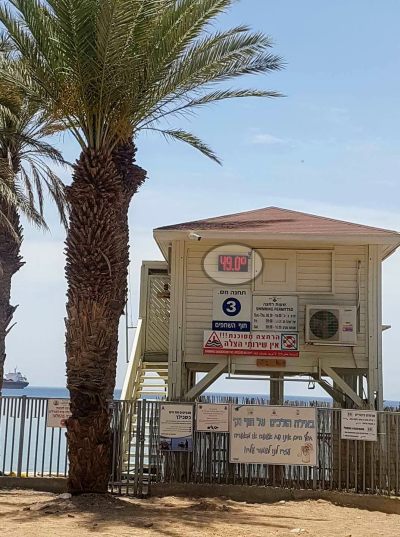 ---
May 2020 - The Rons come for dinner
Many of the Covid-19 restrictions are being relaxed and after such a long time we were so happy that daughter Vered and the Ron family could come for a most enjoyable dinner.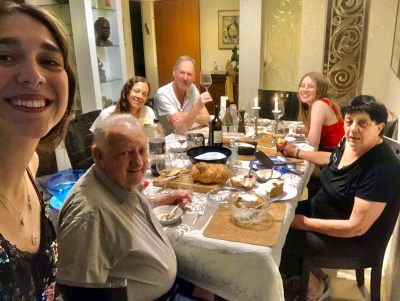 ---
May 2020 - Caroline's birthday
Our long-time very good friend Caroline Livneh celebrated her birthday. We invited her over for a cup of English tea and a birthday cake. (pictures here.)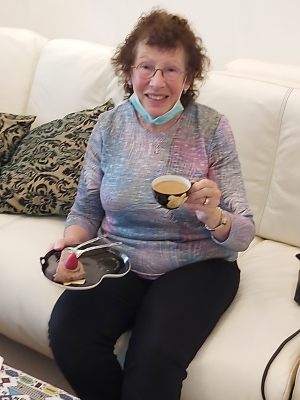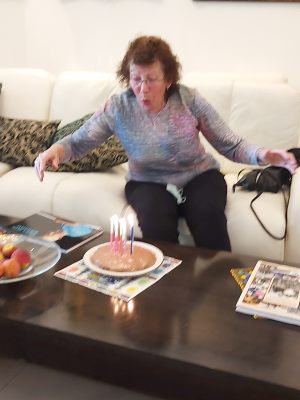 ---
May 2020 - welcome to baby Crutchi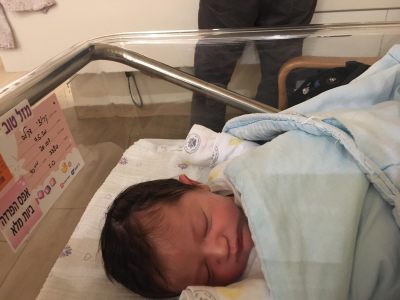 Congratulations to Dikla (Segoli) and Pini Cruchi on the birth of their daughter, sister to Mili and Tal. Dikla is a sister of our daughter in law, Michal segoli.
---
Remembrance Day April 2020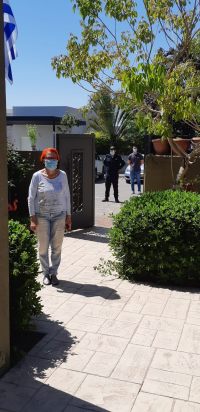 The ban on gatherings on Remembrance Day for Fallen Soldiers meant Yaffa Loew (
Schank family tree
) could not visit son Guy's gravesite for the first time since his death 20 years ago.
A short while before the commemorating siren, soldiers from Guy's army unit, a local police officer, neighbors and friends gathered in the road outside Yaffa's home (observing distancing) and stood in silence with her while the siren sounded.
It was a truly emotional moment for Yaffa.
---
My planned large family 80th birthday party was a victim of Covid19 and was cancelled and replaced by a Zoom meeting with my children and grandchildren.
Doreen spent 2 days preparing my birthday dinner consisting of a surprise menu. On the day of the dinner I was not allowed into the kitchen lest I see what whas for dinner. I found a way to get into the kitchen to prepare my coffee without discovering Doreen's secret.
I celebrated with my family on Zoom with "happy birthday" and greetings and with a birthday cake with 81 candles (yes, really!) followed by Doreen's gourmet dinner with of course beautiful silver cutlery from the set inherited by Doreen.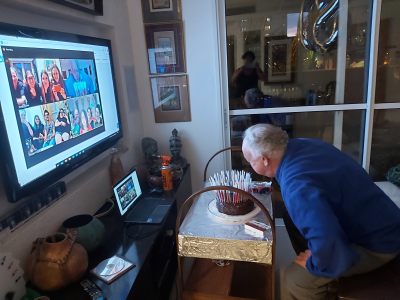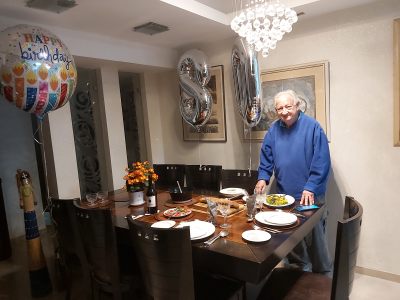 ---
April 2020 - Pesach seder.
This year the strict Covid-19 isolation restricions prevented us from gatherings, so like thousands of others we celebrated "together" with the help of Zoom. As the only option it was OK, but a
Pesach
table set for two (
see picture
) is not a very satisfying substitute for a real physical celebration.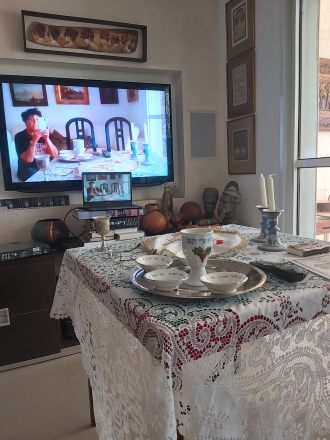 ---
March 2020 - "Virtual" exercising
Exercising together in Coronavirus time
with Granny in charge - Granddaughters in charge
Click on each picture for video
Covid-19 lockdown continues. We are finding other ways to keep together while observing 'social distance'. Our two oldest granddaughters Danielle and Lior Ron decided that exercising together with Granny Doreen was an appropriate activity. Click on each picture above for short videos.
---
March 2020 - Raphael Cotton and Tamar Gralnick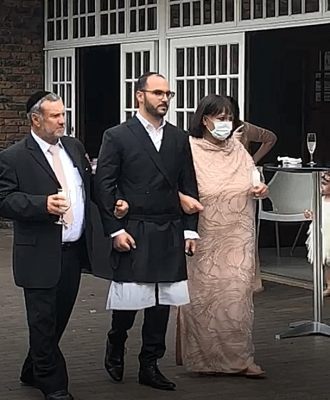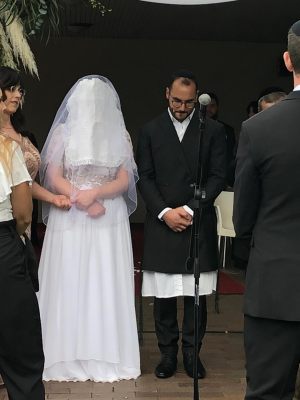 Congratulations to Raphael Cotton on his marriage to Tamar Gralnick in Johannesburg South Africa. Mazel Tov too to parents Cecile and Raymond Cotton, seen above with Raphael. (See
Matz
and
Hershovitz/Levy
family trees.). Covid-19 restricted the number of participants but Cecile reports that there was a wonderful relaxed atmosphere at the wedding. Cecile is continuing her new set of treatments and we wish her a speedy and full recovery.
---
March 2020 - Zoe scans some old slides
Granddaughter Zoe is utilizing the break from school to scan some of her dad's old photo slides. She has sent some to us. Here is an example.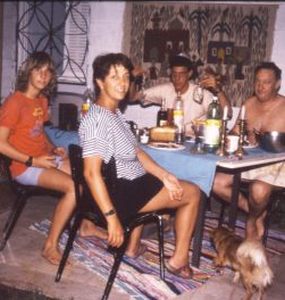 When we were young - Moran, Doreen Aviv and Eitan (with Lolly) at a Friday evening meal in Eilat about 1988

---
March 2020 - The Segolis and Levys in Eilat
Coronavirus lockdown - schools are closed, children get bored, so the Segolis went to Eilat to spend the time with the Eilat Levys.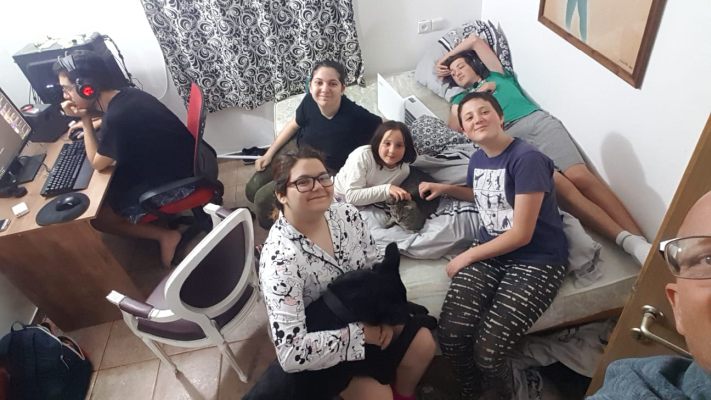 ---
March 2020 - A closed park
The coronavirus lockdown has kept us at home this week except for some short walks with Joanie our dog and 'outings' to buy food. Entrance to public spaces like parks is forbidden, even to the small park opposite our building.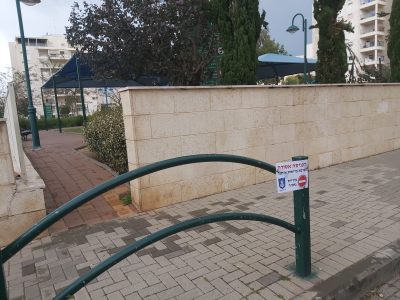 ---
March 2020 - Negev floods
The last few days have seen stormy weather in Israel, particularly in the normally dry southern areas. In the Negev desert the normally dry riverbeds (wadis) became rivers. Many went to see the rare sights of the flooded areas, among them son Moran Segoli and family who by chance met relative Uri Haberman and family (see
Goldberg family tree
) who were also there.
Moran and Michal Segoli, Uri, Deganit and Geffen Haberman, Maayan Golomb
---
A History of the Bacher and Kirsh families
Doreen's cousin (and Ali's older sister) Mushe Kirsh
(see Nochimovitz/Nickel Family trees)
has just published a book detailing the story of the Bacher and Kirsh families. We have just received a copy and have found it extremely intersting as it not only details the two families but also includes much background on our common heritage as Jews from the Baltic and Byelorussia who emigrated to South Africa.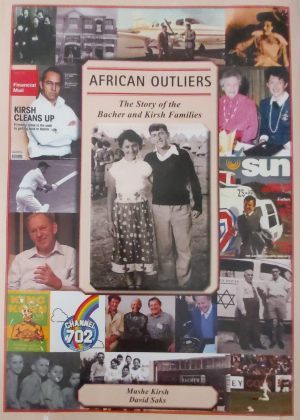 ---
March 2020 - Cousin Ali Bacher and Shira visit
We were delighted that Ali and Shira Bacher (see Nochimovitz/Nickel Family trees) could join us for dinner on their visit to Israel. It was a great opportunity for the some of the Nickel descendants of siblings Rose, Gertie and Julius to get together, and for many of the children to meet with Ali for the first time. We enjoyed the lovely atmosphere, the delicious food and the remembrances of Louise, Doreen and Ali from their young days when they lived in Cyrildene in Johannesburg. I said a few words and Ali movingly recounted how "Uncle Yudel" (Julius) had influenced his youth, bought him his first cricket bat and influemced his path to his great success as an
international sportsman
.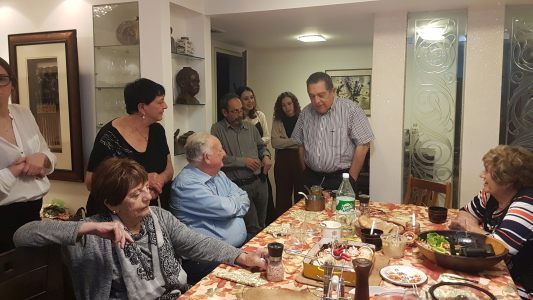 ---
Purim - March 2020
Sde Boqer celebrated the Festival of Purim a few days before the official dates. As usual all the children and many of the adults wore costumes or "fancy dress", and our family of course joined in.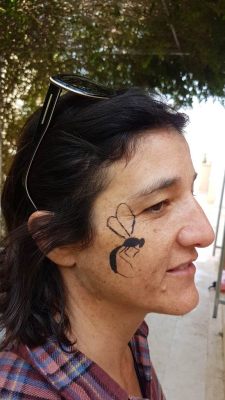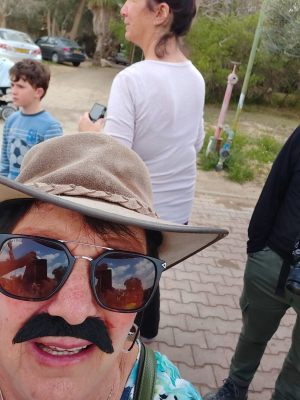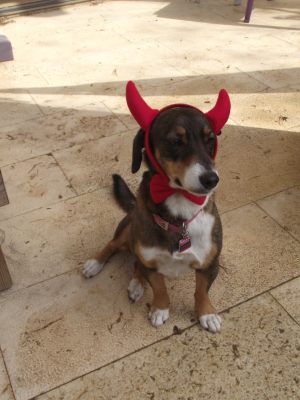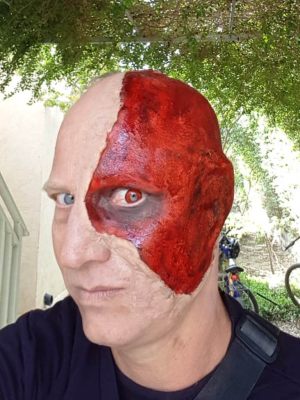 Both Michal and Moran benefiited from Lotem's amazing talent for make up - just look at Moran's red eye!
Click for pictures
of Lotem working on Moran's head.
But the real appeal of Purim this year for us was the Adloyada the tradional carnival-like parade taking place in various cities in Israel during the
Purim
festival. This year almost all the parades were cancelled due to the coronavirus precautions. The tradtional
Adloyada
at Midreshet Ben Gurion in the Negev, completely organized, prepared and staged by the high school students at the School for Environmental studies there, was "partly cancelled" as the onlookers were restricted to residents and parents of residents. Doreen and I joined in the festivities and we were extremely impressed with the standard of the floats and the enthusiasm of the high school participants.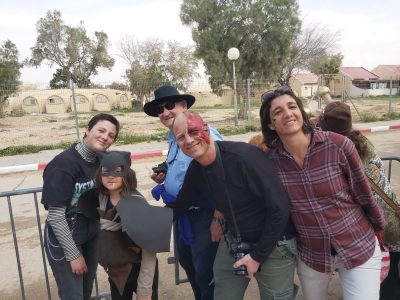 Some of the floats - all built by the high-schoolers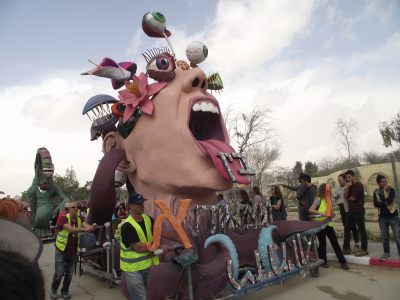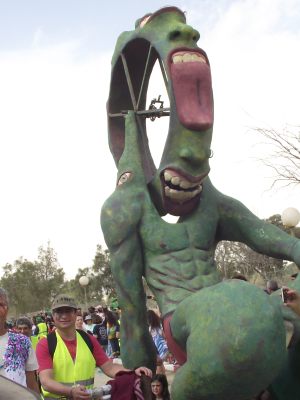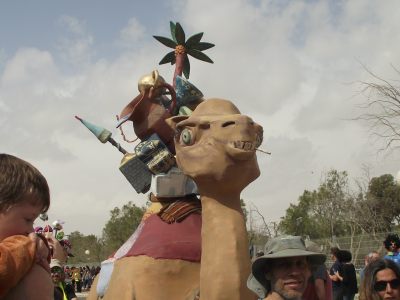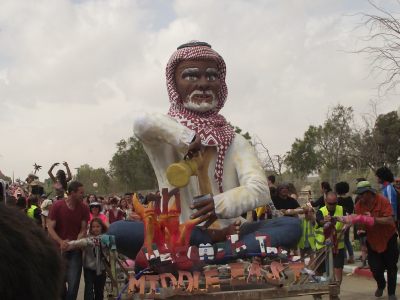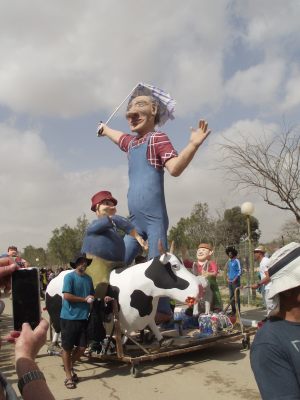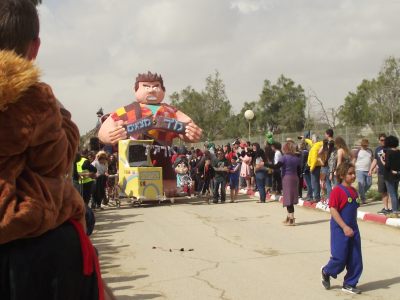 ---
March 4th - Cousin Cecile celebrates her 60th birthday
A special "happy birthday" wish to cousin Cecile Cotton who celebrated her 60th. We are happy to see that Cecile is responding favourably to treatment. She will start another round of chemotherapy soon. (See
Matz
and
Hershovitz/Levy
family trees.)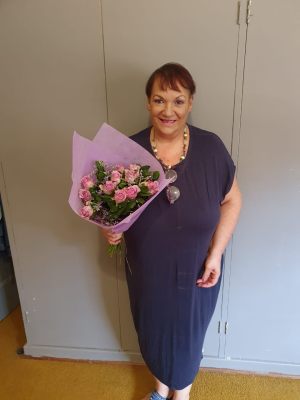 ---
March 2020 - Another Israel Election
The results of the latest - 3rd round - of the Israel parliamentary elections indicate we may be in for a fourth round! I voluntered to to work on election day and was the chairman of a polling station representing the Meretz-Labour party, whose results were for us very disappointing - 7 seats instead of the 10 expected.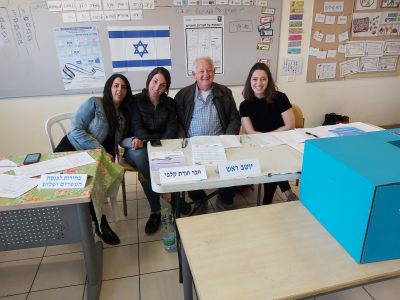 ---
March 2020 - Joanie on holiday
Joanie poses for a picture with the Segolis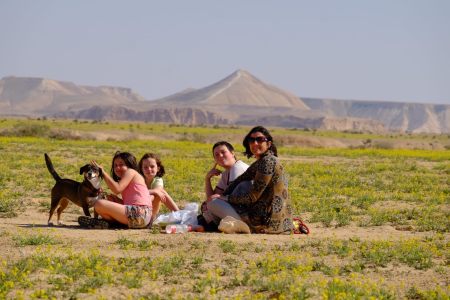 ---
February 2020 - Eilat
In Eilat with son Aviv and granddaughter Ilai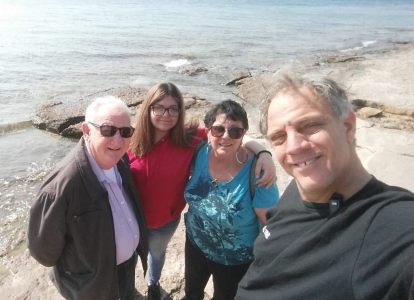 ---
February 2020 - The Segolis visit the The Dead Sea area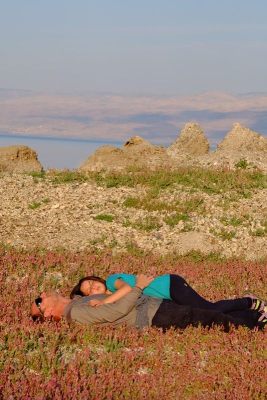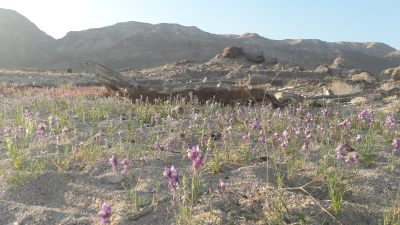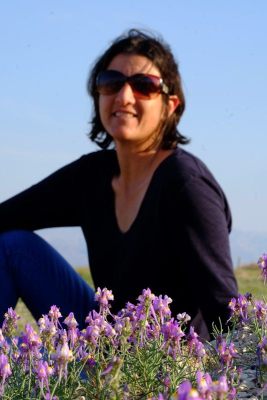 Heavy rains, but a lot of sunshine - this is the time when even the dessert area around the Dead Sea takes on a special beauty with seasonal flowers including the purple toadflax. The Segolis enjoyed a visit there documented by Lotem's photography.

---
February 2020 - La Boheme at the Royal Opera House
We enjoyed an amazing performance of
La Bohem
e at the Royal Opera house. This is the 5th time we have seen
La Boheme,
but the production - singing, acting, set - was so outstanding that we were moved as if this were the first time we had seen it. It was definitely one of the best Operas I have ever seen.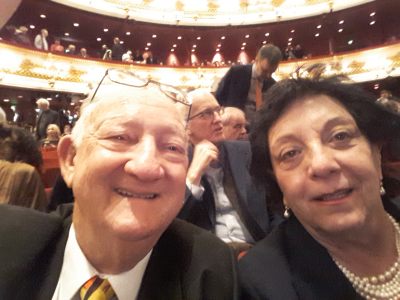 ---
February 2020 - A visit to Fern's burial site
Doreen and I visited sister Fern's burial site in St Asaph, Wales. When I spoke to Fern a few days before her death she told me that she hoped to be able to eat tomatoes from the plants she had so carefully tended. Unfortunately this was not to be. So, instead of flowers, we placed her tomato plants on her grave. On our visit this week we sprinkled tomato seeds over her burial site. Perhaps they will grow.
See also
This Week's Archives.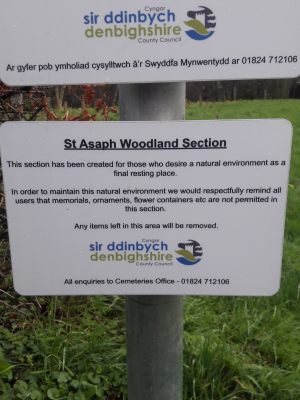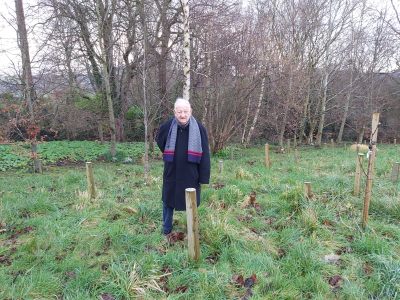 ---
We spent two days in Chester, a 45 minute drive to sister Fern's burial site. Chester is a delightful and picuresque city. We enjoyed walking through the streets and had two good meals there, including one at a popular pub The Harkers Arms.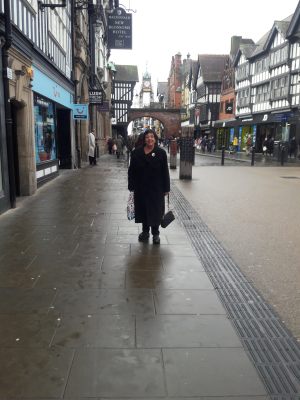 ---
Changing plans and hopefully planes at Belfast Airport.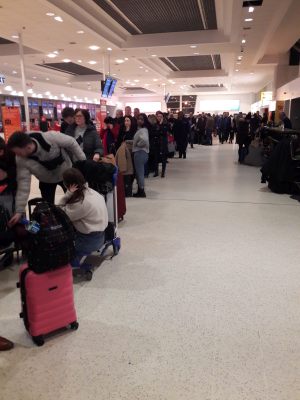 Part of the seemingly permanent and never-ending line at Belfast airport waiting to arrange alternate transport arrangements.

Storm Ciara caused most flights from Belfast to London to be cancelled, including ours, and we had to join the thousands of stranded passengers trying to find alternate arrangements. After two days (!) we finally flew from Belfast to London to spend a "very" few days there.
---
February 2020 - Actually eating at a KFC
After so many family pictures of KFC's around the world
(for example here)
, we finally ate at one in Belfast.
---
February 2020 Belfast - Tournament Directors Workshop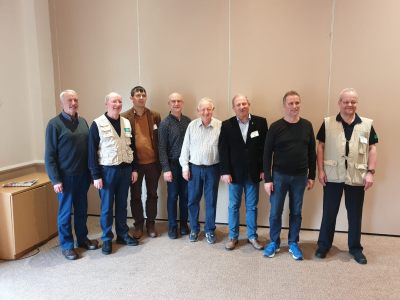 The staff at the Workshop I organized for improving the standard of tournament directors in Europe
Ton Kooijman (Netherlands), Fearghal O'Boyle (Ireland), Marc van Beijsterveldt (Netherlands), Gordon Rainsford (England), me, Slawek Latala (Poland), Jacob Duschek (Denmark), Peter Eidt (Germany).
The successful Workshop, attended by 50 enthusiastic directors from all over Europe, is largely due to the abilities and expertise of these dedicated persons.
---
February 2020 - Belfast
My fifth visit to Belfast in the last 3 years. This time I organized a bridge workshop for tournament directors. On our first night we found a restaurant near the hotel called the "Barking Dog". We had just received the picture of the
Ron's new dog
(see here too
) which in spite of its small size had no problem barking loudly at our much larger dog Joanie. That restaurant was an obvious choice. Good food too..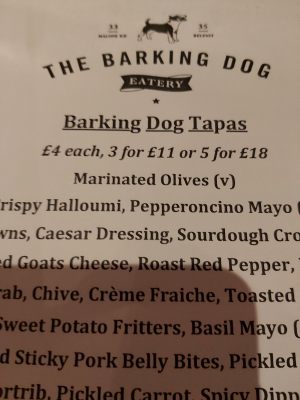 Doreen took the opportunuty of again visiting the fantastic "Titanic" exhibition, which had so impressed us on a
previous visit.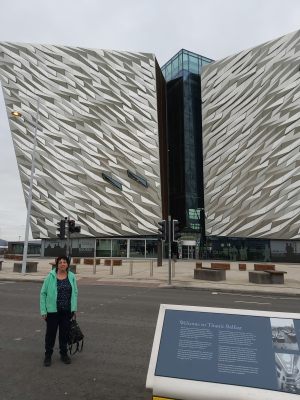 ---
February 2020 - Moran in Berlin
Son Moran was in Berlin, Germany for a conference and seeing a KFC of course wanted to eat there. This was vetoed by his companions and his disappointment is clear.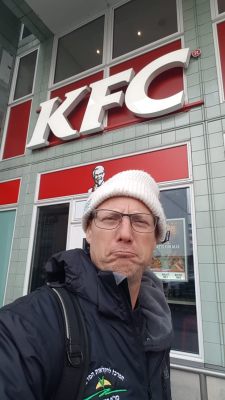 ---
January/February 2020 - KFC time in Prague
While in Prague we took our mandatory family picture of KFC (
see for erxample)
. Although it's my favourite fast food restaurant we hardly ever eat there and did not eat there this time either. We did have a meal at our usual "Blue Duckling" Restaurant - a truly fabulous restaurant with atmoshere and great food.
Doreen took some of the wives to see the more conventional views of the old city - from left to right Doreen, Cippi Rona, Maureen Porteus and Angela Curran.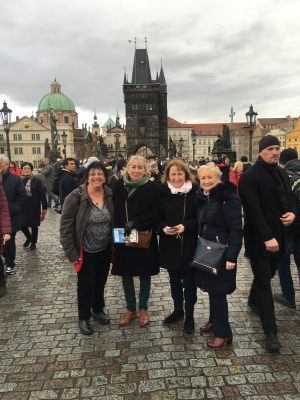 ---
January 2020 - The Segolis ski and glide
The Segolis enjoyed their skiing holiday in Romania. While there the grandchildren enjoyed the skiing and Lotem and Maayan also loved the hang gliding.
Pictures on the pages of of
Zoe
,
Lotem
and
Maayan
(and also
below
).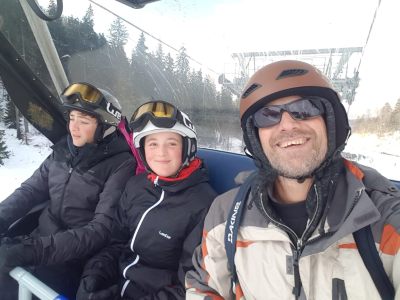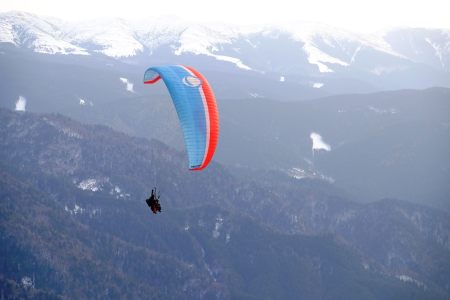 ---
January 2020 - Cholent at the Rons
Saturday lunch eating the delicious
cholent
prepared by Aviv Ron.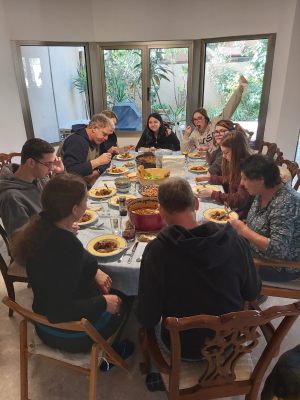 ---
January 2020 - Friday night with the Rons and Levys
Just nice to be with family but also celebrating Itamar's school achiement and I
lai's birthday.

---
January 2020 - The Rons have a new dog.
Lior carries the Ron's new dog - a toy poodle. When we know her name we can add her to our
"Dogs of the Family"
page.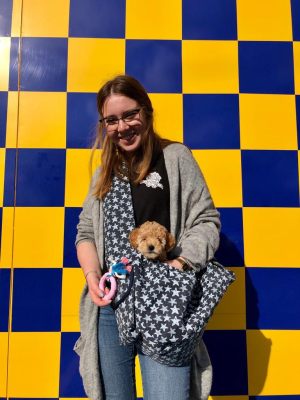 ---
January 2020 - The Segolis fly to Romania for a ski holiday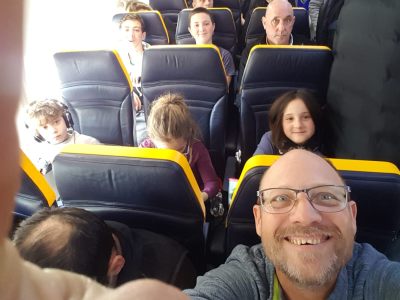 ---
The Segolis took a weekend trip to Eilat.
Enjoying
shabbat
dinner together.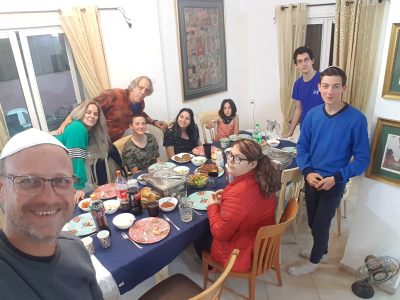 ---
January 2020 - Lunch at
Meshek Barzilai
vegan restaurant.
Doreen and the Segolis visited Microsculpture - the amazing exhibition of
insect photographs by Levon Bliss
exhibited at the Natural History Museum of Tel Aviv University. After the visit they had lunch at the currently very popular vegan restaurant
Meshek Barzilai.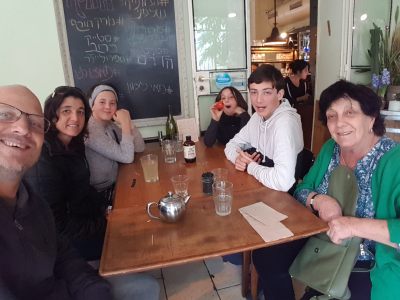 ---
January 2020 - Shabbat dinner with Lior
Only 10 days or so after her operation (
see here
), we were thrilled that Lior (lighting the Shabbat candles) felt well enough to join us and the Segolis for Shabbat dinner..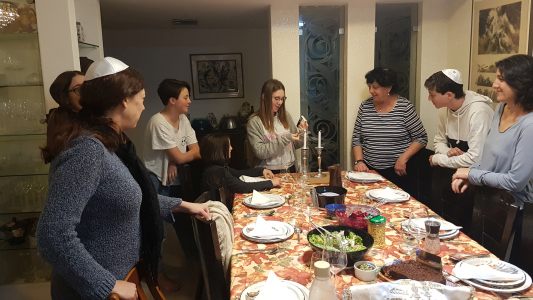 ---
Tamir Klaff's Old metal sculptures
Tamir, son of my late cousin Vivian, made these sculptures from old metal. You can visit
his website
and see more of these wonderful works.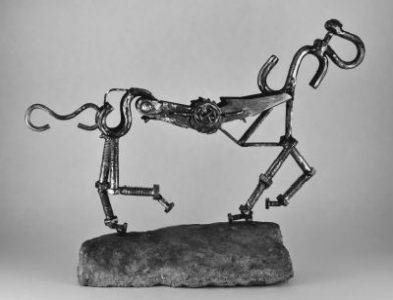 ---
December 2019 - A visit to
Meshek Kirshner Hadash

In May 2016, on this site, we wrote:
Overwhelming response is putting it mildly.
Moshe's direct to consumer stall run by Rochelle and him, open Friday and Saturday, has expanded into a large market open 7 days a week with over 60 employees
selling tons of fruit and vegetables directly to tens of thousands of consumers every month.

In 2016 Moshe supplied 100% of the produce - today he supplies 1% with the rest coming from farmers from all over the country.

Well done, Moshe, we're very proud of you.