March 2019 - Purim
Purim is fancy dress time and the children - and adults - have a great time.
At Midreshet Ben Gurion at Sde Boqer there is a traditional adloyada - carnival - celebrated every year. The floats are prepared by the high school students. Grandson Maayan had a great time participating in the parade. Click on the picture below to see a few seconds of the parade.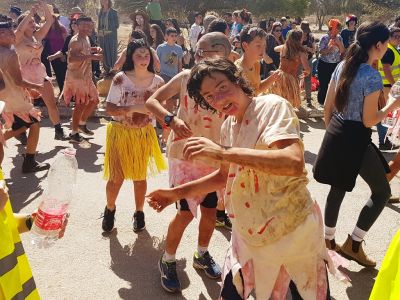 Purim is made for granddaughter Lotem who does wonders with make up. Look at what she did to her dad Moran, mom Mikhal and sister Zoe.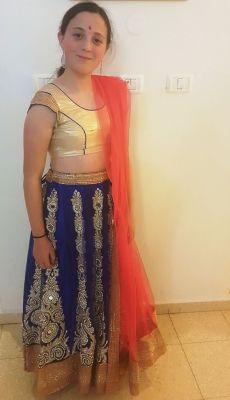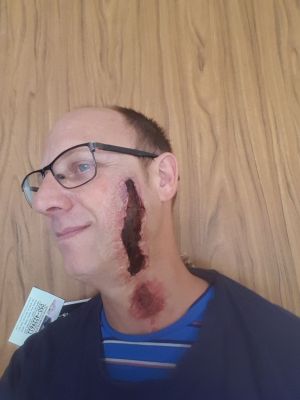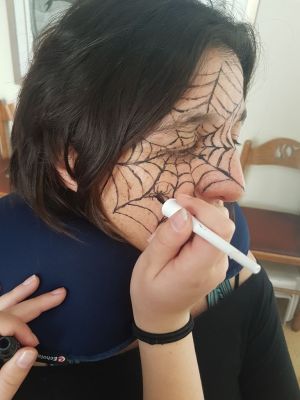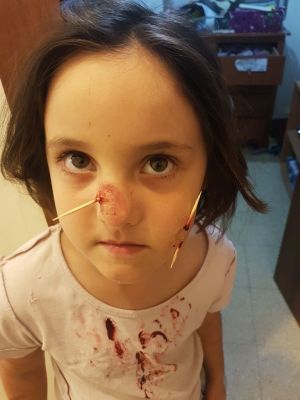 Granddaughters Danielle and Lior also dressed up. Grandaughter Ilai flew up from Eilat for a special purim party for Animea fans, and cousin Danielle took her their. Ilai is wearing a mask of the Tokyo Ghoul.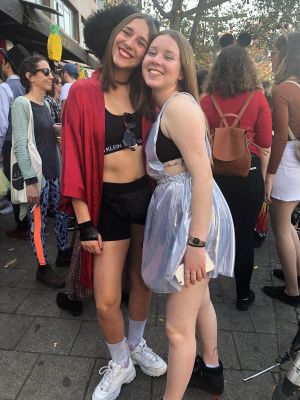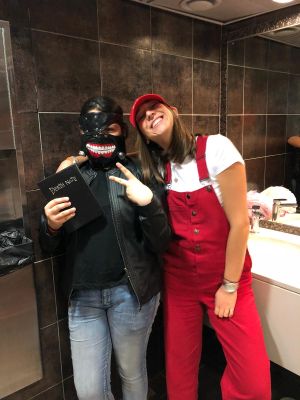 ---
March 2019 - A visit to Lausanne
Enjoying the traditional Fillet de Perche with Francoise and Pierre Collaros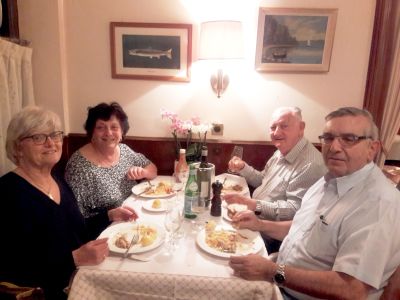 We re-visited some of our favourite places including: Vevey with the giant fork statue, looking like a picture on a Swiss box of choclates. At Gruyere where we were were fascinated by the robot in the centre of the aisle that looks after the cheese (turning it over etc), while at the Fornerod Patisserie in Morges we enjoyed coffee and looked at the chocolates made from donkey milk.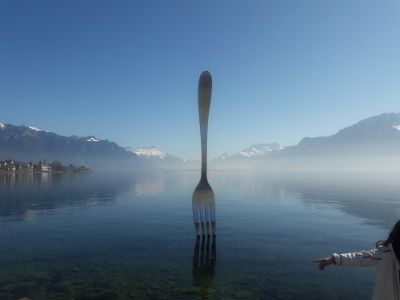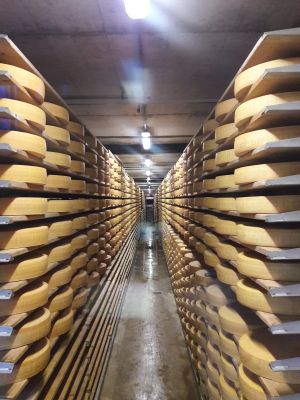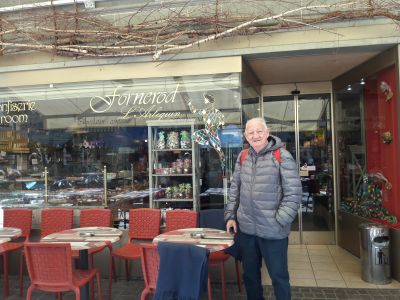 We drove to Gstaadt with the magificent mountain scenery. Doreen explored Lausanne with Cipi Rona, the wife of Gianarrigo, the President of the World Bridge Federation, here with the cathedral with its exceptional stained glass windows in the background. We discovered a wonderful restaurant Cafe du Village, only a 3 minutes walk from the home of Francoisse and Pierre.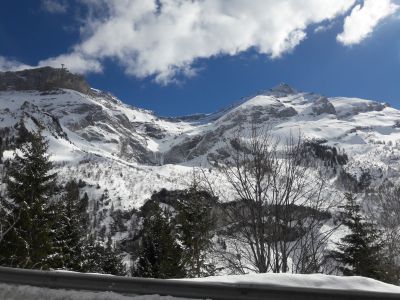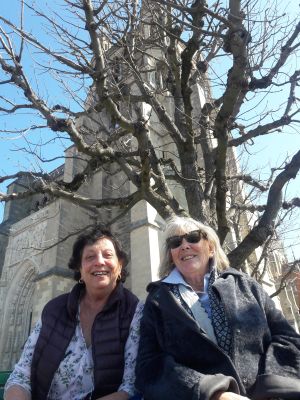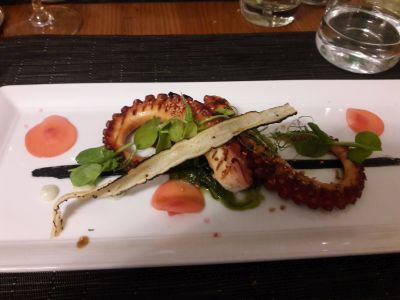 ---
March 2019 - Granddaughters Lotem and Zoe Segoli perform the dance scene by Ross and Monica from the sitcom
Friends
.
Click on the picture below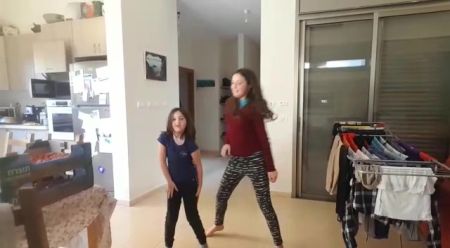 ---
February 2019 - still in Lisbon
Doreen writes about her touring first with grandchildren Maayan and Lotem, then by herself:
On the way to visit Evora we drove over the Vasco da Gama Bridge - 12 km over the Tagus River. We were a little disappointed to learn that it was not the longest bridge in Europe, but it was still a great experience.
In Evora we visited the Bone Chapel inside the Sao Francisco Church. Decorated entirely with bones of skeletons, above the entrance is carved: "We bones that are here await yours." We left them disappointed.
We also visited the Cromlech of Alamendres, 95 huge stones marking the equinoxes.. A few years ago we visited Stonehenge with Itamar and Maayan, but these are even older,.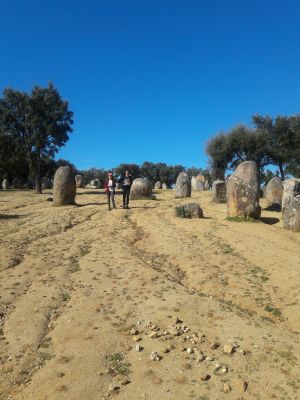 At Sintra we took a
tuktuk
up the steep mountain and then explored the colorful Palacio da Pena, the disney-like castle from every angle.
See another picture on Maayan's page.
)
Afterwards we went to the Initiation Well at Qunita de Regaleira, which involved a lot of walking uphill....and downhill.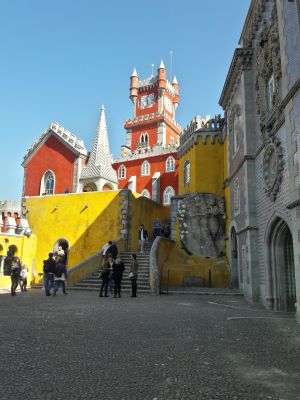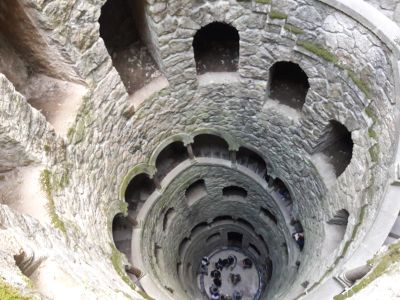 After the grandchildren returned to Israel I took a ride on tram 28 through the city, amazed how the trams climb the torturous hills on narrow, narrow streets. In the middle of the city there is the Justa Elevator, considered public transport. The metro ticket is valid for the elevator but one has to pay to climb the narrow steps for a great view of the city.
\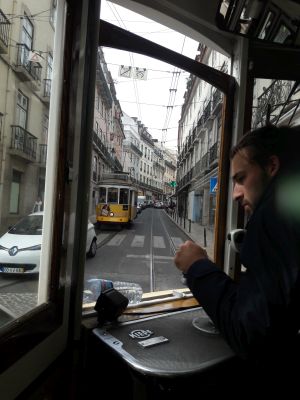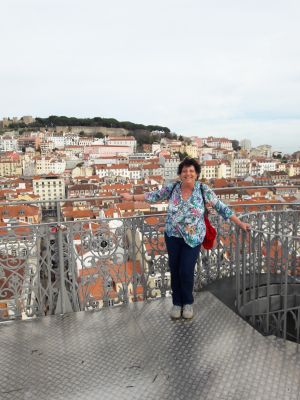 For more pictures of the Lisbon visit see
below
, the pages of
Maayan
and
Lotem
, and the Archive pictures
here
and
here
.
---
February 2019 - A visit to Lisbon with Maayan and Lotem
Doreen and the two grandchildren accompanied me to Lisbon here where I am officiating at the European Mixed Teams Bridge Championships. While I was busy with the bridge Doreen took the children to see a little of Lisbon and Portugal.
On the first day they went into Lisbon centre. Lisbon is very hilly and they walked their feet off as they climbed monuments and walked up and down the hills.On the way they stopped, not only at the oldest bookshop in the world, but also refreshed themselves many times (for energy?!) - ice roll specially made for Lotem - at the first coffee shop in Lisbon -at Alcoa for their famous pastries - lunch at Timeout - and enjoying noodles.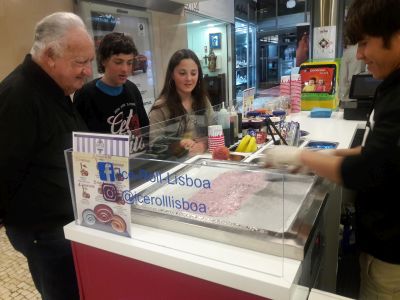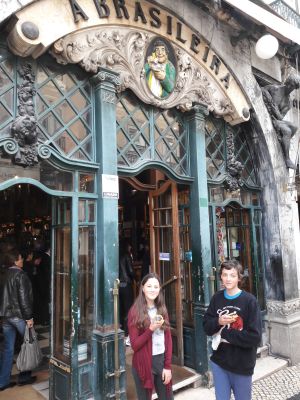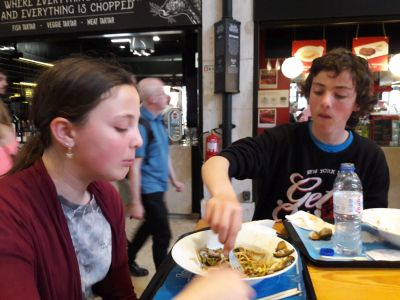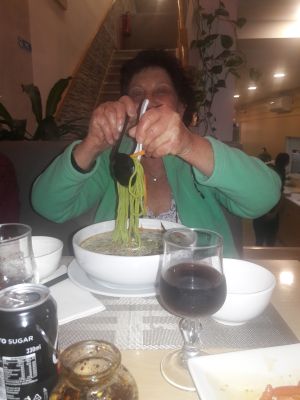 Doreen hired a car and off they went to see some of the area's beautiful nature, such a Boca da Inferno, with its waves smashing over the rocks. Boca do Roca, the westernmost point of Europe was just as impressive with its dramatic coastline and thinking there was nothing between them and the Americas except the Atlantic Ocean.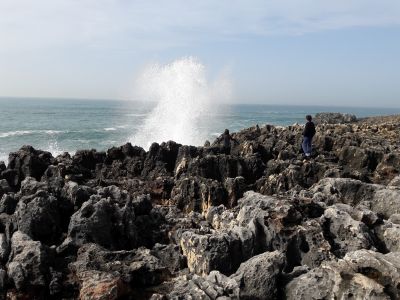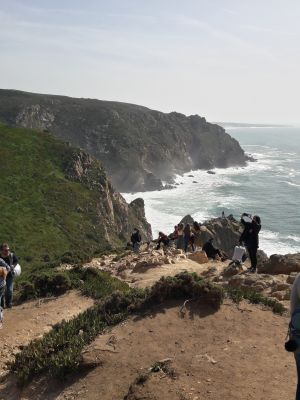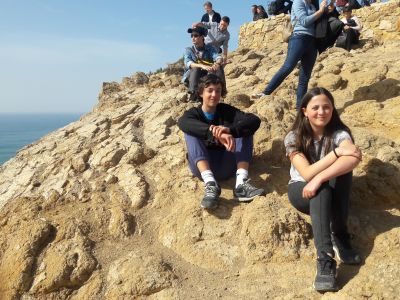 See more pictures on the
Archives page
and on the pages of
Maayan
and
Lotem
---
February 2019 - A new relative!
We were delighted to hear some months ago from Devra Hock, a relative on the
Nochomovitz side
, who would be in Israel to attend a meeting in Israel of a Museum Research Group as part of her studies for a Ph.D in paleontology. We have never met her or her parents but have met quite a few other Hock relatives
(for example, see here.)
. Over the weekend we got to know her as friendly and articulate. Her visit culminated in a Friday night family dinner, before her flight back home to the States.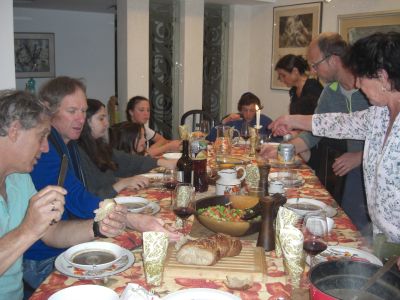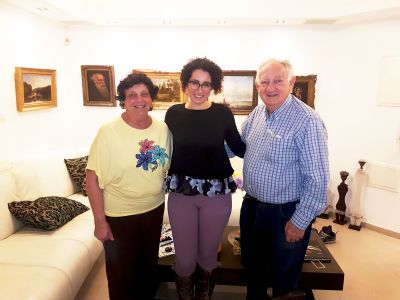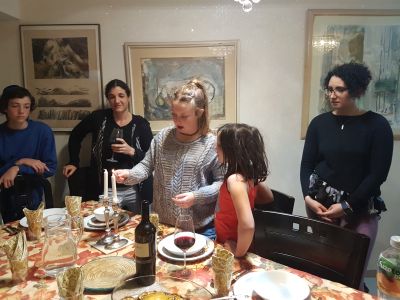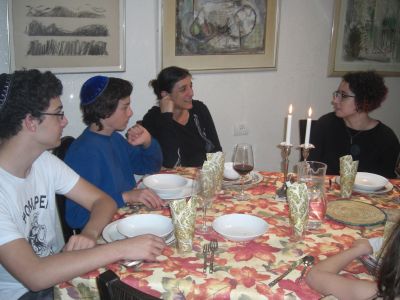 ---
February2019 - In Antalya for the Bridge TD Course
Grading test papers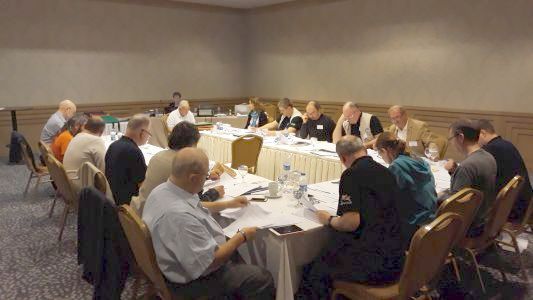 During the bridge course in Antalya (
see here
) I was busy and only managed to see a little of the city during the last afternoon, but Doreen had time to get around and see some more of the area.
She rented a bicycle and went on a long ride,even uphill!. She also visisted Perge, an ancient Roman city mentioned in the New Testament, and the Kursunlu Falls.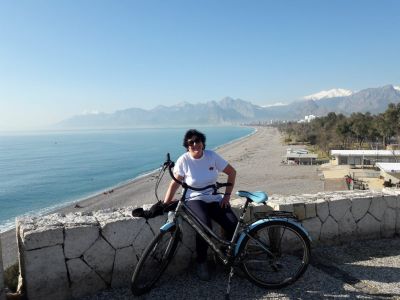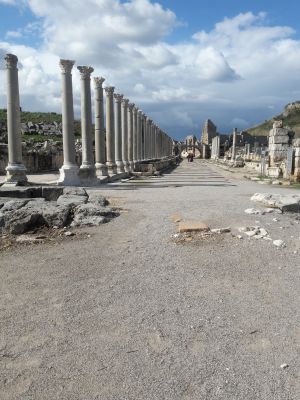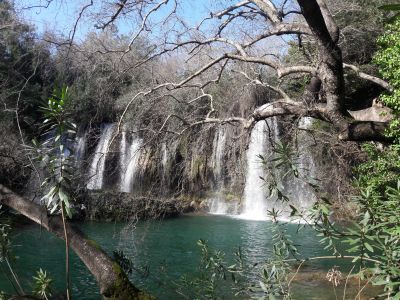 Some of the big advantages of these bridge events are meeting people from other countries, and meeting up with old friends and acquaintances.
Doreen went on a short tour with Mandie from England and Trish fom Australia and enjoyed the Duden Falls; and on the last afternoon we had the opportunity of seeing the port with Ton Kooijman (Netherlands) and Laurie Kelso (Australia) - both of the World Bridge Laws Committee, - and Catherine Vitry, secretary of the European Bridge Leahgue.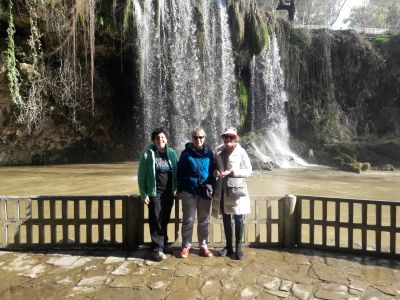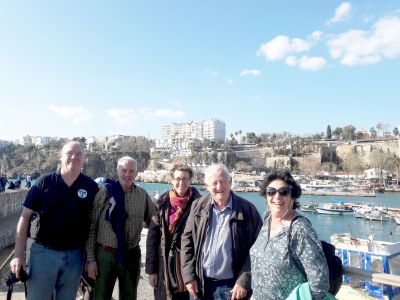 ---
February 2019 - Celebrating the birthdays of Ilai and Moran
Two days and a few decades separate the birthdays of granddaughter Ilai (28 Jan) from son Moran (30 Jan) and Doreen decided to invite the whole clan for Friday night dinner. 14 of the 16 (both AvivR and Dani are overseas) came from Herzliya, Sde Boqer and Eilat. It's a real pleasure to see how everyone enjoys being together and that the children get on so well.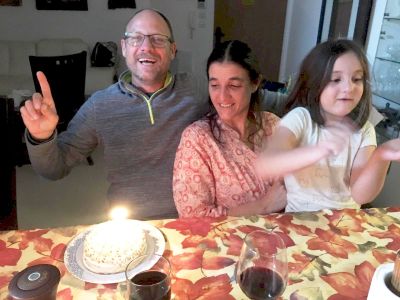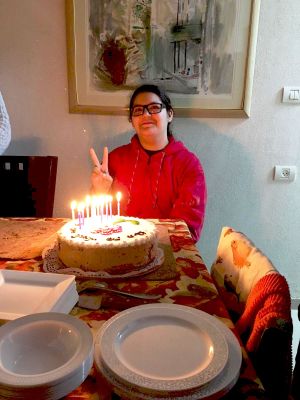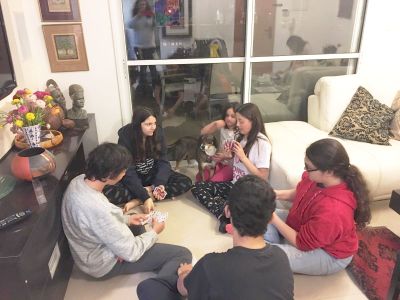 ---
January 21 - Dinner with some Reijzer grandchildren
We had dinner at daughter Vered's home and were happy to again meet newly married Jonathan and Alexandra Keyson , and Nadav Keyson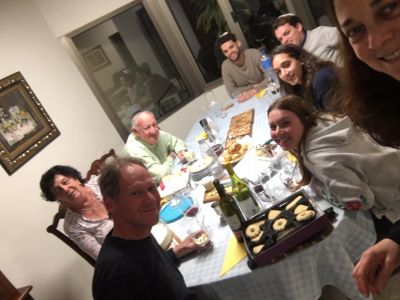 ---
January 2019 - A quick visit to London
Doreen and I spent a week in London and were happy to see some old friends and relatives again.
We enjoyed meerting and having lunch at TPT our favourite Chinese Restaurant with long-time friend Shirley Poluck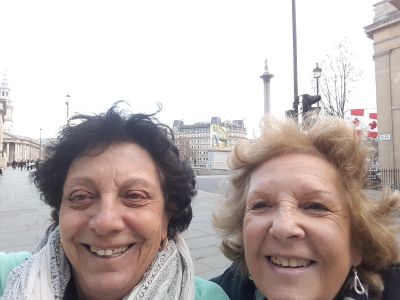 We visited Bletchley Park where, during the war, Alan Turing and others developed the codebreaking machine, the Bombe, to break the German codes generated by their Enigma machine. The move
The Imitation Game
was based on this.
It was a fascinating and worthwhile visit.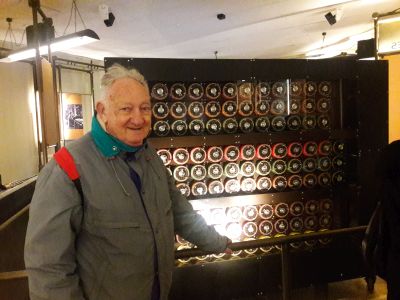 In front of a full-size model of the Bombe
We had dinner with Marianna and Bill Pencharz in a Polish Restaurant they used to frequent many years ago, and we all enjoyed the traditional Polish-style food.
Bill was President of the European Bridge Leauge when Eitan restarted his bridge career some 20 years ago. Doreen and Marianna became very friendly and
traveled to Timbuktu together
. We have remained good friends for a long time.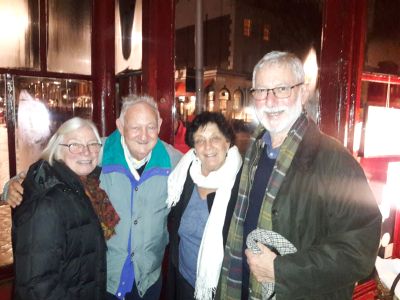 Frankie was one of Doreen's best friends before any of us were married, and when Frankie married Eitan's cousin, Vivian Klaff, that only cemented the friendship. (see
Vivian's memorial page
.). We were also friendly with Dave Rothschild before any of us were married , and when Dave and Frankie married a few years ago the close friendship between the four of us just came naturally.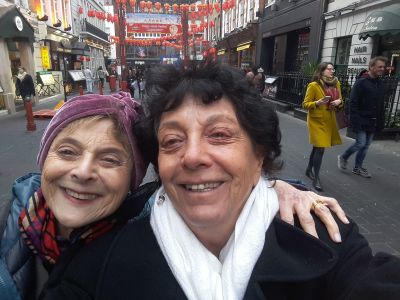 ---
December 2018 - January 2019: Moran's trek in Ethiopia
Son Maayan Segoli returned this morning from a six day trek with 2 friends, Eran and Kagan, in the Simian Mountains of Ethiopia. He reports a wonderful experience, including seeing the unique Gelada monkey ("bleeding heart monkey") found only in Ethiopia.