---
Dani celebrates her birthday
The Rons and us celebrated Dani's birthday. She had recently
returned from India
and she wanted an Indian style dinner - vegan of course. My favourite Indian dish is spicy chicken or lamb curry but I enjoyed the delicious curry dishes prepared by the family.
See also Archives
.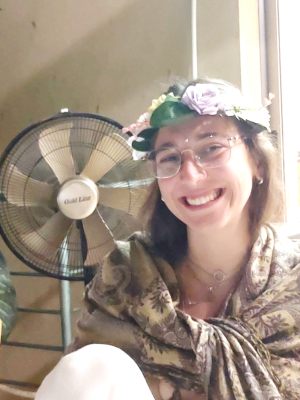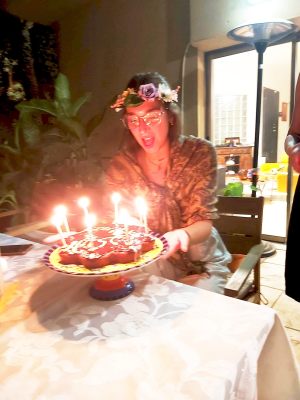 ---
July 2023 - Dani at Swan Lake - about 2002
Lior went to the Metropolitan Opera
for a performance of Swan Lake. This reminded us when we took her sister Danielle, then about 7 years old, to the same place and the same ballet. She loved it so much that during the intermission, to the delight of the audience, she tried to emulate the dancers.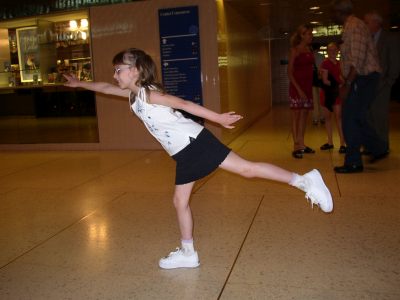 ---
April 2023 - Dani plays cricket!
Cricket is the national sport of India, and Dani of course decided to see what it was like with a cricket bat.
(Dani is in good company - five of our relatives have played first-class cricket including two international cricketers - Adam Bacher and
Aaron "Ali" Bacher
who captained South Africa.)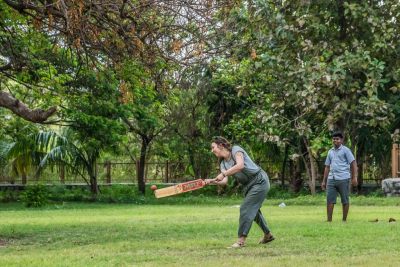 April 2023 - Dad Aviv visits Dani in India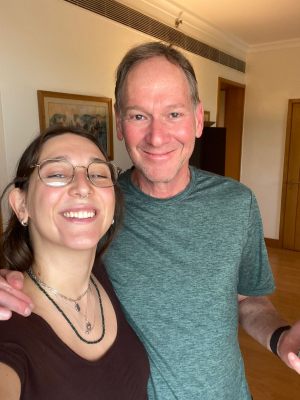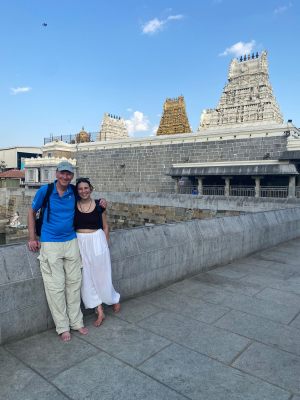 ---
March 2023 - Off to India!
Danielle will be visiting India for a few months, and we went to wish her a safe and enjoyable trip. Following an old Jewish custom, Doreen gave Danielle money to donate on reaching her destination to ensure safe travels.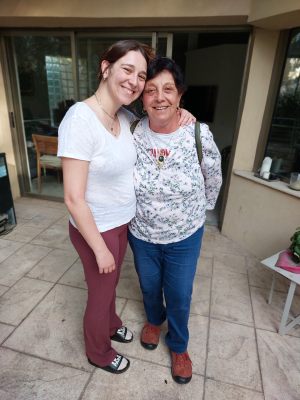 ---
February 2023 - 28th Family Reunion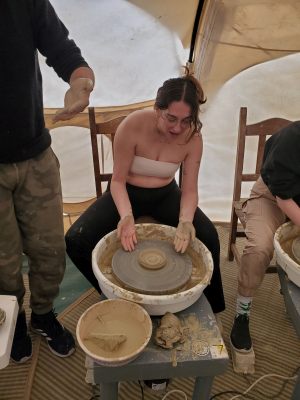 Click for pictures of the grandchildren
Itamar, Maayan, Zoe, Lotem, Amit, Lior
at the ceramic session.
More pictures on the 28th Reunion page.
---
December 2022
We celebrated Dani's graduation from Reichman University
See pictures
here
and
here.
For a previous picture see
here.
---
November 2022 - A hike with Oz in Nahal Kaziv
(see also the
Segoli's hike
a few days earlier.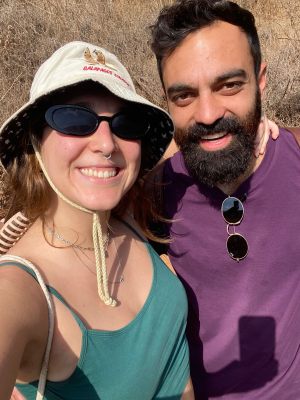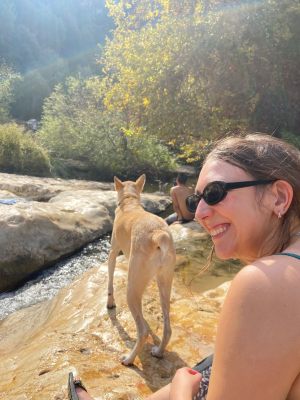 ---
September 2022 -
Berlin and meeting granny.
---
Sailing with dad, skipper mom, sister Lior and friend Oz.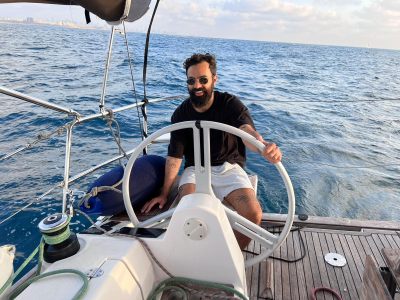 ---
January 2022 - Dani returns from the Galapagos and South America
A big "welcome back" to granddaughter Danielle Ron. Dani spent 3 months in the Galapagos and Amazonas as part of her studies in Sustainability and Government at Reichman University. After her studies and projects she spent time in South America where she was joined by her friend Oz.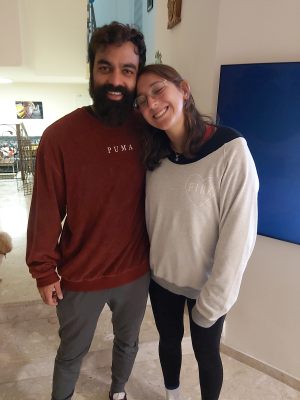 ---
August 2021 -
Farewell to Dani
before her trip to the Galapagos.
---
May 2021 - Dani on Dean's List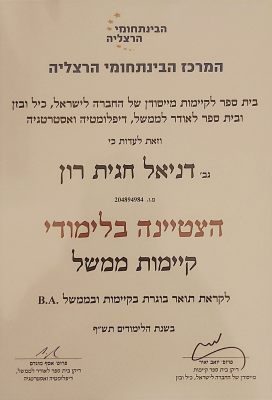 Congratulations to granddaughter Danielle Ron on being an outstanding student and
being on the Dean's List at the Interdisciplinary Center (IDC) in Herzliya.
Dani is in her second year of studies in Sustainability and Government, and we wish her success in her future studies.
See picture of the ceremony
here.
---
April 2021 - Earth Day
Danielle was on the organising committee and in charge of publicity for an Earth Day event organized by her faculty at University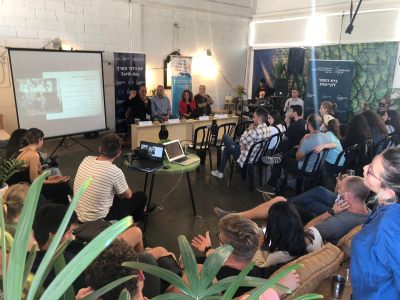 ---
February 2021 - Lotem vs cousin Danielle at chess.
On a trip to "test" our
new ca
r
we spent a warm sunny day with the Segolis and 3/4 of the Rons at Midreshet Ben Gurion. Lotem and Danielle enjoyed a game of chess.
(see picture).
---
December 2020 - 26th Family Reunion - 56th Anniversary Granny and Saba Eitan
On 16/12 we celebrated the 56th Anniversary of Granny Doreen and Saba Eitan, together with the 26th Levy Family Rreunion. There are more pictures on the
Events page
, on
This Weeks Picture Archives
, and on the pages of
Lior
,
Itamar
,
Maayan
,
Lotem
,
Amit
,
Ilai
and
Zoe.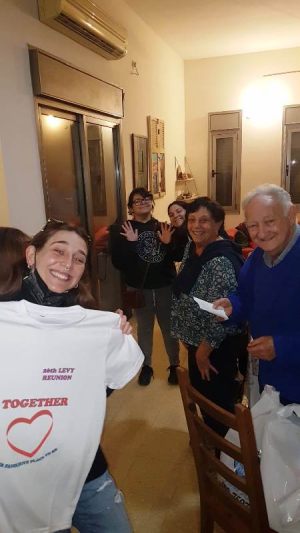 ---
Danielle is 25!
Birthday cake in bed! That's really a celebration.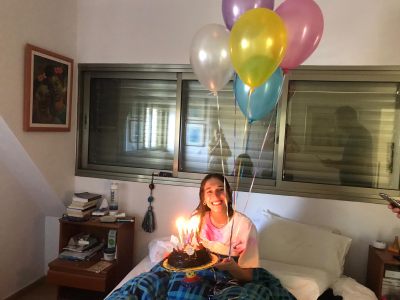 ---
September 2019 - November 1997 - The Pumpkin tale
When granddaughter Danielle was two years old and living in USA I took her to visit a zoo, around Halloween time. When I recounted our "pumpkin adventure" Doreen wrote a story about it which we read to Dani's delight. This week, when looking for an old picture, I found the story and it is reproduced here with some pictures.
---
September 2019 - A visit to India
Granddaughter Danielle only had 2 days to enjoy home after returning from a family trip to USA before she was off again - this time on a 6 week trip to India. Dani loves travelling and visiting new places as can be seen by viewing her page below, for example
Hawai
,
South America
,
Galapagos
,
Prague
.......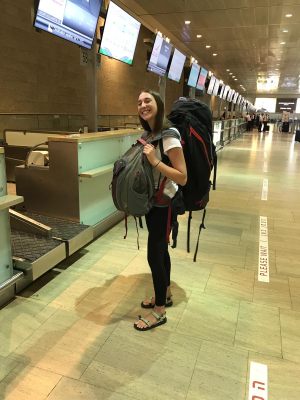 ---
June 2019 - Lior and Danielle at mom Vered's birthday
Click here
for another picture.
---
June 2019 - Vegafest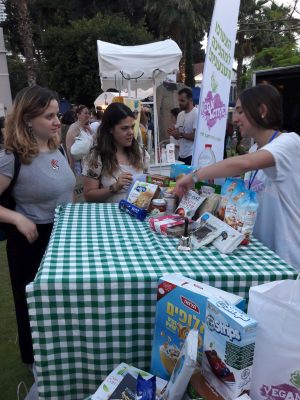 Dani explaining the advantages of joining Vegan Active at the Veganfest at Sarona Tel Aviv.
Click here for another picture
of Dani at the TA Vegafest.
---
May 2019
While mom Vered was overseas in China Danielle and Aviv joined us for a meal at a local Netanya Chinese restaurant.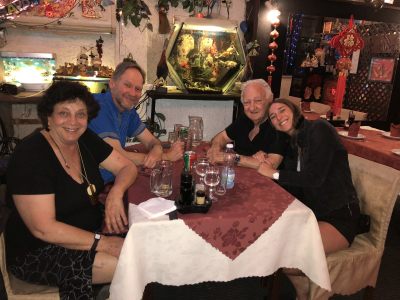 ---
Family Reunion in Italy at the Villa Prato al Sole - April 2019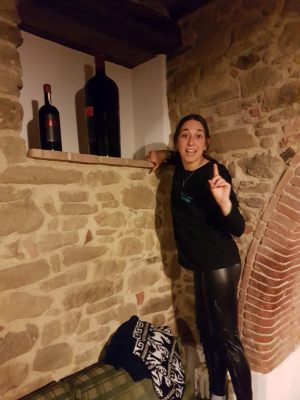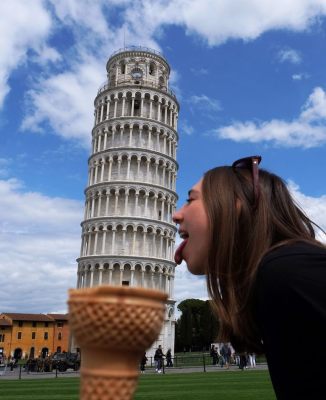 For more pictures of the reunion see:
---
February 2019 - Damielle is back in Israel.
Granddaughter Danielle is back in Israel after her work (and holiday?) in Hawaii
---
February 2019 - Enjoying Hawaii.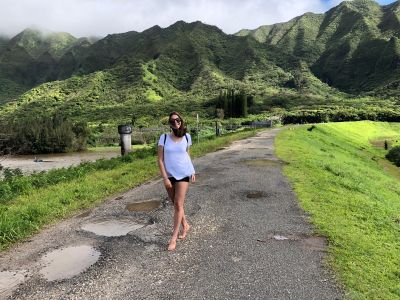 ---
November 2018 - Back to the States
Granddaughter Danielle Ron returned to the USA. We're sorry to see her go, but happy she's doing whats she wants to do. She is planning on returning to Israel round about February, for good this time. We prepared a
bon voyag
e picture for her to enjoy at the airport, and in return received a picture from the airport.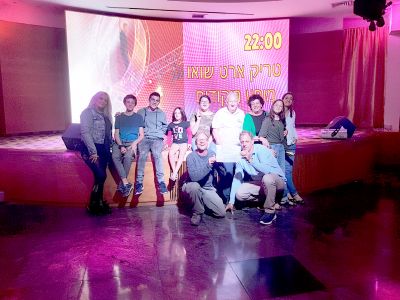 We sent a
bon voyag
e picture for her from Eilat to enjoy at the airport .......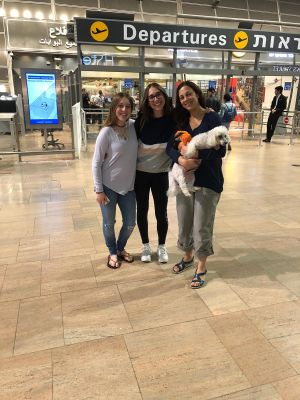 ........ and received a goodbye picture from the airport. (With sister Lior, mom Vered, and of course Tuli).
---
October 2018 - Dani is back!
Big Surprise of the Week - Granddaughter Danielle Ron returned to Israel after her long stay overseas.
After spending nearly two years working in California and then touring South America, Dani returned to Israel, perhaps for a short visit, perhaps for a long stay. We were not told she was coming back now - Dani wanted to surprise us - and she succeeded. We went for dinner at the Rons to meet long-time friends Patisa and Jens Rasmussen who are visiting from Denmark. Then there was knock at the door and, Surprise! Dani entered!
See
This Week's Picture Archives
and sister
Lior's page
for more pictures.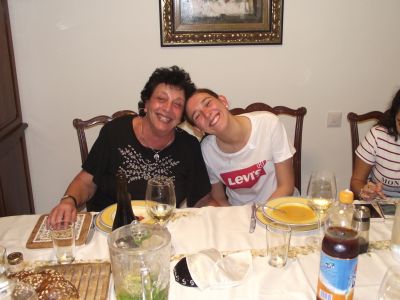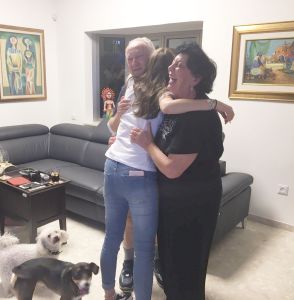 ---
September 2018 - Still in South America - Peru, Argentina .....
Our adventurous Dani with a group of friends in Peru; and with a group she joined on a survival adventure (living off the land, only taking clothes and sleeping bag!)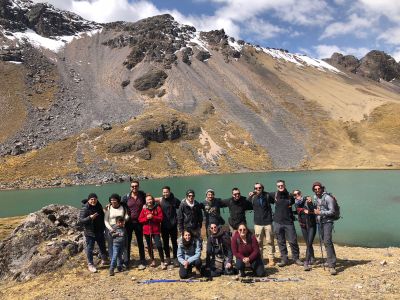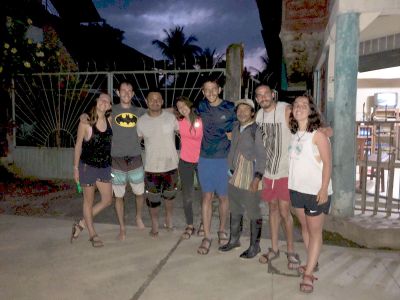 A beautiful woman in beautiful scenery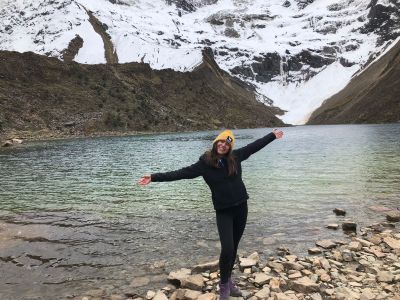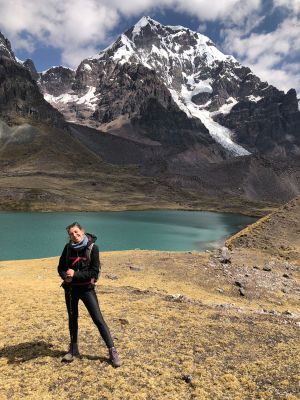 In Argentina Dani was joined by parents Vered and Aviv and sister Lior for a family reunion and continuation of her trip, this time with her family. (
Pictures here
)
---
August 2018 - Dani in the Galapagos Islands II.
Before continuing her South American trip to Peru, Dani sent us this terrific photo of her watching a march of marine iguanas. When we visited the Galapagos it was soon after a disastrous "el niño" causing sea currents that led to "warming of the ocean and reduction of the cold nutrient-rich water that sustains large fish populations" (Wikipedia), and the marine iguanas we saw, that were still alive, were thin and emaciated and not strong and plump like those in Dani's picture.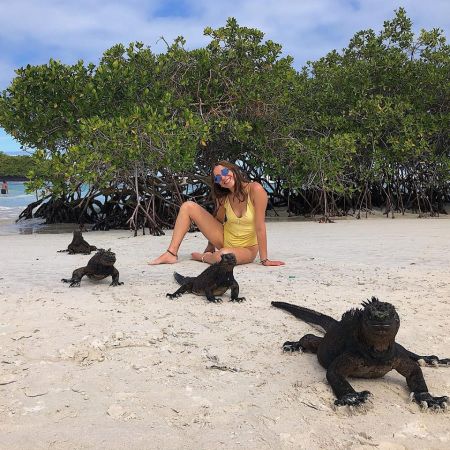 ---
August 2018 - Dani in the Galapagos Islands.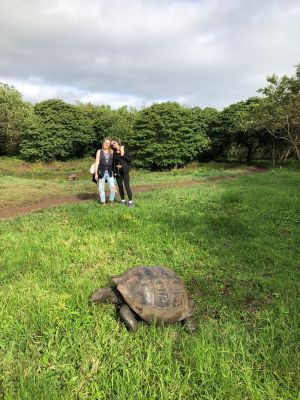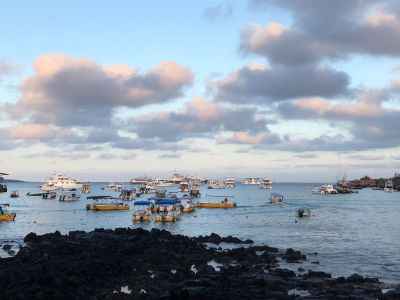 ---
July, August 2018: Dani continues her South American trip. She visited Quito in Ecuador and straddled the equator.
See picture.
---
June 2018 - with Guy at Lake Tahoe
Dani has finished working in the USA and next week she will start her South American tour with friends by travelling to Mexico.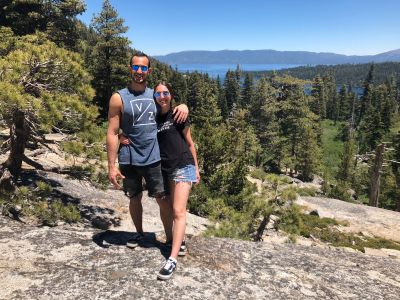 ---
February 2018 - On holiday in Hawaii with her boy friend Guy