Moran, our youngest son has just turned 50. To prevent it being a depressing year he is determined to celebrate all year long. Last week he invited my friends who played a part in his growing up to a luncheon at our house and this week the plan was to celebrate with the Levy side of his family. We decided that it was time to hold our 28th Family Reunion as well as to celebrate Moran's birthday. When a gathering is declared a Family Reunion it must include at least one sleep over and a T-shirt printed for the occasion. Mikhal organized glamping at Selina Desert Inn in Mitzpe Ramon. Eitan and I spent days planning and designing a suitable sweat shirt which was then printed. In addition Eitan composed clues to a crossword puzzle based on the names of our family, which included 16 family members, Gal Lior's boyfriend and the names of our three dogs.
The glamping tents were spacious with comfortable and large beds and heating, but the toilet was at the end of the line of tents. Not for Eitan and me and we were relieved to be in the hotel area, a spacious room with a large bed, heating, a TV, an excellent shower and a toilet!
Moran, Mikhal, Maayan and Zoe joined us on Thursday evening and we went to eat at Zarqa on the cliff next to the Ilan Ramon Visitor Center. Because of a dispute about electricity we had great difficulty in finding the restaurant and were amazed to see that other guests had also ventured into the dark to find the restaurant.
Vered and family and Lotem joined late that evening while Aviv with Itamar and Amit came early the next morning, in time for breakfast.

When everyone had eaten we took out the sweatshirts and we were greeted with clapping and gasps of delight when they saw what we had prepared.
On the front of the sweat shirt in an arc was the reason for all this – the 28th family reunion and Moran's 50th. On the back of the sweatshirts were the 16 names of our family connected in the design of a crossword puzzle.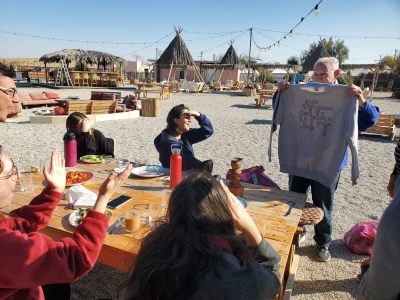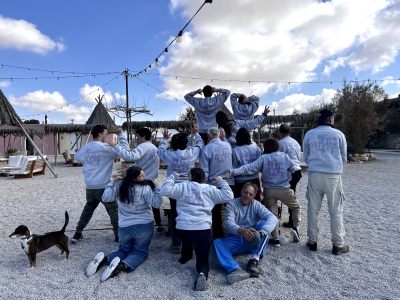 The morning was spent with our grandchildren playing games, and our children going for a hike to Borot Lotz, while Eitan and I went to confirm dinner arrangements for 17 people at the Ramon Inn hotel.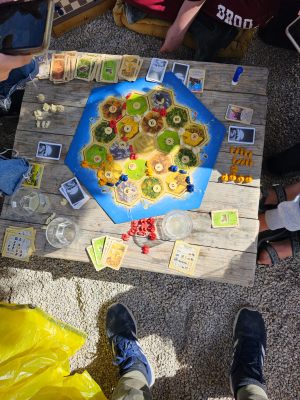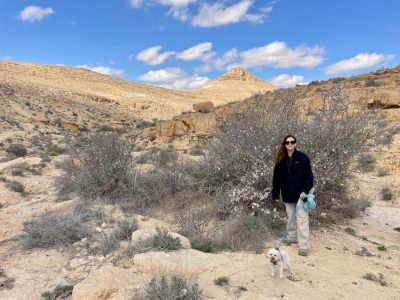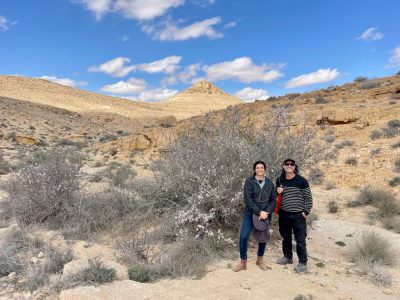 Lunch was a range of excellent cheeses, both dairy and vegan, bread, vegetables, wine and strawberries, with Moran's famous tomatoes and other vegetables.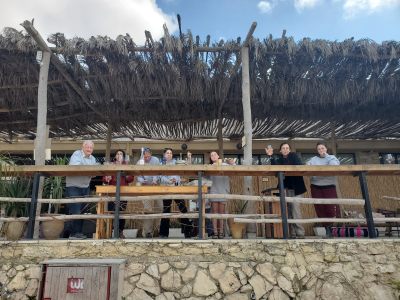 After that while Eitan and I went to rest the others went to a ceramics session in which all the grandchildren participated and thoroughly enjoyed.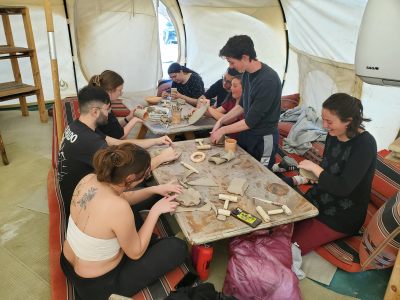 Click for pictures of the grandchildren Itamar, Maayan, Zoe, Lotem, Amit, Lior, Dani at the ceramic session.

AvivR and I found a Reggae happening up the street from Selina. It was beautiful with people dancing – it reminded both of us of the movie Hair.
When it became dark the older ones clustered around one of the campfires set up around the Selina grounds and just talked.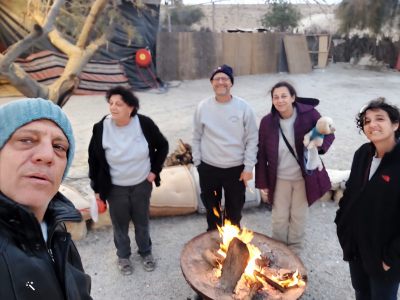 Then before driving to the hotel for supper the Crossword Puzzle Event took place. We all gathered while the cryptic parts of the clues were explained. Then everyone went off and did the crossword. To our delight it was a huge success. Dani was the first to solve all the clues, even though we didn't know it was a competition. Vered dryly remarked we are a competitive family.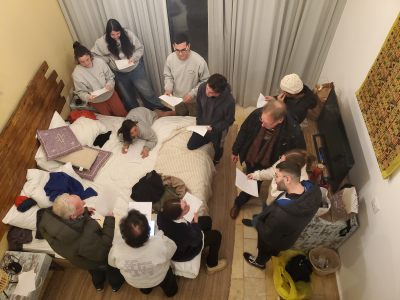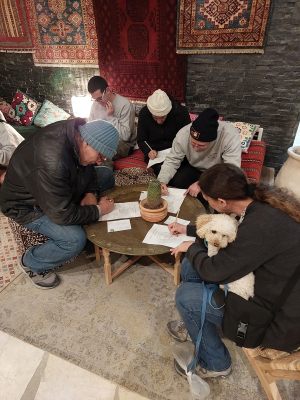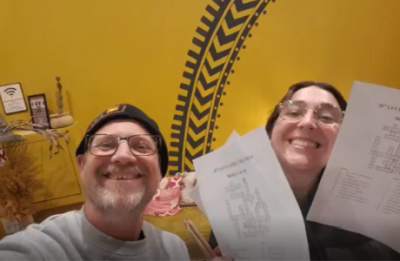 Afterwards we went for dinner. The Ron's dog Alma was placed in our room and we learnt she barked the whole time while we were away. We took our dog Joanie with us and left her in the car in the carpark by the hotel where her barking wouldn't disturb anyone – she has a loud and annoying bark. Everyone enjoyed the buffet and we only left when they were closing up.

The next morning we again had breakfast together, and had another group picture, this time with Gal, Lior's boyfriend, who joined us on Friday.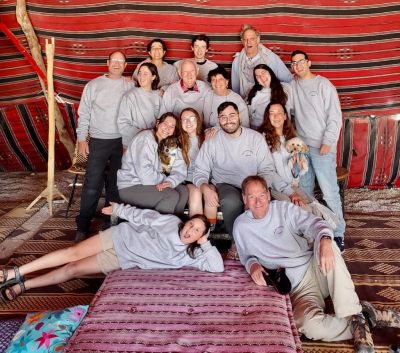 After that there was free time until noon for games and yoga or just relaxing until we had to evacuate the rooms. That was when we took out the cake and sang Happy "Birth Year" to Moran, who is continuing to celebrate.
The Reunion was hugely successful. We take special pleasure in seeing how well our grandchildren get on together, from youngest to oldest. They bond instantly and seek out each other's company, talking and playing games. And it is important for the older ones also to spend time mainly talking and reminiscing! And finally it gives us tremendous satisfaction to see everyone enjoying each other's company and the closeness between the cousins.