---
January 2023 - Lunch with Maureen and Maxine
We had lunch with Maxine (Konigsfest) Freed, sister of good friend Maureen Faine. We have not seen Maxine for about 60 years (!) but we see Maureen regulary (
for example
) and she has kept us updated. By chance Maxine mentored daughter Vered and husband Aviv during their orientation period at Columbus University.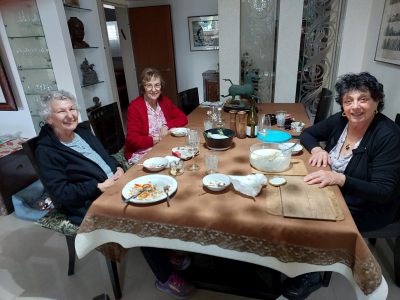 ---
January 2023 - Lunch with Archie Ogden
We had lunch this week with Archie Ogden, a friend from our days in St Thomas in the Virgin Islands. Archie and his wife Ella were close friends of ours, and we shared many happy hours with them, sometimes with Archie entertaining us on his guitar. Read what Doreen wrote about the
Ogdens in her recipe book.
Meeting Archie for lunch in 2023 Archie with guitar (about 30-40 years ago)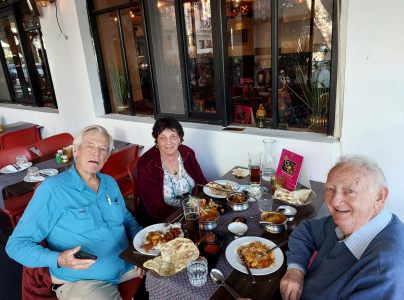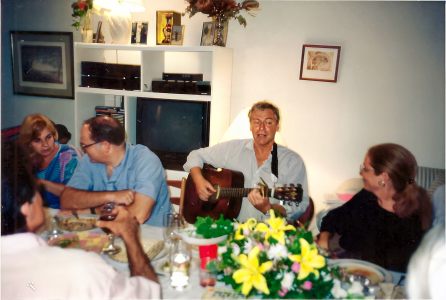 ---
January 2023 - Tirza Naor ז"ל
We were saddened this week by the passing of Tirza Naor whom Doreen had
befriended
for a number of years. See
previous post.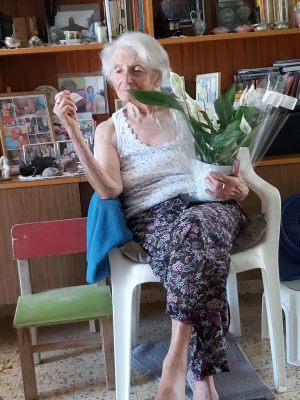 ---
Paintings by Tiina Drui
Tiina Drui is a very talented artist. Her painting of her husband Heini acurately depicts him. Here is some more of Tiina's artwork.
Heini Drui (see
Schank family tree
) was for many years a "lost" relative but we now have fairly regular contact. We have seen him and his charming wife both in Israel and in Estonia.
Click here
for a picture and more links and information.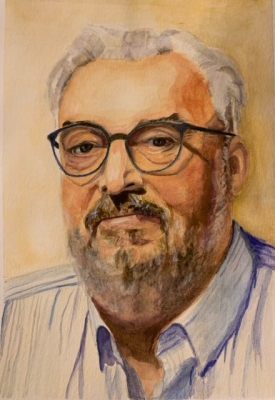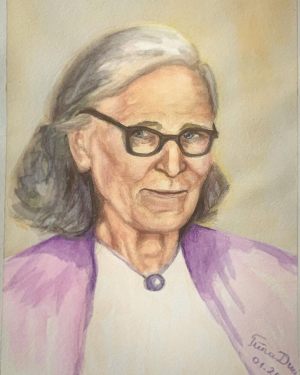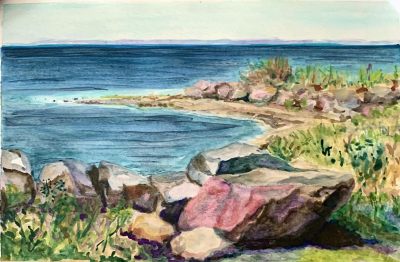 ---
Like Father like Son
About 50 years ago the Chief Rabbi of Israel Ovadia Yosef visited Coral World and I showed him around the site.
This year his son, Chief Rabbi Yitschak Yosef visited Coral World and my son showed him around the site.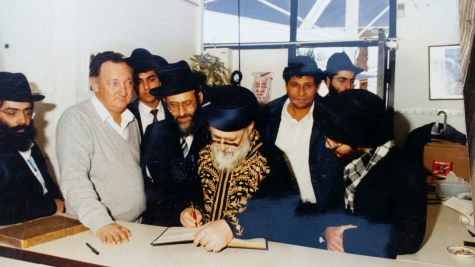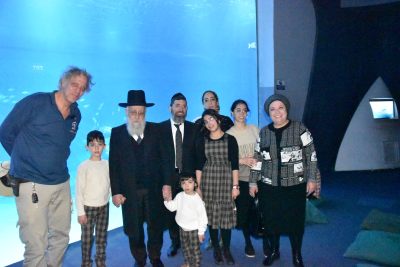 (Son Aviv is amazing - where does he find all these old photos??!!)
---
T-Shirt - Northern Lights
We were very impressed with the Segolis visit to Tromso Norway to view the
Northern Lights
. It looks like an amazing sight. That's something we've never experienced or even come close to. Our visits to the far north were all in summer. At least we did see the
midnight sun
in Tromso and had lunch and bought a tee shirt at the Northern Lights Inn in Labrador!
---
January 2023 - Moran and Mikhal in Tromso, Norway
(
See also This Week's Picture)
Moran and Mikhal enjoying a drink served in a glass made entirely of ice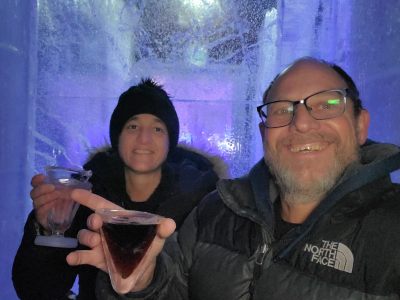 They went on a
snow-shoe hike with a sledge dog puppy
and warmed up with a fire on the ice.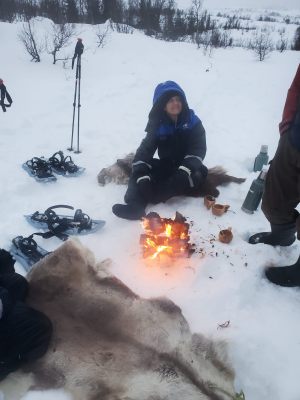 ---
January 2023 - The Nussbaums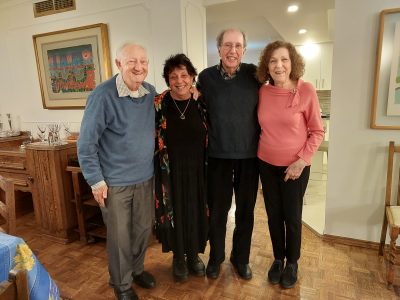 We spent a happy and delicious time in Toronto at the Nussbaums, John and Ethne, old friends from our days in Durban, South Africa. (
see last visit in 2016)
---
January 2023 - Meeting the Glogauers in Toronto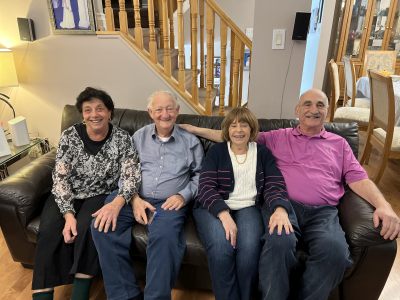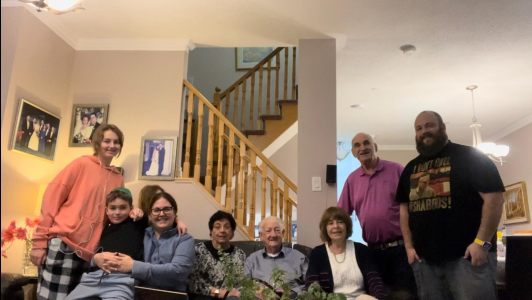 On our way home we stopped over in Toronto, Canada to visit Doreen's cousin Eileen Glogauer and Isaac. We enjoyed a Friday night dinner and brunch the next morning. Doreen and Eileen were very close when they were younger but unforunately we don't see them often enough.
Our last visit was in 2016.
see Nochimovitz tree.
---
January 2023 - Ice Skating in Toronto.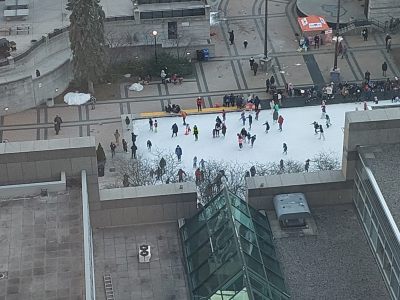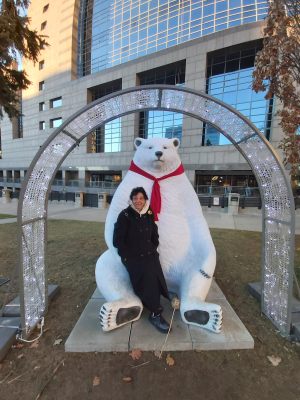 The temperature was -2C. There was no wind so it wasn't so bad. From our hotel window we saw
ice skating
below.
---
January 2023 - Lunch with Florence, Jussie and Dov Levin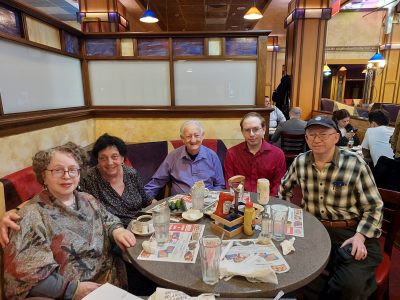 We had a long lunch reminiscing with Florence and Jussie Levin and their son Dov. Dov is on sabbatical from his post as Assistant Professor in political science in Hong Kong. We enjoy our meetings with the Levins. Florence is very 'family orientated' and keeps me up to date on the branch of the
Gordon/Glazer family tree.
---
January 2023 - A visit to Nina Shafer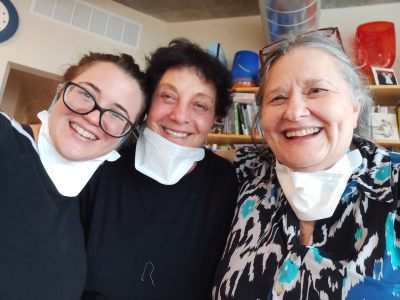 Doreen went to Philadelphia to meet Nina Schafer, a close friend from our days in St Thomas in the Virgin Islands. Doreen was happy that Nina's daughter, Hannah, was also there.
Click for our
last visit to Nina
in 2018.
---
January 2023 - The Rons visit Cuba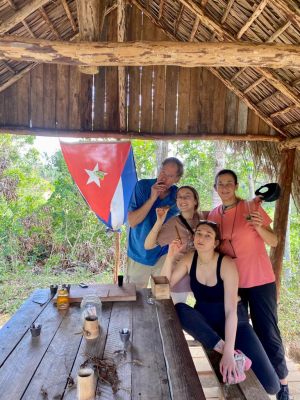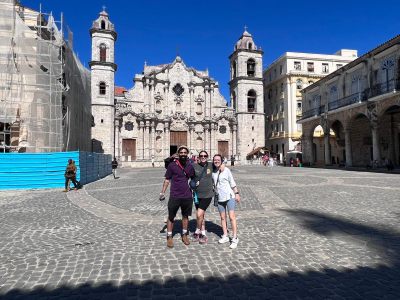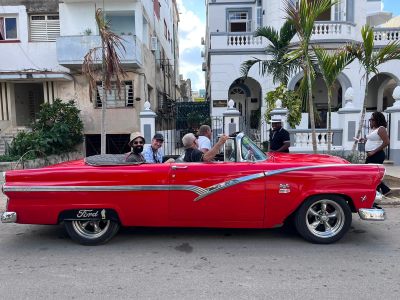 Daughter Vered Ron with Aviv, Danielle, Lior and Danielle's friend Oz are spending and enjoying a few days in Havana, Cuba.
---
January 2023 - Brunch with the Hocks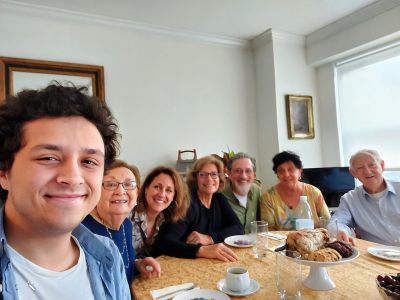 Eddie Hock, Anita Hock, Lynne Hock, Eloise Feinstein, Jonathan Hock, Doreen, me.
We were delighted to again meet Anita Hock and family. The brunch was delicious and the company terrific. See
here
and
here
for two previous celebrations with them.
See
Nochimovitz tree.
---
We had two 'free' hours in the middle of the day – so we went to eat lunch at a water hole. Quality time together in the desert with a swim – can't get better than that. Unfortunately - I got stuck in the mud on the way back and Mikhal had to have her Zoom meeting in the field.. Luckily I have friends with 4X4 that came and got us out.