June 2023 - An evening with Morris Kahn
Friend Morris Kahn's sister Leonie is visiting from England and we had coffee, drinks and a light supper at his house.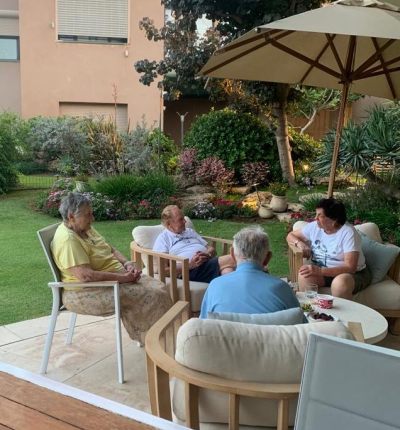 ---
May 2023 -English Speaking Residents Association (ESRA) Project.
The English Speaking Residents Association Building a Community Project in Netanya is a project where Ethiopian students in disadvantaged communities live rent free and mentor local mainly Ethiopian school children towards their
batmitzah
. Last year Doreen donated a birthday cake for the
batmitzvah
ceremony
(read details here)
and this year did the same.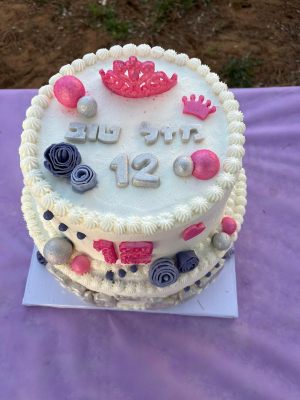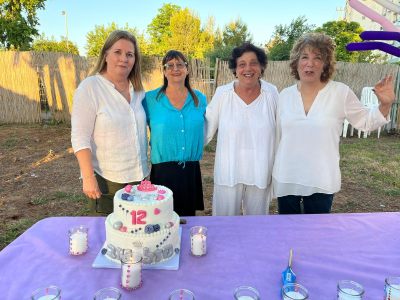 ---
May 2023 - Aviv visits Petra
Son Aviv went diving in Sinai with the Kahn clan, and then joined his fellow employees on a trip to Petra in Jordan.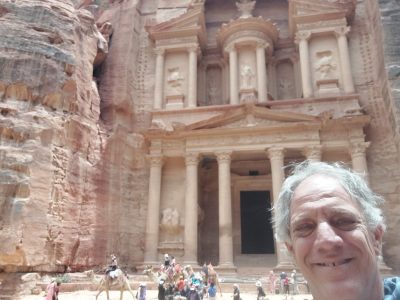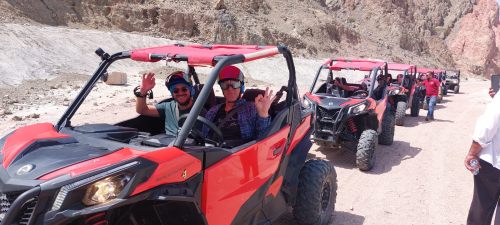 ---
May 2023 - Vegan Shrimps
We celebrated the festival of
Shavuot
and were happy to welcome the Segolis and Rons to a typical multi-course DDD (Delicious Doreen Dinner). The highlight of the dinner were the vegan shrimps prepared by Maayan with help from Doreen.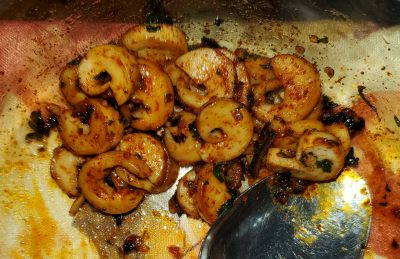 ---
May 2023 - Myra Simon ז"ל
Our good friend Myra Simon has passed away. We have very fond memories of her and her late husband
Smokey
one of the founders of the Israel Air Force.
We were with them on our trip to the Galapagos Islands and also with Myra on our China visit, where amongst other activities we went riding with her and Morris Kahn in Beijing.
See also
here
for another picture of Myra playing bridge with Doreen.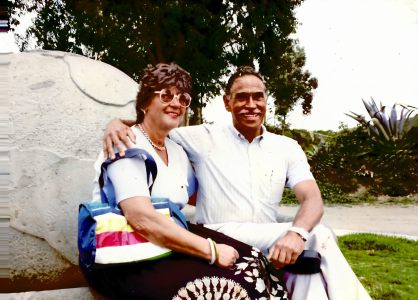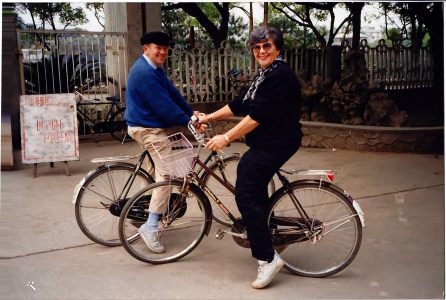 ---
May 2023 - Sheenagh visits Indonesia
We received some lovely pictures from cousin Charles and Sheenagh Levy (
see family tree
) who are enjoying a visit to Indonesia with thewir daughter Katherine.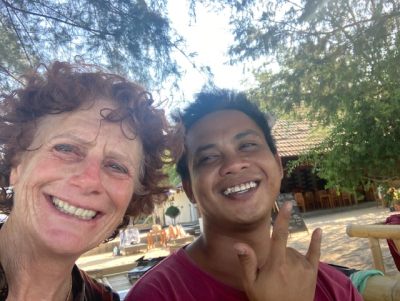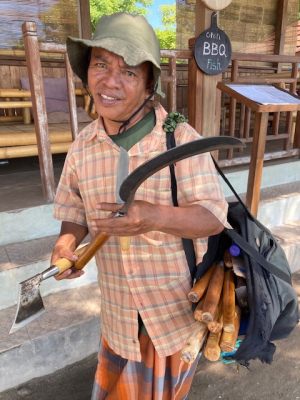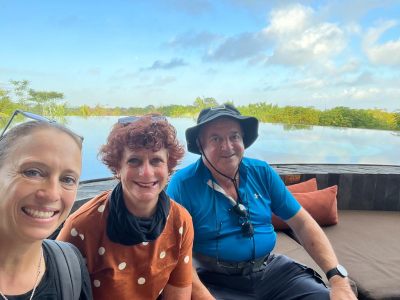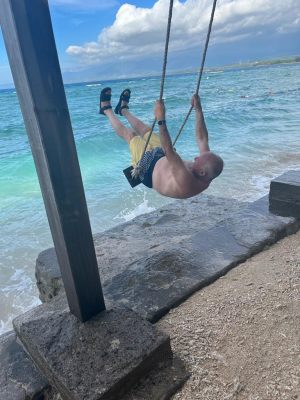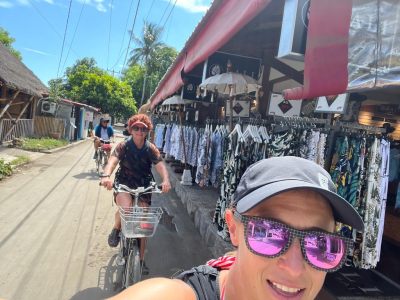 ---
May 2023 - Visit to Steve Blass
After visiting Susan, see below, we went to Kibbutz Yizrael to see our friend Steve Blass, whose wife
Bini
passed away a few months ago.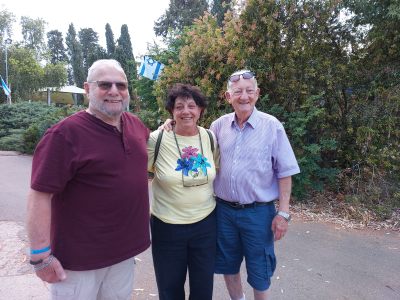 ---
May 2023 - A visit to Susan Nathan
We visited relative Susan Nathan at the Bet Ha-Emek Retirement Home in Nof Hagalil. She is recovering nicely from her operation.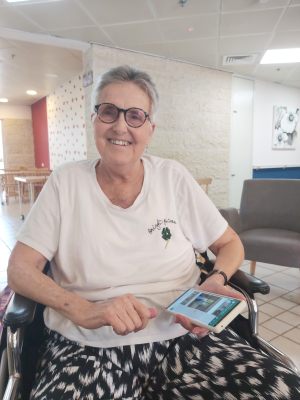 ---
May 2023 - Dinner
After our holiday in Italy we decided to enjoy
with some family and friends
the bottle of Brunello di Montalcino we had bought there.
Doreen went out of her way and as usual prepared a great meal. She included Italian bread sticks (grissini - see recipe), cannelloni and lasagna.
nd also a delicious onion soup (note the flame -in blue- melting the cheese topping) and a very successful savory tarte tatin with beetroot and ricotta cheese.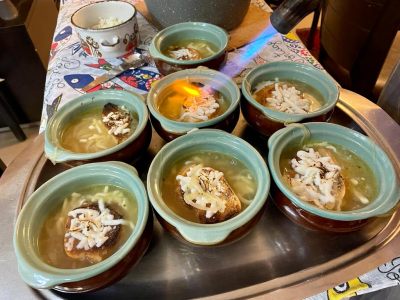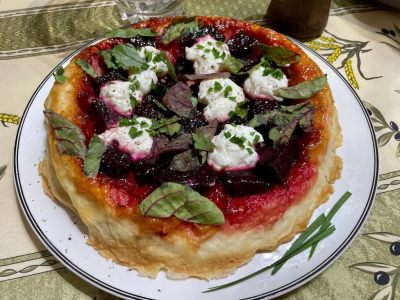 ---
May 2023 - On the way from Rome to Montepulciano
On the way we visited Lake Bolsena (a first for us), enjoyed lunch there and then drove on to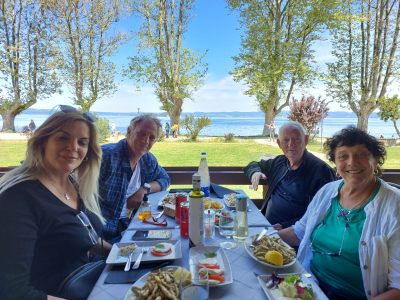 Pitigliano.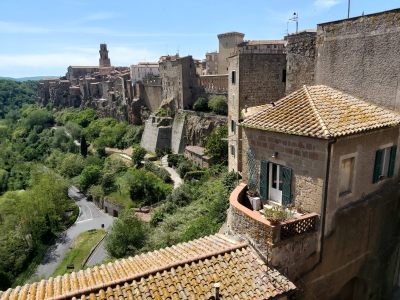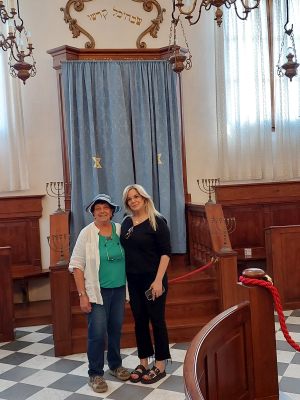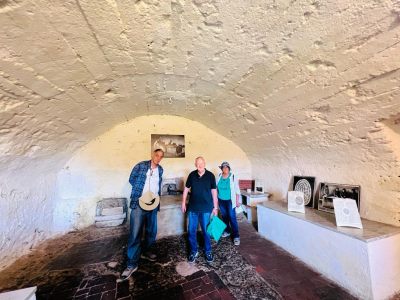 We last visited with granddaughter Dani a few years ago. A visit there is always moving, especially for Limor and Aviv on their first visit there.
The centuries old Jewish community in Pitigliano was well integrated in the town, and was often a haven from persecution. During WWII the Catholic residents help hide their Jewish neighbours.
We visited the underground remains of the kosher abattoir, a complex to dye material and a kitchen with a dough kneader, table and oven where they made matzot. The synagogue, built in 1598 was recently beautifully restored.
---
May 2023 - A short visit to Rome
On our way to Villa Poliziana we stopped off in Rome for a few days. We've all been a few times to Rome. (See here for a
previous visi
t with our three children to celebrate Aviv's 50th birthday). But a visit there, even to sites we've already visited, is always very enjoyable.
We enjoyed the food - pizzas, Japanese at the Luffy Restaurant, oysters at Baccano and a few other places. (
see also AL34 Restaurant
)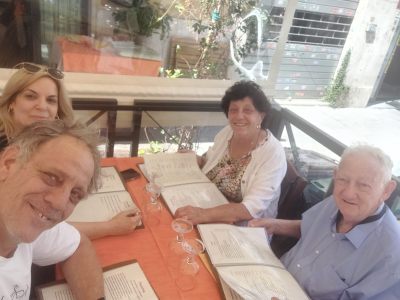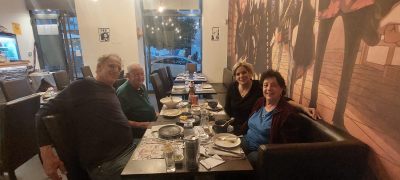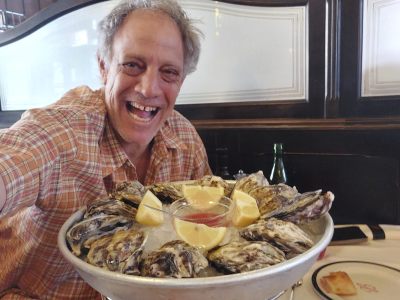 And of course the fantastic Italian gelato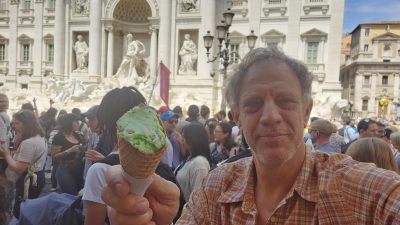 some sites - St. Andreas - Trevi Fountain - Statue of Moses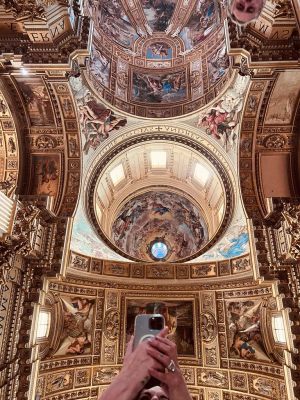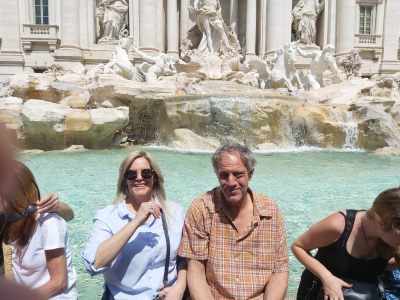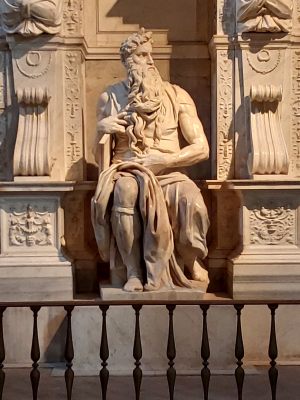 ---
April 2023 - Dan and Tanya in Israel
We were delighted to meet relatives on our Levy side. Dan Nathan and his sister Tanya (Nathan) Wood came on a short visit to Israel to visit their mother Susan (my second cousin) who is recuperating after a heart operation. We were glad they managed to meet some of our children and grandchildren who were staying with us. We wish Susan a speedy recovery.
See
Hershovitz/Levy
tree.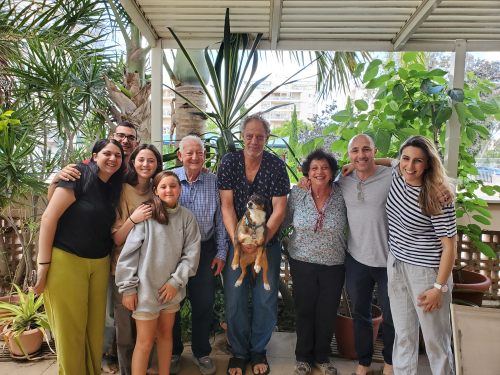 Meeting the Nathans
Amit, Itamar, Lotem, Zoe, me, Aviv, Doreen, Dan Nathan, Tanya Wood
---
April 2023 - Daughter-in-law Mikhal Segoli is in USA doing some research at the University of Minnesota.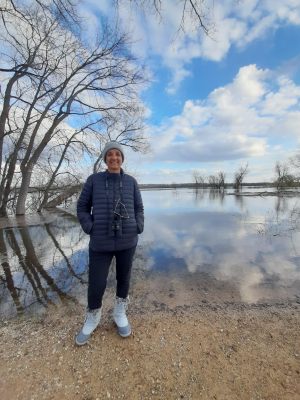 ---
April 2023 - My 83rd birthday
This week was my 83rd birthday. The dates of Jewish festivals are in accordance with a lunar calendar. I was born during Passover but this year year my birthday corresponded to Israel's Independence Day (actually a day later). On my birthay eve Doreen prepared a fantastic delicious meal and the next day daughter Vered Ron organised a dinner for me, and granddaughter
Zoe decorated a cak
e. The family surprised me by also showing up and we had a virtual one night family reunion.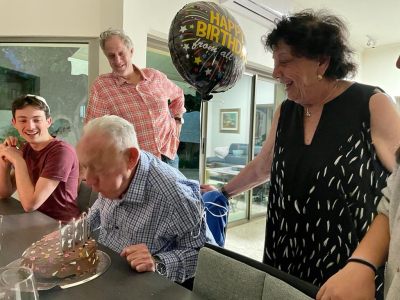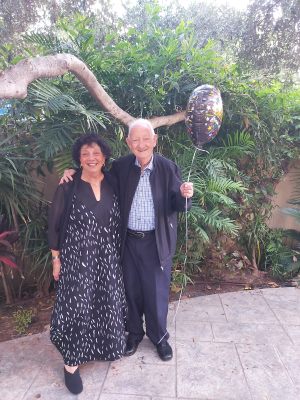 ---
April 2023 -
Yom Ha-atzmaut
- Israel's 75th birthday
This week was Israel's 75th Independence Day and we celebrated as always at the home of Terry and Carol Kessel. Once again it was lovely to see old friends again and of course to enjoy the food and the special Kessel hospitality.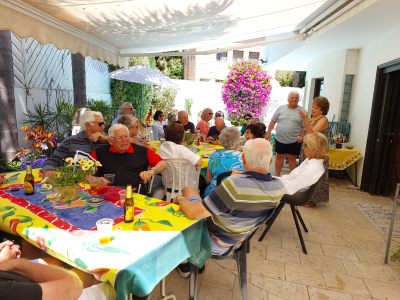 ---
April 2023 - Doreen dives with the sharks.
Doreen's diving insurance expires soon and as she is not sure whether it will be renewed she decided that her (perhaps) last dive should be a dive with the sharks (and of course with son Aviv).
Preparation with the help of Aviv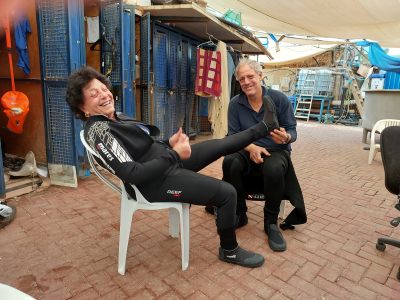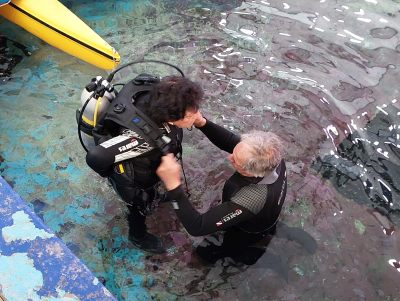 The dive.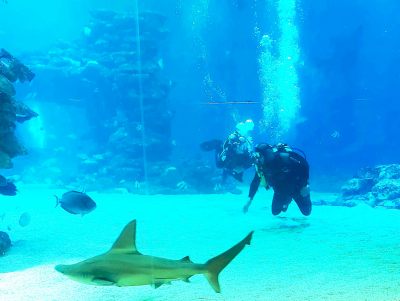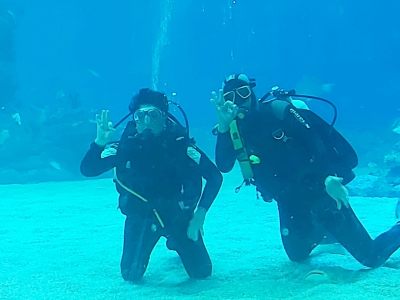 See also Archives of This Week's Picture..
---
April 2023 - Removing sea debris
Son Aviv was one of the organisers for a sea "clean-up" in Eilat today when divers removed nearly a ton of debris from the sea floor.
Aviv explaining the details and route of the dive to the volunteer divers.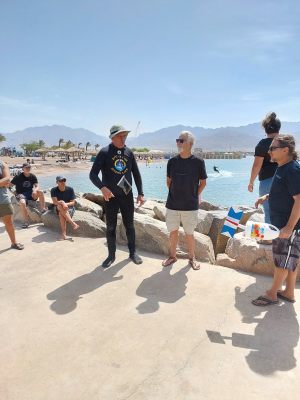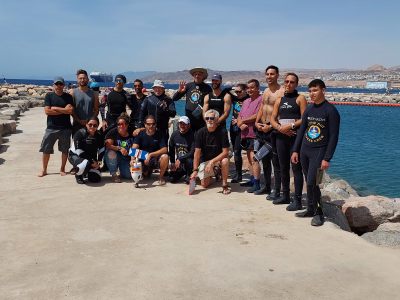 ---
April 2023 - A family meal.
With the Eilat Levys for a meal at the (disappointing) Greco restaurant.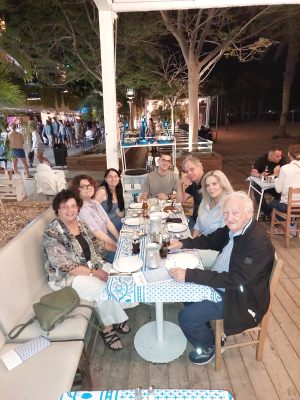 ---
April 2023 - Off to Houston
Good luck to granddaughter Lotem Segoli and her robotic group Fata Morgana. They are off to Houston, USA to take part in the FIRST
World Robotics Championship.
(
see also here
about their win in the Israel Championships.).
---
April 2023 - Uri Buri
After reading in Haaretz about
Uri
Jeremias
and his unwavering belief in co-existence even though his restaurant was burnt down, Doreen and I went to Uri Buri, his rebuilt restaurant in Acre, and enjoyed a meal there.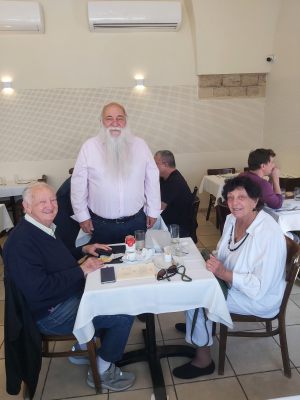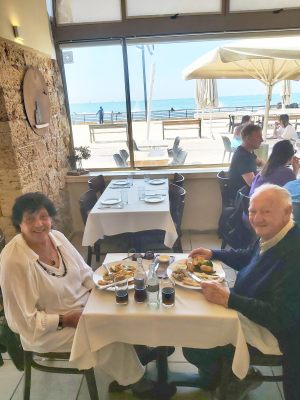 ---
April 2023 - The Segolis go on a hiking trip to Sinai.

From Moran's facebook page
(There are more pictures and the itinerary there)

"We went down to Sinai for a week (Mickal, Zoe and I) - a day and a half at Nuweba Beach and then a five-day trip to East Sinai, with friends.
It was amazing. I did the first day's trip four years ago - and still the colours, beauty and size surprised me all over again.
The children got along excellently.
The only problem with the trip was the weather - we had both a heat wave and rain."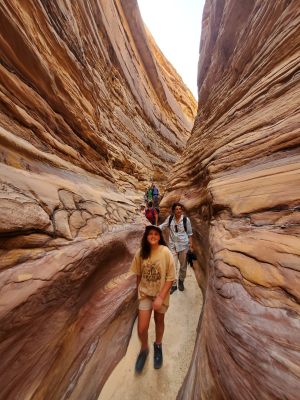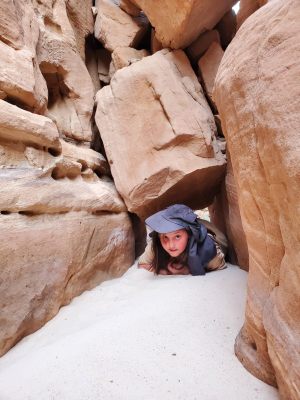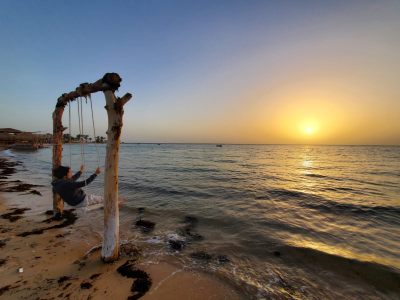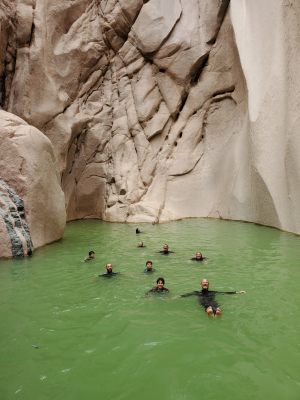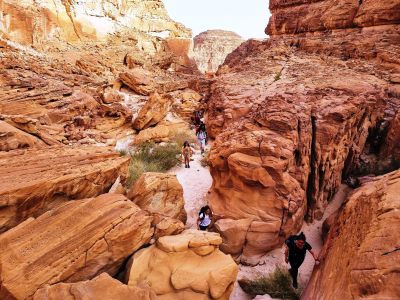 ---
Celia Lugasi preparing

mofletta

for the

Mimouna

celebration at her home. (see here).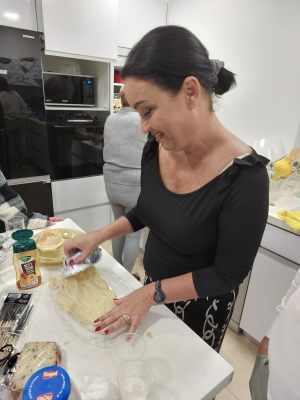 ---
April 2023 - Fillet Mignon

We were given a large quantity of fillet steak and we're not sure what to do with all of it. We invited friends Dani and Ruti Erez and Doreen's sister Louise to lunch. Doreen did some google research and prepared absolutely delicious and tender Fillet Mignon steaks in pepper sauce. With roast potatoes ,carrots, sweet potatoes and garlic and a few salads (including ingredients from our garden) it was a meal fit for a king.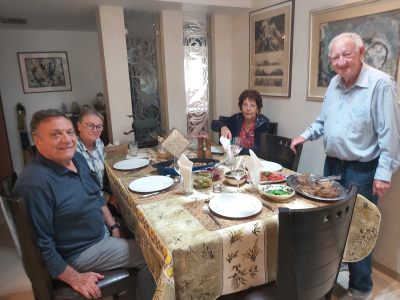 ---
Pesach

blessing
A Moroccan

pesach

tradition - the

seder

plate (with matzah,

zeroa

shankbone, egg, bitter herbs,

charoset

and

karpas

) is held above each person while reciting a blessing.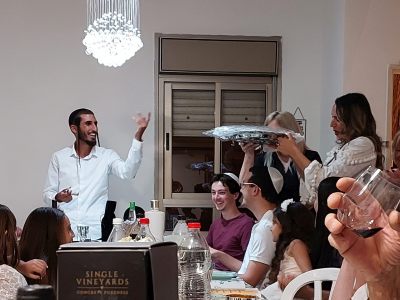 Aviel Amar encourages while Limor and Bar Amar bless Maayan and Itamar.

---
March 2023 - Eleanor (Gamsy) Pines in Israel.
Eleanor (Gamsy) Pines, Doreen's close friend from school days, is visiting Israel with her companion Dennis Feinberg and we met twice for lunch. Doreen and Eleanor were close friends in South Africa and my first memories od Doreen are of her being always with Eleanor. Eleanor lives in South Africa but we have met a few times, in Israel and South Africa and once even in
London.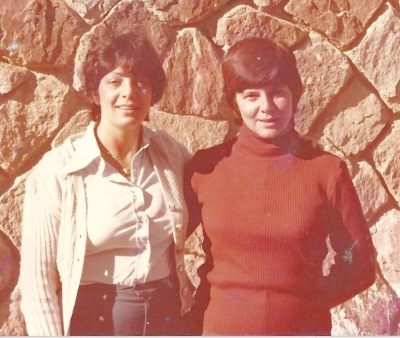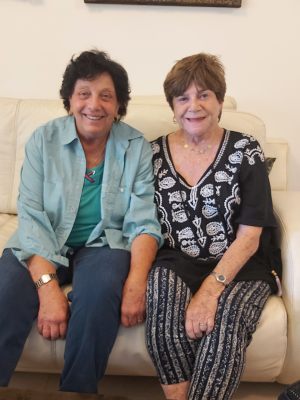 Dennis Feinberg and Eleanor, and Doreen and Eleanor in their younger days, and today.

---
March 2023 - Borough Market, London Bridge
We've visited London many times but this was the first time we went to the Borough Market, in London Bridge. We've seen many markets in various places in the world, and this one is on a par with the best of them. The variety at the market is amazing and I recommend anyone going to London to take a morning to visit.

Doreen is severely allergic to eggplant (aubergine, brinjal) so the Purple Stick, Round Graffiti and Thai Green eggplants we only of curiousity interest. The Mango, Passion Fruit, Cacao Gin was of more practical interest, as were the various curries.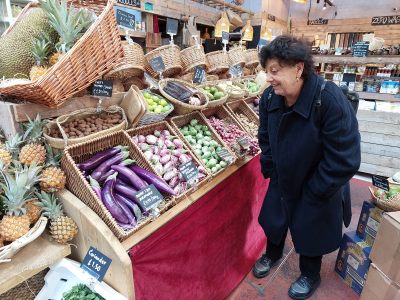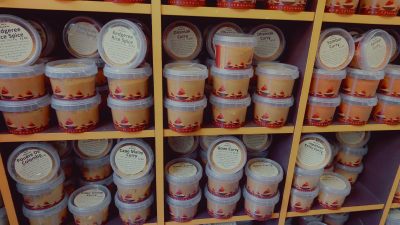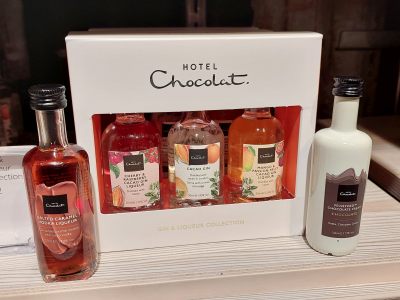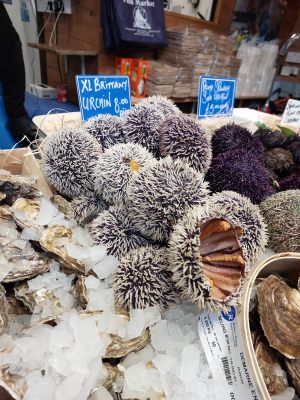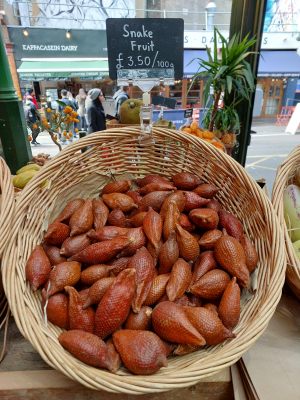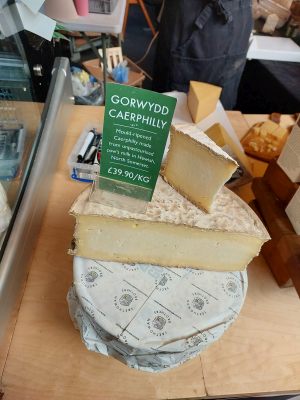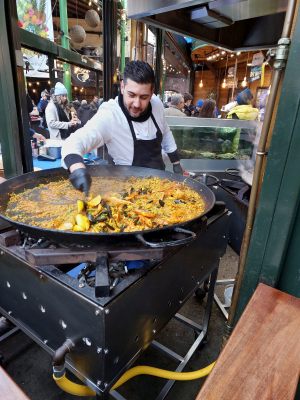 ---
London March 2023: Meeting with Peter Hassenson
Peter Hassenson and I periodically meet for interesting chats about the bridge world, in London, Israel and whenever we are at a bridge competition. Peter is a collector of bridge memorabilia and has an amazing collection which I saw on a previous trip.
This time Doreen joined us for lunch at the curiously named Doggett Coat and Badge Pub on the Thames. The setting was delightful, the food good, the location 5 minutes from our hotel convenient and the conversation interesting as always.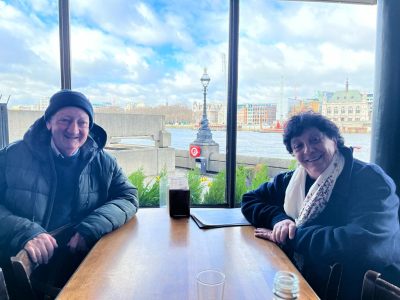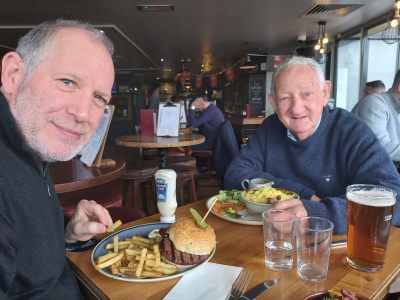 ---
London March 2023: Business at he Bank of England
On our London trip we had reason to conduct business at the venerable Bank of England in Threadneedle Street. We were not concerned with setting interest rates or any global financial matters. We simply had the grand sum of £40 in notes from our last trip, which unfortunaltely were no longer valid. We had to exchange them for new notes. It didn't take too long, and we then went and used some of our new sparkling notes to buy 2 cups of coffee at a nearby cafe.
.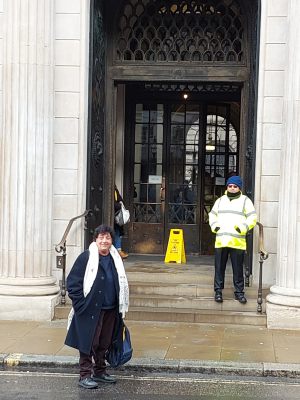 The way of dealing with queues, first come first served, was different from that we are used to. In Israel, you either wait in line in a long queue or you take a number and people are served in numerical order. At the Bank as you arrive you are seated (on a concrete ledge which I am sure was not meant for this purpose) next to those who came before you. As these earlier ones are called in everyone moves a seat up until their turn. It remided us of a game of musical chairs.
---
March 2023 - Van Gogh and us
Instead of finding or arranging special costumes for Purim this year, we took the easy way by utilizing the "Time Machine" app of My Heritage to show how we might have been and might have looked in the past. And while we were about it we asked the app to show how we might have looked if van Gogh had painted us.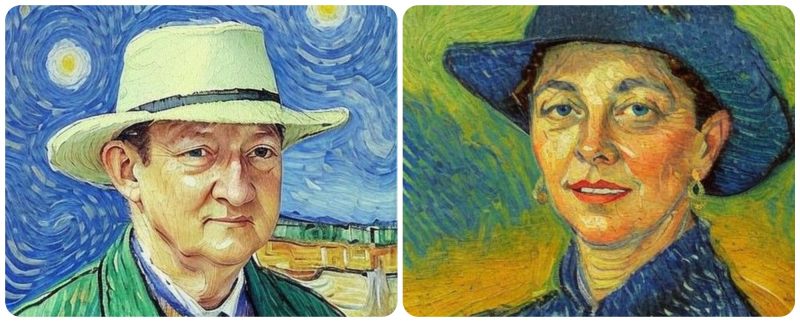 ---
March 2023 - Demonstrating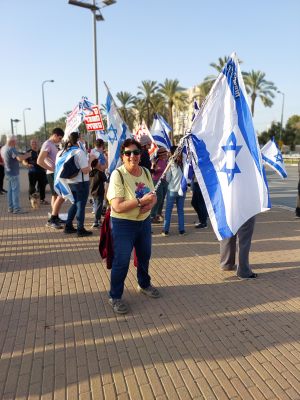 ---
February 2023 - Meeting Hilary
Doreen was thrilled to meet up with Hilary (Diner) Kahn, one of her best friends from school days who now lives in Australia. We were joined by Maureen (Konigsfest) Fain, also a school mate, and Doreen's sister Louise who had gone out for a while with Hilary's brother. I also knew Hilary and her sister Sandra. Our parents, especially Doreen's mother Gertie, were friendly with Hilary's mother Fay. There was plenty to talk about - shared experiences, what have you been doing, where is so and so - and it was a really delightful meeting.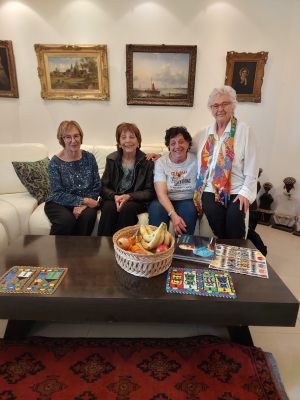 ---
Moran is 50 - Lunch for his parents' friends
Son Moran turned 50 last month and he decided to celebrate not only on his birthday but the whole year.
He spent a weekend with friends in
Amsterdam
, then with wife Mikhal
in Norway to see the Northern Lights.
Next was a luncheon for all his parents' friends who during his growing up in Hofit, Eilat and St Thomas "played a part in who he is today".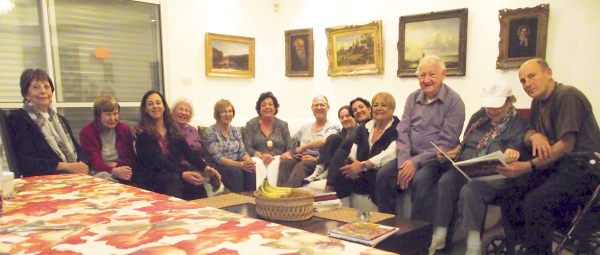 Louise Braverman, Yael Paperna, Vered Ron, Caroline Livneh, Maureen Fain, Doreen, Moran, Lotem and Mikhal Segoli, Varda Rosbruch, me, Ziona Glassman and son Dudi.

---
Lotem's team win Israel Robotics Championship
We were in Ashdod to support granddaughter Lotem Segoli at the Israel Robotics championships and were thrilled by their victory. Lotem and her team will go to Houston, Texas in April to compete in the
FIRST
International
Robotics Championships.
3rs set of the finals after a long days work about to start
Red wins!!!
Proud Granny and Saba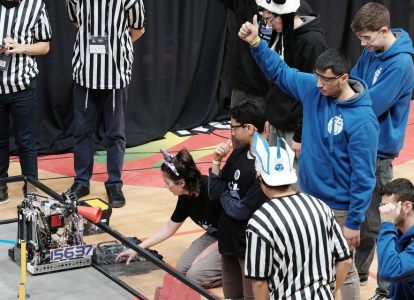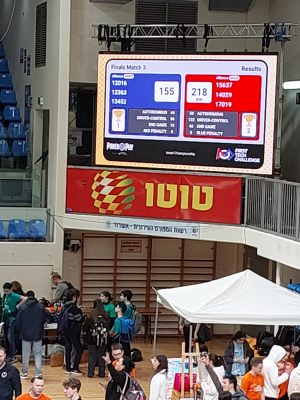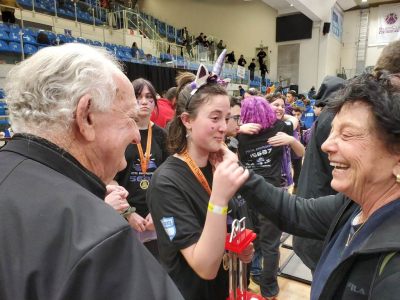 More pictures
here
and
here.
---
February 2023 - Jeff Geffen
I was very sad to hear of the passing of my second cousin Jeffrey Geffen. Jeff stayed in our home while studying as a pharmacist in Durban. He was about 13 years older than me and I looked upon him as a big brother. I have many fond memories of him and his keen sense of humnour. He was a keen sportsman until tubercolosis curtailed most of his sport activities. Jeff and his wife Doreen (Altshuler) made aliyah to Israel and lived in Ashdod. He founded and developed the
sport of Badminton in Israel
. Here is a picture of him
in badminton outfit.
Heartfelt condolences to his children Yehudit Akuka and Joel and to his grand- and great grand children.
See Levy family tree.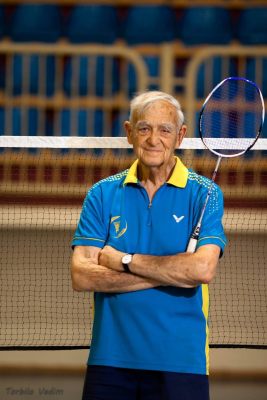 Jeffery Gefen 1927 - 2023
---
February 2023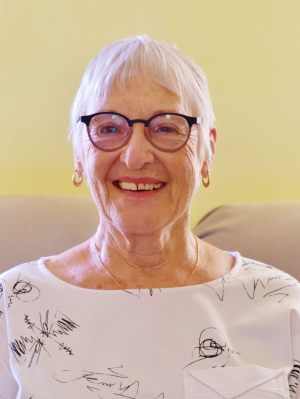 We were saddened by the passing of Bini Blass, a friend from our South Africa days. Condolences to husband Steve and family. See also a
visit to them on Kibbutz Yizrael
earlier this year and more links.
---
January 2023 - Lunch with Maureen and Maxine
We had lunch with Maxine (Konigsfest) Freed, sister of good friend Maureen Faine. We have not seen Maxine for about 60 years (!) but we see Maureen regulary (
for example
) and she has kept us updated. By chance Maxine mentored daughter Vered and husband Aviv during their orientation period at Columbus University.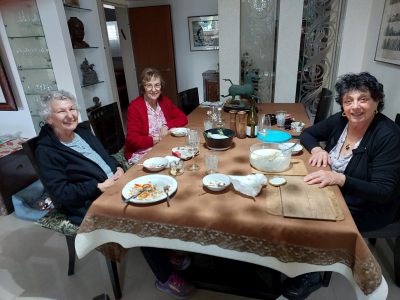 ---
January 2023 - Lunch with Archie Ogden
We had lunch this week with Archie Ogden, a friend from our days in St Thomas in the Virgin Islands. Archie and his wife Ella were close friends of ours, and we shared many happy hours with them, sometimes with Archie entertaining us on his guitar. Read what Doreen wrote about the
Ogdens in her recipe book.
Meeting Archie for lunch in 2023 Archie with guitar (about 30-40 years ago)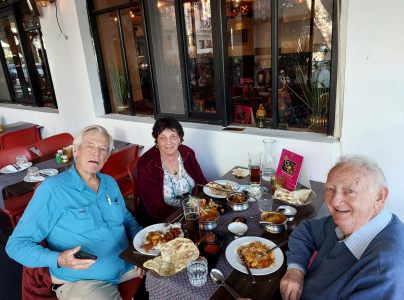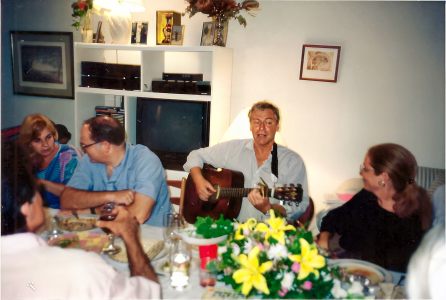 ---
January 2023 - Tirza Naor ז"ל
We were saddened this week by the passing of Tirza Naor whom Doreen had
befriended
for a number of years. See
previous post.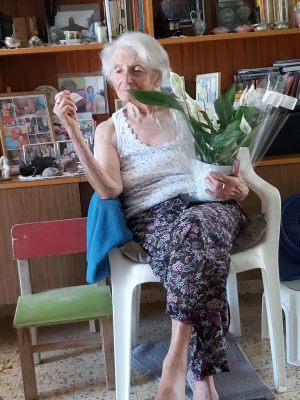 ---
Paintings by Tiina Drui
Tiina Drui is a very talented artist. Her painting of her husband Heini acurately depicts him. Here is some more of Tiina's artwork.
Heini Drui (see
Schank family tree
) was for many years a "lost" relative but we now have fairly regular contact. We have seen him and his charming wife both in Israel and in Estonia.
Click here
for a picture and more links and information.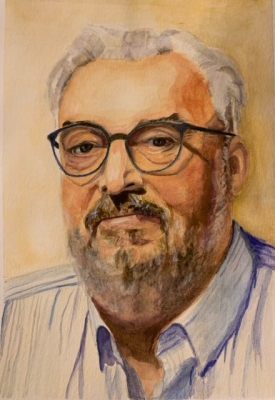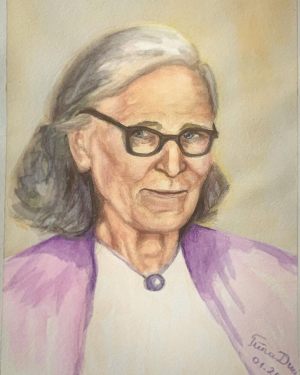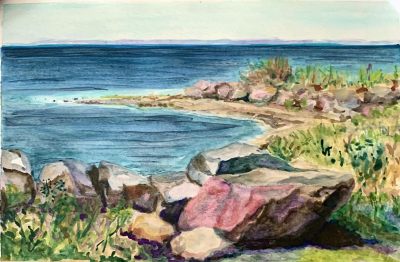 ---
Like Father like Son
About 50 years ago the Chief Rabbi of Israel Ovadia Yosef visited Coral World and I showed him around the site.
This year his son, Chief Rabbi Yitschak Yosef visited Coral World and my son showed him around the site.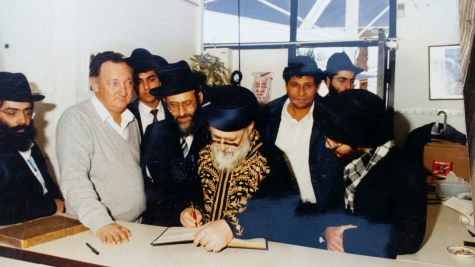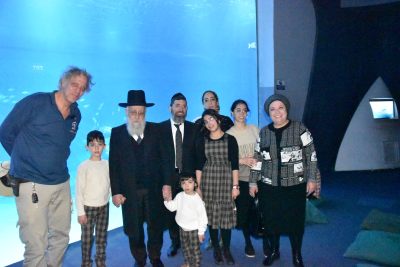 (Son Aviv is amazing - where does he find all these old photos??!!)
---
T-Shirt - Northern Lights
We were very impressed with the Segolis visit to Tromso Norway to view the
Northern Lights
. It looks like an amazing sight. That's something we've never experienced or even come close to. Our visits to the far north were all in summer. At least we did see the
midnight sun
in Tromso and had lunch and bought a tee shirt at the Northern Lights Inn in Labrador!
---
January 2023 - Moran and Mikhal in Tromso, Norway
(
See also This Week's Picture)
Moran and Mikhal enjoying a drink served in a glass made entirely of ice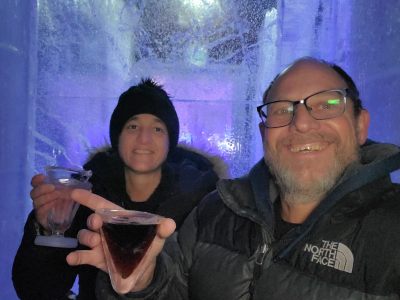 They went on a
snow-shoe hike with a sledge dog puppy
and warmed up with a fire on the ice.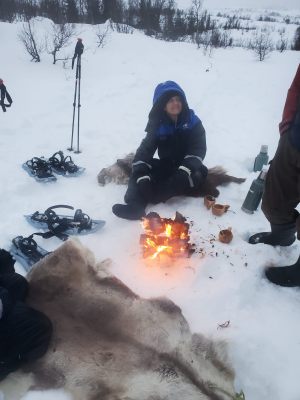 ---
January 2023 - The Nussbaums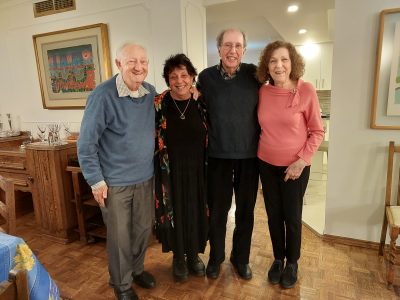 We spent a happy and delicious time in Toronto at the Nussbaums, John and Ethne, old friends from our days in Durban, South Africa. (
see last visit in 2016)
---
January 2023 - Meeting the Glogauers in Toronto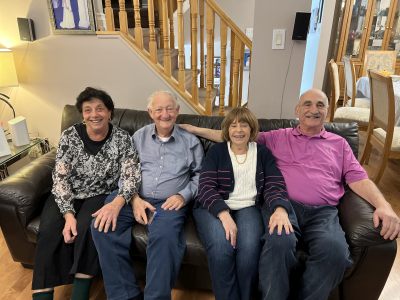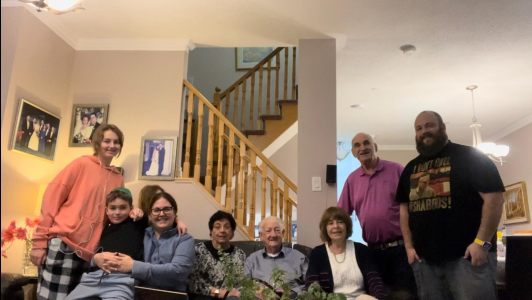 On our way home we stopped over in Toronto, Canada to visit Doreen's cousin Eileen Glogauer and Isaac. We enjoyed a Friday night dinner and brunch the next morning. Doreen and Eileen were very close when they were younger but unforunately we don't see them often enough.
Our last visit was in 2016.
see Nochimovitz tree.
---
January 2023 - Ice Skating in Toronto.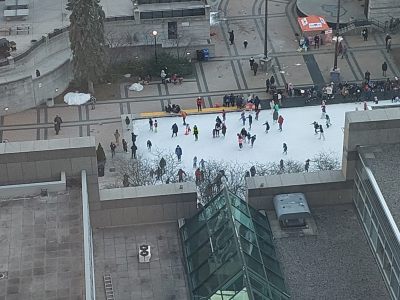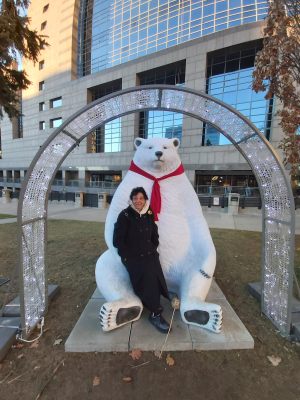 The temperature was -2C. There was no wind so it wasn't so bad. From our hotel window we saw
ice skating
below.
---
January 2023 - Lunch with Florence, Jussie and Dov Levin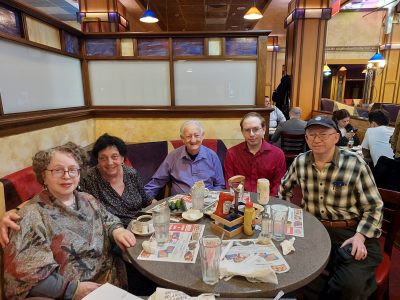 We had a long lunch reminiscing with Florence and Jussie Levin and their son Dov. Dov is on sabbatical from his post as Assistant Professor in political science in Hong Kong. We enjoy our meetings with the Levins. Florence is very 'family orientated' and keeps me up to date on the branch of the
Gordon/Glazer family tree.
---
January 2023 - A visit to Nina Shafer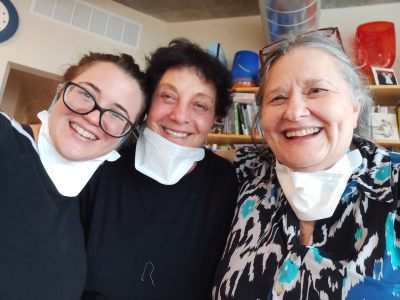 Doreen went to Philadelphia to meet Nina Schafer, a close friend from our days in St Thomas in the Virgin Islands. Doreen was happy that Nina's daughter, Hannah, was also there.
Click for our
last visit to Nina
in 2018.
---
January 2023 - The Rons visit Cuba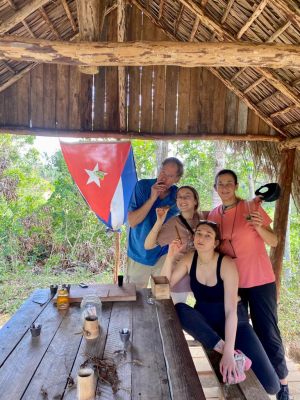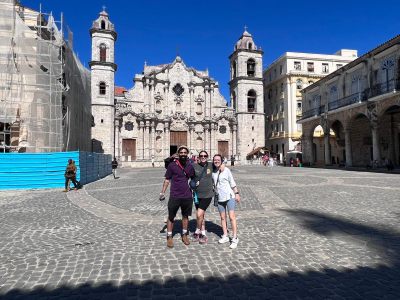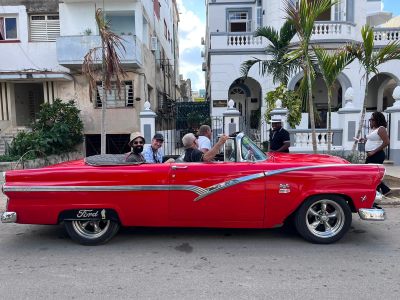 Daughter Vered Ron with Aviv, Danielle, Lior and Danielle's friend Oz are spending and enjoying a few days in Havana, Cuba.
---
January 2023 - Brunch with the Hocks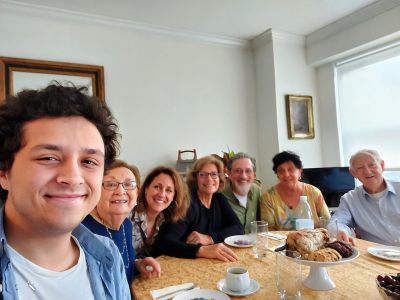 Eddie Hock, Anita Hock, Lynne Hock, Eloise Feinstein, Jonathan Hock, Doreen, me.
We were delighted to again meet Anita Hock and family. The brunch was delicious and the company terrific. See
here
and
here
for two previous celebrations with them.
See
Nochimovitz tree.
---
We had two 'free' hours in the middle of the day – so we went to eat lunch at a water hole. Quality time together in the desert with a swim – can't get better than that. Unfortunately - I got stuck in the mud on the way back and Mikhal had to have her Zoom meeting in the field.. Luckily I have friends with 4X4 that came and got us out.