December 2023 - 29th Levy Family Reunion - Midreshet Ben Gurion (Sde Boqer)
Unfortunately the 29th Reunion became the 2/3 Family Reunion as the Eilat Levys did not come due to security concerns.
The Reunion celebrated family milestones: our 59th wedding anniversary, 18th birthday of Lotem and of Amit, Aviv and Limor's
Silver anniversary
(unfortunately in abstentia.)
The T- shirts showed "Together we make a family" on the front and a delightful picture of cousins Amit Levy and Lotem Segoli as babies.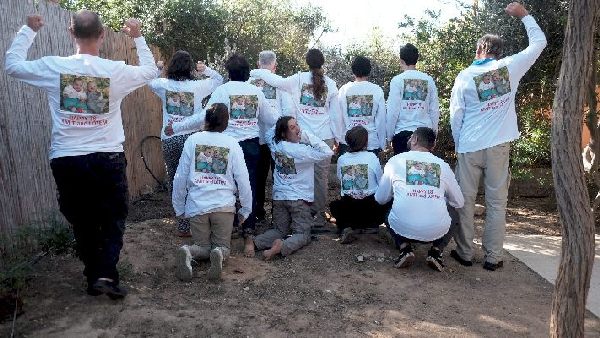 It was a very successful event with plenty and delicious food (highlighted by roast duck prepared by Maayan from Doreen's cookbook), lovely spirit and interaction among all, a birthday cake and a couple of family related games enjoyed by all.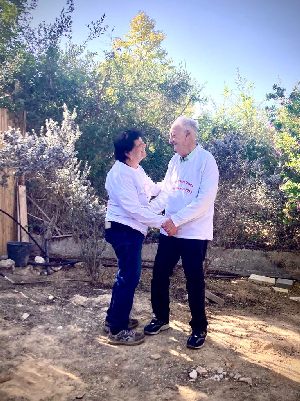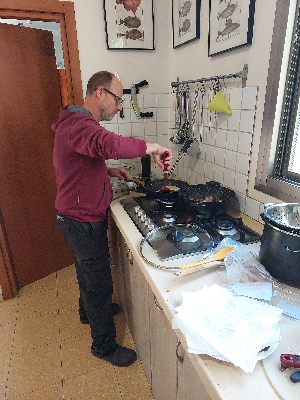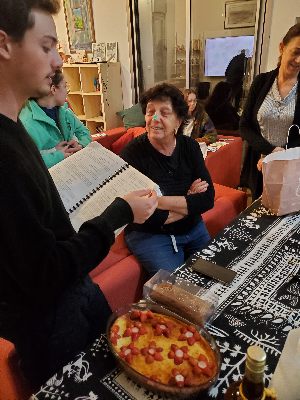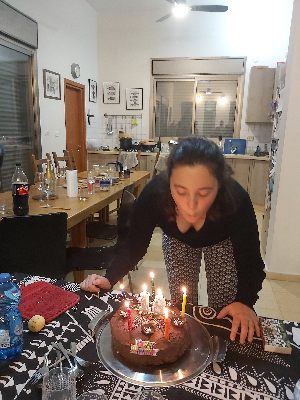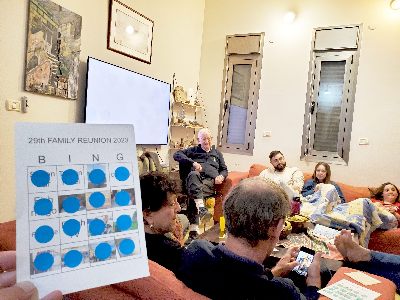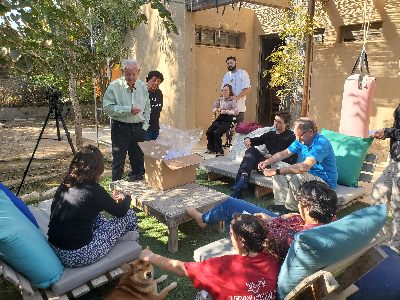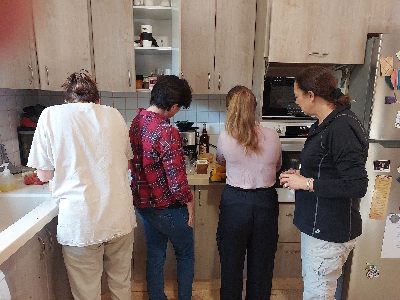 ---
December 2023 - Mikhal's educational project
The challenge of keeping the evacuees from the area under Hamas attack busy and occupied led to a successful project. Daughter in law Mikhal Segoli, a professor at the Dessert Studies department at Ben Gurion University initiated an educational programme aimed at visitors, tourists and others to observe the work of the many scientists and researchers at the campus at Midreshet Ben Gurion. These educational tours are free of charge and have attracted much interest.
At the family reunion (see above) she explained and showed the project to the Rons.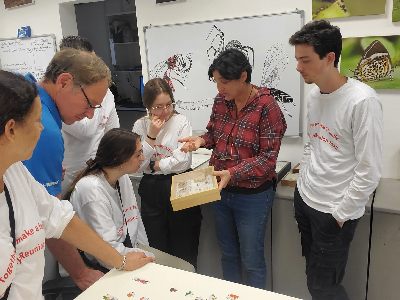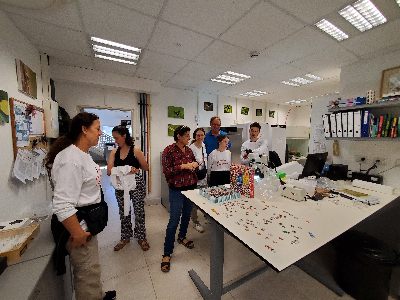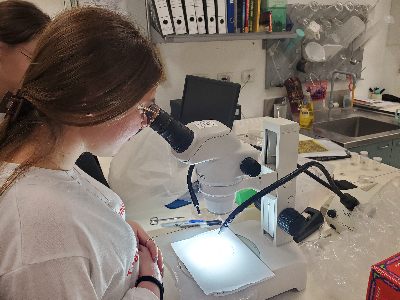 ---
November 26, 2023 - Aviv and Limor Silver anniversary
Congratulation to our son Aviv and daughter-in-law Limor on their Silver Wedding Anniversary. We wish you many many years of happiness and love.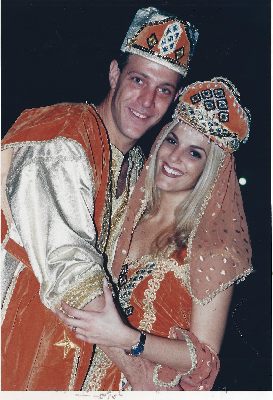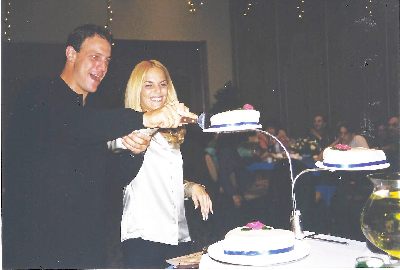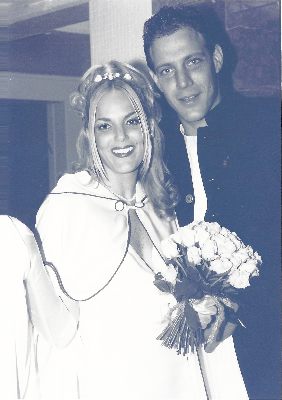 ---
November 2023 - Volunteering in the kitchen
There are still many volunteers who provide help to soldiers and displaced victims. Some of our family's contributions are described in previous posts. This last week Doreen volunteered to prepare food for soldiers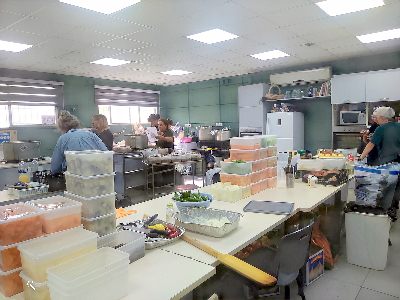 ---
November 2023 - A visit to Sydney Lossin
We enjoyed a pleasant visit to Sydney Lossin and her husband Ari. Sydney and I are second cousins - her mother and my father were cousins. We keep in contact with Sydney, who is a fellow "papaya grower." (see
Matz family tree
.)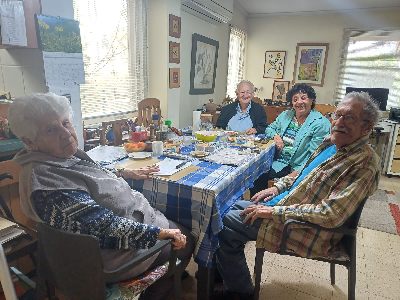 ---
November 2023 - A visit to Yaakov's "schnitzel" factory.
Doreen and Yaakov Bortenstein are second cousins - his mother and Doreen's father were cousins. We see Yaakov often but this time we went to his factory and were most impressed with what we saw, and with the huge amount of turkey "schnitzel" he produces. (
see Schank family tree.
)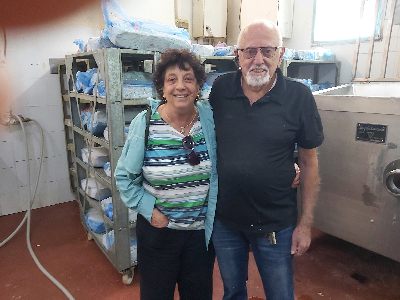 ---
November 2023 - Wordle in 1 !
Like many of my friends and acquaintances I am addicted to the New York Times Wordle Puzzle, which I play every day. In addition, there are other copy-cat Wordle sites, including Wordle Unlimited, which I occasionally play. Today the ultimate was achieved!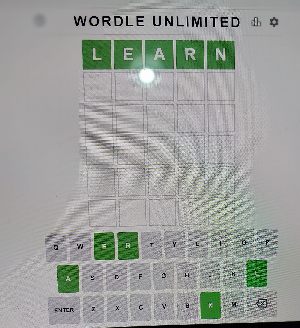 ---
November 2023 - The Segolis pick fruit
The Segolis came for the weekend and helped us pick about 30 of the almost last papayas and the avocados from our trees. Our avocado yield this year was smaller than usual but we still had many more than we could eat.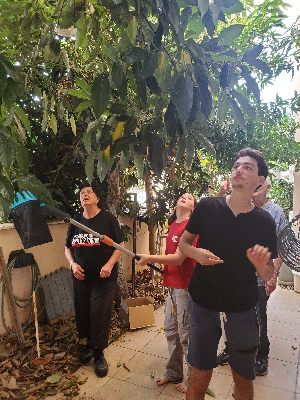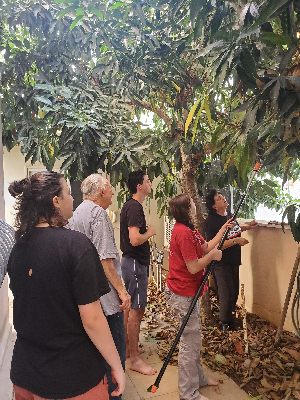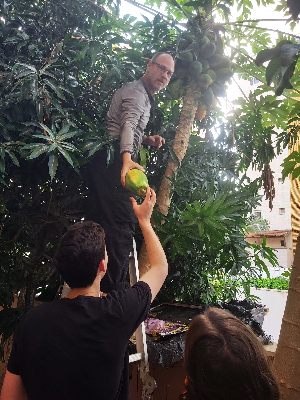 ---
November 2023 - The Segolis hike
On the way to spending the weekend with us the Segolis went on a hike in the Judean Desert at Nachal Ashelim. Last week's heavy rainfalls added to the attraction of the site. Here Maayan, Lotem and Zoe wade through water.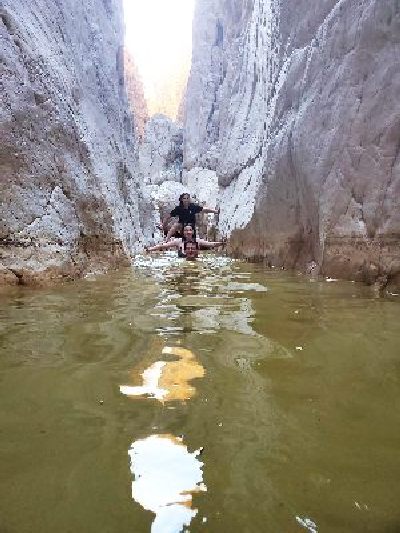 ---
Papaya ideas
As we reported previously we have a
glut of papaya
s in our garden. We eat them in the traditional way - fresh with lemon, but the family has come up with new papaya ideas. The Segolis prepared Cheese Fondue with papaya and son-in-law Aviv Ron prepared papaya with his extra spicy sauce.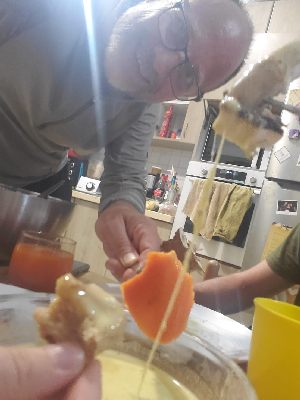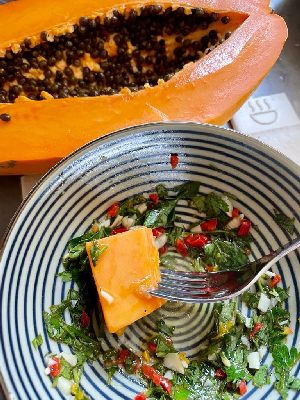 ---
Denise helping pick crops
We're proud that niece Denise Braverman (in black shirt) has also joined those helping farmers in the war area pick their crops.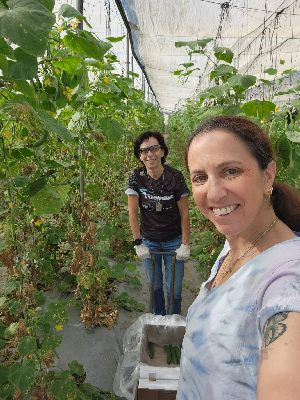 ---
November 2023- A concert at Vera Salomon Centre
We attended a short concert at the Vera Salomon Centre where Doreen's sister Louise is living. The performers were two young army volunteers
Itai Paz
(violin) and Noa
Noa Kapelyushnik
(piano) who delighted us with their excellent playing. After the concert there was a very moving homage to Israel and the army by the devoted Phillipine caregivers at the centre.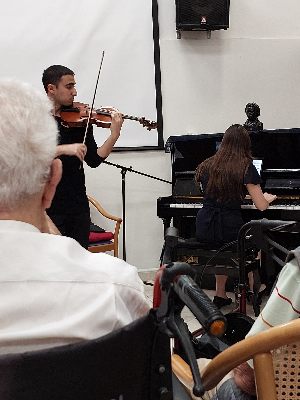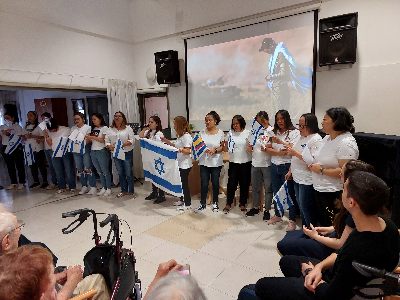 ---
November 2023 - A visit to Louis Nickel's humus restaurant.
We paid a visit to Doreen's cousin Louis Nickel who runs a 'Humusia' restaurant in the Talpiot market. We were impressed with the speed at which he prepares the orders and even more impressed by the delicious humus lunch we had.
(see Nochomoviz family tree.
)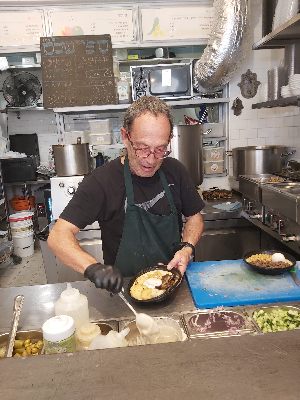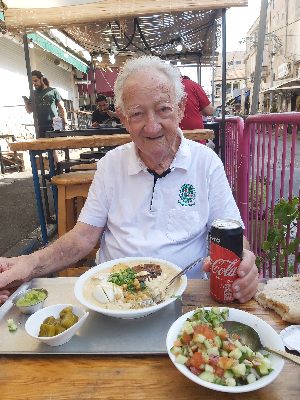 ---
News from the Terazza family
We received a welcome email from Vanessa (Glasser) Terazza updating us with news and pictures about her family. The
Glezer family tree
has been updated.
Belated congratulations to her daughter Micaela who married Marco Balboni last December.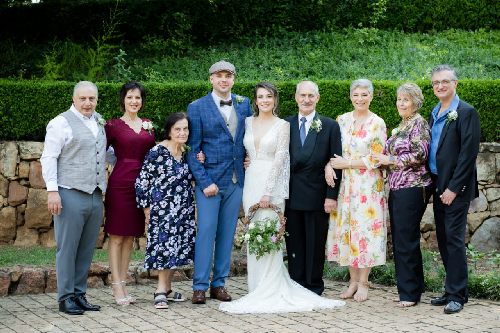 We were also happy to get pictures of her daughter Cinzia Mulder's little girl Mia.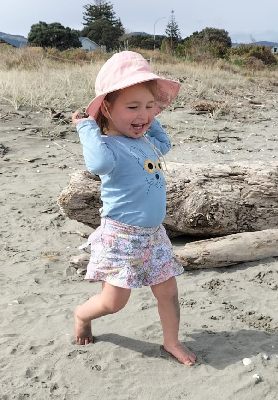 ---
October 2023 - Our soldier guest
We hosted a 'lone soldier', Jordyn, for a weekend. She's doing her army service and her parents live in USA. The Rons came over on Friday night and we all enjoyed the company and the (vegetarian) food. The next day we had a sushi meal at the shop near us. We hope we'll be able to see and host her again .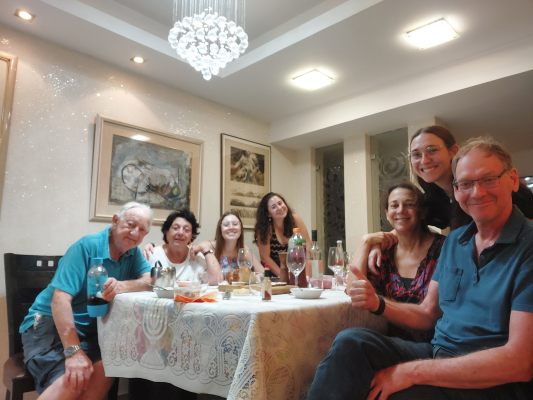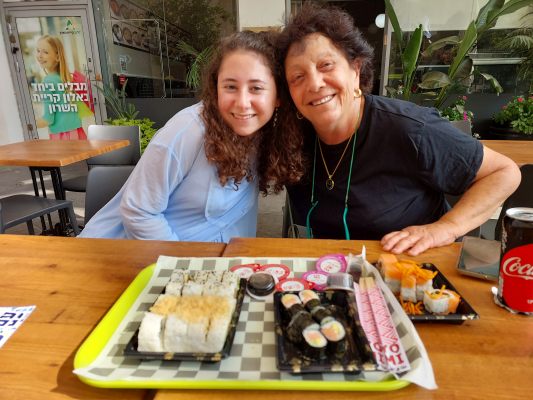 Me, Doreen, Lior, Jordyn, Vered, Dani, Aviv Jordyn and Doreen

---
October 2023 - "Bring Them Back"
Niece Denise Braverman and her running group organised an event on behalf of the release of hostages.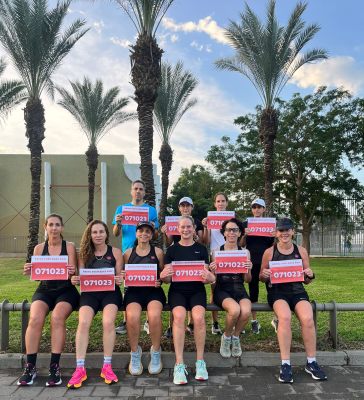 The signs read "Bring them back. 071023"
(Denise is front, second from right)
---
October 2023 - A meal for 500!
Doreen's cousin Yaakov Bortenstein helped organise a day of relaxation (יום כיף) for 500 soldiers in a battalion that had seen heavy action. Included was a steak meal for all - a tremendous untertaking involving among other thing a mobile meat smoking apparatus.
(See also here.)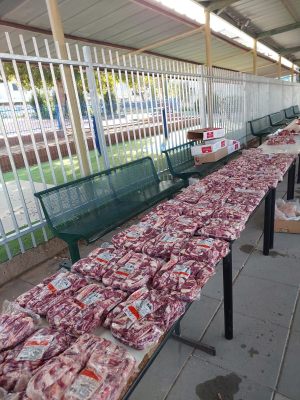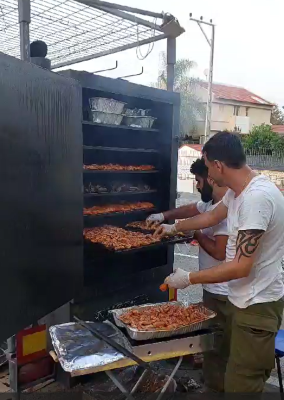 ---
Papayas from our garden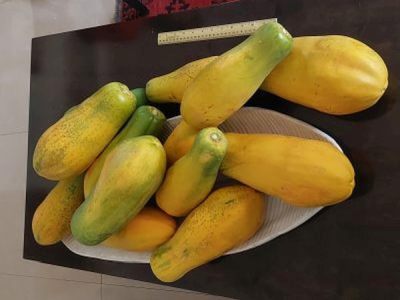 We have had amazing success with our papaya (paw-paw) yield this year. Above are just some of (yes 'just
some
of') the papayas our 3 trees have given. They are enormous (see 12" /30cm ruler) and tasty. We are happily suppling family and friends and anybody who will take them.. There are still many more on the tress waiting to ripen. Paw-paws are common in South Africa but what was once a delicacy for us in Israel is now our usual breakfast and after dinner dessert.
Next in line from our garden are avocadoes but the yield this year looks disappointing, expecially compared to previous years.
---
The Segolis visited us this weekend and we learnt about their volunteering efforts in the south. We were happy to see
grandson Maayan
and to help granddaughter Zoe
prepare cookies
for soldiers.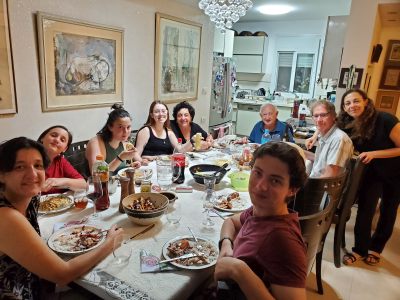 ---
October 2023 - War effort
Two of our grandchildren are in the army in non-combat positions. We are proud of the actions of our family who are devoting their time and efforts for the relief of those affected by the hostilities. Here are just a few examples.
Our cousins the Shavits who live in the south near the area of hostilities spent a week with the Ron family in Herzliya. Dani is organising collecting supplies and money. Moran is in charge of the war effort for foreign citizens (many of whom were also killed) and Mikhal is helping with the over 500 foreigners living in their area. Zoe is entertaining children from affected areas and Lotem is doing robotics activities. Limor, together with her colleagues in the Egged bus company, is distributing much needed items to those in need. Ilay and Amit are hosting 3 friends,.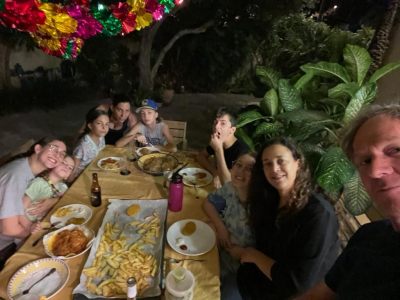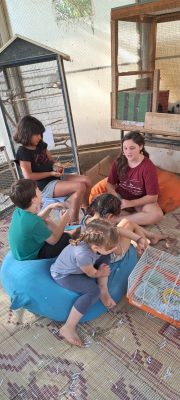 Segolis preparing supplies - Aviv Ron and Danielle picking peppers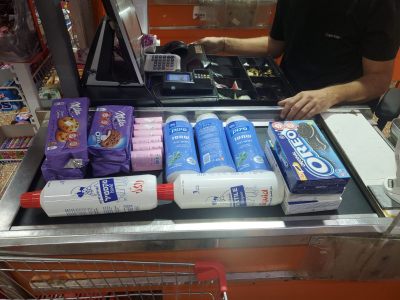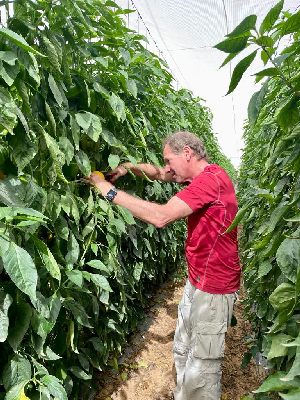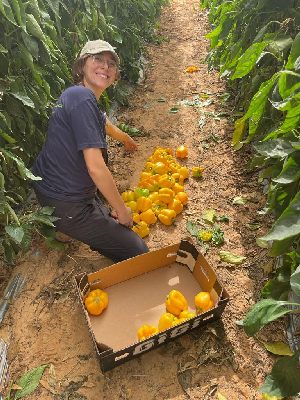 ---
---
October 2023 - Attack by Hamas.
We are in Riga and the news of the attack by Hamas is very disturbing. We hope our friends and family are safe. Mikhal Segoli's sister Naama and family were visiting son Moran when hostilities started, and when a siren sounded they all went into the special strong room. Naama's husband Moishik, who is a yoga teacher, did yoga exercises with the family in the strong room.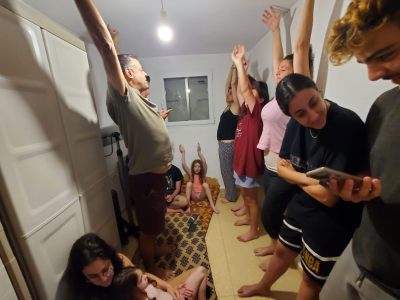 ---
September 2023 - Dinner at the Klotnicks with Raphael and Tamara Cotton
Raphael Cotton, son of my late cousin Cecile, is visiting Israel with Tamara his wife. They are a lovely couple and have been staying with us for a few days. Tamara has a cousin who also lives in our building. We went for supper to relatives Joel and Beryl Klotnick in their
sukkah
As usual with the Klotnicks the food was excellent and the company wonderful. See
Matz
and
Hershovitz/Levy
family trees.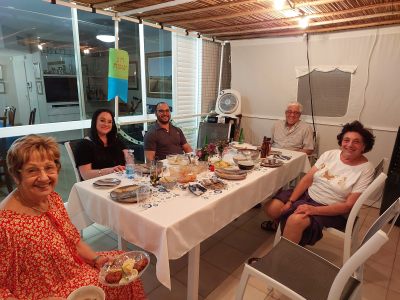 ---
September 2023 - Lunch with the Cartoons
We were delighted that Selma and Lennie Cartoon could join us for a sushi lunch from the
sushi shop
near us. We have known the Cartoons for many years but don't see them often enough. Lennie is a cousin of my late Aunt Malia (Weinronk) Levy.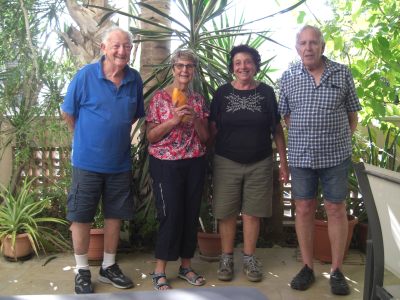 ---
September 2023
We had a very pleasant dinner at Yam 7 Restaurant with bridge friends Finn and Ann Wardi from Finland and Jan Kamras the President of the World Bridge Federation.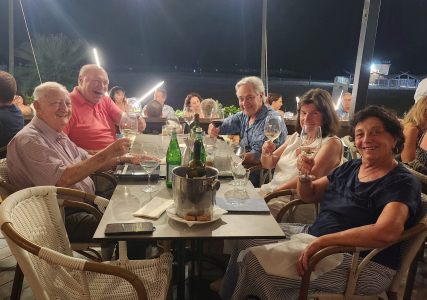 ---
Rosh Hashanah September 202
On the first evening of Rosh Hashanah we celebrated at the home of daughter Vered and Aviv together with the Eilat Levy family. The Segolis joined us for the second night for a mini family reunion. (
see here
).
As usual when the cousins get together they play the game of Talisman which never seems to finish.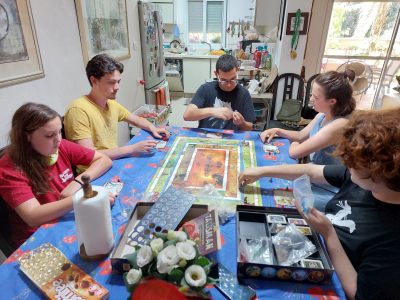 ---
September 2023 - Friday night dinner
On the first Friday night after our return from our Morocco visit the Segolis and Rons joined us for supper and had to listen to accounts of our Moroccan trip.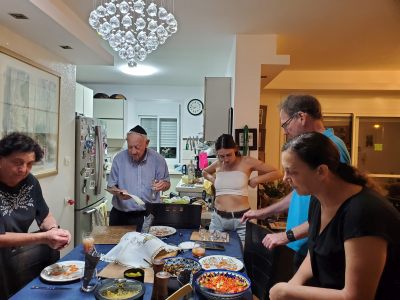 ---
August/September 2023 - World Bridge Championships
There are 3 categories in the World Bridge Championships: Open, Women, Seniors and Mixed. I am proud that the new Women's World Champion is Israel. The team consists of 6 young women who overcame challenges from 23 other countries.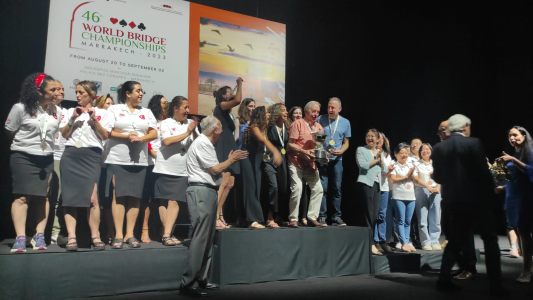 ---
September 1013 Vered with friends from school days.
Daughter Vered Ron met with two friends from her school days who are visiting Israel - Simona Gringart from Australia and Patisa Rasmussen from Denmark..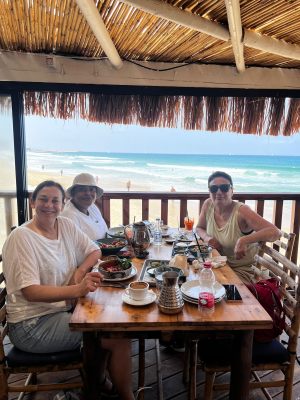 ---
August 2023 - The Tournament Directors at the
World Bridge Championships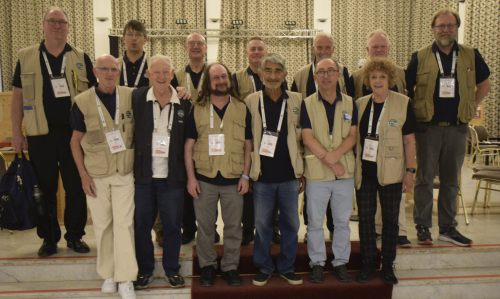 Back: Laurie (AUS), Marc (NED), Gordon (ENG), Henrik (SWE), Ton (NED - Reviewer), Robert (AUS), McKenzie (USA)
Front: Bertrand (FRA), Eitan (ISR - TD Com. Chairman), Matt (USA), Antonio (ITA - Head TD), Rahmi (TUR), Jeanne (NED)
Absent: Jacek (POL - Home TD)
---
August 2023 - Another KFC
To add to my collection of family and KFC all over the word: In Marrakech Morocco at the train station. and next to the main central square Jamaa el-Fnn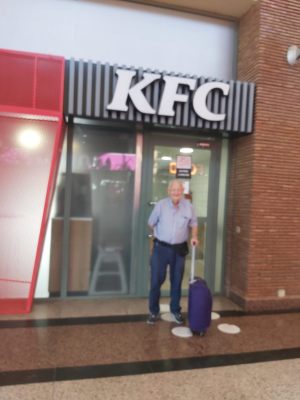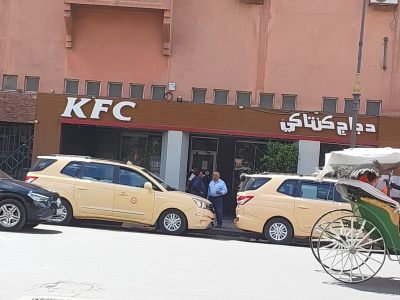 Here are links to some previous family KFC visits
Beersheva Israel,
Wuhan China
,
Brasov Romani
a
,
Moscow Russia
,
Shenzhen China
,
Mongolia and Istanbul
,
Berlin Germany
,
Belfast N.Ireland
,
Prague Czech,
Madeira, Wroclaw Poland, London., Nicosia Cyprus, Sinai Egypt, Netanya Israel and New Delhi India.
---
August 2023 - The Segolis visit Bulgaria.
Moran and family has a fantastic visit to Bulgaria. This is what Moran whatsapped us:
We went as a family with my sister-in-law's family for a week's vacation in Bulgaria. We let our children choose what to do. I was happy that they chose to do a 4 day trek. The weather was good (a bit cool and cloudy for me - but the others loved it, the views were beauti,ful. and the cabins were basic with an amazing view.
It's great that the older children still want to spend time with us – especially on hikes.
After the hiked we spent two restful days at a luxury chalet and a day at a Water Park and a short visit to Sofia.
We visited the natural History Museum. It was exciting and we were proud of the kid's knowledge of and interest in the animals.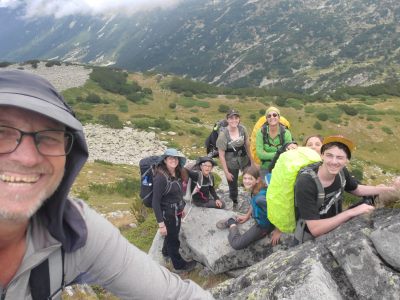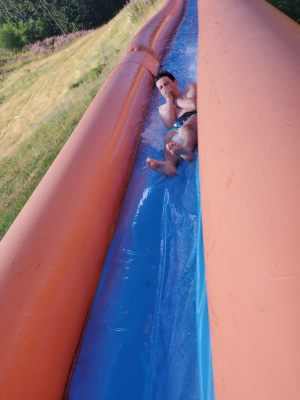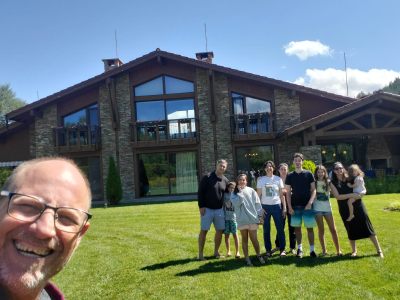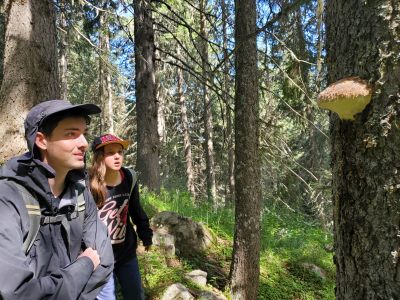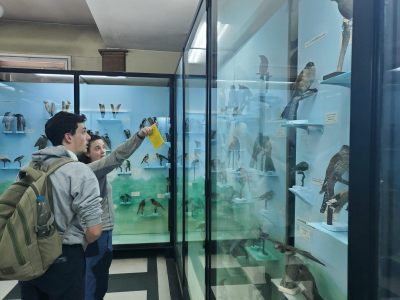 There are more pictures on the pages of
Maayan
,
Lotem
and
Zoe.
---
August 2023 - A visit with Hans Reijzer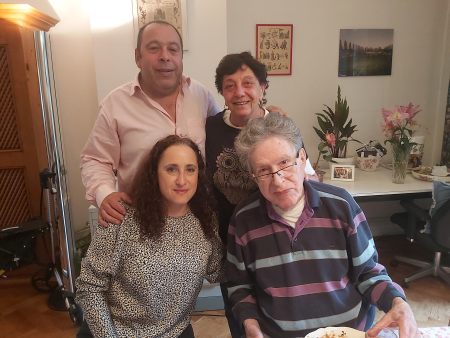 While I was in Veldhoven for the World Youth Championships
(see here)
Doreen spent part of the time in Amsterdam, where our good friends the Reijzers live.
Hans' children, their spouses and grandchildren make sure that a least one of them
visits Hans every day.
When Doreen visited Hans, Ezra Reijzer and his wife Rivka ordered Indonesian takeaway
for dinner
---
August 2023 - Albert Cuyp Market, Amsterdam
After the bridge event in Veldhoven I joined Doreen for a couple of days in Amsterdam. As usual my highlight of a visit to Amsterdam is eating
haring
which I did a few times at the interesting Albert Cuyp market.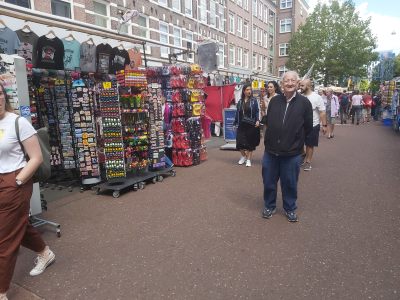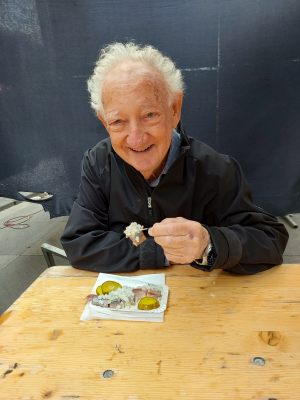 ---
August 2023 (1962?)
When we lived in Durban (South Africa) the Durban Jewish Club was the venue for nearly all Jewish activities. Cultural shows, weddings, 2nd night passover seder and much more were celebrated there. Doreen and I had the reception for our wedding there, and my father was for a time the Chairman of the Executive Committee of the Club. The Club was very popular with Jewish youth, especially the f courts. Unfortunately, due to the dwindling Jewish population in Durban the Club no longer exists.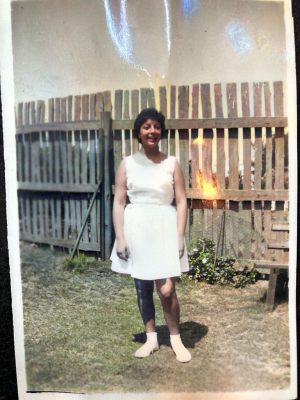 Our good friend Maureen Fain sent us a picture taken
well over 60 years ago of Doreen in tennis outfit
at the courts of the Durban Jewish Club.
---
August 2023 - our produce
During the time we were away, our garden didn't have a vacation and continued growing but unfortunately we couldn't enjoy the fruits of our efforts. But the next best thing was that daughter Vered Ron and family came to our house and picked the ripe produce which they thoroughly enjoyed. All was not lost for when we came back for the 3 day "interval" we found and enjoyed another ripe papaya and many ripe mangoes and some avocados. Well eat a few and the Rons will enjoy the rest.
Gooseberries - Papayas - Basil and tomatoes with unusual shape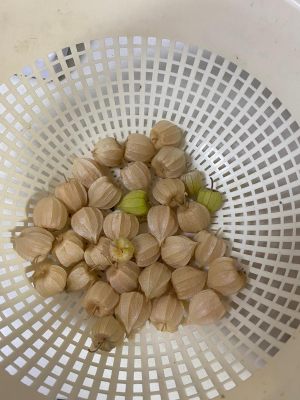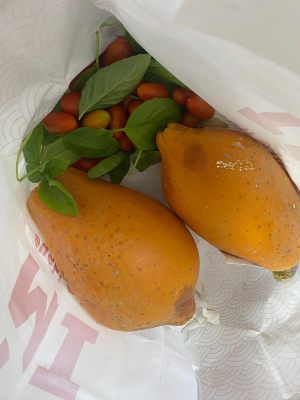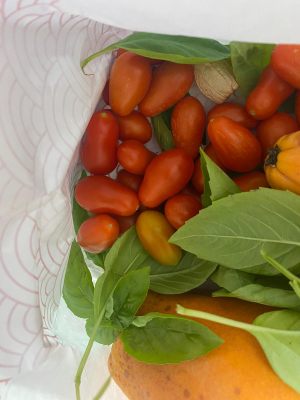 ---
August 2023 - WBF Youth Championships
The World Youth Bridge Championships take place every second year. There are five categories from Under 16, Under 21, Under 26, Under 26 Women, Under 31. The opening ceremony was impressive with the 36 countries dressed in their country uniforms.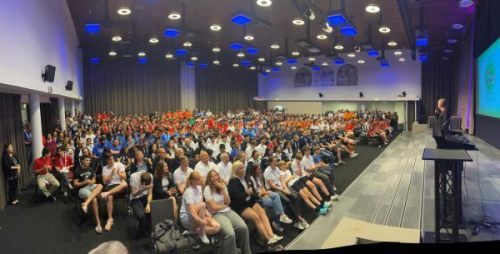 ---
August 2023 - A short visit to Utrecht
While I was busy with bridge at a bridge championship in Veldhoven, Netherlands, Doreen took time to visit the city of Utrecht and was surprised to find a place that was a pub 6 days a week, and on Sunday was a church with services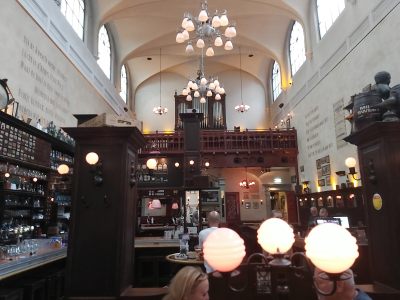 ---
Yet more KFC's - including Netanya!
The fast-food chain KFC is opening branches in Israel. As KFC is my favourite fast food restaurant I was delighted that there is now a KFC in Netanya a 10 minute drive from our home. Of course I couldn't wait to go there, together with half the population of Israel who apparently also like KFC. The staff was a bit overwhelmed but we managed to receive our meal without too long a wait. Doreen's salad came without a fork or spoon (sorry we don't have any) so we returned it but the rest of the meal was good. As always, the family looks for KFC's in the various countries they visit and send me photos - the latest from Moran in New Delhi India.


Netanya, Israel - New Delhi India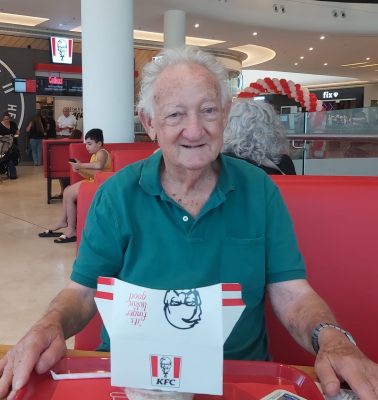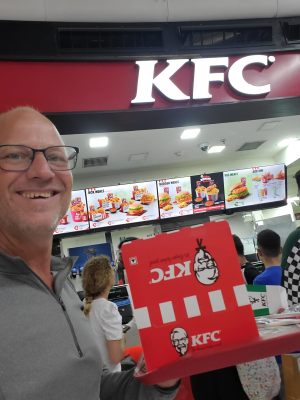 Here are links to some previous family KFC visits
Beersheva Israel,
Wuhan China
,
Brasov Romani
a
,
Moscow Russia
,
Shenzhen China
,
Mongolia and Istanbul
,
Berlin Germany
,
Belfast N.Ireland
,
Prague Czech,
Madeira, Wroclaw Poland, London., Nicosia Cyprus, Sinai Egypt
---
July 2023 - Papaya trap
Our papaya trees are bountiful this year and there are tens of papayas waiting to ripen and fall down. Unfortunately we will be away and most of the papayas will fall into the street below and splatter. So we designed a papaya trap to catch the falling fruit. So far, one two been 'trapped' (see the first one below). Some will fall while we are away- daughter Vered will be happy to come and pick those up.


We scoured the neighbourhood for discarded wood and b
uilding the trap was a joint venture - it may not look the prettiest but it should do the job.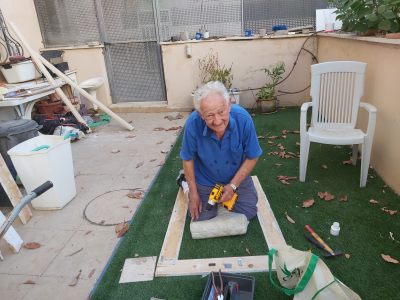 ---
July 2023 - The Nathans visit the Ginsbergs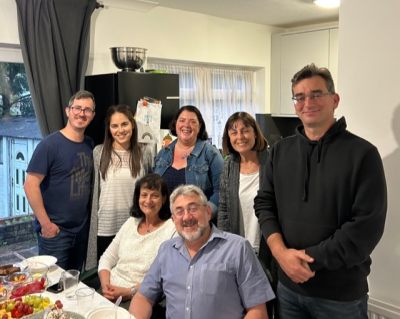 We received some photos from Melodie Nathan the daughter of Doreen's cousin Lucille Melamed.
We haven't had much contact with them for some time so we were very pleased.
Melodie and husband Mark and daughter Gabriella were in London and, especially Gabi, enjoyed
the London sights and experience. (see picture below) .
In London they visited Melodie's aunt Wendy Ginsberg and family and this was the first time that Gabi has met these relatives.
On our trip to London earlier this year
we also enjoyed a visit
to the Ginsbergs.
See:
Nochimoviz/Nickel family tree.
Ryan and Natalie Smith, Melody Nathan, Wendy and Dave Ginsberg,
Hillary and Hillel Weintraub.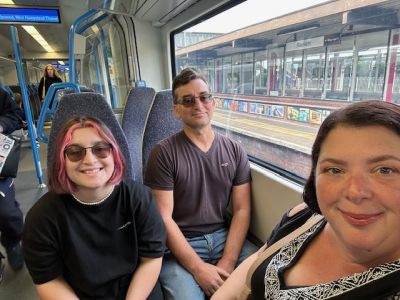 Gabriella, Mark and Melodie enjoying London

---
uly 2023 - March to Jerusalem
We are proud that our daughter Vered and the Ron family are taking part in the March to Jerusalem to protest the government's undemocratic attempt of "judicial overhaul".
---
July 2023 - Wimbledon Tennis
Daughter Vered was invited to Wimbledon to watch the final of the Ladies Championship.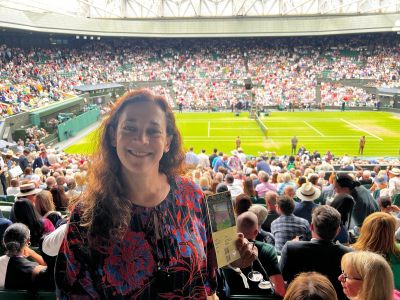 ---
July 2022 - Moran treks in India
Moran and two friends visited India where they went on a few treks.
Moran writes:
"We delayed the start of our 8 day trek by one day due to a storm.
Today we drove to the start of the trek but the road was blocked due to a rock slide. We waited about 4 hours till they moved the rocks."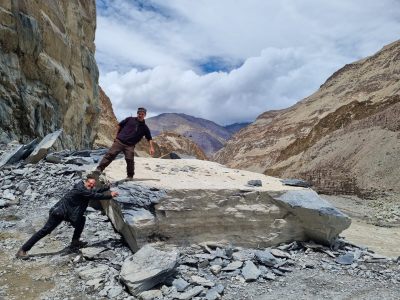 "We went on an 8 day trek, starting at a beautiful valley (Markeh Valley) that has a flowing river in it. We had to cross it many times.
We then climbed to the mountains, that were snow covered. The weather was good but it did rain a bit. "