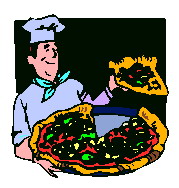 Favorite Family Recipes

Vegan Chocolate Cake
Gravlax with Mustard Sauce
Braised Fennel with capers and olives
Chicken Marbella
Strawberry pancakes
Cuban Bread
Spatchcock Chicken
Lemon Mousse
Vegan Sufganiyot (jelly doughnuts)
Roast Duck and Apple Sauce
Banana Flambe
June 2015 - Birthday Chocolate Cake
Profiteroles
Melktert - Mom's Lemon Custard Pie
Whole Wheat Challah
Fennel Soup
Jackie's Cheesecake
Roast Turkey Breast with Pear Slices
Strawberries and Spinach Salad
Beets - two recipes
Sugar-free Lemon Meringue Pie
May 2009 - Chicken in the oven with lots of gravy
January 2009 - Fennel and Orange Salad
October 2008 - Orange and Beetroot Soup
September 2008 - Rum Raisin Bread (good for a sweet New Year)
April 2008 - Passover Muffins
February 2008 - Tsholent
January 2008 - Makluba
January 2008 - Lettuce soup
December 2007 - Potato/zucchini latkes
Go to Doreen and Eitan's Homepage

---
(Doreen) When preparing a family feast to celebrate granddaughter Ilai's 12th birthday and son Moran's 47th birthday, I went out of my way to make special things, like gravlax. Because this is less salty than smoked salmon we prefer it.
1 kg salmon, filleted and boned
1/4 cup sugar
1/4 cup coarse salt
2 Tbs cracked white pepper preferable, or black
1 bunch dill
Scale and de-bone salmon, leaving skin intact. Tweezers are useful for taking out bones! Cut broadside in two equal pieces. Wipe dry with a paper towel. Combine sugar, salt and peppercorns. Line a deep glass dish with a little of the mixture and some dill. Place salmon skin side down in dish. Sprinkle mixture and dill thickly over salmon. Cover with second piece of salmon, matching thin side to thick and spread any remaining ingredients over top. Cover with plastic wrap and place a light brick on top. Place in cool place for 5 hours. Drain off liquid, and return brick in place. Refrigerate for about another 48 hours, turning fish around at least twice during that period, draining any liquid..
Taste. If too salty, scrape off the top layer. Slice thinly. Decorate with lemon slices and fresh dill. Keeps for up to 2 weeks.

MUSTARD SAUCE FOR GRAVLAX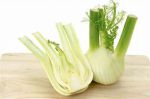 BRAISED FENNEL with capers and olives (adapted from Ottolenghi)

With fennel bulbs so plump and firm this is an ideal winter appetizer.
2 Tbsp red-wine vinegar
1 Tomato, cubed (no need to skin)
1 Cup vegetable/chicken stock
1 Tbs capers, drained and chopped
2 Tbs (about 5 pitted) calamata olives, pitted and chopped
A few fronds of chopped thyme leaves
1 tsp sugar
Juice of 1 orange as needed
Wash and dry fennel.Cut off flat bottom and the tops (reserve any leafy fronds for garnish). Cut each fennel from top to bottom into four slices about 2.5cm wide, in half if fennel are thin.

In a large frying pan heat two and a half tablespoons of oil on a medium high heat. Add fennel with some black pepper. Cook for five or six minutes, turning once, to brown nicely on both sides. Some of the pieces may fall apart. Don't worry; cook them with the rest of the fennel. Add more oil if necessary.

Pour in the remaining oil, add the garlic and fry for a few minutes, being careful not to let it burn. Lower the heat to medium, and add lemon juice and red wine vinegar. Add the tomato, ½ cup of the stock, the capers, olives, thyme and sugar. Cover the pan cook for at least 15 minutes, adding remaining stock as necessary. Turn fennel over at least once and cook until fennel is soft and the sauce has thickened. (You may need to remove the lid and increase the heat for the last two or three minutes to reduce liquid.) Taste. If too acidic add some fresh orange juice to smooth out flavor; it may need a little salt.

Fennel can be served warm or refrigerated for up to three days at this point. To serve, bring to room temperature and serve with crusty bread.
Serves four.
Other fennel recipes: F
ennel Soup
Fennel and Orange Salad
---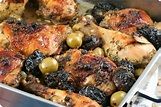 CHICKEN MARBELLA
(with Ottolenghi and my adjustments)


The chicken needs marinating for at least a day, preferably two, to soften and flavour properly.

5 thighs+ 9 legs or 2 chickens with skin or just plenty of legs
5 garlic cloves, crushed
1 tsp fresh oregano, torn, plus extra for garnish/good sprinkling of summer savory/herbs de provence
1/3 cup red wine vinegar
1/3 cup olive oil
1 cup pitted green olives
1/3 cup capers, plus 2 Tbsp of the juice
1 cup pitted prunes/Medjoul dates pitted and quartered lengthways
6 bay leaves
Good grind of black pepper
1 cup dry white wine/ 1Tbs cider vinegar +1 Tbs lemon juice topped with water to make 1 cup
Sprinkling of brown sugar/silan
Salt and black pepper
Place all the ingredients, apart from the wine and brown sugar. in a large bowl. Add the chicken and mix everything together. Cover the bowl with plastic wrap and leave in the fridge to marinate for 1 to 2 days, stirring the ingredients a few times during the process.
Preheat the oven to 180C. Remove chicken about an hour before roasting to bring to room temperature.
Spread out the chicken on a large roasting pan, along with all the marinade ingredients. Pour the wine over the chicken and sprinkle with brown sugar. Place in the oven and cook for 50 minutes, basting 2 or 3 times, until the meat is golden brown on top and cooked through.
Remove from the oven and serve with rice.


---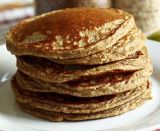 STRAWBERRY VANILLA PANCAKES
What to do with a surfeit of strawberries? Well after you have eaten Strawberry and Spinach Salad (in Recipes, below), after eating delicious strawberries sprinkled with the best Balsamic Vinegar and after you have dipped firm strawberries in melted chocolate, you can make Strawberry Pancakes. And if any are left over, fresh or frozen, make Strawberry Sauce,
1 cup all-purpose flour
2 Tablespoons brown sugar
2 teaspoons baking powder
Pinch salt
1 egg
1 cup milk
2 Tablespoons canola oil
2 Tablespoons vanilla extract
1 cup chopped strawberries


In a medium bowl, stir together the flour, brown sugar, baking powder and salt. Pour in the milk, oil, egg and vanilla, and mix until well blended. Stir in the strawberries.
Heat a large griddle over low-medium heat, and coat lightly with oil. Pour ¼ cup batter per pancake. Cook over medium low heat so strawberries will come out nice and mushy. Flip with a spatula when bubbles appear in the center. Cook until golden brown on the other side.
Makes 12
2 cups strawberries, hulled and quartered
¼ cup sugar/sweetener
Squeeze lemon juice
1 tsp cornstarch mixed with a little water
Sprinkling of cinnamon
Combine all ingredients in a pot with a thick base. Bring to boil, stirring until thickened. Adjust taste if necessary and cook until strawberries are soft. Let mixture cool slightly then mash a little with a potato masher. Serve cool over any pancakes, cheese cakes and also yoghurt.

---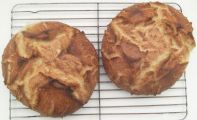 CUBAN BREAD
After Eitan was hospitalized for a bleeding ulcer that included a blood transfusion, raising his iron level became a challenge. The iron tablets he took restricted having milk products and whole wheat flour (which is a staple for us) and the need to cut down on fats. This bread recipe taken and adapted from Bernard Clayton's New Complete Book of Breads is a winner – even my maid who refuses to taste anything I make loved this bread.
6 Cups bread or all-purpose flour
4 ½ tsp dry yeast
1 Tbs salt
2 Tbs sugar
2 cups hot water (120-130F)
Place 4 cups flour in a mixmaster bowl; add yeast, salt and sugar and blend with flat paddle. Pour in hot water and beat for 3 minutes.
Add remaining flour, ½ cup a time until dough takes shape and is no longer sticky.
Change to dough hook and beat for 8 minutes until smooth and elastic.
Cover with plastic wrap and leave to rise 15 minutes. In winter I heat a glass of water in the microwave then place the bowl inside together with the hot water.
Punch down dough and on work surface cut into 2 pieces, shaping each one into a round. Cut an "X" with scissors or sharp knife. Place dough on baking sheet spread with cornmeal. Place in a cold oven. Place a large pan of boiling water underneath and switch on oven to 200C. Check after 40-50 minutes and bake until the loaves are a deep golden brown and sound hollow when thumped on bottom.
Note: There was no bread flour in my cupboard and only a limited amount of all purpose flour. After searching for something not whole wheat, I substituted 1 cup semolina flour for all purpose flour. The bread was delicious, soft inside with a delicious crispy crust. Since there is no fat, the bread stales quickly but freezes well.

---
SPATCHCOCK CHICKEN
(Doreen):
I always thought that spatchcock chicken was a certain breed of fowl. That is until we visited Roy and Gill Myers. Gill prepared spatchcock chicken - also known as butterflied chicken - which Roy proceeded to debone very professionally. I was just about to say that I would happily have the skeleton when Roy picked it up and placed it on his plate urging us to share the carved chicken.

The day after the end of Pesach is when Jews of North African descent celebrate maimuna. When we were in Eilat we thoroughly enjoyed celebrating maimuna with Limor's parents or with other Eilati friends. But we were not invited to any maimuna festivals in Netanya, so we decided on the next best thing. We, like the rest of Israel, would celebrate by having a barbecue. In addition to grilled lamb we had spatchcock chicken which is a way of cutting and roasting chicken so that the breast remains moist and the dark meat is done to perfection. And it worked!

With a sharp knife cut two parallel lines down either side of the backbone and then free the bone by cutting along the lines with a meat scissors. Remove the bone. Clean the inside of the chicken and cut off any fat.
Peel the garlic then add to a food processor with the other ingredients and process until fairly smooth.
Spread over and inside chicken, leaving uncovered overnight in fridge. Take out and bring to room temperature. Pat dry before putting in hot 220C/425F oven for about 40 minutes until thermometer inserted in breast shows 65C/150F

---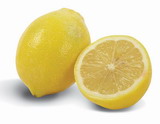 LEMON MOUSSE

Having a lemon tree can be quite a burden. After handing our lemons to family, friends and neighbours – people on the street were suspicious of my offer – what do you do? Lemon curd, lemon chicken, lemon pie and then of course there is lemon mousse. This one has a lot of steps but is delicious, light and airy. Serves 10.


4 eggs, separated
250g caster sugar1

OR

3/4 cup artificial sweetener (2Tbs sugar/maltitol/stevia/Splenda mix)2
½ cup fresh lemon juice and zest from 1 lemon
5 Tbs cold water
15g powdered gelatine
1 container non-dairy whip
Large handful toasted almonds
In a mixmaster beat egg yolks, sugar/sweeteners, lemon zest and juice until the sugar/sweeteners have dissolved and the mixture has thickened a little.
Place the cold water in a small heavy based saucepan and sprinkle the gelatine over it. Let stand to soften, about 10 minutes. Heat, without stirring, over low heat until gelatine has dissolved. Remove from the heat and leave to cool slightly.
In a separate bowl, lightly whip the cream until soft peaks form when the beater is removed. Stir the dissolved gelatine into the whipped cream and fold it into the egg yolk mixture.
Beat the egg whites in a separate bowl until soft peaks form when the beater is removed.
Place the bowl with the egg yolks inside a bigger bowl filled with ice ­cold water. Gently fold the whipped egg whites into the egg yolk mixture with a metal spoon. Stir the mixture until it begins to thicken, then pour into a glass bowl and refrigerate for two hours, or until set.
Sprinkle the toasted almonds over the top of the mousse and serve.
Any remaining mousse (most unlikely!) can be stored in the fridge for 2-­3 days.
1Measure out the caster sugar and whirl in coffee grinder for a few seconds
2Combining different artificial sweeteners together with a little cane sugar hides the taste of the sweeteners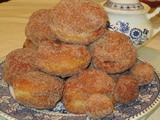 UNBELIEVABLY DELICIOUS VEGAN SUFGANIOT

Vered invited us to join her family together with Moran's family to light the first Channukah candle. She had seen a suitable recipe on the internet* and the kids were going to help her prepare the doughnuts. Since both her daughters are vegan the thought of vegan doughnuts was not appealing. How wrong we were. They were arguably the best sufganiyot we have ever tasted – light and tasty. This recipe makes 20 medium sufganiyot (jelly doughnuts).


INGREDIENTS

1 kilo white flour

2 Tbs instant yeast

1/3 cup sugar

1 tsp grated orange zest

½ cup canola oil

3 cups soy, rice or almond milk (or real milk if not vegan)

2 Tbs brandy/Grand Marnier/ Drambuie

1 tsp salt

FOR FRYING

1 deep and wide pan

2 liters canola oil

TO SERVE

Icing sugar

Jam

Chopstick, knife, teaspoon

In a mix master combine flour, yeast and sugar. Combine grated orange peel, oil and milk and add to flour, mixing on lowest speed until mixture comes together. Add salt and brandy and mix for 10 minutes more until dough is pliable and slightly sticky. Transfer to a large oiled bowl and cover with nylon wrap or a slightly damp towel. Let rise for 1 hour or until doubled in size.





Place a sheet of baking parchment on an oven tray and oil it lightly. Flour a working surface. Roll out the dough to 2 cm thickness. With a floured 6cm round biscuit cutter or a drinking glass cut out rounds. Cover again.

Heat canola oil in large round pot to 150C degrees or when a wooden spoon is placed in the oil small bubbles appear by the shaft of the spoon. If the bubbles are large the oil is too hot so reduce flame and wait two minutes.

Carefully place sufganiyot in oil, making sure that the side that was upmost on the tray is placed down into the oil. Let the sufganiyot fry for two minutes, making sure they don't turn over. When there are no more bubbles by the dough carefully turn them over and continue frying until the bubbles again disappear.

Remove from oil with a slotted spoon and place on paper towels.

If you need to fry the sufganiyot in two rounds make sure to heat the oil again before placing the second round in the oil.

When ready to serve dust lightly by passing icing sugar through a sieve. Let guests make their own holes in the sufganiyot and fill with jam of their choice – strawberry or red fruits are best.

*This recipe is translated from a recipe on ynet by Ugilia Dolsa.






(For another Chanuka recipe see Doreen's potato zucchini latkes.




---
ROAST DUCK and APPLE SAUCE
(Doreen:)
Somewhat complicated but simply delicious.

My grandson Maayan recently remarked that he has never eaten roast duck at home. That was the impetus for me to finally prepare the 2 ducks sitting in my freezer. It was rated "Restaurant quality" by Vered and had the approval of Maayan and the rest of the family. What else could I want?

Defrost 2 ducks (about 2k each), so they will be thawed the night before roasting. Burn any feathers (yuk!) and cut out excess fat. Rinse and dry well. Prick skin all over with a sharp pointed knife, being careful not to cut into meat. Make a marinade with ginger, garlic, a little soy sauce and balsamic vinegar, pepper and salt and rub into meat in cavity and over skin. Place ducks on a roasting tray in a roasting pan and place under a fan to dry if possible. Leave uncovered in fridge overnight. Take out 2 hours before roasting. Heat oven to 180C. Place ducks, breast side up, on the roasting rack, and pour about 2 cups boiling water over skin but not into cavity. Place in oven.

After 30 minutes pour off liquid, reserving ½ cup for marinade. Add concentrated OJ (or juice from an orange and some grated zest) and a dollop of honey to the reserved hot water and baste skin. Turn duck over and baste every time you turn it. It should be ready after 1 ½ hours, looking gorgeously crisp and tender. The juices from the fattest part of the thigh should run faintly rosy when the duck is pricked. Switch off oven and leave in oven for 20 minutes to rest.

Serves 4- 5 people per duck.

Apple sauce is a must. You can buy the stuff, but homemade sauce is great. Take 3-4 GrannySmith green apples. Pare and chop into small cubes or grate on a large grater. Place apples in a thick bottomed saucepan; add ¼ cup concentrated apple juice and an equal amount of water to the pan, ½ tsp ground ginger and 2 grinds of cinnamon. Cook over low until apples are really tender and then mash a little with a potato masher. Add a little sugar if still not sweet enough. Cool.
Any sauce left over can be served the next day with either yoghurt or ice-cream.
(It can be made with red apples, but then reduce the amount of concentrated apple juice.)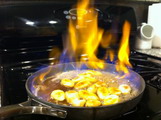 BANANA FLAMBE
Some recipes have a season. This is a recipe I recently revived from my cookbook under the title Guavee Flambee.
When we made aliyah in 1965, in summer the country would be overpowered by the smell of ripening guavas. As our agriculture diversified the guavas disappeared and today are a luxury fruit. But bananas are plentiful and delicious and today are grown under netting to reduce the amount of water the bananas need.
Banana Flambe is a party dish particularly suited to Hannukah when singing Suru Hoshech (Banish the Darkness), but good at any time. If you have a portable gas stove that you can bring to the table when you light the bananas, even better.

Serves about 10 people

1 -1 ½ ripe but firm bananas per person
3 Tbs butter
4 Tbs sugar/artificial sweetener
¾ cup orange juice (1 Tbs concentrated OJ intensifies the flavor)
½ cup Contreau/ Rum
Good grate of cinnamon
(Ladle of brandy)
Slice bananas. Heat butter and sugar, stirring until mixture turns light brown. Add Cointreau and ignite (at table if possible). Return to stove and add orange juice and mix well. Add bananas and cinnamon and cook until bananas just turn soft. (At table) add brandy and cook for 1 minute then light. Serve flaming.
Good with vanilla ice cream.
NOTE:
Good also with guavas, mango or peaches.

If making for children I suggest flaming it only once to get the wow effect, but if you want them to go to sleep early - add that last ladle of brandy!!

For a vegan version use margarine. It won't caramelize like with butter, but still good.

For Cherries Jubilee use canned cherries in syrup and use the syrup and orange juice and flame

withTriple

Sec and brandy if you have.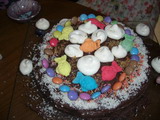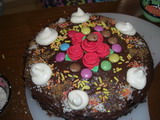 VERY MOIST CHOCOLATE CAKE

Aviv and Vered have birthdays in June a week apart. This year (2015) faced with preparing cakes for their birthdays a few days ahead and taking them down to Sde Boqer required some planning. Then getting six grandchildren aged 3-12 to harmoniously ice and decorate 2 cakes (3 kids to a cake taking turns with their little saucer of decorations) required a huge amount of thought and preparation. The surprising results speak for themselves. (Click here for pictures of the children decorating.)
2 cups flour 2 cups sugar
¾ cup cocoa powder tsp instant coffee
2 tsp baking soda 1 tsp baking powder
1 tsp salt 2 eggs
1 cup milk 1 cup oil
1 cup boiling water 1 tsp vanilla





Preheat oven to 180 C.
Oil and flour two round tins. The original recipe calls for 23cm but I had just bought 20cm pans and the cakes rose high, each pan a cake in itself.
Sift dry ingredients together. In another bowl beat eggs, add milk and then oil. Add to dry ingredients and mix well. Add really boiling water and mix and lastly add the vanilla. The mixture is like a thick cream.
Pour into prepared pans and bake for 35-40 minutes or until an inserted knife comes out clean.
When cool brush sides of cake and frost with chocolate frosting.





CHOCOLATE FROSTING
½ k icing sugar ½ cup cocoa powder
75 g (1/3 cup) or less butter at room temperature
A few drops of Cointreau or brandy 1 tsp vanilla essence
Scant teaspoon of instant coffee 1/3 cup hot water





Sift together the icing sugar and cocoa. Add butter and cream; then add liquor and vanilla essence and just enough hot coffee to make a creamy mixture. When frosting, continually insert the blade of a flat knife into hot water to heat and then use to spread the icing.





The cake and icing were moist and delicious!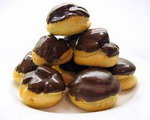 PROFITEROLES
(Prepared on the occasion of the "Stuffed Camel Feast.")

1/2 cup water
1/2 stick butter
Pinch salt
1/2 cup all-purpose flour
2 eggs
Pinch ground cinnamon
Ice cream or creme patissierie
Preheat oven to 425 degrees F.
In a small saucepan combine the water, butter and salt and bring to a boil. Reduce the heat and add the flour all at once and stir vigorously with a wooden spoon. Cook until the mixture has pulled away from the pan and formed a ball with a slightly sweaty sheen to it. Transfer the mixture to a mixing bowl and let cool for 3 to 4 minutes. The mixture does not have to be cold, just cool enough not to cook the eggs when added. Beat in the eggs 1 at a time. Do not add the second egg until the first is fully incorporated. Add in the cinnamon and beat for another second to combine.
Transfer the mixture to a pastry bag equipped with a large straight tip and pipe 1-inch balls onto a sheet tray lined with parchment paper. When done dip your finger in water and smooth the top of each ball where the pastry bag released the dough. Be sure to leave at least 1-inch between each of the balls. They grow! Bake in the preheated oven for 20 to 25 minutes, rotating the tray halfway through the cooking time to insure even cooking. Switch off the oven. Remove profiteroles from oven and split them horizontally, then return to oven for 30 minutes with oven door ajar to ensure they dry out.
When cool they can be frozen or filled with ice cream or cream patissierie. Top with warm chocolate sauce.
Chocolate Sauce:
100 gr dark chocolate
1/4 cup 38% cream
2 tablespoons butter
1 tablespoon corn syrup/agave
1 good pinch ground cinnamon
Bring a saucepan with 1-inch of water to a boil. Put the chocolate in a heatproof mixing bowl and place on top of the saucepan with boiling water. The bowl should not touch the water to make sure the chocolate retains a nice sheen. Add the rest of the ingredients and stir until the chocolate has melted and everything is combined. Spoon over the filled profiteroles.
Recipe courtesy of Anne Burrell

in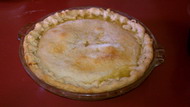 MELKTERT - MOM'S LEMON CUSTARD PIE - Doreen
In May 2015, some energetic members of kibbutz Tzora, including |Les Oshry, Benzie Segal and Mike Levine, initiated and organized a 50-year Reunion of Habonim. This generated tremendous interest and over 200 ex- Habonimites from all over the world came to celebrate.
Pre-reunion excitement was high, with little gatherings everywhere. We were delighted to attend an intimate dinner at the house of Louise and Colin Kessel. Aura and Hilton Greenberg were staying with us so of course they came – as well as some 30 other people. It was an exceptional evening – some people we see regularly, others we hadn't seen for years, even decades.
Asked to make a dessert, I thought something melktert-ish would be appropriate.
Adapted from www.tasteofhome.com/recipes/mom-s-lemon-custard-pie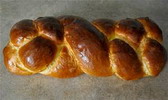 WHOLE WHEAT CHALLAH - Doreen

Adapted from All Recipes

When Eitan worked in St Thomas in the early '90's, my dear friend Nina Schafer suggested that I volunteer to work with Mina Orenstein who had just opened an artisan bakery. Even though it meant working through the night without pay (I am definitely a morning person), I loved it. I enjoyed working with dough, the feel and the miracle of a beautifully baked loaf smelling like heaven as it is taken from the oven. A great byproduct was that Mina and I became firm friends.
Mina, who is a vegetarian – even her dogs are vegetarian! - tried introducing whole wheat challah to the local community, without too much success, we had to admit. Initially I was shocked, after all challah should be white and fluffy.
Today when for health reasons we eat only whole grain products, experimenting to find a fluffy, tasty whole wheat challah became a challenge. Below is the result.

2 ½ tsp active dry yeast
1 cup warm water
½ cup agave/ low sugar honey/ honey
4 cups whole wheat flour
¾ cup spelt flour/finely ground quick oats
1 tsp salt
½ cup canola oil /light olive oil
2 eggs
1 tsp vanilla essence

Combine yeast, water and honey and set aside until frothy. Combine 3 ½ cups of the whole wheat flour, spelt (or oats) and salt in bowl of Mixmaster. Lightly beat the eggs together with the oil; combine with yeast mixture and add to mixing bowl. Beat with flat beater. When combined let rest for 15 minutes. Add vanilla essence, change to dough hook and beat for another 7 minutes, occasionally stopping the machine to check the consistency of the dough. The dough should come away from the sides of the bowl, and although very soft, should not be tacky. Add more flour if necessary, or if too dry add a little water.
Place in a well-oiled bowl and cover with a clean cloth. Let rise until doubled in size, about 1 hour or longer. On a very lightly floured surface, punch dough down and form into a ball. Divide the ball into 2 pieces and then each piece into three. Cover and let rest for about ten minutes.
Roll three pieces into long strips about 30 cm long and braid. I usually lightly pinch the three strands together when I start and after braiding open the beginning and re-braid it for an even effect. Place on an oiled baking pan and cover.
Prepare the other braid and cover. Let stand until light and puffy, about another hour – when you depress the dough with your finger, the indent should remain.
Preheat oven to 175C. When oven hot, paint challah with an egg wash and sprinkle with sesame or poppy seeds. Bake for 20 minutes then rotate pan and bake for another 20 minutes or until nicely browned and sounds hollow when tapped on the bottom.

NOTE: Children love making challah, so be creative if working with them around.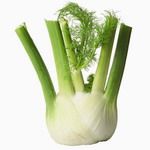 FENNEL SOUP - Doreen


This soup has an intriguing flavor that people find hard to identify but also find delicious.
For years I have suffered from pockets of swelling below my ankle bone, causing much pain and stiffness in my feet. The orthopedic specialist said to check my heart - my doctor was adamant that my heart was okay. When we went to South Africa, we stayed with Sheenagh and Charles Levy, our cousins and friends. Sheenagh doesn't eat the nightshades tomatoes, red peppers or potatoes. To my delight after a week of not eating these, I saw my ankle bones for the first time in years! Years ago Eitan had suggested that tomatoes could be the root of my problem but I had said that I couldn't live without tomatoes, a really basic ingredient of my diet. But to suddenly have ankles and have the stiffness in my feet dissipate was such a bonus that I stopped eating nightshades. By the way, eggplant also belongs to the nightshade (Solanaceae) group. Since I am highly allergic to eggplant, it may explain the negative effect of the other nightshades.

When I prepared this soup this week the supermarkets didn't have any Jerusalem artichokes so I had to use potatoes. And yes, there were pockets of swelling under my ankles the next morning!


Enough oil to cover bottom of pan (and a blob of butter)
1 medium onion, chopped
2 cloves garlic, crushed
2 Fennel bulbs, cleaned and chopped
Handful of Jerusalem artichokes, peeled, chunked and placed in water with a little vinegar to prevent browning. (Use potatoes if Jerusalem artichokes unavailable.)
Finely chopped fennel fronds or parsley to decorate
White or black pepper and Chicken soup powder to taste.





Heat oil to medium and fry garlic and onions until transparent. Add fennel and cook for about 5 minutes, but do not brown. Stir occasionally. Add chopped and drained Jerusalem artichokes (or potatoes). Add freshly ground white or black pepper. Cook for 20 minutes until soft.
Puree with hand blender. Add chicken soup powder to taste.
Serve with chopped greens, almonds and a swirl of light cream or yoghurt for those who want.



Other fennel recipes: Braised Fennel.; Fennel and Orange Salad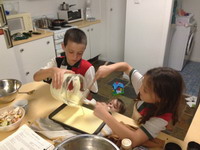 JACKIE'S CHEESECAKE * - Doreen

Shavuot is cheesecake time. No need to agonize over recipes - this is the best cheesecake. It must be made in a blender or food processor and works best with Israeli-style cream cheese. It should be baked in a square or rectangular dish to remove portions with a spatula. It is the best cheesecake to adapt into a low/no-sugar recipe (see continuation)

Biscuit Base:
50 g (4 Tbs) melted butter/margarine 1½ cups biscuit crumbs (Marie or tea biscuits)
1 tsp cinnamon ½ tsp ginger
Grated rind of 1 orange Orange juice, as needed





Combine biscuit crumbs, cinnamon, ginger, and orange rind. Melt butter and add to crumbs. Butter the base of a large Pyrex dish and pat crumb mixture down with the back of a spoon. If too dry, sprinkle with a little orange juice. Place in oven for 5 minutes while preparing cheese mixture.

Cheese Mixture:
3 eggs 400 g (14 oz.) nonfat cream cheese
110 g (8 Tbs) butter 3/4 cup sugar
1 tsp vanilla essence





Topping:
400 g (14 oz.) yoghurt/sour cream Few drops vanilla essence




In a food processor place eggs, cream cheese, butter, sugar, and vanilla; blend until creamy. Pour carefully over crumb mixture. Place dish in a bath of hot water and bake in a preheated moderate oven (170°C/325°F), until set, about 40 minutes. Switch off oven and remove cake and bain marie. Combine yoghurt with vanilla and pour very gently over cheese. Return cake to oven for 20 minutes.

LOW SUGAR VERSION:

Either make the biscuit base above, substituting sugarless biscuits for ordinary biscuits, or just thickly butter the pie dish and sprinkle with a few crumbed sugarless biscuits. Shake the pan to remove any crumbs that haven't stuck.
For the cheese mixture replace the 3/4 cup sugar with 1/2 cup of artificial sweeteners. I use a variety of sweeteners – splenda, stevia and maltitol - which together lessen the after taste. I also use 3% cream cheese. After blending everything, adjust the sweetness according to taste and even add a dollop more cream cheese if too watery. Then blend again.
*
This recipe appears in my cookbook. When we first moved to Hofit we met Morris and the late Jackie Kahn who lived close by in Beit Yannai. Jackie was breathtakingly beautiful, inviting comparisons with Elizabeth Taylor at her best. Our friendship survived Eitan working for Morris and now our son Aviv is working for their son Benjie. The members of both families remain friends as families expand and change.



GO TO TOP OF PAGE GO TO DOREEN and EITAN'S HOMEPAGE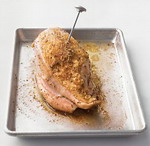 ROAST TURKEY BREAST WITH PEAR SLICES - Doreen
December 2012: Hans and Lottie Reijzer, our friends from ulpan days nearly 50 years ago, are on a visit to Israel.ctu (see picture). They joined Vered and family and Louise at our house for Friday night dinner. I had prepared onion soup, roast turkey breast with pears and lemon meringue pie. Hans stumbled into our lounge and went to sleep. It seems the night before he had been in hospital after having lost consciousness at a restaurant where he had eaten something to which he is allergic (red paprika it turns out). Hans did get up when our guests arrived and sat through the dinner barely eating anything – luckily I learnt about the red paprika and left it out. When it came to desserts, he chose to have a slice of Lemon Meringue Pie. He perked up a little and asked for a second helping. His eyes opened, he sat up straight and he was fine. I don't know what the healing properties of Lemon Meringue Pie are, but try it. The recipe appears on this page. (click here). The others enjoyed the pie but also the turkey breast!
Either one turkey breast or two depending on size. For a really moist turkey, soak in brine for a few hours, drain and then then roast.
Brine: Place enough water in a bowl to cover the turkey breast. The proportion of water to salt is 1 1/2 Tablespoons coarse (kosher) salt to 4 cups water. To this add a clove of garlic, 1 tsp natural silan (date syrup)/honey/brown sugar, black pepper, lemon slices, mustard seeds, a few bayleaves and peppercorns and anything else you fancy. Cover and leave in fridge for a few hours. Drain, rinse and either leave covered in fridge or roast.
Heat oven to 180 Degree C/ 180 F or Mark 5.. Line a roasting pan with aluminum foil and oil with olive oil. Make a mixture of olive oil, balsamic, soy sauce, black pepper, ginger and five spices if you have and rub it over the turkey breast.
Peel and thickly slice pears and push them into openings of turkey breast. Any pear left over can be placed on top of breast. Close foil loosely and place in oven for 30 minutes. Open foil, sprinkle with sweet paprika and raise oven temperature to brown top for another 10 minutes or until internal temperature is 74C or 165F.
Slice and serve with reheated sauce that collects in the foil.
GO TO TOP OF PAGE GO TO DOREEN and EITAN'S HOMEPAGE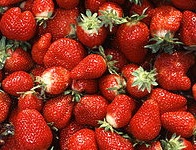 STRAWBERRIES AND SPINACH SALAD - Doreen

When we moved to Netanya one of our big worries was how were we (Eitan) going to coninue growing salad greens. I vetoed Anthony's idea of ripping up the back terrace and bringing in truckloads of sand. Instead he grows his peppers, tomatoes, mangold and spinach in a chest-high trough which means no bending down involved.
This week we picked our first crop of spinach. The strawberries we picked from a tray of a roadside vendor.

Wash spinach and dry. Wash and dehull strawberries. Cut strawberries into halves or quarters depending on size.
Slice a cucumber and some green onions. Combine all ingredients together. Pour over some Balsamic vinegar and olive oil. Delicious.
GO TO TOP OF PAGE GO TO DOREEN and EITAN'S HOMEPAGE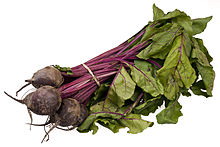 BEETS - Doreen
Beets have of late become increasingly popular. High in fiber, folate, magnesium and calcium they are considered a super food, even for diabetics.



FRESH BEET SALAD



3 Firm medium beets, peeled and grated thickly
Juice and rind of 1 orange
1 Crisp apple, cubed
1 Stick celery, thinly sliced
½ Orange, peeled, and cubed
2 Tablespoons French dressing



Combine beets and orange juice and marinate until ready to serve. Add apple, celery, orange, and French dressing. Keeps for days.



ROASTED BEETROOT



6 Firm smallish beetroots
2 Tbs olive oil
2 Tbs balsamic vinegar
2 Tbs lemon juice
2 Cloves garlic
Generous sprinkling of freshly ground black pepper
Rosemary and thyme sprigs
(1 Tbs butter – optional)



Preheat oven to 200 C



Peel beets and either halve, quarter or cut into sixths depending on size – they shrink a little. Place in ovenproof dish. Scatter sprigs of thyme and rosemary on top.
Combine olive oil, balsamic vinegar, lemon juice, garlic and black pepper and pour over beets, turning to coat. Seal with aluminum foil.
Roast for about 45 minutes until tender, turning beets occasionally. They become tender but not soft.



They can be served as a hot side dish, or at room temperature in a salad.
Serve over a bed of greens and broken walnuts. Add a sprinkle of additional balsamic vinegar and salt to taste if necessary. If you have fresh (buffalo) Mozzarella, slice it and it's even better.

For another recipe for beets, see Aviv Ron's Orange and Beetroot Soup

GO TO TOP OF PAGE GO TO DOREEN and EITAN'S HOMEPAGE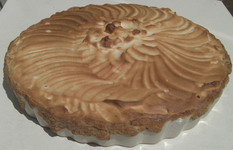 SUGAR FREE LEMON MERINGUE PIE - Doreen

When we moved to our new apartment in Netanya it had a tree full of misshapen lemons that had horns and spikes and peculiar shapes. But the taste of the lemons was wonderful. So after freezing lemon cubes, endless cups of tea with lemon, giving bags of lemons to neighbors and insisting Anthony pickle some, we were still faced of the problem of abundance. The recipe below, although requiring a few stages has been a hit with everybody, and most people don't even notice it's with artificial sweeteners. If you want, just substitute sugar for the sweeteners– but leave the apricot jam in the meringue. You'll wow everybody! ( Based on a recipefrom www.cdkitchen.com.)

INGREDIENTS LEMON FILLING:

1 cup sweetener (2-3 Tbs sugar + blend of Splenda/Maltitol/Stevia)
1/4heaped cup cornstarch
Pinch salt
2 egg yolks
2 cups hot water
1/3 cup lemon juice
1 tablespoon butter





INGREDIENTS FOR MERINGUE
1/3 cup sugar free apricot jam
3 tablespoons water
1 tablespoon Splenda sugar substitute
1 tablespoon cornstarch
4 egg whites, at room temperature
1/4 teaspoon cream of tartar





PREPARATION:

Prepare and bake your favorite pie crust

FILLING: In saucepan, combine sugars, cornstarch and salt; stir in egg yolks. Gradually stir in hot water; cook over medium heat, stirring, until boiling and thickened. Remove from heat. Stir in lemon juice and butter. Cool and pour over baked crust. This can be done the day before and refrigerated.

MERINGUE: In a coffee grinder or blender, blend apricot spread and water until smooth. In small saucepan, combine apricot mixture, artificial sweetener and cornstarch; bring to boil. Set aside to cool. In a bowl, beat egg whites until frothy; add cream of tartar and beat 1 minute. Add apricot mixture; beat until stiff peaks form. The jam mixture tends to splash above meringue. Stop machine and re-incorporate.





TO ASSEMBLE:
Pour filling over crust. Spread meringue over filling, sealing well to pastry rim. Make it full of horns to look pretty. Bake in 350 degrees F (175 degrees C) oven for 15 minutes or until nicely browned. If possible leave in oven to cool. Is good the following day as well. Enjoy

GO TO TOP OF PAGE GO TO DOREEN and EITAN'S HOMEPAGE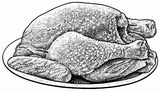 CHICKEN IN THE OVEN WITH LOTS OF GRAVY - Doreen

Last Yom HaAtzmaut (Independence Day) our granddaughter Danielle succumbed to kebab on the mangal (barbecue) after years of being vegetarian. On Friday night when they came for dinner she asked for chicken in the oven with lots of gravy, but not Cranberry Chicken. How much is "lots of gravy?" I looked for a recipe that mentioned 2 cups of liquid and adapted it. The chicken was a great success and it seems that 2 cups was just enough.

Ingredients
2 Large chickens, washed dried with fat removed.
1 Lemon
Salt and pepper
A sprig of Rosemary or celery leaves
Sliced carrots, onions, celery, fennel – anything veggie and handy
Olive oil
2 cups chicken stock
100g Butter-flavored margarine
Parsley, chopped finely
Grated lemon rind
Herbs de Provence or oregano, thyme, etc

Preparation:
Heat oven to Mark 6 or 370 degrees F (290 C). These chickens weighed 2 kilos each and took nearly 2 hours. Smaller chickens will need less time, 1 ½ hours usually and perhaps a slightly lower oven temperature.

Remove margarine from fridge and let it soften. Mash with fork and add chopped parsley, grated lemon rind, a good sprinkle of Herbs de Provence, finely chopped celery if you have, and freshly ground pepper.
Take a roasting pan, oil the bottom and place sliced carrots, onions, etc on the bottom. Make sure they are cut into thickish slices but remember a roasting rack must go on top of it.
Take the chickens and rub lemon inside and place the rosemary, celery, etc and the remains of the squeezed lemon. From the leg side, carefully insert your fingers under the skin, separating it from the breast flesh, one side and then the other. Turn the chickens over and do the thigh-side as well. Take 1/8 of the margarine mixture and push it inside each space. Massage it into the flesh as you spread it under the skin. Rub the skin with olive oil and salt and pepper. Place on roasting rack.
Roast in oven for ½ hour. Pour 1 cup of chicken stock over both chickens and return to oven. After another half hour do this again and turn chickens over. After another half hour baste chicken with pan juices. When beautifully crisp turn over and crisp the other side as well.

Switch off oven and open the door and let rest while you prepare the gravy. Pour juices into a thick-bottomed saucepan, skim of oil and taste, adjusting seasonings if necessary. Thicken; I like arrowroot, but a little flour and water will also do well.
Delicious and picture perfect!
GO TO TOP OF PAGE GO TO DOREEN and EITAN'S HOMEPAGE
January 2009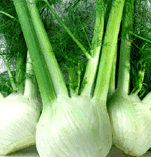 FENNEL AND ORANGE SALAD - Doreen


During a break from work, I decided to have a luncheon with ex-Eilati friends only. Our Eilat period was a defining experience for forming lasting friendships. We have all since left Eilat and moved to the north. But those hot years in small, far away Eilat where life was quite hard, only we were too young to know it, is a bond between us all.
See This Week's Picture (Jan. 10, 2009)

Large beautiful (and healthy*) fennel bulbs are at their best now. Here is a delicious fresh salad, best served in a glass bowl as the colours are inviting.

Ingredients
2 large fennel bulbs
Bunch arugula (rocket) or baby salad greens
2 large navel oranges, peel and white pith removed, cut into segments
1 red onion, sliced paper thin
Handful of wine-brined black olives, pits removed
2 Tbsp. extra virgin olive oil
2 Tbsp. orange juice
Zest of 1/2 orange
1 Tbsp. salad vinegar
Freshly ground black pepper, to taste

Preparation:
Cut away round stalks of fennel, reserving feathery tops. Cut off outer layer and bottom. Cut in half and then in half again. Slice each quarter into thinish slices.
Add olives, oranges, onion, chopped fennel leaves.

Make a salad dressing with olive oil, orange juice, salad vinegar (Salt) and pepper and orange zest. Combine with salad. Add arugula/baby greens when ready to serve.

*Health Benefits:
For the health and nutrient benefits of fennel (including anti-inflammatory and anti-cancer effects), see this site.

Other fennel recipes : Fennel Soup, Braised fennel


GO TO TOP OF PAGE GO TO DOREEN and EITAN'S HOMEPAGE

ORANGE AND BEETROOT SOUP with Iced Yoghurt Cubes - Aviv Ron

For the second Holiday of Sukkoth we had Granny and Saba for dinner. I felt like making an international meal with flavors of the European kitchen. The problem was that it turned out to be an extremely hot evening so to compensate for the heavy dishes I opted for a cold soup. Leftovers from beetroot salad – both the roots and the liquid it was boiled in - were the natural choice and for it I came across this recipe. This is an opportunity to recommend the site "Recipe Zaar". I use it often to look for recipes by ingredients because its searching capabilities are superb.
Below is the recipe as it appears on the site . At the end I have added some editorial comments and variations. Enjoy.

Orange and Beetroot Soup With Iced Yoghurt Cubes.

Ingredients:
200 g plain yogurt
1/4 cup chopped chives
500 g small beetroots, scrubbed and trimmed
6 tablespoons olive oil
1 onion, chopped
2 garlic cloves, chopped
1 tablespoon thyme, chopped
1/2 teaspoon salt and pepper
1 teaspoon balsamic vinegar
1/2 orange
1 tablespoon orange zest
1 liter vegetable stock
3 tablespoons single cream

Preparation:
1, Mix yoghurt and half the chives. Spoon into an ice cube tray and freeze until solid.
2. Place beetroot on a pan, cover with water and boil for 45 mins or until easy to pierce with a knife.
3. When cool remove skins and chop.
4. Heat olive oil and add onion, garlic, thyme, salt and pepper. Sauté for 10 mins then add beetroot, vinegar, zest and stock.
5. Simmer for 10 mins then puree. Stir in cream and season if needed.
6. Transfer to bowls/cups and drop a yoghurt cube in each one and sprinkle with the remaining chives.

My Comments:
1. Like in many cold soups, coriander (Cusbara) is a wonderful addition. In this case, you can certainly replace the chives in the yoghurt with chopped fresh coriander, and in addition have enough to sprinkle on top. Of course, you should be aware that people are never indifferent to coriander ­- those who don't love it, can't stand it – so keep it optional!
2. Add intense spices to augment the naturally mild flavor of the beetroot. In addition to chicken stock powder use black pepper, curry, nutmeg and saffron if you happen to have some.
3. Be generous with the cream. I used much more than the three spoons that are recommended in the recipe.
GO TO TOP OF PAGE GO TO DOREEN and EITAN'S HOMEPAGE
September 2008
RUM RAISIN BREAD - Doreen
RUM RAISIN BREAD MIXED IN BREAD MACHINE FOR ROSH HASHANAH AND OTHER HAPPY OCCASIONS
2/3 Cup Raisins /Craisins
3 Tbsp Rum, preferably dark
1 1/8 Cup Buttermilk + about 1 Tbs if necessary to make soft pliable dough
1 Tsp Salt
1 Whole Egg
3 Tbsp Butter, softened
2 Tbsp Brown Sugar
3 Cup White Flour
½ Cup Whole Wheat Flour
1 Tsp Cinnamon
¼ Tsp Ginger
2 Tsp Active Dry Yeast
Either soak raisins in rum overnight or microwave for one minute. Drain raisins well, reserving liquid in a measuring cup. Scatter about half of the raisins in the bread pan.
To rum liquid add buttermilk to 1 1/8 cup mark. Pour liquid into bread pan and then remaining ingredients in order listed. Select Light Crust, Raisin Bread cycle. I use the dough cycle only. At beep, when mixing finished, add remaining raisins.
I never actually bake the bread in the bread pan and use the machine only for mixing and rising. (The paddle never came out so I was left with an ugly hole in the bottom of the bread. In addition I don't like the texture of machine baked bread.)

Oil a 12 Cup Bundt pan or a large loaf pan. Heat oven to Mark 5.

On a floured surface, remove dough from pan and incorporate raisins that have fallen out. Punch down, cover and let rest for 10 minutes. Roll bread out into long rectangle. Working from the long side, roll the dough over, lightly pinching the crease with each roll over. Carefully pick up roll and place in Bundt pan. Cover and let rise for about 30 minutes. Brush with a little buttermilk and oil.
Bake in oven for 35-40 minutes until nicely brown and bread slightly separates from the sides. A few minutes before removing from oven brush again with buttermilk and oil again for a nice shine.
Remove pan and turn pan over. The bread should just fall out. The round loaf looks most attractive.

Delicious with or without butter. Just the thing to enjoy at Louise's Annual Rosh Hashanah Luncheon and quiz.
GO TO TOP OF PAGE GO TO DOREEN and EITAN'S HOMEPAGE
April 2008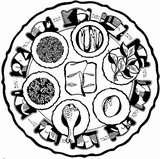 PASSOVER MUFFINS - Doreen

Our grandchildren Maayan 4 1/4 and Lotem 2 1/2 stayed to spend hol hamoed Pesach with us after Moran and Mikhal returned to Sde Boqer. Keeping them occupied was a full time job. One of the ways was to cook. After they had helped me make matzo cake, matzo brei and French Toast styled matzo I'd run out of recipes. So when Mayan asked when were we going to make muffins – a traditional breakfast dish that he always helps make – I said I would try and find a suitable recipe. After additions and alterations this was the surprisingly tasty outcome. It also led to a discussion between Anthony and I about the difference in keeping kosher l'pesach and keeping to the spirit of Pesach He remembers his late mother Queenie railing against drinking Coco Cola when ?… years ago it had been made kosher lepesach for the first time. What would she say today at my making muffins with baking soda?

Almost 1/2 cup canola oil
Less than 1/2 cup sugar
2 eggs
3/4 cup combination of ground almonds and matzo meal – finely ground in a coffee grinder
1 tsp cream of tartar
1 tsp baking soda
1 tsp cinnamon
1/2 cup potato starch/flour
1 large mashed banana
1 pear, peeled and grated
1 apple, peeled and grated
1/8 cup raisins
Soda water to thin, if necessary

Preheat oven to 350 degrees F, Mark 5. Get grandson to lightly oil muffin tin.
Beat oil with sugar in mixmaster. Get grandson to sift dry ingredients three times. Let grandaughter break eggs, then (after removing egg shells) add eggs one at a time to oil mixture and beat. Add fruit mixture and beat. Add matzo mixture and beat lightly. Add raisins and stir until all just mixed. If mixture too thick, add about 1/8 cup soda water. Pour mixture into suitable container so grandchild can pour batter into muffin tins. Pour into prepared muffins tins and bake for 20 minutes.
Of course you can do this by yourself without help – much quicker and far fewer dishes to wash at the end, but not quite as much fun.
Delicious.
GO TO TOP OF PAGE GO TO DOREEN and EITAN'S HOMEPAGE
February 2008



TSHOLENT - Vered and Lior Ron
(Eitan: "Jewish cooking" is something of a misnomer, for the Jews living in the various countries adopted the cooking styles of the surrounding population, with modifications demanded by kashrut rules. If there is one Jewish dish it is tsholent, the slow cooking meat and beans dish prepared before the onset of the sabbath and kept warm until eaten lunchtime on Saturday. During the Spanish Inquisition, one of the signs by which Jewish conversos (marranos) could be recognised was "cooking on Fridays such food as is required for the Saturday, and on the latter eating the meat thus cooked on the Friday, as is the manner of the Jews." (read article on tsholent)
There are many family versions of tsholent, depending on the family origins. To the best of our recollection, Doreen's and my family never prepared tsholent after they left Eastern Europe so we have no family tradition. Vered and Lior have given us a start for a new family tsholent.)

Vered writes:

Lior Makes Tsholent

Lior loves cooking. She enjoys cooking with Aviv or me, and lately she has begun cooking on her own, needing only occasional help. She can make cakes, salads, pancakes and more. Her favorite TV channel (yes, even more than the Cartoon Network) is the Cooking Channel…
About 2 months ago, Lior slept over at a friend and they had Tsholent (Chamin in Hebrew) there and Lior loved it and wanted to make it. She had been begging Aviv or me to help her make it for weeks until I finally relented… Having never made this dish (nor frankly, liking it very much….) I called two people who I heard make great Tsholent (Yahel Braverman and a friend) and Lior and I spent fun time getting all the ingredients ready and making the Tsholent. We even planted some Lima beans in a pot to see if they will sprout…





It came out great and we had friends over that really enjoyed it too. My Dad Eitan, upon tasting it, said it was delicious and asked Doreen to make some too….

So, enjoy!

Chickpeas – 250 grams
Kidney Beans – 250 grams
Lima Beans – 250 grams



Soak beans in water for 24-48 hours. Change the water every 12 hours
You can buy canned Chickpeas and then there's no need to soak



Barley
Wheat



Fry 4 large onions in a generous portion of oil with 4 garlic cloves until very dark
Once ready, layer on top:
Beef for stewing, about 200 grams per person, cut into very large pieces
A large bone (like Osobucco)
Potatoes (1-2 per person)
The beans
Barley and wheat



Salt and pepper between the layers as desired
On top, put 1 onion (unpeeled)
Optional additions: pour on top honey or date honey (Silan) and/or several prunes



Fill with water until the food line and boil for 2 hours on the stove top
Skim the froth ….



After 2 hours, removed from stove top and add fresh eggs (1 per person at least)
Put into heated oven with a tightly closed lid (or use foil)
150 degrees C overnight
100 in the morning
Depending on how many hours it will be in the oven, can speed it up by higher heat, or slow it with lower heat (not lower than 100 deg C)



Check that there's still water before you go to bed
And also a bit of water in the morning when you wake up



Should put into oven around , to be eaten for lunch next day…

GO TO TOP OF PAGE GO TO DOREEN and EITAN'S HOMEPAGE

January 2008 - A bonus recipe - Makluba
(Doreen had a couple of very interesting tours in mid-January - writers from overseas food magazines. Here is her account of one of those tours, followed by a recipe.)

Doreen writes -

Since I usually work on buses, I jumped at the opportunity to be the guide for a food writer and a photographer of an important overseas magazine. They were guests of the Ministry of Tourism and Amutat Tel Aviv. After they 'did' all the important sights and ate at some of Tel Aviv's best restaurants and met with Tel Aviv's most prominent chefs, I was to guide them around Tel Aviv for two mornings. My initial reaction was panic since there seemed nothing left to show.

Many people say that music is an international language – how much more so is food. Food breaks ethnic and language barriers; taste, colour and smell reach out and beckon and who can explain the feeling of contentment after a good meal. I do know that the Levy family is happiest when eating. Jewish lore says that fragrance goes straight to the soul. Here I had a chance to put all this together and show our guests food for the soul.

Among the places we visited was Cardinal, a tiny chocolate shop on Ibn Gvirol run by Eli Trab. His very shyness and passion for creating a good chocolate captured our hearts.

Visiting Lilith Restaurant in Bet Asia was as inspiring experience. Behind the successful kosher meat restaurant that caters to business people in the area, is a human interest story. Together with the chefs and manager are a group of some 15 young people from Amutat Elem. Elem embraces youth at high risk and besides giving them a safe house and comfort, enables some to learn to be cooks and waiters at Lilith. Not an easy task. While the young people learn responsibility and the kitchen, the chefs have to learn how to deal with distressed youth as well as teach them to be cooks.

We also visited Jaffa, a tiny coffee and book shop in Yaffo. It is jointly run by Dina and Michel, and represents a unique Jewish-Arab enterprise. Here you will meet regulars and passersby, Arabs and Jews who not only come for coffee or food like Makluba, but perhaps for a book, but even more so to express solidarity in the idea that Jew and Arab can live and work side by side.

Makluba: a Palestinian dish that can be prepared vegetarian, with chicken, lamb or beef. Makluba means to turn over.

1/4 cup oil
1 chicken or equivalent cut into at least 12 pieces if possible
3 eggplants, sliced
3 carrots, peeled and chunked
1 small cauliflower, broken into flowerets
3 onions, peeled and sliced thickly
1 tsp Baharat or 1 Tbs chicken soup powder
Salt and pepper
2 cups rice
2 cups water
1/2 cup lightly fried pine nuts



In a large frying pan fry each ingredient separately in order stated, adding more oil if necessary. Take a large pot with a thick base and wipe bottom with oil. Lay slices of eggplant over bottom. Then add chicken, carrots, potatoes, onions, rice and enough water to cover. Add salt and pepper and Baharat. Cover and bring to boil. Lower heat and simmer for 30 minutes. Switch of gas and let stand 10 minutes. Remove lid and place large platter over pot. Carefully turn pot over and lift it up. Makluba. The ingredients should be piled up like a cake. Sprinkle with pine nuts and serve.

Added in November 2015: Since our granddaughters Dani and Lior are strict vegans, makluba by us became vegan.
Layer zucchini then potatoes, carrots, a can of beans, cauliflower, rice and water, then top with the tomatoes and remaining can of beans.
Added in February 2018:
While babysitting the Segoli children, Doreen and grandson Maayan prepared a delicious Makluba, which was a greast hit with the children. See picture and short video
here.
GO TO TOP OF PAGE GO TO DOREEN and EITAN'S HOMEPAGE

January 2008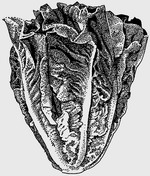 LETTUCE SOUP -- Doreen Levy
The idea for this soup came when I returned from a week's tour and peered into the fridge for something satisfying to eat. All I could find was an onion, some tired lettuce, a Chinese cabbage (Damn, I told Anthony to use it!), a slightly pitted red pepper and a fresh kohlrabi, which I only knew as a salad ingredient, but was prepared to try in soup. Remembering that Anthony had used lettuce in chicken soup, lettuce soup seemed the answer. The soup was so delicious that it deserved making with fresh vegetables. I'm a great believer that the way you cut vegetables affects the taste. For a heartier soup slice vegetables thicker, much thinner for a more elegant soup.
At a dinner party for Mike and Lorna Belman, friends from Durban we hadn't seen for many years, a winter Lettuce Soup seemed ideal. (see This Week's Picture). Quantities are variable and ingredients flexible, although lettuce is required for the name. The carrot and red pepper give colour
4 Tbs butter
1 onion, sliced
3 cups lettuce (hard outer leaves are fine), sliced
1 cup Chinese cabbage, sliced
1 cup cabbage/ arugala (rocket) mixture
2 carrots, grated
1 red pepper, julienned
1 kohlrabi/ turnip/parsnip, fat julienned
6 cups (parave) chicken soup
Pepper and a little salt
Melt butter and fry onions. After a few minutes add remaining vegetables. When lettuce changes colour, if using soup powder, add it and fry with vegetables. Add water and pepper. Let simmer for 20 minutes. Taste and adjust seasonings. Serve with grated parmesan cheese or croutons.
GO TO TOP OF PAGE GO TO DOREEN and EITAN'S HOMEPAGE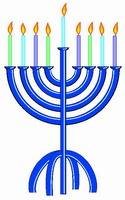 December 2007 - Channukah
POTATO ZUCCHINI LATKES -- Doreen Levy
This year we celebrated Channukah at our house with some of our family for candle-lighting and food. The soup, pies, lasagna were not a problem, but it's years since I made latkes and agonized over how to prepare them. The thought of all that potato and oil was a deterrent until I found that in the recipe book I wrote A Potpourri of Memories, was a forgotten recipe for Potato Zucchini latkes.

6 Large potatoes
6 Zucchini-like squash
Salt
6 Eggs
1/2 cup self raising flour

Grate zucchini on coarse grater in food processor. Place zucchini and 1/2 teaspoon salt in sieve over bowl and let drain 20 minutes. Grate potatoes on medium grater and dry with paper towel. In the meantime heat oil to hot.

Squeeze drained zucchini to remove as much moisture as possible. Combine with potato and pat dry with paper towel. Beat eggs and add to mixture with flour. You may need to adjust the flour and eggs. Scoop up less than 1/4 cup of mixture and carefully place in hot oil; flatten latkes if they are too high. Fry until browned on both sides. Drain on a paper towel.
(I fried the latkes in deep oil but noticed that other recipes call for a thin generous layer of oil.)
Before putting in the next batch, reheat oil and with sieve scoop out the bits that fell off the latkes.

You can add 1 finely grated onion to the recipe but as I wanted to serve it with cinnamon and apple sauce (which I didn't have in the end) I left out the onion.

There was a frightening amount of mixture in my large bowl, but in the end I didn't even get to taste a latke as they went well - like hot cakes!



Serves 25. You can vary quantities. However you make them they taste just fine.