EVENTS & PICTURES 2018
CLICK HERE FOR AN INDEX OF 'EVENTS AND PICTURES 2018'

GO TO DOREEN AND EITAN'S HOMEPAGE
CLICK HERE FOR EVENTS and PICTURES 2004-2017
---
March 2018 - The Eilat Levys enjoy a bonfire and picnic

Spring is around the corner and the warmer weather activities are starting. The Eilat Levys went up in the mountains to enjoy a bonfire and a Friday evening picnic.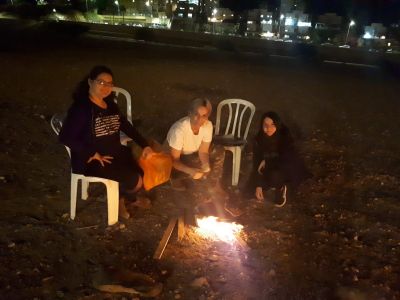 ---
March 2018 - Moran skiing holiday

Moran and his friend Ran Kagan enjoyed the end of winter with a short skiing break in Val d'Isere in France.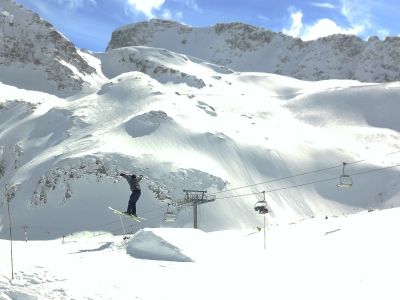 ---
March 2018 - 3rd time lucky?

Perhaps we finally have a dog? After two disappointments we hope that two year old Joanie and we will get on together. We got this nameless dog from Pets for Life. She likes sleeping but is also a great walker and we enjoyed our first walk with her. We wanted to name her Johnny Walker but because of her gender so we decided on Joanie Walker - Joanie for short.
We took advantage of Joanie's love of walking to visit the ephemeral lake in the Eucalyptus forest next to our building.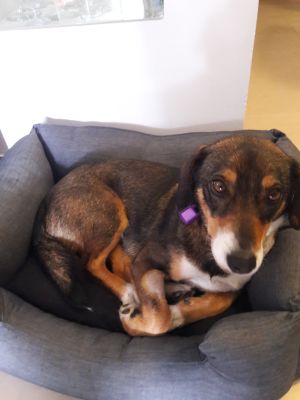 ---

March 2018 - Purim
We celebrated the Jewish holiday of

Purim

that commemorates the saving of the Jewish people from Haman, who was planning to kill all the Jews. This took place in the ancient Persian Empire and the story is recorded in the biblical Book of Ester.
The celebration is a joyous one and the schools and streets are filled with people in fancy dress or costume, and parties are commonly held.

See also the Archives for a stunning picture of son and daughter-in-law Aviv and Limor Levy.



Granddaughters Zoe, Lotem and Amit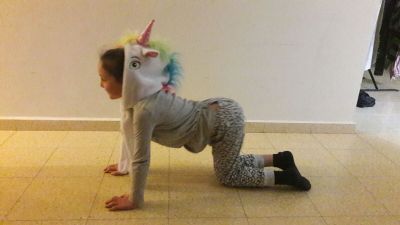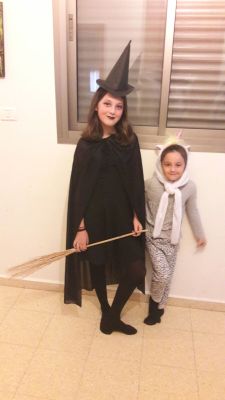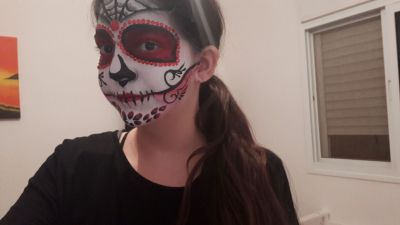 Granddaughter Lior with her fellow volunteers at the institute for disturbed and problematic youth.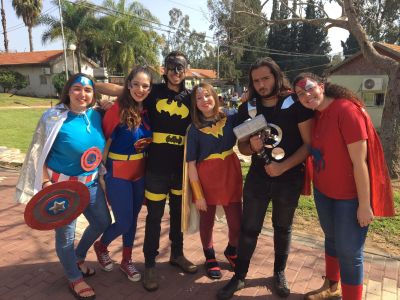 In addition many places hold an
Adloyada,
a kind of carnival procession. Midreshet Ben Gurion in Sde Boqer, where the Segolis live, organise a very popolar
adloyada
every year.
Lotem, Zoe (in group picture in front with rabbit ears, and son Moran strikingly made up by the talented Lotem.
(
see another example
of Lotem's make-up artistry)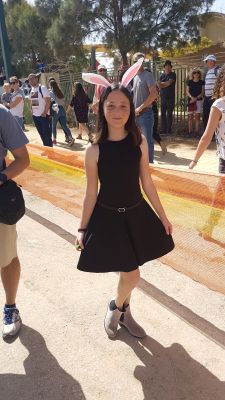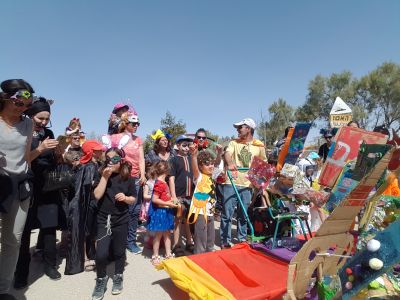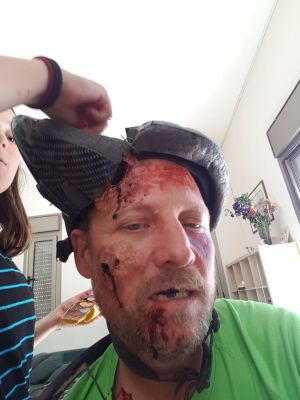 ---
February - Maayan and Doreen prepare Makluba

One of the highlights of the babysitting the Segoli grandchildren was the middle eastern dish

Makluba

(that is cooked and flipped over) that Maayan prepared under the direction of Doreen. It came out perfectly and was delicious. Click on the picture below to see the successful "flipping over"



The

makluba

, about to be flipped. Click on the picture to see the successful "flipping"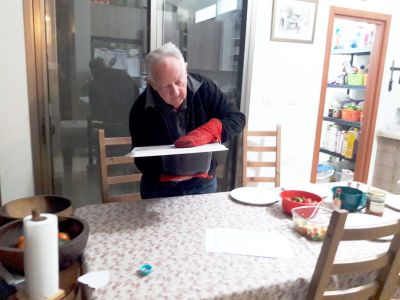 Click here to read Doreen's

makluba

recipes (with variations for meat eaters or for vegans)

---
February 2018 - Moran and Mikhal Segoli visit Kenya



They did a four day trek (and an additional day traveling in each direction) up to the second highest peak of Mt Kenya (Lenena peak 4985 m). They went with a guide and helpers. For most of the hike they saw beautiful and interesting flora but not many animals.


They took the less-travelled path so their group was mostly alone. After the hike/climb they went on a safari.
They are due to go for a boat ride on the highest lake in the rift valley -Lake Naivasa. (Last month they visited the lowest rift valley lake.)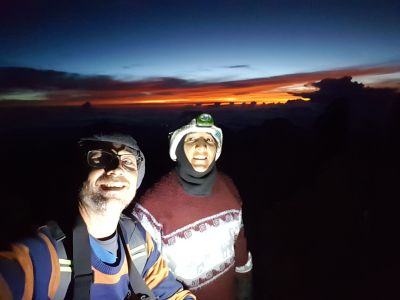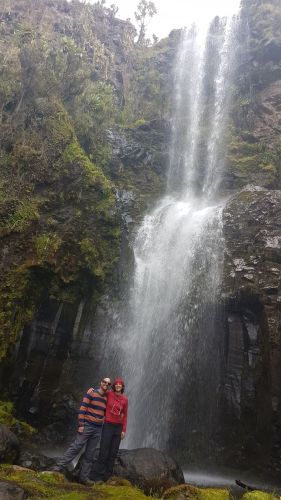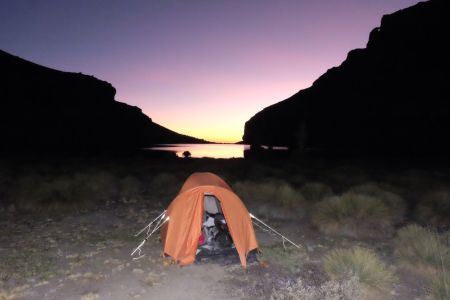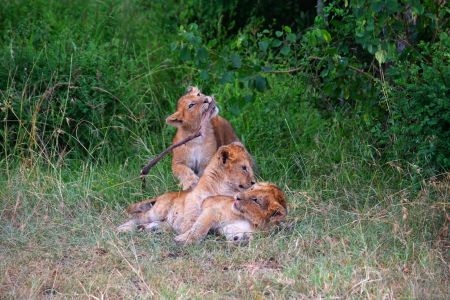 on safari

For another picture see This Week's Picture archives

---

February 2018
We babysat the Segolis, Maayan, Lotem and Zoe, in Midreshet Ben Gurion (Sde Boqer) while parents Moran and Mikhal were climbing Mt Kenya. On the first weekend we took the 3 children to Eilat to enjoy the weekend with their Eilat cousins Itamar, Amit and Ilai.



The boys do their thing --- --- The girls do theirs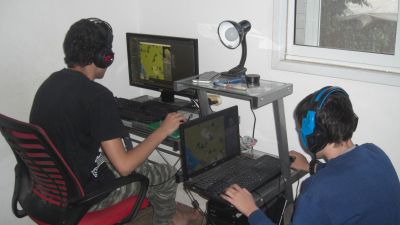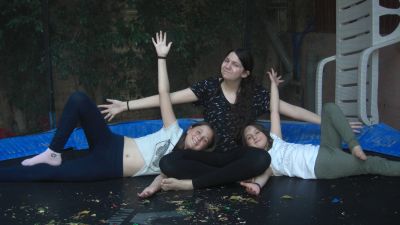 ...... but we also do things together.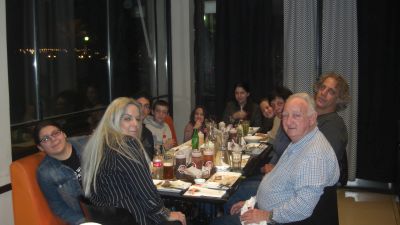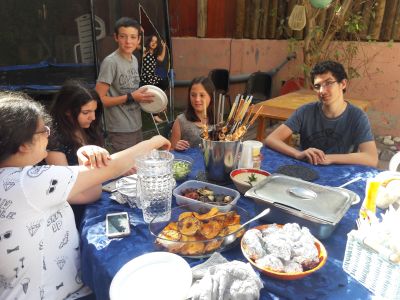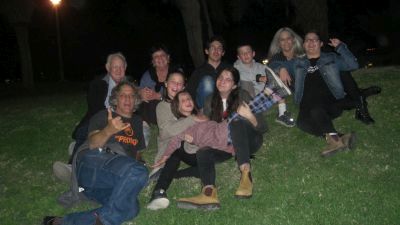 ---
February 2018 - TD Workshop in Larnaca, Cyprus

I organized a Tournament Directors' Workshop for the European Bridge League in Larnaca, Cyprus. There were 59 participants and the workshop was very successful.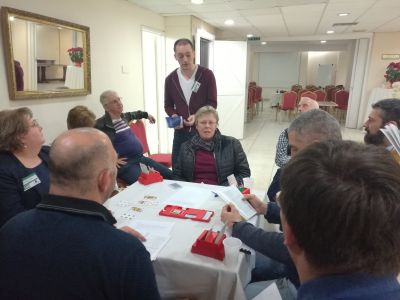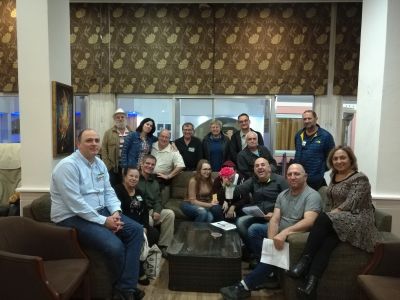 (l -r): A participant dealing with the situation in a simulation of a problem during play; the Israel participants; the five participants receiving their certificates for Grade A+ (I am on the left, Yves Aubry (EBL President) on the right.)

---
February 10, 2018 - A special happy 96th birthday to Aunt Winnie Levy, so excited to have her family around to help celebrate with her in Seapoint.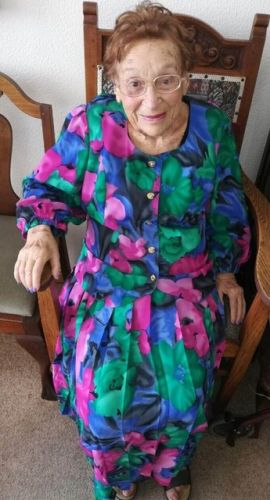 ---
February 2017 - Cyprus
While in Cyprus Doreen hired a car together with Oryah Meir (the GM of the Israel Bridge Federation who was assisting in the organization, see picture) and Yves Aubry, the President of the EBL. They drove up torturously windy roads to the top of Mount Olympus and then down to Kykkos, an amazing Greek Orthodox Monastery. Every available surface is covered with either mosaics on a biblical motif or with wall paintings, all in wonderful condition. The most precious posssession of the Greek Orthodox monastery is an icon of Mother and Child, purported to have been painted by Saint Luke.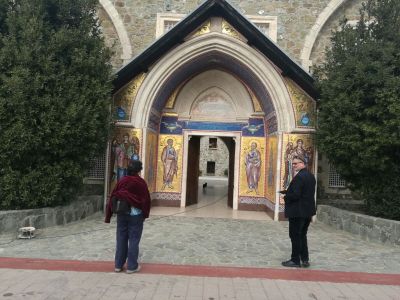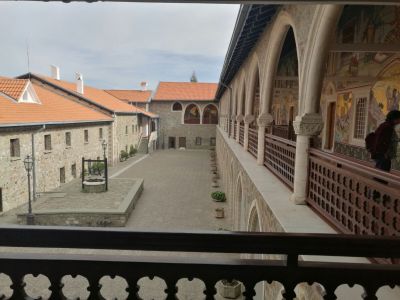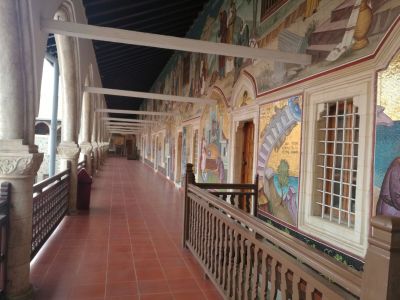 The following day Doreen also did the long drive to Paphos where, near the harbour, there is a UNESCO Heritage site recognizing important and beautiful mosaics from the Hellenistic and Roman era. In the mosaic on the left note what appears to be a Star of David, but it is a geometric design as the Magen David only became a Jewish symbol in Medieval times. Above it to the left there is a design that looks like a swastika, but the swastika arms turn the other way and it is far too early for its present day associations. Below is a mosaic of an Amazon. It is unusual as Amazons are usually depicted on horses. The other thing is that we see her bared right breast. Amazons, who are mythical figures, were said to cut off their right breasts the better to wield their spears. If you go to Zippori another breasted Amazon is depicted there in the Nile House.
Tombs of Kings is further afield. Although the many tombs cut into the stone are varied and impressive they were rather of rich or important people and not kings. The green grass and wild flowers of spring make it an ideal place to spending a morning exploring the many tombs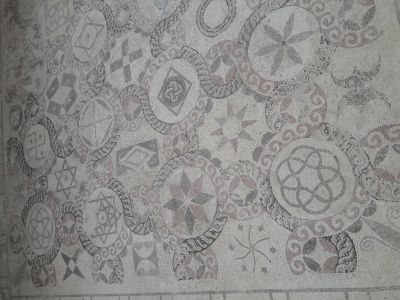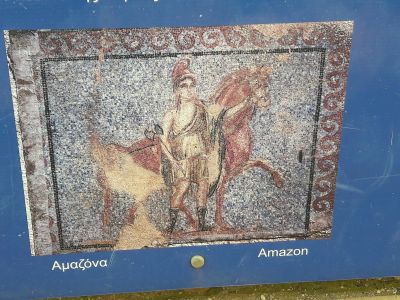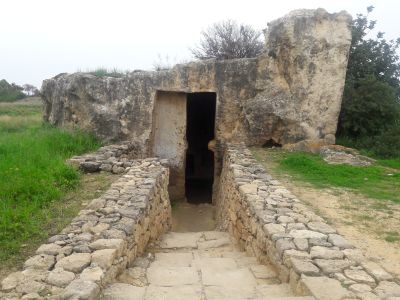 ---
February 2018 - A short visit to London
On the way back from a stay in Belfast we spent a day and as half in |London - enough time for some shopping, a delicious Chinese lunch and an excellent fish dinner.

---
February 2018 - Joel Klotnik goes sky diving

Joel and Beryl Klotnik (see Matz family tree) are in South Africa and Joel took the opportunity of the holiday spirit to go sky diving! Hope you weren't too nervous, Joel.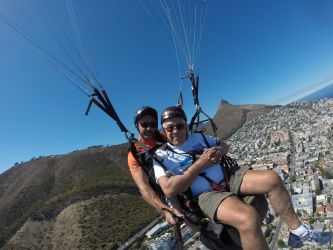 ---
February 2018 - Enjoying a visit to Belfast

Dinner with Maureen Porteus and 4 bottles of wine at dinner, and enjoying fresh oysters at St George's Market. No record of her shopping, but our suitcases are now much heavier.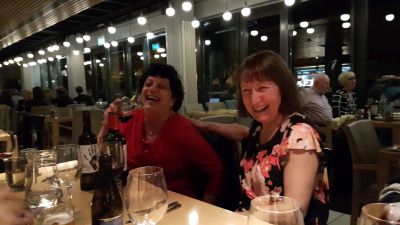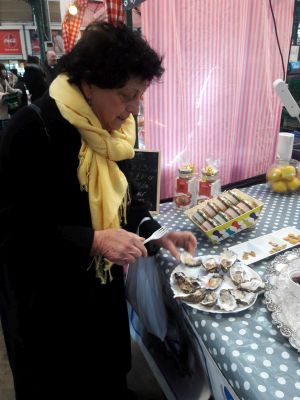 ---
January 2018 - Doreen at the

Knesset


Last week, as part of the activities of the Women Make Peace organization, 150 women (Doreen among them) attended a special meeting of the Women's Lobby at the

Knesset

(the Israel Parliament.)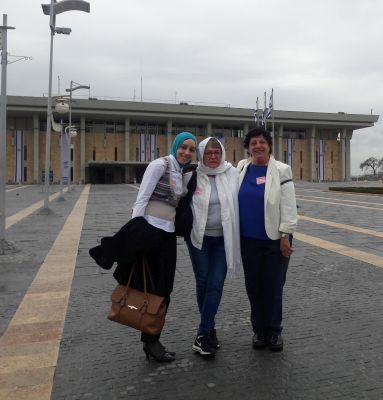 Doreen (right) with fellow participants Wedad Zaid (left) and Ruth Erez middlet)

---
January 2018
Andy Loew passed away this month. See This Week's Archives. Our son Moran sent us this picture, taken in the late 1980's, of happier times, with Andy, Yaffa and their two children Vered and the late Guy ז"ל in the Timna area in southern Israel.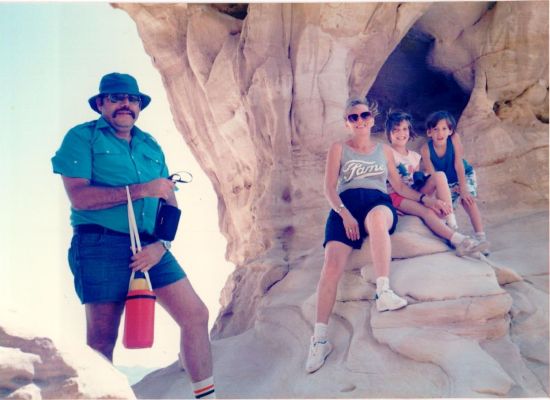 ---
January 2018 - How to walk your dog in the rain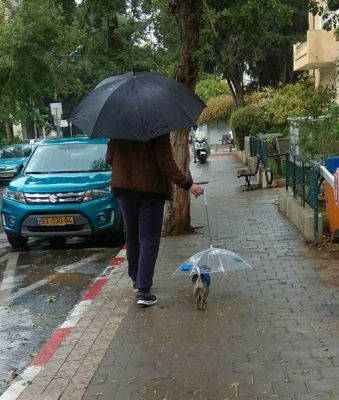 ---
January 2018 - Midreshet Sde Boqer

It's always exciting to see the wild ibexes in the centre of the village.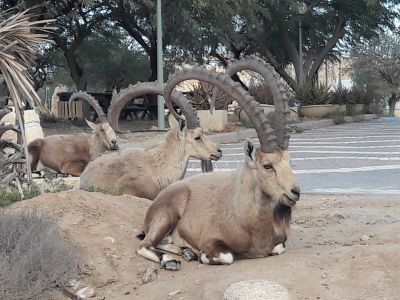 It was a lot of hard work, but the paella prepared by Doreen and grandson Maayan was delicious. See a close-up of the
paella on Maayan's page.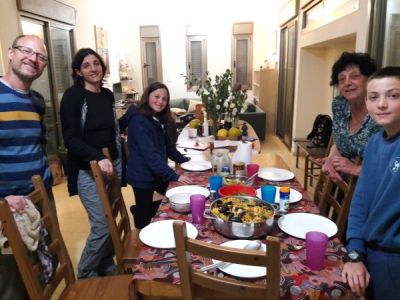 ---
January 2018

Belinda Levy who was married to my late cousin David (see Hershovitz and Matz family trees) is visiting Israel with her companion Peter Mintz and we were happy to meet up with her again and to meet Peter. They met son Aviv when they were in Eilat (see picture) . They spent the day with us during which Doreen took them on a tour of Caesarea, and then slept over.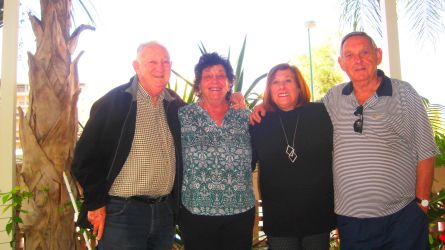 ---
---
---

INDEX OF SPECIAL EVENTS 2018


INDEX OF EVENTS in DOREEN'S COLUMN 2018