EVENTS & PICTURES 2018
CLICK HERE FOR AN INDEX OF 'EVENTS AND PICTURES 2018'

GO TO DOREEN AND EITAN'S HOMEPAGE
CLICK HERE FOR EVENTS and PICTURES 2004-2017
---
July 2018 - Sharon and Joe Leibowitz celebrate 50th Wedding Anniversary

The Leibowitz clan in Australia celebrate Sharon and Joe's 50th Anniversary
See the Matz and Hershovitz/Levy family trees.

---
July 2018 - Opatija bridge visit
We spent a week in Opatija at the Executive Meeting of the European Bridge League. I had a double job as I was in charge of the Junior Championships which consisted of Championships for Under 21, Under 16, Under 13 and Under 21 Women.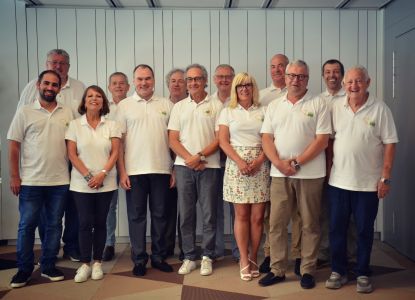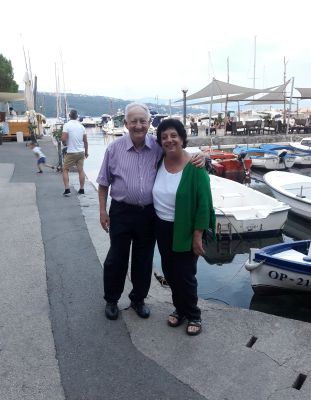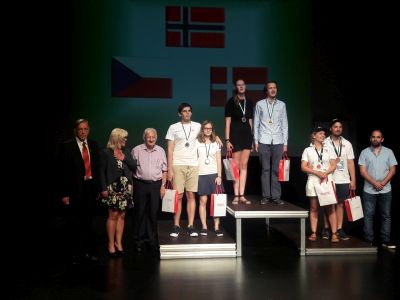 Left:: The Executive Committee (members from Germany, Netherlands, Poland, Turkey, France, Sweden, Ireland, Norway, Iceland, Belgium, Slovakia and Israel (2).
Centre: Doreen and I enjoy a walk along the coast\Right: At the presentation of the prizes for the Mixed Pairs Championships (winners - Norway)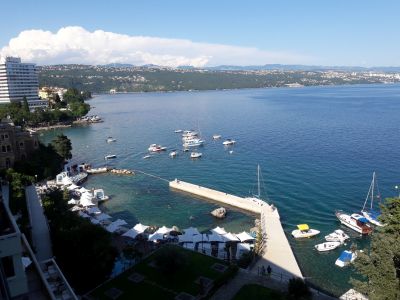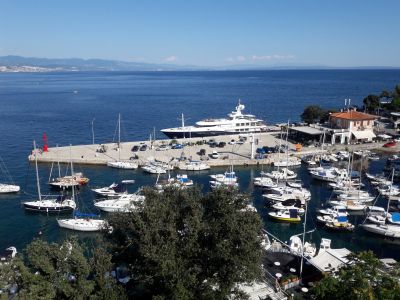 Two views from our room
---
July 2018 - Segoli Wedding Anniversary

Moran and Mikhal celebrate their Wedding Anniversary. Their daughter Lotem prepared this amazing birthday "card" for her parents!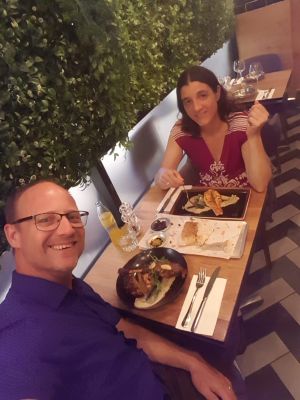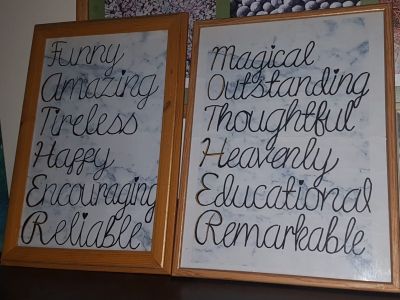 ---
July 2018 - Doreen's Cooking Class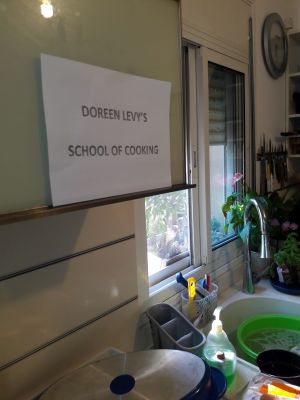 During some of the time that grandson Itamar was in hospital our grandchildren Maayan and Lotem Segoli, and Amit and Ilai Levy stayed with us in Netanya.

Doreen took the opportunity of showing them how to cook. They each made something different, and as Doreen says " It was

a challenge having three children doing different things in our tiny kitchen. But all the food was delicious."

,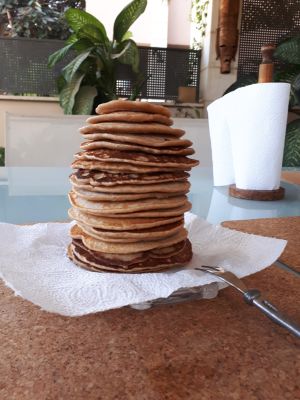 A perfect stack of pancakes prepared by Lotem
gravlax salmon in a beetroot cure (Lotem) ,
spatchcock chicken
, (Ilai), chicken marbella (
see recipe
)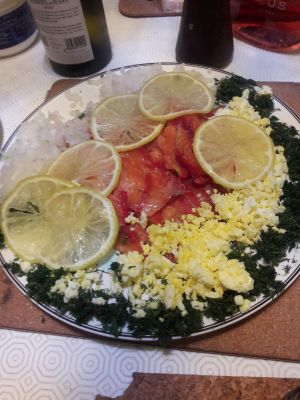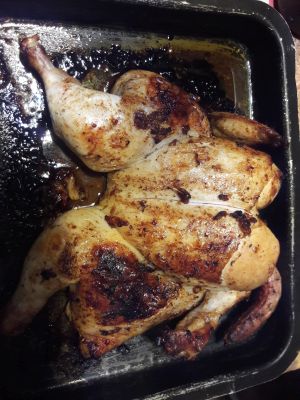 ---
June 2018 - Vered's 52nd birthday

We celebrated with Daughter Vered her and husband Aviv and daughter Lior at their favourite Vietnamese restaurant. (see This Week's Picture)



The three generations of beautiful women - granddaughter Lior, daughter Vered, and grannie Doreen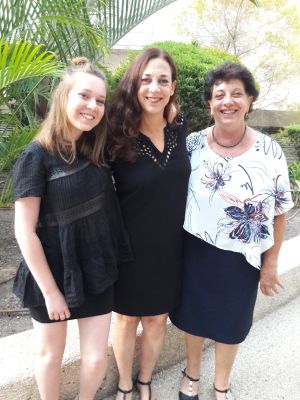 The brothers sent greetings in their own way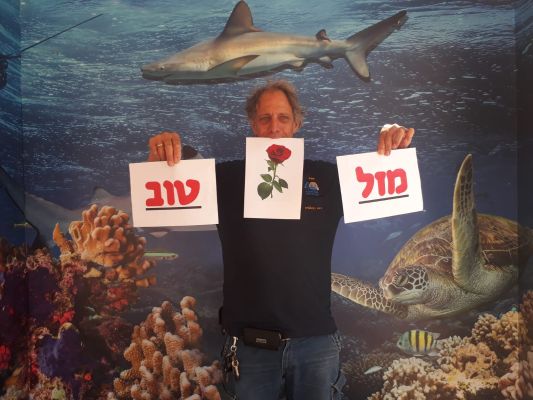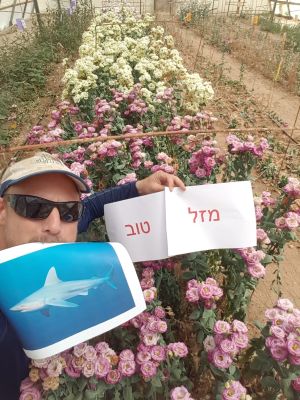 Aviv on the left, in his sea territory, displays signs with Mazal Tov and a rose, a land symbol (Vered in Hebrew means rose). Moran (on the right) got his revenge by using a sea symbol in his land territory, in front of bed of roses.
Aviv's reaction was expected: "Copy cat!"
---
June 20198 - Friends at the Tel Aviv Bridge Festival

We invited three friends who are in Israel for the Tel Aviv Bridge Festival, Yves Aubry (outgoing President of the European Bridge League) and his wife Claude, and Ton Kooijman (Chairman of the World Bridge Federation Laws Committee). The Rons joined us.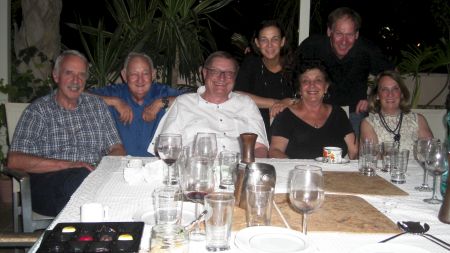 Ton Kooijman, Eitan Levy, Yves Aubry, Vered Ron, Doreen, Aviv Ron, Claude Aubry. (not in picture: Lior Ron)

---
Old friends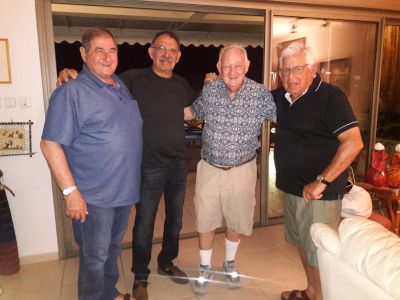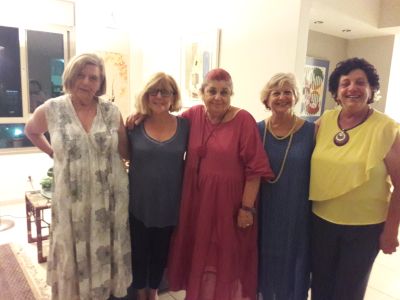 Colin Gorfil, Errol Hackner, me, Colin Kessel Hadas Gorfil, Jewel Hackner, Tamara Rabinowitz, Louise Kessel, Doreen


We had dinner at Colin and Louise Kessel to say hi to Errol Hackner, a schoolmate from kindergarten to matriculation, who is visiting from USA. We see Errol and his wife Jewel very occasionally and it's always good to reminisce about the old days. Wives Doreen, Louise and Hadas and Tamara Rabinowitz rounded out the nostalgic and extremely pleasant evening.

---
Aviv Levy's 50th birthday
Congratulations to son Aviv Levy on reaching 50! His place of work, Coral World Eilat, gave him a suprise party which was quite an amazing event - food, burning letter ceremony, lanterns etc etc.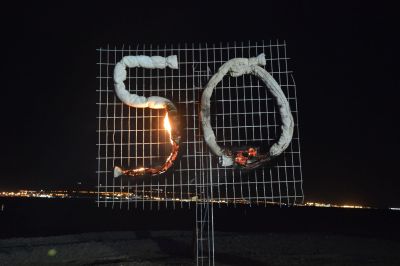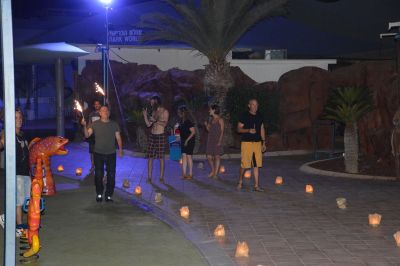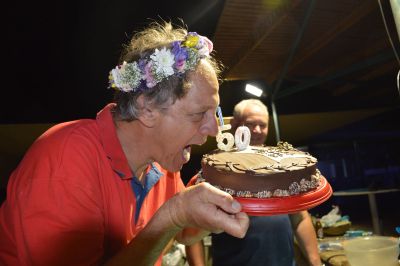 ---
June 2018 - Denise: Iron Woman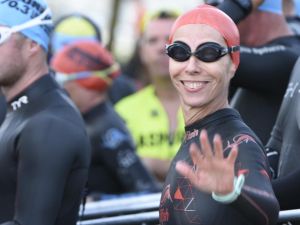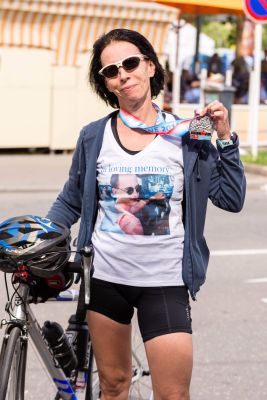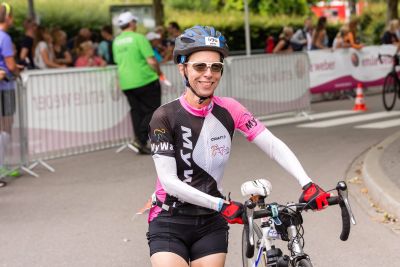 Our niece Denise continues to surprise. (see previous "surprise" here!). She looks as fit as ever, and this time took part in an Ironman Contest in Luxembourg: 1.9Km swim - 90Km cycle - 21Km run, all in 6 hrs 43 mins. She wore a T-shirt in memory of her brother Rael. All the family is proud of you, well done!

---
June 2018 - Ostend Belgium (2)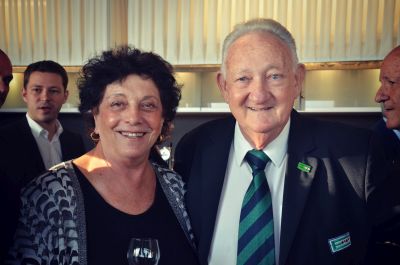 At the Gala Dinner the night before the elections - still time to canvas more votes - helped by my lovely wife.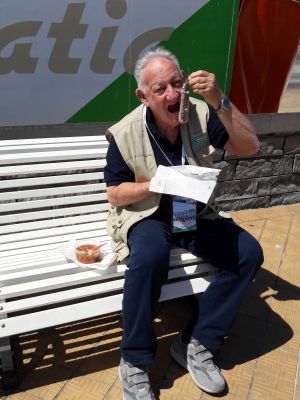 Enjoying my favourite snack - Herring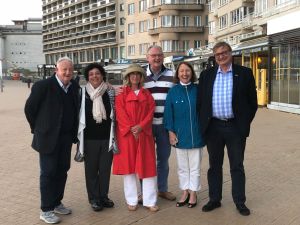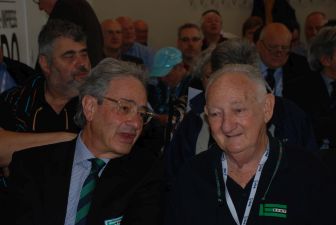 The old and the new: Doreen and I, Paul (also re-elected) and Maureen Porteus (Ireland) with outgoing president Yves Aubrey (France) and his wife Claude (in red);
and the new president, Jan Kamras (Sweden) and I in deep discussion (gossiping?!).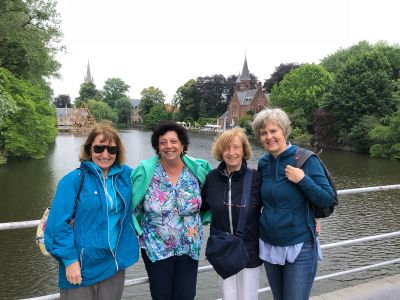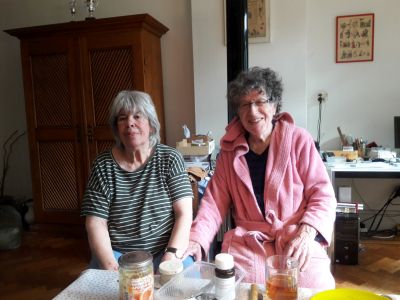 Doreen is recovering well from her operation. She took the opportunity while we were in Ostend to travel a little, visiting nearby Brugge and taking a train to Amsterdam where she overnighted with long-time friends Hans and Lottie Reizer.Sightseeing is one of the perks for the wives of the bridge officials; here Maureen with her sister Norma, Hulda and Doreen pose before they plunge into chocolate shops and Belgium waffles.
Doreen: The long train trip to Amsterdam was well worth it to see Hans and Lottie Reijzer. They are close friends from our first days in Israel at Hebrew Ulpan in Netanya, over 50 years ago. Lottie who has for decades battled serious illnesses was my role model to be healthy and optimistic and active after an operation.

---
June 2018 - Ostend, Belgium
We are in Ostend, Belgium, at the European Bridge Teams Championships.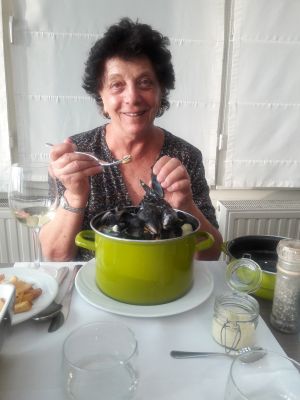 Doreen enjoying a large bowl of delicious mussels
and the street art of Ostend. She was reminded of street art and graffiti in London, and the murals we had seen in Tasmania at Springfield and Sheffield.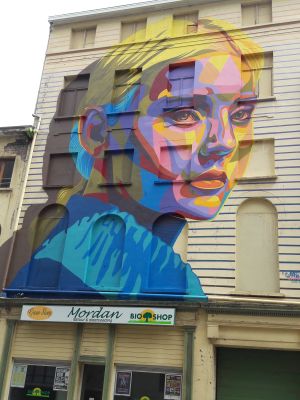 ---
June 2018 - A post-operation meal
On the Saturday morning after Doreen's operation, our good friend Morris Kahn visited and later the Segolis from Sde Boqer, Aviv from Eilat and Vered and Aviv from Raanana came over.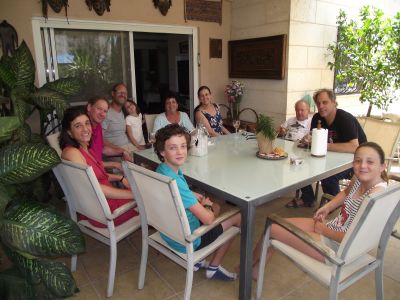 The Segolis brought lunch, delicious sushi prepared by grandson Maayan with help from granddaughter Lotem. This is only part of what they prepared!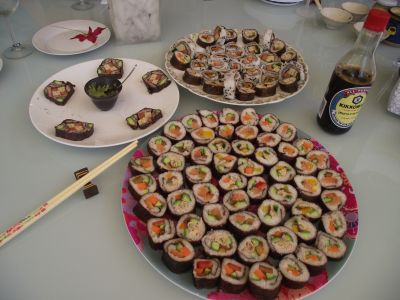 ---
June 2018 - Raanana Bowling Club Ladies Singles Champion - Louise Braverman

A huge "WELL DONE" to Doreen's sister, Louise Braverman, who yesterday won her match in the final and is now Raanana Bowling Club Ladies Singles Champion. We're proud of you, Louise!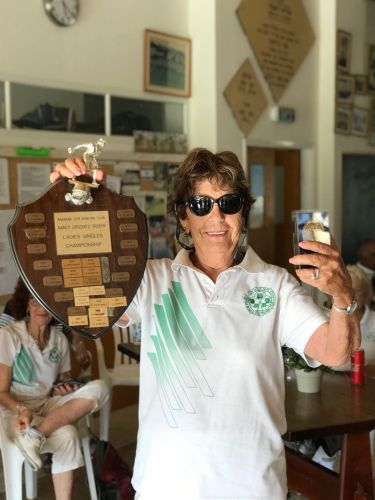 ---
May 2018 - The Levys in Midreshet Ben Gurion
The Eilat levys went up to Midreshet Ben Gurion to spend the weekend with the Segolis.


Aviv repaired the trampolione and the cousins went swimming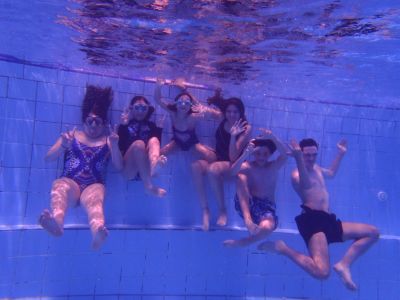 See another picture (of Ilai levy) here.
---
May 2018 - Shavuot at the Midreshet Ben Gurion School



There is a modern tradition at the school attended by gradchildren Maayan and Lotem Segoli. Each grade prepares a typical dance of a different decade. It is good fun and the children enjoy it very much.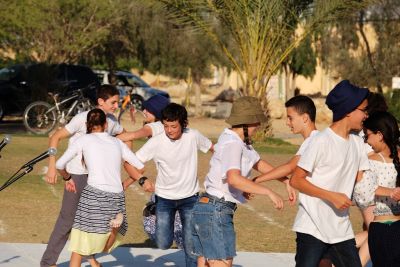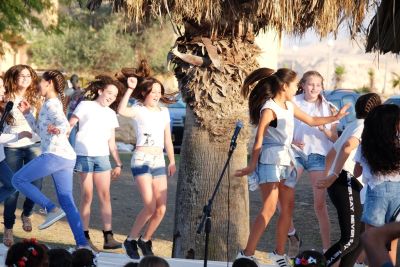 ---
May 2018 - Yael Segoli's 70th birthday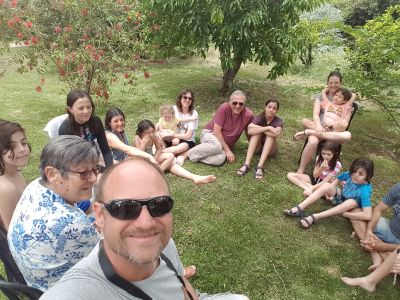 The Segolis celebrated Yaael Segoli's 70th birthday and sent us this picture.

---
May 2018 - Italian Giro
The big news in Israel in the beginning of May - apart from the usual political shenanigans - was the opening 3 stages of the Giro d'Italia, the famous Italian Bicycle road race. We watched the 2nd stage as it passed us. We thoroughly enjoyed watching, especially as it brought back memories of the Tour de France race which we saw in Corsica.



Click on the picture below
The riders will finish the Israel stages of the race in Eilat and then head for Italy for the last 18 stages before finishing the 23 day race in Rome.



Not to be outdone and getting into the swing of things, Coral World, where our son Aviv is the curator, had their own underwater "giro". The sign reads "Giro d'Italia - Welcome to Eilat"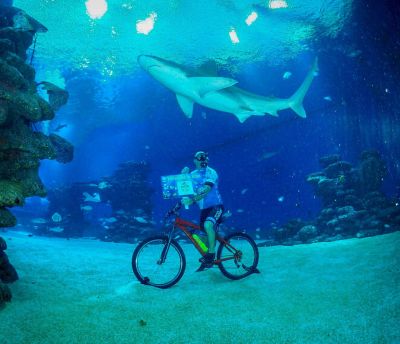 ---
May 2018 - Swim in aid of

Tzalul




Tzalul

is a non-profit organization dedicated to the clean-up of Israel's water - seas and lakes. It was started by Benjamin Kahn the owner of Coral world and a friend of ours for many years. This week they organized a 6km sea swim in aid of a clear and clean sea, and our son Aviv was one of the swimmers.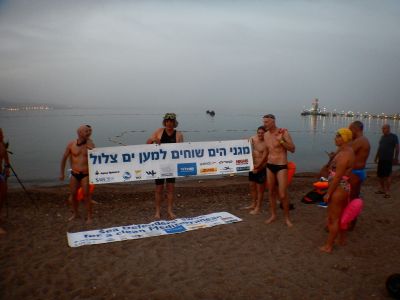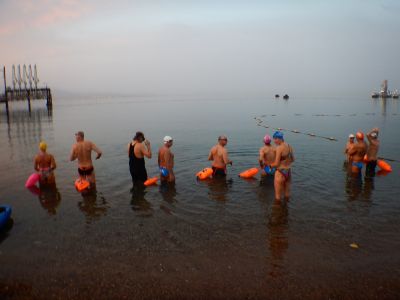 ---
April 2018 - The desert wadis fill with water.
The heavy rains and resulting flash floods (see an example here) which tragically drowned 10 teenagers at the end of April filled up the usually dry wadi river beds and provided an opportunity for the Segolis, after the danger had passed, to visit rare water pools in the desert.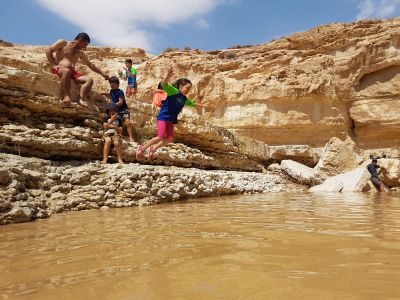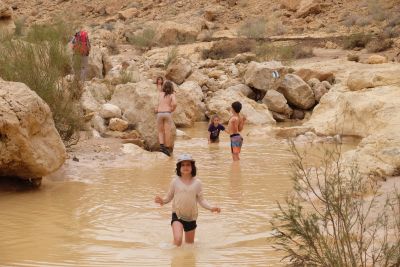 ---
April 2018 - Welcome Yaara Shavit
Congratulations to Vered (nee Loew) and Yoav Shavit on the birth of Yaara on 1st April. Congratulations too to brothers Dotan and Eyal and sister Maayan. And a special

mazal tov

to grandmother Yaffa Loew (Schank Family Tree).

On the left, Grandmother Yaffa with 2 day old Yaara; on the right Yaara with a her delighted big sister Maayan.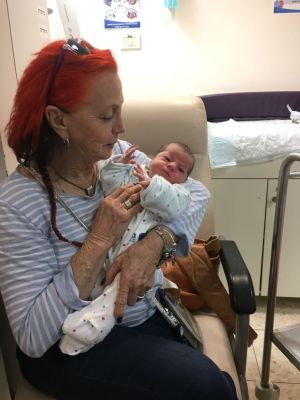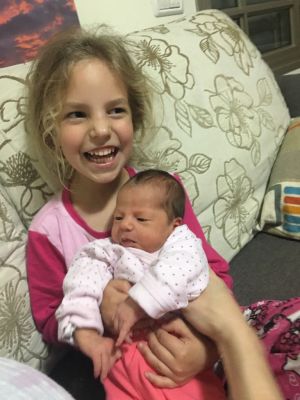 ---
April 2018 - double celebration

I celebrated my birthday together with granddaughter Zoe's birthday birthweek birthfortnight in Netanya. See below and also

click for more pictures of Zoe's fortnight.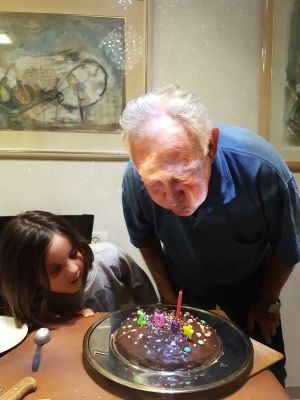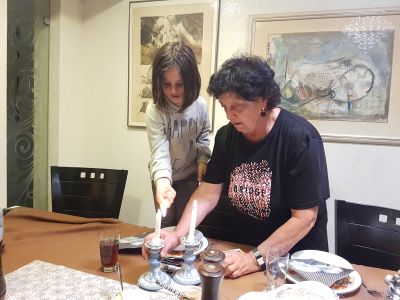 ---

April 2018 -

Yom Ha-azmaut

(Independence Day)

The Segolis visited their Segoli cousins in Mevasseret Zion where 4 days early Zoe celebrated her

birthday

birthweek,




and then drove to Eilat to enjoy some time with the Levy cousins.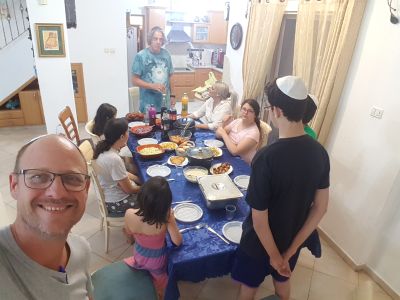 ---
April 2018 - The Rons go skiing

The Rons, daughter Vered, Aviv and Lior went skiing in St Anton in Austria. Vered prepared a great video of their trip but here is a picture of the three of them.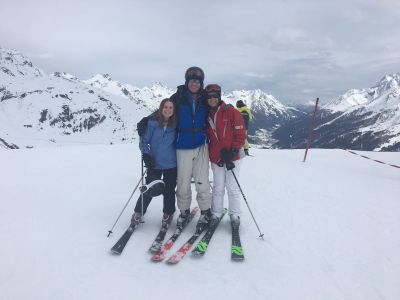 ---

April 2018 - With granddaughters Lotem and Amit in The Netherlands

We spent 5 enjoyable days in and near Amsterdam with granddaughters Lotem Segoli and Amit Levy. We came, we saw and we ate!

We stayed at a very comfortable apartment, The Guestroom, in a lovely neighborhood with good tram connections to the centre and other places of interest. We ate breakfast out one morning but enjoyed the croissants and cheeses available at the nearby supermarket.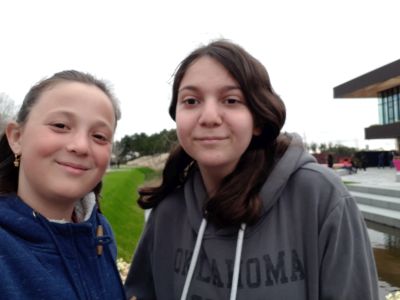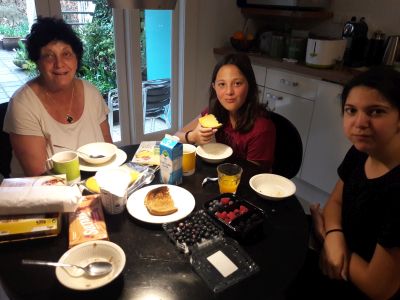 On our first day we got to know Amsterdam by taking a boat ride on the canals. The girls loved the picturesque houses. It was very interesting and amazing to see how many bicycles (without motors!) there were. There was even a multi-level parking garage and a floating parking garage for bicycles next to the Central Station.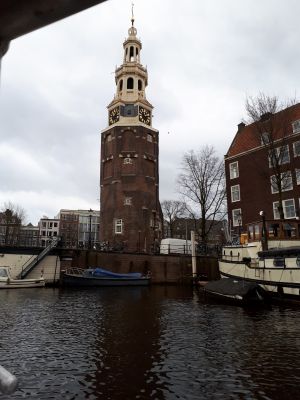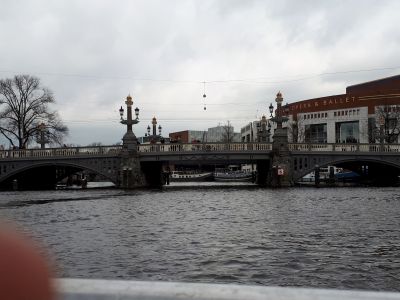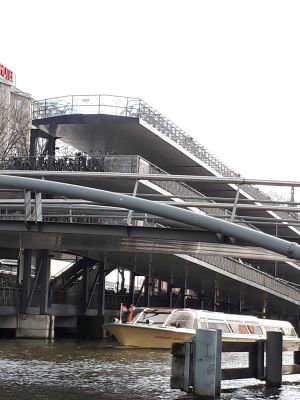 We went on a walking tour of the old Jewish Quarter and heard how the Jews fared during the period of the 2nd World War. There are plaques in the pavements and on the canal banks commemorating the Jews who lived in the houses opposite and who were murdered in the German Concentration Camps. We also visited Anne Frank House and saw where she and her family and others were hidden and where she wrote her famous diary.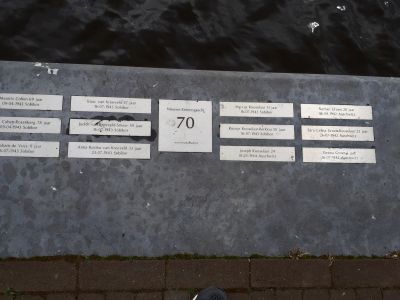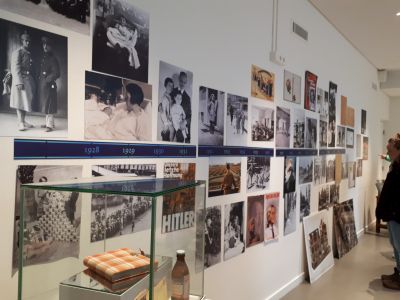 We were told that because of the cold weather there would not be many tulips at the Keukenhof Botanical Park but we decided to go anyway, a journey that entailed a tram, ferry and bus. Wow! The colours and variety of flowers, especially tulips,but also crocuses and daffodils was amazing and it was a wonderful experience. We were very very glad we went. The girls couldn't stop taking photos of each and every different tulip.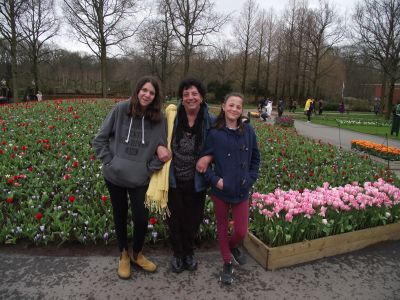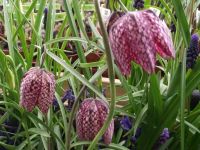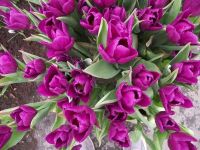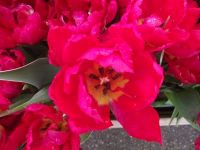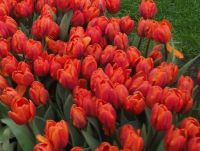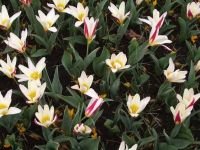 `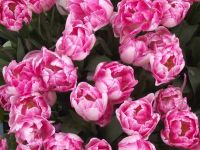 After the visit to Keukenhof we visited the Amsterdam LookOut Tower with a lovely view of Amsterdam. Lotem decided to try the special attraction - the swings which swung out from the top of the tower, over the edge of the building about 100 metres above the town below. Doreen, brave Granny, was forced to accompany her granddaughter. Lotem was exhilarated while Doreen was thankful she didn't fall out to the ground far below.


Click on the picture for a short video of the experience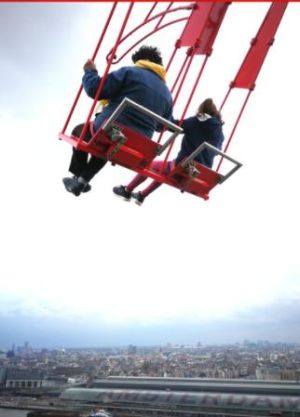 On our way back, walking through the Central Station, the girls spied a Starbucks and excitedly made a beeline straight to the counter. They enjoyed their favourite Amsterdam drink - hot chocolate with lots of whipped cream, and even bought Starbucks cups to take back home.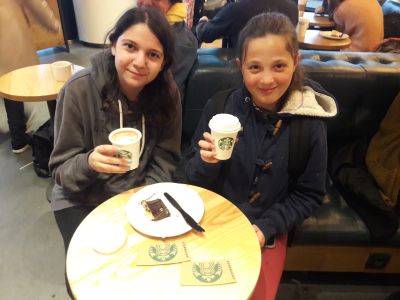 We had Rijsttafel dinner with old friends Hans and Lottie Reijzer and their son Esra and wife Rivka. On Friday night we had a shabbat meal with them and their daughter Jose and David and Nadav and Naftali. Jose put on a magnificent spread. We found that touring with girls is very different to touring with boys. The Albert Cuyp open-air market was fun despite the extremely cold weather. Shopping and window shopping was an important part of the trip. Doreen and the girls made a quick visit to the van Gogh Museum and enjoyed the large Museum Plein square .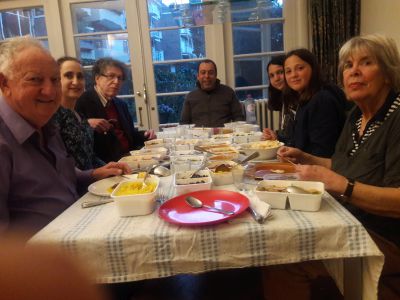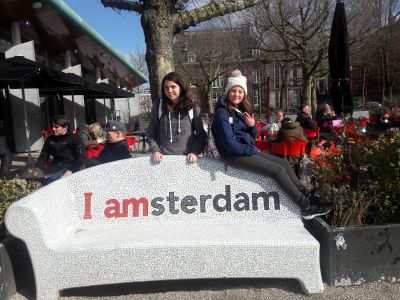 We hired a car on our last day and visted Zaanse Schans village. We saw the windmills there and visited some of the attractions which show traditional Dutch artisan activities, such as weaving and making wood clogs.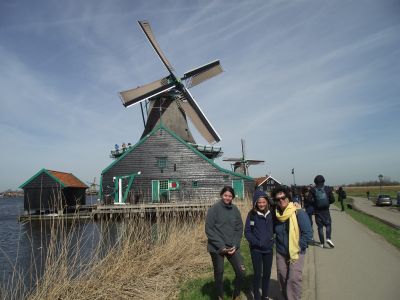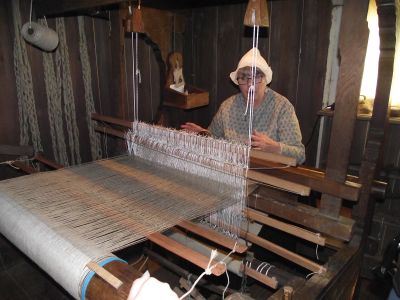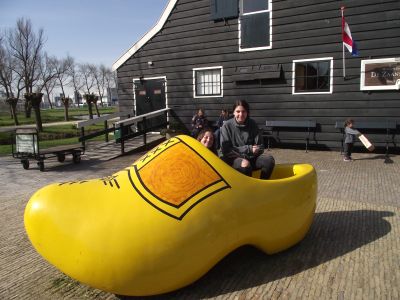 We ended the day with a visit to the fishing village of Vollendam where we saw how the dykes keep the sea from flooding the low-lying country and of course enjoyed a final taste of poffetjes and stroopwafels (and herring for Saba). The girls decided that they would buy Doreen a poffertjie pan for her birthday.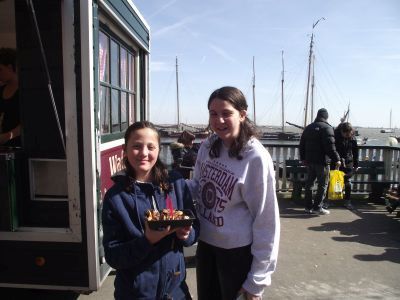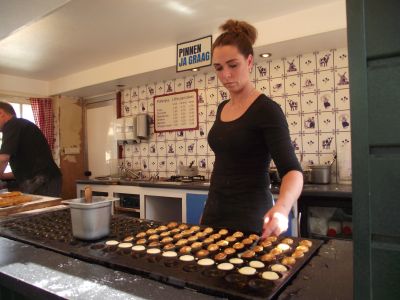 ---
March 2018 -

Pesach seder


We celebrated

Pesach (

Passover) with a family

seder

at our home in Netanya.

Doreen prepared the traditional passover foods supplemented by a delicious turkey, and the children played their part by helping.The children helped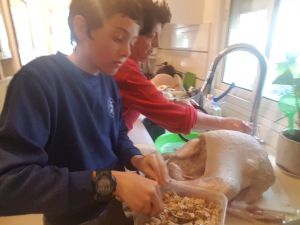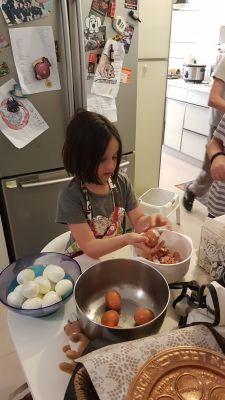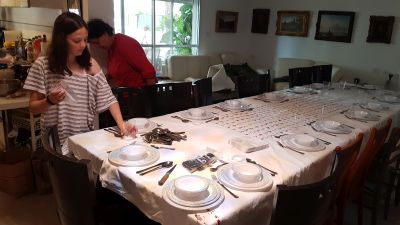 Our

seder

was more or less traditional. We prepared the seder plate and foods and read the haggadah (though we "passed over" some parts), and sang some of the traditional songs. Zoe's rendereing of

ma nishtanah

was outstanding and the food was plenty and delicious. We usually add something to our seders and this year we watched clips of some entertaining animations of the Egypt exodus and saw some cartoons depicting the exodus with modern touches.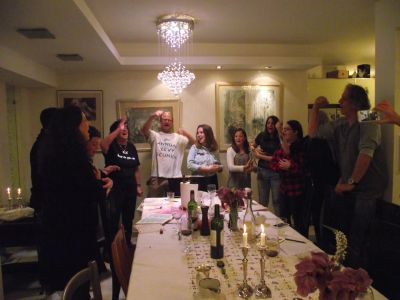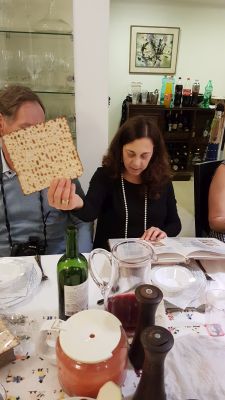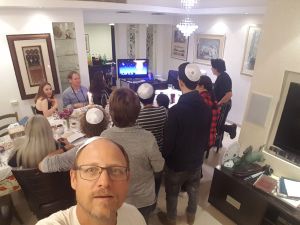 ---
March 2018 - The Eilat Levys enjoy a bonfire and picnic

Spring is around the corner and the warmer weather activities are starting. The Eilat Levys went up in the mountains to enjoy a bonfire and a Friday evening picnic.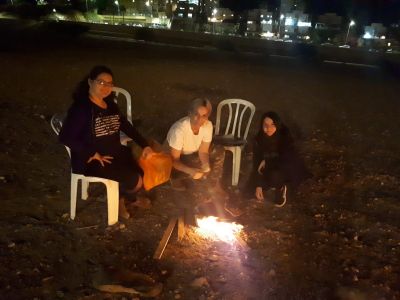 ---
March 2018 - Moran skiing holiday

Moran and his friend Ran Kagan enjoyed the end of winter with a short skiing break in Val d'Isere in France.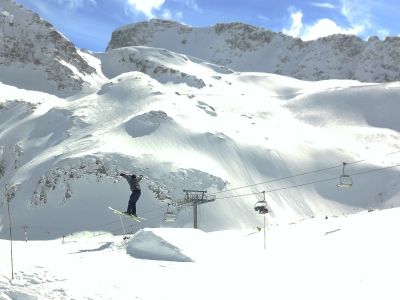 ---
March 2018 - 3rd time lucky?

Perhaps we finally have a dog? After two disappointments we hope that two year old Joanie and we will get on together. We got this nameless dog from Pets for Life. She likes sleeping but is also a great walker and we enjoyed our first walk with her. We wanted to name her Johnny Walker but because of her gender so we decided on Joanie Walker - Joanie for short.
We took advantage of Joanie's love of walking to visit the ephemeral lake in the Eucalyptus forest next to our building.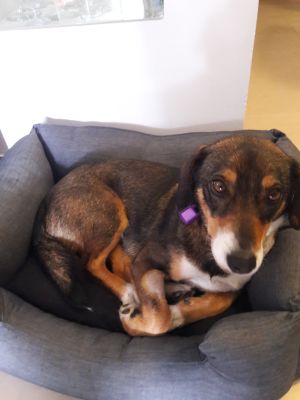 ---

March 2018 - Purim
We celebrated the Jewish holiday of

Purim

that commemorates the saving of the Jewish people from Haman, who was planning to kill all the Jews. This took place in the ancient Persian Empire and the story is recorded in the biblical Book of Ester.
The celebration is a joyous one and the schools and streets are filled with people in fancy dress or costume, and parties are commonly held.

See also the Archives for a stunning picture of son and daughter-in-law Aviv and Limor Levy.



Granddaughters Zoe, Lotem and Amit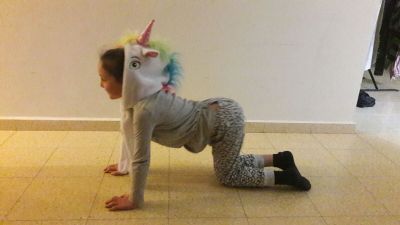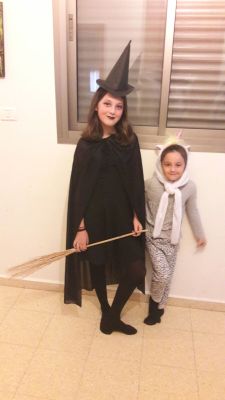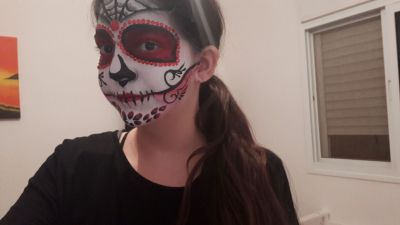 Granddaughter Lior with her fellow volunteers at the institute for disturbed and problematic youth.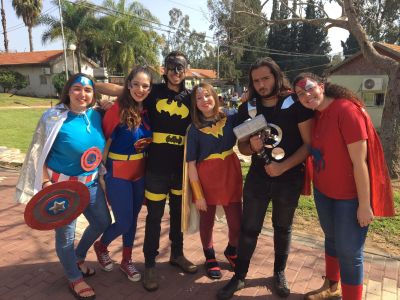 In addition many places hold an
Adloyada,
a kind of carnival procession. Midreshet Ben Gurion in Sde Boqer, where the Segolis live, organise a very popolar
adloyada
every year.
Lotem, Zoe (in group picture in front with rabbit ears, and son Moran strikingly made up by the talented Lotem.
(
see another example
of Lotem's make-up artistry)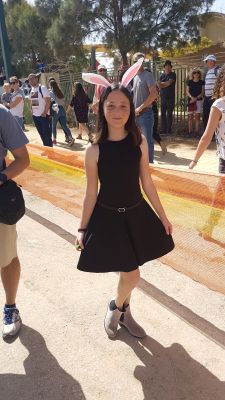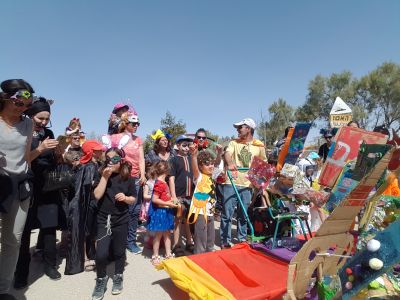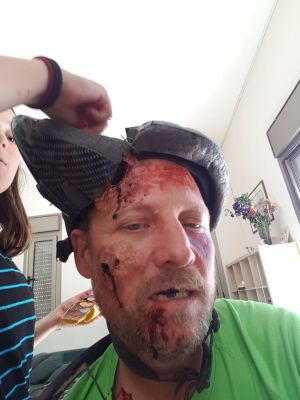 ---
February - Maayan and Doreen prepare Makluba

One of the highlights of the babysitting the Segoli grandchildren was the middle eastern dish

Makluba

(that is cooked and flipped over) that Maayan prepared under the direction of Doreen. It came out perfectly and was delicious. Click on the picture below to see the successful "flipping over"



The

makluba

, about to be flipped. Click on the picture to see the successful "flipping"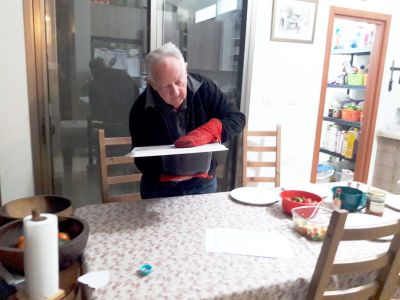 Click here to read Doreen's

makluba

recipes (with variations for meat eaters or for vegans)

---
February 2018 - Moran and Mikhal Segoli visit Kenya



They did a four day trek (and an additional day traveling in each direction) up to the second highest peak of Mt Kenya (Lenena peak 4985 m). They went with a guide and helpers. For most of the hike they saw beautiful and interesting flora but not many animals.


They took the less-travelled path so their group was mostly alone. After the hike/climb they went on a safari.
They are due to go for a boat ride on the highest lake in the rift valley -Lake Naivasa. (Last month they visited the lowest rift valley lake.)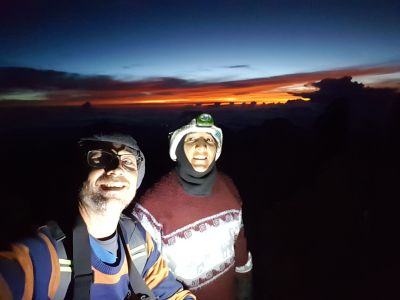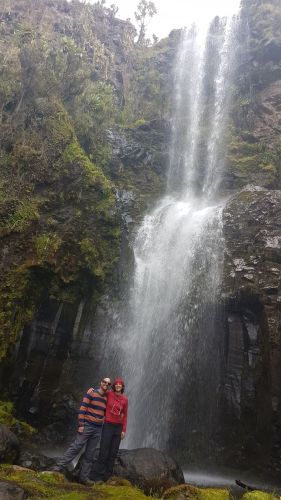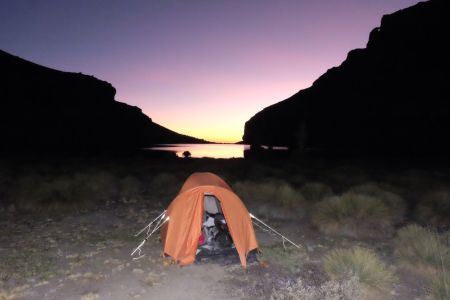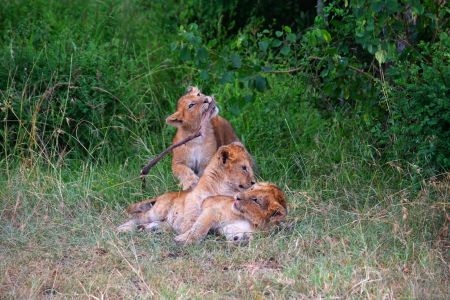 on safari

For another picture see This Week's Picture archives

---

February 2018
We babysat the Segolis, Maayan, Lotem and Zoe, in Midreshet Ben Gurion (Sde Boqer) while parents Moran and Mikhal were climbing Mt Kenya. On the first weekend we took the 3 children to Eilat to enjoy the weekend with their Eilat cousins Itamar, Amit and Ilai.



The boys do their thing --- --- The girls do theirs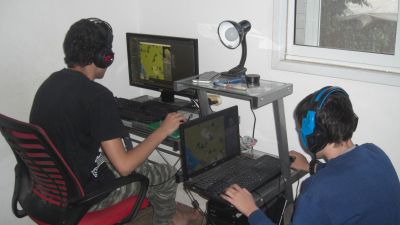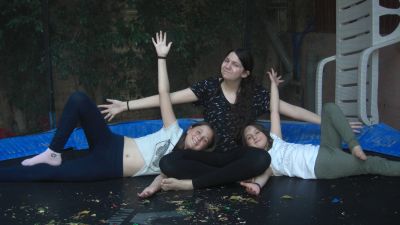 ...... but we also do things together.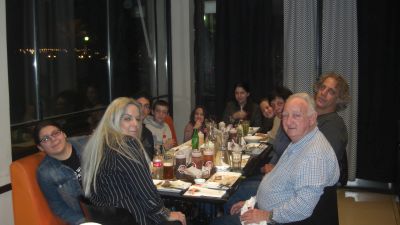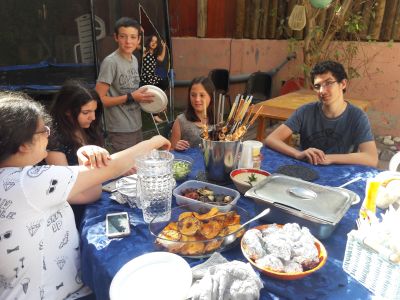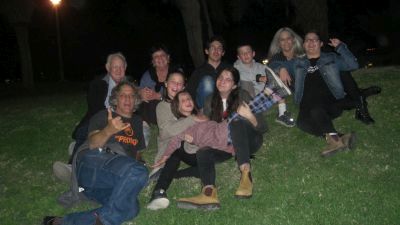 ---
February 2018 - TD Workshop in Larnaca, Cyprus

I organized a Tournament Directors' Workshop for the European Bridge League in Larnaca, Cyprus. There were 59 participants and the workshop was very successful.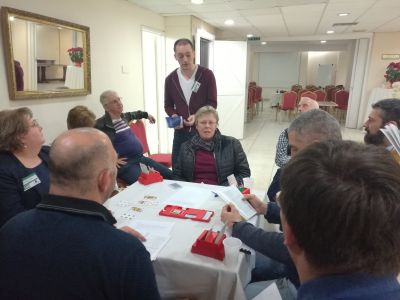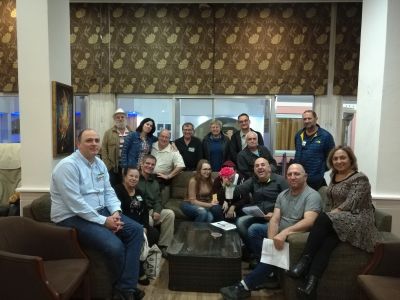 (l -r): A participant dealing with the situation in a simulation of a problem during play; the Israel participants; the five participants receiving their certificates for Grade A+ (I am on the left, Yves Aubry (EBL President) on the right.)

---
February 10, 2018 - A special happy 96th birthday to Aunt Winnie Levy, so excited to have her family around to help celebrate with her in Seapoint.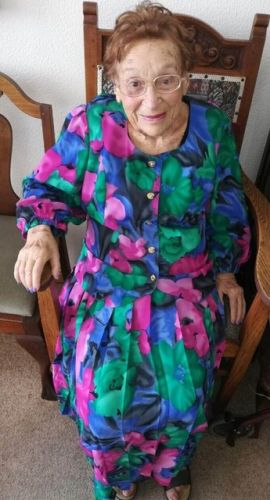 ---
February 2017 - Cyprus
While in Cyprus Doreen hired a car together with Oryah Meir (the GM of the Israel Bridge Federation who was assisting in the organization, see picture) and Yves Aubry, the President of the EBL. They drove up torturously windy roads to the top of Mount Olympus and then down to Kykkos, an amazing Greek Orthodox Monastery. Every available surface is covered with either mosaics on a biblical motif or with wall paintings, all in wonderful condition. The most precious posssession of the Greek Orthodox monastery is an icon of Mother and Child, purported to have been painted by Saint Luke.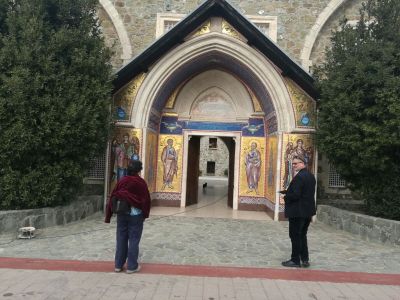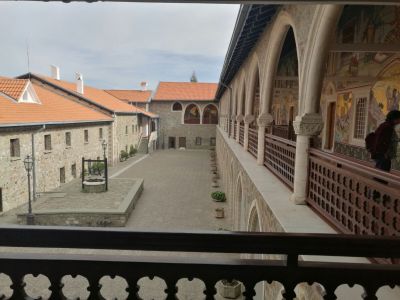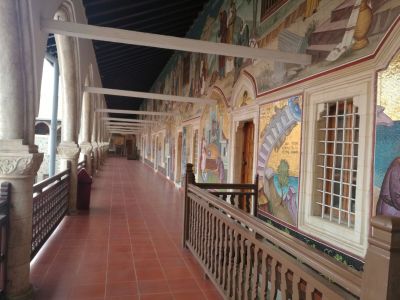 The following day Doreen also did the long drive to Paphos where, near the harbour, there is a UNESCO Heritage site recognizing important and beautiful mosaics from the Hellenistic and Roman era. In the mosaic on the left note what appears to be a Star of David, but it is a geometric design as the Magen David only became a Jewish symbol in Medieval times. Above it to the left there is a design that looks like a swastika, but the swastika arms turn the other way and it is far too early for its present day associations. Below is a mosaic of an Amazon. It is unusual as Amazons are usually depicted on horses. The other thing is that we see her bared right breast. Amazons, who are mythical figures, were said to cut off their right breasts the better to wield their spears. If you go to Zippori another breasted Amazon is depicted there in the Nile House.
Tombs of Kings is further afield. Although the many tombs cut into the stone are varied and impressive they were rather of rich or important people and not kings. The green grass and wild flowers of spring make it an ideal place to spending a morning exploring the many tombs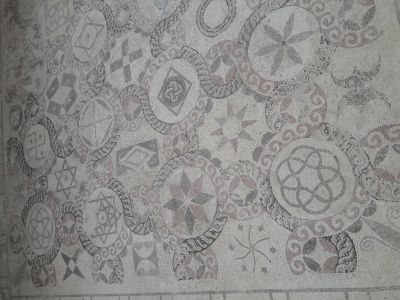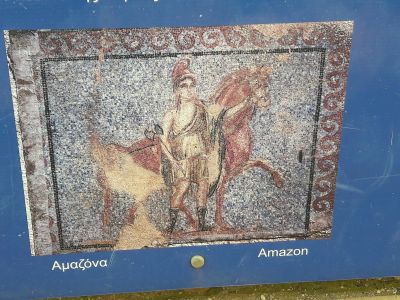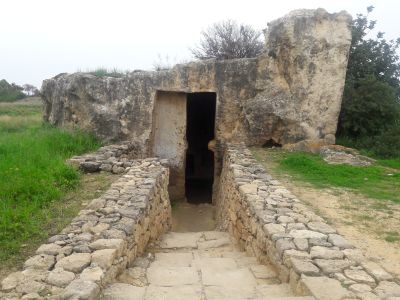 ---
February 2018 - A short visit to London
On the way back from a stay in Belfast we spent a day and as half in |London - enough time for some shopping, a delicious Chinese lunch and an excellent fish dinner.

---
February 2018 - Joel Klotnik goes sky diving

Joel and Beryl Klotnik (see Matz family tree) are in South Africa and Joel took the opportunity of the holiday spirit to go sky diving! Hope you weren't too nervous, Joel.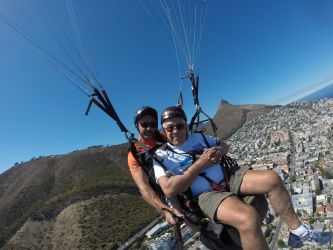 ---
February 2018 - Enjoying a visit to Belfast

Dinner with Maureen Porteus and 4 bottles of wine at dinner, and enjoying fresh oysters at St George's Market. No record of her shopping, but our suitcases are now much heavier.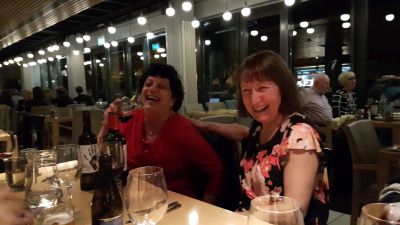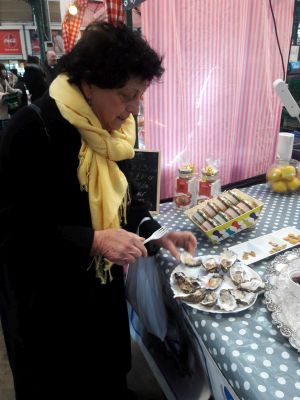 ---
January 2018 - Doreen at the

Knesset


Last week, as part of the activities of the Women Make Peace organization, 150 women (Doreen among them) attended a special meeting of the Women's Lobby at the

Knesset

(the Israel Parliament.)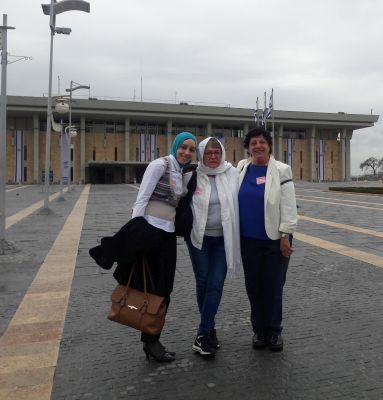 Doreen (right) with fellow participants Wedad Zaid (left) and Ruth Erez middlet)

---
January 2018
Andy Loew passed away this month. See This Week's Archives. Our son Moran sent us this picture, taken in the late 1980's, of happier times, with Andy, Yaffa and their two children Vered and the late Guy ז"ל in the Timna area in southern Israel.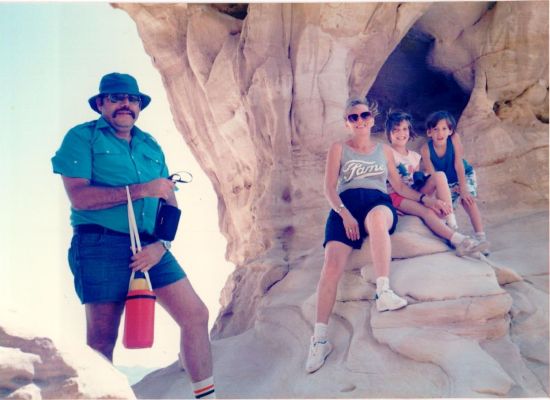 ---
January 2018 - How to walk your dog in the rain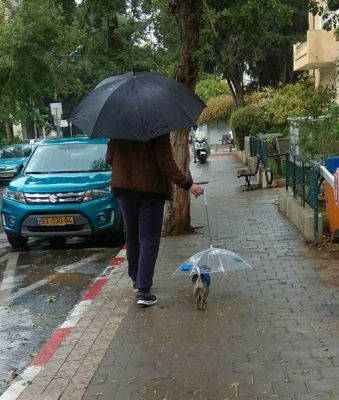 ---
January 2018 - Midreshet Sde Boqer

It's always exciting to see the wild ibexes in the centre of the village.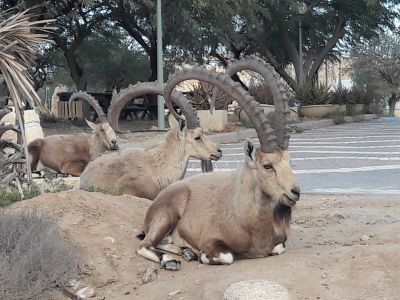 It was a lot of hard work, but the paella prepared by Doreen and grandson Maayan was delicious. See a close-up of the
paella on Maayan's page.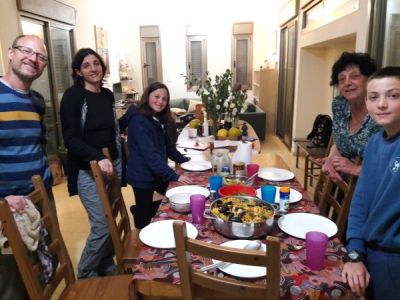 ---
January 2018

Belinda Levy who was married to my late cousin David (see Hershovitz and Matz family trees) is visiting Israel with her companion Peter Mintz and we were happy to meet up with her again and to meet Peter. They met son Aviv when they were in Eilat (see picture) . They spent the day with us during which Doreen took them on a tour of Caesarea, and then slept over.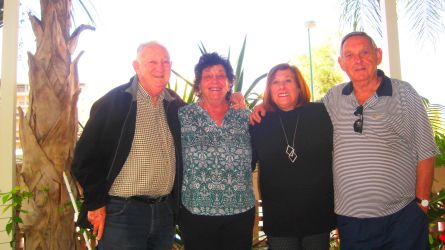 ---
---
---

INDEX OF SPECIAL EVENTS 2018


INDEX OF EVENTS in DOREEN'S COLUMN 2018