THIS WEEK'S PICTURE
and THIS WEEK'S NEWS
---
---
European Bridge League (EBL) Gold Medal

This weekend Doreen and I were in Larnaca Cyprus where I attended a seminar run by the EBL. At the dinner at the end of the seminar I was presented with the Gold Medal for "distinguished services to European Bridge". I was very proud to receive this, especially as the last EBL Gold Medal awarded was ten years ago.

---
The Segolis took advantage of the temporary break in the rainy weather to go on hikes - today to Gev Darogh (Moran and Mikhal) and yesterday to Gev Zarchan. Apart from the desert scenery there are water holes (Gev) in the rock base that fill with water in the rainy season.
Click for pictures
from yesterday (Gev Zarchan), and some
pictures of Zoe
'exercising' on the rocks.
Many thanks to Roslyn Hakim for sending pictures of her grandfather Barnet Nickel and of his three daughters Ray, Fay and Sarah (Roslyn's mother). Barnet is Doreen's great uncle. Click to see the pictures on the old photos page. (See Nochimovitz/Nickel family tree.)
We had booked to visit New York in the New Year and meet daughter Vered and granddaughter Lior there. The trip was cancelled but Vered rebooked and last week flew there for business meetings. She sent us pictures of the cold and snow there. Vered returned last night and is in quarantine until she receives a negative PCR test.

Here's Doreen's recipe for cauliflower salad with real or vegan mayonnaise.

We travel to Cyprus later this week for a two-day Bridge Officers' seminar.
---
Daughter Vered Levy-Ron interviewed on Channel 13 TV

Vered was interviewed about her job as CEO of Syte, the world's #1 discovery platform of ecommerce. She came over very well as she explained what the company does. You can see and hear the interview (in Hebrew)
here
.
Syte uses visual AI technology to
cater to the specific needs of fashion, jewelry, and home decor brands.
You can read more about this
here
.
We are very proud of our daughter and her success.

This was Levy TV week. In addition to daughter Vered's TV interview, son Aviv was interviewed on TV Channel 13 about the problem of plastic pollution in the sea, and showed seahorses entrapped in plastic waste. Aviv is a regular on television talking about various sea and fish subjects (See for example here (skip the adverts) and here). He speaks extremely well and confidently. See a still picture of his interview here.

We were saddened to hear this week of the passing of Merrick Silberman. We have known Merrick since our Durban days. We extend condolences to his wife Ida and children, and to his sisters Sybil Firer and Frankie Klaff (see Goldberg Family Tree).
---
THIS WEEK'S PICTURE
8th January 2022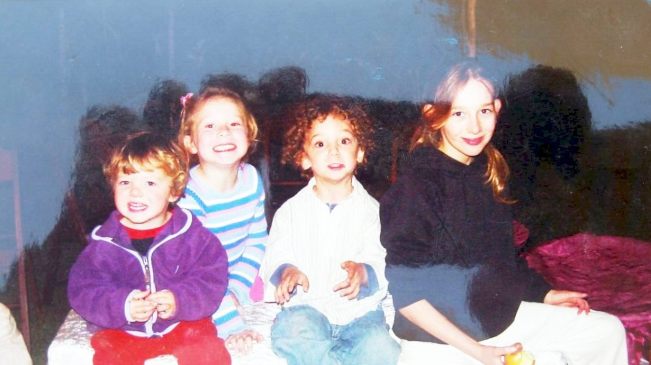 Smile for the camera!
Maayan, Lior, Itamar, Danelle
Our first 4 grandchildren pose for the camera - taken about 15 years ago.

from my Old Photos Collection
THIS WEEK'S NEWS

As reported last week granddaughter Lior Ron has returned to Israel. Her isolation period ended on Thursday and we listened to her stories of her trip at Friday night dinner at the home of daughter Vered and Aviv. We were suitably impressed by the hammock she bought in Mexico - now she only has to find a place to hang it.
We were happy to have Lennie and Selma Cartoon over for lunch today, followed by an enjoyable game of bridge. Lennie is related to my cousin Jonathan Levy on his mother's (Malia nee Weinronk) side, and although we don't see them too often we are always happy to see them.. See Levy and Matz family trees.
We are sorry to hear that Frankie Klaff's (Goldberg Family Tree) sister Sybil Firer and brother Merrick Silberman are not well and wish them a quick recovery.

Doreen and I wish all our relatives and friends a happy New Year. We're not sorry to see the end of 2021 and hope that 2022 will be a better, successful and healthy year.


If all had gone according to plan, this would have been written from New York. Unfortunately Omicron Covid changed all that.

We are due to fly to Cyprus at the end of this month and hope that by then some travel restrictions will have been removed.
Granddaughter Lior Ron is back in Israel after her 2 month vacation in Mexico. She was also due to fly to New York and meet up with us but her plans were also disrupted by Omicron.
---