THIS WEEK'S PICTURE
and THIS WEEK'S NEWS
---
This Week's Picture and News

) - 2020


January 2020 February 2020 March 2020 April 2020 May 2020 June 2020
July 2020 August 2020 September 2020 October 2020 November 2020 December 2020
(

Last year -2019)



---
21st November 2020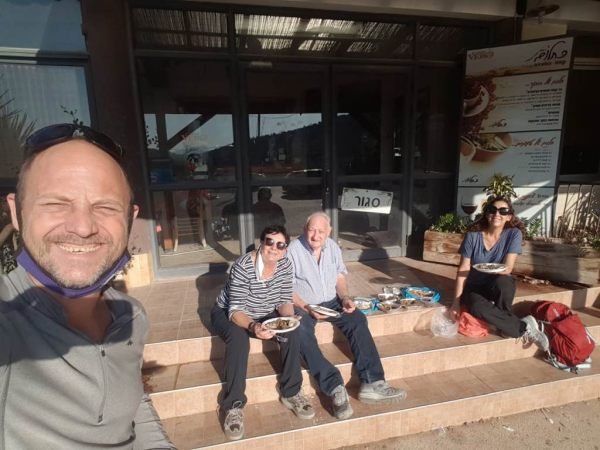 Dining out - Covid style


We took a day trip to the Agamon Hula Nature Reserve in the Galil on Wednesday. We had so enjoyed the olive oil we bought at Saba Haviv
a few weeks ag
o
that we stopped on the way to buy some more. All the local restaurants were closed (Covid restrictions) so we ordered 'take-away' from a Druze village restaurant and enjoyed the food sitting on the steps of another closed restaurant at a nearby petrol station.
Then we drove to the visitor centre at the Agamon Nature Reserve in time for a Sunset Tour of this impressive site.
See pictures here.

THIS WEEK'S NEWS
Another quiet week except for a delightful visit to the Galil to the Hula Agamon Reserve (see above.)
The Segolis joined us this weekend - dinner at the Rons, some old family movies and lunch by us. This was an opportunity for a master cooking class.
---
14th November 2020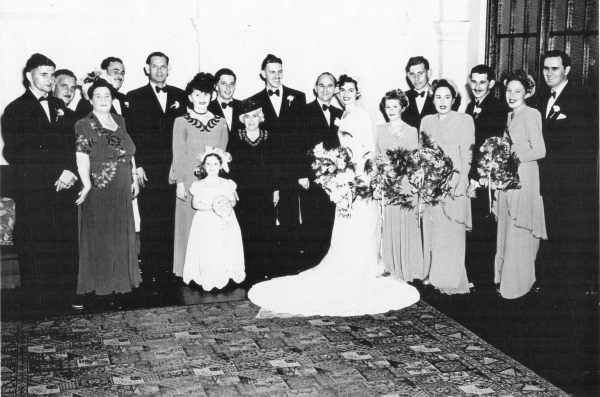 My sister Fern - flowergirl at Louis and Avie Hurwitz wedding in 1948


My late sister, Fern, was born on 18th November 1942, so I thought it appropriate to have a picture of her this week. The picture above is of the wedding of my father's cousin, Louis Hurwitz, to Avigail (Avie) Woolfson in Durban in 1948. My father and mother are 2nd/3rd from the left in the picture. Behind Fern is the bride's mother Riva Woolfson and father Gedalia; and next to her Louis' mother Rebecca (Matz) Hurwitz, my father's aunt. I have not yet identified others in the picture but have contacted Avie's daughter who has promised to help.
I apologise for the quality of the picture. It is a photo from pre-digital days of the original I took while visiting Avie some years ago on a visit to South Africa. A better picture of flower girl Fern with the bridesmaids is
here.
This is an opportunity to appreciate the many facets of Fern's life ranging from political activism to mountain climbing.
Her memorial page can be accessed here.
from my Old Pictures collection
THIS WEEK'S NEWS
This has been a rather quiet week for us, nothing special except a few doctors' visits and a lot of Zoom events (especially Doreen) and music. We also did some work in the garden.
We have had a bumper crop of delicious papayas in our garden this year, and still have a few more waiting to ripen. We are planting seeds from this year to have even more trees in the next years. Some have sprouted already and been transplanted to a large container and we have prepared another container for more. See some pictures here.

Doreen tried a new version of her pancakes - apple pancakes without any oil. They were very tasty. Read her recipe here.

---
7th November 2020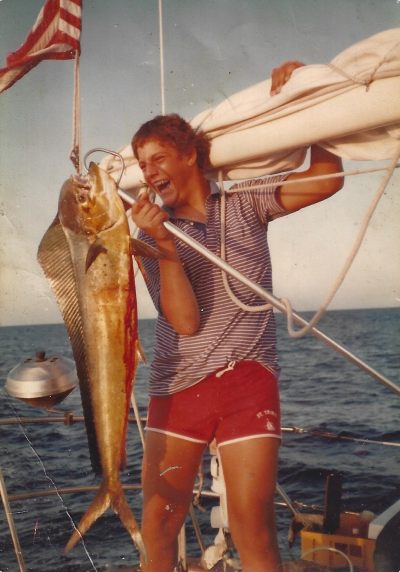 Aviv catches a mahi-mahi fish
I went back to looking at old photos in our albums (I still have a few more) after a break. I found some pictures of a sailing trip we took in the 1980's on friend Morris' yacht Mystique. The captain, Ted, had to take the yacht from St Thomas where we were living at the time, to St Lucia . to pick up Morris and some friends and he needed a crew, so we volunteered. Doreen, Aviv and Vered sailed and helped all the way to St Lucia. I couldn't take the time off so Moran and I got off on the way in St Martin and flew back to St Thomas.
One of the highlights of the sail was Aviv catching this beautiful Mahi-Mahi while trawling. The fish is a good sporting fish and is also delicious to eat prepared in many ways but especially grilled. .
There are some more pictures of our sail
here.
from my Old Pictures collection
THIS WEEK'S NEWS
---
31st October 2020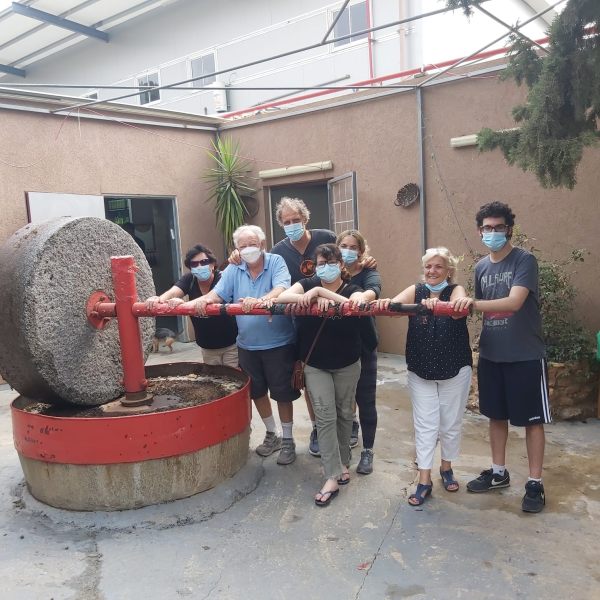 The Eilatis at Saba Haviv, at an old olive-crusher
Doreen, me, Aviv Levy, Ilai Levy, Limor Levy, Margalit Sadeh, Itamar Levy
This weekend we went with son Aviv and family (joined by Limor's mother Margalit) to get away from it all at a tzimmer (B and B) in the Galil, delighting in the cool and refreshing weather. Aviv and family went a day earlier and visited Tzfat (Safed). We came on Friday afternoon and enjoyed quality time with them, and visited Saba Haviv, a shop selling various local products where we bought olive oil and a few other things. A delightful weekend.
More pictures here.
THIS WEEK'S NEWS
This week we said a final goodbye to David Birman, a close bridge associate I have worked with and cooperated with for over 50 years. David was a world class bridge player, and as a coach trained numerous youngsters who brought honour to Israeli bridge and who continue to do so. He was an outstanding organiser and his annual Red Sea Bridge Festival attracted bridge players from all over the world and was recognised as one of the leading bridge events in the world. When I retired from bridge directing I couldn't resist the pleasure of continuing to judge at David's annual Festivals. We extend condolences to his wife Daniella and son Alon, both outstanding international bridge players, and to his daughters Avivit and Moran.

We made a quick return drive to Midreshet Sde Boqer to celebrate granddaughter Lotem's 15th birthday. We ate Maayan's delicious red velvet birthday cake covered with icing sugar with Doreen's help, had a lovely meal and drove home again. Pictures here. We took Joanie with us and she was rather too much interested in the Segolis guinea pig (Moses), hamster (Peaches) and rabbit (Ash). Evidently it was also Ash's birthday.

Doreen heard from Mina Orenstein, a dear friend from our days in St Thomas who visited us a few years ago. . She is now living in Guatemala and with her small Canadian pension says she is better off than many of the locals. When she heard that the local artist Antonio didn't have money for paints she commissioned him to paint her verandah wall (on plywood so that if she moved she could take it with her). She now laughingly describes herself as a patron of the arts!. Click here to see the painting.

During the Corona precautions we are taking it carefully and easily, but a brunch poolside in the open air at friend Ruti Erez's house seemed like a good idea to Doreen and some of her friends.
Today is Halloween - so happy Halloween for my USA family. The Segolis lived in America for some time and the children remember Halloween. For children Halloween is fancy dress, carving pumpkins and "trick or treat". We don't get those large 'carveable' pumpins in Israel, but granddaughter Zoe found that an apple, though smaller, is a convenient substitute. See picture.

Daughter Vered and the Ron family also lived in USA for a time, and on one of our visits there (in 1997), just before Halloween, we took granddaughter Danielle to the zoo where she could choose her own pumpkin. It was not the most successful venture but all's well that ends well. It's been recounted before but worth another read. Read about it here.

If you didn't see it last week you can click here for the recipe for delicious Onion Loaf.
---
24th October 2020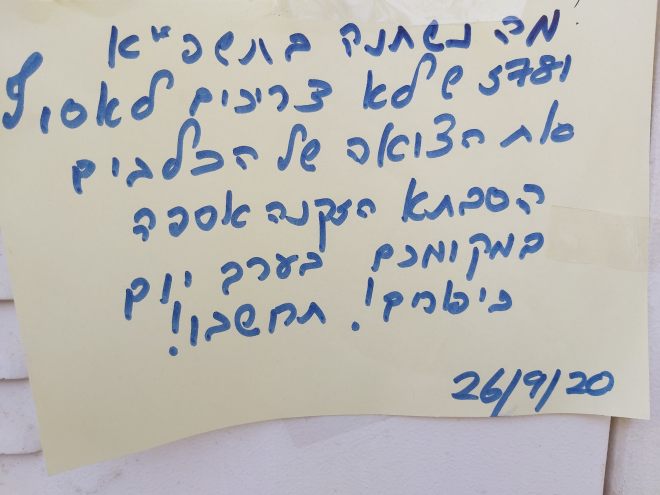 One of Doreen's yellow notes


Doreen is on a crusade against people who don't pick up their dog's poop. When she sees a pile, she picks it up and leaves a little sign on yellow paper. Above is an example of one of the signs she put up on Yom Kippur eve. It reads:
"Why is this year different that you don't pick up your dogs' crap? The old grandmother has picked it up for you on this Yom Kippur eve. Think!"
See Doreen's column for results.
<>THIS WEEK'S NEWS
Happy Anniversary this week to:
Katelyn and Alex Hock,
Carmen and Marlon Kay
(27th), Rachel and Alan Smith (29th)
---
17th October 2020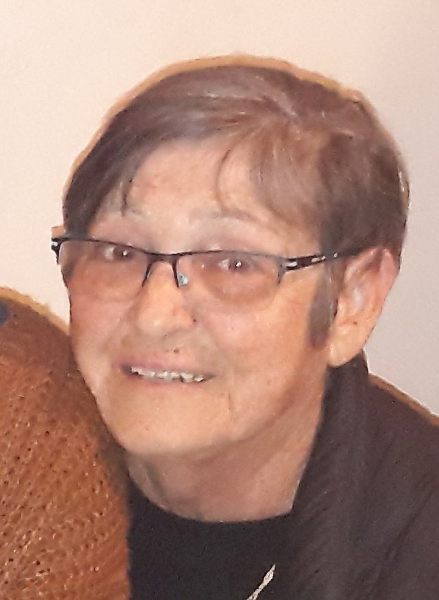 4 May 1948 - 14 October 2020
We are saddened by the passing of Yael Segoli, mother and mother-in-law of Mikhal and Moran Segoli. We had a close relationship with Yael and bonded over our grandchildren Maayan, Lotem and Zoe. She will be greatly missed.
Our heartfelt condolences to her husband Avraham; her daughters Naama Yaniv, Mikhal Segoli, Dikla Crutchi, Ophra Ohanna and their husbands; and her 12 grandchildren Nitzan, Rotem, Amit, Ido, Maayan, Lotem, Zoe, Mili, Tal, Ilil, Ori and Alex.
Link to Yael's Memorial Page (in Hebrew)

THIS WEEK'S NEWS
We were in partial lockdown this week (1km from our home restriction) but from tomorrow the restrictions will be eased and we hope to meet some friends. Our grannddaughters Dani aand Lior visit us regularly, bringing food and good cheer.

---
10th October 2020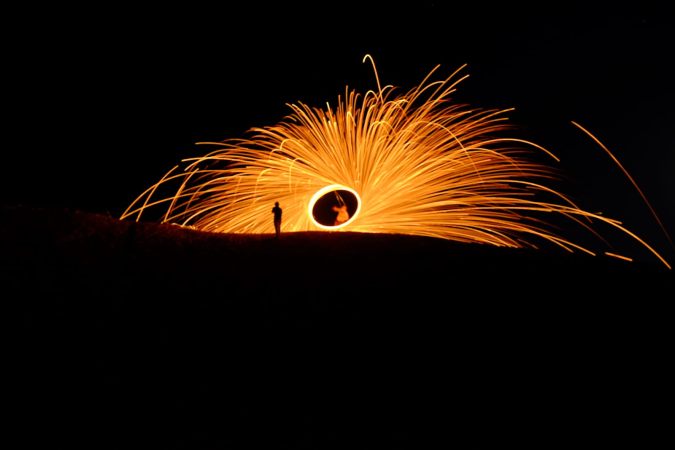 Maayan and "Levy" Fireworks in the Negev Desert
In this era of lockdowns and restricted movement, living in Midreshet Sde Boqer in the Negev Desert has its perks. While us city dwellers are confined to our built up areas, the Segolis and some friends can go to the nearby wide-open spaces without any fear of contracting or spreading the Corona virus. Moran sent us some pictures of their extended desert picnics and outings and we were particularly delighted to see this picture of grandson Maayan with "Levy" fireworks photographed by Lotem..
In our younger days when we lived in Eilat and there was easy access, the family would often spend a night or more in the Sinai Desert. At night, I would tie a rope to a large wad of steel wool, light the wool and twirl it around my head. You can see the spectacular effect of this in the above picture. After supper "Levy" fireworks was always a highlight of these outings. In later years son Aviv became an expert in this and it seems that grandson Maayan is following the family tradition.
There are some pictures of the Segoli picnics on the
Miscellaneous page
and on the pages of
Maayan
,
Lotem
and
Zoe
.
THIS WEEK'S NEWS
An extra-special mazaltov to Jennifer and Leon Matz ( see Matz family tree ) who celebrate their Emerald Aniversary - 55 years - today.
Doreen and I continue to stand in protest against Netanyahu ("Bibi."). We are only allowed to protest within 1 km of our home so we usually go to a bridge crossing the highway near us. This week we stood, together with many others, at a nearby intersection in Kiryat Hasharon. It was interesting as we could hear the comments of support or condemnation from the cars passing close by. We were surprised when a car stopped and the driver spoke to us through the car window. "I vote Bibi. But I really am imressed that an elderly person such as you feels so strongly that he can stand in the heat demonstrating his political views. You have my respect." A civilised comment among the many insults, one of which was "pity they didn't get you in Auswitch". Click for a picture of me demonstrating.
---
3rd October 2020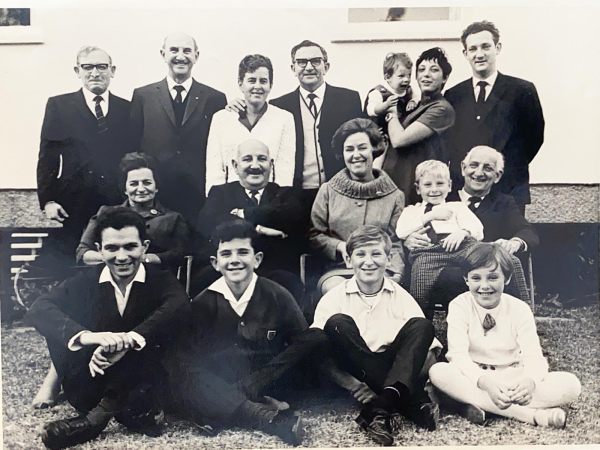 Jonathan Levy's Barmitzvah 1967
Tony Edelstein, Joe Levy, Malia Levy, Abe Levy, Doreen with Vered Levy, Eitan Levy
Ethel (Solomon) Levy, Eric Levy, Sheila Edelstein, Hayman Levy with Dunne Edelstein
Michael Thal,

Jonathan Levy

, David Edelstein, Susan Edelstein.
Ex brother in law Melly Braverman has informed us of the happy news that his daughter Tamara and Kevin Morrow have just adopted two sisters, 4 year old Lily and 1 year old Neveah. Picture of the happy new family here.

Yael Segoli, mother of daughter in law Mikhal, is recovering after major surgery last week. Our thoughts are with the Segoli families.
Best wishes to cousin Cecile Cotton who started her radiation therapy this week.
Doreen and I have just got a little older - granddaughter Danielle Ron celebrated her 25th birthday this week.
We were saddened this week by the death of long time friend Dr Jossy Faktor. Jossy had a distinguished career both as a doctor and in the Air force (he was the doctor during the Entebbe Mission) and played a crucial role in one of our life's important decisions.

---
26th September 2020
Yael Segoli, mother of daughter in law Mikhal will be undergoing a major operation this week. We wish her a speedy recovery, and our thoughts are with the Segoli families.
Daughter Vered Ron fell quite badly a few days ago when upended by dogs playing and chasing each other. She was badly bruised and couldn't walk for a few days. Fortunately she fell on soft sand otherwise the damage would have been far worse.
We were happy to receive a note from Debra Hock (see Nochimovitz family tree). She is studying for her PhD in Paleontology and recently became engaged to Zach (see picture). We remember her lovely visit with us at the beginning of last year.

Happy Birthday this week
to:
Hagar Yehezkel (26),
Leah Forman
(26),
Belinda Levy
(27), Michal O'Dwyer (27), Yoav Pashas (27),
Gali Nickel
(28),
Daniel Hakim
(28),
Mark Glasser
(28), Steven Taylor (28), Meital Stern (28), Margo Gordon (28),
Dotan Shavit
(29),
Danielle Ron
(30),
Caryn Sangupta
(30)
Robyn Matz (Oct 1st), Leroy Kahn (Oct 1st), Haley Bacher (Oct 1st)
Happy Anniversary this week to:
Tessa and Jason Capra (28)
---
19th September 2020
THIS WEEK'S NEWS
---
12th September 2020
Last year in June, I went with Eitan to the European Open Bridge Championships which was held in Istanbul. Istanbul is a huge city and we were about 1 ½ hours from the center. So we and the other bridge officials explored the closer restaurants. We were fascinated by a fish restaurant on the water's edge facing a small yacht marina where the specialty was fish baked in salt. The floor was covered with salt that crackled as you walked to your table.
Because now in this Covid period we no longer go to restaurants, we try to make restaurant quality food at home. Salt baked fish seemed a great idea! After watching you-tube demonstrations and reading recipes we felt we were ready to try it, forgoing the golden rule of never to make an untried dish for guests.
Eyal Shani is the Israeli food guru and philosopher, who waxes eloquently about fish and the advantages of baking the fish intact. Heeding his advice we went to a fish shop newly opened in our area and chose a large labrak/sea bass, instructing the fishmonger to leave the scales on. Disregarding Eyal's advice I also instructed the fishmonger to clean the insides.
For something so special we invited Eitan's cousins Joel and Beryl Klotnick and my sister Louise to join us. While our intrigued guests watched, we placed the fish on a bed of Atlantic sea salt on a baking tray and then covered it with lots more salt. Finally we sprinkled a little water over the salt and packed it down.
While it baked, 10 minutes for every inch (2.5 centimeters) in the gills area plus another 10 minutes for the pan, we sat down to eat our appetizers.
After 35 minutes we removed the fish from the oven. Eitan cracked the salt crust open, and peeled off the skin with the scales to reveal a beautifully white moist fish ready for eating. It was delicious.
Just like in the restaurant, but without throwing the salt on the floor.
Success!

---
5th September 2020
Cousin Jaffa Loew (see Schank family tree) is moving house and Doreen and sister Louise Braverman went to visit Jaffa and see her new house near Ashkelon. They also enjoyed a meal at an Ashdod restaurant. (Picture)

We again "bridge" demonstrated against Bibi last Saturday and were delighted to meet Michal Riza there. Michal had been our grandchildren's au pair when daughter Vered and Aviv were in Paris. (Picture)
---
29th August 2020
We came back this week from our 9-day sail along the coast of Croatia on the Antares III. We were royally entertained by Morris Kahn and had a wonderful time. Fortunately, the isolation requirement for returnees from Croatia had been lifted but even isolation would have been worth the opportunity to get away from the Corona stress. Pictures and a short account of our trip can be accessed by clicking here.
Congratulations to Cale Klaff (Goldberg family tree) on being appointed Captain of his High School Varsity soccer team. Cale is a sophomore which makes his appointment all the more exceptional.

Nephew Rafael Braverman (see Glazer family tree) aged 11 visited our Kirshner relatives Moshe and Rochelle (see Schank family tree) on their farm and experienced heaven - he was allowed to drive a farm vehicle! See picture and video here.

Doreen writes about the problems of finding a suitable burial site. Read her column.
---
22nd August 2020
Our immediate family moved around this week: While we were sailing in Croatia the Rons came back from USA to quarantine, the Aviv Levys spent a few days in our Netanya apartment, and the Segolis had a 3 day camping break in Ashkelon, and our dog Joanie had a holiday stay with Nurit's family.

We are happy to hear from cousin Cecile Cotton in South Africa that she is making good progress recovering from her surgery.
Condolences to Dave Rothschild, Estelle Sapir and Frankie Klaff (see Goldberg family tree) on the passing of Barbara Coll, David and Estelle's step-sister.
---
15th August 2020
We are saddened to report the passing of my aunt Malia Levy earlier this week. Malia was the last of my father's generation. She and her husband Abe my father's youngest brother, made aliyah to Israel before us and they were of great help to us in adapting and integrating to Israel. We send our heartfelt condolences to her son Jonty and his wife Dina, and to her grandchildren Efrat, Nadav and Yarden and granddaughter Tamar. Condolences to her sister Sheila Edelstein with whom we spent some wonderful time with her and husband Tony ז"ל in South Africa. Click for a picture of Malia.

Mazal Tov to good friend Geoff Bethlehem on his 80th birthday. We enjoyed the Zoom event that his family organised.

Due to corona we have had to cancel six overseas trips (so far!). So it was a wonderful surprise when we received an invitation from friend Morris Kahn to join him on his yacht sailing along the Croatian coast. Croatia is one of the few countries we are allowed to visit and it seems like tthe 2-week isolation regulation when we return has been lifted. Yesterday we tested negative for the virus and early tomorrow morning we fly to Croatia for a week's sailing. Paradise!!
---
8th August 2020
Nobody, including the government, quite knows what Covid restrictions are in place. We decided to go out a little this week: breakfast with Levia Passwell, and dinner with old friends Haim and Malka Lev. See picture
We also went to Mevaseret Zion to say hello to Yael and Avraham Segoli and to our Segoli family from Sde Boqer who were visiting there.. See picture.

Doreen has taken sewing repairs activities away from me, and given them to granddaugher Lotem, who, I admit, is doing a much better job. See picture.
Daughter Vered Ron with husband Aviv and daughter Lior return from their USA visit in a few days.
---
1st August 2020
We were happy to hear from cousin Cecile Cotton that she is making good progress after her operation. (see Matz and Levy family trees).

Daughter Vered Ron with husband Aviv and daughter Lior are in USA for a visit. Click for a picture at the deserted Ben Gurion airport which is normally teeming with travellers.
---
25th July 2020
THIS WEEK'S NEWS
Last night we "sort of" completed our truncated family reunion when the Segoli and the Ron families came for dinner.
As usual, granddaughter Zoe made sure that Joanie our dog was part of the party, but also knew her place. See picture.

We wish daughter-in-law Limor well and a speedy painless recovery from the surgery on her gums and teeth.
---
18th July 2020
Good news from South Africa. Cousin Cecile Cotton (Matz and Levy family trees) in Johannesburg is recovering well from her operation.

Son Moran Segoli has tested negative for Covid-19 and is no longer in isolation.

Happy Birthday this week

to:

Dion Levin (19), Keren Stern (19), Yoav Shavit (19), Daniel Klotnick (20), Rossie Geffen (20), Suzanne Lazarus (20), Arie Bortz (21), Adam Tal (22), Rachelle Smith (22), Joel Feinstein (23), Shari Levy (24)
No Happy Anniversary this week
---
11th July 2020
See the above picture without masks
---
4th July 2020
Grandsons Itamar and Maayan went diving in Eilat and send their love to all the family. See picture.
What we used to take for granted has become special. Last Thursday evening we finally had friends (Colin and Louise Kessel, Pam and Geoff Bethlehem, Levia Paswell) for dinner. It was so great being able to meet again and we had a wonderful time and Doreen went out of her way to prepare a fabulous meal.

---
27th June 2020
Doreen 11th, Aviv 21st - tomorrow 28th we celebrate daughter Vered's birthday - the third family birthday this month.

Although Covid-19 infections are on the rise many restrictions have been lifted, although we still need to wear masks. We have limited our travel to family and restaurants in the open, but it seems as if face-to-face bridge will probably be allowed soon and we will consider whether to start playing again. I wonder how we'll adapt to this new freedom with no zoom, opera (we saw over 30!), play or music in the evening?
Meanwhile, the outrageous actions of our politicians are only getting worse, and I'm not only talking asbout political differences which are legitimate nor the increasing anti-democratic trends. In the midst of all the financial hardships faced by millions of citizens, our government decides to listen to the plea of the prime minister (whose family wealth according to Forbes is worth US$14 million) and whose supporters claim that he has difficulty making a living and feeding his family and granted him a retroactive tax break worth about US$290,000. This after the over-inflated appointment of a record number of government members and "extra" members of Knesset is costing tens of millions. So many citizens out of work, taking cuts in salary - but not one agora cut from the parliamentarians salaries. To cap it all, police arrested demonstrators agaist the income tax deal at the Prime Minister's residence last night for "disturbing public order". Doreen joined a protest at a road intersection this evening (see picture) for free speech and demanding the release of those arrested, one of whom is a retired Army general.
---
20th June 2020
We hope to join son Aviv in Eilat, celebrating his birthday this week.

We get regular updates from my cousin Cecile Cotton who is responding well to her cancer treatments.
We wish close and longtime friend Terry Kessel a speedy and full recovery from his medical problem.
Happy Birthday this week

to

:

Aviv Levy

(21), Brandon Glasser (21), Carl Thiele (21), Rivka Glasser (21) , Shoshana Bortz (22), Nicole Blotnick (22),

Efrat Shabtai

(23), Neill Glasser (24), Joel Thiele (25), Melissa Marcus (25), Sheila Ezra (26),

Donna Leibowitz

(26), Ethan Schochat (26), Jacob Gordon (26)

Happy Anniversary this week to:

Aviva and Arie Schochat (22),

Dina and Jonathan Levy

(23),

Tarryn and Stephen Marcus (23),

Talya and Ian Klotnick

(24)
---
13th June 2020
We celebrated Doreen's birthday this week. Being able to celebrate properly, and not virtually or through Zoom, was something we have waited for and the family took full advantage of this. Pictures here.
We invited our two oldest grandghildren Danielle and Lior for dinner on Friday evening when their parents were going away for the weekend. Instead they insisted on inviting us and preparing a meal for us. They went out of their way to prepare a delicious feast (enough for 10 people!) of multiple dishes. We had a great time!

With 5 vegetarian or vegan granddaughters Doreen has adapted many recipes to vegan friendly. Her latest was a delicious vegan cheese cake without cheese, baked for Shavuot.
---
6th June 2020
<>Thursday this week is my lovely wife's birthday. Going through our old pictures reminded me time and time again of the wonderful life we and our children have enjoyed, and of the so many ways Doreen has exploited the joy of living. The picture above was taken in New Zealand on our Round the World trip in 2001-2002. The first bungy jumping operation in the world was from the bridge over the Kawarau River just outside Queenstown, and when we were in Queenstown it was obvious that this was something that Doreen wouldn't miss.
Click
here
to see 'before' and 'after' pictures of the jump; and
here to read Doreen's account
, written soon after the jump, of how she felt before, during and after the jump.
(For those with lots of time to spare, here is the
link to our Round the World Trip.)
<>THIS WEEK'S NEWS
We paid a long-overdue visit to Sydney and Ari Lossin who live about an hour's drive from us. Sydney's mother and my father were cousins on the Matz side of the family. We had a most enjoyable visit, and Sydney showed us some of her old photos of the Matz family. Click for Matz family tree (and for some old pictures of Matz family).
Thanks to Melly Braverman for sending us this delightful picture of his grandson Rafael enjoying boating in Kfar Blum last month.

Last night the Rons and Segolis came for dinner and Doreen outdid herself preparing Paella (two versions: regular and Vegan) as well as various salads and side dishes suitable for all ('normal', vegetarian, vegan, "soft food only"). The Segolis slept over with Saba and Granny and Joanie, and enjoyed the beach the next morning.
---
30th May 2020
THIS WEEK'S NEWS
Although there has been a loosening of many restrictions we are still wary of going to public places especially as most people seem to be disregarding "social distancing" and the wearing of face masks. Because of this we are not too optimistic that the low infection rates will continue and fear that a second wave is in the offing.

We are limiting ourselves to some supermarket shopping, close friends and family - the Eilat family came for the weekend and we all had dinner with the Ron family.
---
23rd May 2020


As if Covid-19 wasn't enough the last week has been the hottest May week ever recorded. I kept my plants well watered so most of them they quite enjoyed the heat and grew well. Inside we had air-conditioning but going outside was quite unbearable. Melly Braverman sent us this picture from Eilat with the temperature showing an incredible

49°C (120

°F)

Last week I mentioned a document sent by ancestor Shaya Matz to his granddaughter in South Africa. Click to see a copy and read a brief explanation.

By chance I received an email this week from a Jewish history researcher who had found a "brilliant manuscript" in the University of Cape Town Archives containing a Commentary on

Pirkei Avot

(Ethics of the Fathers, a tractate of the

Mishna

) written by the above mentioned Yeshayahu Avraham "Shaya" Matz (my great-great grandfather). He wanted to know whether this had ever been published. I had never even heard of this manuscript and neither had two other g-g-grandsons (Robert Lewenson and Gavin Matz, nor a granddaughter (Sydney Lossin). If anyone knows anyting about this manuscript please let me know. More next week.

If you missed it last week, Doreen has posted the recipe for a Vegan Carrot Cake. And last night we enjoyed Vegan Blueberry Muffins baked by granddaughter Lotem Segoli. Both the cake and the muffins were delicious and highly recommended.

---
16th May 2020
Thanks to Gavin Matz I made contact with 2nd cousin Robert Lewenson and his mother Ros and sent them a copy of a document sent by his great great grandfather on the occasion of his grandparents wedding. Robert sent me updates to his side of the tree and the updated version of the Matz tree (including some corrections by Gavin) is now on the internet. Many thanks, Gavin and Robert.

We wish David Rothschild, married to Frankie Klaff (see Goldberg Family Tree), a quick recovery from his kidney stones problems.

Many of the Covid-19 restrictions have been relaxed and last night daughter Vered and the Ron family came for a most enjoyable dinner. The dinner was capped off with a delicious vegan carrot cake. See recipe.

One of the few (only?) advantages of this virus is that the traditional bonfires on the Lag B'Omer festival this week were prohibited saving who knows how many tons of wood being burnt, and saving us from the usual clouds of blanketing heavy smoke which made breathing so very uncomfortable .
---
9th May 2020
Congratulations to Dikla (Segoli) and Pini Cruchi on the birth of their daughter, sister to Mili and Tal. Dikla is a sister of our daughter in law, Michal Segoli. (see picture)
Our long-time very good friend Caroline Livneh celebrated her birthday today. We invited her over for a cup of English tea and a birthday cake. (pictures here.)
---
2nd May 2020
This week we commemorated Remembrance Day and then Independence Day. A complete lockdown over these days prevented the usual mass gatherings on these days and we spent a lot of time in front of the TV.
The ban on gatherings on Remembrance Day for Fallen Soldiers meant Yaffa Loew (Schank family tree) could not visit son Guy's gravesite for the first time since his death 20 years ago. A short while before the commemorating siren, soldiers from Guy's army unit, a local police officer, neighbors and friends gathered in the road outside Yaffa's home (observing distancing) and stood in silence with her while the siren sounded. It was a truly emotional moment for Yaffa. Click for a picture.

Some schools and classes will be re-opening tomorrow, which is good news I suppose for grandchildren Zoe (2nd grade) and Itamar (11th grade). The rest will have to wait a little longer.

Amongst other things, I'm continuing with the job of organising the Old Pictures pages on this site. Some family pictures have already been partly organised - you can access them by family branch from here.
---
25th April 2020
Thanks to Ros Hakim for sending us a picture of the Barnett Nickel family and to her cousins Sheryl Zadok Kavin and Michelle Kirstein for sending pictures of the portraits of our common ancestor, Pinhas Aaron Nochomovicz. These pictures are posted here. (also see Nochomovicz/Nickel family tree which has been updated thanks to Sheryl.
We celebrated granddaughter Zoe's 8th birthday on Zoom. We also used Kahoot, an online quiz game with questions set by Zoe. Good fun! Zoe got a guinea pig for a present, and is also looking after a bunny during the corona period. See pictures here.
Slowly I'm beginning to organise the Old Pictures pages of this site. Some family pictures have already been partly organised - you can access them by family branch from here.
---
18th April 2020
Isolation continues so not much new to write about. As I write this on Saturday morning I can hear, for the first time for a long time, the sounds of children playing and laughing outside. apparently people are becomong more and more frustrated and are starting to ignore the social distancing guidelines. The fact that our leaders have on occasions ignored their own advice doesn't help.
We don't have the problem of having children and keeping them occupied. Granddaughter Ilai found something useful to do. She sand-papered their outside wood table and repainted it See picture here. We've got lots of work for you to do at our apartment, Ilai!
On Shabbat eve we again had

kabbalat shabbat

with our family led by Aviv Levy, via ZOOM. A few weeks ago we had never heard of ZOOM but now it is an integral part of our restricted lives.

Passover has passed over, but for next year here is another

pesach

kosher recipe - Easy

Passover

Chocolate Cake. Delicious.
---
11th April 2020
---
4th April 2020
We're still confined to our apartment so not much to report. Many of our activities are digital - plays, movies, bridge meeting - and going through long-neglected boxes of material which in many cases bring back almost-forgotten memories.
Our usual family seder to celebrate

Pesach

- Passover - will this year be conducted on-line via Zoom and we will share the reading of the

Haggadah

between the us and the Rons, Segolis and Levys. Unfortunately we cannot share the

se-uda

, the meal. Our grandchildren will no doubt miss Doreen's delicious and tender

kneidlach

.

We were delighted to hear today that Donni Dvir, partner of our niece Yahel Braverman (see Nochimovitz/Nickel tree) is healthy and fully recovered from the Covid-19 virus.
We wish all our family and friends good health during this coronavirus crisis and hope that it will not be too long before we can all return to something approaching "normal."
---
28th March 2020
The Coronavirus Covid-19 lockdown continues. As shown above, we are finding other ways to keep together while observing social distance. Our two oldest granddaughters Danielle and Lior Ron decided that exercising together with Granny Doreen was an appropriate activity. Click here for short videos.
Congratulations to Raphael Cotton on his marriage to Tamar Gralnick in Johannesburg South Africa. (see pictures). Mazel Tov too to parents Cecile and Raymond Cotton. (See Matz and Hershovitz/Levy family trees.). Covid-19 restricted the number of participants but Cecile reports that there was a wonderful relaxed atmosphere at the wedding. Cecile is continuing her new set of treatments and we wish her a speedy and full recovery.
Granddaughter Zoe is utilizing the break from School to scan some of her dad's old photo slides. She has sent some to us. Here is an example. I'll be using some of her other pics in future issues of this site.

We've still going through the contents of the boxes in our storeroom, and have discarded much once considered essential and now considered junk. We have been meaning to do this for the last 9 years since we moved to Kiryat Hasharon in Netanya.
---
21st March 2020
The coronavirus lockdown has kept us at home this week except for some short walks with Joanie our dog and 'outings' to buy food. Entrance to public spaces like parks is forbidden, even to the small park opposite our building.

We've taken advantage of the lockdown to go through, sort and discard much of the contents of the boxes in our storeroom. We have been meaning to do this for the last 9 years since we moved to Kiryat Hasharon in Netanya.

Schools are closed, children get bored, so the Segolis went to Eilat to spend the time with the Eilat Levys. (see picture) For granddaughter Zoe this was an opportunity to get to know another family dog, Oreo. (see picture).The kids have on-line contact with their teachers and 7 year old Zoe informed me that she was helping 15 year old Amit with her homework!
Zoe in 2nd grade also had homework - read about it here.
---
14th March 2020
We're in the midst of the coronavirus crisis and have no idea how long it will last. We have cancelled our planned trips to Cyprus and Lausanne and are scrupulously following the medical guidelines. Hand sanitizers are sold out, but while having lunch with granddaughter Danielle Ron, I remembered that I had a degree in Chemistry and bought the raw materials and made up our own.

Grandson Itamar Levy has just had his first army call-up for medical and various other tests. Our grandchildren seem to be growing up at a much quicker rate than we expected!

Due to the coronavirus situation Purim celebrations and costumes were more subdued this year, but granddaughter Ilai Levy was happy to dress up in an Anime costume. See also last week's Adloyada and Purim at Midreshet Sde Boqer.

The Segolis stayed on after the dinner with Ali and Shira and the next morning I took Maayan (see picture) and Zoe (see pictures) to the local wall-climbing site.
Lotem has much artistic talent and Doreen took her to visit friend and well-known artist Maureen Fain in Jerusalem (see picture).

Doreen's cousin (and Ali's older sister) Mushe Kirsh (see Nochimovitz/Nickel Family trees) has just published a book detailing the story of the Bacher and Kirsh families. We have just received a copy and have found it extremely intersting as it not only details the two families but also includes much background on our common heritage as Jews from the Baltic and Byelorussia who emigrated to South Africa.

The last few days have seen stormy weather in Israel, particularly in the normally dry southern areas. Eilat experienced high winds and seas, and son Aviv Levy reports much damage there, including underwater to the corals. In the Negev desert the normally dry riverbeds (wadis) became rivers. Many went to see the rare sights of the flooded areas, among them son Moran Segoli and family who by chance met relative Uri Haberman and family (see Goldberg family tree) who were also there. (see picture).
---
7th March 2020
Next week we celebrate Purim. As noted above, it was celebrated early this week in Sde Boqer (see pictures).

A special "happy birthday" wish to cousin Cecile Cotton who celebrated her 60th this week. We are happy to see that Cecile is responding favourably to treatment. She will start another round of chemotherapy next week. Click for happy picture. (See Matz and Hershovitz/Levy family trees.)

The results of the latest - 3rd round - of the Israel parliamentary elections indicate we may be in for a fourth round! I voluntered to to work on election day and was the chairman of a polling station representing the Meretz-Labour party, whose results were for us very disappointing - 7 seats instead of the 10 expected. See picture.

Our dog Joanie is still at Midreshet Sde Boqer "on holiday" with grandchildren Zoe, Lotem and Maayan. Next week he'll be back with us again, and missing all the attention the children give him..
---
29th February 2020
We spent the weekend in Eilat with son Aviv and family. We paid a visit to Coral world which is looking very attractive indeed, and were happy to see the grandchildren. See a picture here.
On the way to Eilat we dropped off our dog Joanie at Midreshet Sde Boqer where he will have a few days holiday with his girl-friend Zoe. While there we saw a show by Zoe's class - see picture above.

This week we've all been busy with coronavirus talk, facts and rumours. Next week we'll be busy with Israel elections (again!).
And a "first" for this site. Since it first appeared in January 2004 this is the first time it is dated 29th February. And it also appears that no family member was born on 29th February.
---
22nd February 2020
We returned earlier this week from our UK visit (see last weeks Archives) on time in spite of storm Dennis. We're busy with various arrangements, doctors' appointments and so on that we've been postponing. Friday night dinner with the Rons and the Segolis was welcome, and today we spent a lovely afternoon at the home of friends Pam and Geoff Bethlehem with some long-time friends dating from our South African days.
Son Moran and the Segolis paid a visit to the Dead Sea area and were rewarded with views of colourful flowers covering usually barren plains. Pictures here.
---
15th February 2020
The Tournament Directors Workshop I organized in Belfast was very successful. Click for a picture of the staff .

Last week in Belfast, at the end of the Workshop I wrote "tomorrow we fly to London where we will spend a few days". Alas storm Ciara made us change our plans as our flight was cancelled shortly before we were due to take off and we had to join the thousands of stranded passengers trying to find alternate arrangements. After two days (!) we finally flew from Belfast to London to spend a "very" few days there.
Two of our "London days" were spent in Chester, from where we went to visit my sister Fern's burial site. (see also This Week's Picture above.) Chester was delightful - see some pictures here.
The cancelled flights meant we missed the Opera we had booked for Tuesday, but fortunately there were seats available on Thursday and we were able to exchange our tickets and see a truly fantastic performance of Puccini's

La Boheme.



On one of the extra days in Belfast we decided on the spur of the moment to actually

eat

at a KFC and not only photograph the entrance. We'll be returning to photographing in the future!
I shouldn't really write it, but we are due to fly to Israel tomorrow. There are already warnings about storm Dennis approaching. Am I tempting fate?
---
8th February 2020
We're in Belfast, Northern Ireland, where I am organizing a workshop for tournament directors. This is my fifth visit here in the last 3 years. See some pictures here.

Granddaughter Lotem's report card for the first semester is a joy to see.
Son Moran was in Berlin, Germany for a conference. He saw a KFC and of course wanted to eat there. This was vetoed by his companions and his disappointment is clear from this picture.
Tomorrow we fly to London where we will spend a few days

---
1st February 2020
The Segolis are back from their skiing holiday in Romania. While there grandchildren Zoe, Lotem and Maayan enjoyed the skiing and Maayan and Lotem they also loved the hang gliding. Pictures are here, and on the pages of Zoe, Lotem and Maayan.

Tomorrow we return home, where we'll be for two days before flying to Belfast, N. Ireland where I am organizing a Workshop for the training of bridge Tournament Directors. After the Workshop we will spend a few days in London. (although Brexit happens today I understand that travel to Britain will not be affected in any way for the time being.)
---
25th January 2020
Both the Ron and Levy families came to us for Shabbat dinner (see picture). We celebrated Itamar's school achievement (see above) and granddaughter Ilai's birthday. Today we joined the Levys and went for shabbat

cholent

lunch to the Rons. (see picture)

We also had the opportnity of meeting the Ron's new cutest dog - an toy poodle without a name yet.

The Segolis are in Rumania skiing. We haven't had any pictures yet except for this one taken on the plane to Romania.

Cousin Cecile Cotton (Hershovitz/Levy and Matz family trees) seems to be reacting well to her chemotherapy although there are up and downs. We are kept regularly informed and wish her a speedy recovery.
Towards the end of the week we are flying to Prague for 3 days to attend the European Bridge League Officers' Seminar.
---
18th January 2020
back operation.
There is a big improvement in her walking and moving but she is still experiencing a lot of pain. Doreen bought her a knitting loom to help her pass the time
(see picture)
and I'm waiting for my present of a scarf.
Ex brother-in-law Mellie Braverman has recovered nicely from his bad fall and sounded like his old self when I spoke to him.
Other news this week concerns food and eating - apparently the Levy family's favourite pastime!

Doreen and the Segolis visited Microsculpture - the amazing exhibition of insect photographs by Levon Bliss now being exhibited at the Natural History Museum of Tel Aviv University. (Read about it here). After the visit they had lunch at the currently very popular vegan restaurant

Meshek Barzilai.

see picture.

The Segolis are in Eilat for the weekend. Click for a picture of last night's Shabbat dinner there.


One of my favourite dishes is curried fish. Doreen prepares it based on her Aunt Laura's recipe and it is delicious! She prepared it this week, and agreed to put the recipe on this site.
---
11th January 2020
(Due to circumstances beyond our control this site was not updated between 21st December 2019 and 10th January 2020)
Due to circumstances beyond our control this site was not updated between 21st December 2019 and 11th January 2020
I know it's a bit late, but we hope all our friends and family enjoyed a happy Channuka or Christmas, and we wish you all a Happy New Year and may 2020 be a healthy, happy and successful year.

We were thrilled that Lior felt well enough to join us for Shabbat dinner last night (10/01/20) together wirth the Segolis. See pictures.

We wish a speedy recovery to ex brother-in-law Mellie Braverman who had a bad fall in Eilat .
We paid a visit to New Kirshner Farm (Meshek Kirshner Hadash), the 'direct to consumer' fruit and vegetable market operated by Moshe Kirshner, the husband of relative Rochelle (nee Bortenstein, (see Schank family tree) and were very impressed. To understand why we were so impressed, click here.
At the beginning of last December we travelled to Amsterdam for the unveiling of Lottie Reizer's stone, and while there enjoyed a Friday night dinner with Lottie's daughter Jose and the Keyson clan (see picture). We were delighted when we had another opportunity to be with them on their visit to Israel at the end of December when Daughter Vered Ron had them over for dinner. See picture.
As every year, we enjoyed the Channukah gathering at the home of Shuly and Eitan Habernan. It's always a pleasure to be with this branch of the family.(see Goldberg family tree). Unfortunately Shuly's mother 96 year-old Sarah Olkienitski (my mother's cousin) couldn't attend, but we visited her last week in Tel Aviv.
Granddaughter Danielle has begun her studies (Sustainability and Government) at the Herzliya Interdisciplinary Centre and is finding it interesting but hard.

News from Frankie Klaff (see Goldberg family tree), late cousin Vivian's wife, has kept us up to date swith news of the successes of her two sons. Oren published his second book

Flip the Script

a few months ago and it has been an Amazon best seller, as was his his first book,

How to Pitch Anything.

Tamir, a geologist by profession has started making sculptures from discarded metal - click to see two of them and to access his site.

Happy Birthday this week

to

: Mushe Kirsh, Orianna Royle (11th), Avraham Segoli , Daniel Kirsh, Sarah Cleaver (12th), Asaf Karlsbad, Maayan Shavit

(14th), Shaun Glogauer, Dylan Thiele (15th), Itay Gur, Ryan Smith (17th)

Happy Anniversary this week to:

Melissa and Shaun Glogauer (9th)
---