THIS WEEK'S PICTURE
and THIS WEEK'S NEWS
---
This Week's Picture and News

) - 2020


January 2020 February 2020 March 2020 April 2020 May 2020 June 2020
July 2020 August 2020 September 2020 October 2020 November 2020 December 2020
(

Last year -2019)



---
---
21st March 2020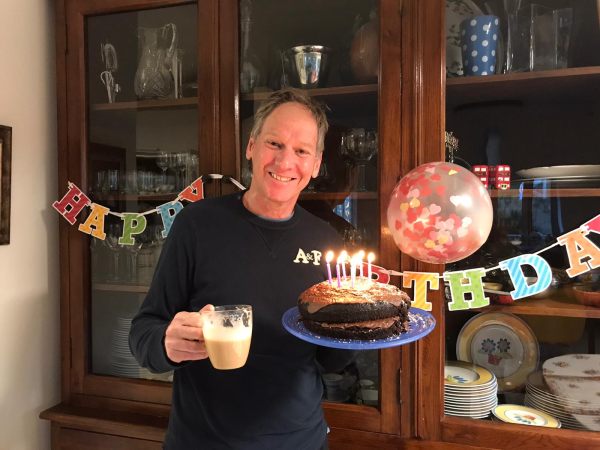 Happy 60th Birthday to Aviv Ron
Doreen and I prepared a short birthday video for Aviv - click here or on the picture above to see it.
Many happy returns to son-in-law Aviv Ron on his 60th birthday. The planned family celebration was cancelled due to the coronavirus emergency but Doreen baked a cake and we drove to the Ron's house, waved to them through the window, and left the cake on an outside table to pick up after we left.
THIS WEEK'S NEWS

The coronavirus lockdown has kept us at home this week except for some short walks with Joanie our dog and 'outings' to buy food. Entrance to public spaces like parks is forbidden, even to the small park opposite our building.

We've taken advantage of the lockdown to go through, sort and discard much of the contents of the boxes in our storeroom. We have been meaning to do this for the last 9 years since we moved to Kiryat Hasharon in Netanya.

Schools are closed, children get bored, so the Segolis went to Eilat to spend the time with the Eilat Levys. (see picture) For granddaughter Zoe this was an opportunity to get to know another family dog, Oreo. (see picture).The kids have on-line contact with their teachers and 7 year old Zoe informed me that she was helping 15 year old Amit with her homework!
Zoe in 2nd grade also had homework - read about it here.
---
14th March 2020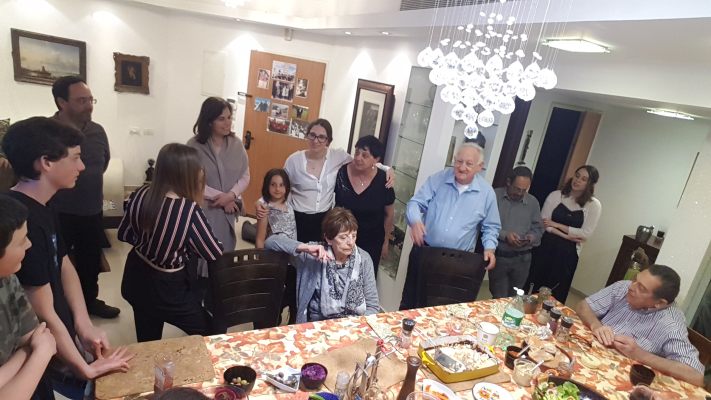 The Israel relatives welcome Ali and Shira Bacher on their visit to Israel.
We were delighted that Ali and Shira Bacher (
see Nochimovitz/Nickel Family trees
) could join us for dinner this week. It was a great opportunity for the some of the Nickel descendants of siblings Rose, Gertie and Julius to get together, and for many of the children to meet with Ali for the first time. We enjoyed the lovely atmosphere, the delicious food and the remembrances of Louise, Doreen and Ali from their young days when they lived in Cyrildene in Johannesburg. I said a few words and Ali movingly recounted how "Uncle Yudel" (Julius) had influenced his youth, bought him his first cricket bat and played an important role in his path to great success as an
international sportsman
..
Present:
Julius's wife Laura Nickel, with sons Richard and Louis and daughter-in-law Eti and grandchildren Gali, Amit and Assaf.
Gertie Glazer's daughters Louise Braverman and Doreen and son-in-law Eitan Levy and children Vered with her husband Aviv Ron and their children Danielle and Lior, and Moran Segoli with Maayan, Lotem and Zoe.
Rose Bacher's son Ali and daughter-in-law Shira.

THIS WEEK'S NEWS

We're in the midst of the coronavirus crisis and have no idea how long it will last. We have cancelled our planned trips to Cyprus and Lausanne and are scrupulously following the medical guidelines. Hand sanitizers are sold out, but while having lunch with granddaughter Danielle Ron, I remembered that I had a degree in Chemistry and bought the raw materials and made up our own.

Grandson Itamar Levy has just had his first army call-up for medical and various other tests. Our grandchildren seem to be growing up at a much quicker rate than we expected!

Due to the coronavirus situation Purim celebrations and costumes were more subdued this year, but granddaughter Ilai Levy was happy to dress up in an Anime costume. See also last week's Adloyada and Purim at Midreshet Sde Boqer.

The Segolis stayed on after the dinner with Ali and Shira and the next morning I took Maayan (see picture) and Zoe (see pictures) to the local wall-climbing site.
Lotem has much artistic talent and Doreen took her to visit friend and well-known artist Maureen Fain in Jerusalem (see picture).

Doreen's cousin (and Ali's older sister) Mushe Kirsh (see Nochimovitz/Nickel Family trees) has just published a book detailing the story of the Bacher and Kirsh families. We have just received a copy and have found it extremely intersting as it not only details the two families but also includes much background on our common heritage as Jews from the Baltic and Byelorussia who emigrated to South Africa.

The last few days have seen stormy weather in Israel, particularly in the normally dry southern areas. Eilat experienced high winds and seas, and son Aviv Levy reports much damage there, including underwater to the corals. In the Negev desert the normally dry riverbeds (wadis) became rivers. Many went to see the rare sights of the flooded areas, among them son Moran Segoli and family who by chance met relative Uri Haberman and family (see Goldberg family tree) who were also there. (see picture).
---
7th March 2020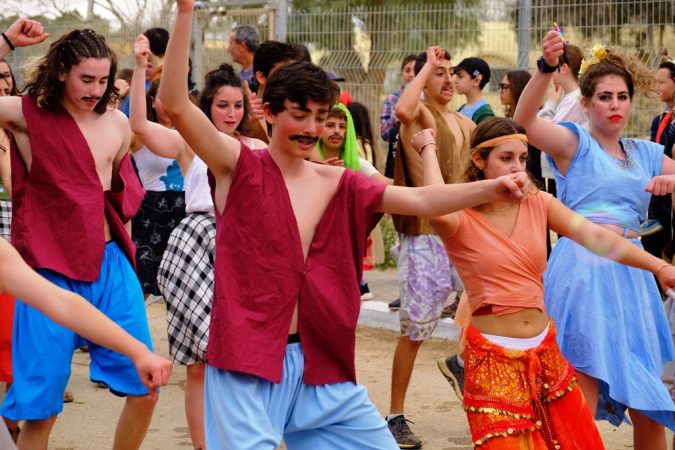 Grandson Maayan Segoli in the Sdeh Boqer

Adloyada
The Festival of
Purim
1
will be celebrated next week, but in Sde Boqer it was celebrated a few days early, yesterday, Friday, with the traditional
Adloyada
1
.
The
Adloyada
is a traditional carnival-like parade taking place in various cities in Israel during the
Purim
festival. This year almost all the parades were cancelled due to the coronavirus precautions. The tradtional
Adloyada
at Midreshet Ben Gurion in the Negev, completely organized, prepared, constructed and staged by the high school students at the School for Environmental studies there, was "partly cancelled" as the onlookers were restricted to residents and parents of residents. Doreen and I joined in the festivities and we were extremely impressed with the standard of the floats and the enthusiasm of the high school participants.
In addition to the traditional parade, people dress in costume - "fancy dress" - and in normal times the streets are full of villains and princesses and various other representations of current personalities and events.
Click here to see some
pictures of our celebration and the parade
at Sde Boqer, and
here for a couple of pictures of Maayan
in the parade.
from Wlkipedia:

(1) "Purim is a Jewish holiday that commemorates the saving of the Jewish people from Haman, ...... who was planning to kill all the Jews as recounted in the Book of Esther, whose plans were foiled by Mordecai and Esther his niece and adopted daughter, who had risen to become Queen of Persia".
(2)

Adloyada

literally
means "until one no longer knows" (
ad de-lo yada
,
Aramaic
: עַד דְּלָא יָדַע. "

The expression comes from the Aramaic expression stated by
Rabbah
in t

he Babylonian Talmud, Tractate Megilla: 'It is the duty of a man to mellow himself ... on Purim until he cannot tell the difference between cursed be Haman and blessed be Mordecai'. This means that people should drink on Purim until he reaches a state of not being able to distinguish between the evil Haman and the blessed Mordecai
.
"
THIS WEEK'S NEWS

Next week we celebrate Purim. As noted above, it was celebrated early this week in Sde Boqer (see pictures).

A special "happy birthday" wish to cousin Cecile Cotton who celebrated her 60th this week. We are happy to see that Cecile is responding favourably to treatment. She will start another round of chemotherapy next week. Click for happy picture. (See Matz and Hershovitz/Levy family trees.)

The results of the latest - 3rd round - of the Israel parliamentary elections indicate we may be in for a fourth round! I voluntered to to work on election day and was the chairman of a polling station representing the Meretz-Labour party, whose results were for us very disappointing - 7 seats instead of the 10 expected. See picture.

Our dog Joanie is still at Midreshet Sde Boqer "on holiday" with grandchildren Zoe, Lotem and Maayan. Next week he'll be back with us again, and missing all the attention the children give him..
---
29th February 2020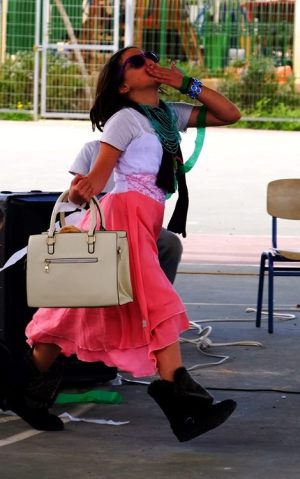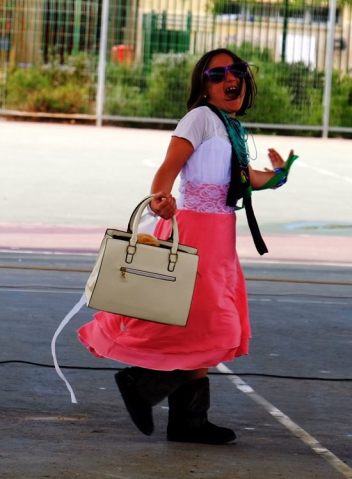 A Society Lady
Granddaughter Zoe's class put on a short show for the school, and Zoe stole the show as a fancy Society Lady.


THIS WEEK'S NEWS

We spent the weekend in Eilat with son Aviv and family. We paid a visit to Coral world which is looking very attractive indeed, and were happy to see the grandchildren. See a picture here.
On the way to Eilat we dropped off our dog Joanie at Midreshet Sde Boqer where he will have a few days holiday with his girl-friend Zoe. While there we saw a show by Zoe's class - see picture above.

This week we've all been busy with coronavirus talk, facts and rumours. Next week we'll be busy with Israel elections (again!).
And a "first" for this site. Since it first appeared in January 2004 this is the first time it is dated 29th February. And it also appears that no family member was born on 29th February.
---
22nd February 2020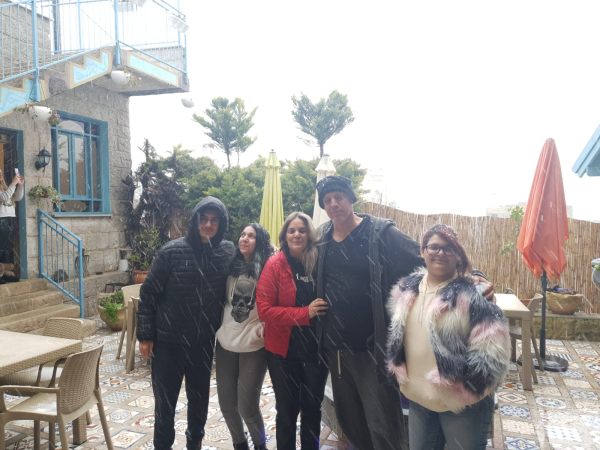 Snow falling in Majdal Shams
While we were dealing with the interruptions on our trip to the UK (see last weeks
Archives
) Israel was also experiencing unusual conditions of very cold weather and even snow in some places where snow doesn't usually fall. The Eilat Levys took the opportunity to take a short break and travel north to see the snow. They stayed in a B&B at Yavne'el Village and drove to Mt Hermon. Because of heavy snow the roads and paths up the mountain were closed, but they experienced falling snow in the village of Majdal Shams by the foothills of Mt Hermon.
THIS WEEK'S NEWS

We returned earlier this week from our UK visit (see last weeks Archives) on time in spite of storm Dennis. We're busy with various arrangements, doctors' appointments and so on that we've been postponing. Friday night dinner with the Rons and the Segolis was welcome, and today we spent a lovely afternoon at the home of friends Pam and Geoff Bethlehem with some long-time friends dating from our South African days.
Son Moran and the Segolis paid a visit to the Dead Sea area and were rewarded with views of colourful flowers covering usually barren plains. Pictures here.
---
15th February 2020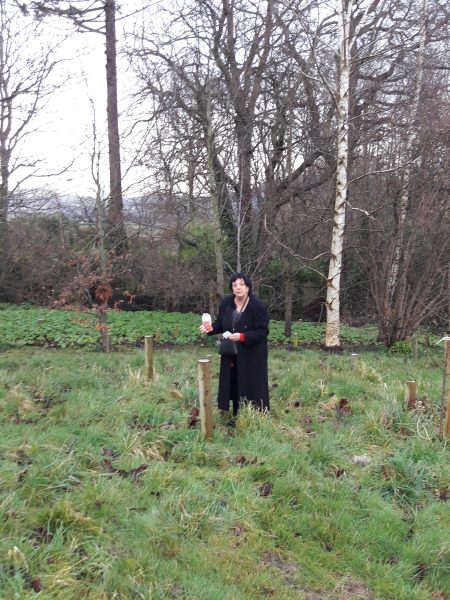 Doreen sprinkles tomato seeds on Fern's burial site
My sister Fern died in 2008, 12 years ago, aged 65, in Wrexham, Wales. She was buried in a Woodland Burial Site in St Asaph, Wales. Doreen and I caught a train to Chester this week on our way to visit her burial site. When I spoke to Fern a few days before her death she told me that she hoped to be able to eat tomatoes from the plants she had so carefully tended. Unfortunately this was not to be. Instead of flowers, we placed her tomato plants on her grave. On our visit this week we sprinkled tomato seeds over her burial site. Perhaps they will grow.(
more pictures
)
Click here
for the Memorial Site dedicated to Fern.
THIS WEEK'S NEWS

The Tournament Directors Workshop I organized in Belfast was very successful. Click for a picture of the staff .

Last week in Belfast, at the end of the Workshop I wrote "tomorrow we fly to London where we will spend a few days". Alas storm Ciara made us change our plans as our flight was cancelled shortly before we were due to take off and we had to join the thousands of stranded passengers trying to find alternate arrangements. After two days (!) we finally flew from Belfast to London to spend a "very" few days there.
Two of our "London days" were spent in Chester, from where we went to visit my sister Fern's burial site. (see also This Week's Picture above.) Chester was delightful - see some pictures here.
The cancelled flights meant we missed the Opera we had booked for Tuesday, but fortunately there were seats available on Thursday and we were able to exchange our tickets and see a truly fantastic performance of Puccini's

La Boheme.



On one of the extra days in Belfast we decided on the spur of the moment to actually

eat

at a KFC and not only photograph the entrance. We'll be returning to photographing in the future!
I shouldn't really write it, but we are due to fly to Israel tomorrow. There are already warnings about storm Dennis approaching. Am I tempting fate?
---
8th February 2020


Puppy has a tummy tickle (

click here or on the picture)



The Rons have given their new dog a name - Alma, but we prefer Puppy. Although tiny in size she's highy active, and knows how to growl and bark. She loves a "tummy tickle" as the picture above shows. Click on the picture for a short video.


THIS WEEK'S NEWS

We're in Belfast, Northern Ireland, where I am organizing a workshop for tournament directors. This is my fifth visit here in the last 3 years. See some pictures here.

Granddaughter Lotem's report card for the first semester is a joy to see.
Son Moran was in Berlin, Germany for a conference. He saw a KFC and of course wanted to eat there. This was vetoed by his companions and his disappointment is clear from this picture.
Tomorrow we fly to London where we will spend a few days

---
1st February 2020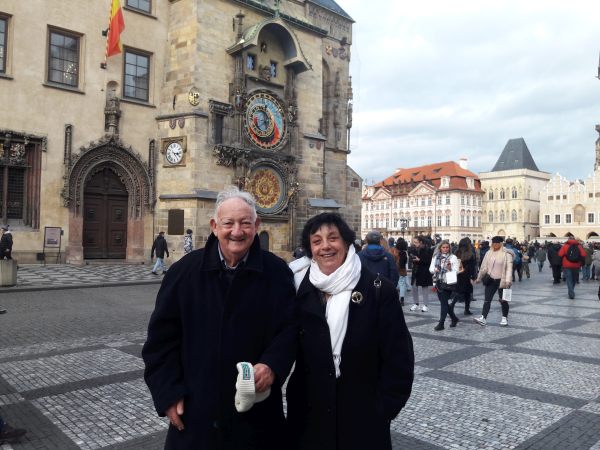 Doreen and Eitan in Prague


We are spending a few days in Prague - me at a bridge seminar. It's my 8th visit to Prague but I couldn't resist the temptation to visit the old city. In spite of the many times I have been there I still enjoy the walk through this marvelous and beautiful city (
see here, for example of a previous visit.
).
Of course while in Prague we took our mandatory family picture of KFC (
another one, for example
!). Although its my favourite fast food restaurant we hardly ever eat there and did not eat there this time either. We did have a meal at our usual "Blue Duckling" Restaurant - a truly fabulous restaurant with atmoshere and great food.
Doreen took some of the wives to see the more conventional views of the old city.
Pictures here.
THIS WEEK'S NEWS

The Segolis are back from their skiing holiday in Romania. While there grandchildren Zoe, Lotem and Maayan enjoyed the skiing and Maayan and Lotem they also loved the hang gliding. Pictures are here, and on the pages of Zoe, Lotem and Maayan.

Tomorrow we return home, where we'll be for two days before flying to Belfast, N. Ireland where I am organizing a Workshop for the training of bridge Tournament Directors. After the Workshop we will spend a few days in London. (although Brexit happens today I understand that travel to Britain will not be affected in any way for the time being.)
---
25th January 2020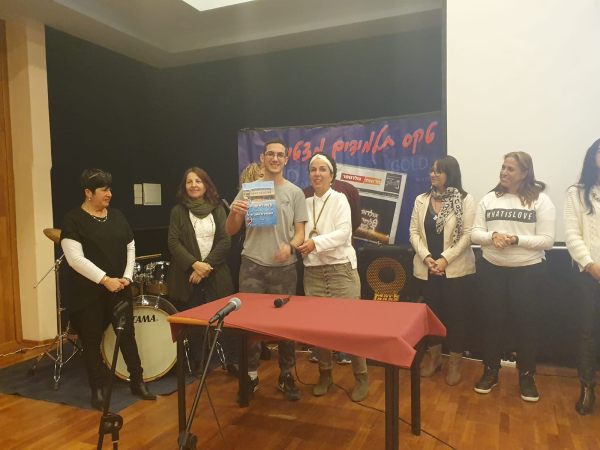 Itamar receives Certificate of Excellence


Congratulations to grandson Itamar Levy who received a Certificate of Excellence at his school. This Certificate is awarded to one pupil per class based on teachers' recommendations. Way to go, Itamar. We're all proud of you.


THIS WEEK'S NEWS

Both the Ron and Levy families came to us for Shabbat dinner (see picture). We celebrated Itamar's school achievement (see above) and granddaughter Ilai's birthday. Today we joined the Levys and went for shabbat

cholent

lunch to the Rons. (see picture)

We also had the opportnity of meeting the Ron's new cutest dog - an toy poodle without a name yet.

The Segolis are in Rumania skiing. We haven't had any pictures yet except for this one taken on the plane to Romania.

Cousin Cecile Cotton (Hershovitz/Levy and Matz family trees) seems to be reacting well to her chemotherapy although there are up and downs. We are kept regularly informed and wish her a speedy recovery.
Towards the end of the week we are flying to Prague for 3 days to attend the European Bridge League Officers' Seminar.
---
18th January 2020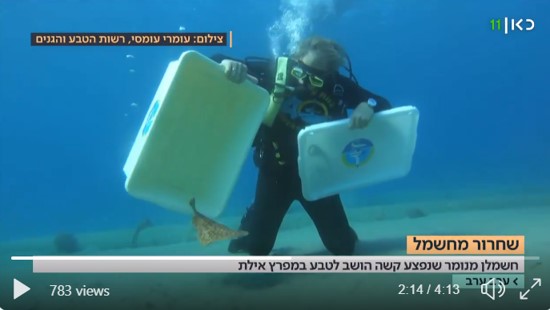 Aviv releases an Electric Ray after treatment



Son Aviv Levy, the Marine Director of the Underwater Observatory, has often appeared on TV giving news or explanations of various matters concerning the marine life in Eilat. A few days ago he was interviewed on Channel 11 (Kann TV) describing how he and his staff at the Eilat Underwater Observatory treated an injured electric ray (Torpedo) while avoiding the dangers of electric shock.

Aviv's performance was excellent as you can see by

viewing the interview

(in Hebrew, but you can still enjoy the video even if you don't understand.)

THIS WEEK'S NEWS


Granddaughter Lior Ron is recuperating from her back operation. There is a big improvement in her walking and moving but she is still experiencing a lot of pain. Doreen bought her a knitting loom to help her pass the time (see picture) and I'm waiting for my present of a scarf.
Ex brother-in-law Mellie Braverman has recovered nicely from his bad fall and sounded like his old self when I spoke to him.
Other news this week concerns food and eating - apparently the Levy family's favourite pastime!

Doreen and the Segolis visited Microsculpture - the amazing exhibition of insect photographs by Levon Bliss now being exhibited at the Natural History Museum of Tel Aviv University. (Read about it here). After the visit they had lunch at the currently very popular vegan restaurant

Meshek Barzilai.

see picture.

The Segolis are in Eilat for the weekend. Click for a picture of last night's Shabbat dinner there.


One of my favourite dishes is curried fish. Doreen prepares it based on her Aunt Laura's recipe and it is delicious! She prepared it this week, and agreed to put the recipe on this site.
---
11th January 2020
(Due to circumstances beyond our control this site was not updated between 21st December 2019 and 10th January 2020)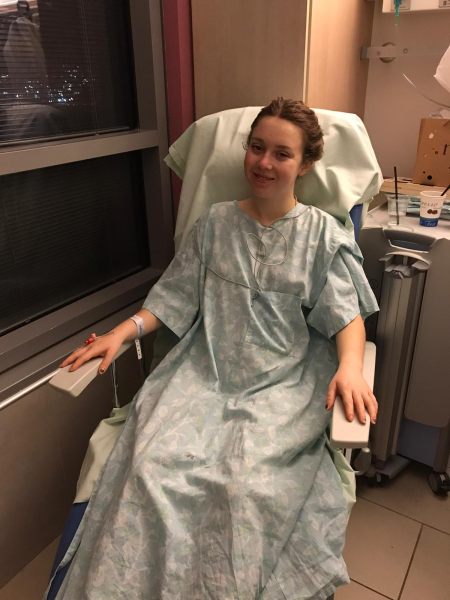 Lior Ron after her operation

Granddaughter Lior, who has been suffering severe backache for some time due to scoliosis was physically unable to continue as a combat soldier. She was released from the army (

see picture here

) to speedily enable a back operation.. She needed a major operation for a rachete-like metal support to be attached to her vertebral column. Grandaughter Ilai Levy, Lior's younger cousin, had a similar

back problem requiring a different operation

about two and a half years ago.

The operation last week was successful but recovery, mobility and freedom from pain will take some time. She is improving slowly every day and as expected by those knowing Lior she is in good spirits.

We all wish you a speedy and full recovery!

THE LAST FOUR WEEK'S NEWS


Due to circumstances beyond our control this site was not updated between 21st December 2019 and 11th January 2020

I know it's a bit late, but we hope all our friends and family enjoyed a happy Channuka or Christmas, and we wish you all a Happy New Year and may 2020 be a healthy, happy and successful year.

We were thrilled that Lior felt well enough to join us for Shabbat dinner last night (10/01/20) together wirth the Segolis. See pictures.

We wish a speedy recovery to ex brother-in-law Mellie Braverman who had a bad fall in Eilat .
We paid a visit to New Kirshner Farm (Meshek Kirshner Hadash), the 'direct to consumer' fruit and vegetable market operated by Moshe Kirshner, the husband of relative Rochelle (nee Bortenstein, (see Schank family tree) and were very impressed. To understand why we were so impressed, click here.
At the beginning of last December we travelled to Amsterdam for the unveiling of Lottie Reizer's stone, and while there enjoyed a Friday night dinner with Lottie's daughter Jose and the Keyson clan (see picture). We were delighted when we had another opportunity to be with them on their visit to Israel at the end of December when Daughter Vered Ron had them over for dinner. See picture.
As every year, we enjoyed the Channukah gathering at the home of Shuly and Eitan Habernan. It's always a pleasure to be with this branch of the family.(see Goldberg family tree). Unfortunately Shuly's mother 96 year-old Sarah Olkienitski (my mother's cousin) couldn't attend, but we visited her last week in Tel Aviv.
Granddaughter Danielle has begun her studies (Sustainability and Government) at the Herzliya Interdisciplinary Centre and is finding it interesting but hard.

News from Frankie Klaff (see Goldberg family tree), late cousin Vivian's wife, has kept us up to date swith news of the successes of her two sons. Oren published his second book

Flip the Script

a few months ago and it has been an Amazon best seller, as was his his first book,

How to Pitch Anything.

Tamir, a geologist by profession has started making sculptures from discarded metal - click to see two of them and to access his site.

Happy Birthday this week

to

: Mushe Kirsh, Orianna Royle (11th), Avraham Segoli , Daniel Kirsh, Sarah Cleaver (12th), Asaf Karlsbad, Maayan Shavit

(14th), Shaun Glogauer, Dylan Thiele (15th), Itay Gur, Ryan Smith (17th)

Happy Anniversary this week to:

Melissa and Shaun Glogauer (9th)
---