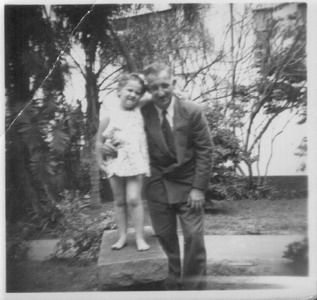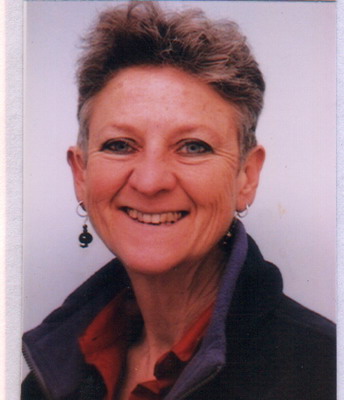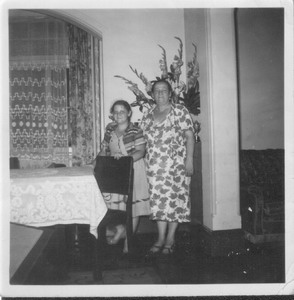 BORN: 18th November 1942 in Port Elizabeth, South Africa
DIED: 21st July 2008 in Wrexham, Wales

Fern was buried in a "Woodland Burial" at the Y Llwyn Cemetery, St Asaph, Wales on 4th August 2008. The
eulogy
was given by Anne Greenland, a humanist celebrant.

In August 2010, the family dedicated a science laboratory in her name at theMagqibagqiba Secondary School in Kwazulu, South Africa..
Click for a description & pictures of the dedication ceremony.
On 9th June Fern sms-ed us that she had a lump in her neck. In the ensuing weeks it was thought to be various non-fatal kinds of cancer. Only later came the diagnosis that Fern had non-small-cell cancer of the lungs that had metastasized to her neck and was also pressing on her trachea.
It is not uncommon when faced with the realization that life is running out to focus on the small things, and Fern was saddened at the thought that she perhaps she would not enjoy the tomatoes she had planted and tended in her garden. – and incensed at the thought that she would not have the pleasure of enjoying the last two years of the warranty of her red Hyundai car.
Fern did have some hard moments when she questioned whether her life style had been in vain, but then concluded together with her doctor that that was the very thing that should successfully help her through the chemotherapy she was about to undergo. In the end she died the day before her chemotherapy was due to start, we presume either from a heart attack or pulmonary embolism.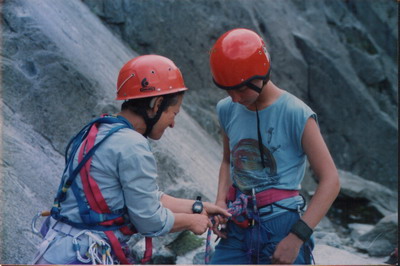 Fern kept a meticulous diary detailing everything that she did. Had she read it she would have realized how ill she really was; the pain and discomfort was shared only with her diary. She had arranged that our son Moran would come to Wales in September to prepare a CD of her life through her pictures, to share with family and friends. Sadly, she died much sooner than she, or any of us, foresaw. Her death is our loss but anyone who knew Fern knows that she would have hated to be reliant on others and see her body's slow decay. From this she was thankfully saved.

She died suddenly on 21st July. We miss her very much. The family








~~ ... ~~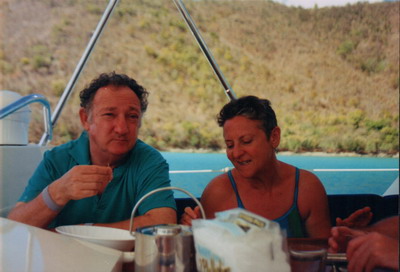 My sister Fern will be remembered by many people and for many different reasons.

We are all aware of her many-faceted activities and community work, but I think that Fern would like to be remembered as someone who, quite simply, did good. Fern helped people less fortunate than her. As a teacher, she taught people with special needs - and after retiring she volunteered for overseas service in Namibia to give the benefit of her experience to those who needed it.

I would like to relate one example that illustrates who Fern really was:
Our aunt in South Africa had employed, at the usual low wage - as was common and accepted in apartheid South Africa - an African maid for many years. Most of the maid's wages went on rent for the modest dwelling in which she and her family lived. When the Aunt was ill Fern looked after her and was with her when she died. Fern inherited some money from her, and she used this money to buy the maid's dwelling and give it to her as a gift.

Fern may not have changed the world - I'm sure she would have liked to - but she certainly changed - and for the better - the lives of many people.

I spoke to Fern a few days before her death. She told me that the prognosis for her was 6 - 12 months and that she was happy she would at least be able to eat her tomatoes that she had so carefully tended. Unfortunately this was not to be. So instead of flowers, we placed her tomato plants on her grave.




In February 2020 Doreen and I visited her burial site. There was a lot of natural growth over her grave but no tomatoes. We sprinkled some tomato seeds and who knows, perhaps some will take root.

Pictures

here

and

here

~~ ... ~~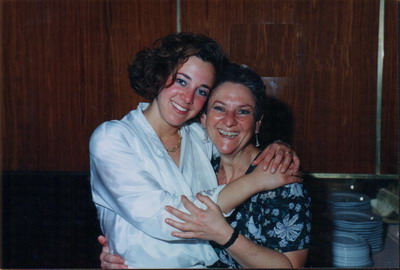 Dear Fern,


I am writing to say goodbye. It's hard to think those words and imagine that we will no longer meet, and tears are running down my eyes as I write. You were my special aunt that I remember from a young age, and no longer remember if these are my memories, or memories from stories, but the first time I think involved an airport and a panda bear that I loved dearly and shared with my puppy. Next time was when I was 12 and Dad and I visited you in London. It was our first real meeting and I found you great- you had an amazing capacity to listen and incredible patience for a young teen, and I loved talking to you, and even as a young self centered teen was wowed with how you understood me. After that many visits followed and I always had a great time with you and enjoyed our long talks and the long challenging hikes, always pushing me to the limit. I did my first rock climbing session with you, and remember the climb with my friend Simona when we found ourselves on a steep and cloudy mountain ridge, nothingness on both sides and a narrow rock climbing path in the middle. Simona and I were petrified and exhilarated at the same time… Or the time I came especially to visit you when I was pregnant, and you took me on a "little hike" that left me breathless with an aching back, yet feeling proud of myself with a sense of accomplishment, and you in wonder, not understanding why I am so tired, not realizing just how hard it is to carry a seven month belly on an uphill walk…

I loved receiving your long letters, and always made a point on flights on hotel nights while away on business trips of writing you long letters, and mailing them as you weren't into email.

Despite growing slightly apart in the last years, we remained close in many ways and maintained a lively and detailed letter exchange. I still love Fern with all my heart and am so saddened that she is gone and that we didn't get to say goodbye. I am happy for you Fern that it ended quickly and I hope without too much suffering, because being terminally ill and needing people and help was not for you. So this is my goodbye note and an 'I love you' note… I hope something of this reaches you and that you are happy to know just how loved you were by so many friends and family.

Love you and miss you, Vered.


~~ ... ~~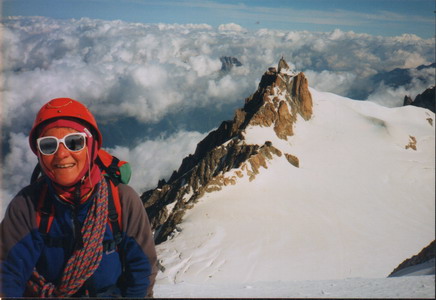 My Tribute to Fern
For two people who were so different it is amazing that Fern and I were friends. She was as far to the left as I am to the right. She lived frugally, whereas I am a conspicuous consumer. Fern was teetotal, need I say anymore. But friends we were, having learned to avoid areas of conflicting views.


Our friendship began with the Pinnacle Club where we shared a passion for the mountains, and whilst it can be safely said that neither of us were at the cutting edge of rock climbing we had some memorable days, both on the hill and the rock. "Chic" a route in the Moelwyns was our favourite. "We must do it again together", she said the last time we met. Sadly this will not happen.


When Fern lived in Essex it was routine that she called in on a Sunday afternoon after a weekend in Wales. She always had a bowl of soup, and squared off any cake that was around .My cakes are rich and creamy, a far cry from those fat free, sugar free horrors that she foisted upon us, becoming visibly upset when they were spurned. On her last visit to my house, just three days before she died I made her some Borscht, which she always loved, as it reminded her of her roots, and her Mother who used to make it for her.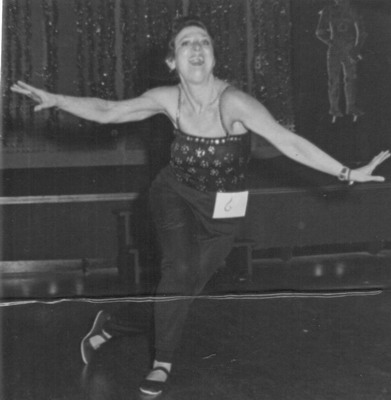 Fern had a missionary zeal to spread the gospel of her beliefs. My last sermon was delivered on the subject of empty cans of dog food, and I was duly chastised for not recycling them. Vintage Fern stuff, which sometimes grated on people who thought that this was the only Fern. Few people knew the fun loving person I did - her passion for compulsively watching complete garbage on television was a redeeming feature. I am pleased that during her last few weeks she had the television in her bedroom - something she thought completely decadent.


Fern was intelligent and often wise, having an affinity for what can best be described as "cutting through the crap", and sussing out what was important.


She was immune to the dictates of fashion, and what was deemed fashionable; ploughing her own furrow, something which is brave and courageous. The expression "When they made her, they broke the mould", could have been written for Fern.


We shared a love of Abba, and their music, she made me promise to see Mama Mia which she had so enjoyed in New York, and when I play my Abba Gold I shall think of Fern forever the dancing queen. And I shall start recycling those bloody tins m' dear.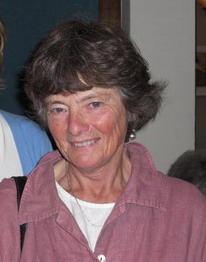 Annabelle





~~ ... ~~

When I came to the Pinnacle Club as a prospective, Fern was amongst the first to welcome me and make me feel at home. She also supported my application for membership and we often climbed together. Fern was always full of energy and enthusiasm ever ready to encourage others. She was a loyal friend and would always listen if one needed to talk about personal difficulties.Fern could be difficult, opinionated and pedantic almost to the point of comedy; I know I often bit my tongue. But she was a person of great integrity. She lived simply and didn't "do posh". Fern's life was congruent with her beliefs.




Fern didn't like pretence or dishonesty. That included being honest about what you wanted to do. On several occasions she told me off for deferring to her wishes and not being open about what I would have preferred. She said "with me, what you see is what you get".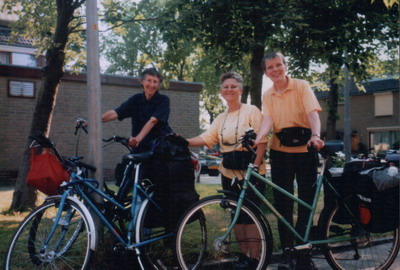 Some of my memories of her include climbing Corvus in the Lakes with her. Higher up we came upon a party of men who were doing the route as part of the 40th

birthday celebrations of one of them. We joined them for a picnic on a commodious ledge. At this point we should have pulled out a bottle of champagne from our rucksacks but Fern was no champagne socialist so we didn't.

I remember Fern on a Pinnacle Club meet in the Bregaglia in 1992. I could hear her enthusiastic shouts way high above as she climbed a route with Sally. She was living that climb to the full as she always did.

A few years ago my partner Leah, Fern and I had a cycling holiday through Holland. One day we came to a cafe called Checkpoint Charlie and wanted refreshment. Leah and I went inside and had the most delicious coffee and apple cake with cream. Meanwhile Fern got out her camping stove and brewed up outside! I also remember her love of dancing from that holiday. We were so pleased to meet up with her at the beginning that, in the town square at Hook of Holland she and I got up and danced much to the amazement of nearby coffee drinkers. It took Fern to get me dancing.

Fern might have been a small woman but she was a great one.I just want to say Fern I love you and will always miss you.


Diana Proudfoot



Memorial to Fern Levy by Penny Clay

I met Fern at my first ever Pinnacle club meet in, I think 1991. I had hitched down to Cwm Dyli from Lancaster on a Friday afternoon and arrived at the hut to find no-one there. I wasn't sure of the protocol and had brought a tent with me just in case!!! Anyway, Fern, who was the meet leader, found me sitting in the porch as a light Welsh drizzle fell outside the hut eating a sandwich I had brought with me. She gave me such a welcome and made a huge impression on me right from the moment I met her.

Anyway, moving through the years when she went off to

Namibia

we kept in touch by writing and when she came back although we met up we continued to write to each other. My last letter from her was May 27

th

when she was already suffering from the DVT in her leg and had discovered the lump in her neck. After that we phoned and emailed so I never wrote back. So I thought I would write her a final letter and share it with you.





August 3

rd

2008

Dear Fern

I can't believe I'm writing this to you for your funeral but here goes! I know you didn't want your name written in flowers (apologies if someone's brought that particular floral tribute along!) and I know you didn't want everyone to know you were ill and feeling sorry for you and pitying you but as I wrote in my email you are a very important person in my life and always have been a kind of role model and inspiration in many ways not just in climbing but also in your approach to life and I'm VERY PISSED OFF that I, have lost that far too soon (entirely selfish, I know!). I had always simply assumed you'd be there somewhere in the world doing your thing!

So, thinking back about some of the memories I have I thought I'd roll out a few for you to smile about and nod and say 'yes, I remember, that was when…'

In 1993 I was in the Ecrins Alps climbing with Julie Carter and we met up with you at La Berade. You greatly entertained us with your story of your ascent of the Cosmiques Arete. For the benefit of our audience Fern, they need to know that this is classic Alpine mixed snow and rock route that ends literally on the viewing platform of the Midi telepherique station above Chamonix. Here the hordes of tourists are shipped up out of the Chamonix valley to congregate, gorp and take photographs of the glacier and the peaks around Mont Blanc including Mont Blanc Du Tacul which you had climbed the previous day. I forget who you did the route with, maybe they're here, but you said that when you climbed onto the viewing platform, roped up with ice axes and crampons you received a tremendous round of applause from the tourists who were seeing 'real' climbers appearing in front of them. Part of you was immensely proud of the reception they gave you whilst part of you fumed and wanted to deliver a lecture to them for patronising 'The little woman, ooh isn't it amazing, she can climb!' We went on to climb a lovely peak n the Ecrins via a superb bivvy site which bizarrely had a whole cake, untouched, in its wrapping, left in it for the next occupants. Needless to say, we polished it off. We also spent time working on our AOT's or All Over Tans and as you'll be pleased to see I have been maintaining that tradition to date, weather permitting.

I last climbed with you last year when we went to a great little crag in Borrowdale called Sunshine Slab and I led you up a load of easy routes to get your head back into climbing after being in Namibia for so long. At the end of the day you talked about how much you loved the feel of climbing, both physical and mental but that most of all it was leading that really gave you the buzz, the adrenaline thrill. I remember being on Tryfen, years ago now (were we with Diana?) with you approaching the Knights Move (can't remember which of those routes its on…) and you being so psyched up for it, having mentally rehearsed the sequence of moves needed to ascend that section of rock, that you just floated up it calling out as you went, 'this is lovely!'. Equally, though, you could also be very laidback about climbing so on one beautiful hot autumn day (very unusual weather for your beloved Wales – usually rains in my experience) we set off from the hut to climb on Lliwedd and instead went swimming as we decided that to go swimming in Wales in October was even rarer an event than climbing on Lliwed and it not raining.

Since you died so many people, close friends and distance acquaintances have spoken highly of you but I don't want you to think we're going to make you into some sort of Mother Theresa figure; we won't! The Fern we knew and loved was positive, energetic and encouraging but also opinionated, independent to the point of stubbornness and at times, like a terrier with a rat when something had bugged that you couldn't drop. As Hut warden you could drive people to distraction with your list of job cards of things that needed doing but I know that the Pinnacle Club and numerous other organisations that you dedicated yourself to benefited enormously, especially the learners and teachers that you worked with in

Namibia

. I wish I had kept your letters from that time as I would have liked to have reminisced about some of the solo trips you went on whilst you were there to the National Parks but also about the people that you lived and worked with there, the pet dogs you befriended and the vegetables you tried to grow.

When you know someone as a climber there are often surprising things that you find out about them when you start to spend time with them away from the crag. One of the things I, and I'm sure others will always remember about you is your amazing ability to create a star turn on the dance floor, disco being your particular forte. At my house warming party I remember being especially gob smacked and slightly concerned that you should know all the arm actions to the 'Macarena', a particularly bad but annoyingly catchy song at the time. Julie suggested we play Dancing Queen at your funeral but I'm afraid I didn't have time to try and sort that one out – apologies. You were also the only person I knew to bake a cake to celebrate the anniversary of the ending of apartheid – even if it was a fat free sugar free cake.

When I saw you last you said you were grieving for the life that you wouldn't have and that is what we here are grieving for now. But you were a woman who had a wide rippling effect in the world and I really do believe that you will be part of mine, and many other people's lives for a long time to come. If I get this far in reading this out I'll be doing well so I'll finish now. Goodbye, you are a dear friend. I thought you wouldn't mind me quoting very briefly from your last letter when, after describing all your health problems and concerns you said and I quote "The strange thing is that I feel fantastic in myself – full of energy and attending to all the little jobs that come along with just living". I shall take a leaf from your book and try to do that myself.
Take care, Lots of love, Penny
~~ ... ~~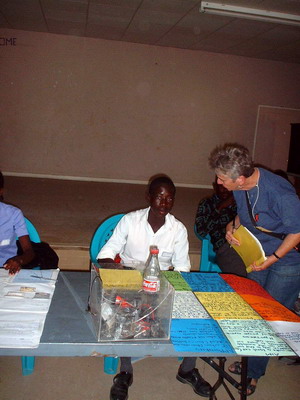 Fern in Namibia, guiding a pupil at the Science Fair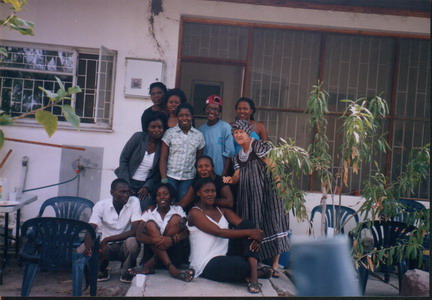 From: Christophine:


I am Christophine at Namibia.I am giving my heart-felt condolence to the Levy's family about the dearth of sister FERN. I did'nt receive the news on time but I want to say say something pls.

Meme-FERN my teacher and as time goes,she become my friend, my advisor
a person to lean to, when i am in troubles.

On behalf of the entire Namibia say 'MAY HER SOUL REST IN ENTERNAL PEACE' because she is a very big loss to all of us.We will always remembr her jokes,love,helping hands and many other good things that she had done to us.


WE WILL NEVER FORGET HER. SHE WILL ALWAYS HAVE A SPECIAL PLACE DEEP IN OUR HEARTS


From: Meduletu Nashimba


Ms Fern your death will remain a shock to my heart! You raised me as your son, giving me support. I become a scientist. after all assistant you gave me on my Science field that I was doing. After all this I become success in my life but this was of your.
Your love, kindness, care, you gave me as your son will always be in my life. Your financial and emotional support will remain forever in my heart.May your soul rest in internally peace I will miss u a lot.

Os ohh ah ah oe at that very hurt full to my heart.

To the family of late meme Fern may strong spirit keeps you strong. Mom Fern has has been with me as my mom, since 2002 at Shituwa high school in Namibia until 2007 last year at Ongwediva colledge of Education in Namibia. She has been taking care of me paying for my studies, buying for me foods and much more. She said she loves me as her biological son. Its hard to understand her soon departure.

May her soul rest in peace and under God Spirits.

~~ ... ~~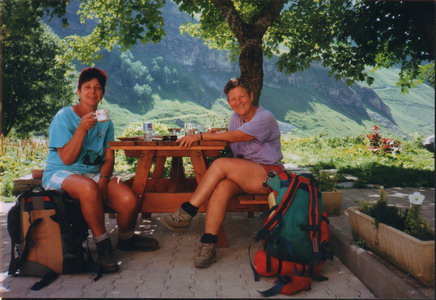 In her own words Fern lived a principled and healthy lifestyle. Her whole life was devoted to helping others less fortunate than herself. No mere do gooder, she was rather an enabler – her aim was to help others challenge themselves and reach their potential. She taught math and science first in ordinary schools and later to children who were severely anti-social. On retiring at 60 she packed up and with British Overseas Volunteering Service went to Oshakati, a remote area in Namibia on the Angolan border, where for three years she lived under the most basic of conditions. She worked in the regional schools there, upgrading the math and science programs, preparing both teachers and learners (students of a later age). Her success can be evaluated in that her learners won first prize at the National Science Fair in Windhoek – an unheard of accomplishment that a dusty little village could achieve results equal to the private schools of the big towns.
When she returned to Wales she suffered from health problems but still continued to be active in the Pinnacle Club a women's climbing and mountaineering club, the local Tenants Association, Mountain Search and Rescue and in another club that made paths, dry stone walls and steps for paths to preserve the mountain ecology.
Fern led a full and varied life. She did and achieved many wonderful things that others can only dream about. Even though not a natural athlete, through determination, discipline and attention to the technical side of things she ran half marathons, learnt to ride a bicycle in her forties and then proceeded to do bike safaris. When we celebrated Anthony's 60th birthday in Paris where our daughter was living, Fern biked over from Wales! She became adept at orienteering as well as an accomplished rock climber.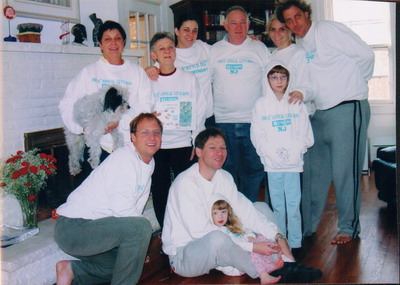 Fern, together with her love of life and outgoing nature, had an intensely private side to her; even her many friends described her as hermit-like. She was an involved aunt to our three children, who loved her dearly. Unfortunately because of her principles she refused to visit Israel in her last years and we saw much less of her.
Originally she had wanted to have her organs donated and be cremated, but just before she died she gave a friend details of how she was to be buried. She was buried on a grassy slope in an ecological-biodegradable cemetery; no gravestones, just short wooden poles with numbers to identify the people buried there. It was a non religious ceremony led by a humanist celebrant, celebrating her life with no hints of an afterlife.
Fern was always part of our lives. In the early years she would join us at Pesach bearing chocolate Easter eggs for the children. She never came to a barmitzvah ceremony but did attend their weddings. She always took us walking or hiking, depending on our ability. Although not at her level, she and I spent many treasured days hiking, trekking and cycling together.
Although difficult, she touched and changed many lives, ours included. We shall miss her dearly.
~~ ... ~~



Fern with nephew Aviv at Stonehenge, and enjoying the traditional Moroccan "chenna" celebration with Tova Ron at Aviv and Limor's wedding..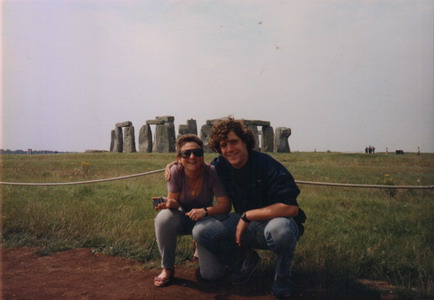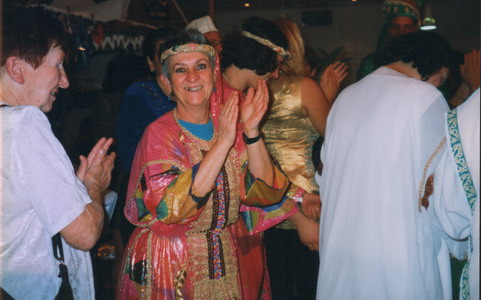 On a hike in Johannesburg with cousins Sheenagh and Charles Levy; and going for a ride on cousin Ruth Kansky's motorbike in the Cape, SA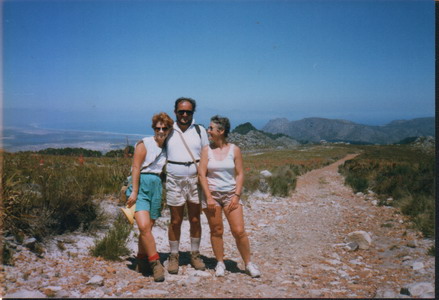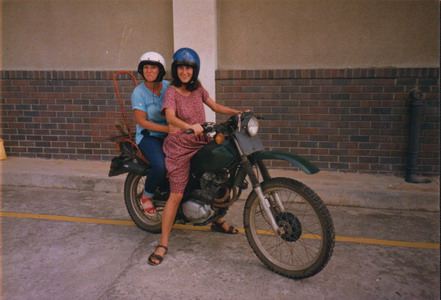 Fern had an extremely close relationship with "mum", the matriarch of the Johnson family that she was so fond of. Pinnacle Club friends Penny and Annabelle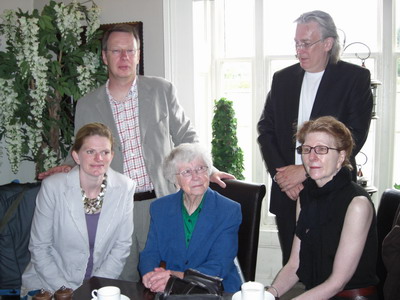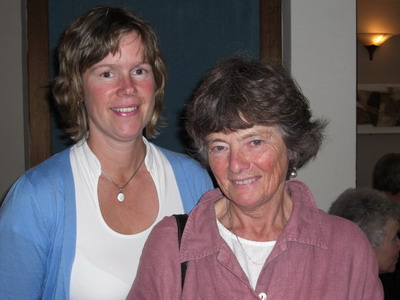 Fern learning to ride in Hofit, Israel. She became a keen bicycler. Proudly intoducing her new house in Gwyddelwen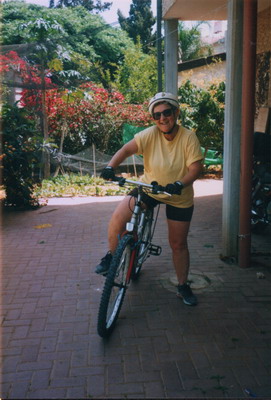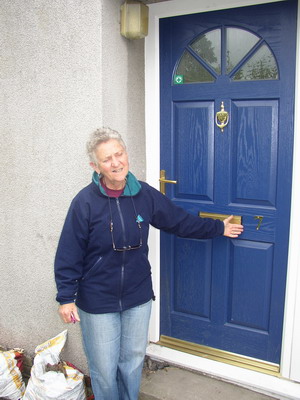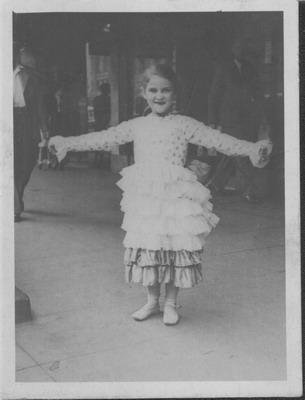 I welcome you, this morning, as we meet here, in this peaceful place, to honour the life and mark the passing of Fern Levy, who has died, from cancer, at the age of sixty-five.
This is a Humanist funeral, and there will be no religious content, but we hope that it will be a fitting tribute to Fern's life and her personality. This graveside ceremony will, of necessity, be short; but you are warmly invited to make your way to the Talardy Hotel, after the service, to continue there the celebration of Fern's life.

It was a life that began in South Africa, in 1942.
Fern was the younger of two children born to Hayman and Queenie Levy,
An extremely intelligent child, Fern did well at school, and went on to achieve a Masters in Social Sciences at a South African university; and, later, a Batchelor of Science degree from the U.K 's Open University.
From her earliest years, Fern was aware of the political nature of life in South Africa, dominated as it was by the apartheid system.
She developed an intense sensitivity to the injustice she saw around her.
As a young undergraduate, she became actively involved in subversive anti-government and anti-apartheid protest.
In her daily life, her own convictions would be evident in her refusal, for example, to use a 'whites only' bus. She would rather walk.
In the mid 1960's, Fern left South Africa, and settled in the U.K.
Her first home was in Essex, where, after an initial period of factory work, she moved into a teaching career.
Her ideals undimmed, she joined left wing groups, including the Workers' Revolutionary Party.

Throughout her life, she was sensitive to the plight of the World's less fortunate, and did whatever she could, in a practical way, to improve the quality of individual lives.
Fern had a deep appreciation of the natural world, and was probably ahead of her time when it came to issues concerning the environment. She favoured organic produce, opposing the use of pesticides on crops.
She enjoyed walking and hiking, and was a member of a rambling club.

Fern had been living in Wales since the early 1990s.
Here she was secretary of the Pinnacle club - a women's climbing group.She was also an active participant in community activities - as Secretary of the Tenants and Residents' Association in her home village; and a first response contact, as part of her involvement with North East Wales Search and Rescue.
Any donations given today in Fern's memory will go to Search and Rescue, and the Pinnacle club.

Fern continued to teach when she moved to Wales, but she was now working with 'special needs' pupils. Again, she was concerned for the vulnerable in society, and worked with offenders as well as the handicapped.
Generous with her time, much of what she did was voluntary, and much of it was for the disadvantaged or mal-adjusted in society.
Her family have described her as principled, disciplined and deeply committed, actively putting her ideals into practice.
She thrived when faced with tasks involving organisation and planning, setting high standards for herself - and others.
She was very practical, having an aptitude for assembly and construction.
She was happy to put her skills to good use - a willing helping hand ready to tackle all manner of tasks.
On the one hand willing, sociable and good humoured, whilst, at the same time, there was an intensely private, solitary side to this most complex of individuals - someone who was just as likely to seek seclusion.
People who improve and enrich the lives of others are the people who create value and meaning in life. And Fern was such a person.

Following her retirement, at the age of sixty, she applied to the V.S.O. organisation, and was posted to Namibia. Here she spent three years, living in remote areas, helping to upgrade the teaching of science and maths. She returned to Wales in 2006.
In was in Namibia that Fern had begun to experience health problems.

These verses are adapted from a poem by Edgar Guest:



Because she lived, a man in need
Was grateful for a kindly deed,
And ever after, tried to be
As thoughtful and as fine as she,

Because she lived, ne'er great or proud,
or known to all the motley crowd,
A few there were whose tents were pitched,
near hers, who found their lives enriched.





Fern's brother, Anthony, led the personal tributes to Fern.




His tribute was followed by a number of others, including colleagues from the




'Pinnacle Club'




The final tribute was given by a colleague from North Wales Search and Rescue.



Trying to look beyond the grief today, you must all be glad that Fern was, and is, part of your lives.
Her influence endures, for the many whose lives she touched, in the unending consequences that flow from her character and her actions.
We have been remembering, with love and affection, Fern, a woman of courage, selflessness, compassion and commitment.

We dedicate this simple plot amid these natural surroundings to every good and precious memory associated with her.
Fern will be part of this place for all time - through the warmth of summer and the cold of winter - through the freshness of Spring and the mists of Autumn.
In time, she will become part of this place, and, in this way, will continue to play her part in the cycle of nature.
Fern now has that perfect peace that will come to us all.



Committal

Fern's memory is committed safely to your hearts -

and now, in keeping with the natural cycle,

in love and sorrow, but without fear,

we commit the body of Fern Tanya Levy back to the earth,

which sustains and regenerates all life.

The comfort of having a friend may be taken away
But not that of having had one
As there is sharpness in some fruits and bitterness in some wines that please us, so there is a mixture in the remembrance of friends, where the loss of their company is sweetened again by the contemplation of their qualities.

Thank you all for coming here today, and sharing in to-day's ceremony.
Before taking your leave, you are invited to drop a flower or some leaves onto the coffin.



~~ ... ~~


In August 2010, the family dedicated a science laboratory in her name at theMagqibagqiba Secondary School.in Kwazulu, South Africa..


See also Picture of Week 26 July 2008