The World Bridge Federation Championships took place in Marrakech, Morocco from August 20 to September 2 2023. This is the most prestigious bridge event and consists of 4 categories: Open, Women, Seniors and Mixed. I was invited to the event as Reviewer and Championship Committee member.


August is not the month one would chose to visit Morocco, but when Eitan was to be an official at the World Bridge Championships, we went. And it is hot, 46 °C on our first day.

The other thing to know it is a little like being in Sinai, throw away your watch because time is slower here; registering at a hotel takes ages. But everyone is so pleasant after the initial annoyance everything is just fine. On arriving late at the Movenpick hotel in Marrakesh we wanted something to eat. Our cokes were served with delicious, not salty olives. No nuts but the waitress brought us three breadsticks which was just enough to tide us over.
We flew to Morocco a few days before the Championships and visited Fez and Chefchaouen. While in Marrakech Doreen took the opportunity to visit more of Morocco's attractions, including Rabat and Casablanca..




We flew to Morocco a few days before the Championships and took the train,

first class

6 hours to Fez. We were delighted to see a KFC, not yet open, and took a photo to add to our collection. We asked if there was food on the train and were answered 'yes'. Not quite what we thought – a cart from which we bought a small packet of Pringles and cokes for lunch. The seats were comfortable with a door enclosing the six seats; old fashioned style. Every time the train stopped people came and sat in the empty seats until the conductor chased them away.

When we arrived in Fes we showed the piece of paper with the address of the Ibis hotel to a taxi driver who wanted our business. He looked at the address and shook his head, mumbling something in Arabic. My heart dropped as we were booked into a three star hotel and I anticipated the worst. The next taxi driver who stopped us spoke a little English (most speak Moroccan and French) and told us to look up – our hotel was just across the street!

After unpacking we went outside to have a drink and try the sabras on the carts; delicious, juicy and sweet.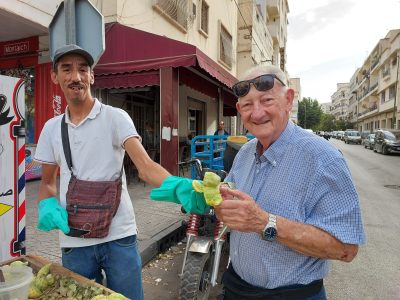 The receptionist suggested a restaurant in the old city for dinner. The restaurant sent a driver to fetch us with which we were well pleased because we would have thought we were being kidnapped as he drove through the crowded streets.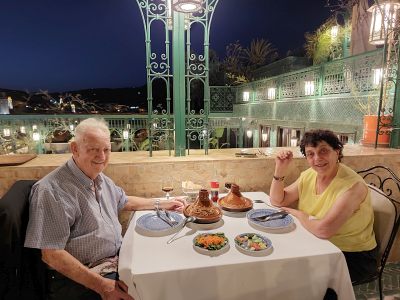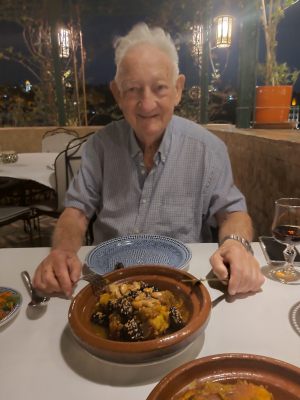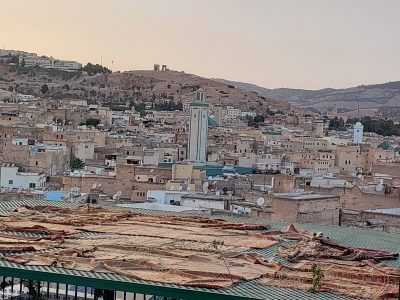 The restaurant, Palais de Fes, was above an open square and entailed a lot of stairs and an elevator to reach the balcony. We were enchanted by the view of the old city with houses one of top of the other and mosques with square minarets from where the call to prayer was heard every few hours. The restaurant only had 3 course set menus: Moroccan salads, various tajines and seasonal fruit. The salads were so delicious and plentiful that we had little space for the tajines. Eitan had Moroccan tzimmes – lamb with prunes and potatoes and delicious almonds. I had chicken couscous, surprisingly without pumpkin and gravy, which we always thought were essential ingredients in couscous. The square below was full of woman and children. When we asked where the men were, we were told they were drinking coffee and smoking in the small cafes nearby. Morocco, being a very conservative country, it would be unseemly for men and woman to sit together at a café.

Although the hotel was only three stars and by the train station, it had a large swimming pool, an extensive garden and chickens running around.

The next morning our guide Arabi arrived and I told him we were Jewish. We were constantly surprised by how warmly we were greeted as Israelis. Eitan told me that there had been an agreement between USA and Morocco whereby the disputed Western Sahara was recognized as part of Morocco and a year later Israel and Morocco formally recognized each other. Israel, which has her own problems with disputed territory, readily recognized Western Sahara as part of Morocco.

We drove off to the Mellah, the Jewish Quarter formed in the 15th Century to protect the Jews. There were no gates barring them from the rest of the town, especially as they were known as the gold jewelers.

We walked past tiny workshops where furniture was refurbished next to shops selling eyeglasses and on to the Jewish cemetery, expecting to see another dreary place with graves and headstones or broken graves. After paying 10 Dirhams we entered and were stunned by the beauty of the cemetery; it was all white. (see picture of entrance.) The graves were relocated in 1884 to enable the enlargement of Sultan Moulay Hassan I's palace. There were Berber Jews from the Maghreb and Megorashim, expelled from Spain in 1492. There were also many modern graves with the name Tzarfati. All the graves are white with no vertical headstones. If there are names there is a small plaque embedded in the graves. The small white mounds were of children who died in a cholera epidemic in 1884. Modern graves were incised with French and Arabic writing. A man was blackening the writing and I wanted to help rub, honoring the people buried there. It was hypnotically peaceful.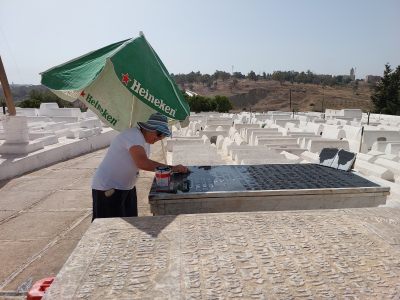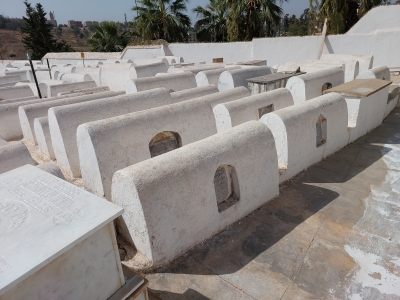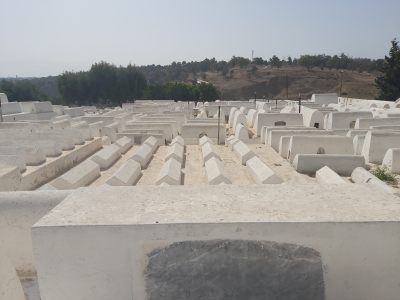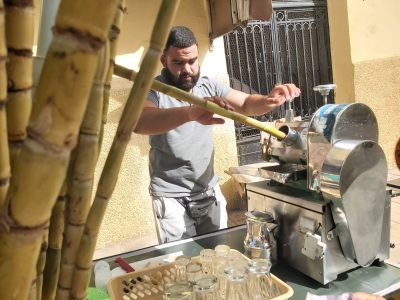 Outside I couldn't resist the cane juice with lemon and ginger, giving me a sugar high for quite some time.
We walked to the Ibn Danan synagogue, built in the 17th Century which is one of North Africa's oldest synagogues. When Jewish Moroccans left for Israel in 1948 the building fell into disrepair until it was renovated in 1996. As in other places which have only a few Jews, it is the tourists, of Moroccan origin, who come here and keep the place alive. The torah scroll is on view and if you don't want to walk down the narrow steps, guides lift a heavy metal ring to show the mikvah below where Anusim were immersed when reconverting to Judaism after fleeing Spain. Our guide told us the synagogue was for Berber Jews from the Maghreb region of North Africa. They emigrated mainly to the USA and Israel.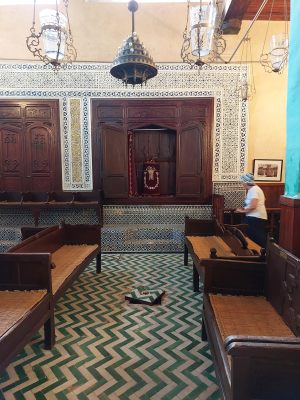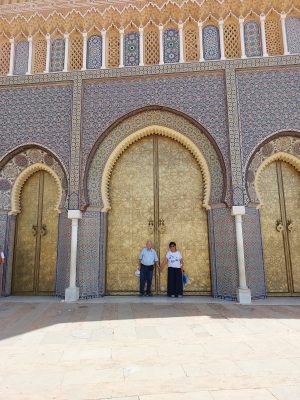 We saw the doors of the king's palace, made from cedar wood and covered with intricate copper patterns.
We then drove to the Southern panorama and fortress where we picked out the square minarets and a white one which was an observatory for stars.

Off to Art D'Argile a huge cooperative where ceramics and mosaics are made in the traditional way. We loved to see how the artisan working the wheel with his foot made a lid for a dish so exact it fitted perfectly and marveled at the women and men who painted and decorated the ceramics. Although we had stoutly announced we would not buy anything the guide was so charming and persuasive that not only did we buy a tajine (now I'll have to find out how to cook with it) but also some fish shaped plates. Suckers are we.
We marveled at how the artisans cut floor tiles and hammered them into delicate intricate forms. The pieces are then laid down upside down, so when they are turned over they are completely straight and flat.
Fortunately the mosaics, which were perhaps more fascinating in their production, were too large and heavy for us to even think of buying them. It is always a delight to see experts at work.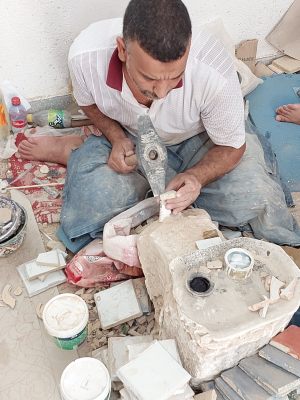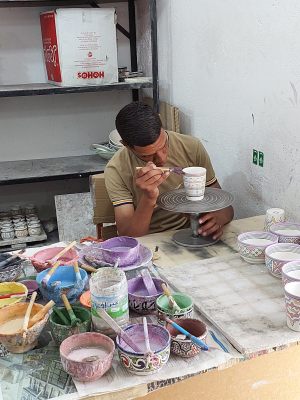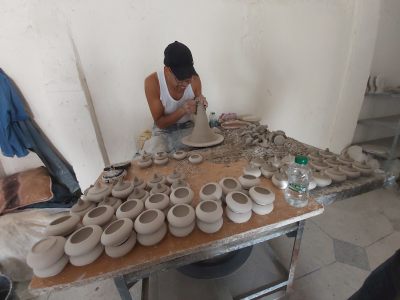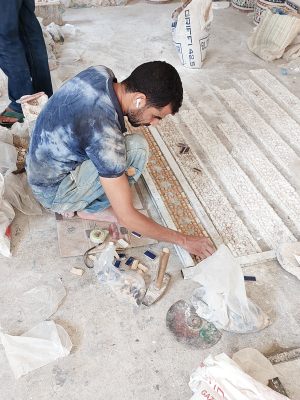 We then drove to one of the entrances to the walled medina. When we were about to enter the medina we recognized the now empty square with our restaurant above, where we had eaten
the previous evening. Our guide Arabi too said his wife waits for him there in the evenings when he goes to drink coffee.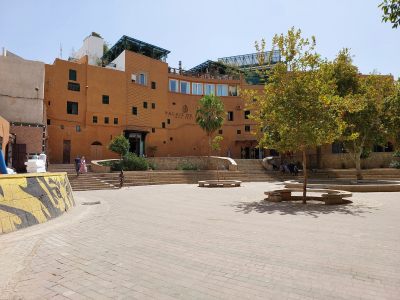 We entered the medina which was cool, away from the burning sun and walked along the narrow streets where only donkeys or hand pushed carts could go. We learnt that the size of the doors reflected the house's importance. Often there was a smaller door within a larger one – the first for family and the larger for guests. Also two different metal knockers – to distinguish between family and others.
We were surprised by the many cats wandering around or lying in boxes letting the kittens feed. They are obviously looked after and feel quite at ease with the many people around them. We saw no dogs inside the medina.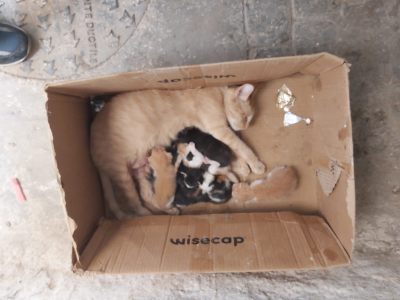 The shops were varied: some women made extremely thin pastry which were cooked on a round clay stove and then filled with things of your choice. Just watching her roll out the paper thin dough on a well-oiled surface was a pleasure to watch.
The array of olives and pickled vegetables, various kinds of dates, dazzled the senses. At a fish shop we saw baby leopard sharks, slabs of larger sharks, sardines but no salmon! Butchers sold beef and lamb and one even camel meat, but of course no pork.
The souk was crowded and some lanes were very narrow and some even narrower.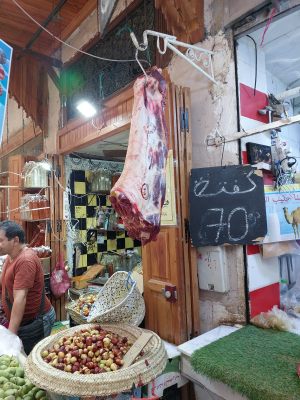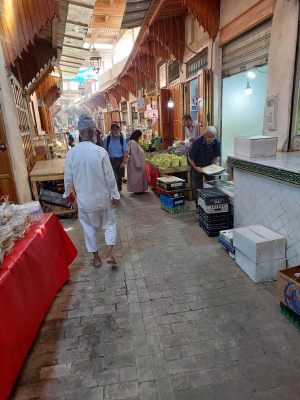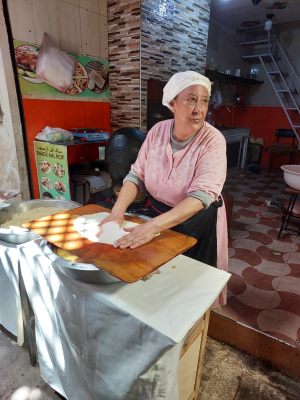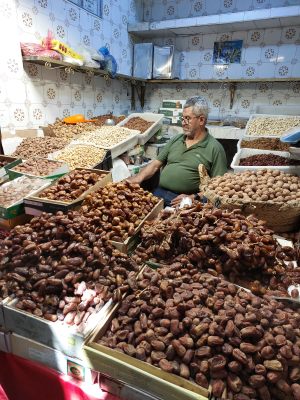 I was fascinated by a fountain where people brought their used clothes to be dyed black. I tried dying once and found it an incredibly messy and laborious procedure.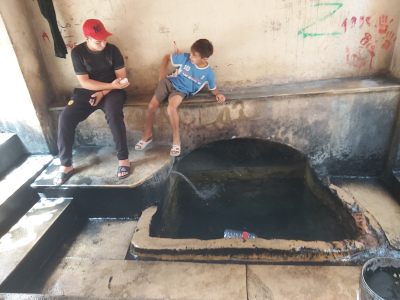 Then we came to the material shops. Arabi said the colourful threads we saw hanging were from agave. Of course I didn't believe him as agave comes from Mexico and he must have meant sisal. But the Saharan aloe vera cacti grow well here. After the silk-like fibers are taken from the plants they are washed, dyed, dried and then hand spun. Interestingly it is called sabra silk.
We saw piles of brightly dyed wool, live wool, shorn from white living sheep that is used for fabrics and carpets. Black wool, from goats I presume is used for making tents. Dead wool taken from slaughtered animals is used mainly for stuffing cushions etc. We entered a carpet 'factory' but as we definitely weren't going to buy I hesitated to ask them to show rugs. But we did see kilims made from sabra silk and other beautiful carpets.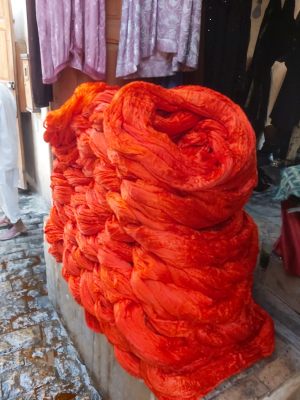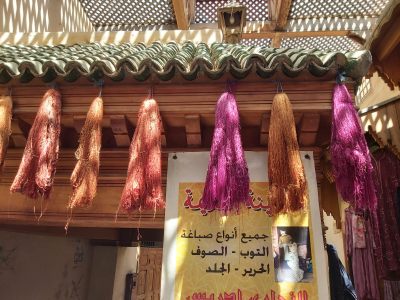 At Place Seffarine we saw apprentices and artisans shaping copper sheets. Hearing the men banging on the metal we were reminded of the delightful part in La Traviatore where the gypsies bang in time to the music. There were also huge vats to rent for preparing food for weddings.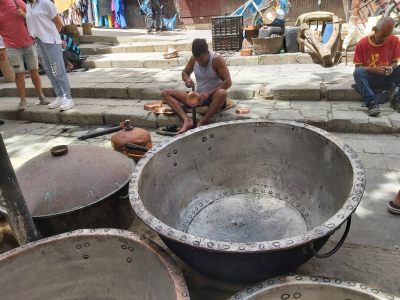 We admired the Madrasa al-Attarine, its tiles and delicate, intricately cut plaster.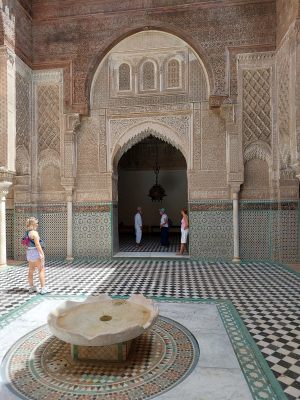 The University of al-Qarawiyyin was founded as a mosque in the C9 by a rich woman from Tunis.
It became one of the leading spiritual and educational centers during the Islamic Golden Age.
UNESCO names it as the oldest continually operating university and the first degree awarding institution.
Of course we were impressed to learn that Maimonides and family had lived in Fes for a period
and he studied at this university where he composed his commentary on the Mishnah.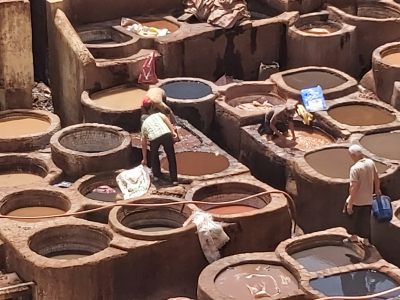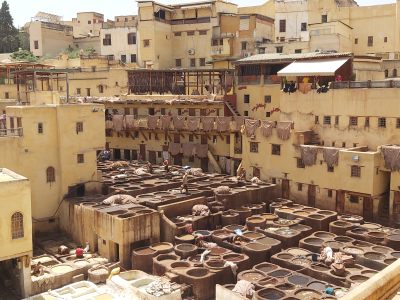 Then at last we arrived at the site to see the tanners and
their dyeing vats. The iconic picture of the vats is taken
in winter when dyes of red, green, yellow are used.
The stone vats are built and stand side by side. You may
never wear leather again after reading the following: skins
from sheep, cows and camel are soaked for three days in a disgusting mixture of cow urine, quicklime water and salt,
softening the hides and removing the hairs and fat. Then they
are dunked into new vats with water and pigeon feces that
contain ammonia, to help absorb the dyes.
Lastly they are submerged in vats that contain the dyes made
from poppy flowers for red, saffron for yellow, cedar for
brown, mint for green and cobalt for blue. Afterwards they
are hung to dry and be scraped smooth before being cut
and made into jackets, coats, bags and cushions etc.
No I didn't buy a jacket as Maureen had just given me an excellent sienna-colored coat as a present.
We were ready for lunch and a rest, walking to a tall airy building that once belonged to a minister. Again the menu only offered three course meal of salads, tajine and fruit. Eitan had couscous and I had vegetables and we both missed the sauce so essential to the couscous I make at home.
By this time we had had enough, and declined to see the wood museum and another viewpoint. We wanted to go straight to the van and back to the hotel. Our driver assured us that it would take time for the van to arrive and he didn't want us standing in the hot sun. Instead we should visit the Argan oil factory with no pressure to buy. Fine. Half an hour later, after watching the woman cracking the Argan nuts with stones and removing the seeds, getting detailed explanations of the wonders of Argan oil, for which Israeli woman come especially to him to buy, we left. Of course we had bought Argan oil for the face and hair, cactus extract to reduce the bags under my eyes (hah ha) and black cumin to relieve headaches, asthma and blocked sinuses.
We had another long walk to the van and back to the hotel. It was the longest half-day tour ever (5 ½ hours not including what we left out), but we enjoyed it thoroughly. The only bad part was in one of the narrow streets while Eitan was negotiating a step, a tourist coming the other way, pushed past him and he fell backwards, bruising his ribs and hurting his back. Without a word of complaint, even though in pain, he valiantly carried on.
That night, out- tajined, we decided to eat at the hotel, in preparation for an early start the following morning.
Go to other pages of our visit to Morocco