OUR TRIP TO AUSTRALIA 2013
HONG KONG - MELBOURNE - TASMANIA - BANGKOK - MYANMAR
HONG KONG and MELBOURNE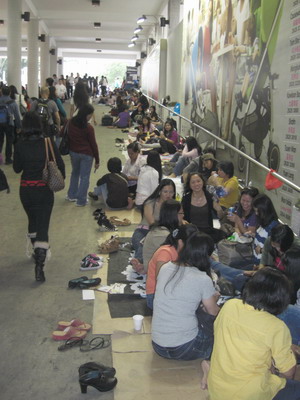 Our flight to Australia was in two legs, first to Hong Kong and then on to Melbourne.

Faced with a 6 hour wait at Hong Kong airport we decided to take the train into the city of Hong Kong, have some noodle soup and then return. The financial district of Hong Kong is made up of tall modern buildings, walkways, and stylish shopping malls. It was very crowded but spotlessly clean. We were nonplussed by the thousands of women sitting in groups in the below ground walkways. After removing their fashionable shoes, they sat on cardboard and played some card game. One woman explained that they were Philippine migrant workers/care givers and they were celebrating Philippine Day. On the street level there were posters about the rights of migrant workers.
Our soup was delicious, and I enjoyed the best wonton soup ever! We returned to the airport enjoyed another bowl of noodle soup and roast goose and felt refreshed for another 10 hour flight, arriving in Melbourne at 8.00am.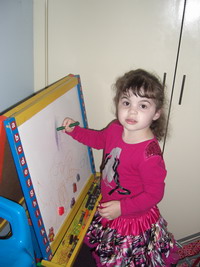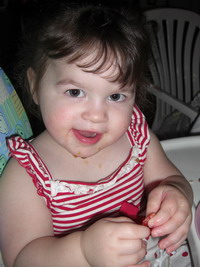 Melbourne is a huge spread out city with a lot of traffic problems.

We were glad to again see Anthony's cousin Sharon, Joe and Nathalie Leibowitz again. That evening we took part in our first seder led by Joe. (see pictures here). We were joined by their son Daniel and Donna and by their two delightful granddaughters Erica and Michaela and some friends. We had met Daniel and Donna on our trip to Australia in 2001 and were happy to see them again. After reading the Haggadah we enjoyed the meal which included chopped herring, Danish herring and of course gefilte fish… but no chopped liver.
We spent the next day with Sharon and in the evening went to my cousins Mark and Sue Glasser for our second night seder. (see pictures here).

Both their children, Danielle and Mickey have spent time with us in Israel, and they kindly vacated their rooms for Moran and family who arrived after the seder (by mistake) but in time for delicious desserts. Sue has a large family in Australia, but we are the only Jewish family with whom Mark keeps contact, so our being there was particularly meaningful to all of us. Mark took great pride in leading the seder and then we enjoyed chopped herring, Danish herring and gefilte fish as starters. And like the previous night kneidlach in a thick pureed vegetable soup. Where did all the chicken soup go?

Moran and Mikhal were delighted to at last meet family in Australia and everyone bonded immediately; their kids went about charming everybody.

The next day both Mark and Sharon took us to the Eureka Building in the heart of Melbourne. We were whisked up to the 88th floor where we enjoyed spectacular views of Melbourne through the floor-to-ceiling glass windows. Going out to a mesh enclosed verandah was breath taking – literally, as it was so windy out there. Finally we went into a horizontal elevator that moved 3 meters out of the building. The windows were opaque but when we were suspended over air they turned transparent and we could see the streets far below.(see picture here). It was nice but we had already enjoyed the uninterrupted views from inside.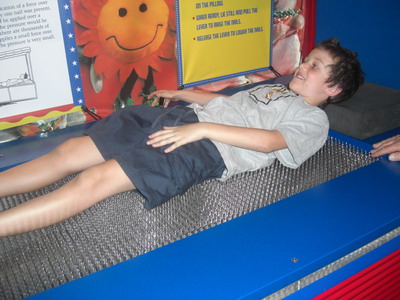 Mark then took us to the Science Works Museum. We were charmed by the Carnival exhibit which had old carnival booths with explanations of the science behind each activity.

We were fascinated by our ability to lie on a bed of nails, understood why it was so hard to drop a ball through the clown's mouth to the slot we wanted and learnt about the physics of spinning plates on a stick.

We all had great fun, even Zoe who delighted in her new walking skills and looked like a little duck with her arms stretched out behind her.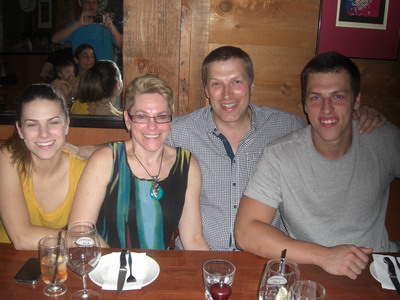 After that we went home to prepare for the evening (snooze!) and met with the Glasser family at Squires. a delicious meat restaurant. Maayan had us all bemused by his ability to polish off a 200g porterhouse steak. Squires will be the standard of all good steak restaurants in the future.
The next day, after a mad rush, we flew with the Segolis to Tasmania.