OUR TRIP TO AUSTRALIA 2013

HONG KONG - MELBOURNE - TASMANIA - BANGKOK - MYANMAR
MYANMAR
Due to an administrative error (I deleted 10 days of intensive writing about Myanmar); the names of various temples and tiny villages have been wiped out from memory, mine and the computer's!
YANGON (1) BAGAN LAKE INLAY YANGON (2)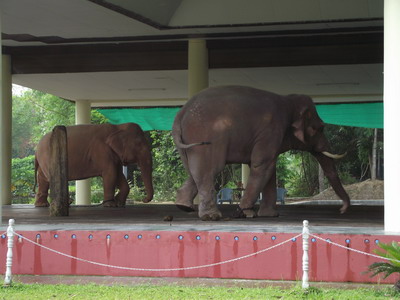 The flight from Bangkok to Myanmar was uneventful, unlike our ride from the airport to our airport hotel. (
see Bangkok account)
. Our luggage arrived with us in in Yangon, the guide Aung Sue and car from Myanmar Shalom Travel were waiting at the airport and everything seemed fine except that after 10 days with our children in Tasmania we were not really in the mood for more touring. But the magic of Myanmar, its warm and welcoming people and later the water festival captured our hearts and it was hard to leave 8 days later.
Our first stop, inauspiciously, was to see three white elephants that may once have been white, but now were either pink or greyish. Elephants, symbols of strength and wisdom are believed to have special powers in war and associated with royal power. These elephants were sad to see. Chained by one leg under a canopy in a sterile environment, all they could do was step forwards and backwards, forwards and backwards for hours. It did not auger well for our visit.
We spent much of that first day in traffic jams, but no hooting or accidents, even though we were later informed that some 40% of the drivers don't have a driver's license.
Yangon has many colonial buildings, remembering 200 years of British colonial rule. Many are well kept, reminding us of Durban, but we also saw many buildings peeling, moldy and empty, previously occupied by the military dictatorship.. The harsh military dictatorship of previous years is being replaced by steps towards democracy; we never saw a soldier and the only policemen we saw were traffic policemen; many plainclothes policemen abound. The population is overwhelmingly religious and virtually all local tourism is religion based. We were there during the Water Festival and New Year (1375), during which whole families make pilgrimages to various pagodas and temples and sleep over at Buddhist
monasteries, with few able to afford any hotel.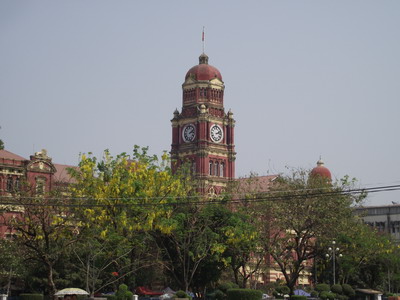 Our next stop was to Kyauk Daw Kyi Temple to see a massive Buddha carved from one piece of white marble. (
see another picture here
). Roughly carved at site it took 2 months to float down to Yangon where it was finished in situ. Of course I had to buy some gold leaf and rub it on a smaller Buddha statue.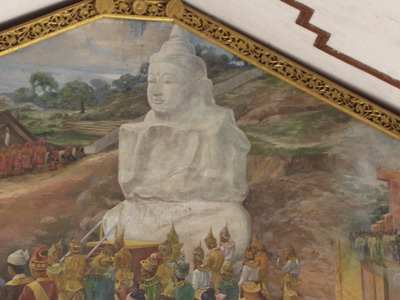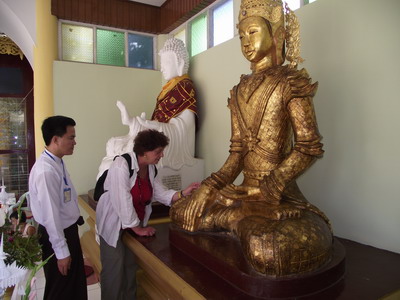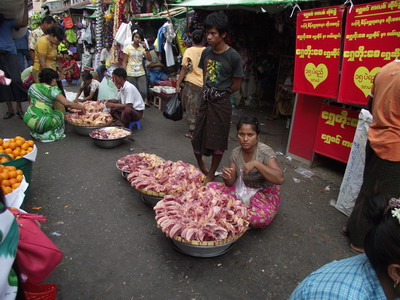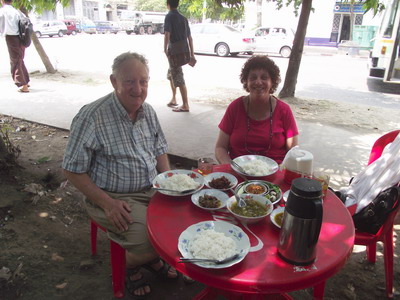 Local markets are always interesting and we thoroughly enjoyed seeing local fruit and vegetables (some of which we didn't recognize), the plentiful fish with less chicken and meat and aluminium kitchen utensils. In the Yangon market we were fascinated by food placed on shallow baskets that were positioned exactly in the middle of tarred market lanes. When trucks came past, the women stepped aside and the vehicles drove over the baskets.
We wanted to have lunch at a local restaurant. Faced with Zoe-sized chairs and tables on the pavement (fine for people who squat down all the time) we waited for a normal table and chairs to be available. Lunch, consisting of rice, soup, chicken, salads and other dishes, some really tasty, cost under $4.00 for three people.
At one stage when traffic was at a standstill we watched bemused as one man bought a car from the other. They checked the car and signed the papers while squatting on the pavement in sight of everyone. Piles of paper bills were exchanged and the seller, totally unconcerned, placed this wad of money in an opaque plastic bag and walked off. We often saw people walking around with money in transparent plastic bags. We couldn't understand why they were not robbed!
An ongoing question in Myanmar was, of course, how was democracy taking shape and what controls did the new government have. We stopped by the walled compund of the freedom fighter and opposition leader Ms. Aung San Sui Kyi; the road that passed her house was previously banned to traffic. We read that she will be allowed to run for president in the next elections after a change in the constitution. One of the things that puzzled us was the phenomenon of plastic jerrycans piled by the roadsides. At first we thought water was being sold; we were informed that this is gasoline. Oh yes, the gas stations are open,but they close early. The bottles (for motorbikes) and jerry cans were openly displayed in all the towns for those who needed fuel in the evening or night.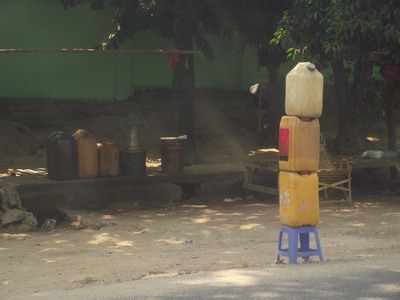 After lunch we went to a barge that was preparing to sail for various villages on the way to Mandalay.
We watched men, young and old, in flip-flops carry 50 kilo bags of salt from the lorry to the barge. The barges were packed with clay stoves, ceramic jars for water, wood burning stoves,
kids' toys, cheap jewelry, furniture and various dried foods. I bought some thanakha
wood that is ground to make a paste, then mixed with water and is used against sunburn (when I tried it at Bagan it inflamed my face and
I had to quickly rub it off),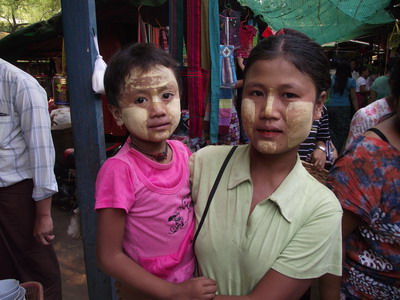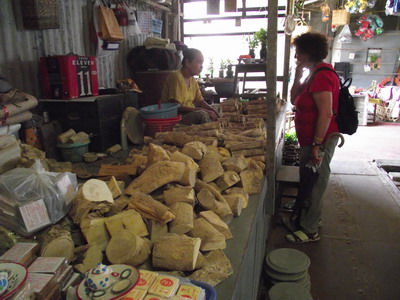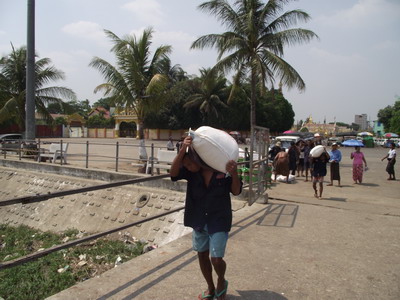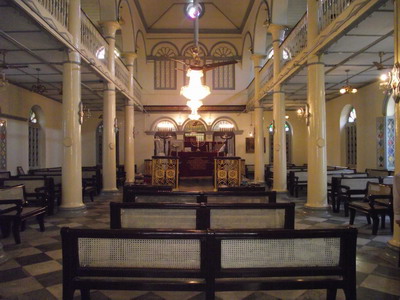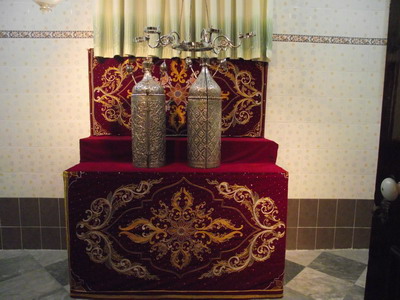 Our last stop for the day was at the synagogue, in the heart of today's Muslim quarter, selling fishing nets and line and paints. Today there are only 25 members of the Jewish community but the large two-storied impeccably kept synagogue reflects a history when the community numbered 2500 members, wealthy merchants originally hailing from Baghdad, about 120 years ago. We were surprised to learn that Shalom Tours is owned by a Jewish family the Samuels. Moses Samuels, who looks after the shul has recently undergone a throat operation and unfortunately was unable to speak although he greeted us warmly and together we lit candles, praying for his speedy recovery. The walk-in
dvir
contained two silver encased Baghdadi torah scrolls and the feeling of sanctity was palpable. His son Sammy, who today runs the travel agency is a graduate from Yeshiva College in New York.
Should you need a travel agent in Myanmar, please look them up.
From Yangon we flew to
Bagan
and
then Lake Inlay
before returning to
Yangon.
BAGAN

When we first arrived in Yangon I was unpleasantly surprised to find myself in a squat toilet – definitely not for old Western knees. About to board the Air Bagan plane, Eitan and I amused ourselves by wondering whether there would be a squat toilet on the plane or just a hole to the outside. Unfair! The luggage arrived and our guide, Aung Thu with car and driver were waiting for us.


First stop a local market. to get a feel for the way people live and shop. Among the stalls were stalls with a Singer sewing machine powered by a large foot pedal. The stalls were very busy as women were ordering new suits - long skirts and blouses - for the upcoming Thingyan New Year Festival. While groups of women browsed and discussed the styles in the Burmese "Burda", the seamstress measured the customers and with feet pedalling merrily,

she sewed

the clothes.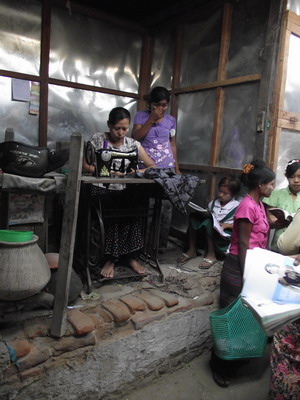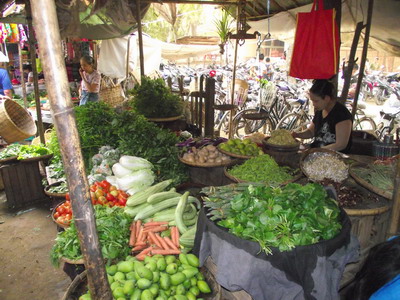 Bagan is situated on the Ayeryarwaddy River, which is an important waterway for transporting logged teakwood and other goods, people and tourists; it is also where the people draw their water, wash their clothes and themselves and where the children play. Our lodge, Thiripyitsayar Sanctuary Resort, was situated near the river amongst lush gardens with our own private pagodas, two of the more than 1,000 pagodas in Bagan. All pagodas in Bagan are old; no new ones are allowed to be built there. Pagodas and stupas are made from brick and are solid; temples are the walk in ones. Colloquially all are referred to as pagodas.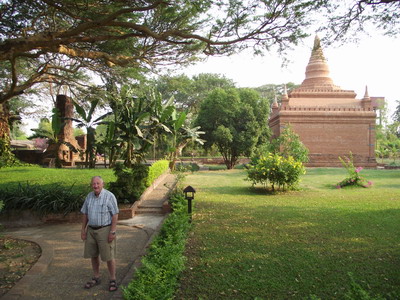 Our guide Aung Thu tried to explain the basics of Buddhism to us. It is a way of life, not a religion. Myanmar is the most religious of Buddhist countries and follows the Theravada tradition. Some 89% of the people are religious and the rituals and precepts of Buddhism play a major part in their daily lives. Doing acts of merit - like giving food to monks - together with acts of charity and good deeds (am I talking about Judaism?) will ensure a favorable rebirth, ultimately reaching 7th Heaven and Nirvana Interesting how concepts of Buddhism are part of our expressions, without our even realizing them.. When Nirvana, perfection, is achieved, there is no need for further rebirth. Buddha is not a god but a teacher who exhorts his followers to do their best The five precepts are: do not kill, steal, lie, drink alcohol or commit sexual misconduct. Buddhism teaches that life includes getting old, sick and ultimately dying, but through a good life suffering can be avoided. Everyone is personally responsible for their own self awakening. Life is a series of reincarnations determined by karma and the execution of merit-giving acts.What puzzled me was that Buddha is not god then who created the universe? It just is. However there is a real belief in the power of the nats - spirits (and statues) that can affect existence (folk kabbalah if you want). Apologies to any Buddhists who think I've got it all wrong, but is it most confusing, complicated by the myriad of different Buddhist and nat statues and shrines.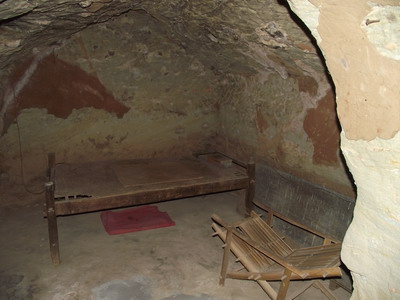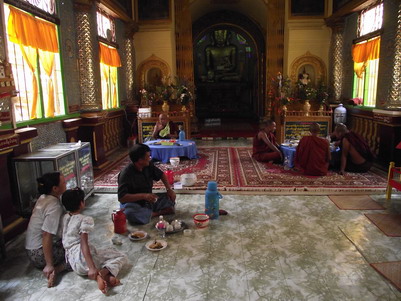 In addition to the monks who live in the monastery, most males go to a monastery at least three times in their life. The first time is as a child, usually between the ages of 6-10 year after an initiation ceremony to relive Gautama, the former life of Buddha; then at about 20 years and if he wants to go when he is married he needs the agreement of his wife. He shaves his head and dons the marroon cloth and becomes a novice monk for a few weeks to months. In the monastery they eat two meals a day. After breakfast they need to go out to the community to collect lunch. They may take water but cannot take or ask for food. They just stand and whoever wants, will put some food in their bowls.This is a chance for a person to earn merit and I think ensures that the monks remain part of the community around them and do not live in seclusion. The novice monks return to the monastery and eat whatever is in their bowls, finishing by noon. When they eat, with their fingers, they are not allowed to look what's in the bowl and choose, but must look up and take the food as it comes.They spend the rest of the day studying Buddha's teachings and the many written interpretations, as well as meditating. We use the term `to meditate on' something, but in fact meditation is a clearing of the mind; a cleansing in order to abnegate the ego. The earliest Buddhists scriptures are written in Pali. Children learn Pali chants for rituals and prayer, but few people can read it and only a handful of monks can speak it today. At working temples (many are in ruins) there was always a loud speaker and people who could read Pali would sit and read the Pali texts. There is a belief that even if one does not understand Pali just hearing it is an aid to meditation and prayer. Monks are not politicians but see as their duty to relieve the suffering of the people. They were at the forefront of the struggle towards democracy.

Many families have festive meals with the monks to celibrate life cycles or events. Here is a picture of a meditating cell, but the dormitories for novice monks are not much more luxurious. We could not reconcile the anomaly of monks on motorbikes or touring and taking photos. The monks are held in huge respect by the local populace and later in Bangkok we saw how people sitting in a bus instantly vacated their seats, actually scattered, when a monk approached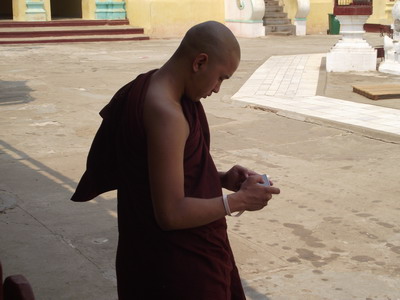 We visited the pagoda prototype, Shwezigone, made from sandstone and covered in plaster. All other pagodas were made from brick, then plastered and either covered in gold paint or with intricately carved stucco, remains of which can still be seen today.
The insides of some have frescoes with images of Buddha and his previous life story. UNESCO is helping clean and preserve these treasures.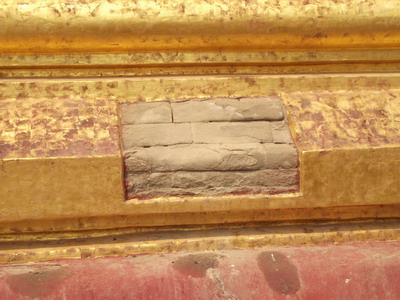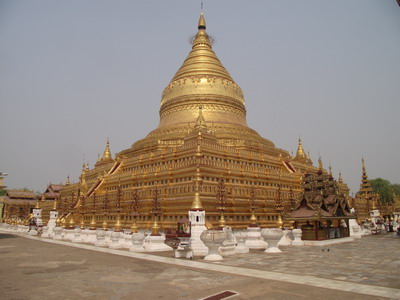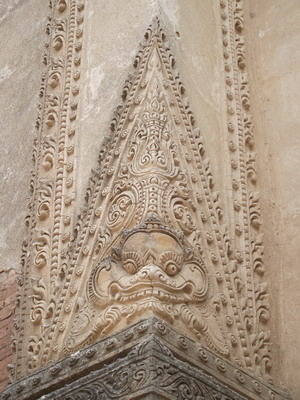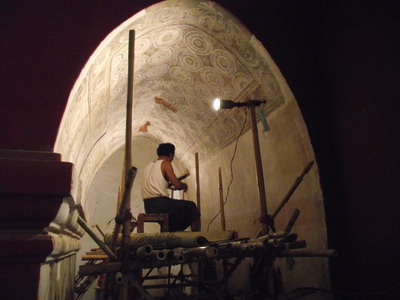 One of the more interesting temples was the three spired temple that had the interior of two of them decorated and the third was plastered and even outlined for the decorations but it was not completed as the Mongols conquered the area in 1260 (?) and the artists ran away. Interestingly at the same time the Mongols conquered Jerusalem on the other side of the world and were defeated at the Battle of Ein Jalud not long before the Crusaders were finally expelled from our area. We climbed the78 steps of Ananda Temple late in the afternoon. It was an impressive site to see the many spires of pagodas rising above the trees, but the red ball of the sun disappeared into the haze while it was still high in the sky.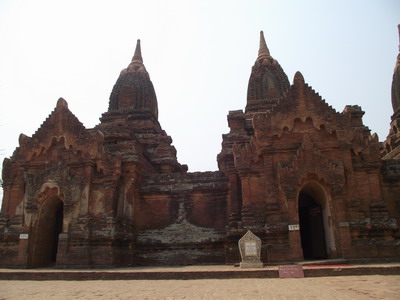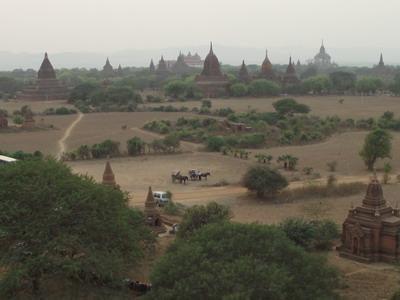 I bought a Buddha mask and was delighted to find out that it was Travelling Buddha shown here on the left as he delicately raises his cloak as he walks. Travelling Buddha is certainly my karma! I later bought a wad of gold leaf packets and rubbed it on the mask back home. To the right is the Smiling Buddha. Depending on where one stands and the angle Buddha's face changes from quite stern to a broad smile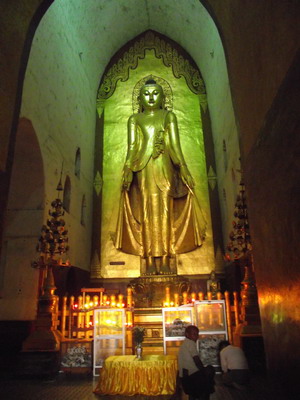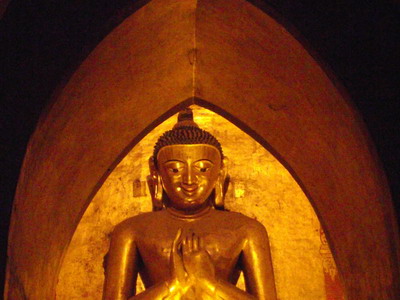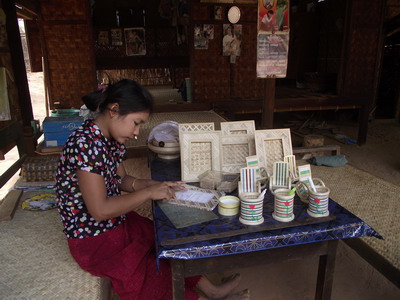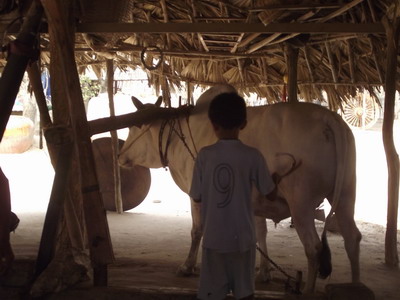 We visited dusty Minnathu village where people still lived in extended families. The houses were raised on stilts to keep the animals and the mud of the monsoon rains out. Water was drawn from a well and there were battery-powered lights hanging from a few roofs. The fields were dry as people waited for the rains to come. We saw how one young girl who had studied at the university stripped bamboo and made the strips into baskets and picture frames, and how peanuts and sesame were crushedto make oil with the help of an ox . One old woman showed us how she makes cigarettes from lots of wood shavings and a little tobacco that is then wrapped up in corn husks. The ironmongers still work with bellows as they hammer out the shapes needed to put a ring around a wheel or other necessities of life.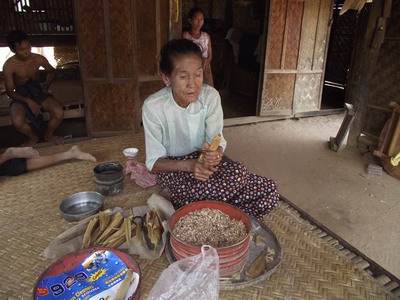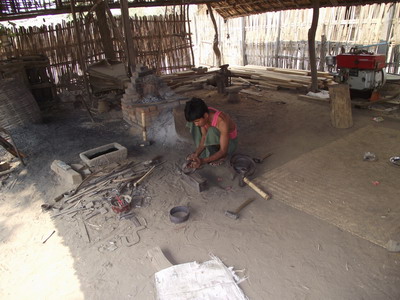 After watching a woman weave cloth, buying a skirt was mandatory. Wearing it is both comfortable and pleasant.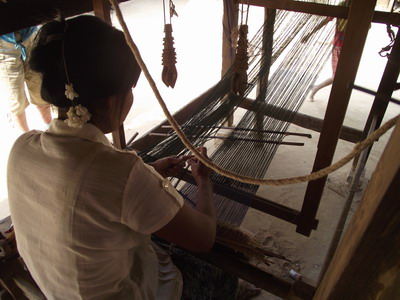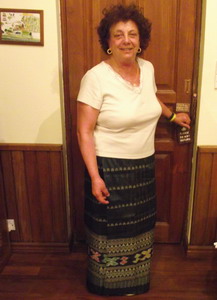 A fun stop was at a lacquer factory. Utensils are made from teak, but usually from bamboo; horsehair and bamboo are used as a base to make flexible cups. Lacquer, which is the pitch black resin from the melanhorrea usitata tree is painted 18 times on the bamboo and has to be slowly dried in a moist cave. The resin, interestingly enough, does not harden in the sun. When finally polished, free hand decorations are scratched into the lacquer and the natural colors, red, yellow and green are in turn rubbed into the grooves. We learnt that white is a chemical color usually on inferior utensils.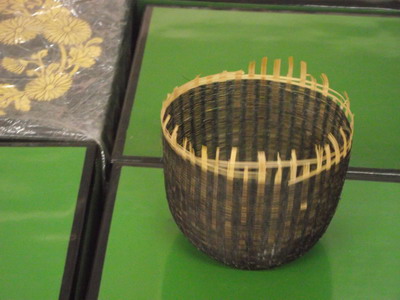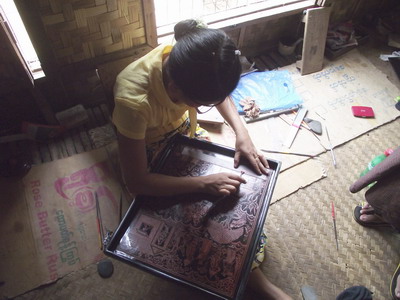 We went on a pony ride through another village, which was most uncomfortable both for Eitan and me – and most probably the pony! Afterwards we were dropped by the river and went on an enchanting boat ride up the Ayeryarwaddy River to see the sunset. Even the racket of the outboard motors couldn't ruin the mesmerizing atmosphere.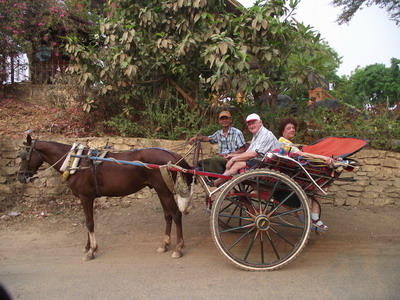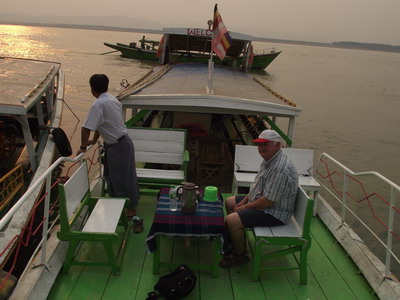 LAKE INLAY
Our next destination was a flight to Heho, the gateway to Lake Inlay. We felt we were totally out-pagoda-ed and ready for a different experience. On the way to the lake we stopped at yet another local market and were again enchanted by the local wares. We thought this market was very upscale: in addition to the endless shops selling a variety of flip-flops, one shop sold boots and sneakers. I tried betel leaf and found it bitter. Anthony, who dismembers chicken with a chopper, was fascinated by the ability of the women to delicately and evenly chop chicken or fish. We eat a lot of chicken with a little rice; they eat a lot of rice and a small portion of chicken has to suffice for the whole family. Women sell fish and chicken; the men (Muslims we were told) sell meat.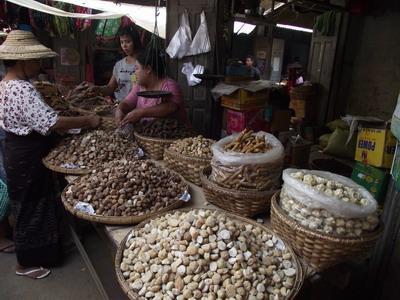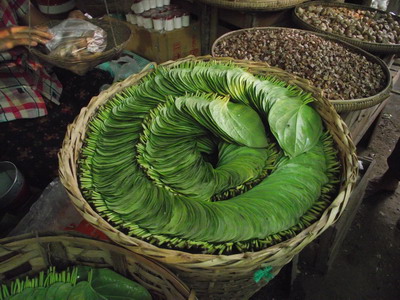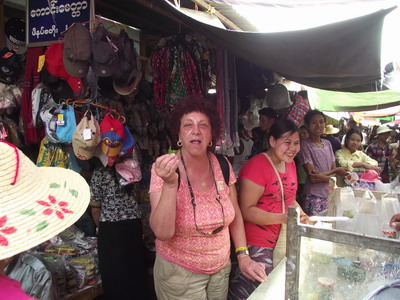 Unlike in Yangon, there weren't traffic jams here, mainly because of the many motorbikes and other forms of local transport.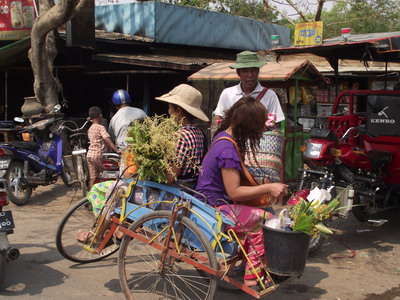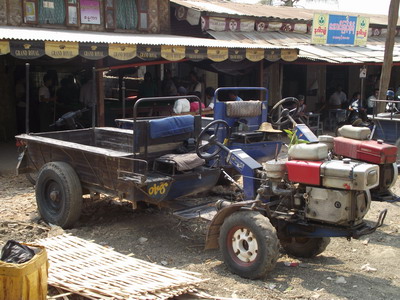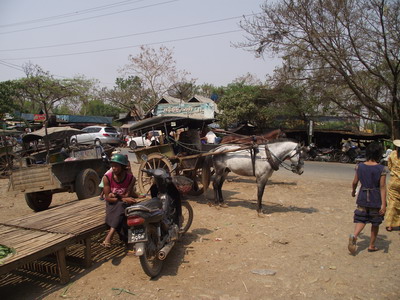 When we reached the river we transferred to a low-lying boat, a flat-back canoe with a noisy engine, and boated to our hotel, Inle Resort. For the next three days the boat was to be our only means of transport. The waterway to the hotel was protected by `speed bumps' made from bamboo poles.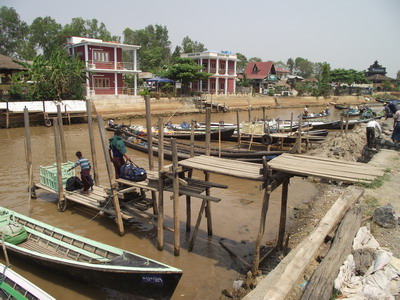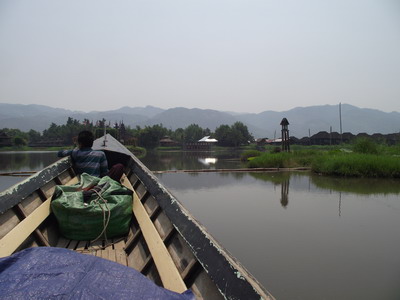 The Inle Resort was delightful. Our spacious suite was built on stilts on the lagoon where we could see fish jumping and two stately black swans swimming. Water and gardens were all around. The area had the peace that I've only experienced in Sinai. Food at the hotel catered for Western palates as well as offering local Myanmar food, Japanese and Chinese cuisine. Impressive.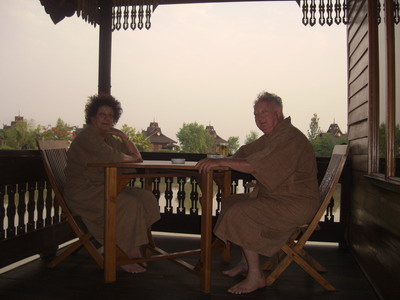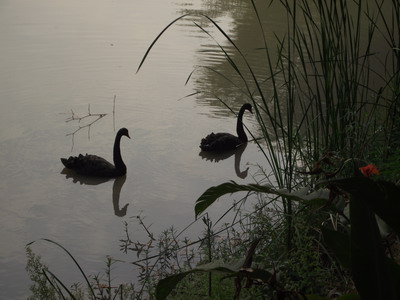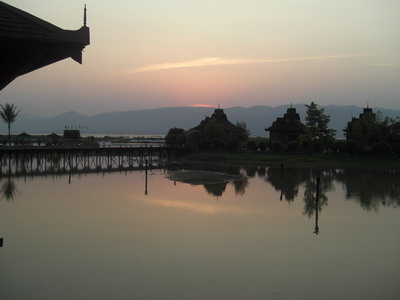 We drove, sailed and pushed the boat to lunch, crossing the lake and up a shallow river. It is the end of the dry season and the lake is only 2 meters deep and the rivers about 1meter deep. We ate an excellent lunch and watched with appreciation how valets, knee deep in muddy water, 'parked' the boats and helped those stuck on the sandbank. We visited a weaving factory that makes silk scarves but had come without money. What a waste. We watched as a fishermen rowed with one leg while throwing a fish trap into the water with one hand and pushing the nets to the ground with the other, all while standing on one leg.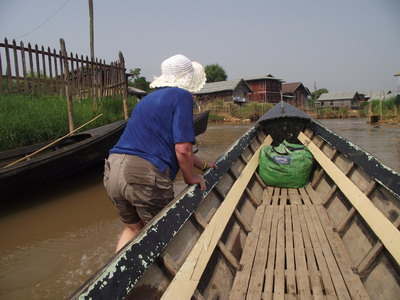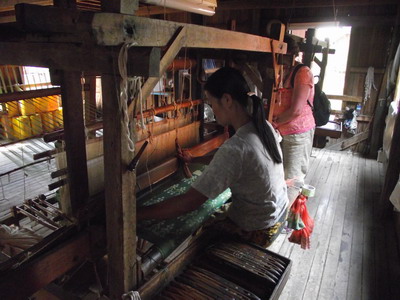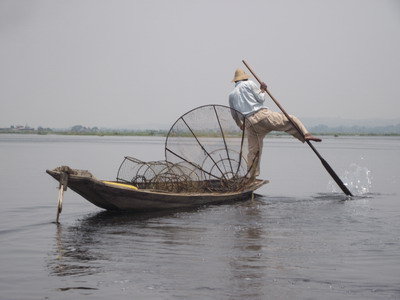 The next morning was Thingyan, a 3-day Water Festival, celebrating the start of the lunar New Year 1375. Traditionally one sprinkled scented water on people to help wash away their sins in preparation for the coming year (Tashlich anyone?). Today children waylay boats plying the water and douse them with buckets of water, all in good spirits. Since the rivers are low there is no way to avoid this and when some-one emptied a bucket from a bridge Eitan nearly fell off the boat! We rode along the river and shared it with people washing their bedclothes for the New Year, saw water being diverted to agricultural fields, and water buffalo wallowing in the water. We reached Indien where we saw young men washing their motorbikes in the river and even a bus was being washed in the water.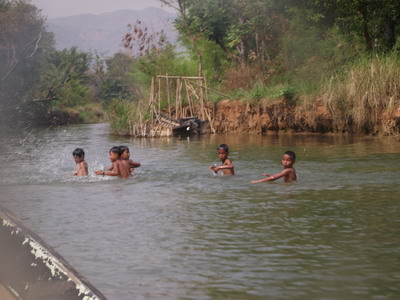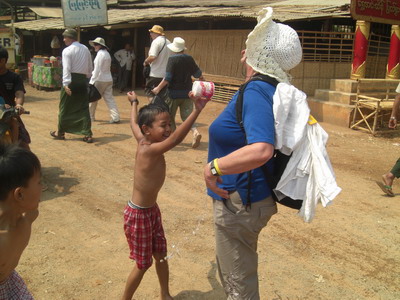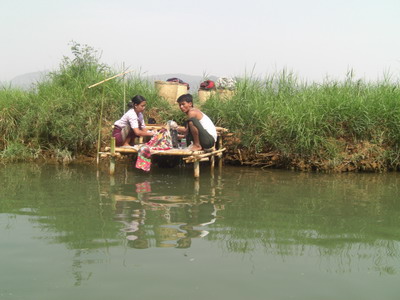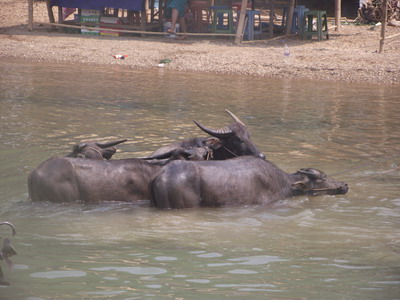 We walked up a hill to a monastery surrounded by tens of old stupas, many of which are being renovated as merit for the next life. One notable thing was that we hardly saw people begging and nowhere did we see people with disabilities. As we walked to Shwe Inn Tain monastery with its many stupas, we met a young man with rudimentary forelimbs who was drawing intricately designed pictures on previously used parchment. The drawings looked like etching, but in fact he was drawing free-hand in black ink, with the stubs of fingers he had. Of course we bought one and it has pride of place in our house. Pity I don't remember what the drawing is meant to represent. When we were in Yangon we visited Gill Pattison's River Gallery situated in the wonderful colonial Strand Hotel. The high quality of the paintings displayed, their vitality, colour and compositions was startling; in addition to traditional art forms, contemporary art has flourished starting from colonial times.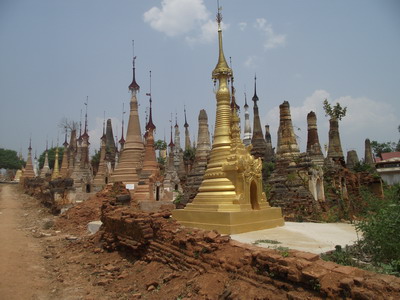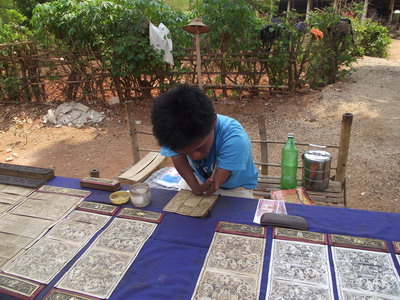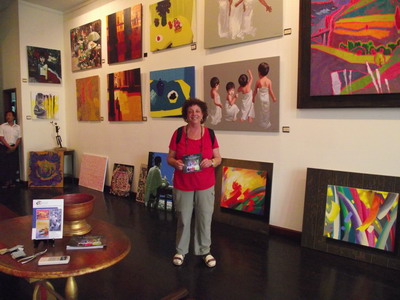 Seventeen floating villages with some 18,000 inhabitants are involved solely in growing tomatoes on floating beds. This form of agriculture started some 200 years ago. In the dry season taro plants, reeds and thatch that clump together are cut into mats and floated down the lake to these village. There they are positioned into long beds with narrow waterways between them and secured to the lake floor by bamboo poles. The green parts of the mats are then cut off and soil is brought in, poles stake the beds and tomato seedlings are planted in single rows. All care and picking of the tomatoes is done from small one-person canoes. Should the beds send out roots they have to be severed before the rains come as they would be flooded. This way they float according to the level of the water. We were told that they used to use seeds from Israel but today import the seeds from Thailand. By the way Burma (today Myanmar) was the first Asian country to recognize Israel and ties were very close for many years.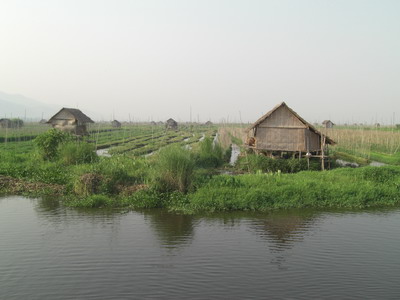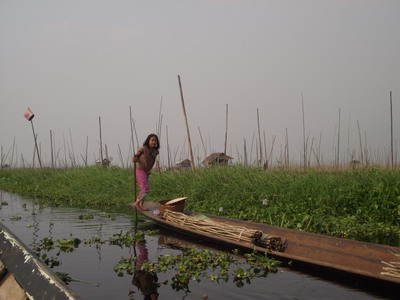 On our third day, faced with visiting another three pagodas, I gave Eitan the morning off and choose instead to walk up a hill 300 meters high to visit the forest monastery Maing Thauk. When the boat landed we saw families walking to the various shrines. The woman, on their heads, carry bowls laden with offerings to Buddha. In the monastery above we later saw that the bowls were placed in front of a Buddha statue as an offering and later removed and taken back home to share with the families.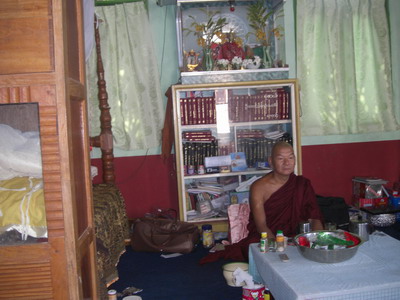 The nicest things about the monastery was that I was the only "European" there and there was not even one shop in sight! Families were seated in the shade and eating, having given the monks a portion of their food. At 9.30 a gong was sounded and the novice monks – young boys around 10 years of age - came running to get their morning snack. They looked as boisterous as most young boys.
<>
We went to visit the senior monk to whom I gave the sweets and biscuits bought in the village by the lake below. We sat in front of him, careful not to point our feet in his direction. The monk spoke English and I was able to ask him about who created the world and also about the concept of the spirit. He explained to me that the spirit is not eternal but rather like an echo between reincarnations.
Aung Thu our guide had spent three weeks as a monks meditating at this monastery and he was pleased to give me instruction about meditation. It was a wonderful experience.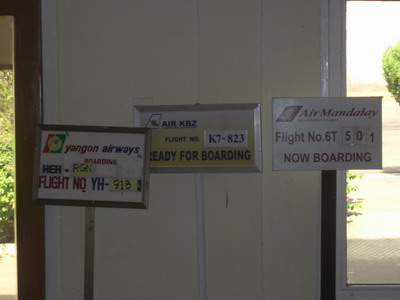 The next day we reluctantly left the Lake area and flew back to Yangon.

In Yangon we experienced a very different water festival.
Throughout the city groups of children, youths and adults with cups, buckets and hose pipes and an occasional firehose were waiting to wet people passing by. Bandstands were erected, sometimes with singers and dancers, but all with a battery of hose pipes. It seems that people payed to stand there and spout water over the passing vehicles. Huge traffic jams formed as cars and open vans filled with celebrating young people lined up to be drenched by the unending streams of water. As the day wore on the people standing on the backs of open vans became drunk but we saw no violence. Our driver insisted not only on keeping the windows closed but locked the doors. A pity. We, like others, would have loved to open the window and be sprayed upon, again!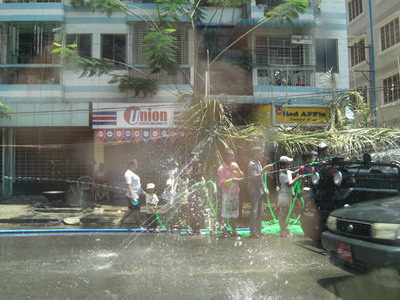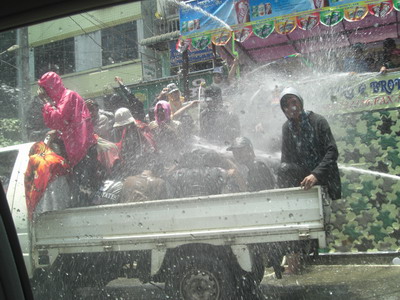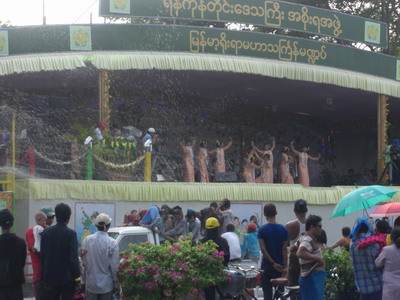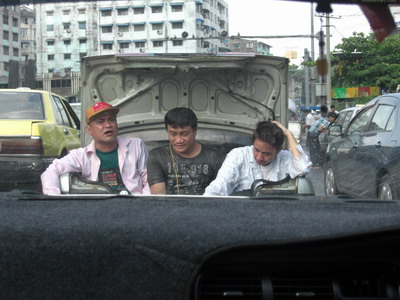 A new meaning to "8 seater car"

The shops were closed for the festival but we found a restaurant near our hotel with really good food and best of all – green tea milkshake!

The next day was New Year and the three day water festival was over, thank goodness; by this time we were out-watered. On New Year, the same people who had been in the streets the day before wetting and getting wet were transformed into people quietly making a pilgrimage to the huge Shwedagon temple complex. Together with the locals we took an elevator to the platform at the top of the hill and visited various shrines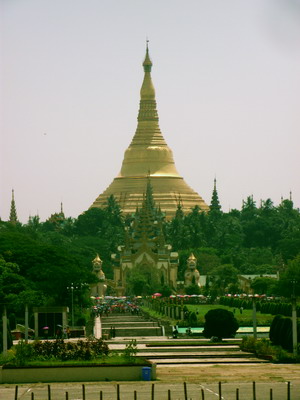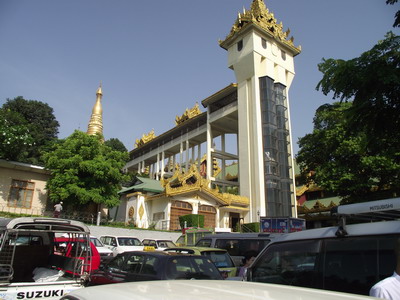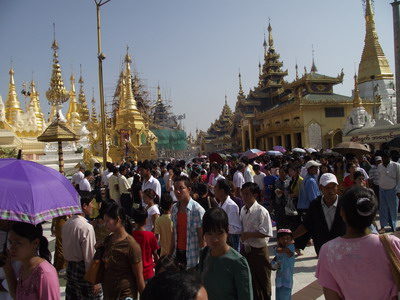 . Everywhere there were people who were offering (for merit) the hundreds of thousands of visitors free drinks, T-shirts were handed out, and nurses were in a special complex offering free check-ups to monks as well as first aid to pilgrims suffering from the intense heat. Despite the totally packed platform there was no pushing, no arguments and we heard no children crying. Our guide had brought a book that worked out which day of the week one is born. Eitan was born on a Saturday and his sign is a dragon; I was born on a Sunday and my sign is a garuda, a mythical bird. We watched as people whose birthday occurred that Wednesday offered garlands of flowers and burnt incense before the small Wednesday statue. They then poured small cups of water over the statue, one for every year and an additional one for the coming year – just as we lift children according to the number of years at their birthday and one for the next year.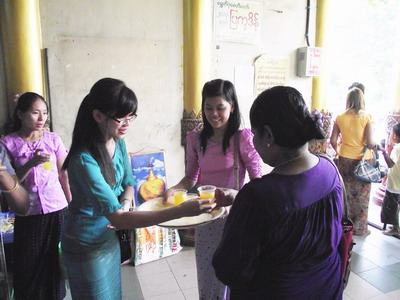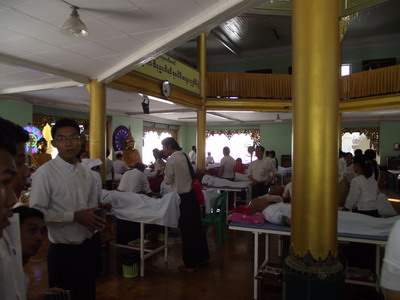 Young couples placed gold leaf on a small statue of a baby boy, hoping to influence the sex of their yet unborn child. We walked down the steps to our car amazed at the constant river of people entering and leaving the temple complex.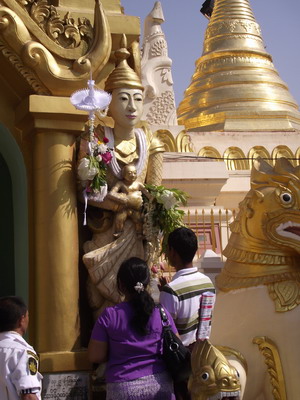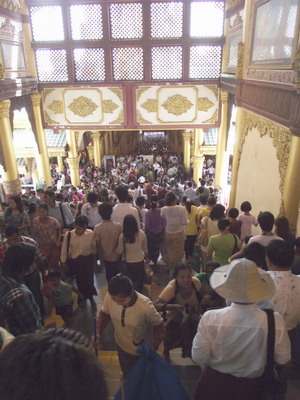 As if I hadn't visited enough Pagodas I asked to return to the Reclining Buddha that we had visited the day before. It is a modern Buddha, in white plaster, and on the soles of his feet are 108 squares that tell the story of life – the natural world, the world of inanimate objects and the world of impermanence. The face of Buddha was arresting and the look of compassion was exquisite. While Eitan photographed, I sat and meditated. It was very meaningful.

<>
The next morning with a feeling of deep regret we said farewell to Myanmar and flew to
Bangkok.
GO TO DOREEN AND EITAN'S HOME PAGE