DOREEN & EITAN LEVY'S WEBSITE

The site is not a blog, but rather a means for sharing family information such as family news, births, deaths, activities, pictures, achievements. The site relies on input from family members. It is updated weekly
usually on Saturday night
.

---
THIS WEEK'S PICTURE
28th January 2023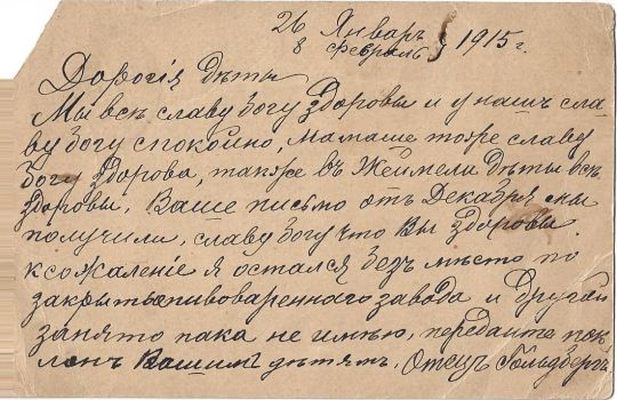 From Zelig Goldberg to Isaac Shapiro

Belopolye, 26 January 1915
8 February
1
Dear children
We are all in good health thank God and thank God it is quiet here. Mother is good health thank God too, also in Zeimelis the children are all in good health.
Your letter of December we have received, thank God you are in good health. Unfortunately I have lost my job due to the closure of the brewing factory and I still
have no other job. Send a bow2 to your children.

Father Goldberg.

This is one of the 11 postcards written in the Ukraine by my great grandfather Zelig Goldberg to my grandfather Isaac Shapiro in Kimberley South Africa. I received them from my mother's cousin Sarah (Goldberg) Olkienitski. (see more here.).
Four of the postcards mention money sent from South Africa through Wissotsky. During this time the Jewish owned tea company Wissotsky was the largest tea company in the worfld. (see Wikipedia article). Apparently Isaac gave money to Wissotsky representatives in South Africa and Wissotsky Russia paid Zelig the equivalent amount. Wissotsky is Israel's largest tea company and I told them about the postcards. They were thrilled to see this example of the Wissotsky family's help to Jews during this difficult period, and asked whether they could have the 4 postcards for their Historic Archive Collection. Zelig's three living great grandchildren (Shula Haberman, Racheli Gilad and I) agreed and this week I met with the Curator of the Archives and donated the 4 postcards together with some background notes.

There is a page about these postcards on this site. It includes pictures of all the 11 postcards, the translations, some notes on the backround of the postcards, and the letter of thanks from Wissotsky.


Translator notes:

1. On many documents of the Russian Empire from the late 19th Century both the Julian and Gregorian calenders appear.
2. send a bow: Russian expression meaning 'send my greetings'

---
THIS WEEK'S NEWS
We had lunch this week with Archie Ogden, from our days in St Thomas in the Virgin Islands. We were very friendly with Archie and Ella and had many happy times with them.

We also had lunch with Maxine (Konigsfest) Freed, sister of good friend Maureen Fain. We have not seen Maxine for about 60 years (!) but but we see Maureen regulary (for example) and she has kept us updated. By chance Maxine mentored daughter Vered and husband Aviv during their orientation period at Columbus University.
Happy Birthday this week to:

Merle Lewenson, Ilai Levy, Merle Lewenson (28th), Rafael Braverman Dvir, Mandy Gordon, Alex Hock (29th), Moran Segoli , Aharon Klotnick (30th), Eitan Haberman , Shai Geffen (31st), Anna Korbel, Jonathan Stern,

Stella Kahn, Kyle Kahn (1st Feb), Shira Bortz, Ann Weisz, Erin Gordon, Andrea Minto (2nd Feb)
Click for all Birthdays and Anniversaries f

o

r
January
---
January Birthdays: Giorgio Tarazza, Katherine Galp (1st), Elaine Bacher, Ayala Poupko (2nd), Daniella Collins (3rd), Sarah Natan, Tanya Wood (4th), Candis Herr, Natalie Smith, Yaniv Arad, Raphael Cotton (5th), Peter Royle (6th), Julie Stern (7th), Kimberly Silverman (8th), Dayna Mynarski , Michael Haberman (9th), Mushe Kirsh, Orianna Royle (11th), Avraham Segoli , Daniel Kirsh, Sarah Cleaver (12th), Asaf Karlsbad, Maayan Shavit

(14th), Shaun Glogauer, Dylan Thiele (15th), Nadav Bortenstein (16th), Itay Gur, Ryan Smith (17th), Marion Cohen, Rachel Moskowitz , Joel Bortz, Jeremy Bacher (18th), Julien Bloede, Glenda Gordon, David Meyerov (19th), Yuval Partuk, Lucille Melamed, Jaidan Klotnick (20th), Susan Nathan, Joanne Schwartz (21st), Shelly Friedman (22nd), Yoav Gilad , Ethelene Galgut, Wendy Glasser, Daniella Melamed (23rd); Nina Leizerowitz, Michal Glasser (25th), Merle Lewenson, Ilai Levy, Merle Lewenson (28th), Rafael Braverman Dvir, Mandy Gordon, Alex Hock (29th), Moran Segoli , Aharon Klotnick (30th), Eitan Haberman , Shai Geffen (31st)
January Anniversaries: Jacqueline and Kevin Lampert (12th), Loren and Robin Hodes (15th), Donna and Daniel Leibowitz (22nd) , Glenda and Ivan Gordon (24th), Karen and Craig Cleaver (30th)
February Birthdays:

(not sure how and if you're related? Then go to the

family trees

section)::

1 - Anna Korbel, Jonathan Stern,

Stella Kahn, Kyle Kahn 2 - Shira Bortz, Ann Weisz, Erin Gordon, Andrea Minto 6 -

Dafna Poupko, Ilan Ezra 7 - Ilana Gordon 8- Rina Ezra 9- Karen Cleaver 10 -

Roslyn Hakim,

Ian Klotnick,

12 -

Charles Levy, 13 -

Tamar Moskovich

, Debra Hochstadter, Navah Hellerstein 14 - Devra Hock, Sydney Lossin, Alexis Bloede, Russel Kahn 15 - Ari Lazarus, Tamar Shabtay, 16 -Itamar Leshem, 17 -

Naama Yaniv

18 -

Joshua Leibowitz

, Philip Levin 19 - Bessie Freundlich , Jonathan Sklar,

Michele Berman 20 -

Joel Klotnick

, Yoav Or , Daniel Gordon, Naama Gordon 21 - Harel Gordon, Dikla Crutchi 22 - David Hock, Yali Or,

Yehoram Leshem, Daniel Silverman 23- Seymour Levy 24- Alexandra Cleaver, Simon Shapiro, Ian Minto, Maia Samuel 25 -

David Engleberg

, Brian Hock 27 -

Itai Nickel 28 -

Ziva Bortenstein, Naomi Gordon, Talia Klotnick
February Anniversaries:

9 -

Sharlene and Steven Klotnick 11 - Rhona and Abraham Neimann 14 - Lori and David Hock, Neta and Lior Bortenstein 16 - Nici and Hilliard Ezra 17 -

Sheenagh and Charles Levy 18 - Ann and Darryl Weisz 19 - Alice and Joseph Gullotta
---




Looking for something? Maybe your name? Enter a word or phrase in the box below and click "Find". You will see a list of pages where the searched-for word/s appear/s. Click on any of the links shown to go to that page. If you don't see what you are looking for on that page (some of the "pages" are long), you can now use <CTRL F> to find the exact place on the page where your searched-for word appears.

After linking to the page, remember to press the CTRL and F key to find the exact reference on the page Website search technology courtesy FreeFind.com

---
LINKS TO OTHER PAGES ON THIS SITE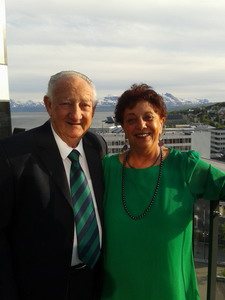 Doreen is a qualified tourist guide, licensed by the Israel Ministry of Tourism


Click here to see her CV





Eitan is an accredited World Bridge Federation Tournament Director and is a member of the Bridge Laws Commission.





Contact details:




levy.eitan@gmail.com

doreen.levy@gmail.com


Links to other pages on this site

Archives of This Week's Picture and News

Archives of Miscellaneous Events and Pictures

Special Events and Trips

Doreen and Eitan's Family Pages

Family Trees and Pictures

Memorial Pages

Recipes

Doreen's Columns

Old Photos

Postcards 1915-1917