DOREEN & EITAN LEVY'S HOMEPAGE

UPDATED 17th August 2019

Goldberg
Gordon/Glasser
Hershovitz/Levy
Matz
Nochimovitz/Nickel
Schank
The site is not a blog, but rather a vehicle for sharing family information such as family news, births, deaths, activities, pictures, achievements. The site relies on input from family members.From January 2004 until August 2010 this site was updated weekly. From September to December 2010 the site was updated sporadically. Since March 2012 the site is again being updated weekly.
---
Four Napoleans pose in front of a statue of THE Napolean on the Island of Elba where Napoleon was exiled.
(Alon Chananya, me, Morris Kahan, Barney Weiner)
We returned a few hours ago from a sailing trip from Sorrento in Italy to Villefranche on the French Riviera, so there's no time to prepare a full report with pictures. Doreen will prepare a report of the trip - and more pictures - for next week. In the meantime
here are some pictures.
THIS WEEK'S NEWS
A big thank you Melodie Nathan for updating some information on the Nochimovitz/Nickel family tree, and for the pictures of her daughter Gabi and the Scouting awards she has received. Gabi is one of the first girls in what what was traditionally "Boy Scouts". We can all be proud of her. Click here for a picture.

Click for Birthdays and Anniversaries f

o

r
August
This is a call for pictures and announcements! If you have a picture suitable for inclusion in this site, please send it to me. Also, send me current items suitable for this column ("news"). And while you're at it, check your information in your family tree and send me updates to my email, levy.eitan@gmail.com

---

BIRTHDAYS AND ANNIVERSARIE

S

Click on the

BLUE LINKS

for pictures

Click on the

BLUE LINKS

for pictures
August Birthdays

: (not sure how and if you're related? Then go to the family trees section) Happy birthdays to Rebecca Engleberg Garbawy (4), Warren Nickel (5), Audrey Bloede (5), Liam Macmillan (5), Seth Macmillan (5), Lynn Weisz (6), Jordan Klotnick (7), Lori Hock (7), Danielle Glasser (7), Mason Tel (8), Paul Taylor (8), Carmen Kay (8), David Bacher (9), Devora Klotnick (9), Anita Hock (10), Yitzhak Ruimy (10), Sarina Or (11), Yaakov Bortenstein (11), Jordana Glogauer (11), Leon Glasser (11), Louis Engleberg (12), Natalie Leibowitz (13), Nancy Burrows (13), Louise Braverman (13), Adam Levin (13), Etti Nickel (14), Jules Hock (14), Ethan Galp (14), Zacharia Sklar (14), Daniel Gordon (14), Yehuda Melamed (15), Benjamin Glasser (16), Naomi Moskovich (16), Jack Glogauer (16), Barry Gurland (17), Joel Ezekiel (17), Sarah Glogauer (17), Mike Lewis (17), Terri Lewis (17), Shmuel Sam Gordon (18), Feigie Santhaus (18), Yael Levy (20), Mila Aronson (22), Minette Skoczylas (22), David Gordon (23), Lesley Gordon (24), Jeffrey Geffen (25), Richard Klotnick (25), Mark Or (Klotnick) (25), Henia Deul (25), Mildred Hock (25), Bruce Brod (26), Buna Friedman (26), Aviva Melamed (27), Benjamin Garbawy (27), Yaakov Hodes (28), Noah Glogauer (28), Raz Kirschner (29), Michael (Mellie) Braverman (29), Holly Nickel (29), Idit Mizrahi (30), Basil Royle (30), Dani Haberman (30), Max Melamed (31)
August Anniversaries: Happy Anniversaries to Vered and Yoav Shavit (2nd), Jennifer and Paul MacMillan (4), Adele and Bruce Cleaver (5), Amalia and Oren Klaff, (9), Anat and William Kirsh (9), Dafna and Ben-Zion Poupko (15), Deganit and Uri Haberman (15), Avi and Henia Deul (20), Yael and Warren Nickel (21), Tanya and Stephen Wood (21), Sorrel and Selwyn Bolel (22), Yael and Justin Baum (24), Louis and Susan Glogauer (27), Shari and Joel Beckman (28), Jordana and Mark Glogauer (29), Lee and Ben Tal (31)
---
Looking for something? Maybe your name? Enter a word or phrase in the box below and click "Find". You will see a list of pages where the searched-for word/s appear/s. Click on any of the links shown to go to that page. If you don't see what you are looking for on that page (some of the "pages" are long), you can now use <CTRL F> to find the exact place on the page where your searched-for word appears.
---
LINKS TO OTHER PAGES ON THIS SITE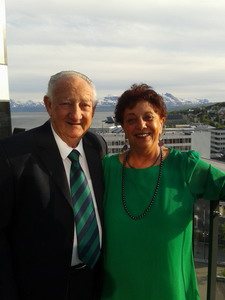 Doreen is a qualified tourist guide, licensed by the Israel Ministry of Tourism


Click here to see her CV



Contact details: