DOREEN & EITAN LEVY'S HOMEPAGE

UPDATED 14th April 2018

Goldberg
Gordon/Glasser
Hershovitz/Levy
Matz
Nochimovitz/Nickel
Schank
The site is not a blog, but rather a vehicle for sharing family information such as family news, births, deaths, activities, pictures, achievements. The site relies on input from family members.From January 2004 until August 2010 this site was updated weekly. From September to December 2010 the site was updated sporadically. Since March 2012 the site is again being updated weekly.
---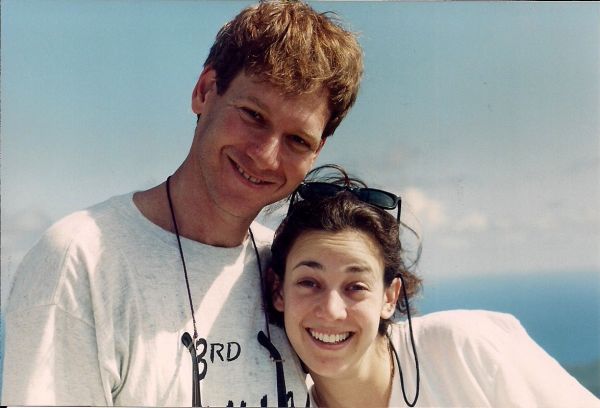 Vered and Aviv (in 1994)

Today is the 27th Wedding Anniversary of daughter Vered and Aviv Ron. Many happy returns and lots of love from Mom and Dad - may you celebrate many more. As we 53-ers can testify, it only gets better!
The picture was taken in Virgin Gorda in the US Virgin Islands on our 3rd Family Reunion.
Click here for a group picture
taken then, and
here for another picture
on a boat that I think was also taken then.
---
THIS WEEK'S NEWS
It's been a sort of quiet week since returning from the trip with the granddaughters, very full especially with doctors' visits but not partcularly active.
Doreen is guiding a tour for 7 days, and I will again celebrate Independence Day - this year without her - at the home of Carol and Terry Kessel.

Click for Birthdays and Anniversaries f

o

r
April
Link to This Year's Miscellaneous Events and Pictures
---
This is a call for pictures and announcements! If you have a picture suitable for inclusion in this site, please send it to me. Also, send me current items suitable for this column ("news"). And while you're at it, check your information in your family tree and send me updates to my email, levy.eitan@gmail.com
---
BIRTHDAYS AND ANNIVERSARIE
S
Click on the

BLUE LINKS

for pictures
Click on the
BLUE LINKS
for pictures
April Birthdays: (not sure how and if you're related? Then go to the family trees section) Happy birthdays to Oren Klaff (1), Rachel Kirschner (1), Barney Gordon (1), Roni Gurland (2), Issy Bacher (2), Richard Nickel (3), Itamar Levy (4), Louis Glogauer(4), Jessica Gordon (5), Ariel Moskovich (5),Eloise Feinstein(5), Sorrel Bolel (5), Dov Levin (6), Darren Klotnick (6), Michael Glasser (7), Erin Herr (8), Melodie Nathan (9), Leshem Nickel (9), Kenneth Berman (9), Nevo Nickel (12), Jonathan Hock (12), Leon Matz (14), Charlene Engleberg (14), Yaron Glasser (14), Noa Schwartz (15), Jodie-Beth Matz (15), Na'ama Gilad (16), Yael Schochat (16), Saul Ginsberg (17), Keira Leibowitz (17), Hanna Gordon (17), Rachel Zagnoev (18), Robert Cleaver (19), Harry Schochat (21), Kari Mynarski (21), Remy Levin (24), Joyce Bernstein (24), Zoe Segoli (24), Arie Schochat (25), Ben Zion Poupko (25), Racheli Gilad (26), Yonat Partok (26), Eitan Levy (27), Rene Hock (28), Elizabeth Mynarski (28), Jacob Glogauer (29), Noam Amit (30), Wendy Kansky (30)
---
DOREEN'S COLUMN
MEMORIAL PAGES
FAMILY TREES
OLD PHOTOS (pre-digital)
FAMILY RECIPES
THIS YEAR'S ARCHIVES
ARCHIVES OF PICS and NEWS
EVENTS AND PICS 2004-2014
EVENTS and PICTURES 2015
EVENTS and PICTURES 2016
LAST YEAR'S (2017) EVENTS and PICTURES
THISYEAR'S EVENTS and PICTURES
---
Looking for something? Maybe your name? Enter a word or phrase in the box below and click "Find". You will see a list of pages where the searched-for word/s appear/s. Click on any of the links shown to go to that page. If you don't see what you are looking for on that page (some of the "pages" are long), you can now use <CTRL F> to find the exact place on the page where your searched-for word appears.