DOREEN & EITAN LEVY'S HOMEPAGE

UPDATED 18th November 2017

Goldberg
Gordon/Glasser
Hershovitz/Levy
Matz
Nochimovitz/Nickel
Schank
The site is not a blog, but rather a vehicle for sharing family information such as family news, births, deaths, activities, pictures, achievements. The site relies on input from family members.From January 2004 until August 2010 this site was updated weekly. From September to December 2010 the site was updated sporadically. Since March 2012 the site is again being updated weekly.
---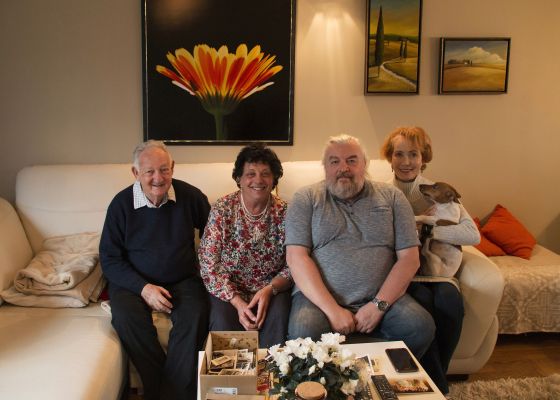 Me, Doreen, Heini Drui, Tiina Drui (with Nora)
After attending the Bridge Champions' Cup in Riga Latvia (see here) we continued to Tallinn in Estonia to visit Doreen's Drui relatives. In 2009 we received an email from Heini that he was excited to have found his father's name on my family tree on this site. He was looking forward to renewing contact and meeting his Israeli family with whom contact had been lost for over 20 years. (see 2009 Archives).
In 2014 he came to Israel and we met him and his charming wife Tiina. (see 2014 Archives) We promised that one day we would visit them in Estonia and this past week we did and they went out of their way to make our stay memorable!
Click here for some pictures of our visit to Estonia.



---
THIS WEEK'S NEWS
Click for Birthdays and Anniversaries fo

r
November.
This is a call for pictures and announcements! If you have a picture suitable for inclusion in this site, please send it to me. Also, send me current items suitable for this column ("news"). And while you're at it, check your information in your family tree and send me updates to my email, levy.eitan@gmail.com
---
BIRTHDAYS AND ANNIVERSARIE
S
Click on the

BLUE LINKS

for pictures
November Birthdays:

(not sure how and if you're related? Then go to the

family trees

section)

Happy November birthdays

to Ryon Ezra (1st),

Benjamin Glogauer

(1st), Bernard Spector (2nd), Jessica Korbel (3rd), Jacob Hock (3rd), Kim Siegel (4th), Aaron Schwartz (6th), Hazel Gurland (6th),

Erica Leibowitz

(6th),

Tiina Drue

(7th), Larry Neiman (8th),

Sharlene Klotnick

(8th),

Tarryn Klotnick

(10th),

Romy Klotnick (10th),

Saville Stern (10th),

Shira Bacher

(11th), Michael Bacher (11th), Tzafrir Poupko (11th), Miriam Ferber (11th), Damon Galgut (12th), Diana Smith (13th), Chana Bolel (14th), Tristan Galp (14th), Freda Gordon (14th), Philip Shapiro (14th), Isidore Spector (15th), Aharon Bolel (15th),

Keren Levin

(16th),

Amit Levy

(17th), Jennifer Taylor (17th), William Kirsh (17th), Aaron Berkowitz (18th), James Cleaver (20th),

Ron Tal(21st),

Rachel Gur

(21st), Hilliard Ezra (21st), Rosemary Spector (22nd), Brenda Levy (22nd), Daniel Bloede (22nd), Jarren Bacher (22nd), Alan Bacher (22nd), Seth Gordon (24th), Daphne-Lynne Galgut (25th),

Marsha Krengel

(25th),

Anthony Glogauer

(27th), Natalie Hock (28th), Beverley Taylor (28th), Eliyahu Skoczylas (29), Jesse Weisz (30th).

November Anniversaries:

Anniversary wishes to: Anita and Morton Hock (10th), Eric and Avigail Cotton (17th), Eloise and Lawrence Feinstein (22nd),

Shulamit (Lama) and Alan Klotnick

(23rd),

Limor and Aviv Levy

(26th), Richard and Talia Klotnick (28th)

---
DOREEN'S COLUMN
MEMORIAL PAGES
FAMILY TREES
OLD PHOTOS (pre-digital)
FAMILY RECIPES
THIS YEAR'S ARCHIVES
ARCHIVES OF PICS and NEWS
EVENTS AND PICS 2004-2014
EVENTS and PICTURES 2015
LAST YEAR'S (2016) EVENTS and PICTURES
THISYEAR'S EVENTS and PICTURES
---
Looking for something? Maybe your name? Enter a word or phrase in the box below and click "Find". You will see a list of pages where the searched-for word/s appear/s. Click on any of the links shown to go to that page. If you don't see what you are looking for on that page (some of the "pages" are long), you can now use <CTRL F> to find the exact place on the page where your searched-for word appears.