DOREEN & EITAN LEVY'S HOMEPAGE

UPDATED 20th July 2019

Goldberg
Gordon/Glasser
Hershovitz/Levy
Matz
Nochimovitz/Nickel
Schank
The site is not a blog, but rather a vehicle for sharing family information such as family news, births, deaths, activities, pictures, achievements. The site relies on input from family members.From January 2004 until August 2010 this site was updated weekly. From September to December 2010 the site was updated sporadically. Since March 2012 the site is again being updated weekly.
---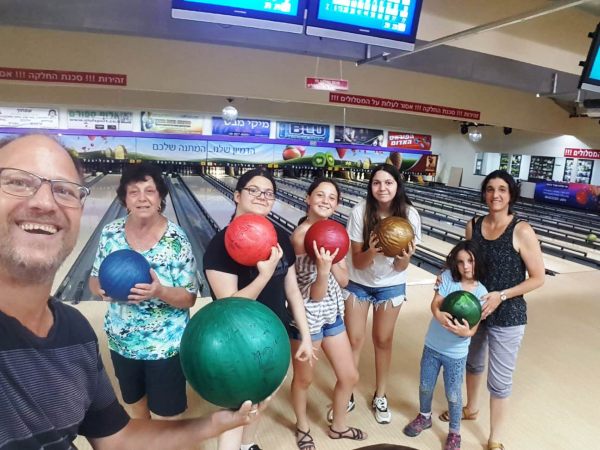 The girls (plus Moran) go bowling
Moran, Doreen, Ilay, Lotem, Amit, Zoe, Mikhal


While we were in Norway (
see here)
the Segolis looked after our dog Joanie. On our return Doreen went to Sde Boqer to pick up Joanie and spent a couple days there. Both granddaughters Amit and Ilay Levy were also there and all the girls enjoyed an outing bowling with Moran, Mikhal and Granny.
THIS WEEK'S NEWS
While Doreen was in Sde Boqer (see above) she asked Moran to show her the scorpion site (see picture) where the children had been two weeks before.

During the school holidays the Segoli and Levy cousins have been alternating between Eilat (mainly diving) and Sde Boqer. Most of the time the girls were in Sde Boqer and Itamar and Maayan in Eilat. See some pictures here.
Heini and Tiina Drui, from Estonia, visited Israel for a long weekend and we were happy to meet up with them again. We last saw them in Tallinn about 2 years ago when we visited Estonia (see pictures). Yaacov and Ziva Bortenstein entertained us at a delicious dinner at which nearly all the Drui descendants in Israel of the Schank family were present. Click here for a group photo of the Drui family.

This week Doreen and I are taking granddaughters Amit and Ilay Levy on a weeks trip to Paris. While there, I'll take a couple of days off from Paris and visit Belfast to explore arrangements for a Bridge course there next year.

This is a call for pictures and announcements! If you have a picture suitable for inclusion in this site, please send it to me. Also, send me current items suitable for this column ("news"). And while you're at it, check your information in your family tree and send me updates to my email, levy.eitan@gmail.com

---

BIRTHDAYS AND ANNIVERSARIE

S

Click on the

BLUE LINKS

for pictures

Click on the

BLUE LINKS

for pictures
July Birthdays: (not sure how and if you're related? Then go to the family trees section) Happy birthdays to Rebecca Mynarski (1), Roderick McCrimmon (1), Selwyn Bolel (2), Samuel Herr (4), Jacob Emanuel (5), Mor Oppenheim (5), Shari Beckman (6), Dov Bolel (6), Heini Drue (7), Margalit Sadeh (7), Tamir Klaff (7), Louise Bortz (7), Adam Amit (8), Yonatan Amit (8), Jemma Sklar (8), Ruth Korbel (9), Maurice Levy (9), Solly Krengel (9), Claude Hakim (9), Daniel Feinstein (10), Steven Bacher (10), Lauren Berkowitz (10), Jenna Carno (11), Tyron Neiman (12), Candice Pauwen (13), Jennifer Levy (13), Eileen Glogauer (14), Petronille Bloede (14), Tamara Klein (15), Glenda Cleaver (15), Isaac (Issy) Kirsh (16), Rhona Neiman (16), Shira Forman (17), Dion Levin (19), Keren Stern (19), Daniel Klotnick (20), Rossie Geffen (20), Suzanne Lazarus (20), Arie Bortz (21), Adam Tal (22), Rachelle Smith (22), Joel Feinstein (23), Shari Levy (24), Gavriel Bolel (25), Raymond Cotton (26), Edward Levy (27), Madison Brod (27), Leora Cigler (28), Limor Sadeh Levy (29), Dvir Kasorla (29),Leora Perlman (29), Melanie Bold (31)
Happy birthday to our godson in New Zealand, Ari Davis (11)
July Anniversaries: Happy Anniversaries to Lital and Dvir Kasorla (1), Glenda and Roger Cleaver (8), Moran and Mikhal Segoli (10), Idit and Avraham Mizrahi (11), Caryn and Rhetick Sangupta (11), Mushe and Issie Kirsh (14), Moriah and Gil Pashas (14), Viki and Jack Gilbert (16), Joanne and Shaun Zagnoev (18), Julia and Steven Taylor (21), Jenna and Yonatan Carno (22)