DOREEN & EITAN LEVY'S HOMEPAGE

UPDATED 18th May 2019

Goldberg
Gordon/Glasser
Hershovitz/Levy
Matz
Nochimovitz/Nickel
Schank
The site is not a blog, but rather a vehicle for sharing family information such as family news, births, deaths, activities, pictures, achievements. The site relies on input from family members.From January 2004 until August 2010 this site was updated weekly. From September to December 2010 the site was updated sporadically. Since March 2012 the site is again being updated weekly.
---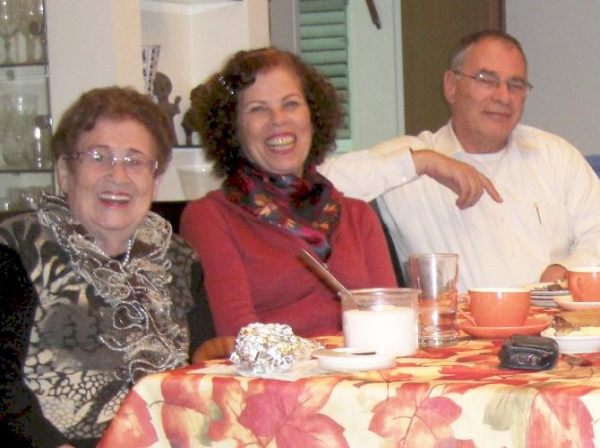 Sara Olkienitski, Shuli and Eitan Haberman


Happy
96th
birthday on Thursday this week to Sara Olkienitski (nee Goldberg), my mother's cousin. And happy birthday also this week to her son-in-law Eitan Haberman. Connecting them is Sara's daughter and Eitan's wife, Shuli. Mazal Tov to both of you. עד 120 - not far to go, Sara!
---
THIS WEEK'S NEWS
Happy Anniversary this week to:

Shimona and Avraham Tzukernik (21)

Click for Birthdays and Anniversaries f

o

r

May




This is a call for pictures and announcements! If you have a picture suitable for inclusion in this site, please send it to me. Also, send me current items suitable for this column ("news"). And while you're at it, check your information in your family tree and send me updates to my email, levy.eitan@gmail.com

---

BIRTHDAYS AND ANNIVERSARIE

S

Click on the

BLUE LINKS

for pictures

Click on the

BLUE LINKS

for pictures

May Birthdays: (not sure how and if you're related? Then go to the family trees section) Happy birthdays to Brian Galgut, Ariel Stennard (1), Amit Nickel, Sarah Garbawy, Russel Glasser (2); Gail Nickel, Miriam Santhaus (3); Debora Lazarus (4), Yael Segoli (4), Tallulah Wood (4); Jason Lewis, Jackie Marks, Marion Bloede, Noga Poupko, Oren Gordon (5), Daniella Guendelman, Jacqueline Lampert (6);

Raphael Klotnick, Talya Klotnick (8); Matar Nickel, Joshua Meyerov, Roni Karlsbad, Edward Cleaver (9); Steven Klotnick (10); Paul Bacher; Tessa Marks (12), Cinzia Tarazza, Gene Glick (13); Yael Gilad, Michal Gilad, Tamara Braverman (14); Alana Stern; Shuly Haberman, Michaela Leibowitz (16); Bruce Cleaver, Lauren Stern (17); Uri Haberman (20); Michael Schochat, Thelma (Cindy) Berman, Steven Beckman, Sara Melamed (21), Julianna Glick (22); Sarah Olkienitski (23); Thomas O'Dwyer, Alec Blotnick, Ali Bacher (24); Alon Museri, Uzi Museri (25), Yonatan Zagnoev, Shira Zagnoev, Susan Glogauer (27); Noam Haiman (28), Daphne Lewis (28); Hylton Ezra (29); Selwyn Kahn, Gillian Ezra, Joanne Zagnoev (30); Andrea Neiman, Wilhelm Thiele, Alma Pashas, Lauren Meyerov (31).
Happy birthday to family friend, Caroline Livne on the 9th.

May Anniversaries: Happy Anniversary to Beth and Robert Jeffrey (2), Maytal and Adam Tal (3); Shimona and Avraham Tzukernik (21)

---




---

Looking for something? Maybe your name? Enter a word or phrase in the box below and click "Find". You will see a list of pages where the searched-for word/s appear/s. Click on any of the links shown to go to that page. If you don't see what you are looking for on that page (some of the "pages" are long), you can now use <CTRL F> to find the exact place on the page where your searched-for word appears.