DOREEN & EITAN LEVY'S HOMEPAGE

UPDATED 25th January 2020


Goldberg
Gordon/Glasser
Hershovitz/Levy
Matz
Nochimovitz/Nickel
Schank
The site is not a blog, but rather a vehicle for sharing family information such as family news, births, deaths, activities, pictures, achievements. The site relies on input from family members.From January 2004 until August 2010 this site was updated weekly. From September to December 2010 the site was updated sporadically. Since March 2012 the site is again being updated weekly, except for a 3 week interruption December 2019 - January 2020 due to cessation of internet service beyond our control..
---
Itamar receives Certificate of Excellence


Congratulations to grandson Itamar Levy who received a Certificate of Excellence at his school. This Certificate is awarded to one pupil per class based on teachers' recommendations. Way to go, Itamar. We're all proud of you.


THIS WEEK'S NEWS
Both the Ron and Levy families came to us for Shabbat dinner (see picture). We celebrated Itamar's school achievement (see above) and granddaughter Ilai's birthday. Today we joined the Levys and went for shabbat

cholent

lunch to the Rons. (see picture)

We also had the opportnity of meeting the Ron's new cutest dog - an toy poodle without a name yet.

The Segolis are in Rumania skiing. We haven't had any pictures yet except for this one taken on the plane to Romania.

Cousin Cecile Cotton (Hershovitz/Levy and Matz family trees) seems to be reacting well to her chemotherapy although there are up and downs. We are kept regularly informed and wish her a speedy recovery.
Towards the end of the week we are flying to Prague for 3 days to attend the European Bridge League Officers' Seminar.
Click for Birthdays and Anniversaries f

o

r
January
This is a call for pictures and announcements! If you have a picture suitable for inclusion in this site, please send it to me. Also, send me current items suitable for this column ("news"). And while you're at it, check your information in your family tree and send me updates to my email, levy.eitan@gmail.com

---

BIRTHDAYS AND ANNIVERSARIE

S

Click on the

BLUE LINKS

for pictures

Click on the

BLUE LINKS

for picture
January Birthdays: Giorgio Tarazza, Katherine Galp, Solly Gordon (1st), Elaine Bacher, Ayala Poupko (2nd), Daniella Collins (3rd), Tanya Wood (4th), Candis Herr, Natalie Smith, Yaniv Arad, Raphael Cotton (5th), Julie Stern (7th), Peter Royle, Kimberly Silverman (8th), Dyna Mynarski , Michael Haberman (9th), Mushe Kirsh, Orianna Royle (11th), Avraham Segoli , Daniel Kirsh, Sarah Cleaver (12th), Asaf Karlsbad, Maayan Shavit

(14th), Shaun Glogauer, Dylan Thiele (15th), Itay Gur, Ryan Smith (17th), Marion Cohen, Rachel Moskowitz , Joel Bortz, Jeremy Bacher (18th), Julien Bloede, Glenda Gordon, David Meyerov (19th), Yuval Partuk, Lucille Melamed, Jaidan Klotnick (20th), Susan Nathan, Joanne Schwartz (21st), Shelly Friedman (22nd), Yoav Gilad , Ethelene Galgut, Wendy Glasser, Daniella Melamed (23rd); Nina Leizerowitz, Michal Glasser (25th), Ilai Levy (28th), Rafael Braverman Dvir, Mandy Gordon, Alex Hock (29th), Moran Segoli , Aharon Klotnick (30th), Eitan Haberman , Shai Geffen (31st)
January Anniversaries: Melissa and Shaun Glogauer (9th), Jacqueline and Kevin Lampert (12th), Loren and Robin Hodes (15th), Donna and Daniel Leibowitz (22nd) , Glenda and Ivan Gordon (24th), Karen and Craig Cleaver (30th)
---
Looking for something? Maybe your name? Enter a word or phrase in thebox below and click "Find". You will see a list of pages where the searched-for word/s appear/s. Click on any of the links shown to go to that page. If you don't see what you are looking for on that page (some of the "pages" are long), you can now use <CTRL F> to find the exact place on the page where your searched-for word appears.
---
LINKS TO OTHER PAGES ON THIS SITE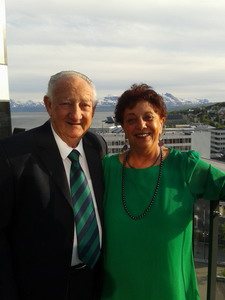 Doreen is a qualified tourist guide, licensed by the Israel Ministry of Tourism


Click here to see her CV



Contact details: