MISCELLANEOUS PICTURES 2007


INDEX OF PICTURES 2007


December 2007 - Keira and Hayley Leibowitz with grandmother Sharon.
December 2007 - Gabriella Nathan is one year old.
December 2007 - first Channukah candle
November 2007 - Segoli Housewarming party in Sde Boqer
Eilat 2007 - Babysitting the 7 grandchildren
September 2007 - Sukkot at Wendy Kansky
September 2007 - Yom Kippur at Coral World
Happy Rosh Hashanah (New Year) to Gabi Nathan and to all family born this year.
September 2007 - Brunch at the Kessels
August 2007 - New York
August 2, 2007 - Wedding of Vered Lau and Yoav Shavit
July 2007 - Oren Klaff and Amalia announce their engagement.


July 2007 - Palma de Mallorca




July 2007 - Jesolo, Italy - European Junior Bridge Championships




July 2007 - Doreen takes the Rons on a Jerusalem tour.


June 2007 - Antalya, Turkey


May 2007: A picnic in the park




May 2007 - The Rosbruchs visit


May 2007 Tour of Jerusalem with young pianists


April 21, 2007 Avie Hurwitz 1924 - 2007




April 2007 Celebrating Saba Eitan's birthday




April 2007 Maayan and Lotem picking loquats with Granny in Hofit.




April 2007 - A double birthday in Eilat


April 2007 - Passover in Eilat
Supper at the Klotnick's


Natalie Ginsberg's 21st




Riva Bortenstein (1919 - 2007)


A long weekend in Eilat - January 2007


---
December 2007 - Keira and Hayley Leibowitz with grandmother Sharon. (see Matz and Levy/Hershovitz family trees.)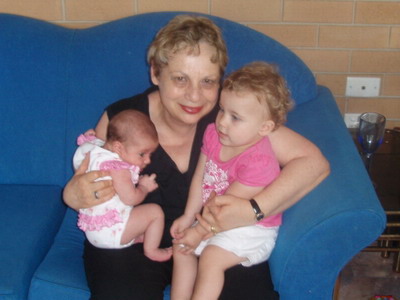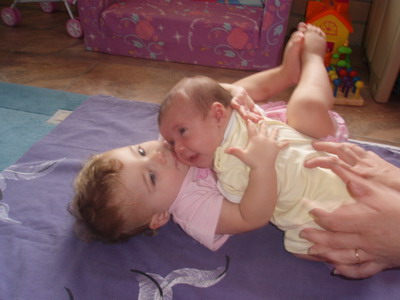 ---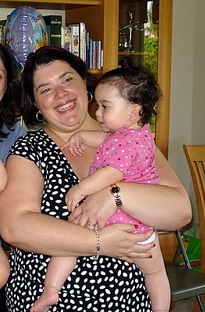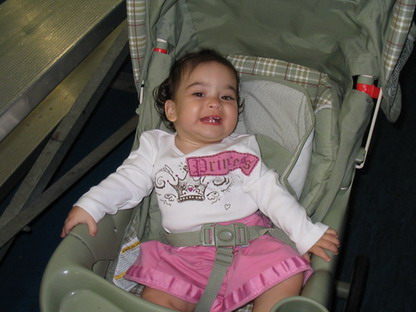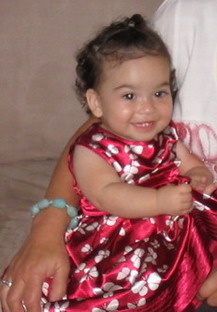 ---
December 2007 - first Channukah candle
We invited some family - mainly the Levy side - to celebrate with us the first candle of Channukah. It was a lovely evening and we all enjoyed seeing each other again. Descendants of three of the four Levy brothers were there, together with Doreen's sister and family.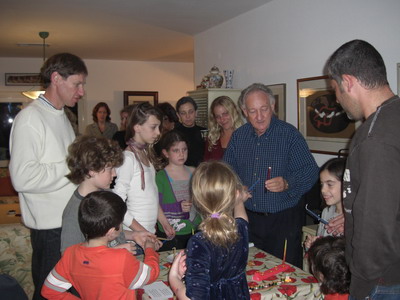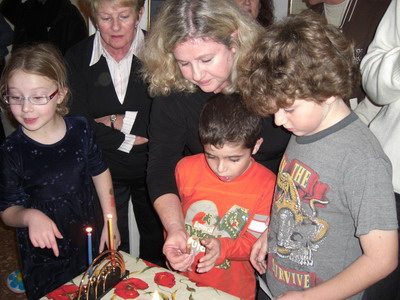 ---
November 2007 - Segoli Housewarming party in Sde Boqer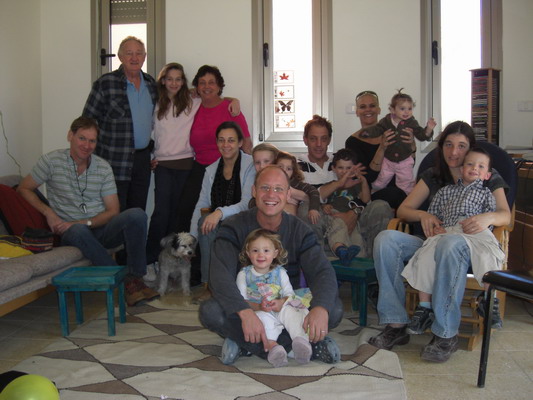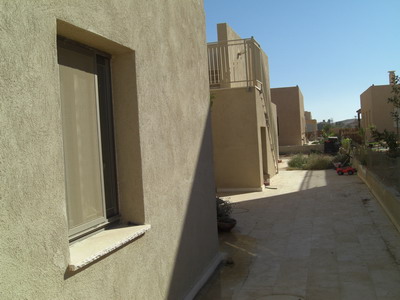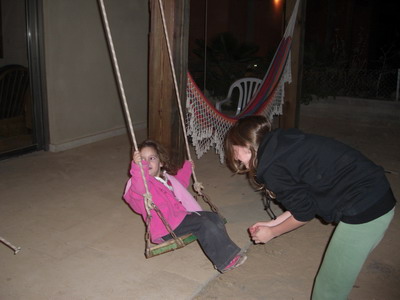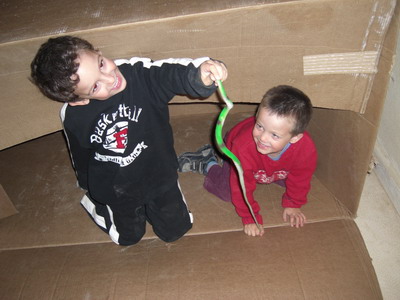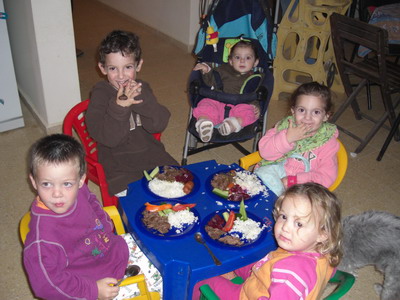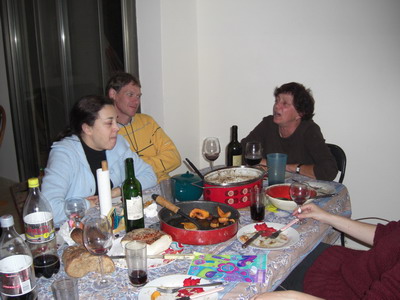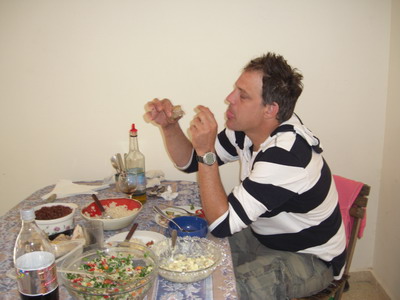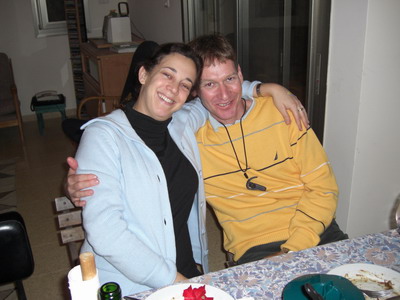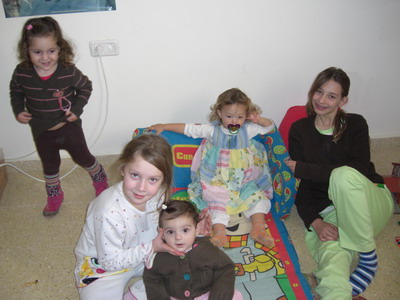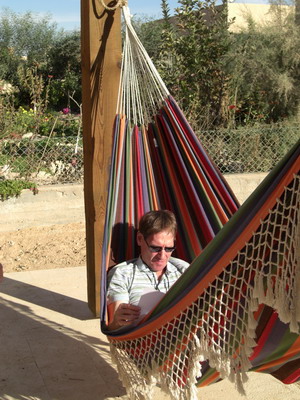 ---
October 2007 - Babysitting the seven grandchildren

This weekend we had to babysit our grandchildren Maayan and Lotem. So we decided to take them, as well as the two granddaughters Dani and Lior, down to Eilat where we were joined by the three grandchildren Itamar, Amit and Ilai. We spent a most enjoyable (and tiring!) time with all our seven grandchildren, and with Aviv Levy and Limor who were of great help to us. The two eldest Dani and Lior were wonderful with the younger kids, until Dani slipped and fell next to the pool, requiring a visit to the local hospital. Fortunately nothing was broken, but she was in pain and couldn't walk, possibly with a torn tendon.

As can be seen from these pictures, the kids "had a ball" and got on fabulously with each other.
See also This Week's Picture.

Watching TV is of course a favorite activity, but not so much for the oldest and the youngest, who prefer spending the time with Limor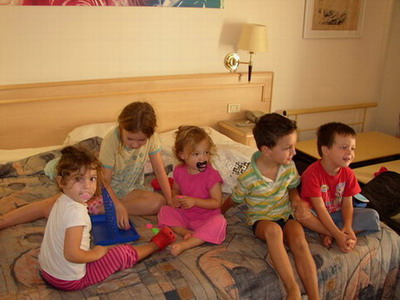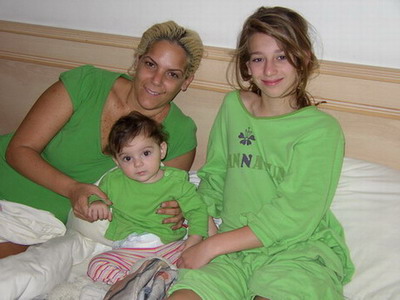 Just give Amit the opportunity to mess and get her hands messy and gluey. Lotem preferred being amazed by cousin Itamar's prowess with computer games.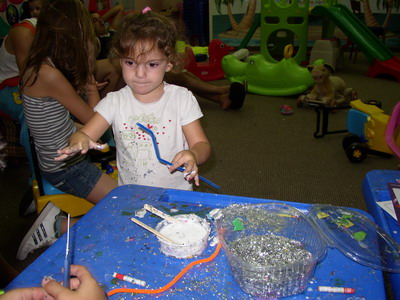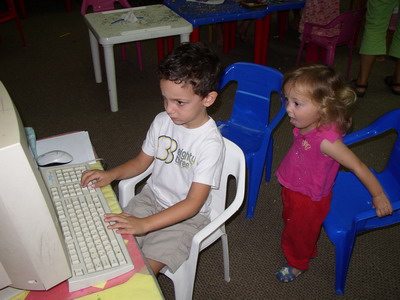 To add to the fun, Friday was Lotem's second birthday. Dancing - or should I say running and jumping - to music is great fun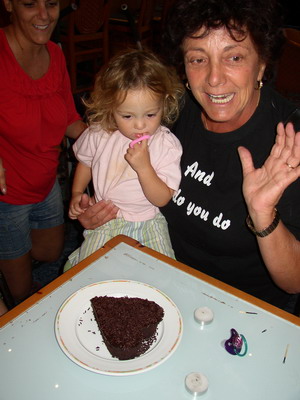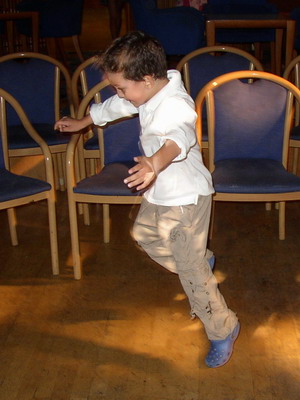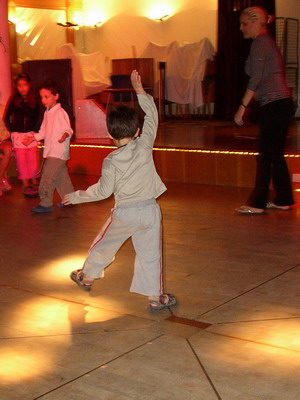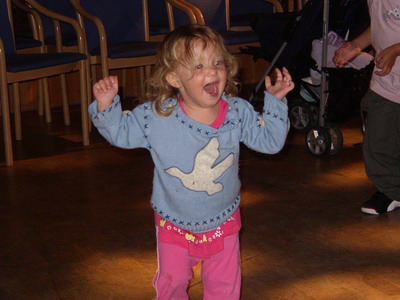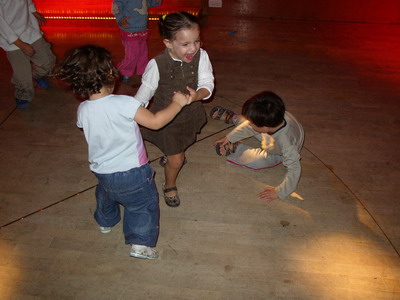 Poor Dani, had to spend most of the time in a wheelchair, after she fell badly at the pool.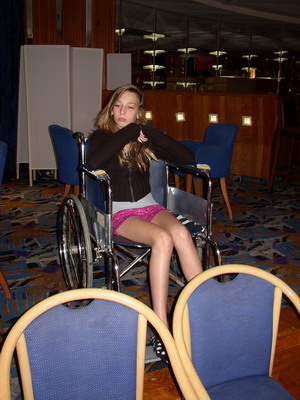 Now THIS is real dancing. Maayan and Itamar almost sang at the "A star is Born" show, but got cold feet at the last minute.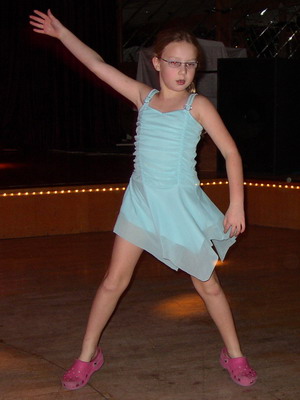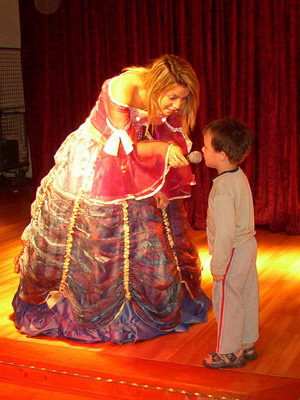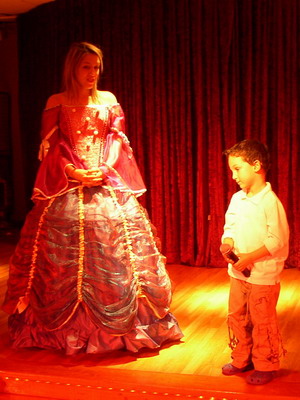 ---

Sukkot at Wendy Kansky
Another family tradition for the Levy family is to gather at Wendy Kansky's apartment to celebrate the holiday of

Sukkot (

Tabernacles

).

. See pictures from 2004 and from last year, and This Week's Picture archives.)
We don't get too many opportunities of seeing each other, so

Sukkot

is always special.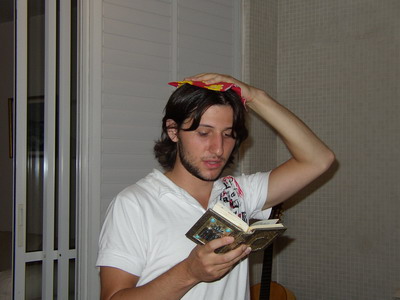 We make the blessings and say the

Kiddush (

Ben Tal

) .....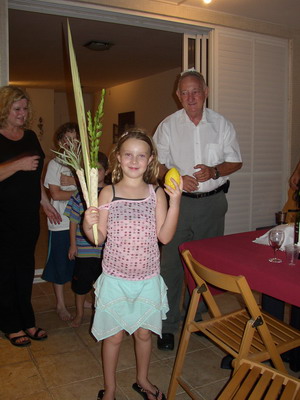 ......shake the

lulav

and hold the

etrog (

Lior)

.......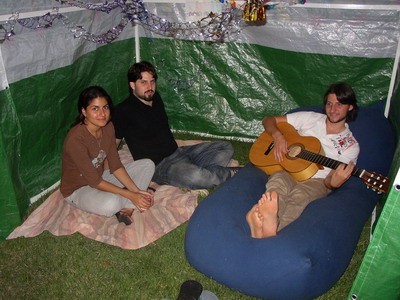 ...... and of course sit in the

sukkah

(Meital, Adam and Ben Tal)

.....

......and eat the
tasty food and enjoy each others company as we catch up on the latest family news/gossip.


Wendy and Dan Kansky, Ron Tal Shirley and Nathan Kansly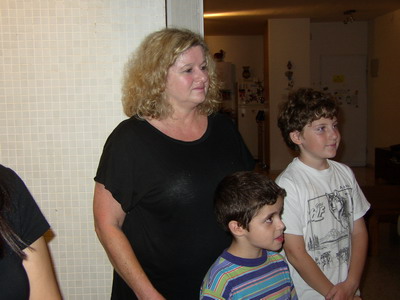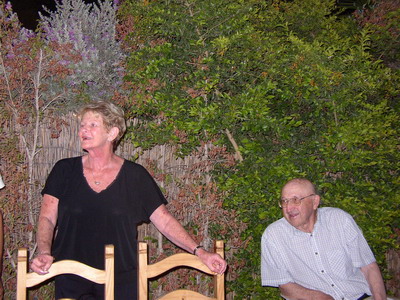 Jonathan, Efrat and Dina levy Cheryl Tal, Braham Kansky, Malia Levy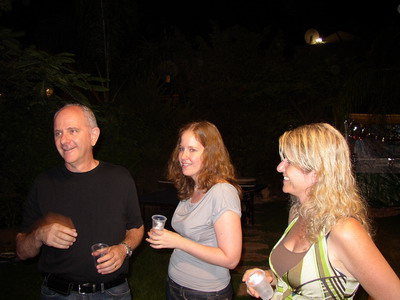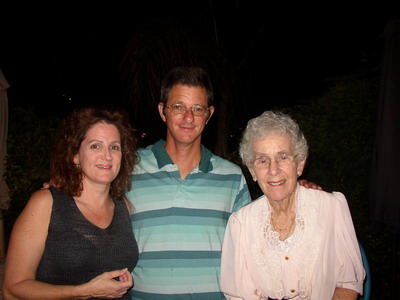 Vered and Danielle Ron Lior Ron, Yarden Levy, Danielle Ron, Braham Kansky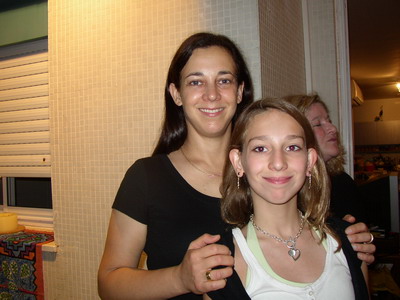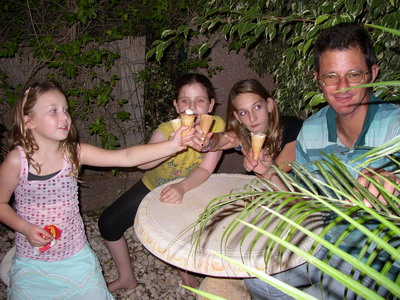 ---
September 2007 - Yom Kippur at Coral World
As is our tradition, (see picture of the week from 2004 and 2005) we spent Yom Kippur in Eilat, at Coral World Marine Park, where Aviv was "on duty" keeping an eye on the fish and aquariums, and feeding the fish that didn't fast. It's a lovely way to spend Yom Kippur, for those of us who fast and for those of us who don't, in lovely and quiet surroundings.
Joining us were: Aviv, Limor with Itamar, Amit and Ilai; Ophira (Limor's sister) with her twins Michael and Yonatan; Roni (Limor's brother) and Yifat with Alon and Shaked.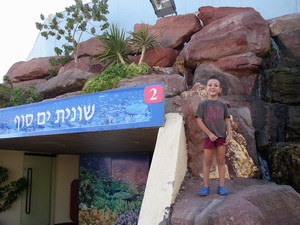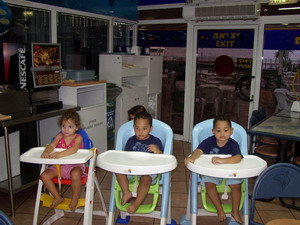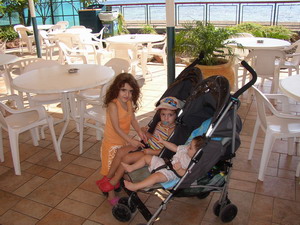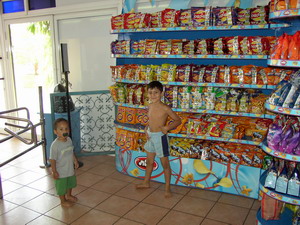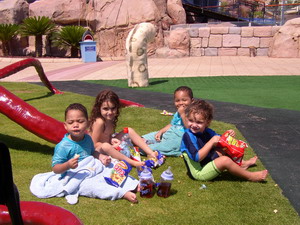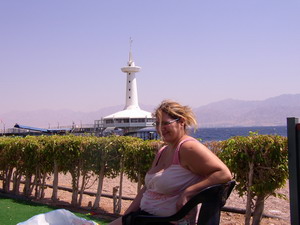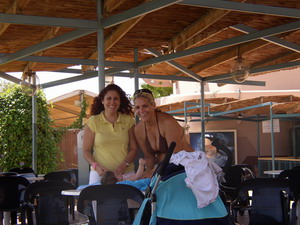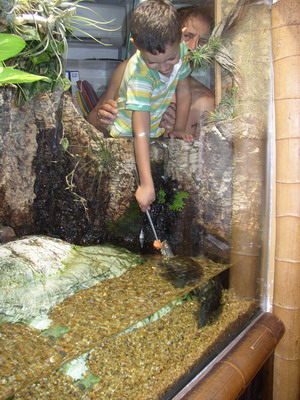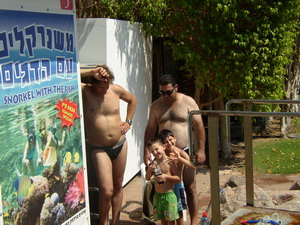 ---
Happy Rosh Hashanah - New Year - to all our family and friends, and a special welcome to family members born this year:
Adam Levy, 26 October 2006, son of Jason and Shari (see Hershovitz/Levy family tree)
Gabriella Nathan, 9 December 2006, daughter of Melodie and Mark (see Nickel/Nochimovicz family tree)
Ilai Levy, 28 January 2007, daughter of Aviv and Limor (see Hershovitz/Levy family tree) see Ilai's home page
Ethan Galp, 14 August 2007, son of Vernon and Lorraine (see Matz family tree.)

Representing this year's new borns is Gabriella (Gabi) Nathan, aged 9 months. Parents Melodie and Mark, all the way from Florida USA, keep us updated with news and pictures of their lovely daughter.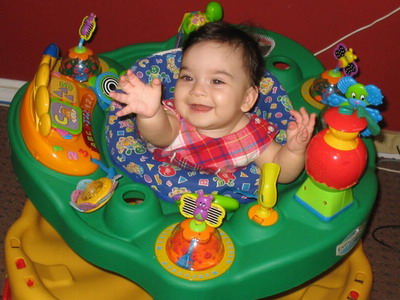 ---
1 September 2007 - Brunch at the Kessels
We had a lovely brunch at the home of Terry and Carol Kessel, with Louise and Colin Kessel, and Alan and Nadia Hoffman - good food, good company, good talk - what more can one ask for.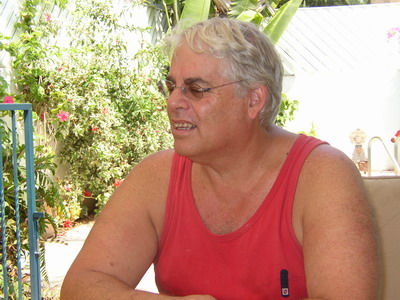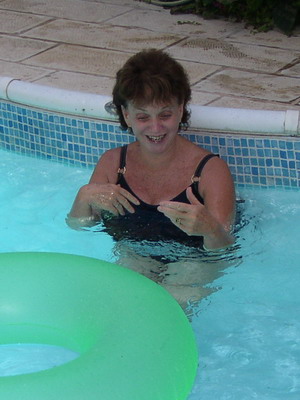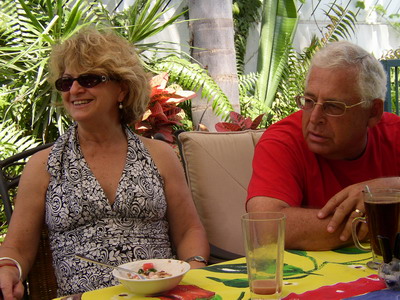 Terry, Carol, Louise and Colin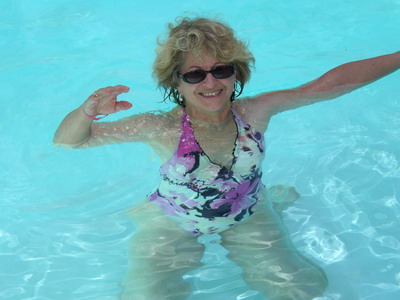 Louise Kessel took the opportunity while on "leave" from hospital to enjoy the pool. She is due to have a biopsy tomorrow and we all wish her good luck..
---
August 2007 - New York, USA
Taking the opportunity of a USA visit Nina, Mina and I, all friends from St Thomas days met in New York. On the left, with clothes strewn all over the floor Mina the minimalist is showing us how few clothes one actually needs on holiday. On the right Nina is displaying tickets to Mostly Mozart concert which we attended. Most plans, besides shopping, were abandoned after the basement apartment where we stayed was flooded in a surprise cloudburst, above our apartment I believe. We had a marvelous time and everywhere we went people were swept up in our excitement and bursts of laughter.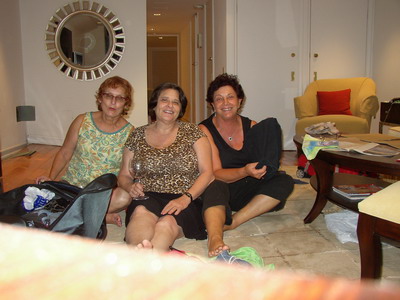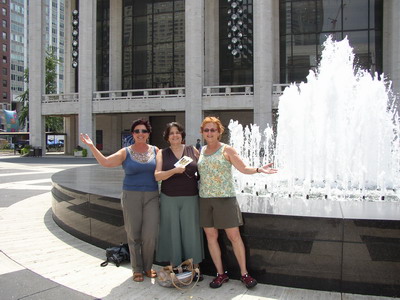 New York also presented an opportunity to meet our dear friend Mac Macpherson. Despite undergoing ongoing treatment for cancer, Mac is amazingly strong and always in good spirits. His companion in Israel Dalia Lamdani orchestrated where we had dinner and even what we should eat. Good choice Dalia!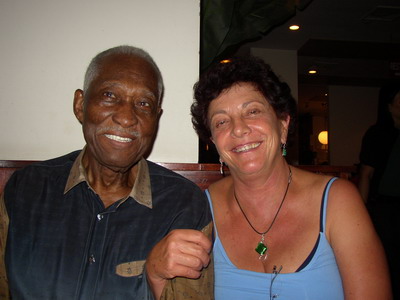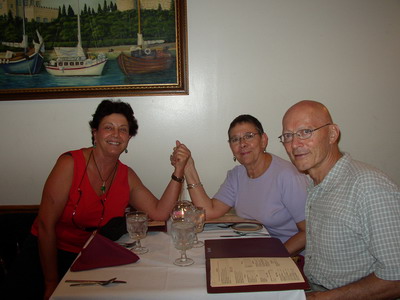 Flying out from Baltimore meant that I could meet Gill and Roy Myers who were preparing for Thailand where they, both doctors, volunteer every year at a mission on the Burmese border. Eitan (Anthony then) and Roy were at high school together, and they and Gill were friends at Wits University, but then lost contact. Years ago we met by chance in St Thomas in the Virgin Islands and we have maintained a warm friendship ever since.

---
August 2, 2007 - Wedding of Vered Lau and Yoav Shavit


Congratulations to Vered Loew and Yoav Shavit on their marriage on August 2. It was a lovely affair and we thoroughly enjoyed it. It was also a happy occasion to see the

Schank side of the family again. Congratulations also to Vered's parents, Andy and Yaffa (nee Bortenstein) Loew. See also This Week's Picture.

The happy (and lovely) wedding couple The "Glazer" side of the family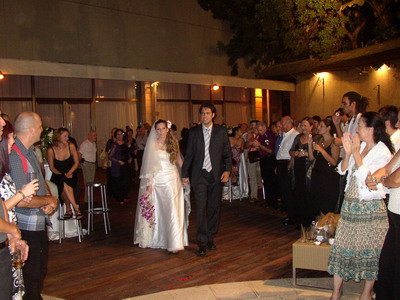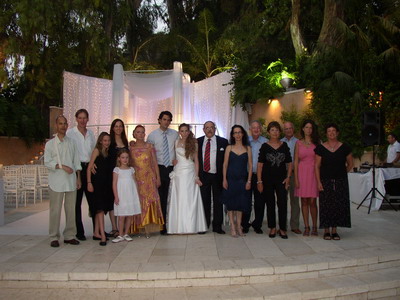 The Rons, Aviv, Danielle, Lior and Vered The Bravermans, Denise, Mellie, Louise, Yael, Donni and Rael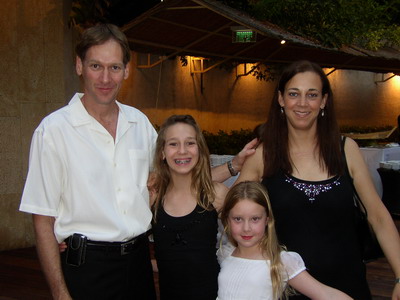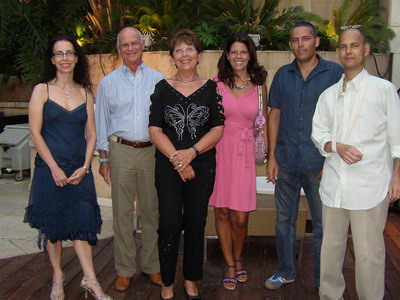 ---
July 2007 - Oren Klaff and Amalia announce their engagement.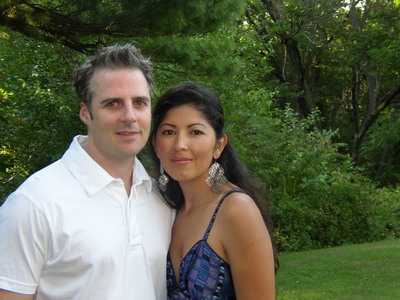 Congratulations to Oren Klaff, son of Frankie and the late Vivian Klaff, on his engagement to Amalia.

---
July 2007 - Palma de Mallorca
Our son Aviv is in Palma de Mallorca, at the new Palma Aquarium. He is acting Curator and organising the fish exhibits and also the aquarium staff. After Jesolo, we flew to Mallorca to spend a week with Aviv, Limor, Itamar, Amit and Ilai. (see This Week's Picture Archives)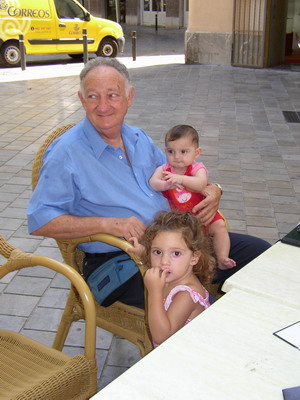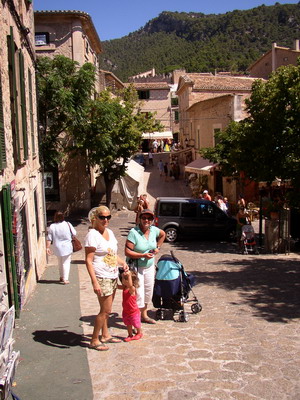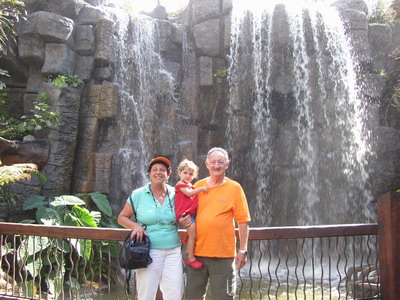 Mallorca is an interesting island combining great beaches, old cities and varied geography. Eitan in the old city of Palma is enjoying breakfast, between holding Ilai and entertaining Amit. Doreen and Limor with the girls in Vallemossa. A quaint village up in the mountains, it was delightfully cool and dry - a welcome respite from the heat of Palma. Here Eitan, Doreen and Amit enjoy the spray from the jungle exhibit at the Palma Aquarium.
We enjoyed seeing and being with Aviv and Limor, and of course with the grandchildren. You can see pictures of Itamar, Amit and Ilai on their sites.
We gave Aviv and limor a 24 hour break, and while we looked after the children in Palma, they went to explore Barcelona. The pictures show they enjoyed the unique Gaudi architecture and had fun as well.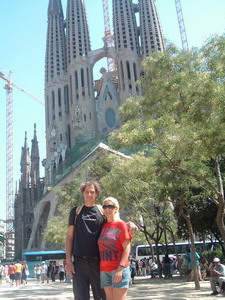 ---
July 2007 - Jesolo, Italy - European Junior Bridge Championships.


Jesolo, Italy, was the location of the next international bridge competition at which I officiated. Jesolo is an Italian holiday town attracting millions of tourists (mainly Italians) and is popular for its beaches, its proximity to Venice and its relatively low prices. While I was judging at the competition Doreen explored the local villageas and markets by bicyle, and made a couple of trips to Venice and Murano Island (famous for its glass.) .

The first Saturday was a free day, and we went to Venice, together with some friends.

(see This Week's Picture Archives).

Our visit coincided with the

annual

Redentore

Festival, and although Venice was absolutely crowded we enjoyed the holiday atmosphere and an excellent dinner.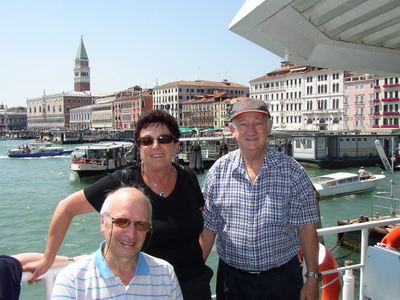 On the ferry to Venice with Patrick Jourdain, President of the Bridge Journalists Association, and Chairman of the Appeals Committee



The Championships were a great success, well organised, and of course well judged! The Israel Girls' Team (see This Week's Picture Archives) did very well, coming fourth, just missing a bronze medal. The School's team (under 20) also did better than expected and finished 8th out of 16 teams. With me in the picture is Antonio Riccardi, the Chief Tournament Director of the European Bridge League. Antonio was one of the examiners who certified me a number of years ago, and I have had the pleasure of working with him at many competitions.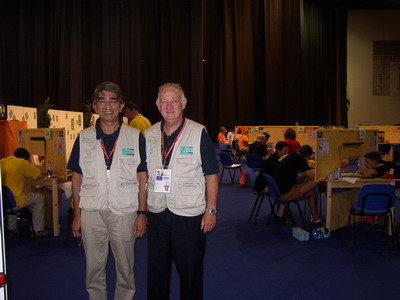 The person in charge of youth events, and who has devoted so much time and energy in ensuring the success of the European youth program, is Panos Gerontopolous. This is the sixth youth championships at which I have officiated, and Panos and I have come to know and respect each other. One evening Panos invited Doreen and me to dinner. We were wondering why the invitation was for such an early hour (18:00) and then were wonderfully surprised when we found out the dinner was in Verona (about 1 1/2 hours drive away) to be followed by an opera at the famous Verona Arena. (Click here for our visit to the Verona Arena in 2006). We had a quick dinner and then watched an excellent performance of

Nabucco

, Verdi's "Jewish" opera. Of course, after the opera we had to have coffee in the Verona piazza, and we got back to Jesolo close to 4 am. A fabulous evening. Thank you, Panos!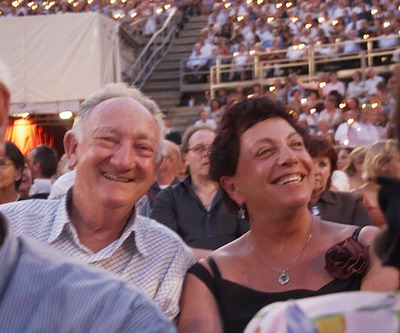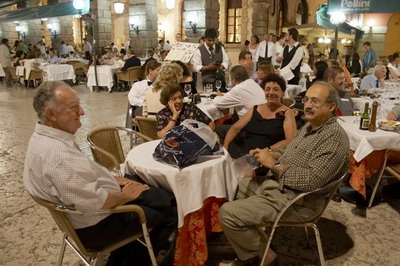 Doreen takes the Rons on a Jerusalem tour.
Doreen took the opportunity to take Vered and the girls on a tour of Jerusalem. The girls showed remarkable restraint and agreed to visit Maureen in her studio, buy a few things in the market, and visit the virtual model of the temple at the Davidson Center. By the time we reached the City of David they were bursting with expectation The walk through Hezekiah's Tunnel in the City of David was definitely the highlight. On an extremely hot day nothing could be better than a walk through cold spring water running through a pitchblack tunnel. We all were extremely impressed by the engineering feat as it wound its way thorugh the mountain, but the excitement of needing flashlights to light up our way overrode everything.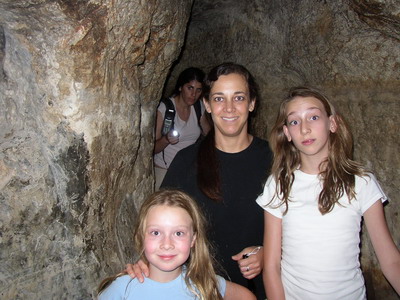 ---
June 2007 - Antalya, Turkey
I was a Tournament Director (referee) at the 3rd European Open Bridge Championships, in Antalya, Turkey. Doreen joined me, and we stayed at the Kremlin Palace Hotel (see This Week's Picture).

While I was busy with the bridge, Doreen had a chance to do some touring.. She went to Pammakule on a scorchingly hot day, coming back with this picture of Hierapolis but not of the beautiful pools of Pammakule.. A more successful venture was to the opera and ballet festival at Aspendos. The theatre is one of the largest and best preserved and made a beautiful backdrop drop to a delightful performance of Carmina Burana by Orff.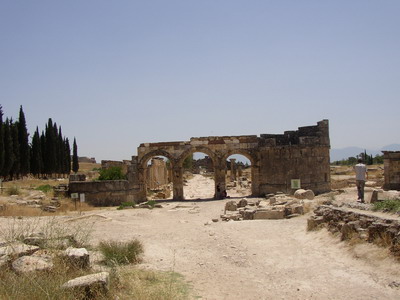 The Tournament Directors took the opportunity one evening to get out of the hotel and go to a charming outdoor restaurant. From left to right: Directors from Netherlands, Ireland, me, Turkey, Germany, Netherlands and Czech Republic.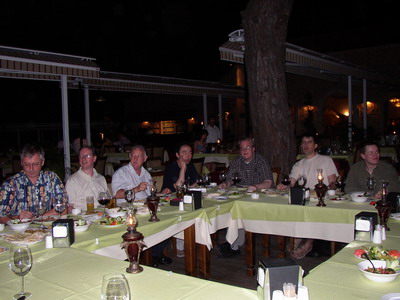 On the last Saturday we finally managed to visit the old city of Antalya with its charming port, where we enjoyed an excellent fish lunch.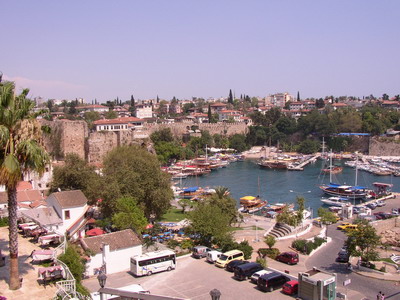 ---
May 2007: A picnic in the park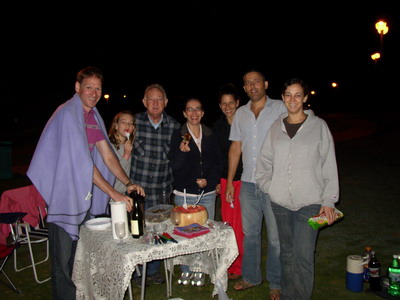 At Louise's invitation we enjoyed a relaxed Friday night picnic at Ranana park. From left to right: Aviv (Ron), Dani, Eitan, Denise, Yahel. Donni, and Vered. Louise was feeding the swans with the younger children and I (Doreen) was taking the photograph.

---
May 2007 - The Rosbruchs visit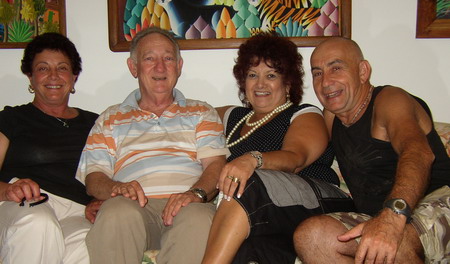 We know Varda and Hanan Rosbruch from our St Thomas VI days. Our two families were very close. How we laughed when we remembered that on the day that Vered got her driver's licence (at the age of 16!) we gave her the keys to our car and 4 boys between the ages of 14 and 8 and flew to St Maarten for the weekend. We had a severe case of 'island fever' and had to get away at all costs. Their son Guy and his family are moving to Eilat and we hope that Aviv and Limor and Guy and family will continue the friendship from years gone by.

---
May 2007 Tour of Jerusalem with young pianists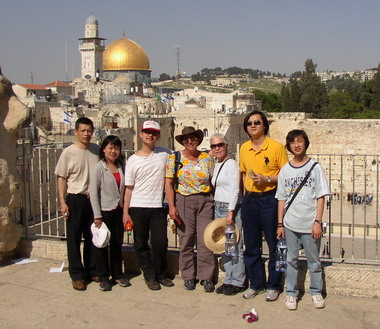 Sometimes Doreen is afforded the opportunity of guiding a very different tour, like these when the participants were gifted pianists - winners of international piano festivals and performers at the 4th Eilat Piano Festival.
On the first day the group toured the Golan Heights Click here.
On the second day the two 13 year olds,
winners of the 2nd Schimmel International Piano Festival , Wei Xin Zhou (accompanied by his piano professor Christopher) and Liyan Ho (
accompanied by his parents) and Orli (of the Rubinstein Committee) enjoyed a visit to the Dead Sea and Jerusalem.

---
April 21, 2007: Avie Hurwitz 1924 - 2007
We received the sad news this week that Avie Hurwitz passed away in Cape Town. We extend our condolences to Daphne and Isobel and to the Siegel and Lewis families.
I have very fond memories of Avie from my youth and of our delightful meeting in Cape Town a few years ago when with patience and charm we talked about the family.
The first wedding I remember attending was in Durban, when Avie married my father's cousin Louis Hurwitz. (see Matz family tree.). My sister Fern was a flower girl at the wedding.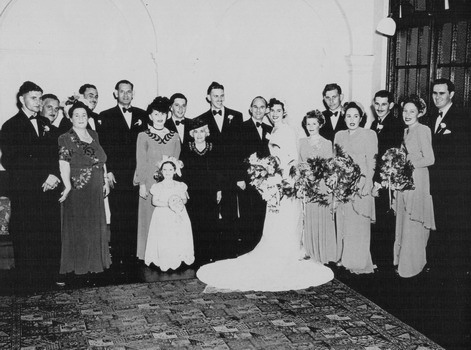 ---
April 2007 Celebrating Saba Eitan's birthday. Click on the pages of Dani and Lior for more pictures.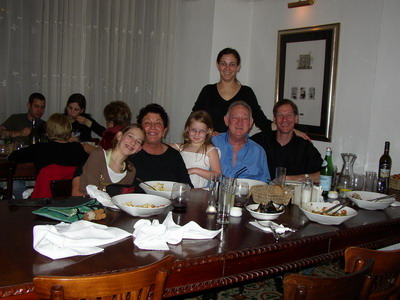 ---

April 2007 Maayan and Lotem picking loquats with Granny in Hofit.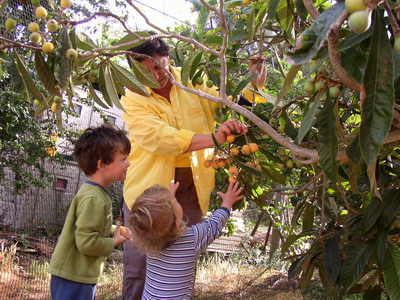 ---
April 2007 - A double birthday in Eilat.
Itamar's 4th birthday was on April 4th, and Rael's 43rd on April 5th, so we continued our

pesach

celebrations in Eilat with a double birthday party.



The BIRTHDAY BOYS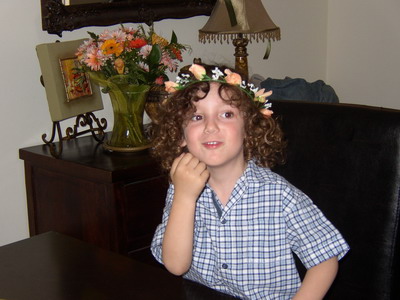 BLOWING OUT THE CANDLES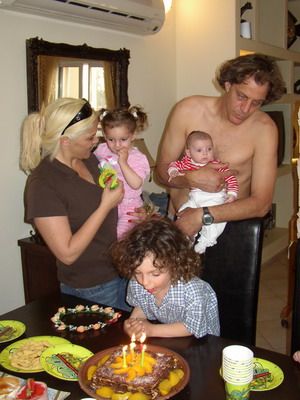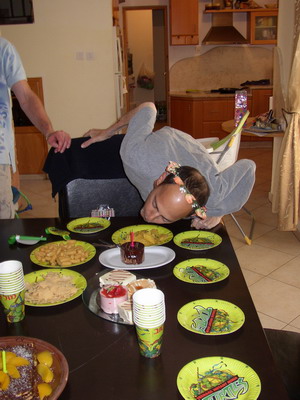 CELEBRATIONS ARE SPECIAL WHEN FAMILY IS PRESENT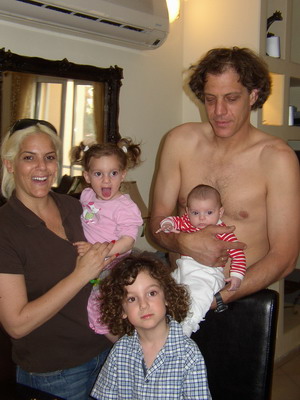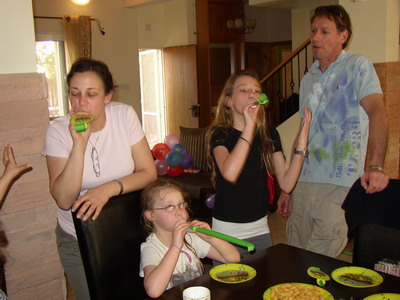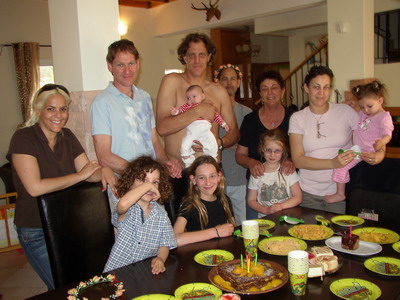 THE TRADITIONAL "CHAIR LIFT" ON BIRTHDAYS - 5 TIMES FOR ITAMAR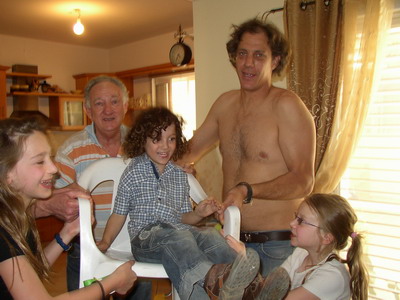 ---
April 2007 - Passover in Eilat
Pesach 2007: This year we celebrated the Pesach seder in Eilat with Aviv and Limor and family, together with Vered and Aviv and the girls, and Rael Braverman. Doreen prepared most of the food and for a change we didn't have turkey for the main meal, but a big, delicious leg of lamb, cooked to perfection.
The

seder

was a little abridged this year, but we didn't skip the important parts. (There are more pictures on the pages of Amit, Itamar, Lior and Dani.)

We displayed and ate the

matza

, the bitter herb, the

karpas

and of course the egg in salt water, and everyone had a chance to read part of the

Haggadah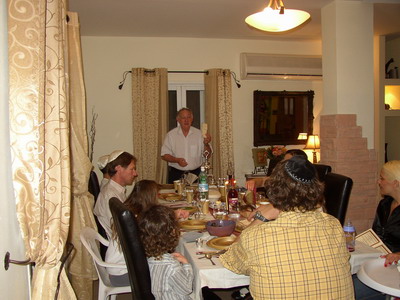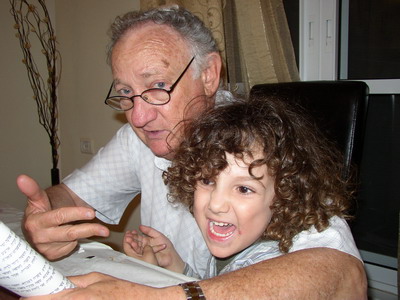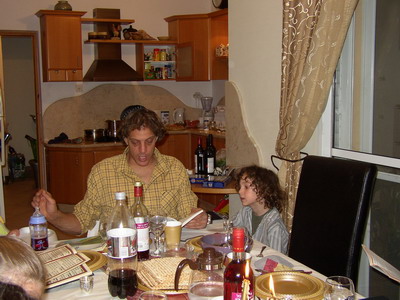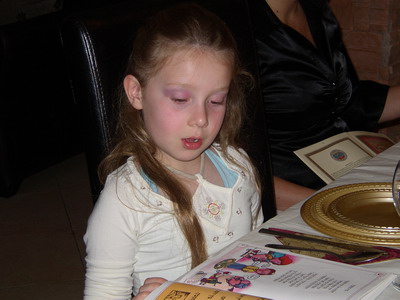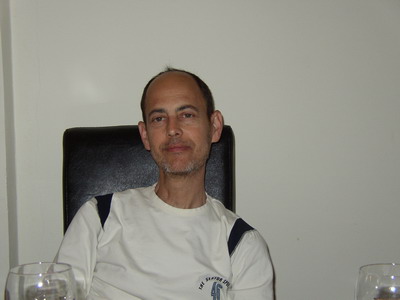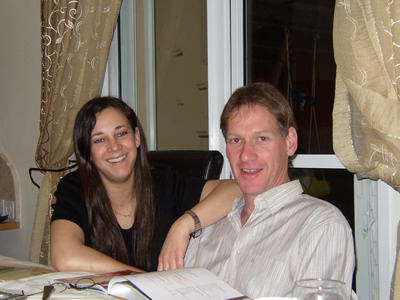 Dani pouring wine from the large kiddush cup into 12 small kiddush cups; and Lior and Itamar displaying the

afikoman

which they and Dani jointly found.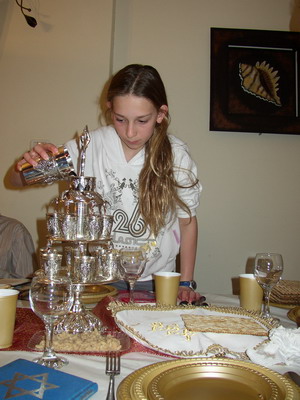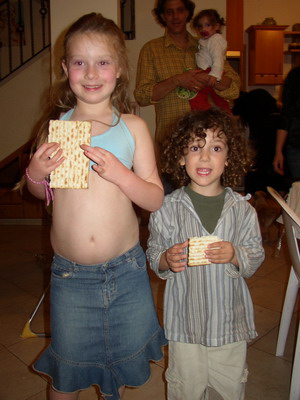 Echad mi yodea (

'Who knows one?

')

rounded off an enjoyable seder and a delicious meal.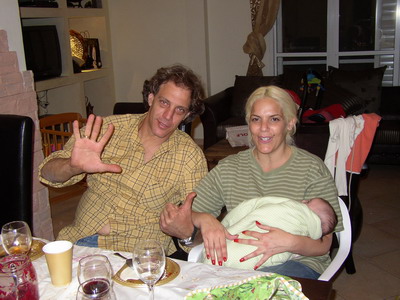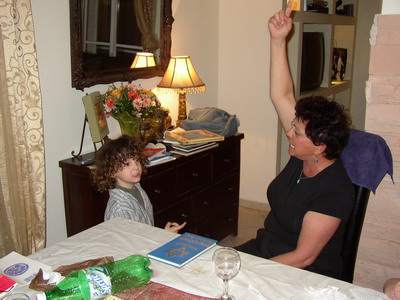 ---
Supper at the Klotnick's - February 22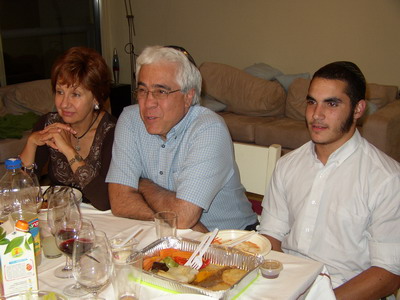 Joel aand Beryl Klotnick (see Matz family tree) are visiting Israel and son Mark and Sarina invited us over for Friday night dinner, and a very pleasant evening. We haven't seen Mark and Sarina's son Yali since his

brit

two years ago. Joining us was Raphael Cotton (see Matz and/or Hirshovitz family trees) , who is studying at Or Ttmimim Yeshiva for a year. We had the pleasure of renewing our aquaintance with Sarina's mother Irene and her husband Rami Lapidot, and of meeting Sarina's half/step siblings Omri, Neti and Rebecca.

Pictured are Beryl, Joel and Raphael (right)
Irene, and Mark and Sarina (below)
Yali and Rami (bottom)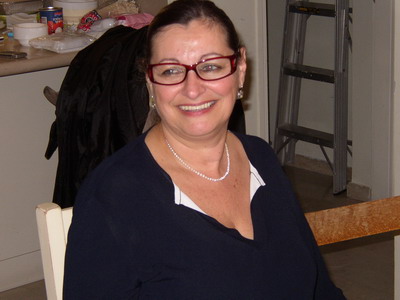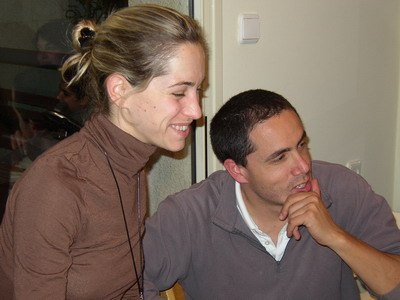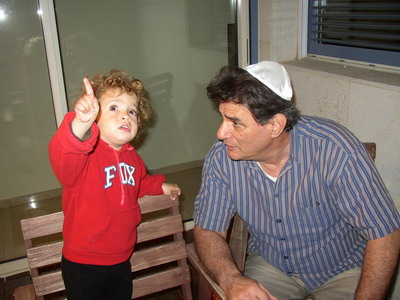 ---

Congratulations to Natalie Ginsberg who celebrated
her 21st birthday in January
in style (actually in old style complete with MG!) . Mom Wendy and Natalie certainly look as if they're having a ball!. (see Nickel/Nochomovitz family tree.)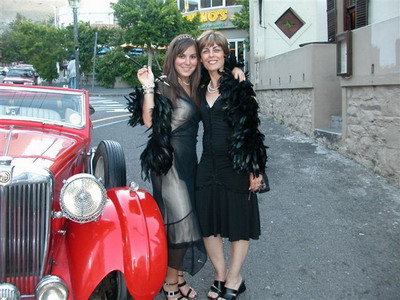 ---
Riva Bortenstein (nee Drue) - born 1919 in Estonia, died 2007 in Israel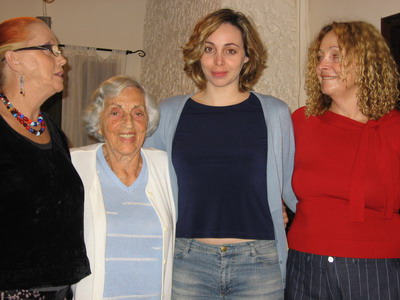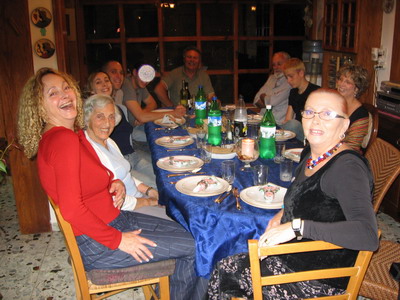 Riva with daughters Yaffa Loew and Rachel Kirshner, and granddaughter Moriah
Riva at a family celebration


With sorrow we report the passing of Riva Bortenstein on 8/1/07. (
see Schank family tre
e
.). We extend our deepest sympathy to her children Yaffa Loew, Yaakov Bortenstein and Rachel Kirshner, and to her grandchildren Vered, Lital, Lior, Dan, Moriah and Raz.. (see Archives)
---
A long weekend in Eilat - January 2007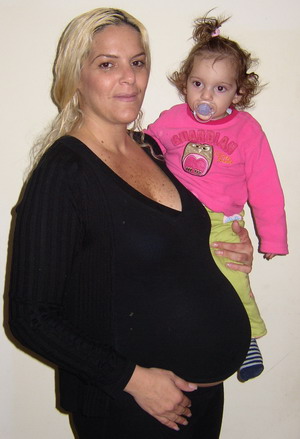 We started off 2007 with a visit to Eilat for a long weekend.

As you can see, Limor is "very" pregnant but the baby decided to stay a little longer in the warm tummy.
We enjoyed being with Aviv, Limor, Itamar and Amit.
On Saturday we had a picnic lunch at Timna - for Itamar the highlight was filling the bottles with colored sand. Itamar was on his best behaviour and Amit tried hard despite having a cold and cough.


While in Eilat we attended three concerts at the Eilat Classical Music Festival.
Not only were the concerts very enjoyable, but we also saw many friends (both Eilatis and "northeners") we had not seen for some time.
---